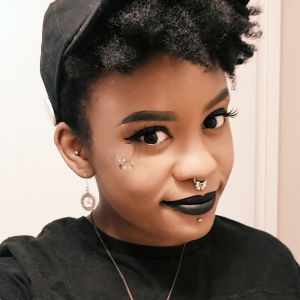 If you have been a listener of the show for a while, then you know I love cartoons and animation. So having a chance to sit down with this week's guest, Steenz, was a lot of fun. Steenz is one of the few Black women syndicated cartoonists in mainstream funny pages for her work on "Heart of the City", and her work on previous titles has netted her several coveted awards, including the Eisner Award, in the cartoon industry.
We talked about her picking up the torch from Mark Tatulli for "Heart of the City", and she walked me through her creative process for starting on new projects. She also talked how she first got into comics, her teaching at Webster University, and one of her dream projects — a re-imaginging of Encyclopedia Brown! Keep an eye out for Steenz — I think we'll be seeing her work in the world for years and years to come!
Transcript
Full Transcript
Steenz:
My name is Steenz, and I'm a cartoonist and editor and professor of comics.
Maurice Cherry:
How has the year been going for you so far?
Steenz:
So far, we're still in the pandemic. So, we're doing the best we can on that front. But in terms of work, pretty good, still working on Heart of the City as well as my new graphic novel. We just started the production on that.
Maurice Cherry:
Tell me about Heart of the City. What's it about?
Steenz:
So, Heart of the City is a comic strip that had been going on since 1999. So, the original creator, Mark Tatulli, he wrote it back then and had been doing the art form and writing for it for the following 21 years or so. And so, he decided to retire and the syndicate, Andrews McMeel, decided to, instead of retiring the entire comic, to get a new artist and take the story to a new place for 2020.
Steenz:
Heart is about a young girl named Heart Lamarr who lives with her single mom in Philly. And so, the stories are about her and her friends' lives as they grow up through middle school.
Maurice Cherry:
And how has it been inheriting such a well-known comic like that?
Steenz:
It was super intimidating to begin with just because if you pick up something that's been going on for 20 years, that's a long time to kind of make a name for yourself and really put in the backstory into a comic. And so, it was intimidating to jump on and start anew especially since my background was traditional comics like single-issue comics and graphic novels and not so much syndicated comic strips which are definitely a bit more… You have dimensions that you have to work with. You have types of terms of phrase that you can work with.
Steenz:
So, it was definitely a lot to get used to at the very beginning. But thankfully, my editor, she had a lot of confidence in me and rightly so because I ended up getting on the train pretty quickly. So, I didn't really have anything to worry about in terms of actually doing comic strips.
Steenz:
Well, that's good. I mean I think it's one thing to slip into something that's kind of well known already has an environment built around and then trying to discover that as you go. But I'm curious how have readers been taking it? What's the reception been like?
Steenz:
Yeah. It's a little hard to tell. Syndicated comics, the way they work, typically, you don't really see them going one and done. They usually are comics that last for a very long time. And, usually, the creator is the same for a very long time, and it was the same thing for Mark Tatulli 20 years. And so, the fan base is definitely not one to greet change very nicely, I guess, is the best way to put it.
Steenz:
When you work with a graphic novel or a single issue comic, there's so many ways and avenues for someone to read your book whether they picked it up from a comic book store or Barnes & Noble to whether a teacher recommended it or a friend recommended it, whether they read it right when it came out or years after. You always have so many different kinds of people that tell you this is what they thought of the book whether it's on panels or over Twitter or anything like that.
Steenz:
But when it comes to syndicated comics because they are so specifically in newspapers, really, the only way for you to read it is if you are reading that the newspaper that has purchased that comic or if you are reading it on gocomics.com which doesn't really have a very well-moderated comment section. And so, like I was saying about the fans who are not very welcoming to change, that's pretty much where you're going to see that.
Steenz:
So, I don't usually go on to go comics because why head towards negativity, right? But I'm not really sure what people think of it. Occasionally, someone will come up and say like, "Oh, this is really good," or if they like this arc. And that's really nice to hear. But I think I'm going to find out more what people think about it when it's collected and more widely available.
Maurice Cherry:
That's a good idea. Never read the comment section.
Steenz:
I know. I know. It's just like it's so strange because the kinds of things that they had issues with was not even like in terms of storytelling. It's just because I'm not Mark Tatulli. There weren't even any real issues people had except for the fact that I wasn't him.
Maurice Cherry:
Yeah. Now, some of the other titles and comics that you've worked on include Rolled and Told, Witchy, Archival Quality, Quincredible. What do you sort of remember the most from each of those titles?
Steenz:
Well, they're all very, very different in that how I'm attached to them. So, Rolled and Told, Witchy, Quincredible, those are all books that I've edited. So, my connection to those are in the form of I need to get the story out in the most effective way possible, so that not just the writer is happy, but also it is an entertaining read for people.
Steenz:
Meanwhile, Archival Quality was the first graphic novel that I did with my co-creator, Ivy Noelle Weir, and that, it took us many, many years to complete as graphic novels do. So, I also had a huge hand in creating these characters and creating their mannerisms and how they interact with each other in addition to the storytelling that Ivy brought to it. So, it's just an entirely different process, and I definitely feel a lot closer to Archival Quality than I do to the other books for that reason.
Maurice Cherry:
So, with some of the work that you're doing now, it sounds like you work in different roles. Sometimes, you're editing. Sometimes, you're creating. Let's say from the creation process like, say, you've got an idea for, I don't know, a comic or a strip or something like that, what does that process look like to go from start to finish?
Steenz:
I think it really depends on if it is something that's longer or something that's relatively short. For example, so, the other night, my husband and I, we have been watching the Riddick universe movies because we love them, and I was thinking as I saw him working the next day, that he was on the Riddick IMDb page. And so, in my head, I was like, "he's still thinking about Riddick."
Steenz:
And later in the day, my husband was like, "I've been thinking about when Riddick 4 comes out," and I'm just like, "I need to know when we're going to see it." And then, he reminded me of this meme that's going around where this woman is in bed with her husband, and she's like, "I bet he's thinking about other women," and in his head is like whatever the punchline is, is what he's actually thinking about.
Steenz:
And so, I was like, "Wouldn't it be funny if I did a comic where we're sitting in bed and my head is I bet he's thinking about Chronicles of Riddick 2004 and the punchline is [Kia 00:11:28] is thinking when does Riddick 4 come out." So, it's like on the one hand, a lot of my jokey strips come from just conversations that I have with my husband or things that I see online, and I want to make a joke about or a situation that I thought was hilarious and wanted to share with others.
Steenz:
Meanwhile, if it's something for like Heart of the City, I think about an entire storyline, okay. So, if they're going to theater camp, what's something that they're going to get out of going to theater camp? What is Heart going to get out of it? And so, then I think, "Okay. Well, if she's going to get an idea of knowing when to stand up for something versus how to pick your battles and how can I show that kind of story," and then, I'm just break it down further and further and further to how does the story get played out, which part of the story is going to be my Monday, Tuesday, Wednesday, Thursday, Friday.
Steenz:
And then, also remembering how am I going to make sure that this punch line is delivered as well because, for the most part, comic strips do have to be funny as well. So, it really just depends. If it's something longer, if it's something short, I just wait for inspiration to come pretty much. I'm just thankful that I get inspired by a lot of different things. I have a lot of different hobbies. I watch a lot of different types of media. I played different kinds of games. I read all kinds of books. So, I think I'm always going to have something to pull from when I'm creating these stories whether it's real life or other people's creations.
Maurice Cherry:
It's interesting that, I don't know, decomposition is a part of the process to start with something bigger and then break it down because it almost feels like it would be the opposite.
Steenz:
That's what most people think. But I always say that work smarter not harder. It's very scrooge things to say, Scrooge McDuck thing to say. But it's true because if your idea is this magnum opus of a story that spans hundreds of years and goes across all space and time, where do you begin? So, you have to deconstruct to even find a starting point.
Steenz:
So, usually, when I'm working with my students or with clients, I really like to get to the base of the story. I know you want to tell a story about this witch and her interactions with her brother. But what's the conflict? Who is the person? Let's get down to the bare, bare bones and get it as deconstructed as possible. And then, we can build on top of that because if you go the other way around, what you're going to do is you're going to fill in the space with things that you think will solve plot holes. But you don't get that problem if you start small and add on to it because you can always go back and say, "Well, if I add this, how is it going to interact with everything else that I've already created?" It's just so much easier to start smaller and go bigger than the other way around.
Maurice Cherry:
Great advice. I like that. That's really good. So, you're based in St. Louis. Is that where you grew up also?
Steenz:
So, I was actually born in Detroit, and we moved into St. Louis when I was around 10 years old. So, I did go to high school in St. Louis, and that's pretty much all you need in order for anyone from here to know that, "Oh, you're from St. Louis."
Maurice Cherry:
Is St. Louis a big comic city?
Steenz:
Yes and no, I guess. we don't really have a comic convention that comes to the city that isn't wizard world. But wizard world is great value conventions. [crosstalk 00:14:57] better than it is. But there was a lot of comic book stores here. There are a lot of creators here. Marie Enger lives here. Matt Kent, Cullen Bunn, Brian Hurt, there's a lot of creators that are here in the St. Louis greater area.
Steenz:
So, I always felt like I had something to go to whether it was ink and drink or a collective to put out comics with or drawing groups. So, I never felt like I didn't have that sort of thing. The only thing that St. Louis lacked was corporate "jobs" around comics. There wasn't a publisher for me to work at. In New York, there's publishers on every corner. And when you have a very specific industry comic books, they're just not going to be in every single city. So, yes and no for St. Louis. Yes and no.
Maurice Cherry:
Okay. It's interesting as kids, we're exposed to so much animation and comics and cartoons and everything. When did you start making comics?
Steenz:
I didn't start making comics until I was an adult. I was 21, 20 when I started making comics because that was never an option for me, not because I didn't think it was something I couldn't do. It was something that never occurred to me. And when you don't see something, you just don't believe it. If someone's like, "Why don't you be a comic book creator?" It's like, "What?" What black women comic book creators are there? Especially when you're nine years old and you're watching Justice League, the idea that that's something you could do growing up just isn't there unless you see it.
Steenz:
And I never saw it which is why I didn't even go to a comic book store until I was an adult as well. I didn't really believe that they existed because I never saw them where I live. So, I started my interest in fandoms and comics industry. I really, really loved superhero comics. I loved reading standalone graphic novels. I was hugely into manga growing up as well. That sort of thing has always been a part of my life. I remember the first purchase that I could have ever made on my own was choosing which shoes I wanted to buy at Payless, and I chose the Sailor Moon shoes.
Steenz:
So, on the one hand, I've always been attached to entertainment. But on the other hand, it was never something that I considered as a career until I dropped out of college, and I saw people doing it.
Maurice Cherry:
Speaking of college, and I don't know maybe you just answered my question, I mentioned that you dropped out. But what was it like there? You went to Maryville University of St. Louis.
Steenz:
Yeah. I mean I like the college experience. I like not living with my parents and getting drunk and meeting new people and figuring out who I am as a person. That's the college experience. But did it prepare me for comics? No. I mean I would say it prepared me for nothing. I think with college, you really need to know what you want before you go. So many kids, they're 16, 17, 18 years old when they're told to go to college and figure out a career for the rest of their lives. But they don't even know who they are. And when you're that young, you don't even know what the right questions are to ask.
Steenz:
I was in the art department, and I knew that I liked drawing, and I liked reading comics. And the question of what do I do with this, how do I succeed at this, what can I do with my talents, those sort of questions, you just don't know to ask when you're that young. I went because I was supposed to go. That's what you do when you graduate high school in the suburbs. You go to college, and that's what I did.
Steenz:
But as I went and as it was getting more and more expensive, and I don't come from money, so it was all financial aid and figuring out what I could afford. And at a point, it was like this is getting too expensive for me to pay on my own, and they're not really helping me with any sort of direction. So, I'm leaving. What's the point of me staying here? So, that's when I just got into the industry and just started working. So, I was working at Victoria's Secret. I was working at a Hallmark Store. I was working at all these different part-time jobs just to make ends meet.
Steenz:
And eventually, I ended up getting a job at the local comic book store, and that's where things started to take a turn was when I was more exposed to creators and the actual process of creating comics and selling comics. I was in comics retail for four years. I was a manager there. So, I learned a lot about how to sell a comic, and what sort of things you need in order to be successful in the comics industry. And so, all of that knowledge was there, and that's where I got it from the actual job of being in a comic shop. So, no. College did not help, not that it can't help because I do teach cartooning at college.
Steenz:
until we get to a point where college is not a money farm, I don't know if we're going to find a lot of programs that are appropriately preparing kids for the real world. The fact that a lot of colleges don't have a mandatory this is how you do taxes course, tells me enough. So, hopefully, when people are going back to school or they finally decided that they do want to get that education, if they decide to get it Webster University, you'll have me as a professor, and I'll teach you the basics of cartooning. But for me, it was I had to be hands-on because that's all that there was.
Maurice Cherry:
Yeah. That's a great point about knowing what it is that you want to do once you sort of get to college. For me, I went to an HBCU. I went to Morehouse. And even when I was choosing my major, initially, I went because I had a scholarship. And then, I was going to do computer science, computer engineering and started out doing it, but really wanted to make websites.
Maurice Cherry:
And I remember my advisor telling me like, "If this is what you want to do, you need to change your major because the internet is a fad." I should mention this this is in 1999. So, the internet literally just was starting to become a thing, and people really didn't know the depth or breadth of what could be done on the internet. And I switched majors to something that I liked which was math which probably sounds weird to say. But I went-
Steenz:
No. [crosstalk 00:21:19] math too.
Maurice Cherry:
I went all through college and majored in math. But by the time I graduated, I had nothing lined up at all because I didn't want to go to graduate school which was really the only thing that my major was sort of preparing me for was to be a professional, not a professional mathematician, but to at least go to graduate school. That was the next stop, and I'm like, "Yeah, I don't want to do that." I did 12 years of school plus four years of this. I'm done with school right now, and they're like, "Oh, well. Good luck. There was nothing to do." I also did a bunch of just retail jobs and customer service jobs before I ended up falling into my first sort of design position. And even then, yeah, it was sort of you learn on the job because, unfortunately, you didn't really pick it up in college.
Steenz:
I mean you also learn what you like by finding out what you don't like.
Maurice Cherry:
I think that's the truth.
Steenz:
I mean when I was in school, the art program was studio art graphic design or interior design. I knew for sure I wasn't interested in interior design, and I didn't know if I was interested in graphic design because all I knew is that I like to draw, and I like to use a tablet to do it. So, does that mean I need to get into graphic design since they focus on digital work while studio art focuses on gallery art?
Steenz:
And so, I went to graphic design thinking, "Well, this is probably the right direction, since I use a digital tablet to draw my comics or my illustrations." And then, I get there, and it's just, "Oh, this is all just working for somebody else. This looks shit. I don't want to do this at all." I went back to studio art. But now that I'm back in the studio art is like, "How am I supposed to be using my digital illustration in this course that is trying to teach me watercolor and oil paint which I like?" It's fine. But it is not what I wanted to do for the rest of my life.
Steenz:
So, yeah, that's why I think it's so important for people to actually just go out and work. Everyone needs to do at least one retail job, one food service job so that, A, you know how to treat people who take those jobs and then also so that you can find out is this something that you're passionate about. What did you like about being in retail? What did you like about working in food service, because what I liked about being in retail was to be able to actually hear what someone wants and to help them get what they want to get.
Steenz:
So, while I may have been a beauty lead at Victoria's Secret, yes, cool. I learned about makeup. But I also found out what people wanted to see when they put on makeup, what they're looking for when it comes to their skin care, actually having those conversations with people and figuring out what they needed. And I think that sort of thing led me towards being a better editor and teacher because I can actually hear what people are saying and figure out what are you getting, what are you not getting, what can I help you with?
Steenz:
So, in a way, even the jobs that you don't think are going to be stepping stones to your future. They are. Everything you do matters which is why I'm like, "So, be careful when it comes to taking out life-altering loans."
Maurice Cherry:
I tell people sometimes that your expertise is sometimes the sum of your experiences. It may not necessarily just be, "Oh, I went to this school, then this school, and that." It's a lot of things just like you mentioned. It's food service. It's retail. It's things outside of what you think you want to do that end up informing your overall view of what it is that you want to do. [crosstalk 00:24:47]
Steenz:
And then, everything moves forward as well. So, I was doing four years at comics retail. And so, yes, I had experience with retail management. But I also had experience with books and learning about the BISAC codes and the reason things are produced a certain way so that they fit on shelves. That information and knowing about doing events for the store, that's community event building. That's event organization. All of that information helped me be a better librarian. All of my information about being a librarian helped me to be a better marketing person at a publisher.
Steenz:
All that marketing knowledge, all that library knowledge, all that retail knowledge helped me be a better editor because I knew what was already out there, and what works, and what doesn't work, and why. So, it's like everything that you do leads to something else. You just have to trust the process that things will work out.
Maurice Cherry:
Yeah. So, eventually, you ended up working for a comic book, a publishing company. But in 2019, you struck out on your own as a cartoonist. Talk to me about that.
Steenz:
Yeah. So, that was really scary because when you're used to getting an income from a W-2 stable income, it's scary to have to be your own boss. So, that is something that I always want to tell people that it is not not going to be scary. It's okay to be stressed because it's stressful. When you are a freelancer, there's a lot of stuff you have to take care of. But I knew that there were certain things that I wanted to do.
Steenz:
I was talking to, I consider her, my editorial mentor. I don't know if she knows it. But she was saying, "What's something that you want to do when you wake up in the morning? What's something that you know that you want to do every day, not a job title, not a company you don't work for? What's something you want to do?" And so, I said, "I want to make comics. I want to continue to edit comics because I love helping people bring their visions to life."
Steenz:
And I also want to teach because I've done a bunch of different kinds of workshops and getting people to understand comics. But the reason I want to teach is because I want to open that door for more people to get into the industry because it is so difficult, and she was like, "Then, that's what you need to do. That's what you need to find a way to make lucrative so that you can keep a roof over your head and work that way."
Steenz:
And so, I first started off by doing editorial pitches. I was helping people with their pitch PDFs and giving them editorial feedback on not just the story but also the entire pitch as a whole. And so, for the first part of my freelance life was that last half of 2019 was a lot of that doing a ton of editorial for small publishers, for individuals, for groups who were working on magazines and then also doing comics for magazines, illustrations for businesses.
Steenz:
So, I was doing a lot of things that I was already doing while I was working at the publisher and while I was working at the library. But now, they've just moved into the forefront, and I've just been doing even more of that because there was a lot of stuff that I would turn down because I was busy. I had a job. I can't just say yes to every creative endeavor that comes to me. But also, I didn't know if that's what I wanted. When I was working at the library, when I was working as an editor, I loved it. I loved editing comics. I loved helping people, and I did not ever think, "Man, the goal for me is to be my own boss." That was never my goal.
Steenz:
I was like, "If I can find a way to get a steady pay in for the rest of my life, and I can still make comments on the side, that would be ideal." So, yeah, it was never my goal to just be a freelancer because that's a lot of work, and I don't like doing a lot of work, I mean in the nicest way possible. When I finally started doing freelance, it was a lot. It was very hard, and I'm really thankful that I have an agent, and I've been able to get so many different opportunities from not just illustration but editorial opportunities.
Steenz:
And I even had someone say, "Hey, I can't teach this class at Webster because he got a promotion." And so, because of his promotion, he couldn't teach one of the classes, the cartooning class at Webster. And he saw that I had a lot more free time now, and he reached out to me, and he said, "Would you want to teach the cartooning class?"
Steenz:
And so, that's how I ended up with my job at Webster University which is another thing that they don't tell you in school, is that you don't have to go to school to be a college professor. You just need to have the experience. And so now, that's what I do. I teach cartooning, and I edit freelance. And then, I also do my art as well.
Maurice Cherry:
So, yeah. Let's talk about Webster University in your class. Tell me about it.
Steenz:
Yeah. So, I teach cartooning which is the class you have to take before comic-book making. So, it is a prerequisite course. You learn about the basics, basics, basics of comics. I mean we're talking about simplifying your illustrations to one panel comics to silent comics, to strip comics and not only do I teach them the basics and the fundamentals of cartooning. But I also teach them tools that they'll need to succeed in the future. So, whether it's taxes or a little bit of knowledge about copyright law, just those kinds of things that will help them when they get out there.
Steenz:
Anytime I think about my college experience, I just get so mad that I wasn't prepared more. And so, I do the best I can to prepare them for what I can whenever we have the time in between big sections in my class.
Maurice Cherry:
What do your students teach you?
Steenz:
Man, honestly, how to be funnier. Honestly, I laugh so much not at my students but with my students because they're just… I don't know. It's nice to see young creatives because they have not yet been brought down by the world.
Maurice Cherry:
Fair. Yeah.
Steenz:
And it's depressing to say it. But that's what it is. So many times during the finals which is to create an a 10-strip booklet, so, it'll have 10 comics. They have an overarching theme. They individually can stand on their own. But they all go together. With that project, I find so many fascinating stories, so many different styles, so many ways to story tell that it's nice to know that the knowledge is all there. It's easy for anyone to make comics if they put their mind to it.
Steenz:
So, there's so many students that come in and like, "I can't draw, or I don't know if I have the right tools to make a comic book." And I just want to be like, "You're starting too far ahead. Just think about storytelling. Think about what makes you laugh. Think about how words interact with images. That kind of baseline thinking is all you need to make comics. And if you slow down and you put your sights right, you can create some pretty incredible stuff without even realizing it.
Steenz:
I've read some comics that I just loved. And no, they were not Michelangelo's David in terms of illustration. But it didn't have to be, and that's one of the best parts about comics, is you don't have to know how to draw, be an incredible draftsman. You don't have to have created comics for 20 years to be able to make comics. And I'm reminded of that every time I teach.
Maurice Cherry:
I can imagine, like you say, what I sort of get from this conversation with you so far is that you really have this immense capacity for helping people. And like you said, you really love to make people bring their vision to life. And so, I can see how teaching would be sort of a natural extension of that.
Steenz:
Yeah. I mean I someone to walk away with something when they finish their interaction with me. So, if I'm teaching them comics, I want them to be able to walk away feeling a little more confident that they could make comics, or if I am editing them, I want them to walk away feeling like they're a better writer after they've worked with me than they were before.
Steenz:
If someone's reading my comics, I want them to walk away with that was funny and gave me an iota of happiness for a half second. And so, it's just like I want people to get something out of things because I guess it may just be my history of going to school and feeling like I wasted a lot of time because I didn't really have a direction. That's why I always feel like I need to make sure that you get something out of this especially if you're a student, especially if you go to any college, they're not cheap. If you get a scholarship, that's great. But they are not cheap. You cannot deny how much money people are putting into these schools. And so, I want to make sure that they get something out of it because there is nothing that infuriates me more than people wasting their money.
Maurice Cherry:
Now, one thing that I've mentioned before we started recording that I've had a few cartoonists and artists and such on the show before. And something that we always end up talking about in some respects is representation which I think something it's a huge thing right now, I think, especially as people look at comics and animation not as a juvenile thing. But it's just another medium to tell stories. It feels like representation always sort of comes into that conversation particularly within the past, I don't know, year or so that the larger world has woken up to the fact that black lives matter and all this sort of stuff. Do you ever feel like that you have to sort of "represent" in the work that you do?
Steenz:
No. I feel like I have to just represent myself. And the more authentic I am, the better that is for younger people who look to me because when I was growing up, I'm sure we have a similar… Anyone that likes anime and manga or punk music or alt style, that sort of thing, oftentimes, isn't really embraced in black families.
Steenz:
For me, it's really nice to be my authentic self so that people who do not feel like they are enough or doing the right things the right way to show that their way is the right way. There's always this question of like, 'Well, I don't know if I'm black enough because I don't listen to X, Y, Z or I read manga a lot or whatever." And I it's like that's not the way it has to be, like, "Are you black? Yes. Do you read? Manga. Yes. Okay. Well, then you're a black manga reader."
Steenz:
So, I think for me, I'm not really trying to represent blackness as a whole. I'm trying to represent authenticity and knowing that who you are is who you are, and that's why you are who you are. I don't know. I know that sounds crazy. But I mean I don't know. I want people to feel okay in their own skin. And oftentimes, that happens when you see authentic stories. And so, for me, if someone is, for example, one of the strips that I did for Heart of the City was Charlotte and Dean are supposed to be watching the stream of the Street Fighter competition, and she forgot that she had wash day on Sunday.
Steenz:
So, she's got to get her hair done all while holding up her phone so that she could still watch the stream so that she and Dean has something to talk about. So, the story was just really cute where she's like, "Mom, watch gently," and she's trying to get her hair blow-dried, and she's like, "Oh, I can't believe that guy isn't even blocking." She's just being herself. She's doing the things that she likes to do. She likes to watch Street Fighter competitions, and she's also black which means she also has to do wash day every once in a while.
Steenz:
And so, when you do that sort of storytelling, it shows people who are not black that we are just like everybody else. Yes, we have these cultural things that we must do like wash day. But also, you can catch me watching Twitch to see who's doing the best when it comes to Street Fighter. I think it's important to just be yourself, be authentic, and that is enough to show people that there is more than the stereotypes. There's more than the box that you think you have to be in.
Maurice Cherry:
Yeah. That's a good point. I like that. I need a wash day myself actually now that I'm thinking of that.
Steenz:
Oh my god. I've been just putting gel to hold it back. So, I'm like, "Hold on, guys. I just…"
Maurice Cherry:
Yeah. I've been holding off because I'm like, "Do I want to do this in the middle of the week or do I want to wait till the weekend?"
Steenz:
I know. I know.
Maurice Cherry:
It's a pain.
Steenz:
[crosstalk 00:38:16] in the weekend, then, you feel like you wasted a large part of your weekend.
Maurice Cherry:
That's true. That's true. I don't know. I'll figure it out anyway. [crosstalk 00:38:25] Yeah. So, do you have a dream project that you would love to do one day or that you would love to work on?
Steenz:
Yes. So, I actually started on this dream project, and I believe that's what got me in my job at as Heart of the City. I want to do a retelling of Encyclopedia Brown as a comic. Do you remember that book?
Maurice Cherry:
Okay. First of all, yes. I am very much of the mind that Encyclopedia Brown is black, very much so. I mean his first name is Leroy. So, I'm like, "Come on. He's got to be black." But no. Go ahead. I didn't interrupt you. Go ahead. Go ahead.
Steenz:
Yeah. So, I want to do Encyclopedia Brown. And back in 2019 when I had all this free time, [crosstalk 00:39:10] I literally was like, "I have no excuse for not doing this mini-comic. I have no excuse at all." It was before I was too busy, I got work, I'm too tired. But now, it's like, "What are you waiting for? What are you waiting for?"
Steenz:
So, I just made a mini-comic where I took one of Encyclopedia Brown stories. And the only thing that I changed was that Encyclopedia Brown was a black girl, and they kept everything else so their turn of phrase definitely still sounds like they're in the '60s even though they're dressed today. So, I was leaning towards that whole Romeo plus Juliet Baz Luhrmann style where it's current, but they're also using older turn of phrase. You know what I mean?
Maurice Cherry:
Yeah.
Steenz:
And so, I made that mini-comic, and I loved it, and it was so much fun. And I want to be able to do a full book of those. But I sold that mini-comic at SPX. And at SBX, was the editor of Heart of the City, and she saw that. And I think me showing the retellings and the re-imaginings that I really, really love to do, once I actually did them because I love to do them, people saw them, and they saw the Heart went into it, and it led to bigger and better things.
Steenz:
So, yeah, my goal is to make an Encyclopedia Brown comic. I definitely want to do that. I also have a comic that's been on the back burner for a while. It's a comic about how to buy a house as a freelancer which is super, super important because it's hard out there, and it's especially hard when you're in the creative field, and you're trying to prove to people that you're legit, and you actually make money. So, that's another thing. I've got all sorts of comic goals and whatnot. But I'm working on a graphic novel right now. I have to pace myself.
Maurice Cherry:
Well, I think both of those ideas are great. I mean I would love to see that retelling of Encyclopedia Brown. And actually even as you mentioned that how-to comic, it sort of reminded me of these sort of comic explainers that you see. I see them sometimes on the Nib or on similar types of publications. And those are super helpful.
Steenz:
I love that.
Maurice Cherry:
I was a freelancer.
Steenz:
[crosstalk 00:41:30] favorite things.
Maurice Cherry:
Yeah. I was a freelancer for a long time and renting. And I'm still renting now. But I do, at one point, want to have my own separate little studio space whether that's a house or whatever and like, "Yeah, it'll be good to know what that process is like." And now, as comics and things are being seen as more of a medium to tell stories, that's a great way to do it.
Steenz:
Yeah, for sure. And I think those are the kinds of things that I really like to do. I mean I like telling goofy one-off stories. But the non-fiction stuff is the stuff that really excites me because I get to really break down information in the easy-to-understand way. That's the goal, is to make it so that it's easy for anybody to be able to do because it can be done. You just have to know the information. And for you, if you want to buy a house, the best advice that I can give you is to, once you decide you want to buy a house, give yourself two years before you apply because the first thing that a loan person is going to want to see is that you have stable income from the past two years.
Steenz:
So, if that's getting all your 1099s together, making sure you're completely organized when it comes to the money coming in and the money going out, if you do that for two years straight and have all the records for it, getting a loan for a house is not going to be hard for you. It's really all about keeping track of all of your information. So, think about that.
Maurice Cherry:
Good information. Thank you for that tip. On a personal level, what have comics really done for you?
Steenz:
I think it has helped me figure out who I am as a person. As we've been talking about how much I really enjoy helping people and getting their stories out and making things easy and simple and giving the information away, all that stuff, I don't think I would have learned any of that without comics. So, I think knowing what I think my master goal, my reason for being here, I think I don't know if I would have figured that out if I didn't have comics.
Maurice Cherry:
What would you say has been the best advice that you've been given about what you do? It could be about just life in general. It could be about comics in general, anything like that.
Steenz:
Well, as someone who had always been very anxious about what sort of projects I should or shouldn't take on based on whether it was good for my career or whether it was the right step. There was always a lot of anxiety about which direction should I be going, and what direction is the right way. And a friend of mine, Shivana Sookdeo, who is a designer, she said that everything that you do is a stepping stone to where you're going to be, but you do not need to step on every stone to get there.
Steenz:
And I think that made me a little less anxious about opportunities about trying new things, about saying no to things, about passing on things because when you're a freelancer, saying no or passing on something means you're not going to get that money. And so, your first thought is, "Okay. Well, where else am I going to get that money?"
Steenz:
But if it really feels like something that you don't want to do, if it feels like something that's going to make you really anxious or take up a lot of your time or be hard on you physically, then, don't do it because there will be another chance for you to get that money. So, just knowing that I don't have to say yes to every single thing that comes my way, in order to be successful, has helped with that anxiety, freelancer anxiety.
Maurice Cherry:
What advice would you give to anyone out there that's listening to this, your story is resonating with them, and they want to sort of follow in your footsteps?
Steenz:
I would say keep very organized records whether that's getting an external hard drive, investing in a printer and a file cabinet, keep good records, and that isn't just records of boring work stuff. I mean records of things that have made you happy, records of letters that you have received. I think it's really important to always have those records so that if you want, you can go back to them, and you can look at those, and you can feel those feelings again.
Steenz:
I always think about memento mori. We're all going to pass this mortal coil. But while we are here, we should be able to reminisce on the things that were and also the things that you want in the future. So, keeping those records, what have you done? What do you want to do? What are you doing currently? Sometime in the future, you're going to want to look back on it. I don't know when, and I don't know for what reason. But you will, and you'll be happier knowing that you have those somewhere.
Maurice Cherry:
Where do you see yourself in the next five year? It's 2026. All this pandemic stuff is behind us. Where do you see yourself? What kind of work do you want to be doing?
Steenz:
Well, by 2026, my second book will be out and as well as my collection of Heart of the City. So, I hope that I'm filthy rich and an island of my own with a diamond suit. Now, I don't know what I'm going to be doing in the next five years. I mean I like what I'm doing right now. I would really like for this pandemic to be over so that I could continue to do what I like right now which is traveling for conventions, meeting new people. Traveling for conventions is such a huge part of the comics industry that I really, really, really, really, really wanted to come back.
Steenz:
But five years from now, hopefully, doing the same stuff because I'm pretty happy with what I'm doing right now. Maybe, I'll have even more mentees and new students that can take my advice, and I'd like to see them succeed as well. So, doing what I'm doing now, I'm pretty happy.
Maurice Cherry:
Well, just to wrap things up here, where can our audience find out more about you and your work and everything online?
Steenz:
So, you can find me on social media as Oheysteenz. That's O-H-E-Ysteenz. You can find me on Twitter, on Instagram, TikTok. And then, if you want to reach out to me for work, my email is oheysteenz@gmail. And then, also my website is oheysteenz.com. I like to keep things simple. So, it's the same across the board. But yeah, that's where you can look me up and find me. I'll be there.
Maurice Cherry:
All right. Sounds good. Well, Steenz. I want to thank you so much for coming on the show for really, I mean one, sharing your story, but also really putting forth. Like I said earlier in the interview, I really get the sense that you really love helping people, and that's something that definitely I got from listening to more about your background, hearing what you do with teaching even what you're doing with helping with editing and things of that nature. It definitely feels like comics is a calling for you, and it's a way for you to tell stories to the world. So, I'm glad to be able to interview you and to share your story with our audience. So, thank you so much for coming on the show. I appreciate it.
Steenz:
You're so welcome. Thank you for having me.
Brevity & Wit is a strategy and design firm committed to designing a more inclusive and equitable world.
We accomplish this through graphic design, presentations and workshops around I-D-E-A: inclusion, diversity, equity, and accessibility.
If you're curious to learn how to combine a passion for I-D-E-A with design, check us out at brevityandwit.com.
Brevity & Wit — creative excellence without the grind.