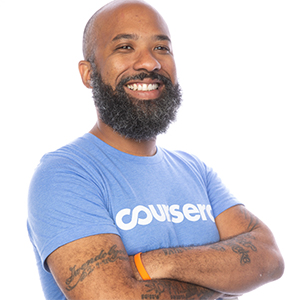 You know, I've interviewed hundreds of Black creatives over the years, but none of them have had the enthusiasm that Fonz Morris possesses. He is the growth design lead at online learning platform Coursera, where he oversees a staff of talented designers from all over. We talked about hiring, diversity and inclusion, and he gave some great advice for up and coming designers looking to land their dream job.
Fonz also shared his story of growing up in Brooklyn and teaching himself architecture, going to college in Atlanta, starting his own music distribution platform and creative agency, and how those experiences led him to where he is today. Fonz is all about pursuing his dreams, and after you hear his words of wisdom, you'll be inspired to go out and do the same!
Transcript
Full Transcript
Maurice Cherry:
All right, so tell us who you are and what you do.
Fonz Morris:
My name is Fonz Morris. I am the design lead on the growth team at Coursera.org which is an online Edtech company based out of Silicon Valley focusing on transforming lives through education.
Maurice Cherry:
How did you get started there?
Fonz Morris:
Once my last startup that I helped get off the ground ended up not working out for me, I told my wife that if I was going to get a job back in corporate America or go back and lead the entrepreneurship space, I wanted it to be out in California. I just knew the community that was out here, I knew the weather, I wanted a change of environment. I'm a father I wanted to raise my daughter in a different environment than New York City or Philadelphia and I just started to pursue opportunities out West and I applied to different positions. Recruiters hit me up from different companies and ultimately I landed at Coursera in August of 2018.
Maurice Cherry:
All right. What kind of projects are you working on there as a growth design lead?
Fonz Morris:
So currently we just released our new homepage, which is doing fantastic. The numbers are up 4% across site wide which is really exciting for those of you who understand metrics. I have recently worked on redesigning our promo unit system framework, which is really important for us because we have a lot of different products that we need to promote to different learners at different times. So our old promo unit system was just ineffective and it wasn't really producing traffic and it was really hard to develop the promo units, it wasn't scalable. So we redid that, that was very successful. I also helped redo our degree white label framework. Degrees are a really important part of Coursera and for the future of Coursera and we have about 18 degrees now and each one is from a different university.
Fonz Morris:
So they need their own place to be able to house the necessary information. And another product that I worked on is our new UX search results page. We were having some issues with not getting users to the right content that they wanted so we completely revamped that. And then also being on the growth team I work on a lot of smaller experiments. We're really experiment based where we'll roll out two, three smaller iterations of something to get the data from that to be able to make a better educated decision on a design, which those are smaller tasks. So it's split between big projects like the ones I said originally and then smaller ones that are more targeted towards growth specific and iterations.
Maurice Cherry:
I got you. So it's a lot of, at least it sounds like it's some user testing involved with it when you're doing this sort of comparison.
Fonz Morris:
Yes sir. Lots of it. So once again, I'll get technical real quick. Usually what we have is a control, which is what the actual live current site is. And then we'll have a variant A, variant B, a variant C and then we'll roll out each of those variants to a specific target group. And we'll get the numbers back from those and then that way we can compare the effect that each design had on each target and be able to make a decision based off the metrics.
Maurice Cherry:
What's a regular day like for you there? It sounds like there's a lot of meetings, a lot of maybe cross functional work, stuff like that.
Fonz Morris:
Lots of meetings. I don't think I would've ever thought that as somebody with designer in their title that I would have so many meetings. So I would say it's funny, it's really interesting and I had to get used to that because as a designer I was a solo person. I was used to just sitting in front of my computer zoning out and cranking out designs where now I would say my time is split almost, maybe 60/40 sometimes even 70/30 meeting design. And then we use split in not necessarily formal meetings but one-on-one meetings with the other designer that's on my team.
Fonz Morris:
Because I'm a design lead I support the other designers on the growth team as well. So when you add all of that up, you'd be surprised how much time I actually spent meeting but that's because I'm helping come up with decisions and helping other designers come up with decisions with things like that. To where my job is no longer only focused on what I can physically produce, but also what I can emotionally and technically help other people with or grow with and things like that. So it's funny how many meetings I do have nowadays though.
Maurice Cherry:
So how many designers are on the growth team?
Fonz Morris:
Well, right now we're about nine. At our highest we were about 12 but that's something else that's tricky out here is the turnover at companies because a designer wants a better opportunity or they're a contractor or it's just not a good fit. So you see teams grow and shrink way more often than I thought, but right now we're at about a strong nine.
Maurice Cherry:
Yeah. I would imagine out there in Silicon Valley because there's so many tech companies out there, really so many design focused tech companies that if you're a designer of a certain caliber you kind of can just bounce from place to place if you want to. You know?
Fonz Morris:
That's what it feels like. You definitely get reached out to a lot of companies, but the hiring process at these companies are kind of tricky. So even if you are skilled you still got to go through their hiring process, which is definitely something that I wanted to talk about today. Because I don't know how many people understand how much work it takes to get on at one of these companies and just how sometimes is also even just the luck of the draw. Because there's so many phases of it, you never really know which phase could take you out or if you're going to get through all of the phases as well.
Maurice Cherry:
Listen, let's talk about it because I'm actually in the middle of hiring, well not hiring, I'm on the interview team so I'm doing a lot of phone screens and resume screens. Let's talk about it because I actually have a lot to say about that. Talk to me I guess when it comes to what you are looking for out of designers. And it doesn't necessarily I think have to be specific like skills. I'm sure you know skills are transferable, but what are you looking for when you're hiring for someone at Coursera?
Fonz Morris:
I think the level of designer is important because that ties into what we're going to ask them to produce. And by that I mean if we have a lot of production work, if there's a lot of designs that need to be produced that maybe we've already did a lot of the work for and we don't need to put a lot the full product design process into this, then we could say maybe we're looking for someone who is not a senior level designer but they're not really junior. And so because of that, now we'll be looking for communication skills, we'll be looking for the ability to do user research.
Fonz Morris:
We may not be expecting you to take a full project on that may go two or three quarters because you might not have had that kind of experience yet. But we'll be expecting you to be able to lead some things to a certain extent without any handholding to a certain extent as well. And that you determined through asking questions, asking them what type of responsibilities they've had at their previous position. You'll ask them what type of things they're interested in and looking forward to working on if they get a new position. And then it's your job as the interviewer to take all the information and see if the two situations align and feel like a good fit.
Maurice Cherry:
Do you find that there are certain skills or certain qualities that you're looking for in particular?
Fonz Morris:
I think at the end of the day we want to work with really nice people, good people and that's what I really value about Coursera is that I really like my coworkers. Everybody is friendly, everybody is smart, there's not a lot of egos you feel you can trust each other and those are more on the personal side than they are the technical skills. So I would say and being transparent. When we asked you what your last job was about, we don't want you to sound as if you were the best thing since sliced bread or you were the LeBron James of product design.
Fonz Morris:
Because we want some people to have humility, so we want you to be able to tell us how you worked with a problem and how you solved it. And if maybe you bumped heads with somebody on your team that doesn't say anything about you, we are just really trying to figure out how you handle challenges. So we're looking for those types of things as well of problem solving and being able to maybe compromise with some people to figure out how to get past a certain point if y'all both were bottlenecked on a idea. So all of these are not technical things, these are just soft skills.
Maurice Cherry:
Yeah. It's amazing to me how and this is something that I sort of knew this before, but certainly once I started interviewing and hiring designers and just creatives in general. Your personality and your behavior oftentimes are more important than what you have on your resume or your cover letter. I mean, certainly that will get you I think in the door or get you past the screen but like you said, you want to work with people that are going to fit within the culture. And I know culture fit can kind of be a negative term that is thrown about but like you say, you want to work with nice people. People that you can get along with and do work with, that's really important.
Fonz Morris:
Cultural fit is important and I don't understand why culture fit is a negative word. It's important. Why is it important? Because as a black man, when you think of what does it mean for me to be a culture fit somewhere? What does that mean? If it's not a black organization, then what culture am I trying to fit into? So I understand how it could be like a negative situation, but I also think it's coming from the perspective of do you have an ego? Are you just a nice person? Are you friendly? Do you get along well with others on your team? Are you supportive? Do people want to come to work with you?
Fonz Morris:
And that's just important because you're with your coworkers more than you are with your family sometimes. So culture fit is important to me, but it does get tricky. And I know why people say that, but I definitely think culture once again goes into soft skills as well. And that's just really important because if I'm not talking to you about designs or if you're not literally doing the design, then you're most likely using your soft skills. If that's communicating or sharing or analyzing or critiquing so that's why it ends up being really important for someone in the product space to be strong on both sides of the coin.
Maurice Cherry:
What other sort of advice would you give like for someone that's not necessarily saying that they're looking to work at Coursera, but if they're looking to get into this industry. What advice would you give to an up and coming designer that wants to get a job in design?
Fonz Morris:
I love that question. That's one of my favorite questions that I have actually spent days, hours, months trying to figure out what's the best answer to that. And I recently spoke at AfroTech and I'm really happy to be able to have come up with the best answer to that question right before I did my talk. And my answer is I think you should take a second and think about all the different products that you interact with, and what's your favorite, and then figure out would you want to work at that company. And if you want to work at that company then you should go to that company's career page and you should look at all the positions that they have available.
Fonz Morris:
And if any of those positions jump out to you, you should go into it, you should read the job description and then you should read those requirements. And those requirements are pretty much your checklist of the skills and things you need to learn to be able to one day get that job. So I think that's a no cost, really valuable step that a lot of people don't do but could do and should do to really learn the details of what it would take to possibly land your dream job. Because why I say this also is think about it, somebody who has not developed any of their skills yet why just blindly develop skills or go after skills that you heard somebody else say?
Fonz Morris:
When you can think about where you want to be in your life, what company you think makes you happy. Or if you want to build your own product, think about a company that built something like that and then still go to their careers page because you still need that same information. You need a starting point and I think that's something that I've learned from a lot of people that might be transitioning careers, or trying to reskill. They need a starting point and a job description is a really good starting point.
Maurice Cherry:
That's some really good advice. I like the fact that you saying take that as the things that you have to do, the checklist to get that particular job. And I would even say especially if you still want to work for that company, even if that particular position may not be what you think it is, it can at least hopefully get your foot in the door there. There might be something else that you end up doing, the company might see what else you bring to the table they might make a position for you. I mean it's a rarity sometimes, especially depending on how established the company is but especially in startups like tech startups? Absolutely. Like the job that you get, is not necessarily the job that you will keep if that makes any sense.
Fonz Morris:
Yes, that makes a ton of sense. But when you think of it, how many people visit a company's career page? You don't have to only visit that page when you're looking for a job, they're learning sources. They're a knowledge base of this is what this company is asking somebody to do this position should know. And it's literally like your syllabus almost, it's like your career syllabus and that's what I want my two cents to be to everybody. Is visit all of the job boards of all the companies you like and start taking notes and look and see if there's any redundancy in some of the skills that they're asking. Because then those are the ones you really know you should learn as opposed to just like I said, blindly trying to follow after somebody else and pull in skills that you think might be the hottest trends because those might not be the hottest translator.
Maurice Cherry:
Mm-hmm (affirmative) that is very true. One weird thing that I've run into with interviewing and I don't know if this is hubris or just like garden variety racism, but sometimes I will interview non black candidates and just the tone that they take with me, or the way that they will answer questions or not answer questions. Or ask if there's someone else that they can speak to because they looked at my LinkedIn profile and they're like we'll. I'll give you an example and this is not tied to my current employer if you happen to be listening, but I've certainly interviewed people before that have said, "Oh well I looked at your LinkedIn and like you're not really a designer, so is there a designer that I can speak to?" This is back when I had my studio, which I thought was very interesting considering like I run the studio so if you're talking to me like the buck stops here. Oh yeah.
Fonz Morris:
People want it to only be interviewed by designers?
Maurice Cherry:
Yeah, and I guess, I mean I guess I'll be transparent this has also happened at the place that I work. But it's interesting how, I don't know if this is like a new thing that happens in design, but like I don't think people realize that just because you're interviewing with one person that you're also sort of suddenly being interviewed by an entire team. That person is trying to see if you fit not just in the company or in this role, this particular singular role, but do you fit with the team? Do we want to hand off work to you? Do we want to hand out projects to you? Do we like you at the end of the day? And if this is how you're acting at the phone screen stage then you can forget it.
Fonz Morris:
Right, I understand what you're saying. I don't think that the… Okay, so I disagree with that. I think the first round should be anybody the company wants to be just getting a temperature check of where you are and who you are as a person. And being able to just what are you into? Why do you want to leave your job? Tell me about yourself. I don't really think you need to be a specific profession to ask somebody those type of high level, let me get to know you type of questions. So I think the recruiter being the first person that you speak to makes sense because I need to vet as well as all the people coming through the door.
Fonz Morris:
I'll let you speak to our designers and stuff like that in the second round where we're going to get a little more technical, but for the first go, because it's so introductory I don't necessarily. I never felt as if the first person I spoke to needed to be a designer. I was just really honestly to be candid, I'm just always happy to even make it to the phone screen. So I'm not focusing on who I'm talking to, I'm more happy that I'm talking to somebody.
Maurice Cherry:
Yeah. Okay. I can see it in that viewpoint. I still think though it just helps to not be a jerk essentially.
Fonz Morris:
Yeah. No, no always. I am always about respect and professionalism. I think that is so important I can't even think of the… Enormously important. You should never be a jerk to anybody if you're trying to get something from them, that's just common sense. So if you're trying to get a job and I'm your first access point to the company and you're not being nice to me, I'm not sure how far you're going to make it.
Maurice Cherry:
Yeah, that's true. And I've definitely run into that several times, but I guess in terms of-
Fonz Morris:
Oh wow.
Maurice Cherry:
Yeah. In terms of other advice, I can't stress enough the importance of having a really good portfolio. I looked at your website, I see you have your portfolio and I mean it's great because it lists not only the things that you've done, but also the thought process behind it. I know that I've talked to designers, young designers they're like just starting out or just coming out of school. And I'm like, it's so important for you to actually talk about your design decisions and not just show a bunch of mock-ups or a bunch of pretty pictures like that. Anyone can generate that, you can buy a mock-up thing from I don't know, mighty deals or somewhere for like 14 bucks.
Maurice Cherry:
Slap in a few logos all of a sudden look at all this work that I did that's on billboards and folders I'm like no, it's not. It doesn't really exist in the real world. But like to talk about the why behind why you're doing certain things. Those shots might look pretty, but the critical thinking I think is more important as a designer. I mean, that's why I think if you're a visual or if you're something like product or UX. It's just still important to be able to articulate that in some way.
Fonz Morris:
Right. So tell the story. That's another piece of information that I would want to say is people want to hear a story. So when you only show the final design, you jumped to the last page of the story. So I don't know what the story about, you just jumped to the end. You know what I mean? So it's like, I don't know what story you just told me and it doesn't really show me how you got to that final design. And that's why some feedback, I actually just did a mentor session yesterday at Adobe with a organization out of San Francisco.
Fonz Morris:
At Adobe with organization out of San Francisco named Kaskade SF. And it was fantastic because I got to actually interview about five junior designers and walk through their portfolio and give them feedback. And that was what I was focusing on the most was, "Are you telling me a story to get me from the top of the pace to the bottom of the page?" That's what's so important. And you do that through breaking it up with letting me know what the problem is and letting me know that you understand the industry that you're in. And then walking me through how you think about this could possibly be solved and do you understand the user and understand what the user wants from this. And then that helps you figure out what your information and your content should be. And then it goes into information architecture. So it's a whole flow that you can end up telling somebody that would really help them understand why you made the decisions you made. And that's what people are really trying to get from your portfolio.
Maurice Cherry:
Absolutely.
Fonz Morris:
Yes, they're trying to [crosstalk 00:25:06] about me page and read a little bit about you. But from your skill side, they're trying to figure out how you handle this problem, what you did in the process and how you did it.
Maurice Cherry:
Absolutely. So speaking of the story, we have you on here to talk about your story. So tell me about where you grew up.
Fonz Morris:
So I grew up in Brooklyn, New York. I went to a public art high school. I'm a self taught designer, which I like to say that, not to brag, but more of as an inspiration for anyone to know that once again, like I said earlier, if you work hard at something I'm a true believer in you can achieve anything that you put your mind to. So I wanted to be architect when I was young and I taught myself architecture and went to a art high school. From art high school I went into computer science at Georgia State. Well, I started at Morehouse actually getting my degree in computer science. And then I transferred from Morehouse to Georgia State and that's where I actually finished my degree in computer science.
Fonz Morris:
And I taught myself… In my senior year of college, Georgia State got a grant from the state of university from… Georgia State got a grant from the state to build a multimedia lab on campus and they completely furnished it with all new multimedia equipment, Mac equipment, PC, Adobe, Macromedia Pro Tools, Final Cut, new Canon equipment. They completely furnished it with all new things for us to use as students. And I pretty much just moved into the lab and I taught myself everything that I could possibly know there. And it was a great experience.
Maurice Cherry:
Let's step back a little bit. So self-taught designer also here, same way. Was your family supportive of you going into design or architecture? Did they see this as something that you could do for a living?
Fonz Morris:
I don't think I spoke to them enough about it. I was always a academic type of student, so as long as I stayed in my books, my parents were supportive of anything that I was doing. I actually had a friend whose father was a black architect and then I tried to get an internship with another black architect and I took some courses at Parsons School of Design when I was in high school. And this energy showed my parents that I was really interested in architecture. So I did have support for them. But I will say, I don't know if they knew to the extent or to the degree that I wanted to pursue design or pursue architecture at that moment. I tried to show them the best I could through the work I did at school and through my passion for looking at buildings and constantly reading architectural books and architecture magazines. So I would say that they supported me to the best that they knew how.
Maurice Cherry:
Okay. What drew you to architecture?
Fonz Morris:
I just feel I'm a… Because I like design at the end of the day. And growing up in New York City, you're around a lot of skyscrapers and that's where some of the most famous architects have planted their seeds and you're walking up and down Fifth Avenue or when you're walking in Soho or in Brooklyn and you see all these amazing art deco style buildings and these modern buildings from with all these different heights and windows. And then you see you got the Brooklyn Bridge and you got the Manhattan Bridge and you got the George Washington Bridge and the Queensboro Bridge. It's so many different bridges that you're seeing and these are all amazing examples of architecture. So I would think growing up in New York City is what exposed me to architecture. And being in the city is where they made me say, "I want to design one of these buildings one day."
Maurice Cherry:
Yeah. Now I also went to Morehouse, so I have to ask about it. What was it like when you got there? What was it like when you first got there?
Fonz Morris:
It was an amazing experience. Being a black man, wanting to connect with other black men in a higher education space. It was really self rewarding and I was very proud and accomplished. I also wanted to attend the HBCU as well. My sister went to North Carolina A&T, so it was almost as if I felt as if I had made it to a certain level, education-wise, because I had made it into Morehouse, which in my community was respected as a very prestigious school for black men. So I loved the experience. I ended up transferring though in all honesty because one, I paid for college out of my pocket and Morehouse being a private college…
Maurice Cherry:
Is very expensive.
Fonz Morris:
… The tuition is way higher than the State University as well as they don't offer in state tuition. And then sadly, which this has a trickle down effect. The resources that I needed to be successful just wasn't available at Morehouse while I was attending. But I don't think that's a shot at Morehouse. I think it's an eye opener to understanding the value of getting funding and what you can do with the right money.
Maurice Cherry:
Yeah.
Fonz Morris:
Because Georgia State the other hand had all of the new equipment, all of the new computer labs, all of the things I needed to pursue my computer science degree successfully, Georgia State was able to give me. So that's why I left Morehouse. From a cultural or from a personal feeling, I really loved going to Morehouse. It really made me proud going to campus every day and seeing so many other brothers trying to better their lives and their family lives to getting a higher education. But when it came to the resources, the State University just had an abundance of it.
Maurice Cherry:
Yeah. And at Georgia State, geographically, you weren't that far from Morehouse anyway.
Fonz Morris:
No, [crosstalk 00:07:07].
Maurice Cherry:
It's you could take the 13 down to Fair Street and you're right there on campus.
Fonz Morris:
Yeah. I can take Ralph David Abernathy right across would be there.
Maurice Cherry:
Yeah.
Fonz Morris:
No doubt. So yes, yes. And Atlanta is still a very black focused city.
Maurice Cherry:
Yes.
Fonz Morris:
So when I left to go to Georgia State, I didn't have any regrets. I felt as if I was just doing what was the best for me at that moment.
Maurice Cherry:
Yeah.
Fonz Morris:
But I love Morehouse. I love Morehouse, I think it's very important institution in our community.
Maurice Cherry:
It's so interesting you mentioned that about the resources. So you got there in '97 I think you said? You got there in '97 I got there in '99. I also started out in computer science.
Fonz Morris:
Okay.
Maurice Cherry:
I started out, actually dual degree computer science, computer engineering because the scholarship that I had, we had to major in one of the STEM fields.
Fonz Morris:
Okay.
Maurice Cherry:
And I wanted to do computer science mainly because I wanted to do web design. I had been learning web design on my own, just reverse engineering webpages at my mom's school's computer lab and teaching myself HTML because… I'm from a small town, Selma, Alabama. We didn't have a bookstore. The library had one computer that could get on the internet.
Fonz Morris:
Right.
Maurice Cherry:
So we didn't have a whole lot of resources around learning this stuff. At the college they had more resources, but I was teaching a lot of that stuff myself and so when I went to… And also I would say I wanted to major in computer science because I want to be Dwayne Wayne from A Different World.
Fonz Morris:
Nice. Listen, in all transparency. Part of the reason I wanted to go to a black college as well was because A Different World, like you just said, as well as TLC dropped the Baby Baby Baby video. It was like…
Maurice Cherry:
Man.
Fonz Morris:
… "Is that what college is like? Are you kidding me?" I'm not missing out on that.
Maurice Cherry:
I don't know if there's a think piece or something out there on The Root or The Undefeated or something about how hip hop and the 90s and how they glorified college. You don't see that now. There was…
Fonz Morris:
[crosstalk 00:33:13] wearing college sweatshirts.
Maurice Cherry:
My God.
Fonz Morris:
[crosstalk 00:33:15] college, let's be smart. You know what I mean? You don't have none of that anymore.
Maurice Cherry:
None of that. Man. But I got to Morehouse's campus. I started out computer science, computer engineering. Switched to, I think I switched to computer science maybe after the first few weeks or so because I didn't really want to do the engineering part. But I wanted to do web design and I remember, I was sitting, these names will take you back. I was sitting in Dr. Jones' class and… Did you take a class with Dr. Jones?
Fonz Morris:
Which class is that?
Maurice Cherry:
I think I might've been computer programming one, I think? One of the intro classes.
Fonz Morris:
Man, listen, don't make me show how old I am. I would have to go through my transcripts and look for any of my names and my professors.
Maurice Cherry:
But I remember, the thing that I didn't like about Dr. Jones, and he's passed on, rest in peace, but the thing about Dr. Jones was he wouldn't teach. He would sit in class and tell all his anecdotes about his fishing buddies and growing up and all this sort of stuff. And we're just sitting here, "When is the class going to start?" And I don't know if this was a way to weed people out, but then when you are ready to go to the next class, then he would start teaching. It's like, "I guess we got rid of all the stragglers now we can start learning something."
Maurice Cherry:
But Dr. Jones was also my advisor and so I remember going to… You remember the secretary Mrs. Banks? Man. I don't know if she's still there or not, but man she was my best friend at Morehouse all four years I was there. Because I ended up switching my major to math largely because…
Fonz Morris:
Wow.
Maurice Cherry:
Yeah, I switched my major to math because I was… I met with Dr. Jones and I told him I wanted to go into doing web design and I showed them some design stuff I had did. I did the design for the Project Space Scholarship Program and I was like "Look at all this stuff I've done." And he was like, "Look, the internet is a fad. All this WW web stuff, this stuff ain't going to be around. That's not what we teach you here. If that's what you want to do, you need to change your major." So I was like "Well, shit I guess…"
Fonz Morris:
See, that's the problem is that computer science programs should have picked up web development years ago.
Maurice Cherry:
Yeah. But this was 1999 though. I don't know that many colleges that would have had a curriculum. So, which is not to say that he was wrong [crosstalk 00:35:37] don't get me wrong, but they didn't have anything.
Fonz Morris:
Right.
Maurice Cherry:
He was really like "If this is what you want to do, you need to major in something else." And I thought about it and looked at my transcript and my credits and stuff and so I switched over to math because I had enough credits from taking AP math courses in high school and say "Well if I switch over to math I can just graduate early." For me I was thinking "How soon can I get out of here?"
Fonz Morris:
Right.
Maurice Cherry:
Because I was figuring like… And also my freshman year was rough. That's a whole other story. But I was really thinking like "How soon can I get out of here and get my degree?"
Fonz Morris:
Right [crosstalk 00:36:14].
Maurice Cherry:
And I switched over to math and just stayed in math and I graduated in three and a half years. So I technically graduated in '02 but I walked in '03. But yeah, even then there was nothing. I remember the computer lab there being so… And not to rag on Morehouse because now it's gotten better, now they have a whole technology tower. I think Dr. Chung was still teaching back then, but now he's the chair. He's the chair now.
Fonz Morris:
Okay.
Maurice Cherry:
But I remember they just had these old archaic Sun Microsystems, Silicon Graphics workstations.
Fonz Morris:
Yeah.
Maurice Cherry:
I'm like, "What in the hell is this? How am I supposed to use this? I have to use Linux?"
Fonz Morris:
Its tough. Right.
Maurice Cherry:
It was rough. It was really rough back then and I was like, "Man, maybe it was a good thing I did change my major." Although, to be clear…
Fonz Morris:
But that's why HBCUs need to be able to get the funding from the government to be able to pay for these things. You know what I mean? A lot of the HBCUs pay for this stuff with their own money and that stuff's expensive.
Maurice Cherry:
Although to be clear, when I switched over to math it wasn't I was going into a technological workplace either. They had these… I almost felt as sometimes I was sitting in a one room school house, just really bad quality desks. Blackboard broken.
Fonz Morris:
HBCUs need funding.
Maurice Cherry:
Then again this is… Yeah but this is '99 to 2000. And I would imagine it's different now. Honestly part of me didn't know any better because I'm like "I came from Alabama. So we use chalkboards and overhead projectors because that's what we use in high school." So when we're doing that in college I was like "This is what you're supposed to do." And then I knew people that were going to Georgia State and Georgia Tech using these smart whiteboards and stuff. I was like "What? I'm out here sketching out comic solids with a piece of chalk and y'all are just keying in an equation and getting the graph? What?"
Fonz Morris:
Man.
Maurice Cherry:
My God. Yeah. Yeah.
Fonz Morris:
Very funny. I agree with you and I understand what you're saying and they've made a lot of progress since those days, which is good to see. I was down there about two years ago and when I walked on campus I could see the growth. It felt good.
Maurice Cherry:
Yeah, they've definitely grown a lot. Now I would say they still… I don't know. Morehouse has its, and not to rag on Morehouse, but Morehouse has other issues outside of funding and just curriculum and software and hardware and things like that. But it has grown a lot. I will give it that much. The performing arts center and all of new equipment…
Fonz Morris:
Yes, The Ray Charles Performing Art…
Maurice Cherry:
… And things, a revamped cafeteria and everything. Movies are shot on campus now. A good part of Hidden Figures was shot on Morehouse's campus.
Fonz Morris:
Tyler Perry is changing Atlanta man.
Maurice Cherry:
Yeah.
Fonz Morris:
He's bringing that film, they're heavy, which is good because there's a lot of money in that space.
Maurice Cherry:
Yep.
Fonz Morris:
Atlanta. I miss Atlanta sometimes. I honestly do.
Maurice Cherry:
Hey it's always here. Always here if you want to come back.
Fonz Morris:
The [crosstalk 00:39:15] not going anywhere.
Maurice Cherry:
Nowhere. So you transferred to Georgia State and you're talking about how it was different from Morehouse. Once you graduated from there, what was your first design gig? What were you working on?
Fonz Morris:
I started doing flyers for people and doing business cards and doing logos for anybody that needed it, no industry specific. And then I started to get better at that and that's when I got my first project ever was… Well my first ever paying gig was a website for a furniture company, a small indie furniture company. And I think they paid me, I think the whole deal that my partner worked out with ended up being I think either 35 or 5,500 for a full website. And I just could not believe it when he came back with a 50% deposit.
Maurice Cherry:
Wow.
Fonz Morris:
And I said to myself, "Are you kidding me man? They actually gave you that money?" And that's what led me know that there was a lane for me. Yes.
Maurice Cherry:
Is that where Third Eye Designs cam out of?
Fonz Morris:
Pretty much. I've always been a believer in having your third eye open and then designs and that just felt the best name of a company possible to me was Third Eye Designs. And so that furniture company was Third Eye Designs first paying client.
Maurice Cherry:
Okay. How long were you freelancing like that?
Fonz Morris:
I still do it to this day.
Maurice Cherry:
Okay.
Fonz Morris:
They almost… Because it grew from freelancing into, now that I'm later in my career, it's just consulting.
Maurice Cherry:
Yeah. Yeah.
Fonz Morris:
But I don't call it Third Eye Designs anymore. But the process or the concept of doing freelance design work, I still do it to this day.
Maurice Cherry:
Okay.
Fonz Morris:
But I'll always be able to do that. Which that's the thing, which ,message, this is why you always want to learn a skill because they can never take that skill away from me. So because I'm a designer, they can never take that away from me. I can always make money doing design, whether it's at a company or whether it's freelance or whether it's trying to build my own product. So that's the value of having a relevant skill.
Maurice Cherry:
Yeah, absolutely. So how long was it until you moved back to New York City?
Fonz Morris:
After I was doing Third Eye Designs, I realized maybe I could get a job in the industry and that's when I got my first art director position at a money transfer company that was a small, tiny version of a Western Union and I did that for almost two years. And that's where I really got my first bearings and understanding what it's like to work with engineers who are going to be building your stuff and this is what a web developer is versus a web designer and really understanding the programming languages like that. And then I actually had a tragedy in my family. A little brother actually ended up getting killed in New York.
Maurice Cherry:
Man.
Fonz Morris:
And that's what I decided to just leave Atlanta. It was just a whole life changing experience for me and I just felt I needed to be back around my family. And so I left Atlanta to go back to New York. And when I got to New York is when I got my first agency job where I was working on a lot of different marketing style materials. Banners, flash banner web banners, landing pages for entertainment companies, movies. And New York is a good place for design. So it was an easy place for me to get a job once I left Atlanta.
Maurice Cherry:
Now was this at My Artist's DNA?
Fonz Morris:
No, this is not even… Portfolio, well not portfolios, but resumes are so hard to decide what to put and what not put. My Artist's DNA was pretty much what Third Eye Designs… It was Third Eye Designs first product.
Maurice Cherry:
Okay. I gotcha.
Fonz Morris:
So I'll keep going with this and it'll start to make a lot more sense. So once I went back to New York and I started working in the agency space, I kept the Third Eye Designs idea going with the same partner and we started to do even bigger projects for even more people. We worked with Def Jam and we did Kanye West banners and we worked with Def Jam and we did Jagged Edge stuff and Rick Ross and we worked with Universal Music and we did movie releases. And we just realized, "Wow, we're getting good at this. We're actually getting real clients." And then another partner of ours from Morehouse joined on board. He opened up his network and then we was doing work with real estate companies and all these other different new businesses. And what ended up happening is one of our clients that we had did a lot of work for, Aqua hired us. Actually the… It's an amazing story.
Fonz Morris:
Our first angel investors were a family out of Pennsylvania, the Lomax family, the honorable Dr. Walter Lomax. He was actually Dr. Martin Luther King Jr's physician, his real physician. And that's the craziest part, he's a legend…
Maurice Cherry:
Wow.
Fonz Morris:
… That most black people don't know. But his family were really focused on investing in a lot of black startups and black businesses all across the country and across the world actually. So they put up the money for me to build My Artist's DNA. And that was my first product, which was supposed to be a way for indie artists to promote and monetize their brands. It came out around the time Myspace stopped and Facebook pages had just launched.
Maurice Cherry:
Man. So you go from attending Morehouse where Martin Luther King went to now getting supported by the family of his doctor?
Fonz Morris:
Greatest experience ever.
Maurice Cherry:
Wow.
Fonz Morris:
Most people don't even know of the Lomax family. They are amazing, amazing people. They have done so much. They've been behind the scenes for so many different things that people don't know. And I just am very fortunate enough to have worked with them and they put up real angel money for us to build our first product. I will forever be thankful for them, forever appreciative. And it's what really allowed me to get my product design career started. Because prior to this I was doing web design and graphic design, but once we started doing My Artist's DNA, that was my first step into actual product design.
Maurice Cherry:
Wow. So you also worked for a gaming company, is that right? High 5 Games?
Fonz Morris:
Yes. So the startup, My Artist's DNA, we did that for about five years, but then we ultimately ran out of funding and I was engaged and knew I needed to get a job again. And then I was in Philadelphia at that moment and I thought to myself, "Well, I'm going to do something fun. I want to do something I haven't tried before." And High 5 Games was a video game company that built casino games for Facebook as well as in house casinos. So I was the art director there and I worked on the marketing team, which allowed me to try to help promote our new games that were coming out and I our new campaigns and come and go. So it was actually my first attempt at working on a growth team because my whole job was to try to create these amazing visuals to keep people wanting to play our games.
Maurice Cherry:
And so you're in New York, you're working at High 5 Games as art director doing UX stuff. When did you decide to move to Philly? What brought that on?
Fonz Morris:
So my first move to Philly was when we got the angel investment, because the Lomax family was based out of Pennsylvania.
Maurice Cherry:
Okay.
Fonz Morris:
So we needed to be in Philly to be able to get back and forth to the office because they were our investors and we needed to go into the office to be able to talk and help strategize and plan things out. So that was my first stay in Philly. Once that didn't happen and I moved back to New York, was High 5 Games, and then I left High 5 Games and went to Philly a second time to work at Comcast, which is extended use cable.
Maurice Cherry:
Gotcha.
Fonz Morris:
That was my second stay in Philly.
Maurice Cherry:
What was it like working there?
Fonz Morris:
I like Philadelphia.
Maurice Cherry:
Yeah, Philly's a great city. I went for the first time in… What year was that? 2017 I think? No, not 2017, 2018 I think was the first time I went. Great city. Great city, great food scene. I love Philly. A lot of people was telling me when I went to Philly, "Philly's rough." I was like, "Philly?" I had a great time in Philly. I enjoy Philly.
Fonz Morris:
Philly is rough. Philly is rough, I will be honest. But…
Fonz Morris:
Is rough [inaudible 00:48:01] but that's if you go to the wrong place. I think [inaudible 00:48:07] is rough if you go to the wrong places. So what's critical about Philly is its proximity to New York and its proximity to DC. It's like a middle point between two major cities, so depending on if you're in government in DC or if you're in banking or real estate or finance in New York, you can even live in Philadelphia and commute to New York as often as you need. That's what I was doing.
Maurice Cherry:
What was it like working at Comcast?
Fonz Morris:
It was interesting. It was interesting. Why do I say that is because I was a contractor and when you're a contractor at these big companies, you get treated a little different. I mean you still go to work every day, but certain company meetings you don't get to go to. They had a gym in the building that I couldn't use because I was a contractor and you always have this kind of stigma over your head of you're a second class citizen because you're a contractor. When you can put that aside, which is not that easy, working there was cool because it was the hottest company in the city. I could walk to work. The building and the work environment was amazing. My coworkers were cool. I've actually worked on a lot of high profile stuff. I've got to work on the Netflix release, I've got to work on the Olympic stuff, I've got to work on that new X1 remote.
Fonz Morris:
I got to work on a lot of projects and different products and I learned a lot. I learned a lot about design systems and I learned a lot about the difference between art directors and creative directors and working with sales teams. It was a really important learning process for me and I learned a lot about things not only design related but just basic work environment related. That's what made me realize I never wanted to be per se a contractor again at a company. That stability is not really there and I realized I needed to hone in on my skills and if I wasn't going to do entrepreneurship, I needed to get a full time position somewhere because the contracting stuff just gets in the way sometimes. So that kind of clouded my experience at Xfinity a little bit in all transparency.
Maurice Cherry:
I worked at AT&T from 2006 to 2008 also as a contractor and yeah, I know what you mean about that second class citizen kind of status. Aside from the fact that they will just treat you in that way, there's also the fact that … and I don't know if it was like this at Comcast, but at AT&T they kept changing the goalposts when it came to what they measured you for success by. So the employees were I guess kind of set because they had a salary and so whatever happened happened, but contractors were held to this really super rigid, almost like a Glen Gary, Glen Ross, kind of standard of you have to make this many points a week and if you don't make this many points a week, you're fired. They would be quick to tell you that they will get someone else in to fill your spot like that. Like they don't care.
Fonz Morris:
Also randomly, if you're a contractor and you're already feeling some kind of way, being the only black man on the design team doesn't really help either, you know what I mean? There were certain times where I just had to really ask myself, "Is this the right place for me?" And did I really see myself having upward mobility in that company? Lucky enough, the same guys that I did my first company, myArtistDNA with, they raised another round of money and that's when I left Comcast to join their team as head of design at my channel, which is a startup that was focusing on video telecommunications.
Maurice Cherry:
Nice. How long were you at my channel?
Fonz Morris:
For about two years. About two years. I started doing a little bit of part time work while I was still at Comcast and then we were making so much progress and the vibe and the energy was good. We were doing well. I just decided to leave and go full time at my channel. That was my second stent at entrepreneurship. Well my third one, honestly
Maurice Cherry:
So while you were at my channel, right after that was when you decided you wanted to move out West and pursue your career there.
Fonz Morris:
Yeah, there you go. So here we go. Full circle now and all this rambling I did makes sense. We're right back to where it all makes sense of how I got here now. But you know what? What I want to honestly say is, and for anyone that's listening to this, live your own path, you never know what's going to work. Try different things out, make the best decisions you can. We're all human. You're going to learn so much from every step of the road. Don't try to be too perfect because part of life is just figuring things out and I'm really happy with the path that I took in my life. I don't regret any of it and I'm happy. It led me to where I am now and there was many points in my career that I didn't see getting this far in design for whatever was going on at that moment, but also to tie back into some stuff I said earlier, that's why you have to be patient with yourself and you have to have self confidence and you have to believe in yourself because you can achieve anything.
Maurice Cherry:
Yeah. You mentioned speaking at AfroTech last year and AfroTech is a huge event. It's all about diversity in the tech community. I would say it also ostensibly shifts over into diversity of the design community because design and tech tend to be pretty linked I would say with the tools that people use and things. How do we increase diversity in the design community?
Fonz Morris:
I think you have to find all the people that's interested in it and you have to introduce it to people who may not have thought about it. Awareness is critical. That's a really good first step. So let me say awareness, final answer.
Maurice Cherry:
And by awareness do you mean just awareness that we are here or just awareness that-
Fonz Morris:
That there's a actual profession. That there's a actual profession that you can go into that's not necessarily just called design, but that there is a position title, UX designer, UI designer, writer, UX researcher, product manager, product designer. I don't think a lot of people understand the granular levels of careers in tech. You just understand the overarching umbrella of tech and then you may go to the overarching umbrella of design.
Fonz Morris:
But when I speak of awareness, I want to let a population of people who may not be familiar with this understand all the different disciplines that you can pursue. By doing that you allow people to find what's interesting to them as well as what they're passionate about. Then by doing that, that's how you help somebody make their first step into deciding, "I actually do want to get into design and I want to be X position." But if you don't know that there's a such thing as a data scientist or as a product designer or as a UI or interaction designer, how are you really going to achieve to want to become one of them?
Maurice Cherry:
I mean, having that exposure is important too. To know that this is a potential thing. Sort of like what you said with the granularity. I mean when you and I started out, you were a web designer, you were a graphic designer, you were a webmaster. That's pretty much it. And as technology and design have certainly evolved over the years, now you can get so, so specific with the type of design that you do.
Maurice Cherry:
I do think that makes it harder when you're just coming into it, because there are these … and I don't know if you see this too, but like I feel like if you want to get into the design industry, there certainly are paths that you can take that feel like they're a little more … I don't want to say reliable than others, but say someone will go to … they say, "You know what? I want to get into design." So they hear about General Assembly, they go to General Assembly, they take the UX intensive course and I think it's 10 or 12 weeks or something like that. They get out, they get placed at a place. Now their UX designer, they hate UX [crosstalk 00:56:37] but they went through it because they felt like that was a way to get in, you know?
Fonz Morris:
Right. See that's where I'm saying they skip that first step of what I said almost 45 minutes ago of figuring out what part of this do you actually like? Don't be so caught up in the UX part, be caught up more in … I liked the way Apple products look. I really like the brand style of that, so that's not UX. So you go into UX, I don't mean that's what you're going to do. Really take the time to focus on what you want to do.
Fonz Morris:
I think that's where you'll decide do you want to really go into a UX program from General Assembly? That might not be the best step for you, but if you don't really know what you want to do, I think that's where you end up starting to make the decisions that you think might work for you as opposed to what really would work for you. I do agree with you as well that the exposure could bring some layer of complexity, but I also think that it will ultimately lead to a layer of clarity.
Maurice Cherry:
Yeah, that's a good way to put it. I like that because oftentimes, just knowing that these positions exist is one thing. I think sometimes, to be honest with you, some folks get caught up in the salary. They'll see that this place is paying this much and they're like, "Oh, I got to get into tech. Oh I got to get into design." And yeah, there is money if you go with the right company and the right position, but it's got to be something that speaks to you, something that speaks to your unique skills and talents and what you like. It shouldn't just be about chasing a salary. Because if anything, I think we both know … I wont say designers are a dime a dozen, but you can be replaced in some way. It's not so much about just trying to make sure you get a paycheck at the end of the day.
Fonz Morris:
Right. I mean I agree with you. I agree with you on that. I mean money is definitely important for sure. But there's a lot of people that make a lot of money that are not really happy. So if your happiness is important, then money can't be the dominant deciding factor because that means you'll take the money to work at a company for a position that you're not really happy in. I think that ends up having a lot of negative consequences. I would tell anybody, male or female, to fight for the most money you can get, but also understand that there's other things that matter when you're looking for a career than just the money.
Maurice Cherry:
Right. What keeps you motivated and inspired these days?
Fonz Morris:
I have a family to take care of and my family is really supportive and inspired by me and proud of me and I'm proud of myself. My growth over my career keeps me motivated. The love and support from my community. Shout out to you honestly, I just hit you up on Twitter and LinkedIn and asked you, " how do I figure out how to participate in your show one day?" And you responded to my tweet in honestly less than an hour. You responded to my LinkedIn message in less than 30 minutes so that type of interaction, but that kind of interaction and support, that's what keeps me motivated because that means people respect me and that respect goes a long way.
Fonz Morris:
That respect is what makes you feel good. That respect is what will also cheer you up maybe when you're having a bad day. So the respect from my community I would say is what keeps me really motivated. When I say community, I'm using that as a broad term. I'm not just using that as the black community or my family. I'm using it as the design community, the tech community, the Bay area community, my community back in Brooklyn. So my community motivates me, honestly.
Maurice Cherry:
What haven't you done yet that you want to do in your career?
Fonz Morris:
Well, what I've been doing that's been in my last couple of months on, and then I want to thank you as well is more public speaking. A lot of people have told me that they think I could possibly have a lane in speaking. They think I have a motivational style and an inspirational style and I can explain things that could possibly be complicated in a more laymans type of way. And there's a lot of value in that.
Fonz Morris:
I also really liked supporting people and I think speaking allows you to do all that. I would like to do more speaking, shout out to AfroTech. They're the ones that really gave me my first, first shot at speaking on such a big platform like that. I had been doing smaller events here and there, but the success of AfroTech is what led me know that I would like to continue doing speaking as well as, I think I want to start some kind of online school to help with training the community to gain the skills that they need to decrease this digital divide gap that I see every day, that I work and participate in design.
Maurice Cherry:
One of the themes that we have for this year, that I'm trying to carry this throughout 2020, is basically how are we as black designers and developers, technologists, et cetera, how are we using the skills that we have to build a more equitable future? Because I mean the future technically is now I think 2020 … shout out to ABC … 2020 has been a year that has been in the collective consciousness for over 20 years. [inaudible 01:02:18] show was on ABC, so people have always had a notion of 2020 being like the future. Now that we're here and you look at your life, you look at your career, you look at the skills that you have, how are you helping to build a more equitable future?
Fonz Morris:
I think by supporting other people to become a designer and blazing trails and making sure that I'm a face of diversity in design. I think there's a lot of unique trailblazers and I'm not saying I'm the only trailblazer, but you need trailblazers to be able to bring awareness to situations and that's what I'm doing every day. That's what I put 125% into doing that. I also understand and think the value in supporting my community, mentoring, talking to people, going to portfolio interviews. Having one on one calls with people who may reach out to me that have questions about UX and UI. They don't know anybody in product design that they can show their portfolio to or just ask a question. I think being that resource for people is really how I can give back the most.
Fonz Morris:
Yes, I can give back through my designs and I make sure to try to bring diversity to my designs and I'm really proud of that and I love being at Coursera because I can do that and I've seen that. I've seen my power of being able to use people of color on the homepage of Coursera and that's a big step for us. That's something that I spoke about in my talk at AfroTech. I think those are the ways that I'm able to actually give back and help.
Maurice Cherry:
Nice. That's funny you mentioned that, that reminds me of Diógenes Brito who we had on the show. This was years ago, but he was talking about how he changed the default slack hand to a brown hand and how even just that simple gesture was something that made shockwaves. Just the fact that you see the default hand is not a white hand, it's a black hand or a brown hand. What does that mean? You know? It's funny, even those little small, or what can seem like small gestures can have a really huge impact like that.
Fonz Morris:
Huge. They're huge. I'll tell one quick story. When we redid our promo unit platform that I spoke about working on, I was able to sit with some of the designers. They show the flexibility of the new system. One of the days that I logged on coursera.org I saw a brother in one of the new promo units that we just did. And I saw a sister in another promo unit that we did. Then when you looked at another place, there was another person of color on the site and it just really showed diversity and it was a good first step for Coursera and it was an amazing step for me. I don't think you really should look at it as was it a big or small step, it's a step that is necessary. Shout out to the brother who did the slack hand because that is amazing and shout out to everybody who is making a difference in whatever way that they can because we need everybody to do everything that they can.
Maurice Cherry:
Where do you see yourself in the next five years? It's 2025, what is Fonz working on?
Fonz Morris:
I think I have become a household name in design as far as a representative from the black community. I think I will have at least my prototype first version of some type of training platform off the ground to be able to help mentor and teach and educate future designers or current designers or people who want to upskill or re-skill. I think I'll always still be designing as well. I may have finally launched the app. I'm thinking about doing some kind of an app that just allows people to have a place to talk and maybe vent and get support. So you'll see me probably doing something entrepreneurship wise as well as still being a powerhouse in the design industry somewhere, leading some kind of team to victory.
Maurice Cherry:
Nice. Well just to wrap things up here, where can our audience find out more about you and about your work online?
Fonz Morris:
I'm very active on Twitter. You can find me at Youngfonz, Y-O-U-N-G-F-O-N-Z. You can find me on Instagram at Fonzmoney, F-O-N-Z-M-O-N-E-Y. You can also find me on LinkedIn at Fonz Morris. I'm not the biggest social media user for gossip, but I am the biggest social media user for networking and print promotion. You can find me on all three of those social media platforms as well as if you just want to see some of the work that I do. You can go to my portfolio which is Fonz, F-O-N-Z.design and you can email me. However you want to try to find me, you can reach out, I'm online. Trust me, you type Fonz Morris in the Google search bar, you'll see me. Hit me up.
Maurice Cherry:
Nice. Well Fonz Morris, I want to thank you so much, so much for coming on the show.
Fonz Morris:
Me too.
Maurice Cherry:
I mean your energy, I mean for people that don't know that I'm recording this, I'm recording this after my work day, so after eight hours. Your energy has me pumped now.
Fonz Morris:
Thank you. I hear such positive feedback from people like that and last night when I was doing the mentoring with the junior designers, I got some same feedback like that. So Maurice, that's what I was saying, I think I have a lane in public speaking because my passion for design and my passion for my community and my love for just humanity allows me to be able to share that and bring that energy to the table everyday.
Fonz Morris:
So thank you for sharing that with me because those are the type of pieces of feedback that's really important to me. I'm no longer as focused on am I just a good visual designer? I'm focused on that. And am I a good guy? Am I interesting? Am I exciting? Am I still bringing a lot of energy to the table? So I'm glad that you were able to receive that from me because I wanted to bring that because I feel really honored and excited to be a part of your podcast. So thank you. Thank you. Thank you sir. I really appreciate it.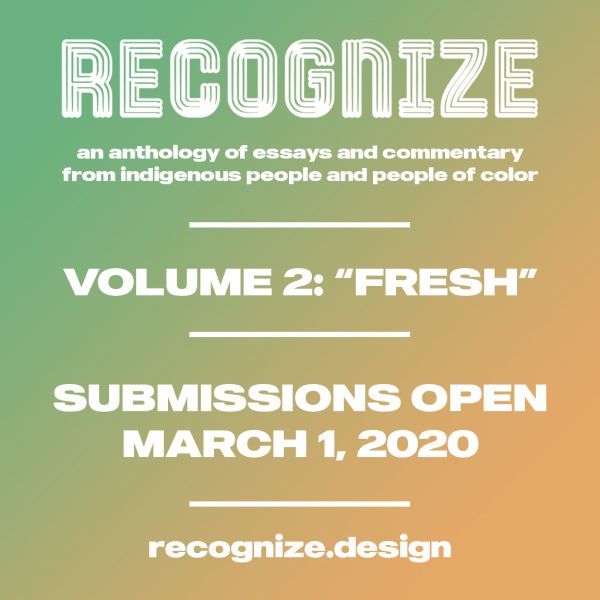 RECOGNIZE is open for essay submissions for Volume 2! The deadline is April 30 – enter today!
MODA and Revision Path present Creative Atlanta 2020, an interview series highlighting Black creatives in Atlanta ranging from an award-winning cellist to a Harvard GSD Loeb Fellow.
Tickets are free with regular admission to MODA and include access to our exhibition. Space is limited, so grab your ticket today!

Sponsors
Facebook Design is a proud sponsor of Revision Path. The Facebook Design community is designing for human needs at unprecedented scale. Across Facebook's family of apps and new product platforms, multi-disciplinary teams come together to create, build and shape communication experiences in service of the essential, universal human need for connection. To learn more, please visit facebook.design.
This episode is brought to you by Abstract: design workflow management for modern design teams. Spend less time searching for design files and tracking down feedback, and spend more time focusing on innovation and collaboration. Like Glitch, but for designers, Abstract is your team's version-controlled source of truth for design work. With Abstract, you can version design files, present work, request reviews, collect feedback, and give developers direct access to all specs—all from one place. Sign your team up for a free, 30-day trial today by heading over to www.abstract.com.