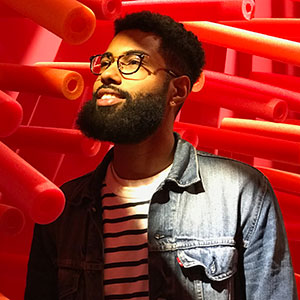 Dexter Ferguson might be a young designer in this industry, but he is committed to using his abilities to really help change the world. By day, he works at Airbus Aerial as a product designer, helping insurance companies make decisions on damages and risks. When work is over, Dexter puts on his entrepreneur hat as the founder of DebtBennies, a job listing board with companies that will help you pay down your student loans. Pretty innovative!
We talked about how Dexter is able to balance both 9-to-5 work with running his own side projects, and he even gave some really great advice to those out there looking to get to the next level in their career. We also spent some time examining Atlanta's design and tech scene, with Dexter sharing some his favorite things to do in the city. Dexter's philosophy of striving for progress ensures that his trajectory in this industry is going to be a positive one, and I think we'll be hearing a lot more from him in the future!
---
It's survey time!
Take our annual audience survey at revisionpath.com/survey, and help shape the future of Revision Path! Survey ends on April 30 at midnight ET! Thanks for your feedback!
---