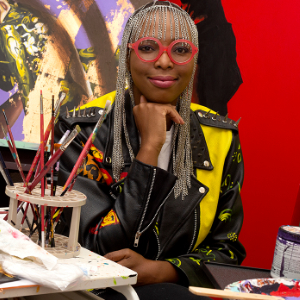 I discover new guests for Revision Path in the most interesting ways. Take this week's guest — artist Dawn Okoro, for example. I learned about her work from the back of a bottle of LIFEWTR! Talk about refreshing! (And I don't mean the water.)
Dawn gave an update on how 2021 has been going, including becoming a full-time artist and working on a new set of drawings using a surprising material — Kool-Aid. We talked a bit about one of Dawn's past exhibits, "Burden of Respectability", how she's been connecting with a new audience over social media, and spoke on some of her artistic inspirations. It's amazing that artists like Dawn can share their work with the world in all kinds of ways!
Transcript
Full Transcript
Maurice Cherry:
All right. So tell us who you are and what you do.
Dawn Okoro:
My name is Dawn Okoro, and I'm an artist. Most of my art has been painting. I paint people, mostly Black women in bright vivid colors. And I also, really influence a lot by fashion. So I like to incorporate fashion into my art and just have fashion as art, and I also do some video work as well as art. So I like to experiment with different mediums of art.
Maurice Cherry:
Nice. How has the year been going for you so far? How's 2021 been?
Dawn Okoro:
2021 was currently a year of transition for me. When it comes to art last year for me in 2020, things just got really busy, things were slow when the pandemic first hit, but then things got busier with some different projects coming up and then I've been able to reach more people in the past year and I've sold a lot more paintings than before. And so, I left my day job that I've been working for nine years and just focusing on art full time. And yeah, a lot of things are changing for me in 2021.
Maurice Cherry:
Congratulations on leaving the job and becoming a full-time artist.
Dawn Okoro:
Thank you.
Maurice Cherry:
Is there anything that you want to try to accomplish before the end of the year? I mean, it sounds like it's been going pretty well so far.
Dawn Okoro:
Really the biggest thing that I'd like to accomplish is just finish a couple of projects that I have going on. One of the changes that happened for me this year is that I signed with… well, I started working with a couple of galleries where they represent my work, and one of the galleries that I signed with is based in London. They also have a gallery in LA.
Dawn Okoro:
Next year I'm going to have a solo show with them at their London location, but I need to get all those works finished as soon as possible, or, well, probably won't be till the end of the year, but my goal is to get all those pieces finished and then I can breathe a sigh of relief.
Maurice Cherry:
Oh, nice. London is really nice, I need to get back to London when all this pandemic stuff is over with. But no, that's great. I mean, so you just got the representation this year, you just became represented?
Dawn Okoro:
Yeah. This year, the gallery in London called Maddox Gallery, and then there's also a gallery in Seattle called Koplin Del Rio, which I have a solo show with them right now of some small drawings that made with the Kool-Aid this summer.
Maurice Cherry:
Oh yeah. I saw on Instagram, this new drawing you're doing called Red 40 with Kool-Aid. That's really cool.
Dawn Okoro:
Thanks. Yeah, it's been fun to work with. I just figured… thinking about… just over the past year, how I've been reaching more towards things that are comforting and I was trying to think of a way to incorporate that into my art. And for me, Kool-Aid is something that we grew up having with, I don't know, probably most meals growing up here in Lubbock, Texas.
Dawn Okoro:
Is something, I guess once I moved out of the house, it's not something that I just sit and make, but I guess you could say just the smell of it just brings back a nostalgic feeling. And so I got several packets of different colors and decided, well, why don't I try to use that as a watercolor. And so I experimented with that a few months ago and it's interesting.
Dawn Okoro:
It doesn't really act like watercolor, it's definitely different, but it's interesting and you can really play with the textures and the powder as well, so you end up doing a whole series of those drawings.
Maurice Cherry:
I'm curious. Does it smell?
Dawn Okoro:
Yeah. Well, it smells, when you first open up the packet, of course, the powder gets under your nose and it's strong, and then… but then when I paint with it… I do the drawings in color pencil, but then I painted the Kool-Aid on and around the drawing. And so when I paint with the Kool-Aid, I mix it with water and depending on how much water you mix it with it, that'll determine how dark it is.
Dawn Okoro:
So I did a few of these with the Kool-Aid, and then I came into my studio the next day and you could really smell the Kool-Aid strong. I like the way Kool-Aid smells, if my mother is making it, before a meal and we're having it with a meal, but to have the smell of the powder just in the studio was just like, "Ah, it's too much."
Maurice Cherry:
Yeah.
Dawn Okoro:
But what I do to protect the drawing is I spray it with an acrylic coating, and once I spray that, then you can't smell it anymore.
Maurice Cherry:
Yeah. I was just thinking, I was like, I wonder if that holds up over transport, will people try to get close to try to smell the Kool-Aid or something. But no, that's really interesting.
Dawn Okoro:
Yeah. That's unfortunately.
Maurice Cherry:
So what do your days look like now that you're a full-time artist?
Dawn Okoro:
Well, first I'll tell you what my days looked like before. So, I had my job that I would go to, it's about at least nine hours a day to do that. So when it came to my art, I just had to find a way to just fit it around that no matter what I had going on. So, I would work and then ideally come home and then get right to work on my painting, which ideally maybe for a few hours, that didn't always happen, of course.
Dawn Okoro:
And then, sometimes if I have a big project coming up, I would take a vacation from my day job to then go work on art. It was just really hard to balance it, especially if I had a really big project where it involved a lot of painting, and I just really wanted to just dedicate that time to making my art.
Dawn Okoro:
So now that I'm able to focus on my art, I will say that those hours that I've worked in my day job, those immediately got filled up with plenty to do, it still feels like there aren't enough hours in a day. But my days look like… I get up, make some coffee, on the perfect day I would get up and maybe work out for 30 minutes, which for me might mean skateboarding or go for a walk or something. And then when I get home shower, freshen up and then get into the art studio.
Dawn Okoro:
So when I'm in the studio, I try to divide my days up so that I have at least a couple days a week where I deal with business related stuff, that is not making art. And then I try to have at least three days a week where I just focus on actually making stuff. It doesn't always work out that way, but just spend my day in the studio, either by computer doing paperwork or doing stuff like that, or working on a canvas or a drawing, but definitely much happier now for sure.
Maurice Cherry:
Yeah. I can imagine trying to juggle a full-time job while also having these side responsibilities is always tough balance because… I mean, you would hope that you land at a job that understands that outside of work you're a totally different person, you have your own other things that you have to do. Well, did you find that your job was sympathetic to that?
Dawn Okoro:
My bosses were sympathetic to that, but at the same time there's really not much they could really do, not much they could really to help because the way I felt I wish that… I don't know, I wish I could maybe… I don't know, have a schedule like the 4/10s or just a schedule where you have more days off or something. I don't know. But they weren't able to do that at least in my department.
Dawn Okoro:
They were sympathetic and they, I guess supported me as an artist, but that's about… but there's really not much they could do because it's just a big corporate job and you just have to work with whatever they provide. So
Maurice Cherry:
Yeah. And you were working at a news station, right?
Dawn Okoro:
Yeah. I was a journalist. At that station I was a… well, I was a producer for several years there, but that was really stressful because you're the producer that handles writing for the shows, when the anchor comes on and talks and then you also have to sit in the booth and booth the show too. And to me that's nerve ranking when you have live shots and just so many moving parts and things can go wrong.
Dawn Okoro:
And I think that I probably wasn't best suited for that position, in the first place is because I get so anxious, but I really hated that part of the job. There were some good things about being a TV news producer, but eventually there was an opportunity to join the web team, so I jumped on that and I was definitely a lot happier, at least that was more tolerable to work on the web team because the pace is different.
Dawn Okoro:
A story breaks, so you get all the information and you post it, and then you do updates and that's pretty much all you can really do on that, and post on social media. So I definitely enjoyed that better, but still I wanted to have those hours for myself and my art.
Maurice Cherry:
Yeah. And again congratulations, I see you're making that jump. I know, we're recording this right now at a time where there's this big thing going on, at least what the media is calling, the great resignation of people deciding they're going to leave their jobs and pursue other things.
Maurice Cherry:
And not saying that what you're doing is wrapped up in that, but I think it certainly speaks to this overall wave right now of people discovering there's more out there than just a 9:00 to 5:00, you'd have the permission and the capacity to pursue your passions which is great for anyone that has an artistic soul like that.
Dawn Okoro:
Yeah. And I definitely agree with that and I think being able to work… a lot of people that weren't allowed to work from home were suddenly allowed to work from home. And I think that made a difference as well. At my job we worked in an office, and me as their producer or web producer or digital, whatever you want to call it, I really didn't have any need to physically be in the office.
Dawn Okoro:
And before the pandemic, some of us were like, "Hey, could we work from home?" Or at least have just some days a week where we could work from home, and the company is like, "No." And then the pandemic happens and then they allowed, suddenly pretty much everyone was allowed to work from home unless if you're the anchor in the studio, that's hard to do from home.
Dawn Okoro:
So they had to have some people in the control room and all that, but this whole time I was able to work from home and that was nice just to… even if I had to focus on my day job from home, it was nice just to at least be near my art. So as soon as I was done working, then I could just… well, I'm already here, at least I don't have to go through the commute and all that.
Dawn Okoro:
But then I heard… this isn't why I quit, but shortly after I quit I learned that, I think starting soon everybody that was working from home, get ready to get back in the office. And I was like, "Oh God, I'm so glad that I'm not there anymore because I would not want to have to go back to the office every single day."
Maurice Cherry:
Yeah. To get back to your artwork again, you mentioned earlier, you're working across a bunch of different medium in terms of inspiration. Some of it is fashion based, some of it is more fine arts based like you mentioned with this painting, how do you approach creating a new piece of art? Where does that start?
Dawn Okoro:
Yeah, it starts off with just how do I feel from there? What work do I want to create? Or what is it for? And usually that's going to be I want to do some paintings or I want to do a painting and then I paint people. So then from there it's, who will I paint?
Dawn Okoro:
A lot during the past year and a half, I've been doing self portraits because that's just been a lot easier during the pandemic, and I've just slowly started to get back into having people photograph for me so that I can use that image as a reference. So then it's just deciding, who will I paint? What will this painting look like? How do I want people to feel?
Dawn Okoro:
And then I photograph the person and then I will later go look at the photographs, from there I decide. I look and see what touches me the most emotionally, and then I use that, that image is the reference image, so then I get painting. The colors are also very feeling based, based on this person, what are they wearing? Then I just go from there. And then when it's finished, I hope that I create something that can move people in some way.
Maurice Cherry:
Yeah. I saw from looking at, like I said, some of the past work that you've done, and even looking at the process around it, it seems like it's collaborative in that way. You are working with a model or working with someone to conjure up the emotion that you want to eventually put forth in the piece.
Dawn Okoro:
Yes. I like to be able to capture the essence of the person that's modeling whenever I'm… well, at least lately the past few years, whenever I'm going to bring someone in to shoot reference photos with, I'll tell them just wear whatever you want to wear, or you can bring a couple of outfits if you want. And then when they get here, then I'll see what they're wearing and so it's a surprise for me.
Dawn Okoro:
And so, some people it might be t-shirt and jeans, others might have more of an elaborate type of get up. It's fun for me to be surprised by what they're wearing, and then just for me to just spin off from that.
Maurice Cherry:
I saw, I think it was your Punk Noir exhibit where you also had a band there. So it's exhibiting your work, but then you also have this live media component too.
Dawn Okoro:
Yeah. So the Punk Noir show started here in Austin. I was thinking, okay, so when they said, "Okay, you can do a solo show here. What do you want to do?" And at that time I was just really just getting back into being an artist again. And through that process, I was starting to meet more artists around town, some of them who didn't even live here maybe a few years ago, but I was just starting to get more involved and meet other creatives.
Dawn Okoro:
And I just wanted to just capture a snapshot of the way things felt here in Austin at that time for me and the Black creative community. So for the show I wanted to paint these life size portraits of people, the Black people that have a punk spirit, and then I envisioned at least for the opening, you have a Black fronted punk band there and just really making an immersive night.
Dawn Okoro:
And so it really was like I was saying, it was probably about 400 people at the opening and you've got lots of video and everyone moshed into the punk band, and the part where the paintings were, I guess that's… I was a few steps away from where the band performed, but you could hear it coming into the gallery area. So that was such a good experience, I wanted to recreate that.
Dawn Okoro:
So I had some opportunities to show… and a few other locations around that time. So I was like, "Well, let me bring Punk Noir to these locations. So I was able to do the show in Dallas, and there I was able to have a band as well. In Dallas, I had Wanz Dover, and then in Austin Blaxploitation was the band.
Dawn Okoro:
But the thing is this all takes funding. So I had another version of Punk Noir show in San Antonio, Texas, and also in Seattle. But I wasn't able to bring the bands to those, unfortunately, because the beach didn't have the funding and resources there.
Maurice Cherry:
Now, when you're thinking about creating these exhibits, do you always want to have that, I guess, live component to it? Or was it just specific for that one?
Dawn Okoro:
I would say it's specific to that one, but that was so fun that in the future, when I'm able to, again, I could definitely see myself doing that again, but it just all comes down to having the support to be able to do that. But I would definitely do something like that again.
Maurice Cherry:
Yeah. I would think some London musicians in the show that would be dope.
Dawn Okoro:
That would be awesome. Yeah. I have to see about that.
Maurice Cherry:
Now, you're originally from Texas. You also are currently… I mean, you live in Texas now too. Tell me about what it was like growing up there.
Dawn Okoro:
So Texas it's a very big state, very vast, different areas are different from each other. So I live in Austin now, which is the capital of Texas. Austin is a very… well Texas is a red state, very conservative. Austin is a very blue area. I guess the major cities are blue, but then the rest of Texas is rural and very red.
Dawn Okoro:
I grew up in Lubbock, Texas, which is about… it's in what we call the Texas panhandle, but it's up north, in the panhandle part that sticks out in Texas. And it's about a six hour drive from Austin. Lubbock is a lot different from Austin and it's very flat, very conservative, and now I guess it's Trump country. Austin is very white, Lubbock it's very white to.
Dawn Okoro:
I guess it just has such a conservative attitude overall. I think a lot of my upbringing was influenced by that and I just wanted to just get away as soon as I could, because I was already someone that… because of just how I am, very introverted, very shy, I think that didn't help, but I just didn't feel like I fit in really anywhere. So I just got out of Lubbock as soon as I could.
Maurice Cherry:
I know that feeling, I grew up in a small town in Alabama and two weeks after I graduated, I was out, I was like, "I'm done."
Dawn Okoro:
Exactly.
Maurice Cherry:
"This was fun. Thanks. I'm out." Yeah.
Dawn Okoro:
Yeah. But I hear you. I hear you. So I moved to Austin for college. I'm so really glad that I did, just to see something else, even if Austin was not a huge city or anything, it was just good to just experience something else.
Maurice Cherry:
Yeah. Were you exposed to a lot of art and everything growing up in Lubbock? Was there an art scene there?
Dawn Okoro:
I don't know if there was an art scene really. I mean, as far as art, the only museum that I went to was… we have Texas Tech in Lubbock. So I would go to the Texas Tech museum whenever we go for a field trip at school. But other than that, yeah, that's pretty much. That's pretty much it. I mean, Lubbock at that time may have had a few, maybe a few galleries, but I will say one memory I have is being in high school and I'm not sure how I met this artist, but I met an artist who was a… he was an older Hispanic artist who had a studio in downtown Lubbock, but not far from my high school.
Dawn Okoro:
And I remember I visited there one time and he had all his artwork up and he was working on stuff in his studio, and that was really inspiring for me, even though at that time I still didn't feel like for sure I could be a successful artist, but now looking back, that's a good memory, one of the rare times that I got to be around someone that had an art studio there in Lubbock.
Maurice Cherry:
And now once you left and went to University of Texas in Austin, I mean, was that a big culture shift?
Dawn Okoro:
Not really. Given the timing, being 18 and finally moving off on my own, I think it was just a shift in my life of just learning how to just be an adult, but I'm glad that I got to spend those years in Austin as opposed to Lubbock. But mainly pretty much I kept myself confined to campus, than here in Austin, we have the entertainment area, it's called Sixth Street.
Dawn Okoro:
So I would go to Sixth Street with some of my classmates and all that, but it wasn't too much of a culture change because Austin was at the time especially, it was more of a just a sleepy college town. So it was a good place to start off, I guess, although we didn't love it.
Maurice Cherry:
What was your time like there at UT?
Dawn Okoro:
Looking back, I wish, I hate to say it should, could, or would, but I wish that I had taken advantage of the resources that they would have for someone that wants to be an artist. I knew when I initially started going to college, I knew that I wanted to be an artist or something creative, but I was like, "Nah, I'll just put that off till later." And expectations of myself and expectations from family, it was pretty much expected that I would be a doctor, or a lawyer, or engineer or something like that.
Dawn Okoro:
And so I was like, "Well, I couldn't do that all. I'll just pick another major that sounds legit." And I picked psychology and then I minored in fashion design. I took a whole lot of fashion design classes, the most fun on the fashion design side of things.
Dawn Okoro:
So I don't know, I just feel like, I wish… if I could go back and change things, I probably would've just maybe study art and fashion design instead, but I would just not as focused on what I would do as so much so as some other people I know that knew what they wanted to do, had everything lined up, had their internships and then a job or something right out of college. But that wasn't me.
Maurice Cherry:
Well, I mean, I think we all have… there's non-traditional path to get into the arts or into design or things like that. But I see what you mean about looking back at college and wishing or wondering if you pursued things in a different manner where you might be now.
Maurice Cherry:
For example, I'm a designer, I also work as a strategist, but in undergrad I majored in math. Now I love math, don't get me wrong. I was a huge math nerd in high school, I was captain of the math, mathletes and everything. But I wanted to… I was also a writer, I wrote all through grade school or whatever. And I remember wanting to go off to college and major in English and my mom was like, "Nope, Mm-mm (negative) you need to major in something that's going to make some money."
Maurice Cherry:
And she knew that I was into computers and everything. And so initially I started off doing computer engineering, computer science, and then I didn't like that for a semester, and then switched over to math. Now the school that I went to, didn't have an arts program, really. It had an art class and you could take some of the… if you wanted to pursue art, I think you could take some of them at a nearby college.
Maurice Cherry:
So I went to Morehouse, but you could take art classes at Spelman, because Spelman had, or they still have, I should say, a museum, but they have a very rigorous art program. If you wanted to pursue that, you could just take all your classes at Spelman. And I didn't even really think about that because I knew that if I did that, I would lose my scholarship because my scholarship was in STEM fields.
Maurice Cherry:
And so math was the compromise for me because I really liked math, and I mean, truth be told there actually is a good bit of design in math when you're drawing and doing 3d curves and stuff, but I didn't really get to that until much later in the major. But I do wonder sometimes if I would've just pursued art and went that way, what would be different? I don't begrudge the path that I've taken now, but I do wonder, would that be different in that way?
Dawn Okoro:
Yeah. Same here. Same here because I feel like as someone that's mostly a painter… at some point I felt like, and I felt the vibe I was getting is that an MFA is so important and you're expected to have an MFA, and by that time I'd already… I didn't have money to get an MFA because I had already bounced on my loans on these other side.
Dawn Okoro:
And so that wasn't going to happen. But over time, I'm seeing there are very few things that I want to do where not having an MFA is a barrier to that. So I'm glad that at least the experiences that I have, had in my career just help make me who I am and I'm able to still continue forward in doing what I want to do with art.
Maurice Cherry:
And I mean, continuing along the education path, later you ended up going to law school also. Was that part of your interest back then?
Dawn Okoro:
No, it was never my interest. It was more so, in college I majored in psychology, just buying my time, because I don't know, I guess… well, at some point I was pre-med in my undergrad and then I started taking those chemistry classes and I was like, "Okay, this isn't going to work." So I got my psychology degree.
Dawn Okoro:
And then after that it was like, "Okay, so now I have my bachelor's degree. I know I want to be self creative, but for now I need to have something going on in my life, or I don't have a career or anything." And so I was like, "Okay, well, I'll just go to law school, you just take the LSAT and you can go to law school with any degree." And so I was like, "Okay, I'll just do that."
Dawn Okoro:
So basically I applied, I was like, "Okay, I'll just take the LSAT, apply to one school and leave it at that. I got that down, I'll get in." And then I applied, then got the acceptance letter, crap. So I got the acceptance letter and I was like, "just oh, crap. I just cannot do this. I wanted to be an artist."
Dawn Okoro:
So I wrote the school and asked them if they could defer my acceptance. They said, "Okay, we can defer it for a year." And so I was like, "Okay, I'll take that year to just finally make myself successful as an artist and then I don't need to go to law school." So that year I really did work on my art and that's when I really started pursuing it professionally.
Dawn Okoro:
That's when I just put on my own art show and it did go well considering, but then the year went by and my expectations were not realistic either, but I still wasn't able to make a living from arts, so I was like, "Okay, I'll just go ahead and go to law school." And that's what I did, I was like, "Well, let me just do that so I can just become a lawyer and then I'll just be an artist on the side."
Dawn Okoro:
So in law school, I mean, law school is very demanding, especially if it's not your passion to be a lawyer, I think that makes it harder and less fun to do. I mean, it is interesting and you'll learn somethings, and that was a cool experience, and I met some good people that I'm still in touch with, but law school itself, I mean, it was just not the most fun experience, but there is something about going to law school that was a positive impact on my art.
Dawn Okoro:
Going to law school, I went to Texas Southern in Houston, and Houston at the time, I felt like Houston had a really vibrant art scene, more than Austin, I guess. The Houston art scene was, I don't know, it's more culturally rich and there were just stronger representation of Black artists and artists of color being seen and shown. And so there, I was able to get involved in the art scene and I was showing my work there and I met a couple artists who are still mentors for me today.
Dawn Okoro:
So the best part about law school was just, I guess it made me move to Houston temporarily, but I graduated from law school and at that time I was just like, "Okay, I know want to do this time, I have nothing to lose." And so I just decided at that time, I'm not going to pursue law, I'm just going to now be an artist.
Dawn Okoro:
So right after I graduated from law school, me along with my boyfriend, we just moved to New York. We didn't really have anything to lose. That was an interesting experience too, but we did end up back in Texas and that's when I ended up becoming a journalist for many years. So it's a rollercoaster doing art and then stopping art, doing art, stopping art.
Maurice Cherry:
Yeah. I'm curious, and this feeds into my next question, but do you feel like once you went through this, went through law school and being in Houston, do you feel like this gave you permission now to be an artist?
Dawn Okoro:
Yeah, I do. Especially at that time, because I mean, after just going through law school, I figure, okay, at least I did it, I finished, hopefully my family will be proud of that. But now it's like, okay, at this point I'm 29 years old. I was just like, okay, now I'm just going to do my own thing, which is art. But then I just felt like, well, I'm just still not getting to where I want to be fast, that's how I felt at that time.
Dawn Okoro:
Now looking back, I should have had more patience. But I just decided, okay, well, I just want to get my life together and just harsh some stability. So that's when I got a job as a journalist and then just… and that was after moving back from New York. And so I was feeling discouraged being back in Texas.
Dawn Okoro:
And let me tell you when I lived in New York, we ended up having to come back to Texas. It was just a bad time to really move to New York, economic recession and all that. But coming back to Texas it meant I move right back to Lubbock, at least for a while. So that was a huge culture shift going from New York to Lubbock, where my life just felt like it came to a screeching halt.
Dawn Okoro:
And so we were just really upset about it and we're depressed at the time, and I was just like, "I'm just going to give up on art, and I just focus on my journalism career." And I started doing more in that. And there was some good times working as a journalist and somethings I enjoyed, and yeah, and so I was just focusing on my 9:00 tO 5:00. And then when I would get off of work, instead of making art, then it's like, "Okay, I have the free time to just chill and decompress or whatever."
Dawn Okoro:
But over time I just realized I was just going through the motions and just watching my life pass me by and I wasn't really happy. And that's when I decided, okay, I need to get back into art and just continue to do that.
Maurice Cherry:
Yeah. And like you're saying, it sounds like this also took place right around the time you were leaving your 20s, entering your 30s, wondering is this right? Is this the path that I'm supposed to be taking?
Dawn Okoro:
Exactly. It was just like, "Okay, damn, I'm 30, what do I…" And it's easier for me to look at it differently now, yeah I was just feeling frantic and I just didn't have, I guess a career really and all that. And so I was just trying to just get some, at least some financial stability, which we were at that time just working and just building up.
Dawn Okoro:
I can't really say that, that was not the right way to go about things, I could have gone about it differently, but it's nice just to have at least your basic needs taken care of and then it's you easier for me to be creative?
Maurice Cherry:
Yeah. The reason that I was saying that this might feed into my next question is because I wanted to ask you about this solo exhibition that you did last year called Burden of Respectabilit, because as you've described all of this, the word respectability or the concept of respectability politics popped into my head. And I'm wondering as you did the solo exhibition, did that conjure up these past feelings of feeling like you had to go along this certain path in your life and in your career, instead of becoming an artist earlier on?
Dawn Okoro:
When I was putting together that show, I don't remember thinking specifically about my situation with my path to being an artist. But now that you say that, deep down, that probably had some impact on that. I mean, I was thinking about myself and just Black people in America in general, how you're just in some segments, I guess, of society you're expected to act or behave a certain way so that you can show that you're good, you're one of the good ones.
Dawn Okoro:
So when I did this show, and this was this fall of 2020, so we had the pandemic, I had an opportunity to do a show in a window, so it would just be a window display. So I thought, okay, that's a great idea with the pandemic, anyone could just come by and see the work without having to be close to anybody or even go indoors. And I always love seeing the window displays in New York, like on fifth avenue and all that.
Dawn Okoro:
And just watching how that as an art in itself doing a merchandising display, so I figured I wanted to do something like that with my art. And so I'd been wearing these head pieces because I just like them for fashion, and so I decided to make some head pieces that would sit on top of mannequin heads for the display and then they would also be lighting where there'd be a purple light that shines on the mannequins and then splashes onto the background.
Dawn Okoro:
So I made these head chains, well out of copper chains, and then I used different gemstones and they were heavy. So when I finished each head piece and then each head piece was heavy, and so it weighs down on the mannequins head, but that's to show that the weight of that Burden of Respectability. And so just trying to show the weight, but also trying to praise something that's aesthetically appealing to who ever might be walking by and viewing that window.
Maurice Cherry:
Yeah. I mean, it's a strong metaphor. I mean, I think historically when people think about… to give you a sense, we'll put a link to it in the show notes, so people can see the window and see what I'm talking about. But it's these heads on pikes, essentially, which historically have meant a warning in a way.
Dawn Okoro:
Yeah.
Maurice Cherry:
So when I was looking at the images, I'm thinking, oh, this is an Oman, the Burden of Respectability is you end up like this.
Dawn Okoro:
Yeah. I had to think, okay, how will I display these head pieces? And so I got these styrofoam heads and they're really light weight and I painted them black. And then on some of the faces of the heads I put bits of copper leaf over the eyes and things like that. Yeah. The thing I had to display on was this metal pole or steak and then, the styrofoam is so lightweight that you can just smash the styrofoam on there.
Dawn Okoro:
And I noticed when I did that it looked like a chopped off head that's just dangling there. So yeah, I could definitely see where you're coming from on that.
Maurice Cherry:
And now those head pieces that you were creating, are those similar to the one that you wear now? The one that I've seen in recent photos?
Dawn Okoro:
The one that I've been wearing in most photos is one that I bought a while back, and I liked it so much, I decided I wanted to start making my own, which I still have some more ideas that I want to work on. But I use this headpiece as a pattern, just how the crown is made, and so I make something similar and then I looped the metal on in a similar way. But then from there I could play with how much chain or how long, or if you want to attach any other materials and things like that.
Maurice Cherry:
Yeah. The ones that you're wearing, I love those. It gives a very rockstar feel to your image. I don't know, I was describing it to a friend of mine earlier. I was like, "It's like a medieval circlet, but then it's also giving me Rick James." I love it. It's great.
Dawn Okoro:
Yeah. I put on, I was like, "I like this." And it end up becoming… it's like my wig. I had it on today. I didn't know if this… I thought this was going to be on video, so I had it ready for you.
Maurice Cherry:
Oh, we'll have your image for the cover art, so people can see that.
Dawn Okoro:
Okay, cool.
Maurice Cherry:
Wow. Speaking to what we were talking about before, and I've mentioned this before we started recording. I love that you really use social media to give a glimpse into just your artistic world. You're on Twitter, you're on Instagram, you're on TikTok, which I've recently been getting into TikTok. That's a very interesting place, TikTok.
Maurice Cherry:
And then of course, YouTube, you have a series that you have called Life in Art, where you have all these videos, there's a video of your first museum solo show, there's a recent video you did around anxiety and being an artist. How does social media really help out with what you do?
Dawn Okoro:
Well, for me, social media has been a huge help, even going way back to before I went to law school. Back then my space was the thing, and so I would get out of my space, post my artwork. And even with that… I guess maybe my space wasn't as bad at that time with algorithms and all that. I'm thinking the reach was probably more organic because it was just easier to… I don't know, it seemed like it was easier to meet other people through that platform, especially meeting other artists.
Dawn Okoro:
And even back then on my space, I was meeting collectors, other artists who became mentors, curators, and then looking at present day, I do post on Instagram a lot. That's really my main one because it's the more visual one I guess, good for posting photos, I guess.
Dawn Okoro:
But when I did my Punk Noir show, the first version of it in Austin, I started just documenting the process, about six months before, not every day, but several days a week, just post, here's what I'm working on today, here's what's going on now, or here's this challenge that I'm going through.
Dawn Okoro:
But then six months later, then when the show opened up, a lot of people had been following that whole process and they felt… I guess they felt like, okay, they felt that they were with me in a way. And I've heard some collectors say that they really enjoyed just seeing the process of me making a specific painting.
Dawn Okoro:
And also just when I show what I have going on, other artists can see what I'm doing and what I'm dealing with, and they can relate and helps them feel less alone as well. But really even still today, Instagram is where I still meet collectors, curators, people that run museums or that run galleries. The initial connection might be Instagram, they have an account too, and they're following and they're like, "I like this person."
Dawn Okoro:
And so maybe they may reach out through a DM or through email, but it's still been a great way to just meet people in the world that are interested in my art.
Maurice Cherry:
Yeah. I know that there are certainly listeners that have written us and have asked like, "We want to see from more people that are using, I think, more social platforms." And that's not to say that Instagram is not a social platform, it totally is. But I'm really intrigued by how you use TikTok.
Maurice Cherry:
Because like I alluded to, it is a very interesting platform. I just started really exploring it. I don't know, maybe about a month or so ago. There's a spirit about TikTok that reminds me very much of the early, early, early web, late 90s, early 2000s, where it's unfettered in terms of what you can talk about and everything, but in the same vein, it's also weirdly regulated.
Maurice Cherry:
I mean, of course heavily so in terms of certain things you would mention in terms of topics. But I'll hear about people getting banned if their account reaches a certain amount of followers and they have to start a second account or a third account, and I don't really understand the… it seems very volatile as a platform.
Dawn Okoro:
Yeah. I mean, the account I have now is my second account, because the first account I started, I guess maybe a year and a half ago when you initially registered, you can use your Instagram account as your registration, so I'm like, "That's easy, I'll do that." And then I joined and I didn't really use it that much, and then more recently I started wanting to use it again, but they said, "Oh, sorry, we don't work with Instagram anymore, so if you registered through that, then you're just screwed and you lost your username and everything." And so-
Maurice Cherry:
Oh, wow.
Dawn Okoro:
Okay. And then I've been having trouble trying to get that fixed. So yeah, I just started another account. And so I've just been posting from that. So, with TikTok, I gave it a try because it seems like it's… not that I want to go viral or anything, but it seems like it's easier to go viral on TikTok or just… it's easier to just randomly get a lot of views for a post, whereas opposed to others like Instagram or Twitter, is just so buried in the algorithm that's so hard just for anyone to even see the post, with TikTok, it's just more random like that.
Maurice Cherry:
Yeah. TikTok is a lot buzzier in that respect. Even your For You page, to me it's very much akin to… as I'm scrolling on my phone, it feels like I'm channel surfing with a remote. You just go from video to video, here's the next one, here's the next one, here's the next one. And of course the algorithm changes up, so you may be watching cleaning videos and then all of a sudden now it's on thirst traps, and then now of a sudden it's doing poor extractions.
Maurice Cherry:
I don't know, my For You page is all over the place, because you will like a video and then I guess the algorithm thinks, oh, well you must want to see more of this. I'm like, "Not really."
Dawn Okoro:
Yeah. Absolutely.
Maurice Cherry:
But I liked that video, not all of these other videos.
Dawn Okoro:
I have a hard time… I've been using TikTok because I feel like, well, let me at least be on there and see what happens. But yeah, I have a hard time consuming on TikTok because yeah, it's just too much for me because I mean, you need to have the sound on and then… it's a lot.
Maurice Cherry:
Yeah.
Dawn Okoro:
It feel just like, "Okay, just shut up."
Maurice Cherry:
And then talking about their regulation, sometimes you'll make a video and then the sound, TikTok will decide to just mute the sound. So okay, so now your video's up, but it doesn't have sound, and what it seems to be like, I don't know, I mean, I've been on the web for 20 plus years, so I've seen bad comments.
Maurice Cherry:
TikTok has the worst comment section I have ever seen anywhere across any platform, probably similar to 4chan in terms of how much people try to get a rise out of you. Because what I see from TikTok is certainly you have people that are creating videos, but then you have an equal amount of people creating reactions to bad comment videos.
Dawn Okoro:
Oh wow.
Maurice Cherry:
Someone will leave some really shitty comment, and then now the response to that has gone viral, and it seems like going viral on TikTok is a nightmare because of course, that video will get shared out on other platforms and stuff like that and just invites all kind of stuff. But TikTok is a very interesting place. I'm strictly a consumer, I don't know if I want to put anything on TikTok. I'll just watch it.
Dawn Okoro:
Yeah. We'll see. I'll post occasionally, I'll post some of my art process videos. But one day, a few months ago I was like, "Let me…" I've got a new pair of Jordan 6, I was like, "Let me post it on TikTok." And that did better than any of my art videos. So I don't know.
Maurice Cherry:
Yeah. It's weird about the stuff that will go viral. It's hard to predict that. On that concept around exposure, I think we're starting to see a lot more Black fine artists and their work being exhibited to the mainstream, I'd say probably over the past decade or so.
Maurice Cherry:
We've got Kehinde Wiley who did Barack Obama's official portrait that's in the national portrait gallery, Amy Sherald also did Michelle Obama's portrait that's in the national portrait gallery. You've got of course, a lot more Black run television shows and movies and things like that, that are also utilizing the work of Black artists.
Maurice Cherry:
The one that sticks out to me, just off the top of my head is Lina. I think her name is Lina Viktor Iris, who did all this intricate gold work stuff that Kendrick Lamar used in his video with SZA. This was years and years ago.
Dawn Okoro:
Yeah.
Maurice Cherry:
But we're also seeing television shows like Empire did a lot with showcasing Black artists. Your art has even been shown on a television show on the First Wives Club on BET. What do you think about that kind of exposure? Does it really help you out as an artist?
Dawn Okoro:
I don't know. I did have some of my work in a scene on the First Wife's Club initially. I mean, that was just cool to just have that happen. It's cool to see your work on a show. As far as exposure from that, I don't know, I definitely… because honestly I didn't get credit for it as far as… I don't get a credit at the end of the show or anything, so there's really no… my art was not mentioned in the script or anything, so really for a viewer, they wouldn't have no idea whose art it was if I hadn't posted about it on my social media.
Dawn Okoro:
So, I don't know if in my situation, if it helped with exposure. I don't know if it had been something different, if it would've helped. I have something coming up for another project in the future where my art will be on something again. But this will be with an… this will be a movie through Sony. I don't know, with that we'll know again, if it provide any exposure for me or if this was just decoration for the background.
Dawn Okoro:
Yeah. I don't know. I definitely don't. I don't think I've gotten any direct exposure or opportunities from that. So I don't know. I don't know if it's different for other artists, but I can just say hopefully in those situations, the artists is always treated fairly. Because you mentioned the Black Panther situation. I don't have all the facts in front of me, but I remember reading a while back, the artist was asked to, like, "Hey, could we use your visuals for this?"
Dawn Okoro:
And I think she was open to them, but I'm not sure that the negotiations was it wasn't… I guess the terms weren't what she wanted so she said no. And then, so they decided just to go ahead and have another artist make work just as similar to hers and just use it anyway. And I think she filed a lawsuit, but I don't think she came out on top of the lawsuit. I think they said, well, it's not the same so they can do this. So that sucked. So hopefully that doesn't ever happened to me.
Maurice Cherry:
Yeah, no, I'm looking at it up now and I misspoke her name earlier it's Lina Iris Viktor, and yeah, it was Kendrick Lamar and SZA had the video that was, I think it was All the Stars, I think that was the song that was on the Black Panther soundtrack. But to point out what you said earlier around attribution, I mean, I think that's the most important part, because you see these visuals and they're in the background, and unless there's something in the script or in the credits that's like, "Artwork done by Blank." You don't really know unless you know the artist.
Dawn Okoro:
Yeah.
Maurice Cherry:
You could look at… because different artists have their own unique styles, we've had fine artists on the show before like Dr. Fahamu Pecou, et cetera. And so, if you know the art, then you know the style, but does the average person watching the show know that? And it's clear that it doesn't feel like the show has a responsibility, or maybe the movie or whatever, doesn't have a responsibility to even illuminate that, which is pretty sad, especially from Black works.
Dawn Okoro:
Yeah. A while back and that was… Beverly Hills Cop came on and there was a scene where they're in a gallery. And then I noticed in the credits of the movie they listed all the artists whose work was shown in that gallery scene. So I was like, "See that, that's what I would rather have happened."
Maurice Cherry:
Yeah.
Dawn Okoro:
But I guess it's just really up to the artists if they're comfortable with the terms that are presented there.
Maurice Cherry:
Because I mean certainly if a television show or something ran and the actors didn't get any attribution, people will be raising hell. So.
Dawn Okoro:
Exactly.
Maurice Cherry:
Maybe it's a thing where more artists need to speak up. I don't know. I mean, I'm pointing this out as a problem that artists need to solve because clearly if the production companies and such are seeking out and using the art, then it should be up to them to then go the extra step of making sure that, that artist gets credited.
Maurice Cherry:
But I hope that more, especially from Black creatives, I hope to see more of that… I don't even want to say reaching back, that feels weird to even say, but when I look at say Issa Rae what she's doing with Insecure, or what other show runners are doing with other shows like that, it's clear that representation matters, having these images matters. And that's whether it's the image of a person or the image of artwork.
Maurice Cherry:
It should be at least attributed so people know that it's not just Black folks behind the scenes and Black folks that are acting, but this is Black art on the walls and these are the artists that you should know who they are and support them and stuff like that.
Dawn Okoro:
Yeah. I definitely agree with that. That's something that I hadn't really thought about much. I don't think I've really gotten anything directly from that. So.
Maurice Cherry:
What do you want people to see when they look at your work?
Dawn Okoro:
I want people to feel inspired, I want them to see strength, I want them to see power. The other day I did… you mentioned the YouTube video I did about anxiety. Someone had made a comment that they were surprised to hear that I felt that way, because when they saw my work, they felt they saw someone that was empowered. And so I was thinking, yeah, I guess that is the case, but I mean, I always feel empowered myself, but I would like that to come through in my art.
Maurice Cherry:
There's an article that I saw that was about… it was the same one that we're going to link in the show notes that was regarding your Burden of Respectability exhibit. But in that article, your work is described as a pursuit to the expansion of herself. How has your work changed as you've grown just as a woman?
Dawn Okoro:
For me, when I initially started doing portraits when I was younger, for me and I wanted to be at least somewhat realistic, so I needed a reference image to look at. So initially I started just drawing from images and magazines, changing it to my own… changing this photo to other drawing or painting that's in my own vision.
Dawn Okoro:
And at one point, just for example, I would go through a fashion magazine because I love looking at fashion, and I would take this painting of a photo of a White model and then make it into a whole new painting of a Black woman. And then over time I started being able to get my own reference photos and just learn how to shoot and be able to create from that.
Dawn Okoro:
So then I started just painting these portraits of different people in different colors that felt were right for the image. But then over time, giving myself permission to be an artist and this, and I think I've also started to give myself permission to experiment more and try new materials. As I grow, I'm going to be just trying new things and just filling out what works and what doesn't, and just continue to evolve, for example, even using the Kool-Aid as a medium, in the past, I never would've thought about using a food related item as an art medium.
Dawn Okoro:
So, ultimately I just want to be able to just be somewhat playful with some of what I do, because it makes it more fun and experimentation is a very big part of growing for me.
Maurice Cherry:
How do you get your creativity back if you're feeling uninspired?
Dawn Okoro:
So, yeah, when I'm uninspired if just sink into that and do nothing, then it just leads to more of doing nothing and then just feeling worse. So really the best thing for me to do is when I'm feeling uninspired, is to just work on something, just even if it's small, just something low pressure, because I may not feel inspired, but then once I get into whatever I'm working on, it feels like it activates a part of my brain where I start to get a little bit more inspired, and even with what I'm working on, I may think of a new idea and try something new.
Dawn Okoro:
And then at the end of the day, I've worked on something, I've worked through this creative slump, even if I didn't come out with a whole great brand new idea, at least I was working towards it, and so I feel better about myself overall. But sometimes it's been easier said than done, but I've been better about that lately, just trying to work through those moments of low inspiration.
Maurice Cherry:
Are there any artists out there that you really like that help inspire you? And they don't have to be visual artists? It could be any artist.
Dawn Okoro:
One of my first artists inspirations was Andy Warhol. And that's because he's one of the first artists I learned about when I was in high school and I was drawn to how he was, I guess, eccentric and I like the way he used color and the way that he did the solid background. So that's initially what got me started on doing my work the way that I do.
Dawn Okoro:
Another artist that I find inspiration on or from is Wangechi Mutu, her work is so earthy. A couple of years ago she had a solo show here in Austin at a museum and she had these high heels that were covered in mud, but it was just so beautiful and so organic at the same time. So for my own art, ideally it would be cool to combine bright, unnatural colors but with also an organic look or feel as well. So yeah, those are two of my inspirations.
Maurice Cherry:
Who have been some of the mentors that have helped you out along your artistic career?
Dawn Okoro:
One of the mentors, William Cordova, he's a visual artist. He's really the first person from the art world that really, I guess validated me in saying, just letting me know that I don't have to have that MFA, and then what I'm doing is good enough, as an artist I could actually do this and be taken seriously.
Dawn Okoro:
And then he introduced me to Robert Pruitt who is from Houston. Robert has been a mentor, he encouraged me early on. And then I think he moved to New York, but I think every now and then if he'll see something good, he'll apply for you, send it my way. And then last year he curated a show at the gallery that he works with in Seattle, Koplin Del Rio, and he brought some of my work into that show.
Dawn Okoro:
And that went really well, the work sold and the gallery was like, "You got me more." And like, "Sure." A sense of more. And then finally it got to where I'm working with that gallery and that's why I have the solo show with them now. And so that's thanks to the help of fellow artists, Robert Pruitt.
Maurice Cherry:
What are you obsessed with right now?
Dawn Okoro:
What am I obsessed with right now? I would say, right now I'm obsessed with this Kool-Aid, because I'm really having fun with playing with the textures, and there's so much you can do with that to where you can make it when it dries, it still has a bumpy texture to it and a little bit of a glimmer from the chemical crystals that they put in there. And so, I still want to explore that some more and just see what else can be done with that as a medium.
Maurice Cherry:
With the red Kool-Aid that you're using, is it cherry or tropical punch?
Dawn Okoro:
The red has been… I've actually used both the red… I've used tropical punch and cherry. And then the watermelon is more of a pinkish red.
Maurice Cherry:
I didn't even think about watermelon. Okay. That makes sense. Do you have a dream project that you love to do one day?
Dawn Okoro:
One that I've always wanted to do and is be able to, just travel to different parts of the world and just meet and work amongst the artists there, for example, Lagos, I would love to be able to go there and spend some time and work with the artists there and also, maybe even meet people who are part of the punk community there and maybe create images, create paintings of those people.
Dawn Okoro:
And [inaudible 00:58:55] it's always envision going to different parts of the world and painting porches of some of the people I meet there.
Maurice Cherry:
How do you see this next chapter of your career going? Say it's the next five years from now? What work do you want to be doing?
Dawn Okoro:
That's something that I'm currently trying to figure out, because I love having paintings out there in the world and having shows with that work. And I definitely want to continue having the shows, but I think I could see myself maybe having a show of paintings maybe once a year, and then the rest of the year just working on just different projects that I might be interested in.
Dawn Okoro:
I'm not sure what that would be or what that would look like, but it would definitely be less… just getting ready for the next show which is how things are for me right now.
Maurice Cherry:
Well, just to wrap things up here, where can our audience find out more about you and your work and follow and support you and everything online?
Dawn Okoro:
Yes. I'm most active on Instagram, and there I'm at dawn okoro, on Twitter I'm also at Dawn Okoro, and then TikTok I'm dawnokoro_official. And I also have a blog on YouTube called Life in Art, and that's where I share just some of the stuff I have going on, just working as an artist.
Maurice Cherry:
All right. Sounds good. Well, Dawn Okoro, I want to thank you so much for coming on the show. I mean, of course, one for sharing your story and talking about the themes of things behind the work that you do, but also showing that it's possible to be a successful working artist. I think, as I alluded to earlier in the conversation around this great resignation period that's going on right now, I think people need to see more success stories of folks getting out there and making it on their own, and certainly with the powerful work that you're creating.
Maurice Cherry:
And now that you're going to have the capacity to do this full time, I'm just really excited to see what you'll have coming up next. So, thank you so much for coming on the show. I appreciate it.
Dawn Okoro:
Yeah. Thanks for having me. And yeah, I'm looking forward to the future.
Brevity & Wit is a strategy and design firm committed to designing a more inclusive and equitable world.
We accomplish this through graphic design, presentations and workshops around I-D-E-A: inclusion, diversity, equity, and accessibility.
If you're curious to learn how to combine a passion for I-D-E-A with design, check us out at brevityandwit.com.
Brevity & Wit — creative excellence without the grind.