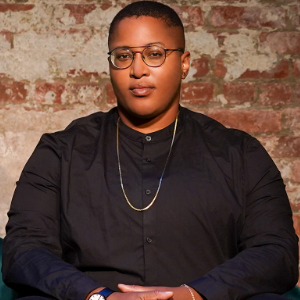 If there's one word I would use to describe Sloan Leo, it would be "dynamic". As the CEO of NYC-based FLOX Studio, they bring over 15 years of facilitation and community strategy to bring the power of community design to clients from all over. Sloan is also an accomplished mixed media artist, and their exhibition "A Watermelon for Leo" is a beautiful assemblage of ephemera, rituals and video.
We started our conversation off with a quick 2020 review, and Sloan talked about their daily flow and the work they're doing through FLOX Studio. Sloan also talked about the beginnings of their passion for art and community design, and spoke on how they're making space for joy during this current time. Remember their name, because I have a hunch we'll be hearing more of Sloan Leo for years to come!
Transcript
Full Transcript
Maurice Cherry:
All right, so tell us who you are and what you do.
Sloan Leo:
My name is Sloan Leo, and I'm the CEO and founder of FLOX Studio, and also a multi-disciplinary installation artist.
Maurice Cherry:
How is 2021 going for you so far?
Sloan Leo:
Oh, Maurice. You really start off with the hard questions. It's funny you ask that. I'll tell you, though.
Maurice Cherry:
Okay.
Sloan Leo:
20 minutes ago, I decided to take a little walk on the rooftop of my apartment building, because I just was like, "I've got to get out of these eight walls or four walls." I was thinking about how different this January is from last year. Because last year I had just lost my job, I had left a big relationship. I was feeling really like … There was about to be a pandemic, but I didn't know that yet. I was really adrift last year. This year it's like full steam ahead, so much clarity. I feel like last year was about building up, and this year is about letting go of it, in terms of FLOX has enough stickiness, and we've got great people around, and I have great art that I want to be making. I feel like it's about un-clutching and releasing, and allowing things to be in their flow state. I feel more optimistic than I did last year, and that's not even related to the pandemic.
Maurice Cherry:
Nice. I think a lot of people right now in the States are feeling more optimistic for a lot of reasons. One, just the change in leadership, but also the fact that with the vaccines coming out, it seems like we might start to get a handle on this pandemic, on this disease that has kind of stopped the world over the past year. I think there's a lot of that going on, that's good.
Sloan Leo:
Yeah it was interesting, because when I was sitting outside, I was just thinking to myself, I was like, "I guess it's time to let go a little bit more, and let more people be a part of the work that I'm doing in a different way." Just as I was thinking it, Maurice, I swear to you a hawk, out of nowhere, just flew up in the air, dove in circle, and left. I just started laughing hysterically. It's like, I'm not one for too much woo woo. But it felt like some sort of sign.
Maurice Cherry:
That's a pretty powerful omen.
Sloan Leo:
I know. I was really [inaudible 00:05:54]. I was like, "Well, I'll listen to that. Sure. Sure thing."
Maurice Cherry:
Not to get too churchy or anything, but usually in the bible, when there's a hawk sighting, that's a message from God. So that's a great thing that you saw that at that time.
Sloan Leo:
Yeah, I got real chills. I was like, "This is cool. I'm okay. I guess the answer is let go."
Maurice Cherry:
Nice.
Sloan Leo:
Couldn't ask for much clearer of a sign, I guess.
Maurice Cherry:
I saw, at the beginning of the pandemic last year, that you bought a VR headset.
Sloan Leo:
I did. I was thinking about it, as I was making my pandemic purchases, I was in a fortunate enough position to be able to get the groceries and all the things. I also was like, "If I'm going to be trapped inside, I've got to find a way to get outside from inside." I experienced VR at Sundance and thought it was amazing, and figured maybe it'd be a way to, I don't know, be more active, but also connect with people and it's become a big part of my relationship with my parents, some friends, really unexpectedly.
Maurice Cherry:
Which one did you get?
Sloan Leo:
I got the Oculus VR.
Maurice Cherry:
Nice.
Sloan Leo:
I think I have the Quest. It's interesting because I feel like I grew up playing Snood and all these MS Dos games. It makes me feel a little dated to think about all the video games I played on five inch floppy disks. Now I'm inside a portal. There was this time I was sitting on my couch, watching the Netflix in the VR, on a couch in VR, in front of my television. I was like, this is actually too meta for me. So I don't do that.
Maurice Cherry:
Wow, they have a Netflix VR?
Sloan Leo:
Yeah, it's like a living room. So you go inside, I guess if you were a person who just had a room and you didn't have a couch it'd be cool. But on your couch, it's too strange.
Maurice Cherry:
I was thinking about getting one. One of the other guests that we had on the show, Regine Gilbert, who's a friend of mine and she also does some work with Revision Path here and there, too. She also bought a VR headset and just talked about how wonderful it is. One, I think just because it allows you to get up and just have a little motion. But it does, sort of like you said, take you from the inside outside, in a way.
Sloan Leo:
Yeah. I haven't seen my parents in two years. We've gotten really close in the pandemic, and part of that is because we started doing family bowling night, or this game called sports scramble. So you're like, I'm in my apartment, my mom's in her house, and you can hear each other, you can't see each other, but you're in the same VR game. There's one game where you're playing baseball but you have a hockey stick, and instead of a baseball it's like a pineapple. My mom is 68 and considers herself very tech forward. She just laughs and laughs, and it feels like that kind of just hanging time you have with your family when you're a kid, where it's not really about anything but you're kind of just around each other. That's been really comforting.
Maurice Cherry:
Nice, that's nice. What are your days looking like now? What does a Sloan Leo day look like?
Sloan Leo:
Well it starts the night before by trying to go to bed on time, real hard. For me that's like 10:00. I usually play video games at night and, and I talk on the phone, I don't know, 80% of the day probably. Friends and stuff like that. So I go to bed early so I can get up early, my day starts usually around 5:30. 5:30 to 6:00 is kind of fake meditation where I putter around the house thinking eventually I'm going to sit down. Then from 5:30 to 8:00 I work, I do videos. But I do recordings of video-based internal communications, so that our team can just watch and get updated on things, and then we can have cool meetings. I'll work on client stuff. I draw, I sketch a lot in the mornings. Then it's pretty regimented from 5:30 to noon.
Sloan Leo:
I have a best friend all every day at 8:00 for the last year. So every single workday, all year, my best friend and I talk at 8:00 on FaceTime. We make coffee together, we have breakfast together. He's kind of like my morning husband, but platonic, it's been great. The afternoon, mid-morning afternoon, is a couple facilitations, time thinking about, I don't know, what would be really cool to make, in terms of a big concept piece. Then evening times are things like this podcast, panels, community jams, which is our FLOX version of just hanging out and talking about fun ideas and design. I make a lot of playlists during the day, I listen to those, and I do my best to not order more takeout.
Sloan Leo:
That's kind of the rhythm, is super structured 5:30 to noon, a little chiller between 12:00 and 4:00, and after 4:00 I'm just not productive, unless I'm just chatting like this.
Maurice Cherry:
But it's good that you sort of found a way to introduce some structure into the day, and sort of have these blocks where you can move from one mode to another.
Sloan Leo:
Yeah. I grew up, I'm neuro atypical. I grew up needing a lot of self induced structure, kind of like swaddling. My mom was really big on just chunk it out. Do what you can what you can, when you can, how you can. I feel like between that and learning this framework, dialectical behavior therapy, it's just a way of thinking about your own personal capacities. All of that has led to me being a person who has a fair amount of discipline, I would say. Not as much as I would want sometimes, but for structuring the day, it's just gentler for me than just kind of letting it all randomly unfold.
Maurice Cherry:
No that makes sense. One thing that I sort of adopted a bit during the pandemic is … I mean I'm saying that we're still in it. But I kind of talk to myself in these different states. There's present Maurice and then there's future Maurice. Present Maurice may be thinking about, well what do I need to do for future Maurice on Friday night?
Sloan Leo:
I love that.
Maurice Cherry:
Because it's going to be the end of the work week, what do you want to do? I sort of think of my days in that way, or if I get to the end of the day, and I'm like, "I really need to finish this, but future Maurice will handle that." Like, present Maurice will go to bed, and then future Maurice will wake up and handle it later. That's allowed me to kind of let things go and just let things happen as they happen without trying to hold myself to too rigid of a schedule. I also time shift a lot of communication. I time shift probably 90% of my emails. They go out when I'm sleeping or when I'm working or something like that. Then when I come back to them, I've got an actionable list of things to do all at once, as opposed to it sort of pinging me throughout the day with like, "You've got to do this, you have to do this, you have to work on this." I can sort of chunk it, in a way, and get to it later.
Sloan Leo:
I think I like that, I get that. When the pandemic first started, I wasn't working. I had three months of what I would actually describe as some of the most precious time in my entire life, because I didn't have a schedule, and I got a chance to see what my natural rhythms are. Which, it was nice to have that space to listen, despite how difficult it was to be in New York. I guess anywhere. But I feel like the shutdown in New York in March was just like, one of the most scary things I've ever experienced as a human. I let myself just be a bit shook, you know?
Maurice Cherry:
Yeah, yeah.
Sloan Leo:
Without feeling like, figure it out, or be productive. Now that the pandemic has been a year this month in terms of shutdowns in New York, I'm pretty committed to reassessing things. It's like it's been a year, we're going to live. So what does that look like moving forward?
Maurice Cherry:
Speaking of moving forward through all this, let's talk about your studio, FLOX Studio. Where did you get the idea to create your own studio?
Sloan Leo:
I should say the idea was not first to create a studio, it was to ask a question, if that gives you any insight about how the studio was formed.
Maurice Cherry:
Okay.
Sloan Leo:
One of my best friends, Wesley Hall, he's a graphic illustrator, designer, creative director, fabric maker. He's a maker of many varieties. We've been friends for 10 years. It's like, December 2018, and we spend most of our nights listening to ambient house music from Japan, talking about good design, and what does good mean, what does design mean? How does it connect to social justice? We met because he was making posters for the local black lesbian cabaret night in New York City. We started to say, "I wonder if anyone else wants to hang out and talk about design for community building, and what that means, both in terms of aesthetic and in terms of built environment and social technologies, how people spend time together."
Sloan Leo:
We started FLOX Labs in January of 2019, and spent that whole year hosting 20 person design sprint dinners in my studio apartment on Madison and 28th in Manhattan. That's where FLOX came from. We would have these sprints and sketch with 20 strangers in the room trying to figure out some idea. Like how do you create ways for seniors to take care of themselves during a heat wave? How do you create a equitable cannabis industry? Just having idea festivals for two hours with a meal that a friend would make. That's where we came from.
Sloan Leo:
Since then, we incorporated as a studio in August of last year, after testing some products all early 2020. It really comes from a desire to make it easier, better, more enjoyable, more effective to do important work, to change, to make justice real for more people. While that means a lot of working with nonprofits, it doesn't mean exclusively that. It means working with people who are like, "We can create pathways for change and bring people in. But it doesn't feel good to work here, because all the structures are designed for centralized power." Which doesn't feel good for most people, besides the person who has the power. And even them, I don't think it feels that good.
Maurice Cherry:
Yeah. How has business sort of been going throughout all this?
Sloan Leo:
I mean honestly Maurice, if you would've come to me, if future Maurice would've come to pass me and said like, "Listen, the year is 2020 and you're going to build a facilitation and strategy business on Zoom." I would've been like, "What are you talking about? It sounds like you've been doing some real hardcore things with your brain." Business is good. I've been thinking a lot about what scale means, because I don't want to be … We're not trying to be the scale of an IDO. But in terms of our ideology, we do want community design to be an understanding that's everywhere. But we don't have to have 800 people to do that. I think a lot of it just comes from wanting to have a dedicated crew of people to make magical things, like unexpected things happen.
Maurice Cherry:
Now as I was going through the FLOX Studio website, and we'll have a link to that in the show notes. One of the projects from your studio, I guess you could all it a project. More like an exhibition almost.
Sloan Leo:
Yeah.
Maurice Cherry:
Is called a Watermelon for Leo. Talk to me about that.
Sloan Leo:
I grew up with a dad who's an artist. I've flirted with art most of my life. I believe that art is the stuff that really touches you in the soul. When the pandemic first started, and I had some months to just be at my house, I started thinking about a Watermelon for Leo, that came to life through the studio six or seven months later. It was an exhibition of objects that we called artifacts of blackness. Kind of just exploring the idea of how did I construct my own sense of race identity outside of just the hard things about being black? I didn't want to just be like, "Being black is just about being afraid of the cops, and being afraid of judgment at work, and not getting paid enough."
Sloan Leo:
For me, it was about all of the lessons around self discipline, all of the lessons about community building and food from my grandma, and trying to reclaim joy. Because the story of how Watermelon became black, that object is imbued with so much meaning, it's such a heavy fruit, literally and figuratively. The idea was how to explore that heaviness of objects and race with this dash of kind of delight. It actually started with a video on Instagram of me eating watermelon in the sun on my balcony. Then the research happened, and I started thinking about the objects in the home and that's how most things kind of come together. There's a flash of an idea, I get a sketch out, I talk to some people about it. We start making some pieces.
Sloan Leo:
Then next thing you know it's like 30 people have come together to produce this four month long exhibition.
Maurice Cherry:
For people that go to the website and they can see some of the images from here, there's this quote, I think it's probably a quote that frames the exhibit beautifully. It says, "I want to go someplace where I can have a piece of watermelon in the sun without any shame, without any worry, just presence, enjoying it, savoring it, relishing it. And letting it be just for me." That is such a powerful, powerful quote.
Sloan Leo:
Thank you, Maurice. I appreciate that.
Maurice Cherry:
What has the reception been from the exhibit?
Sloan Leo:
I have cried touring it with people. And received with a lot of speechlessness, in a good way, you know? I've had some interesting conversations with white women who didn't see the live exhibition, but saw the 13 minute point of view documentary that we shot of it, knowing people couldn't come in person. That just really resonated with me because I grew up with my grandma's recipe box, and never thought about how that was a tool for her to make community, at a really hard time in the world. For my mother, who is the daughter of Leo, my grandfather, for her it felt like we could finally see each other a bit. Because it was like we shared my grandparents, but had very different experiences with them. Then for folks who heard about the story of Watermelon, it was a lot of, "I didn't know that story of watermelon being used as a smear campaign against black joy."
Sloan Leo:
The opportunity to reclaim a simple act of eating a piece of fruit without shame for the black people in my life, it felt kind of like a ghastly story, but also such a simple and beautiful opportunity.
Maurice Cherry:
You also have opened it up where it looks like people can have virtual tours, I suppose? Or a virtual exhibition tour?
Sloan Leo:
Yeah. It's a virtual exhibition tour and artist talk, where we screen the 13 minute documentary with a small group, then we talk about objects and community and if race comes up, race comes up. But there's a lot of ways people can hold the concepts in the show.
Maurice Cherry:
Awesome. Awesome. We've been talking sort of a lot about family and origins and such. Let's talk about where you grew up. Are you originally from New York state?
Sloan Leo:
I am a New York stater forever. I've lived other places, but I've always considered New York state home, and for the most part, it's always been where the IRS believes I have lived. But I grew up in the suburbs of upstate New York, around Albany. It was 98% white. It was very small. It was the '90s. We used to call Albany Small-Bany. But the public education system there was extraordinary. My mom, right after I was four or five when we moved there, from near Ithaca, New York. She chose it because she knew … There's a lot of reasons she chose it. She had a good job at the State Education Department. She mostly, though, knew I could get a good education at K through college, that wasn't going to be expensive but was going to be really high quality. I really appreciate her doing that.
Maurice Cherry:
Were you a very artistic child? Did your family help cultivate that sense of artistness within you?
Sloan Leo:
Completely. My mother can barely draw a clown. She's more creative in policy design than I would say anything in the traditional senses of design. But my stepdad, who's my dad, Scott, he's an artist. And was a welder, worked in sculpture. Both of them, my whole life, were like, "It's okay if you're different." Not even it's okay, but my mom's thing was like, "Be able to take care of yourself and be self sufficient, but be yourself." My dad's like, "Even if it's difficult your creativity is something that you'll figure out over time." He always saw me as an artist and still does. Even though I spent a long time as a nonprofit administrator.
Sloan Leo:
I always felt though, I went to puppet making camp as a kit, and architecture camp. And was in modern dance and gymnastics and took up watercolor and played clarinet. I bought a Dictaphone when I was like 11, and I would write songs, and I would take notes to self and write little plays. I've always, I feel like, been fortunate that when I'm in the decent space in my brain, I have a lot more generation energy, I think, than is typical.
Maurice Cherry:
Now, you went to the State University of New York at Albany. What was your time like there?
Sloan Leo:
I was a child. I went to college when I was 16, and I went to graduate school when I was 19.
Maurice Cherry:
Wow.
Sloan Leo:
I then dropped out of graduate school when I was 21, because I was real tired. So I didn't finish it ever. I've come this far, at 36, with a bachelor's from a state school in sociology and Africana studies. Which is a field I'm not even sure totally exists, or is politically correct to call it that anymore. I loved U Albany, because the very first week of college, I met my best friend Ashley, who I know 20 plus years later. I met Barbara Smith in the library. I don't know if you know who that is, but she's like the founding black lesbian feminist figure in social justice circles. And she was a member of the Combahee River Collective, which is named after the Combahee River Raid, and was all about intersectional feminism.
Sloan Leo:
I met her in the library, and I was reading her book the first week of college, and she changed my entire life. Really saw me as a political being, not just as a smart person. Which was a real difference for me. Albany, the school, became a place of activism and energy. I did, not just, we did the Vagina Monologues. We did Fred Hampton, Junior, the son of a Black Panther, came to speak at my school.
Maurice Cherry:
Wow.
Sloan Leo:
U Albany was like a hot bed of politically activated people in the early 2000s. I loved it. I loved going to school there.
Maurice Cherry:
But you said later on though, you ended up dropping out. Did it just become too much at the time?
Sloan Leo:
Yeah, I burned out. I burned out, basically. I mean, not basically. I burned out. As much as it was really difficult to go from being 16 year old college phenom, youngest person yadda yadda, I think that really understanding burnout at that age was a gift. Because now, I know that burnout isn't just about the volume of work, it's about what is it that actually sustains you. For me, that's always been my relationships with other people. If I can only work, but I can't be in community, if I can't struggle to figure out how to take care of myself with other people, and just be connected, that kind of deep loneliness I think is what burned me out. Now that I know that, I don't live that way anymore.
Maurice Cherry:
I want to go back to something you mentioned there about going to college at such a young age, and being this phenom. I'm curious, just curious, were you in any sort of gifted courses or anything in school leading up to that?
Sloan Leo:
Yeah, I did AP classes. I did learning in the gifted programs. But the big thing for me is that I graduated from high school early. We moved to Long Island very briefly, to East Northport on Long Island. It was a really difficult experience for me. I was really aggressively bullied, called the N word, spit on, people threw things at me. It was hard. I was out and gay at 15, which is not easy. Didn't know I was trans, yadda yadda. My guidance counselor, though, Ms. Goldberg was amazing. She was like, "You're really smart, and let's keep you in classes. Let's double up on gym, double up on history." I took a feminist studies course at SUNY Stony Brook when I was 15, as an advanced college course, I could graduate from college early.
Sloan Leo:
Basically, Ms. Goldberg showed me the path to graduate from high school a year early. That was a big part of how I got to school early. I felt a lot of pressure to be living up to my potential. When I got to college I was like, "I'm going to get my PhD by the time I'm 30."
Maurice Cherry:
Yeah.
Sloan Leo:
Again, building your entire identity in one bucket of the smart, young, brown person. At some point, you're going to get older.
Maurice Cherry:
Yeah.
Sloan Leo:
It's good to understand yourself outside of being the youngest.
Maurice Cherry:
Yeah, no, I wanted to go back to that briefly. Because it actually kind of reminded me of how it was when I grew up. I'm from Selma, Alabama. So from the deep south. Was sort of considered, growing up, kind of the same way. Oh, he's super smart and knows all these things. There is this burden of expectation that can be put upon you when you're that age that is largely community driven, which I find to be interesting. I mean, for my family, for example, they knew that I was smart, but they didn't make a big deal out of it. I still had to do things like a regular kid had to do.
Maurice Cherry:
Like for example, me and my mom would go to, oh God I hated this. I don't know why I'm telling this story.
Sloan Leo:
Tell the story.
Maurice Cherry:
Me and my mom would go to Walmart, you know, maybe bump into people that she knew or something like that, this is when I was at a younger age. They were always sort of quizzing me. Like, "Spell woodpecker." Or, "Sing that song that you know." Or something like that.
Sloan Leo:
Yeah, do a dance, smart kid. Do a dance.
Maurice Cherry:
Yeah. Like after a while it's like you're treated like this performance object and not like a person. In a way, I think when I got to high school I was just rebelling. Not really rebelling, but just doing things in stupid ways because I could. I knew that I could pass my courses. So why not cause a little mischief in school? Because what are people going to do about it? I'm the smartest kid in school, what're you going to do? That kind of thing.
Sloan Leo:
Like, kick me out of school? Yeah.
Maurice Cherry:
Yeah. I wish more parents knew this, and I really kind of wish that communities knew this, putting that much pressure on a young, smart, black child, it's such a fragile time when all of that stuff happens and how it can really form and shape who you are in the future, and what you do, and how you look at really just life and people and humanity.
Sloan Leo:
[crosstalk 00:30:32].
Maurice Cherry:
It's such an interesting time. I look back at that time, and think about how I was talked to. Similar to kind of what you were saying, you'd go to these different sorts of things and people are calling you names and bullying you and stuff like that. It's just so … I don't know. Because by the time I got out into the world, none of that mattered.
Sloan Leo:
Right, right.
Maurice Cherry:
By the time I graduated college, I got into the world. No one was like, "You could read at a young age, so?" None of that mattered.
Sloan Leo:
Yeah. [crosstalk 00:31:00]. Yeah. You don't go to job interviews saying, "I was in a gifted and talented program when I was 12."
Maurice Cherry:
Yeah but when you're a child, or when you're in that age up to 18, there's so much undue pressure that's put on you to just … I don't know. Perform, over perform, I don't know. It's such a, oh God, I don't know.
Sloan Leo:
It's hard.
Maurice Cherry:
You said that, it triggered something in me, like I remember that time so, so vividly.
Sloan Leo:
You've got to have, I feel like also it can mess with your … What did they call it when I was a kid? Delusions of grandeur. I definitely was always like, "You'll see, ha ha ha." I still kind of feel that. I can definitely have a little bit of … Because all the praise came from people who were a lot older than I was. My peers just sucked. They'd be like, "You're going to have a nervous breakdown when you grow up." All this stuff. I definitely am that person who really wants to go to my high school reunion so I can be like, "Sucka sucka. Actually I turned out just great." Because my mom and my dad were always, again, they didn't actually push me to … They wanted me to be financially independent.
Sloan Leo:
But my mom is really smart, too, and so is my dad. We're just kind of three smart, weird people living in a house together with a pretty big age gap, and a lot of love, and a lot of curiosity about how things work together.
Maurice Cherry:
Yeah, it makes a difference. Especially when you start to grow out of that, and you go out into the world and you're able to still come back home in a way that you know that you're a changed person from being out in the world and experiencing things. But yeah, I don't know, that's such an interesting kind of time.
Sloan Leo:
It's hard, we need to talk about it a lot.
Maurice Cherry:
Yeah. So you mentioned, you worked in nonprofits, you have this super extensive background in facilitation and community strategy. Where does that come from? Where does that passion come from?
Sloan Leo:
The Women's Building in Albany, New York. And Holding Our Own Women's Foundation. Holding our own, so when I met Barbara Smith my first week of college, she helped me get involved with the Albany Social Justice Center, then she got me involved with Holding Our Own and the Women's Building. The Women's Building, when you walk down Central Avenue, which is a major street in Albany, New York, this living room storefront. They had a back with offices and a conference space and multipurpose spaces. But it was just a big living room with every feminist social justice book that you could ever imagine, all donated by women and social justice luminaries in the area.
Sloan Leo:
On campus, I hadn't really found my groove yet, and in my peer group I never found my groove. But there, again, I had a political voice. I felt like I discovered my own political agency and the understanding of what's possible when you have collective political power. That was incredibly addictive. I'm really always aching for making things possible by working together, even though it's not always more pleasant. But the outcome is better. But it can be pleasant. But it's like, I don't know. I feel like it was the Women's Building that got me kind of hooked. Then the identity-based groups on campus, and activism. I'm black and trans and fat. If I'm not activist oriented, I've swallowed a pill of assimilation, which I know happens. But the reality is, I would like to make the world, I'd like to make my little pocket of community as strong as it can be.
Maurice Cherry:
Was there a moment that marked a shift more into art and visualization around community strategy and facilitation? What happened to make that sort of change happen?
Sloan Leo:
I would love to say it was like, 'I went to the MoMA and I saw this thing, or I went to this IDO class, which I did, which also really changed my life." I really found all of the courses online from the IDOs, the SOI Partners, all these big social design firms, put a lot of stuff out online and that was all really cool. But I didn't really understand the power of design in my life, as a nonprofit person, until I started to really understand how much time was wasted with text-based documents. I work specifically with board management and these really big nonprofits. You have a board of 45 people, and they meet every four months and they have to get ready for those meetings, right?
Sloan Leo:
You would send them a 200 page … I would spend months pulling together from every department, getting everything ready, making it all work with the agenda, blah blah blah. A 200 page text-based PDF. All text.
Maurice Cherry:
Wow.
Sloan Leo:
You'd send it two weeks in advance, and the expectation in the whole sector, this is still true, this is true right now, for all 1.7 million nonprofits in this country that have four board meetings a year, they're all sending out these 15 to 200 page PDFs. Then they're expecting the boards to read them, digest them, make meaning of them, then come to the meeting and make some decisions. I was like, "This doesn't make any sense." Then the boards aren't engaged, they don't really understand what's happening. This feels like a real obvious issue. So we started playing with presentation decks, and iconography.
Sloan Leo:
I've always had an eye, just I like making things look cool and interesting. So I realized basically in the nonprofit landscape, what you don't have is time. You don't have money, so time is super special and this hyper precious resource. In the private sector, people spend so much energy figuring out how to save more time. And building way finding systems and onboarding systems and all these designed systems and assets. Then in the social sector, none of that innovation comes. It doesn't show up there.
Sloan Leo:
We're seeing the nonprofits are doing the most important work in the world, and they're only 10% of the economy, but we're not equipping them with any design fluency in any sense of design. From community design to illustration to systems design, communication design. It's a tragedy, and it's not necessary.
Maurice Cherry:
Is this kind of where you came upon the concept of community design?
Sloan Leo:
Yeah. Because community design to me, well it comes from the land of urban planning. It was about building engagement over a system. Building community ownership and voice in a process to design a community neighborhood. It's like, this is your thing, people. So it should be your thing. And you should be part of, well not just part of, you should be leading the design of what you need. I started thinking a lot about, growing up, reading a lot of management books. Because before my dad was an artist, he worked for Kodak, when Kodak was Google. So I grew up with a mom working in education justice, a dad who was a learning and development specialist, and a knack for creativity. I started to say, how can you actually take design and community design and apply it to organizations.
Sloan Leo:
Because nonprofits are communities of people trying to make the world better. I want that to be easier and more likely, honestly, and faster.
Maurice Cherry:
How would you say community design is different from other types of human-centered design?
Sloan Leo:
Well, I don't look at community design as human centered design. Because I find that human centered design … If traditional design is one to one, right? I, Sloan, design a pen for Maurice, one to one to one. Human centered design is like, "Maurice, I'm designing a pen, do you write mostly in black ink or in blue ink?" And you'll tell me, and I'll go back and finish the pen. And community design is sitting down to say, "Do we want to write a story together?" That is more many to many, making a decision about, what are we doing here? What tools do we need to do what we're doing here? Who's going to do what when? It's actually shared. It's like relocating power and decision making to the many instead of the few.
Sloan Leo:
I think nothing could be more urgent right now, because clearly we don't know how to handle working in collective and in commons, or we wouldn't have so many collective crises.
Maurice Cherry:
Yeah, I was just about to ask, why do you feel it's important to do this type of work right now? But as you mentioned, being able to work together in that way is something that, especially now that I think about the coordinated responses that have to happen around not even just with vaccines.
Sloan Leo:
Yeah, I was like, "Like vaccines?"
Maurice Cherry:
But fundraising for healthcare, and the storms that just happened in Texas and everything like that. People trying to rally together for resources and stuff. It's super important right now.
Sloan Leo:
There's a breakdown somewhere. There's been a limited coordinated response from our institutions. What's happened is that people show up for each other. It's like, if your neighbor needs food, and you realize all your neighbors need food, and how many of your neighbors have the food? How do you move the food? I'm constantly in awe of what emerges in community. In New York people are like, "New York City is dead." But New York seems more alive to me than the whole 12 years I've been here. It's more dynamic and people rooted and community rooted. Everyone's trying to figure out how to make it work better for us overall. There's obviously nuance to that, in terms of resource hoarding and all that kind of stuff.
Sloan Leo:
But the energy of the city feels much more like, "How do I help a neighbor?" As opposed to just how do I help myself?
Maurice Cherry:
I would say that's one of the good things that has come out of all of this, is really realizing the power of community and that really we have to help each other.
Sloan Leo:
That's what we got.
Maurice Cherry:
I mean, that's all we've got. I mean in a way, it did kind of come because of the lack of support from federal leaders and such like that, that we kind of were fending for ourselves out here.
Sloan Leo:
Yeah. When you feel like a system, like democracy, doesn't care about, you want to find that care. I think that we are finding that now. Re-understanding what democracy means, and civic participation. Just community nets. Not every community thing is going to happen because there was a nonprofit or a government entity or a business. A lot of things have to happen because they have to happen. If I've learned anything from some of our clients it's like, when I ask them how did you survive 2020, as an organization? These are groups who are working on anything from economic justice, climate justice, but justice. They were like, "It's not an option. It's not like this year was like, do we need each other? I don't know, it's a luxury to have each other." Now it's like, "Because we can't have each other in the same way and care for each other and work together in the same way, we realize just how much we need that in a different way."
Sloan Leo:
We've all been on community time out, and I think now people are like, "Okay, now I'm ready for the contact sport that is being in community with all these other humans that I live near, work with, share an interest group with." Or whatever. A shared need.
Maurice Cherry:
Yeah. How are you making space for yourself these days?
Sloan Leo:
It feels timely. I got more notepads, like more big sketchbooks. Because I realized so much of my life is just on my phone or the computer. I've been trying to de-digitize a bit, and spend more time with a piece of paper and a pencil. Which, that's felt kind of kind and gentle with myself. That's felt good. I hold space for myself with a pretty firm boundary around I don't work Saturdays ever, I don't have meetings on Wednesdays ever. Those things literally hold space for me. I also made my apartment a little more comfortable, because I was definitely living that bachelor entrepreneur life. I was like, "You should really get a bed frame, you're 36."
Maurice Cherry:
I feel like a lot of people, now that they've been at home so much, and that their home has been so many different spaces, or has had to accommodate so many different functions, everyone's trying to find ways to make things more comfortable, more cozy. I totally feel that.
Sloan Leo:
To the tune of 15 … It's funny you say that, Maurice. I read a paper this morning, I read a lot of papers, but I read a lot of articles but also reports and papers. Then this morning's came out and said that, "While employers are trying to figure out if everyone should go back to the office, they're also like, we saved all this money." They saved it, but the employees did not. Employees spent $15 billion on home improvements this year. Some bananas number, is this increase in how much money people have been putting into home sound systems, furniture, lighting systems, ring lights, all of this stuff to be working from home. Which continues to push the cost of being employed off of employers and onto employees. That's a conversation for a whole different day.
Maurice Cherry:
What does home mean to you, then, now?
Sloan Leo:
It feels like my answer is, it feels like a command center. Yeah. I think about it as if I'm sitting in front of one of those Star Trek dashboards, where everything kind of lights up, and I can move things around. It does feel like a central post of everything, in a way that it hasn't before. I traveled almost a million miles in the last 10 years. 80% of that was domestic. This has been the first year of my life in eight years where I wasn't traveling twice a week. It feels really like a grounded place, a power source for me.
Maurice Cherry:
If you look back at your life, and look back at your career, if you could go back in time and talk to teenage Sloan, talk to 16 year old Sloan, that's about to enter college, what advice would you tell them? What advice would you give them?
Sloan Leo:
You don't want to be a doctor. Just don't waste the first six years, or the first six months of college figuring out if you want to be a doctor, you don't want to be a doctor. And I would say that be careful of the desire for fame. Because it should never be the goal.
Maurice Cherry:
Where do you see yourself in the next five years? Have you taken time to think about future sort of work that you'd like to be doing?
Sloan Leo:
When I moved to New York 12 years ago, I really wanted to be a music director. I thought it'd be the best job for me ever. It's multi-dimensional, it's creative, and it's big, and it's a whole room that people experience. Like you create this whole shared experience. I don't exactly know what I'll be doing in five years. But I know I want myself and the studio, I want us to be creating incredible, immersive experiences and installations that make people see how, again, just how intentional and wonderful and complicated but effective and meaningful community can be. That's all I want. South by Southwest, but for community building. And cooler than that.
Maurice Cherry:
Well just to wrap things up here, where can our audience find out more information about you and about your work and everything online?
Sloan Leo:
The best thing to do is to follow me on Instagram, is where I do a lot of fun things. I'm @theRealSloanLeo. My website is SloanLeo.com. If you have questions about the studio and consulting projects and stuff, it's just FLOXStudio.com. But the best source to get to all of the things is Sloan Leo, S-L-O-A-N L-E-O, dot com.
Maurice Cherry:
All right. That sounds good. Well, Sloan Leo, I want to thank you so much for coming on the show. I have to admit, I was doing my research and I was like, "I am so excited to talk to Sloan." I have to say, this has been such a great conversation. I feel like you have this nuclear engine inside you, when it comes to the passion that you have for your work. Even for just the brief things that I saw on your website around the exhibitions you've done and the work that you're doing, I'm excited to see what comes next out of FLOX Studio and what you do in the future. I'm just so glad to have had this time to talk with you today. Thank you for coming on the show, I appreciate it.
Sloan Leo:
I appreciate that too, Maurice. I forgot to say that the best place to follow a lot of stuff in terms of our projects, and when you can hang out, and what events are happening, is really on my LinkedIn. But regardless, it has been … This is the first interview I've ever had where it was like, "If you could reflect on your career." And I was like, "That feels good. It feels like good aging." So thanks for giving me a change to have just some perspective on the last 15 years that went really fast.
Brevity & Wit is a strategy and design firm committed to designing a more inclusive and equitable world.
We accomplish this through graphic design, presentations and workshops around I-D-E-A: inclusion, diversity, equity, and accessibility.
If you're curious to learn how to combine a passion for I-D-E-A with design, check us out at brevityandwit.com.
Brevity & Wit — creative excellence without the grind.