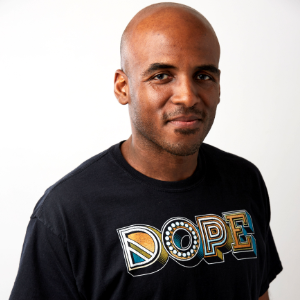 The past few years has been a testing ground for a lot of creatives. For Breon Waters II, he's used this time to dive deeper into design across the digital world and the real world. And the results have been paying off!
Our conversation began with a look at his line of letterpress greeting cards, which are a fun mix of old-world printing techniques and cutting-edge technology. We also talked about his work at DEPT, and Breon shared how he came into product design throughs his earlier explorations in visual design and UI/UX. Breon has been steadily building his career brick by brick, and that's given him a strong design foundation that will serve him well into the future!
Interview Transcript
Maurice Cherry:
All right, so tell us who you are and what you do.
Breon Waters II:
Hi, I'm Breon Waters II. By day, I'm a senior product designer at an agency called DEPT. By a later part of the day, I'm the founder of Holiday Free Of, a company that creates weird but memorable experiences that merge print and augmented reality.
Maurice Cherry:
Now, I remember when we met a few years ago, you were sending out these letterpress Christmas cards. That's where Holiday Free Of sort of grew out of, right?
Breon Waters II:
Yep. It started back when I graduated from ArtCenter, so back in 2011, which is wild to think it's been that long. It was just a way back in before times, having in-person meetings or interviews and having to leave behind something for people I was doing interviews with to remember me, hopefully help me get a job. I'm not exactly sure how the hell I thought of Christmas cards. The whole idea is being not about Christmas, so it's a Holiday Free Of these weird things happening for me. I think the first one was wishing me a Holiday Free Of a Christmas tree filled with renegade ninja squirrels. So really kind of off-the-wall, bizarre things, but really showing my personality. But also gave me a chance to really do the type of things I'm going to do creatively and really just get out of my comfort zone.
Maurice Cherry:
The cards are great. I have the one that you sent me last year right here by my desk. It's great, really thick paper stock, of course, because it's letterpress. And it's so fun to interact with. It's really a great idea.
Breon Waters II:
Oh, thank you. I'm glad that people don't just think I'm some weirdo and just people actually enjoy it and not just me laughing like a little schoolgirl while I make these, so I really appreciate it.
Maurice Cherry:
So, how has the year been going so far? How's 2023 been treating you?
Breon Waters II:
It's been fast. I know I'm not the only one, but it seems unimaginable that we're basically almost, I guess, a quarter of the way done with the year already. My son just turned two. My daughter's about to turn five. I'm going to turn 40 next month. So just a whole lot of milestones are happening. But yeah, definitely blessed. Things could have definitely been worse in the pandemic, but thankfully we have a roof over our head, haven't really had to have much pain or strife or whatnot. But all is good, just working and then trying to actually launch Holiday Free Of this year. That's my third baby, if you will, is just seeing if there's a market for that.
Maurice Cherry:
I definitely think there's a market for that. I mean, it's funny, I think about the last place where I worked, and one of the things that I was helping them with was getting together their swag. Because, you know, people think of tech startups, they think of T-shirts or maybe some little glossy pamphlet that you might get at a trade show and that you'll throw away later. I find a lot of tech startups, like SaaS companies, et cetera, are always looking for unique merch.
So, at the last place I was at, I know we were looking at socks, we were looking at custom one-by-one keycaps for mechanical keyboards. I think those cards could be great. And I say this also because we did dabble in doing some print. We did a legit print magazine. That could be something great if you want to tap into that. The swag markets doing custom AR letterpress cards for companies. That'd be great. That could be a good way to do it.
Breon Waters II:
No, thank you for that, Maurice. I'll definitely keep that in mind because that's a damn good idea. I'll have to [inaudible 00:06:24] on to that one for sure.
Maurice Cherry:
How do you come up with the ideas for the card? I know you mentioned the name of it being Holiday Free Of. Do you keep a running list of stuff?
Breon Waters II:
Yeah. It always happens last minute, unfortunately. I think maybe one year I had the idea done maybe by September. But last year I was basically working on the design in November, a couple weeks before Thanksgiving. I have sketchbooks since starting design in college and I keep onto them and just writing word stuff. And sometimes, I think actually for this year's, I was looking back at a sketchbook, it was a couple years ago, and just the idea of rock, paper, scissors. I was like, "Huh, there's something kind of interesting there."
It starts with a theme and just trying to figure out, "Okay, what's the story from that theme?" And I can't reveal the story fully yet, but it's pulling inspiration from old school wrestling posters, boxing posters, patch show print-type posters and things like that for inspiration. I remember just being a kid, too, watching old school WWF back in the day. And just taking those memories, and what would happen if that fell in this world?
Maurice Cherry:
Nice. I could see something like that, that could be pretty fun.
Breon Waters II:
I was lucky to get a really talented 3D animator and illustrator, Mr Lubo Designs, to collaborate with him, and just really took my silly idea and really made it possible. Because I wasn't sure if I could even make it move with animation. I thought it was going to be static. He was able to make it move, and knocked it out the park. Really proud of it.
Maurice Cherry:
So let's talk about DEPT, which is the agency where you work at. You're working there as a senior product designer. Tell me a little bit about your work and how you found out about them.
Breon Waters II:
Well, when I joined them, they were called it Rocket Insights. They were acquired by DEPT, I think five or four years ago. We're officially known as the digital products US arm of DEPT. So, we basically design digital products for DEPT on the state side here. And how I found them actually was reached out, I forgot the name of the actual site, but you know there's job placing sites, recruiters. But this one was basically by AI. And so I was working actually with another East Coast agency, funny enough, and I left and got approached by DEPT and the rest is history. I'll be working with them two years in April.
Maurice Cherry:
Nice. Congratulations.
Breon Waters II:
Thank you.
Maurice Cherry:
What does a typical day look like for you?
Breon Waters II:
There's not really a typical day. We're kind of weird. We're an agency, we work as consultants. But depending on the client, we could really be almost working an in-house counterpart to their company. So right now I've been working with FIFA for NFT projects. I joined it in November right before the World Cup started, which is the craziest time to join the project. But also learned a ton though too, because the project was going on way before that in preparations for all that goes into World Cups and big events like that.
So for this, basically, there's two designers, a team of developers on our end and a project manager. And we have two different clients on behalf of the other side. And really just working with them for new features, figuring out what are things need to be included. One big push is the Women's World Cup is coming up this year, and so we're working on initiatives and features specifically for that. So that's been basically the start of this year has been all focused on designing for the Women's World Cup for this.
Maurice Cherry:
Now, you mentioned the team. Are you working between different clients or do you just focus on one client for that specific project?
Breon Waters II:
Yeah, thankfully it's just been one client. In the past I've had multiple clients. I'm trying to think back. Actually, before this project, I was on a design sprint and we were working with a mom and pop jewelry that's looking to explore NFTs, and really seeing if they were to decide to create something within NFT world, what would it be? Is there a market for it? Who would it be for? And so that was basically a two-week sprint, just kind of along with the client learning what the hell NFTs are. Like what they're all about, what's Web 3.0?
And really just talking with them and potential users, just seeing what makes sense for them. What's the story to tell? What would be their version of NFT? And it was really eye-opening just because NFT's a real buzzword now. You hear the CryptoPunks and Tiffany's collab'd and made millions of dollars. And people think, "Oh, it's so easy, I'll do that." But every artist wants to be Picasso, or insert famous… or Basquiat. But there's how many different artists and how many Basquiats? It's not the same. It's not as easy as that. So it's really all about value. How do you really show that people should care or buy what you're selling?
Maurice Cherry:
This might be an odd question to ask, but do people still care about NFTs? I mean, I ask this because a year ago, I swear you were seeing success stories about NFTs, and Adidas was making NFTs, and people were designing NFTs and making all this money. And now it's like you barely hear about NFTs. Have they fallen out of favor?
Breon Waters II:
Right. No, I think there's something to that. I remember last year the Super Bowl was everything about crypto. And all those companies basically are bankrupt or out of work. I think there still is, but I think we're still so early in NFTs and Web 3.0 that it's kind of like looking back in the first websites, where it's just wild, wild west, crazy colors, rainbows everywhere. But it's kind of matured. And I guess the trails of social media were there before, but it's more mature now. And even still, trying to figure out what that's going to be moving on forward. I think it's kind of same for NFTs. NBA Top Shot is still popular, but it's weird though, where it's like you watch a game, it's copyrighted by ESPN or Fox or insert whatever big broadcasting company.
And so it's not even really clear. They own the rights to play it, so how's it work you owning a highlight? I'm not sure exactly how that works. But even in that workshop I mentioned earlier, they mentioned NFTs for buying houses or for even for the contract sides, for if you're working with artists. And having basically Web 3.0, big word, but basically it's receipts. So basically capturing from the first person that bought it to fast-forward endless in the future. And so something like that, it's not big and exciting and sexy as a Ja Morant NFT. But I think something that's transaction-based, that could be a huge thing for it, but we're still early for it.
Maurice Cherry:
Yeah. I still don't know if NFTs… I don't know. I don't think they've really penetrated the mainstream yet. I know why brands are jumping on it now. It's all about that perceived value. Just like folks were really bang on about the metaverse a year and a half ago and stuff. I think people probably still are, but not to the fervor that it was back then. I attended a conference… When was this, was this in 2020? Might have been 2021. I attended a conference about the metaverse in the metaverse.
Breon Waters II:
Oh, okay.
Maurice Cherry:
Like, I have a Meta Quest, one of those helmet things or whatever. It was an interesting conference. There were some sessions that were, I don't know if there was intentionally supposed to be that hokey and sales pitchy. There was one where this guy had bought some virtual real estate inside of the metaverse during a talk.
He bought a 800 square foot piece of land for, I don't know, $10,000 or something like that. Probably more than that. 25,000, that's what it was, he bought it for $25,000. And I'm like, why? It only exists in this particular metaverse subdivision, which is the best way that I could put it. Because there's still a big interoperability problem with the metaverse. And I think this extends to NFTs too, where you can use an NFT maybe in Horizon World, but can you use it in Solana World or can you use it in another metaverse? Are you really able to take it with you? But speaking of things to take with you, after the conference, they gave us an NFT.
Breon Waters II:
Oh, okay.
Maurice Cherry:
They sent us an email, they're like, "Here's your NFT." And then they're like, "This is how you claim it. Get your hardware wallet and do this, this and this." I was like, "I'm not doing that." First of all, I have no idea what that is. Do I have to buy that? It's all good. I'll just tell people I went, it's not that big a deal.
Breon Waters II:
Yeah, that sounds like… I imagine it wasn't the same as actual attending a conference in real life. It doesn't seem like it's on par with that.
Maurice Cherry:
Yeah. You attend the conference in real life, you get a badge. I keep all my conference badges. You get something like that. But this was something called POAP, Proof of Attendance Picture or something like that. I'm like, "Is this like a Foursquare badge? What do I do with this?" I don't know what it means for me to have that, or how to obtain it or why it's useful. So I think I let it lapse because they kept sending me emails like, "Don't forget to claim your NFT." I was like, "I don't know how, nor do I care, but thanks."
Breon Waters II:
That's a bad sort of a gift when you have to repeatedly ask that person, "Hey, you want to open the gift? Hey, you want to open the gift?"
Maurice Cherry:
But I think it's cool, though, that you get to work with of new technologies with clients. So then you as an individual get to find a way to get your own understanding around it.
Breon Waters II:
Yeah, definitely. Even DEPT, our CEO, Dimi, there's been a huge push and they're all in for all things Web 3.0 and AI. Just like you said, being at the forefront where of course there's a lot… Just like the experience you mentioned for the conference, where it's not the greatest, but for the ones that do figure it out early on, being well-versed to really design and tell stories within this, it really will be a huge thing. But just early on, it's going to be really rough and wacky. And a lot of bad things are… Hopefully not bad things, but bad experiences happening. But yeah.
Maurice Cherry:
Yeah. I'm looking at the DEPT website now. You all have a Web 3.0 division, it says, "With a global team of over 300 specialists, including solidity engineers, ethicists, economists and game designers, we have been building for Web 3.0 And the metaverse since 2015. Our pioneering work is fueled by patented and proprietary technology." Okay. I didn't know the Web 3.0 was a thing in 2015, but that's cool. I mean, I'm not doubting y'all, I'm just saying, I'm looking through it like, "Okay, that's cool."
Breon Waters II:
I agree. [inaudible 00:17:34] my paycheck.
Maurice Cherry:
What would you say is the most satisfying thing about what you do?
Breon Waters II:
I think really, and it's going to sound sappy or cheesy, but when a client comes and they have an issue, or they're working on something not sure of, it's a really good feeling of helping people actualize, not their dreams, that's too big and broad, but helping them get past their hurdle or issue or their problem. I think that's really cool. Even for things like design sprints where on day one you have this big issue, you don't know what the hell you're going to do. It's a whole mystery. And day by day everybody's learning from it. And on that Friday, you do five user tests and just learn so much. And just that feeling of going from not knowing to, "Hey, there's some [inaudible 00:18:28] here." That's a really good feeling.
Maurice Cherry:
How do you approach that process of designing a new product or a new feature? I know you've mentioned the team that you usually are working with, but what does that process look like?
Breon Waters II:
It definitely varies on what we're doing. But a lot of times we have a lot of really talented strategists that during the sprint doing the work together with us or sometimes doing it before our project or our phase of the project starts. So, really getting insights from that. And I think it sounds cheesy again, but some of the biggest skill sets for designers, not just product designers, but designers in general, just listening and just asking questions, just trying to learn as much as you can from your client.
They know it better than you do, but they're coming to you for your expertise to actually how to visualize and build this. And a lot of times, too, people aren't able to really say what they're trying to say. And be able to decipher between that what are they really trying to say? And even user testing, talk with users, really listening, paying attention, getting out of the way and seeing what they're doing. And taking all that together and helping it to inform your designs.
Maurice Cherry:
Let's learn a little bit more about you, about how you got to where you are now. You're originally from California, is that right?
Breon Waters II:
Yep. A city called Rialto, California.
Maurice Cherry:
Rialto, where's that?
Breon Waters II:
That's in the Inland Empire. I like to say, if you've seen Friday After Next, it's where Day-Day and his dad moved to, Rancho Cucamonga. So, next door to that.
Maurice Cherry:
Okay. All right. So, outside of LA, but it's not quite a suburb I would say, right?
Breon Waters II:
Right. It's not quite the desert, but desert adjacent. And yeah, it's a big bunch of different cities where basically you'll go through it if you drive to Palm Springs, or if you're looking to drive to Vegas, you'll have to go through it. At least from going through LA.
Maurice Cherry:
Okay. What was it like growing up there?
Breon Waters II:
It was cool. I loved it. Basically, imagine like most kids, you play out in the streets, playing tag or football, basketball, hide and go seek and whatnot. Where basically, it's old school, but once the street lights came on, okay, you better bring your ass inside before you get in trouble. But yeah, just having friends around the neighborhood, just hanging out there.
Maurice Cherry:
Is that where you first got exposed to a lot of design and art and stuff?
Breon Waters II:
Thinking back, the first design or art was from my dad. And he wasn't a classically-trained artist or anything, but I remember growing up, there's a big portrait of my mom he painted. And there's also, he did some different scratchboard pieces. They're hanging up and just always remember seeing them as a kid. And so I'd always see that. And I was always sketching stuff. My thing was being a baseball player and designing airplanes, which are a perfect pair, right?
So, I would always draw that. And when I was in middle school, back when you would take shopping paper bags and wrap them around your books, I would draw Jimi Hendrix and baseball players on it. So never really blatantly had someone as a kid say, "Hey, this is designer art." But from that and my dad really artistic in drawing, that's where I really got my first dose of it. Or dose is the wrong word, but first learned about it.
Maurice Cherry:
And so you kept with that imagination of drawing and getting into it enough to the point where you decided you wanted to study it in college. I'm curious about this, and I know we talked about this a little bit before recording, but you went to college in North Dakota.
Breon Waters II:
Yep, that's correct.
Maurice Cherry:
Which is, I mean, it's not far from California, but you got to tell me-
Breon Waters II:
[inaudible 00:22:17]
Maurice Cherry:
It's far? Okay. Oh, okay. I mean, I'm thinking it's not on the other coast. But what brought that on? You went to Minot State University. That's in North Dakota near the Canadian border, so you're up there.
Breon Waters II:
Yes, sir. [inaudible 00:22:31]
Maurice Cherry:
Why? What brought you to Minot?
Breon Waters II:
You sound like you're my therapist, which I don't have, Maurice, so maybe I should have you be my therapist. Young Breon thought he was going to be a major league baseball player, playing first base for the Angels, and so I was hell-bent on playing baseball. After high school, I went to Cal Poly Pomona, which is a really good college for different engineering disciplines and especially aerospace. It's in Pomona, California, actually, not far from where my folks live. So I was there, and excited being in college. But well, I didn't just learn then, but I was terrible in math. I'd forget equations, especially on finals day. When you move into the senior level of classes, you do really cool stuff. They have partnerships with Boeing, working on airplanes and different things like that. I imagine now they're probably working on drones and stuff. But I was bad at math. I thought, "Okay, I'm going to play baseball there." I tried walking on and tried out for the team two years and didn't make it, but I was still… The desire to play baseball, I wanted to do that.
And it was funny, a family friend of ours was working in the career center at the time. And she had me do a career placement test where you answer a series of questions. Whatever you pick, it's kind of like, "Hey, you should do this," or, "Hey, you should do this." And so, one of the results was graphic design. I was like, "Huh, I never really heard about that." I took some art classes in high school but didn't really think too much of it. And so after that it's like, "Okay, I'm going to switch to graphic design, but I still want to play baseball." So I looked online and looked for colleges that had a baseball team and graphic design programs and just emailed a bunch of their coaches and whatnot. And I heard back from Minot State University and a school, Morningside College in Sioux City, Iowa or Sioux Falls, Iowa.
Maurice Cherry:
Iowa's Sioux City. I think Sioux Falls is in North Dakota.
Breon Waters II:
Okay, thank you. So, Sioux City, Iowa. And so my mom, God bless her heart, I told my mom and dad, "I was going to major in aerospace engineering and you're paying for college. So yeah, I'm not going to do that. I'm going to go move to the Midwest and play baseball and do graphic design." [inaudible 00:24:48] my dad, but my mom is just… And I get that too, my dad, you want your kid to be having something secure, not the whole starving artist kind of visualization. So I definitely get that now, being a dad. But my mom was really just supportive, "Okay, yep, we're going to do this."
And so we flew out to Minot State. I visited the school, tried out, and we rented the car and we drove from Minot to Sioux City, Iowa. Tried out there too. And just so happened where I got a chance to meet the team in Minot, it was during their tournament days, and just hit it off with them and just wanted to be a part of it. And that was how I went to being from California to moving to North Dakota, never having seen snow in my life, and being in blizzards there.
Maurice Cherry:
Yeah, I was going to say, I mean, of course, weather-wise that's wild. But I mean, baseball and graphic design, that would've been an interesting Venn diagram intersection.
Breon Waters II:
Yeah. And it doesn't make sense either, where California is one of the best parts for baseball. And I moved from there to North Dakota, which is not known for baseball. So, on hindsight, not the wisest decision, but it did lead me towards that graphic design path, so I'm grateful for that. And that was the right path for me.
Maurice Cherry:
Yeah. So, while you were at Minot, you studied art, you focused on graphic design and marketing as well. How was your time there? Do you feel like you got a good foundation as a designer?
Breon Waters II:
Yeah, I think it was a good entry level way. Whereas, I actually was playing baseball there. I couldn't play my senior year, which was at the time devastating, but it really worked out because I actually did my own senior solo show instead of… That wouldn't have been possible at all if I was playing baseball. So basically, there, they introduce you, you have a class on typography, photography. I forgot what level of Photoshop or Illustrator it was, but it was back when you had the fifties looking MacBooks, or not MacBooks [inaudible 00:26:52]. So that was the time of that. So it did give me that sense, but I think one of the best part was the art side.
I had a lot of good professors there. Bill, and Walter Piehl was really amazing [inaudible 00:27:07]. He does these really amazing abstract rodeo paintings. And I remember he was the first person that put me onto Basquiat, was like, "You should check out this artist." And really just was amazed, of course, rightfully so. Basquiat was an amazing artist. But I think that being an artist, getting your hands dirty, the first time doing screen printing and stuff like that, I think looking back it did set a foundation of having that kind of different approach to things.
Maurice Cherry:
What position did you play?
Breon Waters II:
I was first base but didn't hit a lot of home runs and couldn't hit a curveball to save my life.
Maurice Cherry:
I don't know. I think that's just really cool that you were able to pursue this design degree and you were effectively also a college athlete. We've had college athletes and designers on here before, maybe not at that exact intersection. That's pretty unique. I mean, out of the hundreds of interviews I've done, you are the first one I could say that has done baseball and graphic design. So that's pretty cool.
Breon Waters II:
Oh, thank you for that. Yeah, it was NAIA, which is basically division two. But one cool thing, though, is that we actually did play, in spring before we started league play we played in the Metrodome. They knocked it down years ago to build the new arena where the Vikings play. But playing in a Major League baseball stadium was cool. So that was really something I'll keep with me for the rest of my life, even though we got destroyed and we actually were playing wood bats for the first time. So we're playing wood bats against metal bats, so as you can imagine, we lost, and it didn't work out so well. But it was still fun, though.
Maurice Cherry:
And I mean, I've met you, you're tall, so it helps to be tall as a first baseman.
Breon Waters II:
Right, yeah. No, definitely.
Maurice Cherry:
So after you graduated, did you stay in North Dakota? What was the game plan after that?
Breon Waters II:
Oh no, once I graduated I got a U-Haul. Had a truck at the time, put all my stuff there and drove back. And I moved back home to my folks and just trying to get a job but found it was really hard to actually find a job. Actually, couldn't find a job. When I was in Minot, I first heard about AIGA and spent a lot of time in Minneapolis for it, and just loved the city there. I think I went to my first portfolio show there. And so, okay, I'm going to go to a portfolio show. I went to one at USC at the time and I believe Ed Fellows was the actual speaker at the time. Does amazing work.
And I remember when I was getting my book reviewed and one of the persons there was like, "You know, you really need to go to a place that's going to teach you design." They're like, "If you develop that eye for design." And he mentioned a couple different design schools. And so I researched it and was thinking about, I think, actually, Creative Circus and Portfolio Center. But I think I got a booklet or something from ArtCenter. And funny, living in Rialto, never actually heard of it before that time. And just visited the campus, fell in love. You know where they have the bridge, it's this 1950s-style architecture and just all the amazing work that students did there. And I was like, "Okay, yeah, I want to be here." Decided to attend ArtCenter.
Maurice Cherry:
Yeah. ArtCenter out in Pasadena. It's a beautiful campus. I've been there once. I know the bridge that you're talking about, though.
Breon Waters II:
Yeah, it's weird now, though. They actually have bought… So there's South Campus in South Pasadena, and so a lot of, I think… Graphic design has a big building there, illustration. So there's still stuff on the bridge, the Hillside campus, but not as much as it used to be. But still really talented folks go there.
Maurice Cherry:
How was ArtCenter different from Minot? Did you feel like because you had that four-year education already that it was easy?
Breon Waters II:
No. It was really intimidating. In other words, I remember in my initial class, people whose parents were designers, had done designs, had their own T-shirt companies and stuff like that. I'm sure like most folks you have imposter syndrome in your life, and you're like, "Oh, how am I going to cut it?" But a blessing was Jay Chapman is a creativity coach there. And I will always be in debt and love Jay for the rest of my life. Just an awesome person and he's really all about just helping you get out your way and have a sense of play in your work. And just would visit him at the time. I remember would visit him for a project and it clicked for you. You think of ArtCenter, it's great design but it could be kind of stuffy, I guess, in a way.
Think of Bauhaus. It's really kind of beautiful design but sometimes inject some life into it. So Jay is complete opposite, where it's ArtCenter, this amazing school, but surrounded by a bunch of rich houses. And you basically, most folks just stay on there and design and work and work and stress out. And where you have LA and all the different cultures and cities that make up LA right around you but don't even experience it. So really just enjoying life and experiencing different things and then injecting that into your work. Once from that just really did that and that really helped open the doors for me there. Just really, okay, it's not worrying about other's story, but what are my experiences? What does my perspective look like? And really just going well with that.
Maurice Cherry:
So it sounds like the combination of Minot and ArtCenter probably gave you a much stronger foundation once you got out there and worked as a designer. Because of course you had this foundational knowledge from Minot, but then as you mentioned, with ArtCenter, you're learning about this sense of play as well as also probably learning about some different techniques and such that you didn't get from a four-year college that you're now getting at an arts college.
Breon Waters II:
Oh, yeah.
Maurice Cherry:
What was your early career like?
Breon Waters II:
After ArtCenter?
Maurice Cherry:
Yeah.
Breon Waters II:
That's a great question. It's funny thinking back. It's funny, in design school, and it might be for the majors too, you're taught basically the world's your oyster, right? Designs going to save the world and work on these amazing projects. And so it was funny, my first actual project, at ArtCenter, they have what's called, as part of your last day is speed dating. So different companies come to your spot where you're presenting your work. Basically, you're showing off, "Hey, this is the work I'm proud of from my time at ArtCenter. Hire me."
And so, one of the people that did was someone from Saputo Design, which is an agency in Westlake LA. Or not Westlake LA but Westlake, California, excuse me. They're a small ad agency and they were working on a pitch for K-Swiss. And I had some collage work in my portfolio from a project for my senior year. And they basically had me work on a freelance project with them for a little bit from that. So that was my actual first one. So that was cool, just like, "Hey, you liked the stuff I did for a class and able to use it for a pitch for a shoe company."
Maurice Cherry:
So you started out doing visual design, right?
Breon Waters II:
Yep. After that, I was there, moved on to another place where a professor worked. And actually it was my first time being fired on the spot. And that was-
Maurice Cherry:
Whoa.
Breon Waters II:
Yeah. Of course, at the time I was not laughing at all. I remember basically was working on a branding project. I forgot what I did, but made a mistake and basically the person's like, "Yeah, thank you for your time, but kindly pack up your things and go." I'm paraphrasing that. So, by the grace of God, I managed to say thank you, shake hands and head down to the lobby and that's when I burst into tears. And I remember the security guard or someone down there, like, "Hey, are you okay?" And me just melting down, where it's fresh out of ArtCenter, have, what, six figures in student loans?
I'm still living at my parents' house. And how am I going to tell my parents and also my girlfriend, my now wife, at the time girlfriend, that, "Hey, I got fired." Just feeling like a complete failure. But looking back, it's one of the best things that happened to me just really because it really was my first lesson, a big lesson, that there's no such thing as security. Things could change in the instant. Not in a way of being afraid of, "Oh, this could be gone," but there's some freedom of, "Okay, this happened but I'm still surviving. This is not going to end me. Yeah, it sucks right now, but I'm going to keep going forward." And that's definitely something that's really helped me along the way, just because it's tough finding a job at times. The design world especially is really small and it can seem like everything's turning against you and things aren't going to turn around. But if it's not like being any smarter or talent makes you "successful." But just sticking in there, getting back up and that's really helped me in my career.
Maurice Cherry:
I'm really glad you said that because I think designers now, particularly during this wild period of layoffs that's happening in not just the tech industry but the design industry and others as well, I think it helps to just hear that. When this sort of stuff happens, it's not the end of the world. It certainly can feel that way. But you have to find a way to bounce back from it. And I think it also helps, and maybe in this particular instance, to know that you're not alone when this stuff happens. I mean, yes, it's the ending of one thing, but it also has the potential to open up into new opportunities that you can do. So, after that happens, how did you pull yourself out of that?
Breon Waters II:
So, funny enough, you mentioned you're not alone, and that was something that actually helped too. A friend of mine at ArtCenter, Megan, was working at a company called Guess Clothing Company. And so she mentioned me to her boss Hiro, and basically I forgot, it might have been a month or two after that. I'm wondering what the hell's going to happen next. And Megan hits me up saying, "Hey, would you want to work at Guess?" I'm like, "Of course," so I actually ended up working there for a little bit. And I went on from there to Live Nation/Ticketmaster. And Hiro's been a boss that I've… He attended my wedding, someone I consider a really good friend and kept in touch with and still keep in touch with now and just helped, advice. It's really just like you never know when things are going to change, but having those people around you that are rooting for you really helps you out.
It may not happen exactly then, but along the way in a little bit of time, things will really pan out where it's like, oh, okay. I've actually worked with when he joined a different startup and was looking for work. And yep, "Hey, Breon, looking for work?" And "Hell, yeah, I am." And so I joined that too. So I definitely think it helped later on.
Maurice Cherry:
So for you, keeping that community in line is something that was really a good asset for you.
Breon Waters II:
Definitely. I know I'm not alone in this too where just I hate asking for help. And it's just being stubborn. Just, "No, I'm going to do it myself." But you need help and asking for help is not a sign of weakness. And I think one of the best things too is turning it forward when you actually are in a position to help people out, be able to do that too.
Maurice Cherry:
What inspired you to pursue product design? I mean, you were doing visual design and I see just from looking at your LinkedIn, you did UI/UX design. What brought you to product?
Breon Waters II:
So, back when I was at ArtCenter, there weren't product design classes, or at least not for what we mainly consider it now. Product design as I knew it then was basically designing shoes or physical products or physical objects. So, I was actually, my specialization was in branding. So basically the idea of once you know, you do your research and your strategy and figuring out who you're designing for, you can design whatever the hell you want to design. Whether that's a logo, traditional stationary assets, things like that, or packaging, websites, you name it. So it wasn't until I was working out in the field. I worked at Ticketmaster for about a year and just wanted to move to the Bay, where it still, it's like that now, but it's kind of awesome design place. It's kind of like Starbucks, there's one on every block pretty much.
And just wanted to really try to make a name for myself in the Bay. And so moved there. First learned about UI and then UX design and then later product design. And it was really from a point of trying to have more ownership on the project, where I went to the place, I was working as a UI designer. And it was the first time, once I moved back down to LA after a couple years. And it was the first time in my career where it just basically felt like it was a complete wrong fit. The design team overall was nice, friendly and whatnot. But the actual team I was working on seemed like basically didn't really care, value my contributions to the team. And also from the company standpoint, the things we're working on, we're basically the red-headed stepchild of the company.
We're not really having the funding or developmental talent to work on what we're doing. It was basically like that, where I was working as a UI designer, but basically just it's like, okay, the UX person does the UX, does user testing focus, all that stuff, does even some mockups. And, "Okay, here you go, Breon. Make it look pretty." And just not what I got into design for. So I ended up leaving and I did an online class at General Assembly on product design, or UX design, rather. And just wanted to see, is this something that I do? And I had worked alongside some in-house teams, really great UX teams, UX designers, and learned a lot during that. And really found out this is all stuff that I could do, just all the things I took from them and be able to apply it from there.
And so I did that online course, it was basically a month long. And after that, Hiro, my boss from Guess earlier in the years actually reached out, because he had moved to the Flex Company as a creative director there and was looking to build a design team there. And so he hit me up and that was actually my first UI product design-type role after that General Assembly class. So it kind of all snowballed there where I was working there, really great company, they're really small, tight-knit. Got to know the head of marketing, Maytal there, a really great person. And she put me on to someone who she knew who was an entrepreneur, has his own company, is looking to actually rebrand the logo, the website and app. And so that was another project where actually applying what I applied from that General Assembly class to that. So it kind of all just, unbeknownst to me at the time, lit and connected to each other and just slowly but surely evolving to being able to apply what I was looking to do.
Maurice Cherry:
And now that you've been working as a senior product designer at DEPT and you've been doing this work, do you feel like it's been a natural evolution of your skills over the years?
Breon Waters II:
Yeah, I think so. There's things from the branding side I definitely take in. As a product designer, you have design patterns you leverage. So think about, you open up your smartphone, buttons typically look the same, or different interactions or swiping and things like that, where they make sense because they're something we're all used to or trained to use. But there's still a lot of design, a lot of digital products look the same. If you cover up a logo, it's hard to tell what's what.
And so I think from the branding side, that's where it's a chance to inject personality and experience into things. Not sacrificing the overall experience from a usability standpoint, but from a personality standpoint, how can you make an experience that really feels like this? So if you think of Apple products, where if it's opening up your iPhone, the physical packaging to it, or looking at your iPhone or looking at the website or looking at things like that, it's different things but it all feels the same. It feels like an overall same experience, so that kind of idea to it.
Maurice Cherry:
Now, looking ahead, how do you see the field evolving in the years to come?
Breon Waters II:
That's a good question. I think rightfully so, there is some hesitation or the sky is falling there with ChatGPT or we're talking about AI before. Where those things are real, but thinking about it, having read some stuff, it seems like that's the natural order of things. So I imagine designers before were working with their hands, like calligraphers, when you have the setting presses, type presses were kind of the same thing for that. Like, "Oh no, what's going to happen for us?" And then after that, fast-forward to the computer. And so thinking that same thing too. But it seems like all those things, yeah, they did take away some jobs, but it seems like the bulk of the jobs they took away were things or actions that you don't like to do, the more repetitive things.
Where it feels like more of these being our assistants of sorts. Maybe if it's for ChatGPT. ChatGPT, I know I use it for coming up with ideas for the copy for the website for Holiday Free Of I'm generating for copy. I'm not a copywriter, but at least, it's not perfect, but having a place to start from or even really refining ideas I have. So, in that sense, almost a old school ad idea like the partners, you have a copywriter, AD paired together. So a team where it's helping you generate ideas and work towards a common goal.
Maurice Cherry:
Yeah, I use Chat GPT now, and I mentioned this before we recorded, I use it a bit like a writing partner. It's good to give some prompts on some things and maybe help guide you in the right direction, but it's certainly not a magic bullet. Although I feel like that's how the media is certainly reporting on it. They're sort of anthropomorphizing Chat GPT and similar types of things like, "Oh, they can think, they can hallucinate." They can only do what they're trained on based on the data that we give them. That's just how it works. I mean, we taught rocks how to think and now we have computers, so what'd you expect?
Breon Waters II:
No, it's spot on where they could do things, but the soul of what makes people people, that personality, at least not yet, it's not easily repeatable by AI or machines. So, at least we got that going for us.
Maurice Cherry:
What is it that keeps you motivated and inspired these days?
Breon Waters II:
Really just experiences. I think now when you typically think of a product designer, you think automatic like a phone or websites and apps and things like that. And that's great, but I'm more interested in things that span mediums. Like going back to the cards, how do you create something that's in experienced physically in your hands, but also digitally. But it may be slightly different, but carries along the actual same storyline you're trying to tell. So things like that. Things like AR and VR, virtual reality, augmented reality. How do you really create meaningful experiences with that? I think that's, at this point in my career, is really fascinating to me. Not so focused on the devices or the mediums, but more of these experiences or touchpoints for you.
Maurice Cherry:
What is the best advice that you've been given about design?
Breon Waters II:
I probably want to say it's not even directly design related, but more of… And I'm not sure who I heard it from, but basically the point where it's at one point in time everybody was a novice, or basically no one has all the answers. And I think that's been really eye-opening just because when you're coming up or just moving to something new, you think, "Oh, okay, they may have their ish together." But a lot of times they don't, or even at one point they didn't. Even thinking about Web 3.0 or NFTs and all that stuff where no one has all the answers for it, so don't feel like you have to be a "guru" or so much experience to know what's going on there. Just having a sense of curiosity and playing around, asking questions, eager really to contribute to things. So it's like there's not this one elite path to doing anything it seems like.
Maurice Cherry:
What do you appreciate the most about your life right now?
Breon Waters II:
Just my family. It's wild even thinking of being almost 40 and having a family. And you can have bad days and just have things of being an adult, what makes being an adult tough, but still hearing my… My kids are still young enough where they'll call for me and actually want to be around me and my wife. I know that's going to change, especially when they're teenagers, but that's the most awesome thing where just people are super happy to see you and just that sheer look of happiness.
And just their laughter, their personality is so infectious too. I love to create things. I'll create things till my last breath. My kids will be the most inspirational, best part of something I had a part of actually creating. And so that's really a humbling and also a daunting challenge, but also just so rewarding, though, too.
Maurice Cherry:
I mean, your kids are also, at least the oldest one, probably, you say the oldest one is five, right?
Breon Waters II:
Yep.
Maurice Cherry:
Is she at that age where she's interested… I want to say interested in design, but I feel like kids, just the way that we structure things for them, they have so much time and freedom to just play and do creative stuff. Are you finding that she's into painting and drawing and stuff like that?
Breon Waters II:
Yeah, it's funny. My daughter Essie and my son Mackaye. Essie is super in singing and dancing. She loves to draw. Like Jackson Pollock work, just wild and chaotic with making marks and things like that, but also that freedom for it. So I'm not really sure what she's going to do, but I think she'll be a lot better at it than I am, just because just how passionate she is and just loving to sing and dance and just that freedom that she has. For my son, McKay, I'm not sure. He's like the Tasmanian devil. He loves books. So I think they'll do something maybe in the creative world somehow, or at least have those hobbies and things like that. I definitely won't pressure them to do that, but I think there's something there that they have from me, which I got from my dad.
Maurice Cherry:
Yeah, you can pass on the legacy of design in a way.
Breon Waters II:
Yeah, we'll see. It's wild, too, I wonder will there be a point in time in their lives when they're older, will there still be jobs? Just how automated things are, it seems it's not out of the realm of possibility where these things called jobs aren't a part of our lives. But if that's the case, what the hell's going to fill that? So, I don't know.
Maurice Cherry:
Where do you see yourself in the next five years? What kind of work do you want to be doing?
Breon Waters II:
I think in a perfect world, if Holiday Free Of is something that catches on, and not even just that, but I think to a point where just I could survive off of my weird ideas and creating experiences and building a team potentially around it. Or actually, in January, last month, we'll figure, I started teaching for the first time. And I had wanted for the longest time to teach, and just like a dummy feeling, "I have to be at a certain level of my career to actually teach," which doesn't make sense. And it's been early, but I really get a lot of pleasure out of teaching. Early to see how, it's a cheesy saying, but just if you want to learn something, teach. And just there's so much that you have to do and learn just to be able to know what the heck you're actually trying to teach.
It's like how do you actually communicate your ideas, and knowing enough to actually try to teach something, but knowing that you're not going to know everything? So I'd love to do more of that. And just really too would like to be, when I think about my career, what I want to be, ultimately, I really think of a conductor, or just having an idea, but assembling talents to actually help them do their best by helping to overall steer the goal for it.
When I was working years ago back on my senior art show, I first heard about Duke Ellington and Count Basie. Amazing talents, but had these amazing bands built around them. And now if you think of Robert Glasper and the work he's doing, I'd love to do something of that ilk where it's maybe me creating my creative type of interests, like maybe a Nick Fury type of person, I guess, I think. Just really designing different things, even if it's more like a sociological type study or things like that. Really just thinking about things or experiments and things like that.
Maurice Cherry:
The Design Avengers, I could see that. You could pull it off, though. You could pull off Nick Fury with the iPads. You could do it.
Breon Waters II:
Luckily, he doesn't have hair, right? So I got that [inaudible 00:52:03].
Maurice Cherry:
Well, just to wrap things up here, where can our audience find out more information about you, about your work and everything? Where can they find that online?
Breon Waters II:
By the time this comes out, Holiday Free Of will be out. So I'm launching that. So you can check out Holiday Free Of on holidayfreeof.com. On Instagram it's @HolidayFreeOf. For my personal portfolio, it's breonwatersii.com. Personally on Instagram, I don't do it that much, but [inaudible 00:52:35] politemanliness.com. And really just trying to do more things, really just more storytelling with that. So look out for some interesting things and experiments, explorations on Holiday Free Of.
Maurice Cherry:
Sounds good. Breon Waters II, I want to thank you so, so much for coming on the show. Like I mentioned at the top of the episode, I think you had reached out to me several years ago and asked for my address because you wanted to send me a Christmas card. And I was like, "Yeah, sure, go ahead and send me a Christmas card." And I mean, we've kept in touch since then. I've seen how your career has grown since then.
And also I think just hearing your story now and seeing the path that you've taken to get here, you've always struck me as someone that really has their eye on the prize, like you know what it is that you want to do and you're steadily working and going towards that goal. So, I could see in five years, the cards really taking off and being a success. And I just want to thank you so much for the work that you're doing, for continuing to blaze a trail in the industry, and just for being, I mean, to somebody like me, just being a positive influence in the industry, family man, doing the work that you're doing. It's just good to see from this vantage point, somebody that's really out there making their dreams happen. So, thank you so much for coming on the show. I appreciate it.
Breon Waters II:
That means the world, Maurice. Thank you so much, and thank you for your platform. Like I was saying before, the work you and Cheryl Miller, all different platforms that came out during 2020, like Where Are the Black Designers? It's been a huge blessing for us, just knowing we're not alone, there's others like us. And just thank you for giving us a platform to share our stories and connect, so thank you so much for it.
Brevity & Wit is a strategy and design firm committed to designing a more inclusive and equitable world. They are always looking to expand their roster of freelance design consultants in the U.S., particularly brand strategists, copywriters, graphic designers and Web developers.
If you know how to deliver excellent creative work reliably, and enjoy the autonomy of a virtual-based, freelance life (with no non-competes), check them out at brevityandwit.com.
Sponsored by Hover
Building your online brand has never been more important and that begins with your domain name. Show the online community who you are and what you're passionate about with Hover. With over 400+ domain name extensions to choose from, including all the classics and fun niche extensions, Hover is the only domain provider we use and trust.
Ready to get started? Go to hover.com/revisionpath and get 10% off your first purchase.