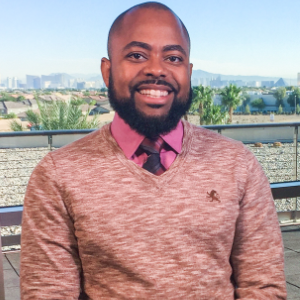 It's been amazing to see so many Black design communities pop up since I started Revision Path, which is how I found out about this week's guest — Barney Abramson! Not only does he have years of experience leading design teams, but he's also paying it forward by helping out the next generation of designers through mentorship and consulting.
We talked about how he's adjusted to working through the pandemic, and spoke a little bit about his day job as the lead designer for an energy company. Barney also shared his story of growing up in the Dominican Republic, moving to the United States as a kid, and then making his way out to Vegas to kickstart his career not just as a designer, but a writer as well! Barney's energy and passion for design is infectious, and it really shows that when you do good work, good things happen to you!
Transcript
Full Transcript
Maurice Cherry:
All right. So tell us who you are and what you do.
Barney Abramson:
Well, my name is Barney Abramson and I am a graphic designer and creative manager. I currently manage the creative team for an energy company here in Las Vegas. And prior to that, I worked at international game technology for about 10 years. IGT is a multinational gaming company that produces slot machines and other gaming technologies. That's my official work.
Nowadays, everyone needs a side hustle. So I do some creative consulting work on the side. I work with organizations and entrepreneurs to solve creative problems, anything from brand development, personal branding, digital campaigns, photo, video shoots, and speaking engagements. So that's my official work. The rest of the time I spend it doing a lot of writing. I write about my experience as an Afro Latino, creative in corporate America. And due to my writing, I've met hundreds of young black designers and creatives. I am now starting a mentorship program, which is kind of my next venture. So I stay pretty busy.
Maurice Cherry:
Yeah, I see. That's a lot. Well, I feel like nowadays you have to have two or three things. One because inflation has raised the price on everything. I don't know about you, but here in Atlanta, everything is 10… Not 10 times, at least 10% more expensive. So you kind have to have something on the side to bring more money in because everything just costs more money. So with everything that you're working on, how's this year been going so far, how's the summer been going?
Barney Abramson:
It's been very busy. I had maybe two or three weeks during the summer where things started to slow down, both on my day job and on my side work. And I thought, wow, look, everyone's kind of taking a break. And I thought the economy not doing so well, that it was going to be as slow from now on, but the last two weeks, everything just kind of ramped up again. My company recently went through some sort of a proxy fight and that got cleared up. So everyone's back to business. So quite busy with work, with side work, with writing. And also with just meeting with a lot of people. I enjoy having just one-on-one talk. So I do that quite a bit. So I keep myself pretty busy.
Maurice Cherry:
Okay. Let's talk a little bit about your day job work. I really want to get more into your writing and your mentoring. Because I think that's probably more exciting to talk about, but we all got to pay the bills. So talk to me a little bit briefly about the work that you're doing with this energy company.
Barney Abramson:
So the company that I work for, it's a natural gas company. They service over 2 million customers in California, Nevada and Arizona. I am the kind of lead designer. They don't have traditional titles like art director and creative director. So my title is kind of funky, but I am kind of the senior lead designer in the company. And I manage a very small creative team.
The majority of our creative work is typically outsourced. I would say probably 75% of our work gets outsourced to a whole bunch of creative agencies that we work with. So my typical day really starts with just going to meetings. I have huddles in the morning, typically at 8, 8:15. I meet with the marketing team, although they don't call it marketing. Again, they have weird titles here. We meet with the marketing team, kind of get all my answers for the day, any kind of projects that are the standstill.
That's kind of where I get all my answers and try to move things along. And then I go into other meetings throughout the day, the next kind of part of my day, it's really around providing creative direction. So whether I'm providing creative direction to my video crew or my graphic designers or a particular agency, that's working on a project. That's really like a big chunk of my day. And then really the third part of my day, really around me doing actual creative work. So I still do a lot of graphic design work. So my day is kind of divided into three big chunks. It doesn't all happen in that order. It's kind of mixed in, but if I had to break it down, that's kind of what a typical day for me looks like.
Maurice Cherry:
Sounds like it's pretty busy kind of going between those different parts of what you do, like management then you have some hands on work as well.
Barney Abramson:
Yeah. Making the leap from a graphic designer, which something that I did for many, many, many years, I've been a manager or in a kind of creative manager role, the last seven or eight years. And the big difference really is the amount of meetings that you have to go to. I go to meetings all of the time and it just really takes up most of your day. So it's more about relationship building and making people feel comfortable coming to you with work, and then delivering that work to your team. That's kind of what I spend most of my time doing. And then I get a little bit of time to be creative and work on creative projects, but it is quite busy.
Maurice Cherry:
How has it been working remotely through the pandemic? Did you run into any challenges with that?
Barney Abramson:
I personally enjoy working from home. I thought of myself as, I wouldn't say a social butterfly. I think that's too much. But I don't have an issue with people. I don't have an issue making friends and things of that nature. So I always saw myself as a very social person, I guess, is what I'm trying to say. And then we all came home and I found myself very isolated at home, but I loved it. I like my setup at home. I like being close to my family. I feel like this is a true work life balance where I get to go to a meeting, deal with something at home, come back, do some design work and maybe do an errand real quick. And I just really enjoyed it. Some of the challenges that I think in the very beginning really was around my setup, not having the setup that I had at work at home.
That was one thing, making sure that I had all the tools that I needed to do my work. But I think my work at IGT kind of trained me to work remotely because at IGT I had a very remote team. I had six designers and a photographer, and some of them were in Reno, which is eight hours away. Others were in Moncton, Canada, others were in Peru, London, Germany. So it was a very broad, diverse team. I only really had two designers in Las Vegas with me. So I was used to the kind of remote aspect of it. When we all came home during the pandemic, it was nothing that I found difficult at all. So I enjoyed it. I am now back in the office three days a week, and I miss being at home all the time. I really do.
Maurice Cherry:
Well, I'd imagine there might be some advantages for getting in the office, if anything, just kind of a change of environment, but I know what you mean by liking that setup that you have at home. I've been working remotely actually. I've been working remotely since 2008, so I've been working remotely for a long time. One because I had my own studio and I had a distributed team. So I could work with people from all over.
But when I got back into working at companies, all the companies I've worked for over the past five years have been very remote first or remote friendly. I think the last time I was in an office for a job was… My goodness. Maybe 2019, I think, might have been the last time. Yeah, I think about it. That was the last time I was 2019. So it's interesting now, because I've had folks on the show who have completely started their career now working remotely, because they might have just gotten out of school or something. And so this is all they know, it's this kind of remote setup. So it's interesting to see how companies are going to try to, I guess, change with this new environment and everything.
Barney Abramson:
I've seen this hybrid kind of approach with my work now three days in the office, two days at home, it's kind of a setup and most people are kind of in and out, and you would think it'd be destructive, but it really isn't. I think that the same, if not more work gets done this way that I've noticed.
Maurice Cherry:
What's been the most challenging part about the work that you're doing now.
Barney Abramson:
I think the difference for me from my previous job, just because I was there for so long, is that a lot of the work that I do now is work that's being done through working with agencies. I love working with agencies. They bring just a different energy. They bring a lot of ideas. They tend to think way outside the box. So I do love working with agencies.
But previously I really enjoyed having a creative team, keeping everything in house and really being the sole owner of a project from beginning to end. I think what happens now is where I am involved in the beginning, conceptualizing the idea and providing it to the agency through a brief, but then they kind of go on their own and do their own thing. And then they come back and I'm the in between person providing creative guidance and kind of driving the idea the way that it needs to go. But it is a bit different. So I don't know if it's a challenge, it's just a different format that I wasn't used to doing so much work outsourced, but I do get to work with amazing talented people and I do learn a lot. So it's kind of like a double edged sword of sorts.
Maurice Cherry:
Yeah. You're kind of being that intermediary in a way.
Barney Abramson:
Exactly, exactly. So before I thought we had… Obviously working internally, you have… Things can be done a lot quicker. You can control the pace and the direction of things on a daily, if not even a minute by minute pace. Typically working with an agency, there's a process you have to follow and it tends to be drag along. Agencies love to drag you as long as they can possibly can. So you know how that goes.
Maurice Cherry:
That is so true. And I mean it's for, I think a number of different reasons, but I definitely I've been on the agency end of it. And currently with where I work at now I'm on what you're end is. You're the vendor, so to speak, working with them. So I know what you mean.
Barney Abramson:
Yeah.
Maurice Cherry:
Let's kind of switch gears here a little bit. I know that you grew up in the Dominican Republic, so I'd really love to hear what was that like. Growing up there, did you get exposed to a lot of art and design and everything as a kid?
Barney Abramson:
That's a great question. Because I never really thought about it that way. I feel like growing up in the Dominican Republic for me was very traditional to all the experiences that I've heard. I think that I was always a creative person and my dad was also creative. So he always helped me and provided all the tools that I needed to explore my creativity, but it's not something that I saw around me. I didn't see people around me drawing or sketching or painting. Although the island is completely full with amazing artwork, architecture and painters and you walk down the streets and you see all these paint vendors selling their amazing paintings. So in a way I did, well, I was exposed to that, but I think that my creativity, it was very internal. My sister's not very creative. My brother's not very creative. I don't know anyone in my family that's very creative.
So it really was a thing that maybe my dad just kind of passed down to me. Maybe. I don't know. So yeah, I mean, growing up in the Dominican Republic was not the easiest. Obviously I had a really… As a child, you see things differently and I had a great childhood and I loved living there and just being outside and playing and doing all the things that kids do back in the day. We definitely grew up very poor. And so it was a struggle for sure, leaving there. I did not live in the nicest environment or have the nicest things. So when my dad saw an opportunity, my mom and dad saw an opportunity to bring us to the United States to provide better education, a safer environment. And I also was not a very healthy child. I had surgeries and heart issues and asthma eye issues.
So my dad's like, I need to get this kid out of here. I feel like coming to the United States was kind of heaven set for me personally, but also for my family because it really provided all the opportunities that we have now. So I love my experience living in the DR. I miss it. And I go back when I can, but I do see what my father saw. Now that I'm a dad I see my kids. And I can only imagine living in an environment that wasn't safe, at least where I was. I didn't want to give the impression that the Dominican Republic, it's an unsafe place, but I did grow up very poor. So it was not the best environment. So I could see how my dad kind of saw our situation and wanting to come to the United States and why we ended up here.
Maurice Cherry:
And so you moved here when you were 10 years old. Was that a really big culture shift in general?
Barney Abramson:
Oh God. Completely. So I moved here and I actually moved here during the wintertime. So it was like, end of February, April. And I remember getting out of the plane and my breath was everywhere and I was like, oh my God, I'm smoking. Look at this breath. But again, my parents, they came to the United States first, probably about a year before we all came. My brother and sister. Which is very typical, at least back then parents would come, kind of get situated, get a job, get an apartment. And then the kids would come later. So when we came to the United States, my parents kind of were somewhat settled. But again, it was a struggle. We were poor in the DR and poor in the US as well. So I recall my parents working multiple jobs. My dad literally worked every job imaginable.
He worked at a mill. He worked at McDonald's. He worked at a nightclub. He was a bouncer. He did everything to keep our family afloat. And my mom did as well. I think my mom worked at McDonald's for 19 years. So that part of it wasn't easy. But what was easy was that we lived in a small town called Lawrence, Massachusetts, that at the time was literally 40% Dominican and 40% Puerto Rican. So living in Lawrence, Massachusetts and living in the Dominican Republic was essentially the same thing.
Everyone spoke Spanish. Everywhere you went was a Spanish store owner or vendor. So as long as you were within those four miles, you were kind of safe and protected and you felt like you could do or go anywhere. It wasn't until I believe, college that I realized, oh my God, America's really different. And I realized that there was quite a bit of a culture shock leaving my kind of safe environment of Lawrence. So really wasn't until college where I realized how different the world was. And I struggled there as well for quite a while, until I was able to figure things out.
Maurice Cherry:
Well, before you ended up going to college and we'll jump into that. When did you know that design was something that you wanted to say. Because you said you kind of didn't really see it back in the Dominican Republic? Did you have an experience or something while you were in the states that kind of put you onto it?
Barney Abramson:
Again, my creativity was something that I felt like I always had in me, but never something that I thought that could be something that I could do professionally, I guess. So even in high school, I remember taking art classes only because I wanted to be with my friends and things of that nature. It wasn't something that I thought I could do professionally. I actually wanted to be a video producer. I wanted to be in video production and in high school and even in college, I studied video production because I thought that's what I wanted to do.
And the reason for that is because my dad, again, one of his side jobs, my dad had a local TV show on the local network. And I used to go with him. I used to do the camera and stage setting and then I was doing switchboard and I did a little bit of everything. So that's what I really thought I would end up doing. And it really wasn't until college that I found my passion for graphic design. And I mean, I can get into that if you want, but it didn't happen naturally for me it was almost like I was at my wits end and I said, okay, what's easy for me? And I'm like, oh, designing is easy. So then I went that direction.
Maurice Cherry:
Yeah, we can get into it, but I'll say before we get into it, there's nothing wrong with leaning into your strengths? If that's something that you're good at, why not?
Barney Abramson:
So I didn't know that. And sometimes we fight against the things that come easy to us. And also being from an immigrant family where you feel like you have to be something great, you have to be a doctor or lawyer, something amazing because you have this expectation on your shoulders. So I think that was my motivation to do something bigger or at least my perception of bigger at the time. So when I went to college again, it was a big experience for me, a culture shock that I didn't expect. Literally speaking English all day long was so hard for me. I felt very isolated and I didn't know anybody. And I really didn't feel welcome. It was a obviously predominantly white school in some tiny town. Bridgewater is a very small town that when driving into Bridgewater State University, there's like cows and farms and everything.
So it was very secluded. It wasn't a city or anything like that. So I was very isolated. Didn't feel like I belonged and it wasn't… So of course my grades of were affected by that. And I believe my GPA in my freshman year was 1.7. I was on my way out. And it wasn't until I found myself, I think my second semester I was really given the speech. If you don't get your grades up, you're going to lose your financial aid, you're going to… So I knew that I had to figure something out and I joined one of those multicultural clubs and they had Latino club, and Afro M club and Cape Verdean club. So I literally joined every club imaginable and I started making friendships. And then I started finding my own tribe. But with my grades, I didn't know how to get my grades up. I just couldn't figure out what I could do to get my grades to be better.
So I thought, "Hey, I could take an art class and I know I'm going to get an A." So I took painting and I took sculpture and literally took every single art course that was available to me. And by my sophomore, maybe mid sophomore year, I had an advisor basically approach me and say, "Hey, why are you wasting your time in a communications major?" Or I think I was still doing video production. So she was like, "Why are you wasting your time in a communications major when obviously your talent and your passion is in design?"
And I literally did every single thing this lady told me and I started working in the art studio. I started taking more graphic design courses. I changed my major to fine arts. And then eventually, obviously everything kind of made sense. So my grades started going up and I kind of found my passion. It didn't come easy. I was kind of hardheaded. But I was glad to have someone kind of guide me in the right direction.
Maurice Cherry:
Well, it's good that you ended up going into that direction because like I said, leaning into your strengths, never a bad idea. And once you got it, that was sort of your ticket. So tell me about what the program was there. You mentioned this sort of taking all these different courses. What was it like?
Barney Abramson:
Yeah, so God, I really jumped all over the place. I think I started my college experience as a communications major because I wanted to be in video production. Then I went into psychology and then sociology. And then eventually into fine arts. So I have a fine arts degree. I actually ended up having a dual major in communications and fine arts because I literally had enough credits to do both. But I took the fine arts program at Bridgewater State University an amazing school. Great program. Had amazing experience there. I learned basically all the basics to be a fine arts student. And then I concentrated in graphic design because I like computers. And I also like to be creative and I thought graphic design just kind of made sense to me. And I had a great experience at Bridgewater and I ended up with a dual major in communications and fine arts, with a concentration in graphic design.
Maurice Cherry:
Do you feel like it really helped prepare you once you got out there in the working world as a designer?
Barney Abramson:
Oh man. So I feel like in school I learned theory of design and maybe… Obviously I took a lot of painting and sculpture classes and drawing and pencil drawing. I took a bit of everything. So in a way I had a bit of knowledge of everything. So that was great. And then also the graphic design program was great. But it really wasn't till… When I got my very first job, I didn't feel like I knew all the things that I needed to know. I think what helped me was that one of my jobs, what I worked at in college, one of my jobs working for the art studio and I worked for the computer lab. And my job was to install Photoshop and install illustrator. And if anyone was having any technical issues, I'd be the tech guy fixing things. And then I also became a teacher's assistant.
So during a graphic design class, if anyone had a technical issue with the software, I would come in and help. So I kind of self taught myself how to use Photoshop Illustrator and all that. And now this what 20 years ago. So programs back then are not as robust as they are now. I did feel like a lot of the technical stuff I had to learn myself, but using my creativity in a better way was kind of really taught by teachers. I really didn't find myself learning practical stuff until I had my first job. And I realized, oh my God, now I know what I'm doing. And my first boss was great. He really knew that I was very green and really kind of eased my way into corporate America, I guess you could say. So I was prepared, but I felt like there was a lot to learn afterwards.
Maurice Cherry:
Yeah. I'm trying to get a sense when this might have been. I'm guessing this was probably… And correct me if I'm wrong here. It sounds like this was maybe around the mid 2000s, maybe.
Barney Abramson:
So I graduated in 2002, so my first kind of real job.
Maurice Cherry:
Okay. I was trying to try to sync it up because I was like, we're probably right around the same age. So I'm thinking during that early time in the internet and the web. You really have to kind of learn it yourself.
Barney Abramson:
There was no experts. There was no YouTube or 1 million videos and boot camps and other ways to learn.
Maurice Cherry:
Yeah, there was no YouTube.
Barney Abramson:
There was none of that. I mean, we were still using exacto knives to cut things and glue them together and pasting things together. I mean, we were really encouraged to sketch everything we did, which some people still do that today. But we were forced to sketch first. Then bring that into the computer where now a lot of folks just start right on the computer. So you really did have to teach yourself what you were doing.
Maurice Cherry:
Yeah. That early time was a lot of just self discovery, especially if you were doing stuff on the web, a lot of view source, and you're just sort playing around kind of trying to figure it out, et cetera. So when did you end up making the move out west?
Barney Abramson:
Oh gosh, that's a long story, but I moved to Las Vegas in 2004. So very quickly after my first kind of job out of school, I ended up moving here to Las Vegas. And I attribute that to my wife. So this is a long story. So I guess I'll tell it. But I actually got fired from my first creative job. And a lot of it had to do with the fact that I wasn't prepared to be in a corporate environment. I never had the experience from anyone else, working in an office environment, all the jobs that I had prior to working in an office I worked as a landscaper and I was a painter and I even worked at a nursing home washing dishes. I just didn't have the experience from my people in my life or my parents, unfortunately. So going into a corporate environment was very different for me.
And I didn't realize that for me, at least back then. I think now things are a little bit different. But I didn't realize that I needed to what people call now code switch. I needed to be a different person at work than I was at home. And eventually that got me in trouble at work. And I ended up being fired from my first job. This is something that I was very embarrassed about my entire career. And now I find myself talking about it all the time because I simply just don't care anymore. But I did have that experience. So when I left that job, I went into… I thought, what can I do to give back to my community? So I started working at a local, a youth counselor type of program. I can't remember the name. It's called Valley Works. And it was like, if you're unemployed where you would go get a job.
So they had a youth program there and I worked with dropouts and high school dropouts or folks that wanted to get their GED or they wanted to get into college. I would find programs to help them. So that was the kind of job that I was doing. Obviously not something I was prepared for. Again, Lawrence, Massachusetts was a very… It's a ghetto basically. So the problems that I was encountering were much bigger than something that I could handle. And I thought, okay, I'm going to need to find my way back to my passion.
So around that same time I met my wife. She lived here in Las Vegas. She had a family member that worked at a gaming company who was a graphic designer. He introduced me to my boss back then and she basically said, "Barney, if you move, I'll give you a job." And I literally came back to Massachusetts, packed my car and drove my ass back over here. And sorry for swearing.
But I drove across state, came to Las Vegas, got my second creative job working for Progressive Gaming. And that's kind of my introduction to the gaming industry as well. It was great. I started working, I tried to repair some of the issues that I had in the beginning of my career, I guess. It was a great job. I worked there for about five years before the company eventually went out of business, but I had a great experience. And it's really where I started to learn a bit about my skills and myself and becoming a bit more confident.
Maurice Cherry:
I'm really glad that you're telling this part of your story because I think it's something that maybe designers now that might be ready to come out of college and start their first gigs need to know about. But I think it's also something that is extremely unique for our generation. In that our parents, whether they were, I would say from this country or not, they have not had the same experiences when they were going on to the workforce than we have, because of technology. Going into technology and going into this environment where so much of what is being just uncovered is happening on such a rapid basis. It's one thing about having to just learn on the job, what it is that you have to do. But also you sort of said, you weren't trained for this or you weren't prepared for this. None of us were. None of us were.
We were all kind of going into this blind, trying to figure out, especially for us that went to the web and went to design. What do we do? Because we don't know. There's no blueprint to follow. I remember my early career, it's funny, you mentioned getting fired. I got fired from… So I graduated in 2002. I walked in oh three and I was working at the Woodroof Arts Center, which is this big arts facility here. The symphony there's a art museum and stuff like that. I was working there selling tickets, got fired on my day off.
Because one of the other cashiers was stealing money. As she blamed it on me and I got fired, whatever. But then the job I worked after… Every job I worked after that was customer service. Because I couldn't get a job with a math degree. I majored in math. I couldn't get a job with a math degree. So I was telemarketing for the opera. I lasted there a day. I went there for an eight hour shift. They played Boyz to Men, I'll Make Love to You on a loop for eight hours. Oh my God. And I just said, I can't do this. I went home and mailed my stuff back to them. Y'all can have this. I'm not coming back. But after that I worked a customer service job at Autotrader for roughly about a year, got fired from that. And I remember my mom being like, "What are you going to do? You're doing all this…"
Because she knew that I was into design and stuff. I would tell her that I went to Barnes and Noble and copied these books. And I found this cracked version of Photoshop. And I started playing around with designs, teaching myself how to use it. But it was always a hobby. And she's like, "What are you going to do? You have a degree, but you're playing around on the computer. You need to find a job, a real job." And I did. A few months after that I got my first design gig. But I know what it's like in your early career, trying to find your footing and just not feeling like you're ready yet. I totally understand what that's like.
Barney Abramson:
Absolutely. I can relate to that 100%. It really was like the wild west for a while. For us it was tough. It sure was.
Maurice Cherry:
Yeah. I mean I think it's one thing to not know because of just the industry and how it's changing, but then you add race on top of that. That adds a whole, just other layer to it. Every place where I worked, I wasn't like the only black person, but I was one of few black people there. And then it's like, you can't mess up because they looking at you crazy. And it's a whole… I get it. I get it.
Barney Abramson:
Well you're the example. It almost feels like they took a gamble on a black person. So here you are. And now you have to represent for everybody else, you have to be on your best behavior. So everything… I mean a lot of it is, but a lot of it is really true mean. Especially then did feel like they were taking a gamble on you. And you had to really do everything perfect so that weren't embarrassing yourself and everyone else. So the pressure was, it was a lot. I mean obviously new England, not the most diverse place in some areas. So I definitely worked for a lot of jobs where I was the only black person in the team or the department. And at times I was the only black person in the entire building. So it was tough.
Maurice Cherry:
Yeah. Let's talk about your work at this gaming company. That was sort of your first foray into all of this. Tell me how it was. How'd it go?
Barney Abramson:
Yeah. So my work in gaming started at Progressive Gaming. It was smaller gaming company, they developed games and also manufactured slot machines. That company eventually went out of business. And the company that bought that company, Progressive Gaming was IGT. So I didn't transition from one company to the next, but when Progressive Gaming went out of business and IGT kind of bought some of their assets within six months, I was now working at IGT. So the two companies kind of blend into one in my mind, I guess. But my start at IGT and working for the gaming industry was very different. Obviously it was just a whole different world. Moving to Las Vegas was different as well. So I was experiencing a lot of things, but I was in my twenties. So I kind of enjoyed… Obviously living in Vegas I enjoyed that.
But enjoyed the challenge at the time. So I was your typical junior designer. I sat in a cube pretty much doing graphic design work all day long. I reported to the director of marketing. And a lot of my job was really creating sales sheets and things of that nature, very boring stuff. But one exciting part of my job was doing trade shows. So the gaming industry, the way that they sell their games and their slots and their new technologies is by going to this multitude of gaming shows all over the US. So I got to travel and really design for multimillion dollar sets. So we were doing from video design to designing walls and features for the booth, was something that I loved doing. And I did a lot of. I was almost like a designer, an event kind of planner person, because I would also work a lot of this trade shows.
As time went by, I moved from the events part of things, and I went more into the branding. Our company was going through a major rebrand after 30 years of having the same logo and brand, they decided to reinvent themselves. They wanted to go from a manufacturing company into a technology company, mostly because they were not just making slot machine and manufacturing them. They were also developing games and different technologies. So this company had three or five gaming studios that… So we had hundreds of game designers in our building. But I've always kind of worked in a marketing environment. So when games were being developed and this company was developing, I want to say 50 to 100 games a year, it was our job to then create assets, to make sure that those games were going to be sold. So whether it was assets for the web, for sales, for social media, we would create all those assets.
So that was kind… I did that for a while. And then eventually I became a manager and I started managing a creative team. And like I said earlier, I had a very diverse creative team. I think actually I had the most diverse team in the entire company. Something that I was very proud of having, something that I strived for and I was able to make it happen. I had a Japanese designer, had a Mexican designer, two or three Filipino designers. I had designers in Peru, in Germany and London and Canada. So it was a very diverse team. Even in age. My youngest designer was 24 and my photographer was like 55. So managing such a diverse team in age, in culture and also location was a big deal for me. And I really thrived at it. It was probably the best time of my life being in our director at IGT for that time. So yeah. I don't know if I answered your question, but that's kind of my experience in the gaming industry and in working for IGT.
Maurice Cherry:
Now you worked there for… I mean this time period is almost a decade, so you really got to work and also see how the design industry grew from where you started to where you are right now. When you look back at that time, what did that time there really teach you?
Barney Abramson:
Gosh, I mean, what I remember the most is the evolution of gaming. So some of this gaming… And the thing is gaming for slot machines have a lot of somewhat similar to other games that we play, obviously, on different platforms. But I remember how in the beginning, a lot of the games were developed with very poor graphics, very low end graphics. I think GIFs or very small JPEGs picks was the only thing that they could use at the time. And I remember the evolution from static graphics to animated graphics that just blew my mind. The first time I saw a slot machine that stopped and then the character started doing something, I thought that was kind of revolutionary. And it's funny because the gaming industry has been at the forefront of that development of creating digital games with other companies. And it's not seen that way, but if you think about it, gaming companies employ thousands if not millions of designers, game designers I mean.
So watching that evolution of going from static to animated, to then full blown graphics that we get now, and some of the animation that's created looks like real life. And it's amazing. So being part of that, seeing the change in the industry from using Quarkxpress to obviously now Creative Cloud, that was a big, huge evolution that I think a lot of us are thankful for. So there was quite a bit of things that changed during that time. And gosh, I don't know. I can't think of anything else at the moment.
Maurice Cherry:
It's funny. You mentioned just that change with slot machines and stuff. I feel like mobile gaming has also really changed a lot over the years. I see some mobile games now that are pretty much graphically on par with what you would see from a console. And I think part of that is just the technology in the phone has increased greatly. I mean, I didn't get my first cell… Well, I got my first cell phone when I was in college, but it was a Ericson GH 68. I had a Nokia too. I had a Nokia after that, but it was like a T9, you play Snake on it. You know what I mean? It wasn't something that was as advanced as modern day smartphones are. It's just amazing to see how technology has increased. And as technology has increased, design has kind of gotten better. So that's been a kind of good path to follow.
Barney Abramson:
It sure has I think that design now, I mean, I see what some of this, even first year college graduates are doing, and it's just mind blowing and it's like, wow. I could never imagine having that skill back then when I graduated, it just blows me away.
Maurice Cherry:
Yeah.
Barney Abramson:
Yeah.
Maurice Cherry:
I'm curious. What is the design community like for you in Vegas?
Barney Abramson:
To put it mildly it's nonexistent. I can't really say that there's a graphic community here. There's an art community that has been around for a while. And there's an art district that has been growing quite significantly in the last couple years. But when it comes to tech or design, it lacks significantly. I mean, I'm not part of any graphic design or design or even creative teams or meetups or anything like that.
They're far and few in between. And so there's not very much of that. Vegas, it's a transit city where people come, they try, they give it a shot and they leave. So folks don't stick around very long. So that sense of community's not really there. It's funny, because I've been saying this since I've moved here like 17, 18 years ago, I've been saying that and it hasn't really changed since. I feel like people here tend to be very isolated, thank God for the internet and Slack and other platforms that it's kind of where I get to meet people and communicate and talk to other creatives.
But I don't see that here. I was actually talking to someone recently about creating some sort of group. Because I've seen, and I've met a few designers that are moving into the city and they meet me through LinkedIn and some of my writing, they kind of reach out to me and through my mentorships and we all talk about creating something because definitely it's missing.
Maurice Cherry:
You should. I mean, if that void is there and you're looking for it definitely create it yourself. I mean, that's what I did with Revision Path. There wasn't any sort of design podcast I was talking to black designers and so I made it and almost 10 years later here we are. But no that's interesting, because when I think of Las Vegas and I think of design, I don't necessarily think of graphic design.
I would mostly think of maybe, I don't know, interior design, I guess because there's hotels and casinos. I mean, I just wouldn't think of Vegas as a design city, but yet so much of Vegas is an experiment in design. The strip, the huge signs, the fake monuments and stuff there. Building an Oasis like that in the middle of a desert is a design experiment. So I would imagine that there has to be something there, but I would say if you haven't found that community there and you're looking for it, make it yourself, make it yourself.
Barney Abramson:
Well, you heard it first here. That might just happen. But you're right. There should be a design community here. There is. I'm sure there is. They were just all kind of spread. And there's really, again, not that sense of community doesn't exist. So folks tend to stay on their own and seek out other places for their outlets. So yeah, it definitely is needed here. It's funny you say that, that you wouldn't think of Las Vegas as a big design place. Because part of the reason why I moved here was because the design industry in Boston, in New England was very competitive at the time. And I felt like, wow, I felt, again, it could have just been me, but I felt at the time that I really needed to sharpen my skills to compete for jobs and things of that nature. And when I moved to Vegas, I realized, "Oh my God, I'm the big deal here."
Someone like me, I had so many options to work for… Whether it was casinos or gaming companies or other things. I really felt like I had choices to make. And there was so many choices out there. And I would encourage people all the time. I remember encouraging people, man, just come out here, you'll get a job like this. It'll be so easy, especially coming from somewhere else. So that was kind of part of the reason why I felt like, when I came here, everything was so much easier for me because there really wasn't that competition.
Maurice Cherry:
I know there's big college out there. UNLV is in Vegas and I believe there's a AIGA chapter there. I want to say there's been one there for a minute, but yep. Have you interacted with them?
Barney Abramson:
I have not. You're actually the second person that brings that up to me and I feel ashamed that I haven't been part of the AIGA a and I'm making plans to become a member and attend. I have not, seeked it. I can't really tell you why. I just really haven't hasn't been in front of me for me to engage with them.
Maurice Cherry:
Yeah. I mean, I'm not mentioning it as you should seek them out. I'm not saying it in that way, but normally when I'm thinking of any big city in the US, my first thought for design community would be to think about, is there an AIGA chapter there or is there a big school there? Because I figure a big school would have an art department or a design department and maybe they've got a student chapter or something there. So I feel like that community's probably there. You might just have to really either one seek it out in those places or just create your own or both. I mean, I think either of those options is pretty good. I mean, even with AIGA, I was a member for several years, I did stuff at the national level. I did stuff at the local level. I always say the chapters per city are always kind of different.
They're never going to operate the same from city to city, the different chapters. But I'd say if you want to seek them out, see if it's good for you, if it's welcoming. I mean, I know that AIGA now is trying to do a lot more around building community now that it kind of seems like we're coming out of the pandemic. And so people are starting to have events and stuff again. Also now for the first time in the organization's history, there's a black man that's the executive director. And I know him personally, Benny F. Johnson. He's been on the show before. So I know that he's trying to do more things to really one bring in more diversity, but also just help with more community in other places. So I'd recommend seeking it out. I'm not a shilling for AIG here, because I am not a member, but I'm just saying it's an option.
Barney Abramson:
No, thank you for bringing that up. Like I said, I think you're the second or third person to bring that up to me. And I actually had their page open from a couple days ago because I was looking at some of their certificate programs. I kind of said to myself like, wow, I'm surprised that I have not joined or kind of seeked them out. But I think I will.
Maurice Cherry:
Yeah. I know the certificate programs I think are fairly new. I want to say those are fairly new. They're really trying to, and this is to their credit. Because I've known the past few executive directors. To their credit they really are trying to become more of an agency for the modern designer. I think when a lot of people, maybe even 10 years or so ago thought of a AIGA, it was very much art school, art gallery, white gallery wall.
It was for a certain type of designer that got into design a certain type of way. And oftentimes that was not very diverse, just in terms of race or ethnicity. And I feel like now they really are trying to encompass the modern designer because now within the past 10 years, there's UX design, there's product design, there's experiential design. Now even writers are considered designers and some organizational structures because you have a content designer or something. So design is so much more than just the visual or at least the visual in a artistically representational sort of way.
Barney Abramson:
Exactly.
Maurice Cherry:
And AIGA is old. AIGA is over 100 years old. They got to get with the program. They got to get with the time. So to their credit, they really are trying to modernize. But I think even something that big, especially with as many chapters as they have, it's slow. The change is slow. But I think those certificate programs and I know they've done portfolio festivals and stuff. They're starting to move in the right direction to their credit. I'll give them that.
Barney Abramson:
I have to say the way that you articulated that makes so much sense to me because it's exactly how I felt about them. And I just didn't know that. And now that you say it that way, I think that was part of my hesitation. I remember going to their website years and years ago to look at contracts, or ways to handle being a freelancer and things of that nature, for resources. But that was the only way that I remember using them, but you're right. I think that they are kind of reinventing themselves and I enjoy the change. So I'm going to have to look them up.
Maurice Cherry:
Outside of work you do a lot of mentoring. Talk to me about that.
Barney Abramson:
So the mentoring really came about due to my writing. So earlier this year, and I think the pandemic obviously gave all of us time to slow down and really rethink what you're doing. And I really had epiphany, I guess you could say. But I started thinking about my experiences and a lot of the things that I never really talked about getting fired for my first job or being rejected by a mentor. These are things that I felt like maybe there are other people that are going through these experiences. And I remember also during the pandemic joining a lot of Slack channels. I think we're part of some of the same channels for the black designers and Hugh and Techaria and things like that. So I started having more and more conversation with folks. And so then the beginning of this year, I kind of decided, hey you know what, I'm going to start writing more and I'm going to start telling a bit more about my story and I didn't really have a plan.
I just thought I'm just going to make a post and see what happens. So I did and I started posting and the reaction was very… I got a very big reaction, mostly from young black and brown designers and creatives kind of reaching out to me, which encouraged me to write even more. So for the last four or five months I've been posting and writing almost like every single day, whether it is a Medium or LinkedIn or on all of the Slack channels that I'm part of.
And that like I said, I've met dozens, if not hundreds of young designers that relate to my story have gone through the same issues that I've gone through, either struggling or could use the guidance. So that's where I then open up my calendar and say, I'll just open on my calendar. I get a Calendly account and everyone that I would talk to, I say, "Hey, if you want to book me for 30 minutes, we can have a chat. It could be about design. It could be about any issues you're having at work. I could review your portfolio. I could check your resume. I mean, whatever you want to talk about you can have me for 30 minutes."
And that just kind of exploded. And before I knew it, I was having several meetings a week. If not several meetings a day, my wife is marriage and family therapist. So she actually sees clients from home. So because of the type of work she does, it became very natural to me to meet with people and talk to them about things. And I felt probably the last couple… The last month or so I felt like I should make this into something real and not just kind of a casual thing that I was doing online. So I started putting together this mentorship program it's in its infancy.
I'm literally I'm… As I'm talking about it, I'm thinking of what I'm I'm going to do. But I do want to create a mentorship program. I do want to open up my story and myself to be able to guide and give advice. Again, I don't know everything I don't pretend to or everything. I usually start my sessions by just telling my story and using that as a vehicle to talk about the things that I was able to overcome and how I was able to overcome them. And it just really resonates with the people that I talk to. And then typically there's a lot of Q&A going back and forth. And then we continue our chats online through Slack or LinkedIn or other channels. So that's kind of how it started. And that's where I'm at today. I have my website that I just started building and I'm piecing the program together. My wife is helping me with the program. So I hope to before the end of the year, have this mentorship program fully ready to go.
Maurice Cherry:
I really love that you're doing that, by the way. I mean, using your story as a way to mentor and help out the current and the next generation of designers, that is so inspiring. And it's really interesting to hear that it came from your writing. As you started writing about these different experiences that you've had, that it sort of opened up this new avenue to you.
Barney Abramson:
And you know who actually encouraged me to write. I think it was, I saw, we both know Cheryl D. Williams… Miller, sorry. She Dr. Cheryl D. Miller. I saw her talk. I can't remember where I saw her speak, but I saw her speak once. And she talked about the importance of writing and documenting and telling your story. And she just really inspired me. And I've told her this many times that she just started something in me that I didn't think I had.
I actually never thought I was a good writer. If I'm insecure about anything, it's my writing. But I felt like if as long as I was telling it from my point of view and I was being honest and real that people could take it however they want. And if we want to talk about it, then let's talk about it. Because at the end of the day, I want to create conversation and I want to engage and not… I'm not here to put anybody down or be controversial. I just want to, again, tell my story and allow folks to learn from it and engage me and let's talk about it.
Maurice Cherry:
I mean, you're the expert of your own story and of your own experience. And I love that Cheryl was an inspiration. I remember when I had her back on the show, this was years ago. And it's funny about the writing, because I found her, I won't say found. It wasn't like I discovered her anything, but I found her or I discovered her, I should say through a book that she wrote. She had wrote a memoir on and it was for sale on Amazon. And that's how I ended up reaching out to her to come on the show because I had been doing research about this thesis that she wrote back in the eighties and how that got turned into this article for Print magazine. And it spurred the symposium with AIGA and then there's just this gap from 1990 to whenever, and I was like, okay, where did she go?
And then I found this book and I reached out to her and was like, I would love to just tell your story. Because I don't think anyone has and it needs to be heard. And then it kind of has taken off from there. So I always stress the importance of writing to designers. I mean we had for a few years through Revision Path, we had a design anthology of writing called Recognize. We did it from 2019 to 2021. We didn't do it for too much. The pandemic kind of killed it. I'll be completely be completely honest there. But we had a different theme every year and then people would submit design writing towards that theme. So the first year's theme was space. The second year's theme was fresh. And then the final year of the theme was reboot. And so like I said, the pandemic killed it.
People I think were just so busy thinking of just survival honestly, that submitting to a writing anthology was the last thing on their minds. But we did manage to publish two volumes. One was through Envision and got published through their website. And then the second one, we published through A List Apart. So I always am stressing the importance of writing to designers because writing, I think just teaches you how to one structure your thoughts, but also to explain yourself and your process to other people so they can see your work as you see it.
Barney Abramson:
I couldn't agree more. It's something that I feel like I finally learned it recently. And when I talk to young designers, it's literally the first thing that I tell them to do is start writing today, start expressing yourself, start telling your story, start articulating and becoming a better communicator, whether it is at work or for your personal. You need to start learning how to communicate better because it really it's the only thing that's going to take you from a designer to something else. So maybe you like to be a graphic designer, but if you want to be a manager, if you want to be a leader in any kind of way, you have to learn how to communicate better. And writing is a great way to start. So I'm glad that we think the same because I say that, I think almost every mentoring session that I've had, I've brought this up.
Maurice Cherry:
Start a blog, write case studies about your work. Anything just to open up that other part of your brain I think is just super important for designers in general.
Barney Abramson:
I see that a lot in when you see someone's portfolio and it's just like, oh great graphics. And it's amazing. And I'm like, oh, that looks great, but it's but what's the backstory. What am I looking at? Why am I looking at this? Another thing is when you design something, practice articulating what you're creating so that it can… It'll make better sense to you, but it'll also make better sense to the people watching it. So, I mean, some art is meant to be seen, but I feel like in our industry, or at least as a graphic designer, for me, it does help a lot to be able to articulate whether in writing or speaking your vision and what you're trying to accomplish.
Maurice Cherry:
There's this really great piece that you have on Medium called how to attract, hire and retain black creatives, a five step strategy. Just from the title alone I'm thinking, I know so many recruiters and hiring managers that need to read this because they're always coming to Revision Path saying, "Oh, we're trying to find black designers. We can't find black designers. Where are they?" And it's like, I should tell them, go read this piece by Barney Abramson about how to do it. Because you've laid out the strategy. And I think that comes from your experience too. The time you're working in the gaming industry, even the stuff that you're doing now with the energy company, you've done this, you've built teams. So you know how to do this.
Barney Abramson:
Exactly. And it's funny that you say that because it's exactly where this piece came from. It was because of the amount of people that were coming to me partially because of my writing, they were coming to me asking me the same question. Where do we find black designers? We're trying to build our teams. How do we find more people of color? And I got that question over and over. And I remember one evening I was on Twitter. I made a post and I think it was a CEO of an agency wrote to me saying, "Oh my God, I would love to know more. Do you have any advice?" And I'm like advice and I never really thought about it. Maybe I have to put something together. So then I wrote this list.
Well, here's 10 things you could do today. So I sent them the list and then I thought, okay, well maybe this list needs to be… Like, I wouldn't even think about this, let me just throw it out there. So I kind of shot this list around in my Slack groups. I think Cheryl was one of the folks that gave me some guidance on it. And then I said, okay, well now I need to make it…. Now it can't just be a list. Because I'm not providing enough information. So now I need to flush it out.
And so that's kind of how it started. It started literally from folks asking me the same question they ask you. Conversation on Twitter, kind of sparked the initial list. And then I felt like I needed to flush that out. And I literally spent three months putting this together because I wanted it to be right. I did have some help with the writing because I'm not the best writer when it comes to long form like this, but I'm really happy with it. And I'm glad that you find it useful.
Maurice Cherry:
Right now with where you are in your life and in your career how do you define success?
Barney Abramson:
Man, you have the best questions. I am glad you said that because I had always had… In the past, I've always defined success with a money… A particular kind of a financial thing to it. I needed to make this much money work for this company to be successful. I mean, again, this is years ago. I had this idea that by the time I'm 30, I need to make $100,000. That was my big goal. It was a thing that was going to make me happy. And I feel like when I was able to reach that goal and when I was able to be at a position that to me felt I should have been happy. I had a creative team, I was highly regarded in my company. I was kind of making the money that I wanted to make, but I just was not happy. I felt like the stress of getting there and the stress of me trying to climb the ladder really got to me.
And I got to a point where even my health started to have effects. I just was not working out for me. And I realized that I needed to find success in other things. So for me, success is I find more success and more happiness in my writing and in my mentorship than I do in my paycheck. I love my paycheck. Don't get me wrong, and I need it. But I find more happiness doing the things that I love and when I'm giving back. So I think for me, success is when I find myself in a place that I'm giving back and I am helping people, helping black and brown designers get out of rut or get out of a difficult situation at work. That really is what makes me happy more than anything else.
Maurice Cherry:
Where do you see yourself in the next five years? What kind of work do you want to be doing?
Barney Abramson:
The next five years, I definitely see myself. Well, I always had this vision of starting my own creative agency. Again, I do a lot of consulting work and freelance work for companies and entrepreneurs and other ventures that I do, on the side. But I do want to formalize that into something else. I would love to have an agency kind of like a boutique creative agency of my own, something that I've kind of started and stopped throughout my career.
And I feel like I'm getting to a place where I think five years from now, if I can launch a creative agency, I think it would be a success for me. The other thing that I would love to see come to fruition is my mentorship and my mentoring program. I would love to have that up and running with seeing and talking to hundreds of designers and also bring other senior folks like yourself and others to be part of something big like that. So that's where I see myself in five years from now.
Maurice Cherry:
Well, just to wrap things up from here, where can our audience find out more information about you, about your work, about your writing? Where can they find that online?
Barney Abramson:
Yeah, so the best… Really where I spent most of my time writing and communicating and meeting new folks, it's on LinkedIn. I think LinkedIn, the last couple years had really kind of reinvented itself and I've seen just an influx of people coming to the platform, maybe I'm wrong. But I just noticed that during the last maybe year or two, just this influx of new young energy coming to the platform.
So I find myself on LinkedIn, quite a lot writing. I actually host a blog on LinkedIn, which it is identical to my blog on Medium. So Medium obviously is another place that you can find me. I have my website, Barneyabramson.com where you can… Again, my website's on the construction, but if you want to reach out to me, send me an email. That's really the one stop shop where you can find me, send me a note and then see all my other social channels. Another place where I'm very active is Slack, where are the black designers that's I'm on there all the time. And Techaria is another group and Hugh's another group that I spend a lot of time in. You can definitely find me there as well.
Maurice Cherry:
All right. Sounds good. Well, Barney Abramson, I want to thank you so much for coming on the show. I think one, just your story of coming to this country, getting interested in design and really finding your own way is something that I feel like a lot of our audience is going to be able to really empathize with and relate to. Because design is something that is for everyone. And even the ways that we get into it, whether that's through formal ways like school or cultivating a hobby or something like that. I think what your story proves is that design is really something for everyone and that you were able to carve out your own path and really kind of define success for yourself and find a way to give back to the next generation, which is really great to see. So thank you so much for coming on the show. I appreciate it.
Barney Abramson:
Thank you, sir. It's a pleasure. Thank you for having me.
Sponsored by Hover
Building your online brand has never been more important and that begins with your domain name. Show the online community who you are and what you're passionate about with Hover. With over 400+ domain name extensions to choose from, including all the classics and fun niche extensions, Hover is the only domain provider we use and trust.
Ready to get your own domain name? Go to hover.com/revisionpath and get 10% off your first purchase.