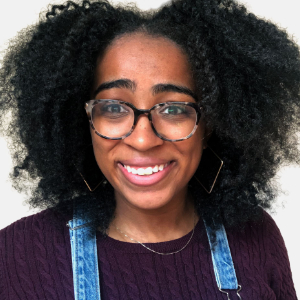 2021 has been quite a year for us all, including this week's guest Alanna Flowers. This year, she became a full-time creative and launched her own business, AGF Design Studio, and I had the chance to talk to her in the midst of her very busy holiday schedule.
Alanna gave me the rundown behind why she started her studio, how she plans to expand her services next year, and also gave some insight into her creative process. She also talked about growing up in NYC, the pros of art licensing, and how she builds her brand through social media.
Thank you all for listening to Revision Path this year — onward to 2022!
Transcript
Full Transcript
Maurice Cherry:
All right. So, tell us who you are and what you do.
Alanna Flowers:
Hi, my name's Alanna Flowers. I'm a lettering artist and illustrator, based in Brooklyn, New York.
Maurice Cherry:
How has the year been for you so far?
Alanna Flowers:
Wow. This year has been unlike any other that I've had. Professionally and creatively it's been really refreshing and really a big learning experience, I would say.
Maurice Cherry:
In what ways?
Alanna Flowers:
Well, I'm a new freelancer. I started freelancing January 1st of this year, so-
Maurice Cherry:
Oh.
Alanna Flowers:
I just jumped in feet first and, yeah. I've had so many rewarding experiences and I think, because I'm still so new, I've learned a lot along the way.
Maurice Cherry:
Well, congratulations on striking out on your own like that.
Alanna Flowers:
Thank you so much.
Maurice Cherry:
If you don't mind me asking, what was the catalyst behind you deciding to do that?
Alanna Flowers:
I mean, everyone knows how things have been for the state of the world. So, the pandemic hits last year, and at that time I was a full-time in-house graphic designer/graphic design manager. I was reporting to work every day, working in downtown Manhattan. New York City's a hotbed, but I reported to work. So, that was a challenge for me definitely. Then I guess as the whole year went on, I was really evaluating. I'm like, how can I start doing what I'm actually really passionate about? Because at that point I had already thought about maybe I want to strike out, even do something different, even if it wasn't necessarily freelancing on my own. I knew that I just wanted something different. So, the pandemic was a humongous catalyst for reevaluating on all levels. So, yeah. I decided, I think midway through 2020, I'm just like, all right. I'm going to start saving this money that I'm making, and try to figure out something on my own.
Maurice Cherry:
And you did, and you struck out on your own.
Alanna Flowers:
Yeah.
Maurice Cherry:
Since this is coming up at the end of the year, do you have any early plans or resolutions for 2022?
Alanna Flowers:
Yeah. Geez. I've been thinking really hard about next year actually, because now I have something to base things on, because everything was very, well, we'll see how this goes. So, now I actually have quantifiable metrics to base things off of. So, I have big goals for next year. I want to expand my services definitely, and just continue working with great brands and clients.
Maurice Cherry:
So, let's talk more about your studio, which is called AGF Design Studio. You started at the beginning of this year, how has business been, just establishing yourself?
Alanna Flowers:
Yeah. It's been really great. I've been very fortunate honestly, to have worked with all of the brands and people that I've gotten to work with this year. I've gotten to work with Adobe. My first client was American Greetings.
Maurice Cherry:
Okay.
Alanna Flowers:
It's like, how does that happen? I've had a very fortunate year and experience going out on my own. I think if we can keep that momentum, and it seems that we are so far, going into next year, I think that would be great.
Maurice Cherry:
Nice. Those are two big names just right off the bat for your first year.
Alanna Flowers:
Yeah.
Maurice Cherry:
So, what is the process like when you're… Say you have a new project come in, or there's a new design that you're working on or something like, what does your creative process look like when you're starting something new?
Alanna Flowers:
That's a really great question. It really definitely depends on what the client's needs are, and they give you a creative brief and you review it, and I start thinking about what exactly is it that they're asking me to letter? Because as a lettering artist, I'm usually illustrating some sort of quote or phrase, so I start thinking about stylistic treatments. Sometimes the origin of the quote is historical, so maybe it's from an actual figure, so I do a little bit of research on that person. From there, I just follow the steps of my process, which are basically establishing some kind of hierarchy for the piece, so that it communicates in the best way possible to the intended audience.
Maurice Cherry:
It seems pretty straightforward then.
Alanna Flowers:
Yeah. It's not too complicated. I think where things start getting complicated is maybe how long the phrase is, and the composition, creating for social media. I'm usually given some sort of dimensions and constraints, so my compositional approach for something that's supposed to be a square will be completely different than something that's supposed to be a poster, for example. So, it just depends from project to project, I think.
Maurice Cherry:
Are you currently working on any projects that you can talk about right now?
Alanna Flowers:
That's a good question. I can vaguely describe it, I guess. Yeah. I actually just started a project that I'm really excited about, and it's actually going to allow me to incorporate lettering and a little bit of animation actually. It's a marriage of my interest in filming and video and editing, with lettering and animation. I'm pretty excited about this one.
Maurice Cherry:
That sounds pretty cool. Wow. So, you mentioned Adobe, you mentioned American Greetings. These are both very visually strong companies. American greetings with greeting cards, Adobe of course, with everything they do with the Adobe Suite and stuff. Are there specific types of clients that you've found that you work best with?
Alanna Flowers:
I've been fortunate to work with Adobe for a few projects this year, each one was so different. I think what I've seen from the clients that I've gotten to work with is, it's always best when the vision is as clear as possible, I guess. And when we can just establish that we're on the same page as much as possible. Things pretty much sail smoothly from there, as long as you can have a nice, clear line of communication with the client, I find that those project go over the smoothest and the best, from beginning to end.
Maurice Cherry:
So, even with those types of clients, I've got to imagine you've probably had a bunch of different people just try to hit you up. And with it being your first year, I'm probably guessing there's been some clients that you're like, "You know what? I don't know if this is the best one," because sometimes in your first year of business, you want to take on everything, or you try to take on as much as you can because it's your first year and you want to try to do all the things. But have you found the flip side to that?
Alanna Flowers:
Yeah. I've definitely had some interesting things come my way, and it would just meet me right in the middle of me working on something. And I'm just like, I could say yes and rush through this and it not be that great. Or I could just politely decline at the moment. It's great they found me, they have my contact information and I have that contact from them, so those doors could more easily be reopened. Just like, "Hey. I was busy then, but my schedule's open now." But, yes. There's definitely been a lot of temptation to say yes to everything, but thankfully, so far so good, and timing seems to have been on my side for most of the time.
Maurice Cherry:
Yeah. I was going to say, it sounds like it's more of a timing thing than the actual work itself. I guess that's pretty good. It's good to know.
Alanna Flowers:
Yeah.
Maurice Cherry:
Let's switch gears here because I really want to learn more about you and how you really came into all of this. Tell me about where you grew up.
Alanna Flowers:
Yeah. I grew up in White Plains, New York, suburban kid all the way. Even though I've been Brooklyn now and I've been here for a few years, I definitely was not a city dweller all my life. So, yeah. I grew up in White Plains and that's the only place I've known.
Maurice Cherry:
Were you exposed to a lot of design and art and stuff like that growing up?
Alanna Flowers:
Yeah. I would definitely say, that as a kid, I was always very enthusiastic about the opportunities during class to color and do arts and crafts, and art class and stuff like that. And then, just from, I guess, a personal side, I always enjoyed musical theater, and my family would be able to go to Broadway shows every now and again for the holidays or something. So, just being exposed to even different forms of art, even if it's not visual or digital art, just being exposed to all different kinds of artistic expressions was definitely a thread throughout my upbringing.
Maurice Cherry:
And now you went to the New York Institute of Technology, in Old Westbury. Can you tell me what your time was like there?
Alanna Flowers:
Yeah. My time there was so great. It was so interesting because I went there and I applied there even, on the recommendation of my old high school art teacher, Dr. A. So, he was an alumni of there, so he's like, "Oh, apply there," because that's where he went. The art program there was very small because NYIT is actually more of an engineering school. So, the art program felt very intimate. Everyone who had some sort of art major, whether you were graphic design or motion design, or what have you, everyone knew each other. So, it felt like a very close knit little family and community, and I really enjoyed my time there.
Maurice Cherry:
Do you feel like they really helped prepare you to go out there in the world and work as a designer?
Alanna Flowers:
In some respects, yes. Where you're thinking about working for a company, or an agency, or working in-house. Yes, thinking about, okay. I could have a job after this in a creative field, but not necessarily in the thread of a, this is how it looks if you want to work for yourself idea. So, definitely preparation was there, but definitely in the traditional sense.
Maurice Cherry:
Yeah. I haven't found that there have been a lot of schools, maybe some of the art institutes, only because I know that they do take a lot of input in from people in the community, basically just about what they should be teaching. But, yeah. There's not a lot of design focused schools I've seen that give you the tools for entrepreneurship. It is about pushing you into that… I don't want to say pipeline, but pushing you into that realm of, are you going work for an agency? Or you could work for a design focused tech company, or something like that. It's not really about, how can I take these tools and strike out on my own because a lot of that is… I mean, yes. It's your technical skill, but there's also just so much business stuff that you need to know to run your own business and deal with contracts, and all that sort of stuff.
Alanna Flowers:
Yeah. Absolutely. Any kind of inkling of what it was like to be a freelancer came from the one off, maybe you have a semester with an adjunct professor who happens to also be a freelancer on the side, or something like that. I mean, they might show us some of their client work as examples and stuff like that. But definitely not completely focused, like you said, where it's dedicated to teaching you the ins and outs of the business aspect that goes into freelancing.
Maurice Cherry:
Why do you think that is?
Alanna Flowers:
That's a great question. I feel like there's more attention on the creator economy, and maybe it's because now I'm in it directly, but I don't recall it being talked about as much, even amongst me and my peers. The power that social media could have in transforming someone's creative career in that trajectory, and being able to go off on your own. So, there might have just been an unknowing of the potential of these platforms. When I was going to school, Instagram was king, but now there's so many competitors and so many different avenues that you can take. I don't know. I think, as more people do it, the more shine it'll get, and more people will talk about it.
Maurice Cherry:
What were those early years like after you graduated?
Alanna Flowers:
It's pretty interesting actually. When I first graduated, I was very bright-eyed and was super excited to just jump into my field, but I actually had an opportunity fall through, that I wanted to take to be a designer. I was down on my luck a little bit, and I told my friend, I was like, "I just need income please," anything. I ended up actually taking a job as a receptionist for a year right out of college, before I was able to secure my first graphic design job.
Maurice Cherry:
A receptionist, huh?
Alanna Flowers:
Mm-hmm (affirmative) I gave myself one year because I was just like… And I was a great receptionist.
Maurice Cherry:
Okay.
Alanna Flowers:
I was very efficient and they're just like, "Yeah. You're great." And I'm just like, and with all this stuff comes complacency and comfort, and you know this was just a very temporary thing so you need to move on. So, I had my exit strategy, and after that experience, I was able to get an associate design job in-house.
Maurice Cherry:
Well, that's something good to know, that you had a plan to get out of it, because sometimes you fall into those gigs where you're doing the work as you have to do it, it keeps a roof over your head, it keeps food on the table, but it's not fulfilling. It's not what you really want to do. So, at least you had a plan to get out of that, and eventually start somewhere and really work on your design career.
Alanna Flowers:
Yeah. It's very interesting thinking about it now, but it's just like, well, it's part of my story. It is what it is. It's not always red roses, but I'm grateful for the way things happened anyhow.
Maurice Cherry:
Now, I noticed that you've been doing a lot with social media. You can go to your website and really tell that you're very active on these other platforms like YouTube and Instagram and Pinterest. How has, I guess, exhibiting your work through those channels helped you out as an artist and an entrepreneur?
Alanna Flowers:
I think it has really challenged me to think about one, I guess how much one person is capable of. So, you'll see a lot of people who do content creation full time, and you're just scratching your head and just like, how are they doing all of this content? And just like, well, there's a strategy behind everything, and a lot of content is actually strategically recycled and scheduled and all this stuff. So, once I was able to break that formula down in my head, I was able to be like, okay. I'm just going to put my work in multiple places, because you never know how someone will find you or come across you, and shooting as many shots as you can is always, I think, good. Especially if you're entrepreneurial like me, or just trying to increase your chances of someone coming across your work. I think it's always best to be in as many places as possible.
Maurice Cherry:
And also, by doing that work and showing off what it is that you're doing, you're attracting other people, which for your first year in business, I mean, that's the best marketing that you can do, is to really show the work that you're doing so other people can find out about it.
Alanna Flowers:
No, definitely. It's definitely a whole process of show and tell. Your social media quickly becomes your portfolio, or your YouTube becomes a reel of the things that you can do. I've had so many people tell me, it's like, "Oh, I watched some of your YouTube videos," and that exhibited that you can speak about this topic, and you know about video editing. It's interesting also the way that people will break down, "Oh, I've seen your content in this place, this place and this place," and from that I can deduce relatively the kind of skills that you have, and the interests that you have. I think it's just a great way to showcase everything that you can do.
Maurice Cherry:
Do you find that different social networks are better, depending on what you're trying to accomplish?
Alanna Flowers:
Yeah. I would say so. I think it depends, because a lot of people have been saying, especially this year, that video content has really taken over platforms that were previously photo based, like Instagram. Where TikTok and Snapchat have… Well, mostly TikTok, but I guess Snapchat really did it first, where people are creating video content, and using that as a way of exhibiting a tutorial. It could be for anything. I use a lot of my platforms to use as tutorial based posting, so I think that's a great way to engage with my community. It's not always about, oh, this is the finished piece that I did. I like to share educational content, so I've found that anything that really has videos on it, which is everything, can really be used in that way, which I've tried to leverage a lot this year and has been pretty successful.
Alanna Flowers:
And then, other platforms like Twitter, I found are just great for building community and just getting out there, and just talking with people who are really like-minded, and in your same creative sphere. Maybe they don't do lettering, but maybe they do type design and other kinds of illustrations. So, it's really interesting to hit that follow button on someone and see them follow back, and be surprised maybe the people who are just willing to talk to you about the stuff that you guys already know that you're interested in from your bio or whatever.
Maurice Cherry:
So, even with all that, you're on these different social networks, you're doing these things. I see that you have a section on your site about art licensing. Talk to me about that, because that's something that I haven't really seen on a lot of really designers or illustrator sites, is about licensing.
Alanna Flowers:
Yeah. That's definitely one of the areas that I knew that even if, quote unquote, I was maybe slow out the gate to get some clients, I could definitely build a licensing portfolio. I'm personally, I think I've collected probably almost every greeting card or holiday card, birthday card I've gotten since I was, I don't know, 10 or something. I've just always loved the illustrations, and just the look of greeting cards. I'm just like, that's art licensing. I could totally do that. I was able to actually get an art licensing course that I purchased at the top of the year, and it was really helpful for me getting some licensing clients. That's just a little bit of recurring income that I get, which is nice, and it's completely passive. Once I've done the designs, they just generate that little bit of income for me every month. So, it's really nice.
Maurice Cherry:
So, have companies already reached out to you to license some of your work?
Alanna Flowers:
Yeah. I actually did a little bit of… I think I've actually done probably all of the outreach maybe, I think, for all of the companies that I'm licensing with right now. The first one I did was a mobile app called Felt, and they actually do digital greeting cards. So, you have the app on your phone, you can design the greeting card, you can write it on your phone and they'll mail the card out to whoever is in your address book. So, they have a hybrid approach, where it's like you do the process digitally, but they'll still mail the card. So, that was interesting. I don't… Honestly, I think I just Google searched like crazy, just art licensing, seeing other companies that fellow lettering artists have licensing deals through, and just collecting contacts and doing the research, and just sending out cold email. Got a few good responses this year.
Maurice Cherry:
And is that… I mean, I would imagine that's probably pretty steady income too, with licensing, because you're doing along certain time terms, maybe monthly or annual or something like that?
Alanna Flowers:
Yeah. Exactly. It just depends on whatever your contract agreement is, the terms of your royalty payments. But it's cool because I can expand my portfolio, if I want to add 10 new cards to a collection, I can, and just have those go in circulation and see how they perform. And then you just get your little monthly commission reports, so you can see how your designs are performing, and maybe where you want to make some improvements, maybe add to different categories or something like that.
Maurice Cherry:
Who are some of your inspirations, either as an artist or as a business person? Who inspires you?
Alanna Flowers:
Oh, geez. Well, I definitely was inspired from the very beginning by Jessica Hische, because she was probably the first name that I heard attached to lettering. I think that happened when I was in a typography class that I took in college. My professor had shown her daily drop cap project as an example of lettering, and I was just like, "Lettering?" And then, from there I just fell down the rabbit hole, so to speak. I was pretty much hooked from there. Other than her, Martina Flor definitely, has all also been a huge inspiration. I actually took her freelancing course when I was first getting started this year, learning the ropes of freelance from one, a seasoned lettering artist, but also someone who's been running their own lettering business for 10 plus years. It was a huge inspiration for me.
Maurice Cherry:
What advice would you give to someone out there that's listening to this, and they want to follow in your footsteps? They want to maybe learn lettering design, or they're looking to strike out on their own as an entrepreneur. I know those are two separate things, but what advice would you give to someone that's listening, and they want to go in either or both of those routes?
Alanna Flowers:
Yeah. Well, when I was first thinking about it, I think I was first listing all of the talents that I had, I guess, like these are all the ways that I could monetize the skills that I already have. I'm a trained graphic designer, I can do that. I taught workshops before, I can do that. Just listing out those skills and talents was, I think, the first thing, because I'm just like, okay. These could be my services hypothetically for freelancing. And then, I think it just from there went to following this passion that I've had for a long time. I think that first exposure to Jessica Hische's work was probably 2013, 2014 or something like that. So, from there I just had lettering as a hobby and a creative outlet while I was sitting at my receptionist desk. I think being a graphic designer full-time made it harder for me to nurture that creative hunger, I think, for lettering.
Alanna Flowers:
I knew that what I wanted to buy myself was more time. So, from there I saved money. I'm just like, I'm completely new to freelancing. I never truly envisioned myself freelancing in my career. So, I was just like, I know one thing that I need is a little bit of a cushion financially. I definitely took a risk quitting my job, but I didn't just do it without any logistical understanding of my expenses and stuff. And then, I think from there, it's just really go with your gut. I did have the financial cushion, but I did not have a client history. I didn't have referrals from other people that I could take with me in my little email address book or something.
Alanna Flowers:
I took a risk definitely in that aspect. But because I've been nurturing this skill and this hobby for so long, with the hopes of somehow making this my profession, I think a lot of the things that I've encountered were that whole luck, where it's opportunity meets the preparation. So, yeah. If you want to do something, make sure that you're already doing it in some capacity, even if it's just on the side to begin with. As long as you're feeding into that, whatever that thing is that you really want to be doing, that's definitely positive as well.
Maurice Cherry:
What does success look like for you at this point in your career?
Alanna Flowers:
Wow. Right now, success looks like being able to sustain and continue from places of passion and genuine excitement and interest, and not from the place of, I've got to take this client on because I need to pay my rent this month. I think just continuing with that feeling of excitement and passion, I think, because even when you're doing things that you're really interested in, after a while you might get a little burned out. I'm hoping to not, to not reach that burnout point, and be able to be responsible with my time and with my emotional wellbeing. I just want to keep doing this and maintaining,
Maurice Cherry:
Do you have a dream project you'd love to do one day?
Alanna Flowers:
Oh, geez. I have many, and it's great because some of them even happened this year. But I am definitely setting my sites out for large scale projects, like murals. I am definitely looking to get my lettering painted outside somewhere in New York City. I think that would be the coolest thing, and have people take pictures with my work outdoors. I think that'd be really awesome.
Maurice Cherry:
What do you appreciate the most about your life right now?
Alanna Flowers:
I appreciate the privilege that comes with being able to take a risk, like the one that I took, and in some ways I'm still taking. I really appreciate that. And I appreciate the luxury of time. I've bought myself a little bit of time with a little bit of the planning that I did before, I ended going freelance, but I'm abundantly grateful for those things.
Maurice Cherry:
So, given where you are now, where do you see yourself in the next five years? Is there certain work that you'd want to be doing at that point or anything like that?
Alanna Flowers:
This year has been a lot of seed planting. It's like I have to start working from somewhere. So, I started my YouTube channel this year, started with zero subscribers just like everyone who starts anything. In five years it would just be nice to see these communities that I've started, investing and grow. I really love lettering and I love working with clients. It's such a rewarding feeling, being able to help them. But it's also really rewarding to help other people who are interested in lettering. So, that's why I definitely knew that as a part of my freelancing that I wanted there to be some sort of educational aspect, with workshops or tutorials and stuff like that, like I do on YouTube. So, yeah. Just expanding my reach and having that allow me to reach back as well to others.
Maurice Cherry:
Reaching forward and reaching back, I like that. So, just to wrap things up here, where can our audience find out more information about you? Where can they see your work and everything online?
Alanna Flowers:
Yeah. You can find my work at agfdesignstudio.com, but you can find me on YouTube at AGF Design Studio. That's my channel name, that's also my name on Instagram. And then, also on Instagram and Twitter. I'm Alanna_ Flowers.
Maurice Cherry:
All right. Sounds good. Well, Alanna Flowers, I definitely want to thank you so much for coming on the show and really one, I think telling your story, but then two also, giving us a little bit of a peak behind the curtain of what it's like to a new freelancer. There's been all this talk this year specifically about the great resignation, and people leaving jobs and striking out on their own. It seems like you've really… I mean, well, one, you have struck out a lot on your own. But two, it seems like you've really hit a stride and you're making great work. You're promoting yourself out there on social media. I wish, when I started my studio, that I was half as prepared and put together as you are with how you're doing everything. I think you're doing a great job, and I'd love to see where your work goes in the future. So, thank you so much for coming on the show. I appreciate it.
Alanna Flowers:
Thank you so much, Maurice, for having me.
Brevity & Wit is a strategy and design firm committed to designing a more inclusive and equitable world.
We accomplish this through graphic design, presentations and workshops around I-D-E-A: inclusion, diversity, equity, and accessibility.
If you're curious to learn how to combine a passion for I-D-E-A with design, check us out at brevityandwit.com.
Brevity & Wit — creative excellence without the grind.