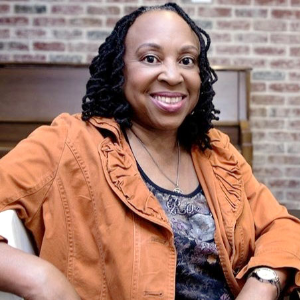 All it takes is a spark to set off a blaze of creativity, and no one knows that better than our first guest of the year, visual artist Sharon Burton. As a creative coach, her specialty lies in helping people reclaim their creative lives, which I think is a fantastic way to start off 2023.
Sharon talked about her coaching practice Spark Your Creative, described the different courses and services she offers, and spoke on how using joy as resilience is a key part of her work. Sharon also talked about growing up in Philly, working in public health, and shared how her time in Atlanta opened her eyes to her true calling.
If you're looking for a creative spark, then I hope this conversation with Sharon helps you begin this year on the right track!
Spark Your Creative
Interview Transcript
Maurice Cherry:
All right, so tell us who you are and what you do.
Sharon Burton:
My name is Sharon Burton, and I consider myself a creative Jill of all trades. I am an artist, visual artist, and I'm also a poet, and for the last five years, I've been working as a creativity coach, for-
Maurice Cherry:
Oh, nice.
Sharon Burton:
Yeah. Everything about me is very much on the creative side. You name it almost, I do it or engage in it or I'm a patron of it, anything of that nature.
Maurice Cherry:
How has 2022 been for you?
Sharon Burton:
It's interesting, I've been talking to a few people about that. I think overall, 2022 has been one of the most positive years in the last few years with the pandemic and all that's been going on. I think this has been a year that I've been able to really enjoy who I am as a creative person. I've been a part of all of those three things, I've had some positive things that have happened. I've been able to get into some exhibitions back to back, which is not always easy. I had my poetry as being… was selected to be in a chatbook that includes other poets in this DC, Maryland, Virginia area. So that's going to be published soon. I've made tremendous headway in a book that I'm writing, which we can talk about later. So there's been a lot of things that have happened.
I think it's been a year where I was able to focus a little bit more on some things, and I did a lot of spiritual work on abundance early part of the year. And though it didn't show up everywhere I wanted it to show up, it did show up, so I can't be mad. I have to give things to the universe for allowing me to be able to share my gifts in so many different ways, whether it's coaching, whether it's doing my own stuff, I've been very, very blessed to have some good things happen.
Maurice Cherry:
That's amazing. Were there any particular lessons that you learned this past year? Are there ways that you feel like you've grown and improved?
Sharon Burton:
One of the biggest things that I've been really focusing on this year is boundaries, because as a creative person, you can find yourself saying yes to a lot of things and wearing yourself out. So being able to set healthy boundaries is probably one of the biggest lessons I've learned this year. I think the other thing is not to… I don't know how to say this, but sometimes you may not feel you're getting support for what you do, and to lay back and say, okay, understanding that those that will support you will support you regardless, and those who won't won't.
And not taking anything seriously, that's the other thing. Giving people grace, because one of the major things I think of this time in our nation's history and where we are going into 2023 is giving a lot of grace to people. Folks have really just been through it with this whole pandemic, and there's a lot of grieving, a lot of grieving, whether it's grieving our past way of life, whether it's people that have passed through COVID or other things, but I notice people are really dealing with grief and grieving. And I think if you're not really grounded as to who you are as a person, this is a tricky time. And sometimes we can get impatient with folks, but if we give people some grace knowing that people are doing the best they can with what they know, I think that's the most important thing. So that was the second lesson.
I like this question. No, because I was sitting there thinking the other day, "Okay, what were some of the major things that I've learned?" And then I think the third thing is, never too late. Sometimes we think that… And I work with a lot of people who are interested in engaging their creativity or going back to something that they did creatively when they were younger. I work with a lot of people at middle age. And letting people know that, hey, it doesn't matter how long it's taken you to get to a certain point, as long as you're making strides to that.
Those three things, boundaries, exercising healthy boundaries, exercising grace with people because we're reemerging and we're trying to get our footing, trying to get back, I think. And I think a lot of people think it's just going to be right back to what they used to do and how they did things. And a lot of people, I don't think, really realized that this is a new normal, it's not… What you knew and how life was at 2018 is not what it's like now. And if you're striving for that, you're going to be disappointed, but if you're open to new opportunities or new ways of doing things, it will be a better situation for you.
But I think also being patient and showing grace to those like our friends and people that we know that are having difficulty and may not realize it, may not realize that they're kind of trying to navigate a new world. And that means misunderstandings, that means emotional outbursts, that means a lot of things that… Maybe we didn't know Uncle Joe was that way, he seems so emotional now. And just sort of understanding that Uncle Joe is doing the best he can navigating.
So those, and then the third thing was, yes, it's never too late. Yes, it's never too late. A lot of things that I felt was too late or I felt I was behind on, I was able to move forward with this year. And I think that people need to know that we can't beat ourselves up over what may not have happened at a time that we felt it should have happened. I think we have to trust the universe that those things happen at the time that they're supposed to happen. So that's how I feel about that.
Maurice Cherry:
Let's talk about your coaching business, which is called Spark Your Creative. Tell me about that.
Sharon Burton:
Well, Spark Your Creative is about working with people primarily at midlife, those who are over 40, who want to either engage or reclaim their creative life. For example, if you gave up a lot of your creative life because you got married and had kids, or you were kind of shuttled into a different career choice. Those of your listeners that may be in my age group that came up in the '80s, let's say, I graduated from high school in the late '80s and went to college in the late '80s, so during that time period, unless you came from a family that was extremely creative, we were not encouraged to go to art school or to engage in these artistic kinds of endeavors that the millennials and Generation Z is being encouraged to do. Now it's like, "Oh yeah, do it. Do this, do what you want to do." But in those days, our parents were about, "You need to make money."
And their viewpoint… And nothing wrong with that, but that's just how it was at that time, it was the starving artist stereotype. "You're not going to make money. You need to go into business." And so it was all about business, engineering, healthcare, law, those kinds of activities was really big at that time. And so just like everyone else, I along with a lot of people I know did what we went to school to do to become employable. So that's what we did.
And so what I found as I went along is a lot of people were like me that just sort of got derailed from some of their more creative kinds of goals or interests. And I am there to help people kind of develop the confidence and say, "Okay, it's cool. You can do this. You can do this." And help them come up with a plan to help them get back on the road to doing whatever it is that they're interested in doing creatively. So that might be if they were doing art like visual art, if they were playing an instrument and was interested in going back to that, if they are interested in writing and writing a novel, maybe he's always wanted to write a novel, those kinds of things. So it's mostly cultural creatives, but I'm willing to work and have worked with people that, for example, wanted to start a podcast or wanted to put together a portfolio of their creative work. So it can go beyond just coaching and helping them unblock, it can go into some administrative things. That's what Spark Your Creative is designed to do.
Maurice Cherry:
What does a typical day look like for you, because it sounds like with doing that kind of work, you're probably really involved with your clients on a regular basis?
Sharon Burton:
It depends on the client, and it depends on what's going on. If I'm working on… For example, I don't know if you're familiar with The Artist's Way by Julia Cameron.
Maurice Cherry:
Mm-hmm.
Sharon Burton:
I've done several of a course in that book. So sometimes it looks like making sure that people understand what the assignments are and giving them information such as the whole thing with morning pages, writing three long hand pages every morning. Some people, for example, they don't know what to write, they're just stuck. So it might be providing private portal information and support resources for some of those students or clients or whatever you want to call participants in that course. It might look like sending an email following up on a client session. It might look like doing a call with someone via Zoom or meeting them. And I guess I'm getting back to meeting in person, so meeting them and talking with them about their creative goals and where they are. It might look like engaging people on social media. It might look like making sure that I get my newsletter out in time. It might look like doing a workshop or promoting a workshop. It's all kinds of things, it depends on the day and what's going on. So that's pretty much it.
Maurice Cherry:
Now, you've mentioned the book that you're working on. Are there any sort of other specific projects you're doing through Spark Your Creative like workshops or things like that?
Sharon Burton:
Yes. I'm getting ready to do another Artist's Way course, but I'm going to call it Artist's Way Light, because that's 12 pages, and that's a long time to be in a course. So I'm going to cut that in half. And I do that with Delray Artisan. So that will most likely be virtual so we can allow for people from different parts of the country to participate. And looking to start that around March of this year. I think the other thing that I will be doing is creating a workshop or a course around my book, which will probably be launched maybe late spring or the fall. We're going to see how things go with the book.
And one of the other things I do, I'm a Yoga Nidra guide, and so I don't know if you're familiar with Yoga Nidra, but it's basically a meditation style of yoga where you're not moving, you're just still, and you listen to a person kind of lead you through several levels of consciousness. And it's a great tool for people who are creative and need a way to unblock. And so I plan to do more of those. I was doing them around the full moon… Or not the full moon, the new moon each month, so I may be doing that again or might be doing it more around the solstices. So we'll see how that goes. So those are just a few of the things I'm going to be doing.
Maurice Cherry:
And you also have a podcast too, you're doing a lot.
Sharon Burton:
Yes, I have a podcast, and that's the Spark Your Creative podcast. And the one thing I love about that podcast is that it gives me an opportunity to talk to creatives in real time about a variety of different subjects regarding creativity. And I've done some series' dealing with everything from creating during uncertain times, particularly in the midst of the pandemic and the social upheaval and trying to help creative stay focused. Filling The Well is one that I did that is focusing on self-care for yourself and staying mentally and physically and emotionally healthy so you can create. But then I also interview people on a variety of different topics that are of interest to creatives, whether it's creative anxiety, whether it's working with essential oils, whether it's working in a creative community, just a variety of different things.
And it's one of my favorite aspects of my business, and it's a wonderful way to outreach to people on topics that they may not hear otherwise. There's a lot of, of course, creative podcasts out there, but I like to think that I do it kind of unique. And I try to engage and invite guests that are in the age group of my target population, so they see themselves or hear themselves talking about these different issues.
Maurice Cherry:
Well, that sounds great. I'll make sure that we include a link to the podcast in the show notes so people can get a chance to check it out.
Sharon Burton:
Sure.
Maurice Cherry:
So, when you're starting on a project, and it sounds like there's a lot of projects that you're working on, what does your creative process look like?
Sharon Burton:
That's interesting. I think it really depends on what it is and what's driving me and inspiring me at the moment. For my business, a lot of my inspiration comes from the input I get from clients and people that engage in my workshops. So if they talk about something or share a source of frustration or something that they need help with, that helps me to create programs, workshops, the book, that I can provide them as a way of support. And so once I get the idea, it's just sort of mapping it out, talking to people. What would be engaging to you, what format, and then go with that. And that might be a podcast, it might be a blog, it might be a workshop, so it depends. And most likely, there's probably at least two out of the three that I do. It could end up being a podcast and a blog or a workshop and a podcast or some variation of the three.
So once I get the ideal going, I just map it out and let it flow. Sometimes it can be really quick, like if I do blog topics, I just knock it out in an hour or so. If it's a podcast idea, that would take longer because I'm usually looking for someone that could really be engaging or has a perspective that I think that would be of interest to people, so they would be able to listen and find that person interesting. And by the way, with podcasts, I don't do famous people. I mean, if I do, I have interviewed a few popular people in the creativity field, but for the most part, I just try to do everyday people because I want my audience to know that it's not about popular people who have resources and all this other stuff that can do these things. I want people that sound like them. "I'm balancing taking care of my grandma or my mother and getting these kids into college and…" Those kinds of people.
So yes, there are some people that appear on there that if you're in the creativity field, but for the most part, my audience is not necessarily following those people. They may not even know who they are. I know them, but they're not impressed by that they're impressed with the topic. And the podcast that I have with regular people just sharing their truth is the ones I get feedback on the most, so yeah.
Now, as far as my own creative practice with my art, I decided to focus on looking at the '40s, the '50s and the '60s, which wasn't that long ago. But those were crazy and very dark. And it could be very dark times with the exception of the '60s with civil rights really coming into view and things moving and changing. But particularly the '40s and the '50s because, and even earlier, because there was so much going on, there was lynchings that were still happening, there was a lot of violence, a lot of miscarrying of justice. And I wanted to find photos where people were smiling, where people were showing joy because it was a reminder to me that despite what I feel is crazy town right now, these people, my ancestors, your ancestors, our relatives, people still found a way to find joy through those dark times. And if they could give us an example about how they used joy as resilience, as a way of resilience, that could kind of inform us.
So I started the series called Joy and Resilience, and it's been a blessing because those works have been placed in a lot of different exhibitions. And I'm still working on it, I'm still creating work as part of that series. And so when I think of my creative process, the social unrest, all of that, because that was new to your generation and mine, we didn't experience all that. I was born in the '60s, so I wasn't conscious when a lot of things were going on. It's been my way also of feeling some sort of kinship with my ancestors and with others saying that, "Okay, we'll survive this. We'll survive this." So that inspired my creative process, and that inspired the photographs that I chose and the kinds of images I wanted to convey with that art.
Poetry has been a little different. It seems like relationships kind of got to that. It was my way of dealing with relationships that went sideways or relationships that I was enjoying. It just seems like whoever I'm dating… And not everybody, but certain people I've dated have been the muse for me to share my thoughts in writing. Out of all of the different creative processes, that's been the most spontaneous. That's like you get on the subway or the metro here, and I take my phone, something will come in my head and I'll just write it all out. That's how it comes to me for the poetry. So that's funny because that has a whole different muse, that has a whole different process, where the others have a little bit more, I don't know, research or contemplation to it, if that makes sense.
Maurice Cherry:
No, that makes sense. I mean, I think it's really interesting that your different creative practices kind of have these different, I don't know, sources of inspiration, I guess.
Sharon Burton:
Yeah, and ways of showing up.
Maurice Cherry:
Yeah.
Sharon Burton:
But I think it's cool, and that makes things so interesting.
Maurice Cherry:
Well, let's kind of learn more about your origin story. I mean, you've kind of alluded a bit to it just now earlier, but tell me about where you grew up, where you're originally from.
Sharon Burton:
Well, I was born in the Philadelphia, but I was raised primarily in Upstate New York, near Syracuse, New York.
Maurice Cherry:
Okay.
Sharon Burton:
Know anything about that part of the country or that part of the state? Which is what they call Central New York, Central Upstate New York. So I went to school and graduated from high school and all that up there. My parents were very encouraging to me with art. I think that your parents have great things and not so great things, but one of the great things about my parents were they created a atmosphere for me to be a creative being. And so I really give them props for that because I hear a lot of people talk about where their parents didn't seem to encourage them to create at all, but that was not the case in my household.
And then I went to college in Virginia at St. Paul's, and that was sort of the point where I kind of got derailed from the whole art thing. Even though they encouraged that, it was not something… It was more or less, at least with my dad anyway, that if you're going to do college and if I'm going to pay for it, art thing is nice, but maybe you take that up later. I think you should consider a major that you're going to make some money and be able to live. And so I ended up going and getting a business degree in marketing. And then I worked for a while after that. When I was in college, I didn't do any art stuff at all. No art. A lot of my peers did not know I was an artist until really in the last 10 years, they didn't know.
Maurice Cherry:
Oh, wow.
Sharon Burton:
Yeah, because of Facebook. They didn't know. And a lot of people were shocked about it because I didn't do it while I was there. It just… I don't know. I think about that sometimes. But anyway, I went to work in the public sector. That was not planned. I was planning to work in the corporate and private sector, but I had opportunities in the public sector, so I did that. Primarily in public health, which was very different than my major. But I had a love of that, particularly social marketing, which was the term before social media, but social marketing. And you probably know a lot about that anyway, about the types of campaigns and stuff that focus on behavior change.
Maurice Cherry:
Mm-hmm.
Sharon Burton:
And so I really liked that. And so after I lived in Richmond, Virginia, for a few years and then decided to get my master's, I went to Clark-Atlanta, and I got a job down there too. So I was working and going to school. And I really liked the public sector, so I got my master's in public administration there. But that's when the whole art thing started coming back. I was working, had graduated and started working for a major government agency down there. And every time… I don't know if you're based in Atlanta or know Atlanta really well, but at that time they had Atlanta School of the Arts there.
Maurice Cherry:
Mm-hmm.
Sharon Burton:
And every time I would come downtown, I lived in the burbs, but when I would come downtown to go somewhere or whatever on 75 South, and right there where 75 and 85 merges, if you're coming from the north, if you look on your right, you would've saw the school title. It's now Savannah School of Art or part of that. And I used to be like… I started getting these little… Kind of little taps in my head, I guess. I don't know. It was just like this little voice would say, "Okay, you need to sign up for some classes over there." And I was like, "What?" And it would always happen.
And it got to the point I wouldn't even look at the school, because I'm like, "I can't do this." And at that time, I was in my early 30s, so I was like… Now it's nothing, but at that age I felt like, "Oh, I'm going to be the oldest one in the classroom, and what makes me think I'm an artist? And maybe that was just in my head? How can you call yourself an artist? You haven't done this stuff in… You're not an artist, you're just going to make a fool out of yourself." And it kept me from doing it.
But on a dare, a very good friend of mine at the time when I was… I think it was the summer before I started working at the agency or before. Anyway, we were working together on a project, and she kind of dared me to volunteer for the National Black Arts Festival. I don't know if you're familiar with that, but-
Maurice Cherry:
Yeah.
Sharon Burton:
Yeah. And that year, it was interesting because it was a lot of stuff going on. I had been working so hard, I didn't even realize that that was part of the culture down there. And somehow she brought that to my attention, and I was like, "Okay, cool." We signed up, and I became a docent for one of the exhibitions. Actually, it was a doll exhibition, which was interesting because my sister ended up a taking up creating dolls, which was… Now that I think of it, that was so wild how that happened. But I also went to… Clark-Atlanta has a gallery.
Maurice Cherry:
Mm-hmm, on Park Street
Sharon Burton:
Yes. And went there, and they were talking about the exhibition that was there. At the time, it was To Preserve a Legacy, which was artwork from a number of historically black colleges and universities from across the country. I mean, it was just a jaw dropping… For me, it just changed everything. That's all I could say. I learned so much about the art and about these different colleges' collections. I went through the little docent training over there at Clark-Atlanta and the stuff that they were saying, and they're talking about these pieces and these artists. And I went to lectures at Spelman that they had that summer with different artists. I mean, it just blew my mind.
And there was something that was lit inside of me. The following year or two, I ended up moving up here to take a job in Washington DC, and within two years, I think, two or three years, I started taking art classes. One starting off at the Smithsonian and then some of the local art centers in this area, and started showing my work. But yeah, Atlanta was it for me. That whole thing was just… It was just unexpected. Every time I think about it, a smile comes on my face because I was like… It was just so much fun, and we were around all these different people, and I was learning so much, and it was just sort of like, "Wow, all this is going on." But that's how it happened.
Maurice Cherry:
Wow. So as you're mentioning all of this, I mean, I live in Atlanta, I live near the AUC, so I know about Spelman, I know about Clark, I know about the church over on Park Street where Clark-Atlanta's art department is, even the National Black Arts Festival. I don't know if… Does the name Leatrice Ellzy, does that sound familiar to you?
Sharon Burton:
No.
Maurice Cherry:
She was the executive director. I think she still is the executive director. She was there for a while, at least when I was working with the National Black Arts Festival. I don't know if… It doesn't sound like she might have been affiliated with them yet, but I am familiar with the National Black Arts Festival. It still takes place here. I think it still does. But yeah, it's so interesting how Atlanta, I guess, I don't know, sparked your creativity in a way. You were looking at, seeing the Atlanta College of Art, and then you're getting inspired by Spelman and by Clark. I really love to hear that, because I think when people think of HBCUs, they don't necessarily think of design and art and creativity and-
Sharon Burton:
No.
Maurice Cherry:
… it sounds like for you it was kind of the opposite, you really kind of got inspired by that.
Sharon Burton:
Well, it's interesting because art and creativity apparently was very much a part of a lot of these schools. And it's kind of interesting because when I was working with that particular program and learning so much about these different HBCUs and how they had really thriving art programs and there was a few renowned African American artists that were working at these schools, I was like, "Wow, this is some serious stuff." And it's not something that, as you said, that's really talked that much about, and that was the magic to Preserve a Legacy, that particular exhibition. And I still have the catalog from that show and the poster. And matter of fact, when you first enter my home, that's the first thing you see, is that poster.
Maurice Cherry:
Oh, nice.
Sharon Burton:
And it just sort of gives me a sense of what I'm doing and why I'm doing it. And I will also dare say, it's interesting, though my college was not represented in that exhibition, art was very much a part of that years ago. Matter of fact, weekend before last, some sorority sisters and I, we all pledged together, we kind of did a reunion weekend. And one of the things that we did was went by a program office that's affiliated with the college. The college has closed, but they still are working on a number of different projects down there. And they just reopened a portion of St. Paul's. And we went to visit, and it was interesting, there was these old yearbooks that they had around. And you had a chance to read through them. There were some from my era, and I was like, "Ooh, I guess we're archival now."
But there was some older ones. And there was also some photographs and information about an artist in residence that was at St. Paul's, and how this artist was working with the students on a lot of art projects and everything. And I said, "Wow, this is something… Art has always been a part of African American culture and a part of the academic or academia." And it's something that I think, as you said, we don't talk about it that much. I think the last time I did see something was… I was in New Orleans. One of the Historically Black Colleges there had the work of their students at one of the museums downtown. And I thought that was really cool to see that.
And I can't remember which school or which museum, but it was good to see that. So I think that's something, as you said, I would really like to see. There's a lot of emphasis on HBCUs right now, and I really would like to see somebody really revitalize that particular exhibition, maybe put a different twist to it, maybe include a more contemporary artist than what they had in the traveling show back then, because there's a lot of younger artists that are in different generations that I think should be showcased, and to let people know that, hey, a lot of art and culture is based at HBCUs. So I think that that's definitely something to think about.
Maurice Cherry:
Yeah, I think that would be fantastic, definitely.
Sharon Burton:
I would love it. Oh gosh, I would love it, yeah.
Maurice Cherry:
So, you got inspired in Atlanta, you moved up to the DMV, what kind of made you decide to strike out on your own with starting Spark Your Creative?
Sharon Burton:
Well, prior to once I got here, I was involved in another entrepreneurial effort. That one, it actually had two… Well, the first iteration was Authentic Art Consulting, and then it was Artinista Art Advisory. And both of them were focused more on… Well, the first one was focused more on working with artists and art locations to put together curated art shows of emerging artists in the DC area. So I was doing a lot of art exhibitions and collaborating with different people on creative activities and showcasing visual art and visual artists in this area. And then I decided I wanted to focus more on the collector, making sure that art education for the collector. So I started the Artinista Art Advisory primarily was to focus on women who wanted to add art to their portfolios as a way of investment.
And so I did those, and then I became… I guess the word disenchanted with the art world. Well, it's funny, I had hurt my back. These things start with weird… I hurt my back in 2015, and I found myself basically flat on my back trying to heal. And something just told me, "This is not for me." The art world is a little… I don't know if you're involved with fine art world where you are or know how that world works, but it's very… It can be glamorous, but it can be very cold, and it can be a little cutting too if you don't know what you're doing. And I became disenchanted with some of that vibe. And I felt I wanted to continue to work in the field, but I just didn't feel like I wanted to do exhibitions anymore or interface with museum people and galleries and… Yeah, I just didn't want to do it anymore.
And it was wearing me down, and I didn't think my personality fit that. I'm more of a touchy-feely girl. I wasn't hardcore. I was really into the artists and what their vision was and not necessarily, well, you got to sell this stuff and blah, blah. It just wasn't working. And a few things had happened, and I'm like, "I don't think this…" And so, I really had been toying with the fact of creativity coaching. And I've known about it, but I just didn't… and kind of looked at it, but never followed through. And so I decided to do it because I was like… A lot of artists were talking to me about how to do things, and I felt that worked more with my personality than working on that side. So I became certified and started working kind of doing workshops and stuff in that rein, that area, and just enjoyed talking to artists and just enjoyed that whole process. And so it worked out well for me.
And I think that's something to say too, when it comes back to it's never too late or whatever, if you got to pivot, pivot. I think sometimes people get… And it was hard because people knew me in one area. Some people were a little resistant to deal with this other area. So rebranding yourself can be tough, but my thing is, do it, do if you need to do it. And I probably will rebrand again. One of the things that I'm really interested in outside of really dealing with artists and working with them is also working with regular folks and lay folks to deal with some of the stuff that's going on where people need a way to express themselves, whether it's grief, whether it's whatever. And so that's probably a new direction that I'll be going on in some way in the next two years as well. There's always something going on with Sharon Burton. She's always thinking about something.
Maurice Cherry:
I'm glad you mentioned this part about pivoting. We had someone on the show a couple of episodes ago, Nikita Pope, who was also talking about the power of pivoting and knowing when you have the opportunity to do so and just going kind of forward with it. I think it takes a lot of confidence to be able to do that. And I think we're releasing this episode at the start of the year. It seems like you have a boundless supply of creative confidence, just from what you've talked about so far. For people out there that are listen, what advice would you give them to build their confidence up and help engage their creativity?
Sharon Burton:
I think one of the things that I try to make sure people understand, that we're all creative. And that might sound trite and all that, but it's really true. We all have creativity inside us, it's whether or not we want to engage that. So my thing is, acknowledge that you are creative no matter what. Even if you can't draw a straight line or play an instrument, or, "I can't do… Get rid of all that, because you are creative. For example, I know people that are great with their makeup. I mean, this is a weird situation, but this is an example. People are artistic with… Women that put eyeshadow on and eyeliner and all that. You know that's a form of artwork?
Maurice Cherry:
Mm-hmm.
Sharon Burton:
It's a form of adornment. And so if you can make your eyes and shade those colors and make everything pop and sing and whatever with your face, you can do art. And people don't even think about it, but it shows up in different ways. So the first thing is, acknowledge that you're creative. The second thing is, just like they talk about in business, and I'm not saying art has to be a business, but also think about this, what is your why? A lot of people are saying that now, "What is your why? Why are you doing this?" Well, what is it, what is your why? why Are you thinking about doing something creative? Is it just a stress reliever? Is it that, "Oh, I want to show my work in a gallery, or I want to recite poetry at these spoken word things." Or is just, "I just want to share it with my family?" Be clear on what your why is.
And I say that because some people, when it comes to creative kinds of endeavors, you automatically find yourself comparing yourself to other people. And when you compare yourself to other people, that tells me that you're lost on what your why is. Because if you're doing this for you or you're doing this to fulfill a dream that you have, it's not about all these other people. But if you find yourself getting frustrated because, oh, she just posted that on Instagram and that's way better than mine, and I ain't going to show that, was that your why?
Were you going to be competing against these people, or do you saw yourself that? Or were you saying, "I want to share my art with the world. I want to make people happy." If you're not clear on your why, you can get derailed very easily. And yes, there's always going to be somebody better than you, whether it's music, poetry, dance, you name it, graphic design. There's always going to be somebody better than you. But is that your goal to do this? Is it for joy? Is it because you want to exercise creative freedom or whatever? Be clear on that because that's going to be your North Star when things don't go so well.
And then I think the other thing is to find a community or a group of people that are doing what you're interested in doing, and get involved with them. That could be an art group, it could be a music group, it could be a poetry group. And make sure that they're supportive of you. You don't want something that's like people are just way advanced and you're coming in as a beginner, but you want a group that maybe takes people at different levels that provide workshops and professional development and support for you. That's something that I really recommend. I wish I could have done that a little earlier than what I did.
I think the other thing is just to go ahead and try and just find ways to carve out time in your schedule, whether it's daily or weekly, to get it done. Now, a lot of people say, "Well, I don't have time." Yeah, you do have time. You have time when you're scrolling your social media, you have time when you're doing all these other things. It's putting it on your calendar and making it a priority just like anything else in finding ways to do that. So those are my tips.
Maurice Cherry:
Those are some good tips. I like that. I think it is important to kind of really… It's funny you say, "What is your why?" I know in business, I think they call that your USP, your unique selling proposition or something like that. But finding out the why behind why you're doing what you want to do is important, because that really is going to fuel you when perhaps it's not taking off in the way that you want to. Maybe it's not becoming an instant success or you're not instantly getting some sort of a claim for it, but if you have an underlying reason and a passion behind why you're doing it, that's what will fuel you.
Sharon Burton:
Definitely. And again, instead of… Because it's just when you don't have a why, you get derailed. One person says something about your art, and then you ain't doing it no more. "I'm not an art…" You have to be clear on what your why is and let that be your guide. And a note on that, we have critics and we have people that provide healthy advice. And you're going to get judged putting your stuff out there, whether it's poetry, writing, music, if you're into performance, you're putting yourself out there, and it takes a certain amount of bravery to do it. I have gotten to the point I don't care what people think.
And I guess maybe I've also developed a style that has improved over time. But what gets me is that when I get into a juried show, that means somebody has picked my work and they think it's good enough to be a part of this show. And that, to me, is important. Whether it sells or not doesn't matter to me. My thing, it's being shown. I am contributing to the world with my art. Someone sees it, and that's important to me. If I sell it, that's just a piece of cake, that's icing on the cake. But if I don't, I don't let it bother me because eventually I do sell it, or I give it as a gift, or it ends up being donated somewhere. It gets a home. I'm also lucky that I don't rely on my art to live. Maybe I would be a little different if that was the case, but I'm blessed to be able to create, I'm blessed to be able to take a theme and interpret that and put that out there for people. That's good for me.
But that's my why. My why is about providing beauty, about sharing my gift to the world. Whether you see it as a gift or not, I don't care. But it's taken me a while. Because I used to feel some kind of way about my art, but I also know I've improved. And that's the other thing too, if you feel that you're not at the level you want to be, you can always take classes in anything. And now it's even… So if you don't find something near you, you can take something virtually. It's not like it used to be where… Well, nobody's doing violin lessons in this area. Well, get online, see if somebody's doing it on Zoom or something. There's a lot of more opportunities than there used to be.
Maurice Cherry:
Oh yeah, absolutely. You mentioned earlier that you're in the process of writing a book. Is the book going to be about this kind of thing, about inspiring people to pursue their creative dreams?
Sharon Burton:
Most definitely. This is a book of affirmations and creativity tips for creatives at midlife. And it actually deals with a lot of common things that creatives deal with, whether it's dealing with certain blocks, naysayers, people that talk about them or they're not encouraging of their creative life. And then it has affirmations. And I also encourage you to create your own affirmation. So it's not just, "Okay, I'm just going to use the affirmation that she puts in there." No, I have some journaling exercises where I ask you, "Take a look at, okay, if it was a naysayer, where did you hear that before? Who was the first person that said something crazy about your art or your creative endeavor?" And then one thing that people don't pay attention to, let's say on Facebook or something like that, people post things and there's always somebody that says something positive about what you post, right?
Maurice Cherry:
Yeah.
Sharon Burton:
But we don't pay attention to that. We don't, we get caught up in this person over here that says something negative. And so my thing is, go on your page, go on wherever you are, and last time… Even if you emailed it to somebody and they said something, let's write down what those folks said, because those are the people that are in your corner, and those are the people that are talking to you in a positive way and encouraging you. And those are the types of messages you need to hear. So that's an example of that. And then I challenge people to write their own affirmations based on those messages that they can see and they can put up in their studio or whatever, and wherever in the house that reminds them that they are worthy and that they are a creative and what they're doing is positive and good. So that's what the book is about.
Maurice Cherry:
What do you appreciate the most about your life right now? I mean, I feel like you're kind of in this renaissance period almost with all these creative things that you're working on.
Sharon Burton:
That's a very good question, Maurice. I think I'm at a place where I can show up the way that I want to. It's taken me a long time to do that. When I was in my 20s and 30s, I was not comfortable showing up as a poet or as an artist. I didn't even think I was really an artist. I just thought, "Well, that must have been something I like to do, but that doesn't mean I'm an artist." Yeah, no, I was an artist. I am an artist. I like the fact that I can do poetry, I can do art, two things that I truly love. And even writing, this has been probably… Writing this book has been probably one of my most challenging things I've ever done. I don't know if you've ever written a book, but it is no joke, really.
Maurice Cherry:
It's not. I'm working on my book now, actually.
Sharon Burton:
Yeah, yeah.
Maurice Cherry:
It's no joke.
Sharon Burton:
It is no joke, okay. And procrastination and all this stuff that goes… I probably go through now, maybe because this is new, this is where my creative confidence is not as strong maybe as it is in those other areas, but it's also new and it's also different. But I think the thing I do like now, if something, not that I'm wishing anything to happen, nor am I bringing that energy in, but if something were to happen to me, I think I can say I am at a point in my life where I'm not afraid of my self-expression, whether people like it or not. And I think to get here, it took a long time because it took a lot of courage, it took a lot of work on myself and self-awareness, period, to be able to express myself in two ways that I love.
Even though I did visual art first, I did write a lot as a teenager. As a pre-teen and teenager, I wrote a lot of… They were actually song lyrics. They were music in my head, and I would just write the words to them. But poetry, that's what it is really. And so I was doing both since I was very young. And to return to it and to return to it and the way that I've had, which is beyond my expectation or my dreams, to me, is awesome. It is just awesome to be in exhibitions, to have my poetry in a chatbook with some other poets that I admire and have that published, without me contributing any money. Hello. All of that. It's magic. It's just beautiful to me. I feel really humbled that the universe has allowed me to do that.
And a lot of people, they get my age and they've never done any of those things. And that's why it's so important to let people know that you can do that. I'm nothing special, except that I had the time and a little bit of the resources to make some things happen. And some things I just fell into. Like the poetry book, I fell into that group. I didn't even know when I joined them. I didn't know they were trying to put together a book. I just was in there and nobody said nothing. We just talked, and next thing I know, they said, "All right, we're going to get the book together." I'm like, "What book?" So I think sometimes you're just in the right place at the right time with the right people. And it's okay. I'm not trying to be at Art Basel in Miami or at the art fairs in New York. If that happened, that's beautiful, but that's not what I'm doing all this for. I'm doing it for me. It's doing it to share my love to the world. And to be able to do that in two things I love, oh, not many people can say that.
Maurice Cherry:
That's true.
Sharon Burton:
I'm blowing my own mind right now talking about it Because I'm like, "I haven't even thought about that question/" Well, that's serious. That's a serious question.
Maurice Cherry:
Well, to that-
Sharon Burton:
A lot of people can't say anything about that.
Maurice Cherry:
Yeah. I mean, to that end, where do you see yourself in the next five years? What kind of work do you want to be doing? What sort of new work do you want to be doing, that kind of thing?
Sharon Burton:
Well, I think what I'd like to do is, of course, continue with both the poetry and the visual art. With my business, I'd like to expand that to be more therapeutic for people because we've just gone through so much right now. And no matter who you are, what your color is or your background, we all have survived a very major upheaval in time. Sometimes, I don't think there's enough support for people. There's not enough therapy, and some people aren't comfortable with traditional kinds of things. And I think I want to be in a position to help people work through their self, to open themselves to self-expression in a different way.
I have a very good friend of mine who's been through a lot. I feel he has problems expressing himself and processing a lot that has happened to him. And I think if he were to do something creative, I think he would find a way to express himself and lift that load without feeling too vulnerable. And I think a lot of people are like that. Some people are in denial that they're not happy or that they're not able to…
I know another friend who's… She's very stoic and kind of comes off as if, well, these things happen and blah, blah blah. And I'm like, "But you just lost your mother, and we're going through COOVID, and all this other stuff." And it's like she acts like she didn't lose her mom or any… I mean, she's upset about it, but you can tell she just pushes and pushes, but she's not expressing herself, she's not letting it out. And that causes conflict with people. And people will say, "Well, so-and-so is a B and blah, blah, blah." Well, they may not really be that way, they're just not expressing themselves about the grief and the hurt and the trauma that they've experienced over here. And they may be using you as a punching bag because that's the only thing that they can do. That's the only thing they feel comfortable doing.
So I think a lot of people could use art in a way because when you express yourselves artistically, sometimes, yeah, you're vulnerable, but it's a different kind of vulnerability than you saying, "I'm drowning over here. I need help." You know what I'm saying?
Maurice Cherry:
Mm-hmm.
Sharon Burton:
I think particularly my generation, we don't do a lot to take care of our mental health, as we should. I think we're learning to from the younger generation and getting a clue, but I think men and women need a lot of help. They need to work through their grief, they need to work through their anger. And a lot has happened, even before COVID and all that. But I always tell people, COVID brought out everybody's inner child, and whatever you were dealing with as a child, COVID came right on out when people were told, "You stay in, and wear a mask, and stay six feet away from people." People fought it, they fought that.
And then those that didn't fight it, now that we're coming out of it, it's coming back, the pent up stuff. And if you're not aware of what was going on with you as a kid… I'm not a therapist or anything, so please. But we have to be aware of ourselves, we have to be aware of our triggers are. And I think that art is one way that you can get it out without harming other people. It's a good way. So I see myself doing more on a little more therapeutic side. I really want to do expressive art and work with people on that. I think that that's needed, and I think that's going to be needed for some time now, so yeah.
Maurice Cherry:
Well, just to kind of wrap things up here, where can our audience find out more information about you and about your work and everything? Where can they find that online?
Sharon Burton:
Well, if you're interested in the creativity coaching, you can find me at Spark Your Creative on Instagram and on Facebook. I'm mostly… Well, I'm on both, so that's a good place to find me. My website is sparkyourcreative.com. You can join my email list, and you can get information and tips and all that wonderful stuff there. If you're interested in my artwork, you can find me @sjbcreates, and also my poetry there. And you can find me there on my Facebook or on Instagram, SJBcreates. And that's a private account, but if you request, I'd be more than happy to add you on. And then my website for my artwork is sjbcreativeart.com.
Maurice Cherry:
All right, sounds good. Well, Sharon Burton, I want to thank you so much for coming on the show. I can not think of a better way to start off the year with having someone that has such a wellspring of creativity to share with people. Hearing your confidence about your creativity, I think it certainly is inspiring me. I hope it inspires other people out there as well to really get out there and start to do their own thing as well this year. So thank you so much for coming on the show. I appreciate it.
Sharon Burton:
Oh, no problem. This has been one of my favorite podcast interviews, actually. You had me thinking, so I do appreciate that. And I look forward to hearing from some of your listeners about their thoughts about their own creativity and how they express themselves. I think it's an important thing.
Sponsored by Hover
Building your online brand has never been more important and that begins with your domain name. Show the online community who you are and what you're passionate about with Hover. With over 400+ domain name extensions to choose from, including all the classics and fun niche extensions, Hover is the only domain provider we use and trust.
Ready to get started? Go to hover.com/revisionpath and get 10% off your first purchase.