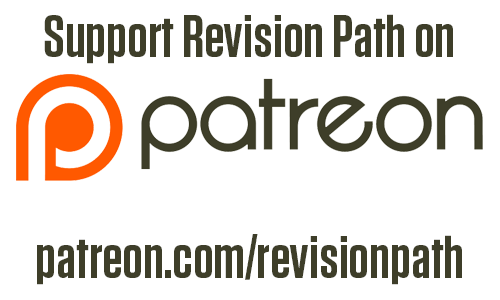 That's right — Revision Path is now on Patreon! I've been checking out the platform for a while, and since Tugboat Yards is shutting down, this is a perfect opportunity to migrate operations over there. I've already gotten a lot of questions about this switch, so here are some answers to those questions.
Why are you doing this?
The short answer is because Tugboat Yards has been acquired by Facebook and is shutting down. The long answer is that our donations and pledges have dried up since January, and I had been getting messages from people who found the platform confusing or refused to support a company that uses WePay as a payment provider. Patreon was the most logical choice to switch to given people's familiarity with the service and the ability to use PayPal to donate. You can also set a limit to how much you donate a month so you don't overspend, and the monthly donations go a lot further than single, one-time donations. (Although those are great too!)
Why Patreon? Why not a GoFundMe or Kickstarter or Indiegogo Campaign?
GoFundMe/Kickstarter/Indiegogo campaigns have their place for big, lofty goals. And while I have big lofty goals for Revision Path, I also have smaller, more attainable goals that can be reached along the way. And like I've stated before, I'm not convinced a crowdfunding campaign would be successful since these platforms are all-or-nothing, and they vary when it comes to how much money is taken out per transaction.
This video explains more about how Patreon works.
What is the money from Patreon going towards?
Great question! The money is going towards a lot of things the Revision Path audience has requested. Those things include:
Original articles, tutorials and editorials
Merchandise
More episodes
Some type of Revision Path event/conference/meetup
And a lot more!
Check out our Patreon page to see some of the other goals I want to accomplish! Outside of these things, your patronage ensures that Revision Path keeps providing you interviews every week and keeps the bills paid.
But…Revision Path has sponsors. Big sponsors. Are you just being greedy and looking for more money?
Revision Path does have sponsors from some pretty well-known companies. Those sponsors help keep Revision Path at the current level that it's at (along with money out of my own pocket). So I'm not being greedy, but I am looking for more money. There's only so much I can do with the show as I try to make a living as well.
I want Revision Path to grow and become something big. The podcasts and interviews are great, but I want to be able to do more to really impact the design community. Events. Conferences. "On location" reporting. More episodes. Merchandise! All of these are not only things that I want, but it's what I'm hearing from our audience as well.
So in order to do that, we're turning to Patreon. Because you're asking for all this, I'm asking for your help to make it happen.
Besides…do you really want the podcast loaded with five minutes of ads before jumping into each interview? That doesn't really make for a great listening experience, and I know your time is valuable.
What if I just want to make a one-time donation instead of paying you every month?
Currently, Patreon doesn't allow us to do one-time donations through their system; levels are set up so you can donate every month and keep receiving exclusive premium content as a reward based on your level of patronage.
If you'd like to make a one-time donation, contact us and we'll work something out. Note: Because of how Patreon restricts content to patrons, these one-time donations do not count towards any of the currently listed perks on our Patreon page.
Why does one of your goals state that you want to do Revision Path full-time?
Because I do. Revision Path has grown and changed so much since I started it over two years ago that it's really become a calling for me. AIGA has heard us. Fortune 500 companies have heard us. I've presented at SXSW because of this show. I've talked about diversity in design at Weapons of Mass Creation Fest because of this show. Being able to expand Revision Path out of side-project status and into a full-time job is where I want to go so I can devote 100% of my time working with it, improving it, and growing it.
No offense, but I don't financially support any podcasts, even ones I like. This is just too expensive for me.
We have pledge levels starting at just $1/month. If $1/month is too expensive for you, here are 15 ways you can support the show that are absolutely free:
Retweet us when new interviews are released
Share interviews on Facebook when they are released
Live-tweet along with the episode (this would be awesome!)
Leave a comment about the episode on RevisionPath.com
Leave a comment about the episode on our Facebook page
Email a designer or developer friend and tell them about the show
Tweet to other designers or developers about the show and urge them to check it out
Share any of our blog posts on Twitter or Facebook
Share any of our blog posts on other social media outlets (LinkedIn, Tumblr, etc.)
You can do any or all of these, but they're all free and each one helps out the show. Did I mention they were free?
I also recorded a little video for the Patreon page to illustrate a bit better what I'm trying to say. (Bear with me — I used my phone, it was 4am, and I had a nasty zit pop up out of nowhere on the side of my face. High quality!)
In all seriousness, I hope this post has helped to answer any questions that you may have about Patreon and why we're doing this. If you still have questions, just send a message. Thanks!