It's been a year since I made a little declaration that launched Revision Path. In that year, I learned a lot about the design community through interviews with Black web developers, graphic designers, and web designers that I'd like to share.
But first, some backstory.
Why Revision Path?
Here's a little excerpt from that declaration that sums up the answer to this question pretty well:
The discussions about increasing diversity in the tech and design fields always start out well-meaning and then quickly devolve into baseless accusations, empty statements, and broken promises. It's even gotten to the point where efforts to add diversity to the tech and design communities are being mocked and ridiculed by their peers with accusations of "tokenism" or "affirmative action".
Revision Path grew out of my frustration for seeing Black people in this industry not get the same type of opportunities to discuss their craft, showcase their work, or be seen as a part of the design world. Instead of shouting at people and getting angry with organizations for not featuring or presenting more diversity, I decided to just create the platform myself. The initial plan was to launch earlier in February, but after my designer went AWOL on me, I pulled together the site, logo, and everything else and launched right at the end of the month.
The next step? Finding people to interview.
The Perils of Interviewing
Just before Revision Path launched, I thought about who to reach out to for interviews. I already knew about several designers and developers — many of whom are friends of mine — so I reached out to them first. They were all enthusiastic about the project, but a large majority of them either said "no" to being interviewed.
That was the first big roadblock. How was I going to get people to be interested if my own friends didn't even want to help out? So I took to the Web.
It's not easy finding Black web designers and web developers if you don't know where to look. You'd be hard pressed to find any (or many) on most popular design websites. So I took to the one place where I knew I'd be able to find them — LinkedIn. From there, it was easy to find dozens of designers; the first few batches of interviews came from there, as well as a few referrals.
After I had about a dozen interviews under my belt, I started reaching out to other design podcasts to get tips about interviewing and the overall responses were pretty negative.
"Maybe you should just focus on all designers."
"I've never heard of any of these people. Why should I care or anyone else?"
"You only talk to black designers? This sounds pretty racist to me."
"No one is going to care if you talk about race, man. Literally no one cares about that."
Even some of the designers and developers I reached out to for interviews were similarly negative.
"This is just like BET. It denigrates our race and looks like de facto segregation."
"Who else have you interviewed? Who? I've never heard of them. Why would I want to be on this podcast?"
"When you get to (insert arbitrary number) interviews, call me. You're too small potatoes now, kid."
"This doesn't really look 'Black enough'."
I decided to keep focusing on the positive, even though it seemed at first more people were against the site than for it. (My success rate for interviews to date is still a little over 30%, so there's more work to do.)
Interviews were done either by email or by phone/Skype. Each platform has its own pros and cons, but I can see why it's much easier to do a podcast than say, weekly text interviews. You record the interview, do a little editing, slap on an intro and an outro, and you're done. But there are even technical difficulties there — bad Internet connections, noisy environments, faulty mics, and dealing with rescheduling when MP3 Skype Recorder failed to record.
Email interviews I conducted dragged on for months since people didn't check email or respect deadlines. And some people wanted email interviews because they didn't like the sound of their recorded voice. Even worse were great interviews I recorded that had to be scrapped because the designer didn't like their voice. For many people, this is the first time they've ever been interviewed about the work that they do, so there's a fair amount of coaching and making sure people feel comfortable talking to me openly.
No small feat when you're on a weekly publishing schedule, let me tell you.
The Visionaries
Like I mentioned earlier, finding people to interview at first proved to be a challenge. By the time I had finished the 25th interview for the site, the tide started to turn. A brief blurb on NPR and a profile piece in UPTOWN Magazine helped put Revision Path in front of more people who hadn't heard about the site.
Facebook was also great in finding other Black designers and like-minded groups. African-American Graphic Designers and Black Designers United were two groups which continue to be very supportive. Inspiring Black Designers was our first content partner. Businesses like OwnLocal, The Urban Thinker, and The Lean Startup Conference were the first to reach out about job postings. Go Media and 900dpi even reached out to us about doing special offers just for the Revision Path community. I will forever be grateful to all of them for their support. They saw what Revision Path was doing and said "we want to help" and didn't get scared off by our mission.
The He-Man Diversity Haters Club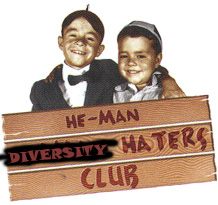 Anyone who speaks up about diversity in the design community has encountered a member of this group: the He-Man Diversity Haters Club. Some of them are nameless, faceless trolls. Others are revered members of the design community and keynote several conferences a year. They'll shout down your work, spam your site, make threats against you and rally others to their cause…it's sad and pathetic. And these are the people who are holding the design community back.
At first, I didn't understand it. How can showcasing what positive things people are doing cause so much hate? The Web isn't just for one group of people, nor does it benefit just one group of people. So why not help promote and show all types of people who are contributing to it? You can't be what you can't see, and for people who want to be designers or developers, seeing other people who look like them that work in this industry is important. I know that concept of visibility may be hard for some to grasp, but examples are a quick Google search away.
Besides…I'm an old elephant, okay? My skin is thick. When I started the Black Weblog Awards back in 2005 (out of a similar need to showcase Black people online), I received all manner of shit from people — hate mail, libelous blog posts, death threats, threats of other physical violence, and plenty of venom spat right at my face by all kinds of people — men, women, Black, white…you name it.
But like Honey Cone taught me, one monkey don't stop no show.
Since starting Revision Path, I've gotten hate mail. Lots of spam comments. A few hateful tweets. Two DDoS attacks. But overall, nothing that's going to stop Revision Path. I even rolled out a sister site this month called 28 Days of the Web — a brief intro to a different Black designer or developer every day for the month of February.
Next Steps
And so, here we are at our first anniversary, and I've learned there's still a lot of work to be done with Revision Path.
Some of the immediate changes will happen in March, including a website redesign, and a switch in format to strictly podcasts. (Yes, soon you'll be able to subscribe to Revision Path via iTunes!)
We're also going to do a survey in March, so if you'd like to help shape the future of Revision Path, make sure you join our email list so you can get notifications about it . I haven't decided if I'll do a giveaway around this survey, but we'll see. There will also be some other exciting changes in store for those of you to help support Revision Path even more.
What would you like to see from Revision Path? Send me a tweet (@revisionpath) and let's chat about it.