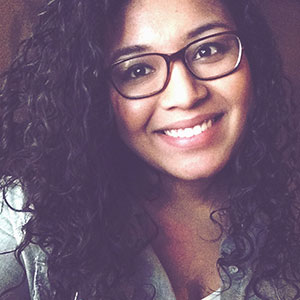 Nicole Dominguez, senior product designer and front-end developer for Sawhorse Media, is the design powerhouse behind both The Shorty Awards and Muck Rack. She's a lover of code, an amazing designer, and has also been featured in The New York Times for her work. Dope!
Learn more about Nicole in this interview!
How did you first get started with front-end development?
I first got started coding when I was twelve — teaching myself HTML, CSS and photo manipulation software. It all started out as a hobby, wanting to make web pages about online games like Neopets. With that, I found a web community of teenagers who blogged about their lives, wrote tutorials on web design, and created resources for the community. It was fabulous at the time, being a part of a hyper-focused web community that was all about self expression and learning for the sake of art, not profit.
That was eight years ago, and I'm still learning something new every single day. My first time working with a startup was about three years ago, where I was introduced to a web app with a Rails environment, and ever since then I've been doing "front-end development". In the many years that led up to working with that startup, I did a lot of freelance web design work. Freelancing really helped me learn how to collaborate with clients and exposed me to a multitude of new challenges and tools.
What's the best thing about the current work you're doing?
I work with Sawhorse Media, the parent company to The Shorty Awards and Muck Rack. I think the best thing about what we do is the freedom and magnitude of the work. Being a bootstrapped company, we don't have to answer to investors or anyone but ourselves and our users. That's so refreshing, having previously worked with startups who were all VC-funded. Not only is that freeing, but because we're a small team, we can stay focused and end up getting a lot done.
As the only designer here, I personally have freedom in the work I do as well, which is great. I'm constantly moving forward the construction and enhancement of an infrastructure for better design, development, and project management. I do front-end development and design on the Shorty Awards, where we put on an award show each year that honors the best of social media (it's awesome getting to celebrate all the work you've done once a year). I also work on Muck Rack, a PR platform that's changing the way modern PR gets done — and that's exciting in its own right. This amounts to work that is meaningful and impactful, which makes me happy at the end of the day!
You're doing work now with Startup Institute. Can you tell me about that?
I have always yearned to give back, and jump at any opportunity to teach when I can. One of my coworkers who graduated from a Startup Institute program introduced me to a coordinator there. I ended up teaching a RampUp Intro to Web Design program, and I really enjoyed it. Our class was small, but teaching is always so rewarding so it was worth it. Being able to give someone tools that are valuable and allow them to build things is inspiring, humbling and meaningful.
You've been a mentor as well, both with Startup Weekend NYC and Young Rewired State NYC. Why is mentoring so important in this field?
I love being able to dedicate time mentoring kids and young adults. Being completely self taught, I often feel guilty not sharing my own experiences, knowledge and thoughts. This is a field full of in-demand careers, why not share what you know? It's a gift to impact a child's life in any fashion, as much as they benefit from valuable guidance.
A little earlier this year, you sent out a tweet to Circles Conference that inadvertently caused a bit of a firestorm. What was that experience about, and what did you learn from the backlash?
I purchased an early-bird ticket to Circles Conference, and a few weeks later I decided to research the lineup. I noticed that there was a distinct lack of diversity in the speakers. This seemed odd to me, considering that our community is vocal in trying to increase diversity. Having been to many web conferences, I knew it was possible to find qualified diverse speakers.
I'm a woman of color, and I realize the importance of showcasing diversity in our industry. So I decided to ask if the conference planned to do anything about the seemingly homogeneous lineup. I was shocked to be met with so much backlash about a simple question.
People were bullying me and making me be the bad guy for questioning the conference organizer, who happened to be a minority as well. It was hurtful and frustrating. I put curiosity out there only to be met with negativity and snide remarks. Diversity is so important, why is anyone arguing over it? Or trying to hide it? Or ignoring the fact that we have a real problem?
I ended up not going to the conference. It didn't feel right at all. I want young women and people of color to be able to look up to speakers who look like them. Who give them hope, and can inspire them. In my own experience, think that when minorities can look up to prominent figures who they can relate to, there is a true sense of achievability in the kinds of careers they dream of.
I learned that people on the internet will always express their opinions, no matter how good or bad — but that doesn't mean that the fight ever has to stop. Lose friends in the process if you have to, but stand up for your morals. The web community is built and has always been built by it's own members. Let's make it a wonderful, inclusive place to be.
Who has been the biggest influence in your creative life?
My mom has to be the biggest influence for me as a creative. She's very creative herself, and always made sure I could pursue creative endeavors. She was always willing to make sure I did things that made me happy, and usually that meant making something, physically or digitally. It was hard on us because she was a single mom, but she made sure to accept us in whatever we were doing or feeling at any given time. I took a lot of risks in my career, and I'm glad she stood by me — even if they were far fetched at the time.
After teaching for 10 years, she finally quit and is now teaching herself illustrator and is becoming an entrepreneur, which makes me so proud of her. I can now thank her for being an amazing mom by supporting her with guidance and resources for design. Now, we both point out fonts in the wild to each other!
What advice would you give to someone just starting out in this field?
Passion is incredibly important. That and a reason to move forward. In learning how to code, I always recommend starting a project that makes use of the skills you learn. So if you take a class online, do their exercises but also apply what you learn to your own separate project. If it's a meaningful project, you'll be dedicated in finishing and launching something real, which is invaluable for a beginner.
---
Nicole Dominguez is a senior product designer and front-end developer at Sawhorse Media. Learn more about her and her work at her website.