Based off of our last surveys, a lot of you had suggestions and ideas on what do with the Revision Path website. The number one suggestion? Better design.
Well, I heard you loud and clear.
Take a look at the new Revision Path website! Pretty nice, right?
Here's a few of the awesome new changes as well as a preview of what's to come.
Homepage
Podcast Centered
With the shift in focus to podcasts for the interviews, I wanted to make sure the homepage reflected that as well. There's a big audio player right up front for the latest podcast, along with a sneak peek of next week's interview and iTunes and Stitcher subscribe buttons. The homepage features a mix of podcast episodes and blog posts, with links to view their full archives.
Simplified Navigation
The old navigation was a bit too cluttered and broke up oddly on smaller screens. The new simplified navigation is easier to read and collapses beautifully on mobile devices.
Episode and Blog Post Pages
Greater Legibility
The new theme features much greater legibility, and allows the content to truly stand out.
Simplified Show Notes
Instead of including a ton of related links, show notes across all episodes have been trimmed so their contact information is most prominent.
Disqus Comments
We've brought back comments, and they're now powered by Disqus! For now, they are only active on the last two weeks of entries, but we may open them up across the site.
Social Sharing by Filament
We're using a new, powerful suite of apps called Filament to create unobtrusive, elegant sharing buttons across all episodes and blog posts. On text interviews, we're using Ivy so you can select and share text to Facebook, Twitter, or email. Sweet!
Big Subscription and Donation Widgets
Now you can easily subscribe to the podcast on iTunes or Stitcher from any episode page, blog page, or secondary page on the site. You can also click over to our Tugboat Yards page and leave a donation as well.
Better Integrated Newsletter Signup
We've gotten rid of that buggy newsletter bar in the footer and moved it up to the sidebar. Now you can sign up for the latest Revision Path news easily without having to glance at the bottom of the page.
Secondary Pages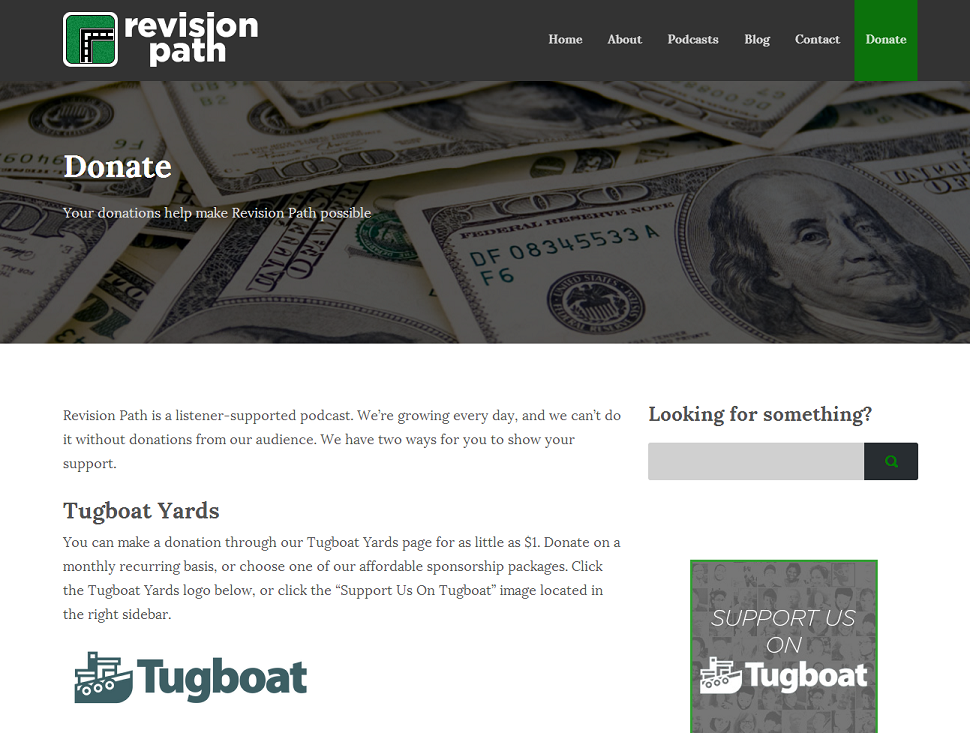 Large, Gorgeous Headers
We're taking full advantage of the browser with these big lovely header. Nearly all header images on these pages are courtesy of Unsplash.
Updated About Page
The About Page now includes a more detailed history of Revision Path, tons of podcast subscription links across several sites, team bios (more coming soon!), and a list of frequently asked questions.
Beautiful Episode Archive Page
At a glance, you can see all the available podcast episodes in one easy place. No more hunting around the site to find the one episode you're looking for.
New Donate Page
We've got a dedicated page now just for you to make your donations! Leave us a tip in our tip jar, sign up to contribute monthly through Tugboat Yards, or send a donation through PayPal!
New Press Page
Check out everywhere Revision Path has been mentioned in the news! If you're a journalist, you can also send us a media inquiry from here.
New Guest Blogging and Internship Opportunities
Want to write for the Revision Path blog? Submit a pitch through our Write for Us page and show us what you've got! We also have a new internship program for you college students out there. Internships begin June 1, so head over to the Internships page and apply today!
Updated Terms of Service/Privacy Policy/Disclaimer Pages
Now that we're moving towards making Revision Path a sustainable platform, we're making sure that you're kept in the loop of what we do with any information. Check the links in the footer of the site.
---
In the coming weeks, there'll be even more additions to the site, so make sure you keep checking back every day!