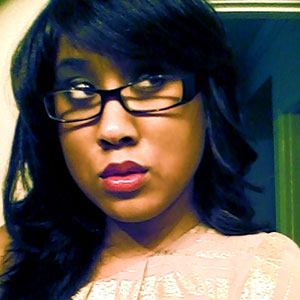 The interview will help inspire and empower other designers who are looking to make this their career. Lanae was more than willing to do the interview, in her own words she said, "Sounds great! I love the idea — we definitely need more positive reinforcements!" She is truly a sweetheart filled with ambition and strength.
In this interview you will read about Lanae's fears, her history, her inspirations, her struggles, and her future plans.
Can you please give a little background about yourself?
I'm a web and print designer by trade, with a focus on social media marketing as well. I launched my design firm, theComplex Media & Design in 2006 and built a book of business in the corporate diversity world and then moved onto tech and media. In 2010, I decided to experiment with launching an online magazine, Sinuous Mag, and I'm the chief editor.
Name three fears you have when it comes to the future of your businesses?
We rely heavily on social media, which is an unreliable marketing landscape. I think the uncertainty there worries me. Facebook makes one algorithm change and it dips into our reach/readership. Or a new social site takes over and the others become obsolete. But overall, we've just rolled with the punches and there's fun in "mastering" the unstable environment.
As the founder of both businesses, I'm constantly worried about growth. So a fear of not growing is constantly on my mind. I also have a staff with their own aspirations that I have to consider.
The what if. "What if this doesn't work?" "What if I fail?" It's a toxic question, so it's a matter of ignoring it, which is easier said than done.
How do you manage to handle both businesses? You must be a whiz at time management.
It means I don't sleep, I have very little free time, and I sacrifice a lot. Launching the second business has definitely consumed my life. My friends and family actually resent it a bit.
But the year I launched the magazine, I saw a clip of Eric Thomas, the Hip-Hop Preacher, talking about "wanting success like you want to breathe." I hear those words in my head daily and even play the video when I start to get weary. I want to be successful as much I want to breathe, period.
Since 2006, you have been the owner of theComplex Media, What made you start a design business?
When I graduated from design school in NY, I was broke and jobless for about 6 months. Then one day, my brother in law had a colleague who was a small business owner and needed my skill set.
The owner took a chance on me and when I produced more than he expected, his clients began to notice as well. They became my clients and so and so forth.
I loved being appreciated as an expert, even though I was half their age with none of their career experience and they motivated me quite a bit. So, mentors. Mentors, that maybe didn't even realize the were mentors, made me start the firm. I was exposed to the right people at a precious, impressionable time in my life.
If you can do something differently, business-wise or personally, what would it be?
Well, it's hard for me to compartmentalize, so business issues affect my personal life and vice versa.
Overall my biggest issue is not wanting to ask for help because it means admitting failure to me. I continue to struggle with this and of course, "something I can do differently" would be to get over it and reach out when I need to!
Why did you start Sinuous magazine? Especially since you already had a design company.
Well…a few things.
In 2008, I redesigned theComplex Media business site to incorporate a feature section where I could showcase other young creatives (especially those of color) or comment on design/tech trends. I was also already ranting about issues and writing about world music artists, album reviews and covering events in NYC that I wanted friends and family to check out.
In 2009, I started using Twitter and I was following a lot of sites that focused on music, fashion,and culture but I'd notice elements that were missing from those sites and I'd think, "I could do this better." I found that a lot of really big players do the bare minimum and others just copy them and it really pisses me off. I wanted something more thorough and I'd notice how other readers would comment on what was lacking as well, so why not create it?
In 2010, a series of hardships — business and personal — were breaking me. I was questioning whether I should even be a designer, questioning myself as a person, and I was really just… depressed. But one day I decided to explore my interesting in learning WordPress and PHP coding and migrated my other blogs to the new one. From there, I read up on blogging tips, SEO, connected with other bloggers/authors, and continued to observe other sites.
Building the site and producing content was all I did for months and people started to take interest, which was huge to me. Eventually, I was able to expand my staff and now we're at about 50,000 readers a month. While that's still small, it's motivating.
What or who inspires you?
I'm inspired by people who don't ever seem to give up and don't care what others think, like my parents. I'm inspired by music, art, commercials, movies…I'm also definitely inspired by opinions of others, especially when I strongly disagree.
Can you name a challenge you had to face in the past and how you overcame it?
Ah, I'll go with our hosting. Our previous hosting company, GoDaddy, constantly had issues. We'd be offline for DAYS while they'd take their sweet time getting us back up.
I felt helpless and readers would complain on Twitter and Facebook. I'll admit that I had a few Cuba Gooding Jr. in Boyz in the Hood moments that had my family asking, "what the hell is her problem?"
This happened so often within a year, that despite not really wanting to deal with the hassle of moving, I dropped them.
We let our readers know that we'll be down for a bit while we switched (to Bluehost) and man… what a huge difference.
Another challenge was our branding. We were originally theComplex Media & Design Blog — long ass title, horrible for SEO, hard for people to remember.
People also assumed we were associated with Complex Magazine, who also contacted me for that reason. FAIL. But I wasn't in a position to change anything until this past summer. So in August 2012, I decided to finally re-brand to Sinuous Magazine.
Our best move yet, but a super pain in the ass. Definitely START with a good, unique name.
Do you feel you had more obstacles to face in this industry as a young African-American woman?
I get his question a lot and absolutely. Young means you don't know anything. Black means you're immediately inferior and you can only enjoy certain things designated as "Black," which in the U.S., excludes the rest of the diaspora.
And being female means you only talk about Louis Vuitton shoes and lip gloss. I've spent most of my life proving I have a mind.
Let's talk about your magazine, What is in store for Sinuous Magazine?
It's both exciting and scary but we'll be taking on more celebrity interviews, incorporating more original video content, and producing merchandise as well.
Since 2006, when your started theComplex Media you worked for other agencies like Virtcom Consulting and LivePerson. What did you learn that you now carry on in your business?
I've learned a lot about the kind of boss I never want to be.
You now work at a PR firm, do you plan on working full-time for theComplex Media or Sinuous Magazine?
That's the goal!
---
About Lanae: If you want to learn more about Lanae Mc'Levans you can visit her at http://www.thecomplexmedia.com and http://www.sinuousmag.com.