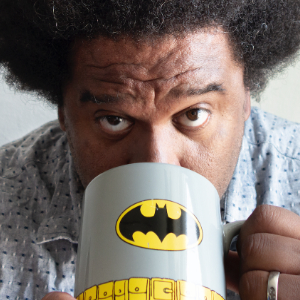 If you want to be more authentic in your work and life, then this week's episode is especially for you. I sat down with Kirk Visola, creative director extraordinaire, and the founder of Mind the Font, a full-service branding and packaging design agency.
We dove right in and I learned about how Kirk approaches design projects while balancing the want for innovation with the need to stay true to a brand's established identity. Kirk also spoke about growing up and getting into design and illustration, talked about his podcasting endeavors, and he gave some great advice for aspiring creatives of all stripes. We even nerded out for a bit about comic books and video games!
For Kirk, being himself and sticking to those who encourage and support his creativity has given him a great life, and that's a lesson we can all take to heart!
☎️ Call ‪626-603-0310 and leave us a message with your comments on this episode!‬
Interview Transcript
Maurice Cherry:
All right, so tell us who you are and what you do.
Kirk Visola:
All right, what's up? How you doing, Maurice? Thanks for having me on, man. I'm Kirk Visola. I'm the founder and creative director of Mind the Font. It's a full service branding and packaging design agency. We try to focus on things in the food and beverage space, mainly CPG, which is consumer products goods. And as much as this sounds like I'm reading this, I am not. That was off the top of the dome.
Maurice Cherry:
Nice. How has 2023 been going so far? I know you're in California, so y'all have been getting hammered by the rain.
Kirk Visola:
Yeah, it's not too bad for the most part. I've been fortunate enough, I'm in Santa Cruz, which is close to Aptos and Capitola, which were both hit pretty heavily on their downtowns, and also SoCal and on the docks, and then next to the ocean. We lost part of our road here, West Cliff, in Santa Cruz, so it's been raining pretty heavily. But today it led up and it's a beautiful day. That's the weather forecast for 2023.
As far as business and just livelihood, I'm happy to be upright, pushing 50, in my late-forties, and I'm a Black male in this country and I'm still alive. So that has to count for something, so I'm happy about that.
Maurice Cherry:
I heard that. Amen to that. Let's talk about your branding and packaging design agency, Mind the Font. Tell me more about that.
Kirk Visola:
That's a really, really good question, which is what people always say on podcast, "Great question," because we're actually trying to think of a way to answer the question. I've been working in design for a long time. I started in '98 and I was doing all kinds of things. I was still going to school. I was going to take design classes. And I started working freelance with my wife at the time. And then I was working freelance and I decided to go into the private sector or into corporate sector, however you want to call it. And so starting in 2009, I got a job at Pure Red Creative. If you want to read my resume and when you got off here, that's fine too.
But fast forward to 2014, I started working at a company called Shaklee, and it was a great job at the get go. My boss, who's still a really good friend, she was very, I'm trying to think of the best way to put this, very progressive by the means in which people worked. Because I had been freelancing for Lord knows how long, and that was all from my house. It was all via emails when FTP, File Transfer Protocol, first came out, and stuff like that. And I was doing all that stuff and then she left.
No, actually, here's what happened. I got absorbed into a different place at the company, and then she left and it just went downhill from there. It was a horrible experience. I guess I can get into that later, but what made me leave was the fact that I couldn't handle it anymore. I was stressed out. Half of my face would go numb going into work. And I'm like, "You know what? Fuck this. I'm going to do my own shit."
So my wife and I were on vacation, and I was at the point where I was trying to figure out what I was going to do. And we were in the UK and everything there when you ride on the London Underground is, "Please, mind the gap." It's like this repeated person over the intercom saying, "Please, don't forget to mind the gap. Mind the gap." And so my wife goes, "Why don't you just call it Mind the Font?" And I just was floored. How did I not think of this? How did I not think of this? So I have to credit her with giving me the name for the company.
And it's just doing stuff I've always done. I'm really good at what I do, but my main interest and my main focus in regards to design work is branding and packaging. That's like my forte. It's what I love. And so that's what I do at Mind the Font. And clients range from new alcohol products to new baby food products or just food products. And also, I'm trying to think of stuff I've done, beauty products and perfumes. So we run the gamut on all things that come in a box, and that's what Mind the Font does.
Maurice Cherry:
I'm curious, have you found there to be any sort of big changes in designing for consumer packaged goods over the years?
Kirk Visola:
Oh, absolutely. There's always standards that you have to abide by. There are certain things that need to go on packaging that you need to think about. There's certain techniques that have evolved over the years, especially in printing. That's a big thing. Printing has evolved so much and all of the protocols of companies trying to go greener, and then print companies also keeping up to go greener. The actual programs that you use are advancing, especially with the big AI thing coming out.
I've even kind of dabbled with Midjourney. And it's weird because people are speaking about how it's used to steal their art, but what I'm doing is I'm taking art I've done and using that as a prompt to see what it does. So it's like my art as a base, but then putting in the prompt is what it does for Midjourney and add texture to this to make it look more like three dimensional. And it does it to my own artwork. So I'm thinking maybe that's something that could possibly be an avenue for people to go.
I don't think it's going to replace designers. I don't think it's going to replace artists. But I do think that it's a means of weeding out the bad designers and good designers. Like when there was a big real estate boom, there were tons of real estate agents and a lot of them went away, but the ones that were really good at what they did, they're still there.
And so there's programs that are advancing, and there's also different mediums to go about. When I first started, it was basically web and print. This is the late '90s. There was no real social media. Maybe Facebook started coming out and other things. And all of a sudden, next thing you know, there's UX designers, product designers, UI designers, web designers, and there's print designers, social media managers, social media content creators. There's like this wide gamut of things that people can do now. And so it's just advanced with all the stuff that's coming out.
And for me, it's just too much to keep up with from that standpoint. But in my own field, which is why I specified branding and packaging, it's like I feel very comfortable there. And I'm always trying to learn. I'm always talking with people. I'm always getting new ideas and figuring out new ways to handle things and bouncing ideas off of people to see what they think. I have a trusted group of friends who are phenomenal designers I talk to. It's always good to do that, man. And so I think I'm keeping up that way, so I'm doing all right.
Maurice Cherry:
That's so interesting you mentioned that about Midjourney. I've been doing a lot of playing around with ChatGPT, which is another sort of AI generated tool. Midjourney is more for visuals. I think ChatGPT is more text based. And it's funny, I was talking about this with my mentor and we kind of both came to the conclusion that these kinds of tools, they almost feel like you're working with a really good intern. They're not going to be specific enough to be an artisan or a master and expert at it, but they can get pretty good.
Like how you're mentioning with Midjourney, how you feed your own art into it. I've been doing that with ChatGPT, hopefully listeners don't get mad at this, but I've been feeding in some past episodes and generates 20 questions based off the transcript of this interview.
Kirk Visola:
Oh, wow.
Maurice Cherry:
And it'll put the questions out. I'm like, "Oh, this is pretty good." They're not perfect, but it's a good jumping off point for me to say, okay, "I can take this out. I can change the words here. I can do that." I've even, not for this interview, just to be clear, but I did do it for one interview. I had ChatGPT. I fed them this person's bio and said, "Generate 20 questions as if you're doing an in-depth, one hour podcast interview." And I knew some of them. Some of them were good, some of them were not. But some of them I was like, "Okay, this is promising." It's promising.
Kirk Visola:
"If you had a breakfast cereal that you would like to eat, what would it be?"
Maurice Cherry:
Right. And with ChatGPT it's so interesting because you can even tell it certain books, books that I haven't necessarily read, but I could say, "Give me a 10 point summary of this book by this person." And it's the best kind of Cliff Notes in a way. I know that there are educators that are like, "Oh, we got to ban this shit. We can't have this in the classroom." Because some of this stuff is too… I don't even want to say it's necessarily too good, but it'll get you there. It's not the best, but it'll get you there. It's good enough.
Kirk Visola:
Right. Here's the thing with that, twofold. One, there are actually programs where you can put in someone's work or a written book from what I'm reading, like their actual essay or whatever they've written, and you can plug it into the internet somewhere and decipher if it was written by them or if it was generated by AI. There's some type of thing that does that. And two, just because it's written by someone doesn't necessarily educate them or make them a better writer.
My biggest fear and problem is that all AI is doing is taking stuff we've already done and rehashing it.
Maurice Cherry:
Yeah.
Kirk Visola:
And right now the focus is on speed. The focus is on, "Oh, look how quickly I can do this." What if people just stopped making art? What would we be able to choose from? It would have to go back and it's just going to repeat the same thing. And the next thing you know, everything is going to start looking the same.
And I noticed that when I put in a prompt in AI, it gives you four images in Midjourney. And the images, they usually have the same colors when you do it, and the type isn't right, which is something that's going to work through, I'm sure, but it's always relatively the same. And I'm thinking to myself, "Man, how can you just sit there and do something up real quick and then use that as your work?" No.
I can see that what you're saying, as a jumping off point or a starting point. It's great for that. "Oh, I wouldn't have thought of doing that shape." Or, "Oh, I wouldn't have thought of using that pattern or color. Let me build off of that." But to just use it as your work? I don't know, man. I can't fuck with it.
And the other thing too is there's been tons of programs that have come out that were supposed to "destroy" the art industry and make art more hard for people to get into. Like Canva. Canva came out and you can do your own design work. And it hasn't gotten rid of designers. Motion pictures, telephones, the car, everything else is coming out. The only thing I can really say that really hurt people was Netflix. Blockbuster got destroyed.
When there's some type of disruption in a field, it's good because it forces people to progress. But with the progression, you don't want to regress in regards to art and creating art or thought processes. And I think that's so critical for any type of field is to have a thought process, is to have some type of critical thinking in regards to what you're doing.
Maurice Cherry:
Yeah, I think that's being lost with AI because it's just pulling from art. It's pulling from our shit to create more to shit give back to you. It's literally plagiarizing everything that it's doing. There's no other way around it. People say, "Oh, well, it's not. It's not. It's this, it's that. This is the future." It's like, that's great. It's plagiarizing. It maybe the future, but it's plagiarizing. It's literally stealing everything we've already done to recreate something.
Kirk Visola:
Yeah.
Maurice Cherry:
And that's weird. But anyway, enough of that.
But like you said, the art styles do kind of end up looking the same in some instances. And I've heard that argument too from designers and artists that are like, "Well, this is going to take over my job," or something like this. But if someone comes to you, say, a client comes to you and they want you to do some changes or do some design based off AI artwork, you can always just say no. You can say, "You know what? I don't work with that. I'm not going to work with that."
Kirk Visola:
Right. Yeah. Ladies and gentlemen, binary, non-binary folk, thank you for coming to our AI chat.
Maurice Cherry:
How do you approach a new design project?
Kirk Visola:
Carefully. It's interesting because there's so many ways to approach a new design project, and it's so broad. But I'll try to paraphrase and not be as wordy as actually giving you this explanation as to how I'm not going to be wordy. You get a brief usually of what someone wants to do as far as a design goes. That way the brief's more entailed, rather than just saying, "Just do something and I'll let you know when I like it." Sorry, I don't work that way. And if I am going to work that way, you're going to be paying a lot of money for it because I'm not going to do it for free.
So the way I approach a project is to see exactly what the person wants, see what they have, if they have anything, and then what I'd like to do, and this is old school, I go pencil and paper, pen and paper, and I just sketch. I sketch and I fill up sheets and sheets of paper with just sketches and ideas and thoughts. And maybe this will work, maybe that won't work. And to me, it's the best tool you have. It's quick and it doesn't break. It doesn't break down. You can't lose files unless you throw it away.
And once I get to a spot where I think it works, I then start going digital, if it's supposed to be digital, and I bring it into the computer. This is the way I describe it: Whatever I'm doing, whatever I'm making, I do "high quality comps," meaning that I will do something in a manner to where it feels real and looks real, just to give the person who's on the other end a better idea of what's to come. Like, "Hey, here are the concepts and here's what I'm thinking."
And I explain each concept and I put it into a different bucket or theme. And I explain why it works in this theme. I explain why it works for their business, and I explain how it'll work in the space, whatever space they're going into, just so they know that I'm not just doing something because it looks pretty. And I think that's important.
Oftentimes people do stuff because it looks pretty, rather than serve as being functional. Being pretty, that shouldn't even be in the vocabulary. That shouldn't even be a thought. Of course, you're going to do something that looks nice, that's a given, but does it fit within what you're trying to achieve, which is in that certain niche, in that certain area? What are you trying to achieve by making this product? Are you doing what's best for the client?
And so I try to approach initially with gathering information with them as much as I can, seeing where it needs to go, wherever space they're into, sketch, go digital, put together a thoughtful presentation as far as why I was doing things a certain way and why it will benefit them, and then get feedback and move forward and see how that works.
And honestly, this is a interesting conversation, but I've been doing this for, oh my God, a long time. '98. So, holy shit. 25 years? Is that right? Is my math right? 25 years? No. "Was he that old?"
Maurice Cherry:
Sounds about right.
Kirk Visola:
Oh my God, that is… Wow. Okay, cool. The point was…
Maurice Cherry:
You blew your own mind there.
Kirk Visola:
I got a lot of my sensibility, I've been doing this so long. The point is I've had maybe six or seven clients in that time who were just disappointed with what I did. And so to me, it makes me feel like, all right, I'm doing something right, because if I wasn't, the list would be a lot longer.
So I'm also realizing too, this is something very important for people who are starting out and doing any type of art or any type of media that is subjective, anything that visually captures your eye, to be judged is subjective, so art, video games, design, packaging, clothing. Whatever is visually perceived is subjective. And that is fact.
So when you're designing something, you have to remember that if someone doesn't like your work, it's subjective. It doesn't mean they don't like you. It doesn't mean that your work's bad. It's just subjective and it doesn't fit their taste, or it doesn't fit their style. It's not on you to make the client like your work, it's on you to deliver what's best for your client. That's your job as a artist, as a designer, as a game developer, you deliver what's best. And if they like it, great. If they don't, it's okay. It's not personal. So that's how you have to view things moving forward.
And I just, man, I've been doing this for 25 years. I'm so old. But I just realized this a couple years ago, and because my wife told me. She's so smart. She said, "You know what, Kirk? It's not they don't like you, it's just they didn't like your design." Like, mind blown. Like, "Damn, you're so right." For everybody who's starting out or who is in the crux of it every day grinding, just remember that it's not you, hopefully your work doesn't suck, it's subjective. That's what they're judging: your work, not you. So there we go.
Maurice Cherry:
That's a great piece of advice, I think, for even folks that have been in the game for a long time. That's a good piece of advice to know.
Kirk Visola:
Yeah, and it took my wife, she's so wise, to tell me that. Because here's the thing, we're all emotional creatures. And as designers and as artists, we're all a bit egotistical. I'll admit it. I am. And when you hear a fresh perspective from somebody and you remove the emotion and you remove the subjectivity, and you look at it objectively, you're able to say, "Oh, well, you're right." Because everything that you do in the visual world is subjective. So there you go.
Maurice Cherry:
There you go.
Kirk Visola:
Yeah.
Maurice Cherry:
So how do you kind of balance the business side of everything, like the marketing, the finances, the contracts, how do you balance that with the creative aspects of your work?
Kirk Visola:
I don't know. I'm still trying to figure that out. The business side of things will work itself out. I do what I'm supposed to do to get paid. I do what I want to do to stay fresh. So I will do the jobs I have to do and depending on what it is, if it's a fun job like branding or packaging, that's where I can explore. Sometimes you have to do things like marketing pieces or flyers or graphics for a social media post or design a booth or design a shit-talker for whatever.
And so there's just various little things that go into branding and marketing, or whatever, that need to be done and it's just more of a production artist or more just a getting it done aspect rather than actually creating things. So for me, what I do if I'm stuck or want to stay fresh or creative is I draw. I haven't been drawing enough. So I try to draw. I do writing, and I try to make up stories and make up characters.
And I also like to play video games. Now, this sounds silly, but video games unlock a lot of creativity for me. And the biggest reason as to why is because my brain literally has to shut off because it has to focus on the game I'm playing. Like everything else is shut out and so my mind quiets. And when my mind is able to quiet, it actually has a better time thinking. So oftentimes I'll play a game for, I don't know, 30, 45 minutes, and I'll stop playing and be like, "Oh, damn, I just had an idea," because it makes me refocus. And so whatever the idea is, I try to go with it.
And that's the other thing too, is if you have an idea — and I have several because of the ADHD — if you have an idea, just start it. Just do it. Just get it out of your head, whatever it is. If you want to paint something, if you want to draw something, if you want to write something, if you want to come up with an idea for a game, if you want to think of an idea for a cocktail you like or a coffee drink, or even a puzzle that you want to do, just do it. I mean, take some time and just do stuff for you. Always mind your deadlines, but also make sure that you do stuff to stimulate you. I always tell people I'm a very creative person, but my medium of earning for my creativity has always been design.
And growing up, I loved reading comic books. This is in my bio, but growing up, I loved reading comic books. I loved all things comics. I would draw, I would pretend I was a comic book hero. I would make up stories. I would watch Star Wars. I would watch everything. And the one thing I did with comics was I copied how they looked. I would copy the lettering, I would make up my own lettering, I would make up my own stories. And all of that is all design. If you look at a comic book, people are like, "Oh, it's just a comic book." The amount of vocabulary used in those as well as the form and the pictures and the settings and everything else, it really enhances readers, because you get engaged with it. And also, it gives you lessons in layout, and it gives you lessons in hierarchy, in form, in structure and the way things should look on a page with composition.
So, all of that led into what I'm doing, and I think that people need to realize that you can find creativity in anything, but I think you need to love what you're doing in order to do so. You can be creative in any way you want. If you have an idea or whatever, just get it done. And I know I'm talking too much, so I'm going to shut up now.
Maurice Cherry:
So, tell me more about these video games. What are you playing?
Kirk Visola:
Oh. See, now we got on a real topic. First of all, let me preface this by saying I'm older, so we're the generation that grew up playing games. We were the generation that had… And television and the Commodore 64 and Apple and playing Oregon Trail on Atari 2600 and the first Sega and the Sega Genesis and Nintendo 8-bit, and then went to the Super Nintendo. So all this stuff we grew up with. So I love games. I've always loved video games and I just got a PlayStation 5 about six or seven months ago and I just never played it. I thought, "Why am I not playing it?" So I broke out Miles Morales and I played that.
Maurice Cherry:
Okay.
Kirk Visola:
I played through it. And then I'm like, "All right. Let me try God of War." Started it. I'm like, "I have to dedicate time to this and I don't have time." The first God of War, Greatest Hits, of course, because it's been out forever. I played through that, finished it, and I got Ragnarök, played through that, finished it. Then I replayed Tomb Raider, which Tomb Raider was it? Finished it. Started playing a Ratchet & Clank, I'm like, "Ah. I can't fuck with this." It's too happy for me. I need to kill people.
Maurice Cherry:
That's not bad to say, that's a video game, right?
Kirk Visola:
Oh. This is some crazy shit. So you heard about Jaguar going off, right? She's an artist, R&B artist. I can't think of her last name, but she's "exposed".
Maurice Cherry:
Yeah, yeah.
Kirk Visola:
So she's talking about things in just really… I don't know if it's spilling the T or borderline snitching. I'm not sure which one it is, because sometimes it's like she's spilling the T on bad things. And sometimes she's just snitching thinking, "Girl, speak your mind. Do what you want to do, but people are going to come at you one way or another." But the one thing she said that really bothered me that went back to white racist senators was talking about… I don't blame any of people doing the one thing I don't like is GTA six or GTA. GTA is a terrible game. I mean, you sit there and you sit there and you kill people. You do this stuff and do that stuff. And then what's going to make you change and do it in real life? What's going to make you think you can't do it in real life? It's like, I can play Uncharted. I can play Max Payne 3, Tomb Raider, Last of Us.
I can play violent video games and never kill anybody or have it come across my mind because I have the ability to separate reality from fantasy. So you can't say that someone playing a video game in fracks on their life. I'm not going to be Spider-Man, I'm not going to be Batman. It's a ridiculous notion. Rather than talking about the environment in which they grow up and the violence that they're exposed to outside of their house, and the systemic and cyclical poverty that they're exposed to on a day by day basis, especially in poor areas and ghetto… [inaudible 00:29:01] even say ghetto. That's terrible.
Poor areas of black and brown people. You have to think about that before you say it's the video game's fault. It's a silly notion. But anyway, back to video games, I really have to dedicate an hour at a time because I just get swapped in. And once I'm in a game, if I'm into it, I got to finish it. It's like, I know I can't get into it again, because I know I have to finish it. It's going to be a big chunk of my time. It's going to be a lot of stuff that I do. So that's the other problem. But it really does help me shut off. And it's a nice stress reliever just thinking about the pattern of the boss that you're fighting. Okay, he's going to do this, which means I got to dodge which means I got to throw this. It's like, so there's always a pattern and there's always something you can figure out in a video game. That's what I like about it. Do you play games?
Maurice Cherry:
Oh, yeah. Oh yeah. I have a Switch. I have a PS5. It's funny, I'm not a big PlayStation person, but then I look back and I was like, "I've actually owned every PlayStation console, even the handheld." Even though I haven't really played them a lot. I had a PlayStation one when I was in middle school, high school. I played the hell out my PS2. I had the big chunky PS3 that could do backwards compatibility. My PS4 is in my closet. I just got a PS5 last year. And I have a Switch. I have one of the first… When they came out five years ago or whatever, I've got a Switch. Oh yeah. I'm a big gamer. Well, let me take that back. I feel like I'm more of a game collector slash enthusiast because I don't play as much as I used to. I've started recently, I guess you could call it a resolution this year. I was like, "I'm going to start playing more games this year." Because my switch is literally right next to my desk. And I got one of those little…
It's called a ShadowCast. A Genki ShadowCast, where you can basically connect your Switch or your Xbox or PlayStation, whatever, to any HDMI input. And so I have HDMI on my main computer, which is a gaming PC. So I have my Switch hooked up to my PC, so now I can just have it in another window. Because I have a ultra wide screen monitor. I just have another window and I'll play a little Animal Crossing or play some… I play a lot of play Picross, which I started playing when I was in high school. I think Picross is this Japanese… It's sort of like a crossword puzzle, but you make out a picture instead of doing words. Although I do really crossword puzzles too. And there's this company called Jupiter that just keeps cranking out Picross games every six months. There's like a new Picross game. So I had all the ones on the Nintendo 3DS Picross E, E2, E3, E4, E5, E6, E7.
And now the ones on Switch are Picross S for Switch. So now I'm currently playing my way through Picross S8. And it's very much one of those things where… Yeah. I can just kind of turn my brain off because I've played it so much that I already know, my hands and brain already know what the controls are to do the things, so I don't have to think about it. And it's such good… I actually block out three hours on my calendar at the end of Friday, just to play that. Not all three hours, but I'll play it through some of those three hours just to sort of defrag my brain from the week. Like, "Okay. This is good." Calm down time. Turn the phone off. Yeah. [inaudible 00:32:39] games we played with more recent, Kirk. Thanks for tuning in.
Kirk Visola:
Yeah. Man. You mentioned the PS. And there's a game that I just… Honestly, man, it still blows my mind even going back and playing it. It is Metal Gear Solid on the PS. And [inaudible 00:33:00] was at Konami for a long time and he owned… And he's the guy that invented… He's basically the dude that solidified, invented action adventure games. Without him, there wouldn't be a Resident Evil. I mean, without him, there wouldn't be any of those games, because he invented the idea of sneaking around and figuring about puzzles and collectively trying to collect goods and stay as… It's just brilliant. And you go back and play and it still holds up. This still holds up. The graphics are not great at all, especially on a nice TV. But man, the story play and the cut scenes… Cut scenes became a thing then it's just, oh. Anyway. All right. I know [inaudible 00:33:43] let's finish your interview. Shall we?
Maurice Cherry:
I want to go more into your origin story. You've kind of already touched on really being into comics and video games. Tell me more about growing up.
Kirk Visola:
I grew up in a small town called Modesto, California. And I know you grew up… We touched about this before we started the podcast. You grew up in Selma, and just because people get a Black president or you live in a certain area, doesn't necessarily mean that racism goes away. And growing up in an ag heavy city like Modesto, it was very different, for lack of a better term. And I played soccer, I played sports. I had three older brothers. But the one thing I really loved to do was read comics. I mean, let me mention that before, I loved reading comics and I never thought there was an avenue for it. I wanted to be a doctor or a firefighter.
And it wasn't until I met my ex-wife that I knew about graphic design. And damn. This was in '98. I basically started doing design when I first learned about it, just because I was so intrigued by it. Her father, my father outlaw was the head of the creative services department in Modesto, called E&J Gallo Winery. And he was the head there and literally known in very, very wide spaces, especially in the beverage, in wine and spirit space, because of the work he had done. He had been doing it since the sixties, and he invented the E&J brandy bottle, and he invented the New Amsterdam vodka bottle, the shapes. So if you look at those, those are very iconic. So he would sit there and he took me under his wing basically, and told me about design.
So from there, I was intrigued and I started taking classes at the local JC and I went to classes at San Jose State. And the one thing that was very bothersome to me was being accessibility to take more classes there, because at the time before they made it into a BFA, Bachelor of Fine Arts, it was just a BA, you had to qualify for their design program. And I quote-unquote wasn't good enough to qualify for their program. And I remember sitting there thinking, looking at designs and critiquing designs, and I found what I was good at. I just understood design, I understood it spoke to me, and it was like I was the duck. I was the duck who had been sitting at the office desk that finally found out that there was water outside and he could fly.
That's how I felt, right? And from there, I was just able to have mentor. A mentor was the best in the world at doing something and run ideas by him. I still talk to him. I just talked to him three or four days ago. I mean, he's my father outlaw, but I still talk to him to get advice and stuff like that. So I look back at that experience and look back at my life, and I just think of all the obstacles that were there that I have no idea how I would've found this job had I not been where I was. I mean, I'm in Modesto. Modesto's known for Scott Peterson, George Lucas, Gallo Wine. Those are our three major claims of fame. And it's just a small town. It's not a small town. It's fairly decent sized town in the Central Valley where it's not heavily populated by Black people. There are tons of Latinos, predominantly Mexican, that work on the area there.
But I had no idea what graphic design was or that it was even a possibility. And I still wouldn't have had an idea had I not met my ex, I would not be doing what I'm doing. It's all the things that had to happen in order for me to be able to do this is just… I don't know, man. It's luck. There's no other way to put it. And I'm not religious. I can't be, I guess spiritual, but I don't believe in going to church and everything else. I do believe in karma, and I think that my karma was to be a designer. It just was just happened. So I got lucky man. And I started doing design work from there. Worked freelance for a while when I had my kid in 2000. And then see here, in 2009, I started working in the office I was telling you about. And then from there on out, just did design work. And here I am.
And I think the experiences I had and the wide range of dabbling in different designs, being me a better designer, but also having that foundation of the fantastical world of comic books and video games also helped. It just led to this path for me.
Maurice Cherry:
Well, it sounds like it was also kind of just this constant sense of inspiration too, for you.
Kirk Visola:
Yeah. No doubt. I mean, I can't doubt that. I mean, my profile pick on my LinkedIn is me holding a Batman cup, taking a sip. My signature, my professional signature, my actual signature is the bat simple. It's on my passport, it's on my license. It's like that's my legit signature. It's just kind of part of me. I have on my sloppy ass desk, I have a couple of Grogu figurines, a Boba Fett Star Wars lamp. I have Batman behind me. I'm just surrounded by it. So it's always influencing me and always has. And I'm thankful I found a career that kind of lets me create.
Maurice Cherry:
Now, you were already a working designer when you were studying at San Jose State. How did you balance school and work?
Kirk Visola:
Honestly, I don't know. I had a kid at home, young kid, and I was working part-time as well. As well as going to school and having a job, freelancing. I don't know. I'm not saying that to… Because I'm doing a brag or I'm self glossing. I'm saying it because, I don't know. It's all a blur, basically. From 2000 until 2010 is all a blur for me. During that time, I had gotten married in '99, and then had our first kid in 2000. And then a set of twins in 2003, my father passed away that year, and then my brother passed away. Or sorry, he didn't pass away. He was murdered in jail by cops in 2009. And then 2010, I moved from Modesto. Honestly, dude, that whole decade's kind of a blur. So you know how you do things in the moment and you go back and you say, "How did I do that?" That's the moment for me.
Because my ex was laid up in bed when my twins were born, and so I was taking care of the newborn twins. A three-year-old or soon to be three-year old kid. And then my ex. So the resiliency of the human spirit is truly amazing when it's put to the test. You can do a lot. When you set your mind to do something, you really can do a lot. And I had to do it. There was no choice. So that's what I remember. I'm sorry, I can't answer.
Maurice Cherry:
No, no, that's real. I think about… I wouldn't say it's necessarily a blank spot, but it's definitely a blur. I remember vignettes of things from 2000 to maybe 2006. That's my blurry period because I was in college and I remember certain things. I remember where I interned at. I remember getting my first apartment. I remember graduating. I remember graduating because they had the graduation outside in the middle of a thunderstorm. And the person sitting next to me would not share their umbrella with me. So I kept trying to scooch under the umbrella, and they kept moving it back. So how umbrellas are curved. So the water just wow came down. And I had this sad droopy mortar board when I went to go get my degree. I remember vignettes and things, because I know during that time I was working a bunch of jobs and I hated… I get what you're saying. I get what you're saying.
Sometimes you're so in it that you don't really remember the… You don't remember it. Yeah. You were there. But you don't have full recall of that time. I even have a pop culture blind spot from 2000 to 2006 or so. People will mention movies and TV, and I'm like, I kind of know what that is. People will mention stuff about SpongeBob and Harry Potter. I'm like, "I'm familiar with it in the cultural zeitgeist." But I don't really recall being into that because I was in my twenties and just trying to survive. I don't really remember it.
Kirk Visola:
Most artists or some artists have a blue period. We had a blurry period. But honestly, man, this is kind of sad but true that more than likely it's just severe trauma that we've suffered at that time. And neither one of us know how to deal with it or even comprehend.
Maurice Cherry:
Yeah. And I say it was a blind spot because I had… And I'll ask you about what your time was like at Shaklee, but I know I was working at… I don't know if I've even mentioned this on the podcast before. I was working at Autotrader as a… I think I was a dealer concierge or something. I was trying to work my way up to something higher paying or whatever. And at the time, I was also a blogger. I won't mention what my blog name was, but I had a blog and I was talking about other stuff. And I never used anyone's name. Everyone had a pseudonym or whatever, but they found out about it at work. And they had called me into the office. And they had printed out reams of my blog, which honestly was a little flattered because I fancied myself a writer.
I wrote all through high school and college and stuff. And so I was like, "Oh, for me?" I was kind of bit taken and they're pointing out stuff that they've highlighted. And then I remembered, I was like, "How did they find out about this?" Because I never did it from work. And then I remembered that there was someone at work that I told about it. And that could have been the only way that they found out about it.
Kirk Visola:
Snitch.
Maurice Cherry:
Yeah.
Kirk Visola:
Snitch end up in ditches as Paul Bettany said.
Maurice Cherry:
And so they tried to fire me and I quit before they fired me. And then I remember I was going home that evening. And I was on the phone with my mom, and she was just like, "What are you going to do with your life? You got this degree, you don't want to do this, and blah, blah, blah, blah, blah." And I applied to this job in the back of our [inaudible 00:45:10] weekly here called Creative Loafing. I applied to a electronic media specialist gig. That was where the start of my professional design career actually was doing work for the state of Georgia. But that job was so bad. Oh my God. At the time, I thought I was living large. I was 25, I think? 24, 25, had my own office, had cards. I mean, you wouldn't get this shit nowadays because of the way that the industry is.
But I had my own office. I had cards with a door that I could close, and I thought, "Okay, I'm doing pretty good." But then there was also all this at the time, this sort of pervading narrative that I kept hearing from people. "Well, you just have a bachelor's degree. Well, the bachelor's degree is a new high school diploma. If you really want to get far, you have to get a master's degree." And I'm just like, Ugh. And so I was trying to get my master's degree at that time and my boss was just the worst. I'm not going to slander her on this podcast, but she was just a very bad boss to the point where we had to get mediation from the state to come in. And it concluded with me just leaving. I just had to leave. I was like, "I'm not going to stay here with her any longer." It's just not going to work out.
So that whole period is kind of a bit of a blur, because I was like, look, I'm just trying to survive. And also at that time, I had just started my first big design project, which was the Black Weblog Awards. I was working full time, I was doing that, and I was just trying to survive because I didn't go to design school. So I didn't have any sort of design knowledge of anything. All I had was Photoshop, blends that I made, because I downloaded a cracked version from LimeWire and it didn't put a virus on my computer. And I was copying tutorials from books that I… That I didn't buy from books that I just read in Barnes and Noble. And I either took notes or I took pictures with my little Olympus point and shoot camera and took them back to my apartment and was like, "Okay, so how do I do this?" So I had to teach myself how to do all this stuff. I was just trying to get by, man. I was trying to make it so I get that blurry period. A hundred percent.
Kirk Visola:
Yeah. That's life. I mean, it's one of those things too, because being older and you talking about just reading something, reading up on something and figuring it out, it's like, if I really wanted to, I could do that now, but I don't want to. I don't [inaudible 00:47:42]. I just want to learn TikTok. And I mean, I don't want to get on there and start doing stuff. It's not hard. I don't want to do it. And I don't think that the younger generation, they think that we're old and we don't know what we're doing. It's like, "What the fuck. We're the ones that invented this shit. We were the ones who were going on Napster and Limewire and everything else to try to figure out how to get stuff." That was us. We were the ones who…
Kirk Visola:
Everything else to try to figure out how to get stuff like that was us. We were the ones who saw things go from landlines to mobile phones. We saw it go from VCRs to downloadable HDX files. We're the ones that saw that. We're the ones that saw the transition. We were the ones that evolved with it. If the apocalypse happened, like the zombie apocalypse happened, have you seen The Last of Us yet?
Maurice Cherry:
I haven't seen it yet, the first episode.
Kirk Visola:
Have you played the game by chance?
Maurice Cherry:
I haven't played the game, so that's why I haven't seen it yet because I don't know if I need to play the game to watch the show.
Kirk Visola:
No, you don't, but it's just shitty because you can see stuff coming and it's just like… but it's so well done. It's so well done, but what I'm thinking is if we were to go back into the zombie apocalypse, and everything had to go back before there was all this technology and digital and everything else, many of us wouldn't survive. Many of us wouldn't know how to take notes or to do basic things because we're so dependent upon electricity, and power, and the internet because I'm thinking we are in Santa Cruz and the electricity went out and it's just pitch black. I'm thinking, "If it stayed this way, could any of us really figure out how to survive? How long would it be before we started going into full on the Walking Dead Kegan mode? How would that take?"
And so I think that we would immediately have some better survival skills in the previous generation, but I just don't feel like going through that mess, and so hearing you go in and say, "I read this and read up on it and figured out," I'm like, see, that's baller status right there, and I think that's something that I'm happy I don't have to do, even though I probably should in order to keep up with things, but what are we talking about again?
Maurice Cherry:
We're talking about you. We're talking about you.
Kirk Visola:
Okay.
Maurice Cherry:
I wanted to ask about your podcasting. I mean, we're on a podcast, but you are a pretty prolific podcaster yourself. What made you get into it?
Kirk Visola:
Wow. First of all, I don't listen to podcasts. I don't even listen to my podcasts except when I'm editing them. It's very odd. I know, but I find them to be a bit pretentious at times. I feel like, "Well, it's always so formulated," so I feel that way about podcasting, but what made me get into it was, and I'm so glad you said when we started this, it's just going to be a conversation because that's what got me into this, was listening to talk radio, and being 13 or 14 years old, I was exposed to talk radio and I was exposed to "shock jocks." I didn't listen to a lot of NPR, things like that. I listened to the Don and Mike show. They were out of WJFK in Washington DC. They were syndicated, and I listened to Howard , and I listened to a show called Mark and Bryan.
I listened to this show called The Rise Guys out of Sacramento at KHDK, and then I listened to Carmichael Dave out of KHDK, and then Jim Rome, so I listened to a lot of talk shows, and what I learned is that most of the times when they were doing things and talking, it was just the stream of consciousness. It was just the thought. It was just four guys hanging out, but they made it interesting and they knew how to pivot, and they knew how to keep the topics going. They knew how to really get through things, and there's a lot of stuff that they would mention, and say, and do, and just the feel of the show was like you were there hanging out with them, and I really like that about talking. I'm like, "Well, I want to bring that to a podcast," because I try listening into podcasts and it's so boring.
And I want to just bring that to a podcast. I want two guys who understand design, and my good friend Andy Kurtts, K-U-R-T-T-S, Andy is, that's my dude. He is so cool, man. He's cool. He always knows what to say, and he's a good designer, and I love the guy, and it's like, I couldn't do this design show with anyone else really, and I met him on a whim when I was doing something with startup CPG, which is a foundation that helps up-and-coming CPG brands, and we were both on a Pictionary thing, and that's how I met him. We just did this online Pictionary during a holiday party, and like, "Hey, let's do some stuff," so we started doing stuff on Clubhouse, and then we started doing stuff finally on Buzz Sprout, I think it's called, where you just do podcasts.
And so our idea was let's just do a packaging podcast, so we go on to talk about all the specifics of packaging, what's important to put on the front of the pack? What's important to put on the back of the pack? Do you know about your nutritional labels? Do you know about all the contents that go in? And then we started having people on, and we would have people who actually worked in the industry who owned their own brands, rather designers, and then we realized that it went past that, and we just started talking about design, strictly about design, and that's how I got into it with Andy, and we have people on every week, and it's just grown into this fun little sit down and chat with people, and I love it. I love that aspect of it.
It reminds me of the old talk radio I used to listen to, but now I'm actually doing, and only have to do it for an hour instead of three or four. I don't know how those people do that. That's so impressive. Three or four hours on the air just talking and talking. I hate hearing myself talk, and which is why I probably don't listen to my own podcasts, but that's one thing, and then I did another one called Jerks with my friend Jeremy Smith, and I had to stop that one just because I was doing two a week, and when we did Jerks, it was mainly, it was an honest approach to things, but I felt it took a lot of me emotionally and to do the edits because we were talking about real shit, and then I have to the edits and things like that, and it was just like a lot, and I said, "I have to cut one out," and I thought, "which one's going to be better beneficial to me as far as my business goes?"
"And as far as really promoting that," it had to be Kirk and Kurtts, but Jeremy and I would get on and we'd talk about shows we watch, we'd talk about laws that were made. We'd talk about people that were doing stupid shit, and it would be Donald Trump or Kanye West or whatever was the topic that week we would talk about, and it was good, but it just took so much from me, and I wanted to get back into my own podcast because what I was doing was just having anybody on and talking to them about what they liked, talking about stuff that I liked, but then I'm realizing it's just so much work and I just am not willing to put in that work. Whereas if I'm doing it with Andy, it's twofold.
I get a chat with Andy and we get a catch up on work and we get a catch up on life, and then the other thing is that it holds me accountable that someone else is dependent upon me to actually do my shit, so that's the thing, and it's not as emotionally draining as Jerks was because it was frustrating, uplifting, happy, and sad. It was just this bag of bittersweet, mixed emotion the entire time, so it was very taxing, and I love Journey Man. Dude's cool. I still keep in touch with them. Really nice guy, really great guy, but it was just a little too much for me.
Maurice Cherry:
Yeah.
Kirk Visola:
What made you get in the podcasting?
Maurice Cherry:
I've done this for a long-ass time.
Kirk Visola:
The OG.
Maurice Cherry:
What made me get into podcasting? I started back in 2005, again, back with this blog that I had mentioned before. I started, I bought a $10 mic from CVS, like the CVS up the street from me. It was like this little GE mic that you just stick into one of the ports on the back of your computer and you just start talking. Back then, at least when I started, podcasting wasn't a big thing. I actually don't even remember if it was really called podcasting back then because podcasting is like a portmanteau of iPod and broadcast, and I know the iPod came out in '03, but I don't think podcast was a big word in general back then.
Kirk Visola:
No.
Maurice Cherry:
I know audio blogging was because the precursor to Twitter was this website called Odio that I used to use to just record snippets of stuff and would send it to friends because a lot of my friends lived either in New York or they lived in California. They didn't live in Atlanta, so we would just do audio blogs and stuff back and forth, and on the side, I would just do a… I called it a blogcast, but I would just kind of record an episode, and maybe I'd have a guest on using Skype. I would have a guest on, and we would talk about just whatever's in the news and whatnot, and I was learning how to edit. I was doing editing myself with Audacity or whatever, and then I fell into this group of other people in Atlanta that were doing podcasting, and I met this couple, Amber and Rusty, who were doing…
They basically created this organization called the Georgia Podcast Network, and it was mostly Georgia, South Carolina, Tennessee, the Tri-State area, and we would have semi-regular meetups. There was a website. I think they even put on a few pod camp conferences using the camp style of conferences, which they called an un-conference back then because the attendees are the ones that set the itinerary and got into the podcast community, then met some people, just kind of other folks that were doing shows, and then I kind of fell out of favor from doing it for a while because, I mean, this was around the time also, YouTube started to become big, so people were really starting to get into doing video. Blogging itself was dying out a bit. More people were going towards video.
Audio was still something that largely in terms of distribution was more in the arena of big media entities, so a New York Times or an NPR or something would do a radio show, and then they release it later that day as an MP3 or something because I would listen to that stuff at work or whatever, and so that's how I first got into it, and there just wasn't, at least around the time with the Georgia Podcast network, outside of them, really a big community for it. I call that the first wave of podcasting, and then the second wave really came in the mid 2010s with Cereal. Like Cereal came, and then they had that famous ad with the woman mispronouncing MaleChimp, and that seemed to just take off wildfire in terms of people just being like, you can listen to audio on this device that I hold in my hand that has a headphone jack that I've been listening to music?
Yes, you can. You can do that. It wasn't a big, big push.
Kirk Visola:
Right. Sometimes the most obvious answers aren't obvious.
Maurice Cherry:
Yeah, but people started to see, I think, the possibility in it because even though Sarah Koenig is a journalist, and she was doing this independently at first, people saw like, "Oh, wait. I can make a show about anything," and the way that the podcasting industry has, honestly, expanded and grown in the past 10 years is phenomenal, just in terms of the availability and the the suaveness of hardware, the availability of software. I mean, if you have a Spotify account, you can record a podcast. There's so easy now, and so the learning curve has gotten much, much flatter for people to try to get into it, which I think for better or for worse, has been something for the industry.
I don't want to say it's been good or bad, but now, because so many people can do it, everyone can do it, and so there's just so many different shows out there, but I wanted, at least with Revision Path, I wanted to establish the lane fairly early because I had been listening to other design podcasts, and there were no Black people. And I would ask them, "Why aren't you talking to any Black designers? I know Black designers," and sometimes I would get a response, which would usually be negative, but most of the times they would never even respond, and so I started Revision Path, not as a podcast at first, it was just going to be an online magazine because a friend of mine, this woman named Deedee Sutton had a really successful online magazine that she created called Clutch Online, or Clutch Mag Online, I think is what she called it, but she had a really super successful online magazine.
I was like, "I want to do something like that with, but around design at Revision Path," because by this point in time in 2013 when I started the show, I had quit my job at AT&T five years ago, started my studio, and then I had been in my studio now, and it was successful for five years, so I was like, "Oh, I have the time and the space to actually do this," and so that's how Revision Path was born, and I recorded my first podcast in June of that year. We started in February in terms of interviews, but the first recorded podcast was in June of that year, and then in 2014 is when we started to do it on a fairly regular weekly basis in terms of audio interviews, and it just kind of took off from there.
Kirk Visola:
That's dope. That's so cool to hear because I'm in the process now on our show of interviewing more Black designers because I told Andy, he's a North Carolinian white dude from North Carolina, and he's just, he's super cool man, and he is definitely an ally. He understands things. He is very encouraging. I keep telling him, "I want this person on," and I'm like, yeah, and he's feeding me people that I'd never even met before seen because he's more in that space for knowing people than I am as far as designers, and so it's good to see, and so I'm starting to get more people of color, all colors on our show, but mainly Black people because there was a survey, and I've mentioned this before on other places where I've talked, I think it's called Design census.org or design census.com, and they interviewed 9,450, so for arguments sake, let's just say 10,000 people.
And only 3% of the people interviewed design wise were Black because that was the space, and then it was like 13% Asian other, but it was 71% white male were designers, 71%, and you look at agencies and you look at the about us, and you go through the headshots and it's like, "Wow, there it is right there. This is exactly it." Okay, and you go to the next agency. "Oh, there you go. This is exactly it," and that's how it is, and it's understandable, but there's so much talent being missed out on, just even basically from seeing things from a different perspective, being Black and understanding different ideas and stuff.
It was like, for instance, I think also two companies don't even really try to be creative anymore. I'm serious. I'm serious. Think about the last cool Apple ad you've seen, and so I thought Apple's always, like they had this weird thing where they were showing they did this weird for shortening of people holding up their phones. And then they were small silhouettes in the back and it's now bigger, and I'm thinking, "Oh, my God, that's terrible." Here's my idea for the perfect Apple ad, apple iPhone, iPhone, if you're listening or this service goes back to you, I want my royalties on this shit.
What you do, all you do is you show a phone with a screen off, and you just show the phone screen off on a desk, and I want the desk to be a real desk, not like this perfect pristine thing. I want to see a takeout menu. I mean, real life shit, everything kind of just normal, and then I want to hear two people in the background. You hear a show in the background, it's like, "Nah, now I'm telling you, that's the dude." This is how it starts. "'s the dude from the last night or Night Quest." "No, it's not. No, it's not." "Yeah, it is." It's an argument going on and finally you here, "Hey, Siri?" "Yes?" "Who was this person then?" And then it just comes up, it says, "iPhone," and then phones scratched out. It says, "I want to win this bet," so every scenario's like that, and then you go do another one, and it's in the car in the holder. The phone's in the car, in the holder, right?
And you see traffic in the background. It's kind of blurry. It's nighttime, and you hear two people talking about, "I'm telling you the Tacoria is right here." And then it's like iPhone and Scratcho says, "I want to find that restaurant." Right? Focus on what it does rather than what it is. That was Steve Job's big thing, focus on the product, the actual benefits of the product rather than the product itself. So why wouldn't they do that? Why wouldn't they found a way to push it? Because everybody knows what iPhone is, right? It's not a phone. It's a mini do wall in your pocket, and so why not focus on that?
And I hardly, and this is no joke, I maybe talk on my phone two times a month, maybe actually talk on my phone two times a month because people know I don't like talking on the phone and they'll text me, so it's like, you can have anything now. I want to win this bet. I want to find a restaurant. I want to see what time that movie starts. It's like it does everything for you, so why not mention that and make it fun? People know what it does. People know why they're buying an iPhone. You don't have to show the camera on the back and how it's like, who cares? We all know it has a camera. We all know it takes good pictures. That's the given. Just saying that when you design something, it's going to look good.
What is a solution you're trying to find? What are you trying to do with that solution? And so for me, being a creative person, I'm always thinking of shit like this, how to solve for a real thing. What would I want to see on a commercial? Anytime I see a commercial and I see a iPhone commercial, it's Lily, right? She's talking about AT&T and how you can get a free iPhone. I like her. I love that character because it's just kind of silly and it's fun. It's like a nice counter to the Verizon can you hear me now, guy? So that's one thing, but it doesn't speak about the phone itself. It speaks about AT&T services, so have something that does something to do with the phone, but anyway, I think they're missing that because they narrow their search to what looks good on paper rather than what performs well in real life. You know what I mean?
Maurice Cherry:
Yeah.
Kirk Visola:
People can present really well on paper, but not be that great in real life.
Maurice Cherry:
Apple also snaps up a lot of really good designers and art directors, and I don't know what they're doing with them. I mean, I would imagine they work on many of the other parts of the Apple ecosystem. For example, I've never been able to interview anyone that worked at Apple or that, I'm sorry, that currently works at Apple because they don't let their employees do interviews, so it's I've interviewed X Apple people when they've told me what they can about it, but I don't know what goes on inside that large Taurus building in Cupertino, but that's some ironclad NDA action right there.
Whatever is going on. I don't know if the creativity necessarily is making its way out to people because I think even with the last iPhone, with the iPhone 14, a lot of people have been like, it's not that much of an improvement over the 13, and granted, that's probably supply issues and things of that nature too, just in terms of the camera and stuff, but yeah, I don't know if Apple is the innovator like it used to be in that aspect.
Kirk Visola:
No, and also, too, I'm still rocking my old iPhone 7 plus.
Maurice Cherry:
Oh, wow.
Kirk Visola:
I'm still rocking that and I love it. Honestly, I wish they would go back to the four size, the size of the iPhone four. It was just a little bit bigger than a business card. That's what I don't want. I'm tired of these phones getting so big. I don't want to carry around an iPad. I want to carry around a phone, like the old flip phones. I think Samsung, they had the flip phone, right?
Maurice Cherry:
Yeah. The Galaxy Flip or Galaxy Fold or something like that.
Kirk Visola:
Yeah. That's pretty cool. I see some problems with the screens possibly being messed up because of all the opening and closing, but I like the idea. How fun was it? Remember how fun it was to end a call just by closing it, closing it shut, like end of the call. Now you have to just push a button violently in order to make sure people know you hung up.
Maurice Cherry:
A violent tap, a long press.
Kirk Visola:
You want to give them those three beeps. You know when they hang up beep, beep, beep?
Maurice Cherry:
Yeah.
Kirk Visola:
Okay. That's the end of the call. It used to just be slam and that was it. Call over, so that's the one thing that phone brings back, which would also be a fun aspect for a marketing standpoint. With this phone, you could now end calls properly. It shows a dude just like, "Bye," slamming the phone.
Maurice Cherry:
Yeah.
Kirk Visola:
I think, yeah, but anyway, tangent.
Maurice Cherry:
I'm curious with the podcast, and as we talked about little earlier, has that helped you become a better designer now that you're able to really speak with other designers in congress on a regular basis about stuff? Has that helped you out?
Kirk Visola:
Oh, I don't talk to anybody in Congress or in the Senate at all.
Maurice Cherry:
No, no, no, no.
Kirk Visola:
I know what you said. Not necessarily a better designer, but a better-informed designer. I'm able to see perspectives in a different way from people who've done certain things, but I don't think it's helped me be a better designer, just helped me understand where people are coming from and just more exposure. More exposure to anything definitely increases knowledge of something in regards to your field, but I don't know if it necessarily makes you better equipped design wise, although it might, I don't know. I haven't really seen a big uptick in my design skills. Maybe I should just keep interviewing people in the hope that it will rub off via telekinesis because osmosis, you need water, so people say, "oh, you're going to get that osmosis." You always need a water source, so you can't get it through osmosis, but through telekinesis, possibly.
Maurice Cherry:
My mother is a biologist. She tells me that same thing, that exact same thing. People can't get stuff through osmosis. I get it. I get it. I get it.
Kirk Visola:
So you need to have areas of high concentration to low concentration or to living proper in order to have… Okay, Mom, sorry,
Maurice Cherry:
I get what you mean about being a better-informed designer. Even as I've done this show and I've talked to people all over the world, it lets me know what our differences are, what our similarities are. I feel like a lot of designers have the same issues regardless of where they are, whether it's their work or finding work or finding purpose and things like that, but then you see how different it is in parts of Africa versus in the UK versus here in the States, even from the rural areas of the states to big cities and things like that. It has, I think, made me, I get what you mean about it, making you better informed. Just hearing more people's perspectives helps you to see a lot farther than what you just might in your own kind of narrow field of vision.
Kirk Visola:
Right. Yeah, exactly, and that's exactly what… You said it so much better.
Maurice Cherry:
What kind of advice would you have for any… Like people are listening to this conversation. They're hearing you. They're hearing your story. What advice would you give to people that want to follow in your footsteps, they want to have the career that you have?
Kirk Visola:
First of all…
Maurice Cherry:
They want to have the career that you have.
Kirk Visola:
First of all, I think it's good to understand, like I said before, not everybody's going to like your work. Right? Everybody's not going to like your work, and so you can't take it personally. I also think that it's good to find a designer whose style you like in different fields, and find multiple influences to help your thought process. I also think it's good to find a mentor if you can, someone you trust that will be honest with you. And by honest, I don't mean absolutely mean, but I do think you should find someone who's not going to bullshit you.
And last, and this is the most important thing that I've found, is just be yourself. Just be yourself. Be unapologetically you. Now granted, there are, and you and I both know this from working with people in the corporate space, you have to figure out a way to tone back a little bit at times, because especially if you're a person of color, black, brown, you have to figure out a way to tone back sometimes, because then you're seen as being aggressive. You're seen as being loud, you're seen as being abrupt. You're seen as being a disruption. But you can set boundaries by your actions, not answering emails, being cordial [inaudible 01:13:31] people, being firm, and then setting those boundaries. But try your hardest to be yourself because people who will fuck with you will understand you 100%. It's not going to be, "Oh, I've never seen this side of you before." That should never come out of anybody's mouth who you're talking to.
And I say this all the time, that whoever I'm talking to, I talk to the same way. I talk to six-year-olds this way I'm talking to you. I'll cuss around them because that's me. I'm not going to blatantly go out on my way to cuss, but if something comes up, I will cuss. And it's just because that's who I am. I'm not trying to be rude. I'm not trying to be edgy. I'm just trying being me. And if that happens, it happens. And at times I realize I've said something and it's like, oh, it doesn't work the best around my two-year-old nephew, because he's a parrot and repeats verbatim with incredible syntax, vernacular and diction, exactly what you've said, so I have to watch that. But be unapologetically you as the biggest takeaway, I would say. But know when to. And this is a horrible thing to say. So it's like good advice and bad advice, because you shouldn't have to shrink for anybody. But there's times in order to get ahead, you kind of have to make sure you do, which is terrible to say.
And if people don't like you and they don't fuck with you, then you don't want to work with them.
Maurice Cherry:
Have there been times in your career where that's come back to bite in some way?
Kirk Visola:
Yeah, it has. And we didn't mention Shaklee earlier, where I worked, but I basically had a target on my back after speaking back to the VP at some point. And here's a fun story, and other people who've heard me on other stuff will probably say, "I've heard this a thousand times." When I was working there, there were one, two, three, four, five, like six black people that worked there, maybe seven. And one of the women that worked in a different department that I worked with, she was walking by the VP's desk. And the VP, she sat in the middle of the office in it's an open office, which for those of you who are listening, open office plans, they're terrible for everybody. But anyway, she was walking through [inaudible 01:15:57] open office, and she walks by and she says, and I'm going to call her Sarah for the conversation, "Sarah, how are you coming along on that action brochure?"
The action brochure was a brochure that I was working on that was due for a global conference, which Shaklee holds every year. And last time they did it was in Vegas I think, but I haven't thought about that shit for four years. But anyway, "So where are we on that action brochure for the global conference?" And Sarah looks at her and says, "Oh, well, I have it back with creative, and they're making changes to it." Mind you, I am literally 20, 25 feet from the VP in an open office. And she says, "Oh, well what can I do to help you? How can I help you?" The VP says to Sarah. Sarah looks at her confused and says, "I'm not sure exactly how you can help. I mean, it's with creative right now." Being incredibly calm, as Black women have to be in the workplace, or they are assumed to be combative. So that's another thing.
And then she says, "You know what? Forget it." The VP, "Forget it. You go do your thing. And I'm going to sit here and do my thing. Okay?" [inaudible 01:17:09] So I hear this and I'm thinking, this bitch. So I get up and I walk over to my project manager who sits even closer to the VP. And I walk up to her and I say in this exact tone, in this exact voice, "Was that about the fucking action brochure?" And she looks at me. And the project manager and I, she's dope. I love her. She's at a different company now and whatever, but she's so cool. She was basically a mom to all of us. And she wasn't that much older, but she just had that caring and very organized nature about her. And she goes, "Yeah." And I go, "Tell them if they would stop changing shit, then I'd be able to get it done." And I said it loud enough so the VP would hear it.
And so I started walking back to my desk and the VP does this. "Oh, oh, oh, I'm sorry, Kirk, what did you say?" And I turned to her and I say, "If you would stop changing shit, then I could get it done." So this is what she does. Puts her hands up, like the entire hands up, shoulders back, like, "Whoa, whoa, whoa, we're all on the same team." And I said to her, "Mm-hmm, yeah, right." And I went back to my desk.
After that moment, it was like a bullseye was on me. Everybody was like, "Kirk is leaving early to go do something," which I had established because I was leaving early on certain days to get my kids from school and spend time with them, because I was going through a fucked up divorce and custody battle. So I needed every moment with my kids. And then it was like, "Kirk isn't doing his work, or getting work done, or asking for more work."
And I was like, "Motherfuckers." So I got called into the office after that one day, or into HR. And I go in there and the first thing I ask is, "Am I fired?" And they're like, "No." I said, "Well, okay, then let's talk, because here's the thing, if you're going to fire me, just fire me. I don't want to lecture. I don't need to hear anything. Just fire me." So they sit down and all these things come up. You've been leaving early. And I said, "Well, I told you I was going to leave early because it was my supervisor and the HR lady." I said, "I told you I was going to leave early." And he said, "Well, what do you do when you get your work done?" I said, "Well, predominantly, I probably either surf the internet or I catch up on other work than I'm doing."
And they go, "You don't ask for more work?" I say, "No, why should I? Why should I ask for more work?" See, Kirk did quiet quitting before quiet quitting was cool. And I said, "Why should I ask for more work?" And they go, "Well, you know [inaudible 01:19:49]." And I said, "No." They said, "Well, people have come up to you and you've had your headphones on, and you put boxes up on your desk." I said, "Yeah, because I need to get work done and I'm right next to the bathroom. And people know that I'm friendly and they want to talk to me, and I don't have time to talk sometimes, so I put the headphones in and get stuff done."
"People have also said that you're unapproachable," and we all know what that's code for. You're Black and scary. People-
Maurice Cherry:
Or that you're just Black.
Kirk Visola:
Right? And so I said, well, I don't understand that. And I look at my supervisor and they go, "Yeah, because you might be hurting people's feelings." I said, "Okay, well," I look at my supervisor and I say, "hey, have I ever given you any flack for a job?"
"No."
"Have I ever done a bad job?"
"No."
"Have you ever been displeased with anything that I've done?"
"No."
I said, "I don't see what the problem is though." I said, "My job is to do the best I can in the time allotted, with the information that I have. That is my job."
"You [inaudible 01:20:51] hurt people's feelings."
I said, "I don't give a fuck about people's feelings. That's not my job." And I knew I wasn't hurting anybody's feelings because I would have people come back to me repeatedly, specifically asking for me to do work for them. I think it's a combination of jealousy and other people in my department who I worked with who were fucking busters.
And I think it's also the fact that I didn't march to their drum. I didn't do everything that they said. So they're like, "Oh, well how can you do this?" I'm like, "Nah." And they said, "Okay." And then the HR lady asked, "Kirk, do you like working here?" I'm thinking, "Bitch, what the fuck you talking about? How can you ask me that? You already know the answer. You're asking me a rhetorical question. You already know the fucking answer." Like, "Dude, you know the answer." So I sit there and I look at her dead in the eyes and I say, "I really like who I work with." And that was it. I didn't say anything else. It's like, "You really think I'm going to dig the hole with a shovel you gave me so you can knock me in it, so you can shoot me and put me in it like a damn gangster movie?" No, I'm not digging a hole. I'm going to say what I have to say and it's going to be honest. I did the people I work with there.
Here's the thing, man, this is the biggest thing other people can remember too. Working with people is about relationships. And when you have a good relationship with someone, your work is going to be better than it would be if you have a bad relationship with someone. That's just, that's everyday life. That's a job. That's a marriage. That's a basketball team, that's a baseball team, that's sports, whatever, it's everywhere. So I have people, and I can think of one, two, three, four, five, six, seven people who I used to work with at Shaklee that have left Shaklee and have come to me for work, to help them do things.
Now, if I was that bad of an employee or that bad of a person, they wouldn't want to work with me. They wouldn't seek me out afterwards. It's like that's the thing that I measure from being not only a good designer but a decent person to work with. And that's important to me. So just realize that people at work aren't your friends, but there are people who can become friends when you get to a certain point. And there's several people who I work with from there that I really enjoy working with and love. And so there were people that I loved there. But I couldn't say that I actually liked working there. I would have half of my face go numb going into work. I would have headaches. I would have terrible anxiety. I would sit in my car at times. I would start around 8:30 and I would get to work at about 8:20 and sit there until 8:50 or 9:00, just not wanting to go into the office. That's how bad it was.
And the day my wife said to me, "You know what? You should look into seeing if you can get time off for stress relief." I said, "Okay, cool, bet." So I talked to the Kaiser Permanente psychiatry department, which is non-existent. It's terrible. And I talked to the dude and then either in person or over the phone or whatever, I don't remember. But he said, "You know what, they normally only give out two." He said, "I'm going to give you three weeks." And I thought, as soon as he said, I'm giving you three weeks from work, this weight had been lifted. I mean, right now talking about it, my face is kind of going numb. That's how stressful and traumatic it was being at that fucking work environment. And when the three weeks was almost up, I started having the same fucking symptoms coming up.
Same shit would happen at home, knowing I had to go back in. And my wife said to me, "Just quit." And I said, "Really?" She's like, "Yeah." And the moment she said yeah, it's like the weight had been lifted. I felt like Atlas finally could stop holding up the world. Like, "This is someone else's job. And ain't my job." There was that much stress and pressure on me. And when people were talking about, "Oh, you quit because you were mentally not there," or whatever, it's like, "You're fucking right I did, because it was killing me." It was literally killing me to be in that environment. And I don't think people understand the amount of shit that other people can't escape from. There's people who can't do what I do. I was lucky. I was fortunate to have a supportive partner and to have someone who cared enough about my mental health, as well as my physical health to say, "You need to quit that fucking job."
And my former boss who was working at a different company was just telling me like, oh, I need to stick it out. [inaudible 01:25:40] said, "No, you need to quit. Since you started working here, this, this, this and this have happened to you. All these physical things have happened to you based upon your job. The stress is killing you." So finally she quit and she said she feels so much better already. She's getting back into a rhythm. She's starting to exercise. She's sleeping better. And it's like, yes. And I don't think people realize the importance of A, working in a hostile work environment, but B, working in a hostile environment by being a marginalized person, i.e. not a cis white male. And it's tough. It's tough and it's tougher for other people in certain situations. So yeah, that's the reason why it left. That's my experience there. Overall, I learned a lot while being there and I met some nice people. But I can honestly say I would not work there again.
Maurice Cherry:
That sounds a lot my time working at AT&T. It was just, oh my God, not great, not great. AT&T at least at the time when I was about to quit, I thought I had had Crohn's disease or something. Every time I thought about going in or had to go in, I would automatically get sick. I would automatically have stomach issues. I thought I had IBS or something. And then once I quit, it all just cleared up. It just like, poof, vanished. It was gone. So yeah, working in those stressful environments can definitely do a toll on you mentally, physically. Yeah, I know what that's like.
Kirk Visola:
Yeah. And I'm sorry you had to go through that. It's not a good experience.
Maurice Cherry:
Yeah.
Kirk Visola:
It's difficult. See, you empathize and you sympathize and it's hard for people to understand it if they haven't gone through it. How can you let that happen? Actually, dude that used to work there at Shaklee went somewhere else. And all the shit was happening to him from an abusive narcissistic boss. And he said, "Oh, I have to quit." And he said, "I remember criticizing you for quitting Shaklee." But he said, "Now I understand. I apologize because I had no idea before." Like, "Yeah, man, it's real. It's real."
Maurice Cherry:
Where do you see yourself in the next five years? What kind of work do you want to be doing?
Kirk Visola:
As much as I don't like Kanye West, one of these great lyrics from one of his songs, he said, and I'm paraphrasing because I don't know the exact words, because it's Kanye, he said, "Where do you want to be when you're 25? She turned around, looked at me, and she said, alive." I was like, "Damn, that's kind of how I feel. I would like to say I want to be retired in Hawaii, sipping on pina coladas and mai tais and watching the turtles. But reality, I just want to be around. I mean, I want to be somewhat healthy, doing stuff with my wife, chilling, working, just enjoying life.
As far as career goals, I really would've liked to finish a script I'm working on, finish a video game idea, finish a graphic novel. I just want to finish something, because I have all these ideas and they all kind of go around and sync up. Oh, here's something too. See, the ADHD brain is working. I'm working on a project right now that has a certain character I meet up. And so this is what I was thinking. I hadn't seen it done before and I think it would be kind of fun. I was going to start a character and the first thing [inaudible 01:29:07] do was write a little brief book intro about him. And the second thing I wanted to do was write a or design a video game that picks up where the book left off. And that's the only media it's available in. It's not going to be in a book, it's not going to be online. It's just going to be only the game.
And then after the game, I want to make an animated movie or show where that picks off and pick up from there. So it crosses three different media, but it continues one story. And I hadn't seen that before. And I was thinking maybe because it's not as big of a deal or it's too hard to do, but just different things too. And I want the video game to be able to transfer, like when you're playing it from a 2D scroller to a 3D sandbox. I want them to interact that way, where you can just pause it, change settings, and then go to a 2D scroller. Think of Rayman versus Batman Arkham Knights or any game like that, God of War or Tomb Raider. So you go from that to a 2D scroller, like Kung-Fu or a Rayman or whatever, or Kung-Fu Master, that was my idea behind that.
But I want to do something along those lines from my personal, not personal, but just for my creative zeal. But mainly just in five years, I want to be able to chill and probably have some better relationships with my sons, my twins. We go deep when we talk. This is always me. So I'd probably like to have a better relationship with them too in five years. But we'll see what happens.
Maurice Cherry:
So just to wrap things up, where can our audience find out more information about you, about your work and everything? Where could they find that online?
Kirk Visola:
You know what? Just to wrap it up, thank you so much for asking me that question Maurice. I'm putting on my podcast voice. I want to tell you about [inaudible 01:31:09] … No, people can find my agency work at Mind the Font dot com, so it's like M-I-N-D-T-H-E-F-O-N-T dot com. And then I have something else I do, just kind of my own weird personal thing. It's called Vsla Brand, but it's V as in victory, S-L-A brand dot com. And on there, it's just kind of my own personal stuff. I do have some swag that I sell on there, like hoodies and a T-shirt. I also have a thing called Thought Spot on there, where I write down random stuff that I've been thinking or what I'm going through at the time. And I date it, so you can read that. It kind of like is just me unfiltered. And I think that's it. And also if you look up Kirk Visola, you're going to find me, which is everything.
It's pretty weird. You can find podcasts I've done, old pictures of me from newspapers when I had dreads. Yeah, Kirk Visola, that's me. Just type it in, you'll find me. And also too, anybody listening to this, please seriously reach out to me, and if you want any questions or ideas or thoughts or anything, reach out to me, because we don't communicate enough, especially other Black designers, other Black creatives, we should be communicating with each other. Maurice and I were talking about this beforehand. And I told him to call me anytime he wants to vent or talk or chat or whatever, because we need to lean on each other in order to make each other strong. So reach out to me anytime y'all. And Maurice, thank you so much for having me on. That's it for me.
Maurice Cherry:
Yeah, no, this was a really great conversation. Kirk Visola, thank you again so much for coming on the show. Really I think, if there's anything that's come across in this conversation, it is your just unfiltered, complete authenticity about yourself and your work, and your attitude to the work and everything. I hope that that's something that as people certainly look at what they want to accomplish this year, they can sort of follow in your stead about being yourself, and knowing that by doing that and by being themselves, that they can succeed as well. So thank you so much again for coming on the show. I appreciate it.
Kirk Visola:
Thank you, Maurice.
We are raising money for Selma Tornado Relief through United Way of Central Alabama to help serve victims of the tornado that tore through Selma, Alabama on Thursday, January 12th. Donate now, or text SELMA to 62644. Send us proof of your donation, and we will match it 100% (up to the first $1,000 donated).
Thank you for helping fund Selma's recovery!
Sponsored by Hover
Building your online brand has never been more important and that begins with your domain name. Show the online community who you are and what you're passionate about with Hover. With over 400+ domain name extensions to choose from, including all the classics and fun niche extensions, Hover is the only domain provider we use and trust.
Ready to get started? Go to hover.com/revisionpath and get 10% off your first purchase.