I found out about Dewon through one of my Facebook groups, Black Designers United. Dewon is a very talented designer and art director, but he also has a unique perspective on the industry since he lives in a small Southern town. Who knew this kind of talent was coming out of Mississippi? Learn more about Dewon's approach to projects and his thoughts on diversity in the design industry in this week's interview. Enjoy!
Tell us who you are and what you do.
My name is Dewon Hall and I am a graphic/web designer working for a small advertising agency in Greenville, Mississippi, Shamoon Advertising and Marketing. I am a Jackson State University and Delta State University alumnus, where I received bachelor's degrees in both marketing and design, respectively.
Everybody has their niche when it comes to design styles. I tend to be minimal in my design approach, but versatile enough to tackle any design issue. Having an understanding of marketing really helps me conceptualize and develop ideas the shoot straight at the target audience.
I enjoy acting and have been involved in a number of stage plays, from Dreamgirls to Twelve Angry Jurors. And, if you have ever seen The Help, you have probably seen me on the big screen!
What's a typical day like for you at Shamoon?
My work routine begins by 8:00 a.m. with checking my emails while conversing with my colleagues about what happened after work the day before regarding family, friends or just something weird to get us laughing and revved up for the day. I have a "Hot" and "Not Hot" file section that sits on my desk to keep me aware of projects that need to be finished and ones that are pending contractual agreements from clients. Usually we have smaller things that come in the door and need immediate attention, but that's to be expected. I try to "swiss cheese" projects so that I make sure I'm giving each project it's creative "quality time".
Then, there are those moments when you have downtime to think over goals you have set for the next six months or year relating to the direction of the company. I always want to make sure I am thinking beyond the "right now" and looking to help grow the company.
How do you keep motivated and inspired?
My motivation comes from a number of different things. Let me share a few.
First, my location. Living in a rural area, I don't get to see a lot of great design like designers in larger cities. In visiting cities such as L.A., Chicago, Houston, and even smaller areas like Memphis, you get to soak in well-designed billboards, bus terminal posters and many other environmental displays and ads. This inspires me to produce the same quality of work here so that people will say, "Hey, that's a cool looking billboard" or "That's a well-designed ad." That is what keeps me going; knowing my design work is making an impact.
Second, there's media. I keep up with growing trends in design by reading Graphic Design USA, frequenting a number of design websites like Creative Bloq, African American Graphic Designers, HOW Design, and a number of different larger ad agencies and design firms. I am always getting tips and tricks from lynda.com's or Adobe Creative Cloud's Facebook pages.
Third, there's my fellow designers. We know it is highly, HIGHLY competitive in the creative field, particularly in graphic and web (and for persons of color). If I see that someone has posted their online portfolio or business website on Facebook, Twitter or Linkedin, I check it out. Not necessarily because they are my competition, but I use it as a measuring stick to make sure I am keeping my design edge. I enjoy and appreciate perusing a portfolio or agency website and saying, "WOW, that's some awesome work!"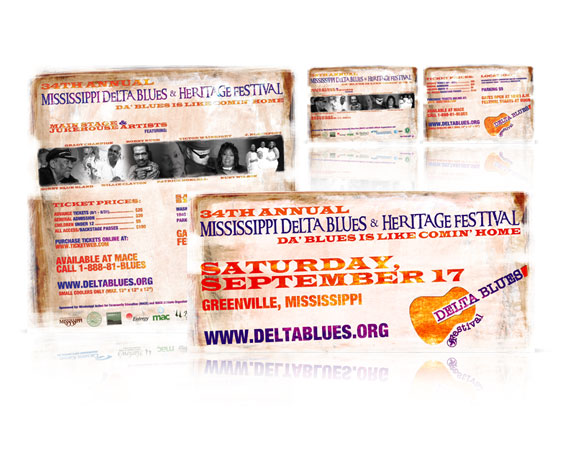 How do you approach projects? Tell us about your methodology.
I try and get all of the details I need from the client to pinpoint their design issue. Then I research, find some inspiration, sketch, and transition into Adobe Creative Suite and go to work! If I find myself beginning to fall into the abyss of a creative block, I leave my desk, take a walk, or listen to some music and maybe harass my co-workers for a minute. (We're a close knit group!)
However, I do think it is important to leave your work if you experiencing a little stagnation in your design flow. Projects are much more enjoyable when you have a client who allows you to "design freely" or one that has enough trust in your design skills to let you develop their brand without too much stringency. This allows me to approach a project with a much more open mind. I have created a pretty good method of developing projects throughout my career. I am just blessed it has worked effectively for this long.
What is the design community like in Greenville, MS?
Even though we are a small area, the design community here is vibrant! I am connected with some awesome designers around this way, in addition to other agencies and media firms who do great work. There's Mothlite Media (they just opened a office in Santa Barbara California! Sweet!) and Hammons and Associates (who were instrumental in helping develop the B.B. King Museum and Delta Interpretive Center); two of the major design firms in this area who I admire for their great work. We also have Delta State University and Mississippi Valley State University — two universities that produce some really talented designers!
Was creativity a big part of your childhood?
It was! I always doodled, and they say that if you doodle then you have a artistic bone somewhere in your body. I never considered myself a great freehand illustrator, though. There were guys from elementary school to junior high to college that could really draw. However, I always had creative design concepts and even though I couldn't sketch them out as good as some of my peers, it spilled over onto the computer screen.
Have you had any mentors to help you along the way?
I had great mentors in my life. Of course, the obvious ones are my mom and dad. They were instrumental in keeping me grounded and humble in whatever path I chose to take. They kept me in church and that also helped me grow my faith in God and increased my ability to recognize when He opens doors of opportunity for me.
My older brothers (who beat me up all the time when I was younger…yeah, it sucked to be the little brother! Ha!) told me about things to look out for when I was on my way to college.
My long time friend, Mr. Garvin, who is like my spiritual mentor, made sure I was doing things the right way. My faith is extremely important to me and I am always indebted to those who made sure I held onto it.
I also have a great circle of friends who perform at a high level in everything they do and it motivates me to do the same. I am blessed to be surrounded by people who challenge me to be the best at all times.
A few of my college professors from Jackson State and Delta State were also important in helping me along the way. Dr. Smith, who was a real character, was always cracking jokes or going off on someone, and the Dean of Marketing at Jackson State always pushed going into advertising and it was something that stuck with me. He said that it was an industry that was really fun and exciting and was prime for a marketing major.
After I left Jackson State, I wondered if it was worth even considering getting my second degree. There were two professors at Delta State University at the time — Arts department chair Collier Parker and assistant art professor Joe Abide — who told me that it was a great idea. It was really a step of faith because I didn't know how well I would do. They gave me advice on what to expect and the challenges ahead. During my time there, I was able to perform at a high level and developed great friendships. Now, I look back and am thankful to those individuals who pushed and mentored me along the way. It was worth it.
What advice would you give to someone just starting out in web design or web development?
As a self-taught web designer, I've learned that it is crucial to at least understand the basics of HTML coding and how to add the design flare with writing your CSS from scratch! This is definitely the foundation of understanding the other programming languages such as ASP, PHP and JavaScript.
Align yourself with individuals who push you to become better. It's important to have someone in your corner who will be honest with you about your work.
Learn as much as you can about the business side of design. After all, it's not only about making a beautiful brochure or a killer responsive website, it's about making money, too!
Read. Research. Learn. Progress. And become good at photography!
Let's talk a little bit more about something you mentioned earlier regarding people of color. What are your thoughts on diversity in the tech and design community? How can we increase diversity given the challenges with identity?
Reflecting on where we were in these communities and seeing where we are now, tremendous strides have been made but we still have a long ways to go. I do believe that the window of opportunity is much wider in the areas of network technicians and software developers than in the areas of graphic and web design/development for people of color. This has more to do with the culture of each industry than the skill level. If you are a great designer, you're a great designer. Period. But because the mainstream voices have developed a certain "culture" throughout the years, there is a fear from that culture of taking on a drastic change — a change that will mandate much more diversity. Most of us don't like change, especially if it creates a rift in our comfort zone.
In watching the videos on "Where are all the Black People?", it's evident there is still a much needed paradigm shift in advertising agencies and their efforts to attract more diversity. The grassroots approach of connecting people of color to creative directors, art directors and many more industry buffs, was a great idea spearheaded by Jeff Goodby and Jimmy Smith of The One Club. This is the effort needed to keep the train moving in combating the identity issues we have in the creative industry. If you can just sit down, have a conversation and understand the differences, it helps change perceptions and therefore starts a culture change.
Do you have any personal projects you're working on that you'd like to share?
I am not working on anything right now, but I am doing a lot of reading on responsive web design and developing that skill. This is such a must-know web design skill, so I need to be sure I am on top of it.
If you could choose any space in the world and create a design for it, where would it be and what would you make?
I know most people would pick some website or exotic place, which is cool, but it would be right here in my small corner of the world. I don't know what I would create, but it would be something large and impactful.
Where do you see yourself in the next five to ten years?
I've actually been considering teaching graphic or web design on a collegiate level. I am preparing to take on that challenge. I remember when I was at Delta State University and we attended The Memphis College of Art's Student Design Competition. Talk about an eye-opener! I went back and redesigned my ENTIRE portfolio. So yeah, I want to help college students realize the importance of staying on top of their design skills and the highly competitive nature of the design industry.
I will still be deeply involved in the design industry, and want to work my way up to becoming a creative director or start my own small design firm.
---
About Dewon: Dewon Hall is a graphic/web designer located in Greenville, MS. You can check out his work on Dribbble or on his website, and follow him on LinkedIn and Google+.