Over 300,000 Detroit residents face water shutoffs due to past due water bills exacerbated by Detroit's ongoing economic woes. When designer Kristy Tillman and developer Tiffani Bell heard about this, they took action.
The result of their collaboration is the Detroit Water Project, and to date they've helped match donors from around the world to Detroit residents in need of help with their water bills.
In this brief interview, Detroit Water Project co-founder Tiffani Bell explains some of the feedback about the project and ways that others can help out.
According to your website, over $100,000 has been paid out directly to the Detroit Water & Sewerage Department. What's been some of the feedback you've gotten from donors and people that the project has helped?
People have been really overjoyed that we've assisted with their water bills. We've had emails from people that have expressed overwhelming amounts of gratitude for helping them with even relatively small payments. These are folks who work hard to stretch a dollar due to setbacks like disability and fixed incomes. People have cried when they've been called about having their bills entirely paid off. It's been amazing.
Donors have also expressed excitement over having a channel through which they can contribute. Many have tweeted once they've made a payment. Others have come back to pay multiple times for multiple residents. Donors have been awesome.
Have you gotten any negative feedback?
Originally the Detroit Water & Sewerage Department itself mentioned in an article in The Guardian that they didn't recommend people get involved with what we were doing (from the resident) perspective, even though at that point we'd completely paid down the bills of 19 residents. They're now sending us residents.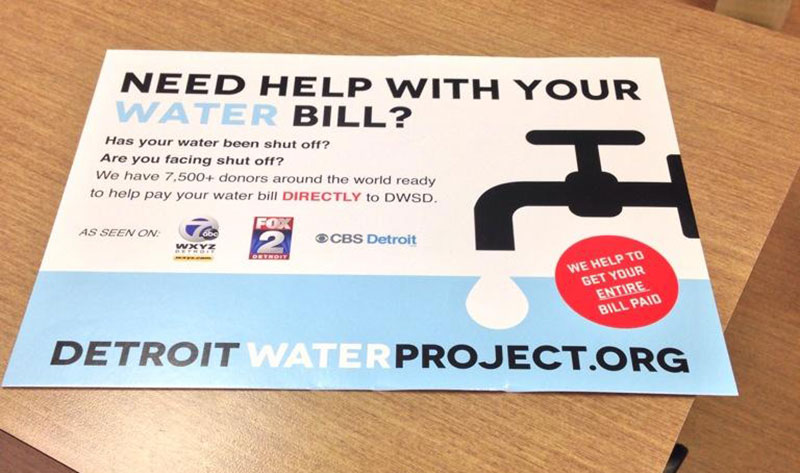 What you're doing is a great example of using technology to help solve problems. Do you plan on working on any other public projects like this in the future?
There is potential.
What are some ways that people can help out with the Detroit Water Project?
We're still taking on pledges all the time. If people want to contribute, they can pledge at detroitwaterproject.org. Or if they know someone in need of assistance, they can also send them to detroitwaterproject.org or have them call 404-461-9819. Spreading the word is helpful.