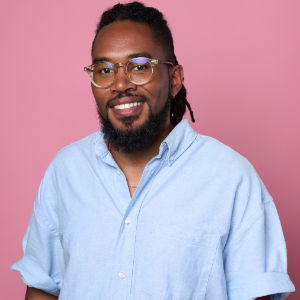 How are you using your creative talents to create a more equitable world. For David Perrin, his focus is on the world of nonprofit design. By day, David is the design lead at The Ford Foundation, and he works with an in-house team of editors, copywriters, strategists, designers, and developers. Outside of work, he's an instructor with Social Movement Technologies, a nonprofit organization that provides strategy, training and campaign support to build people power and win in the digital age.
David gave me a breakdown about The Ford Foundation and what it does, and also provided a sneak peek at the variety of work the Foundation handles. We also talked about what fueled his background and his career transition into social justice, along with the challenges and opportunities it presents. David's story is one of determination, self-reflection, and the power of using design as a powerful tool for change. Get ready to be inspired!
Interview Transcript
Maurice Cherry:
All right. So tell us who you are and what you do.
David Perrin:
So, my name is David Perrin. I'm an art director, graphic designer, and illustrator. I use photo collage as my current graphic style to help kind of portray complex issues pertaining to social justice politics. You know, in my off time…Black joy and Black culture.
Maurice Cherry:
How has your 2023 been going so far?
David Perrin:
It's been going great! Busy. Done a lot of traveling. Soul searching. Got into grad school, started grad school right now, so currently in that…and yeah, just really gearing up for the fall. Just kind of heads down, I think, for the first half of the year. Took a lot of trips to go see friends and family and everything, and now I'm like kind of just hitting the ground running. So it's been a busy year so far.
Maurice Cherry:
Well, congratulations on grad school!
David Perrin:
Thank you.
Maurice Cherry:
Where are you going?
David Perrin:
So I'm currently at Baruch [College] studying arts administration. So getting a master's in that. I'm super excited. It's really going to help me bolster my leadership skills in the nonprofit space, specifically around art. And kind of on the back end of this, I do want to get into teaching and being a professor. I really love the work that I do, and I think it's just going to just give me a stronger foundation moving forward.
Maurice Cherry:
Nice. So I saw that you recently illustrated a children's book. Tell me about that.
David Perrin:
Yes. "Amadou Goes To School." So a friend of mine is Senegalese. He pitched the story to me a couple of years ago. At the time, the only person he knew that he would want to illustrate this book. And so the book primarily is about his experience, really through this character Amadou, and what the first days of school might look like with just dealing with just different cultures and just finding common ground and where people can kind of — or children, right? — can kind of see eye-to-eye on things and really just come together through that unfamiliar process of getting to know one another and stuff. So we've gotten a lot of just very just positive energy around the book. We're working on a second right now. We're hoping to make it a series.
This has definitely pulled me out of my comfort zone. I think, the last couple of years, I'm kind of undoing a lot of years of slight impostor syndrome and wanting to get into new spaces and things. And so slowly peeling back those layers and stuff. So this is definitely a project of love. Yeah. I really appreciate my boy Jonima Diaby who's the writer on it. We're heads down, trying to figure out what the game plan is. We want to do more readings in schools and get this out, you know, as the school year is kind of, I think, jump starting right now, as a matter of fact. Yeah.
Maurice Cherry:
Was this your first children's book?
David Perrin:
Yes, first children's book. All original characters, content, all the things. Been drawing since I was in first grade, but to kind of do it in this platform…yeah, it was a little, like, nerve wracking. Finally, I think we released it last year, fall, and so, yeah, we're gearing up, like I said, for the second book. So, yeah, just super excited to have it out there. And every now and then, I get a ping from a friend who just had a kid and they're reading the book to their child, that type of thing. So I'm just happy it's making the rounds. And like I said, I'm being able to touch my community in this way and…yeah, more to come.
Maurice Cherry:
Nice, looking forward to that. So you're currently the design lead at The Ford Foundation. That's pretty epic. Talk to me about that.
David Perrin:
Yeah, so I'm currently the design lead at The Ford Foundation. The Ford Foundation is a global philanthropic institution centered around the mission of social justice at its core with the goal of expanding equitable experiences for all. The organization is global. We have eleven different offices. We cover a lot of ground and a lot of work. And so it's really exciting, simply put, just because of all the different bodies of work that we contribute to. As a designer, I feel like I'm kind of a kid in a candy store, if you will. Being able to work on all these different topics, to be able to work on so many different types of bodies of work is really cool. And again, to add a bonus of us being global and working with the different regions as well and seeing how the work touches just different parts of the world is also pretty awesome.
Maurice Cherry:
I want to go a little deeper on what you do, like your day to day. I realized when I just asked that question before, I was like, that was real open ended. "You work for the Ford Foundation. Tell me about it." I just realized as I said it, but what does a typical day look like? Are you in office? You're working remotely? Do you have an in house team? What does that structure look like?
David Perrin:
Yeah, so we have an in-house team. So currently our team consists of so we have a creative team and we're on a broader communications team, right? So the creative team consists of two editors, two writers, copywriters, if you will, and then two designers. And then our broader team consists of strategists and web development folks. So we've got a pretty robust team, I think around like 24 folks. So that's our team as a whole.
The work? Yeah, it's pretty vast. We have a lot of grantees, so we do grantee profiles where we reach out to our grantees, bolster up some of the work that they're doing on their end, create these grantee profiles, which then kind of get condensed into maybe a blog format or social media. We're here in New York, so sometimes our program officers will make regional visits to some of the regional offices and vice versa. So constantly creating content around those visits and kind of like information exchanged. We have a video series. We get into video a lot. Events. The Ford Foundation, as a building, as an entity, houses a lot of events throughout the year. We also have a gallery where we do gallery showings. I think we have one on AI that premiered a couple of weeks ago.
But yeah, we support everybody. Our small team, we have a group of fellows on constant rotation of fellowships that kind of happen throughout the organization. A small bite-sized list of things that we could be working on, you know, on a day to day [basis].
Maurice Cherry:
So it doesn't sound like there is at any point in time, like a lack of work, because it feels like there's always going to be something coming in, whether that's, like you said, new grantee profiles or maybe that's seasonal type campaigns or things that you're doing. It sounds like it's just a constant stream of work.
David Perrin:
Yeah, our grantees are moving and grooving. They're constantly giving us things to put out into the space, and again, to bolster up. And yeah, the organization is constantly going through these different rotations. Folks coming in and out, fellows coming in and out. I mean, I will say the summers kind of are like a safe period where folks…we try to give ourselves some time off, right? So we're trying to create some work/life balance there.
Like I was saying earlier, in the fall, yeah, it kind of heads down. Right. So right now we just have a lot of things going in constant rotation. But the summers, we try to keep it a little open ended for folks to take off.
Maurice Cherry:
Yeah, I mean, I think it's good to mention that because a couple of weeks ago I had Vasheena Brisbane on the show. She is…I'm going to butcher her title, but she's like the director of communications for Fifth Avenue Presbyterian Church in New York.
David Perrin:
Got it.
Maurice Cherry:
Which is a pretty big church, pretty well-known church. And we sort of talked about kind of like how when you're doing the type of design that maybe not is, I don't know, product-based or software-based or things like that, sometimes it gets overlooked and sometimes it has like a stigma to it.
I've had designers on the show. I mean, I'm a designer myself, where there can sometimes be a stigma against church work or nonprofit work or things like that because it's not as, I don't know, glossy and sexy as like, advertising or software or anything like that. So I think it's good to note that there's just a variety of design work that you do with The Ford Foundation and that it's all kind of pretty encompassing a lot of different types of media.
David Perrin:
Absolutely. For example, we have a 60th anniversary of our East Africa office happening pretty soon, and I'm making a stage design for them. Some of these are firsts for me; wayfinding stuff, banners that kind of take up full columns of buildings and things. Yes, to nonprofit work and some of this stuff feeling, tone wise, really, I guess to your point, maybe not as sexy as advertising or some branding studios and stuff like that, but still get the work done. And we should be held to the same standard as everybody else, I believe.
Maurice Cherry:
Right? I mean, you get the work in and it's a variety of work. I mean, I think sometimes if you're working with a company, particularly if you're just a product designer, you're kind of doing the same type of thing day in, day out, you don't really have a chance to kind of stretch yourself creatively. And it sounds like even though you're the lead and you have a team, there's always going to be something new and different coming down the pike for you to work on.
David Perrin:
Absolutely. I mean, yeah, we try to keep it interesting too. We're also trying to push ourselves with our grantee profiles. We want to do more original artwork, original photography…really meet our grantees where they're at and bolster the work up to, like, a New York Times or The Atlantic. We are really striving for just a higher standard of design and design thinking and reimagining of what this work can look like. We just went through a brand redesign. Yeah, I think it embodies some of these newer ideas and trends in the design community. So I think great design is accessible. Just because it's nonprofit doesn't mean "doesn't have to be stale, doesn't have to be all these things." It could really be as energizing and exciting as anything that we see out in the private sector.
Maurice Cherry:
What's the most challenging part about your work?
David Perrin:
I guess even going back to my days at Dēmos, sometimes visualizing some of this work because it's so nuanced, right? I'm thinking on when I was working at Dēmos, this racial justice think tank, right? Like coming up with visuals for ending the filibuster, right? Like, what does that look like? It's not a very tangible thing. You can't just throw that into Google and a bunch of images are going to pop up. And so, yeah, for some of these more nuanced, more sensitive topics, right? The Supreme Court ruling on abortion, what does that look like? That creates an approachable tone, right? It's so sensitive. What does that look like? What's the tone that we want to strike with that? We deal in some pretty heavy topics. And so I think that's always a difficulty in trying to establish a tone of empowerment, but also making clear what's at stake and what's actually happening in the space without being, I guess, disruptive or disrespectful. We do want to respect all the imagery and our grantees and the people involved. These are real issues, and so there's a lot of sensitivities around that and we want to just be mindful as much as possible creating a message, but also, again, just really thinking on the communities involved in the work. So, yeah, sometimes there's not always a balance. And so it's tricky sometimes coming up with how to really set that tone and make sure everybody is fully represented in the right way.
Maurice Cherry:
And I would imagine aside from that, because you're dealing with different cultures, you're dealing with different just…topics and mores and things like that. So you're always having to sort of strike that balance between, of course, something that's going to be visually and aesthetically pleasing, but then also is going to work for the context that it's being used. Like, for example, you mentioned doing this conference in East Africa. I'm pretty sure you wouldn't style that, like, you would do maybe an event in Silicon Valley. Like, it would just be a different type of thing, I would imagine.
David Perrin:
Absolutely. And to that point, and I'll probably touch on this a little bit later, but yeah, bringing folks in, getting the right feedback. We're very much in touch with the folks in that regional office, and they sent us, like, a mood board, right, to kind of help guide us on some principles and some rules of the road, right? Some things that they wanted to stay away from, as far as stereotypes, and I'm very appreciative of that. I want everybody, people that we are speaking behalf of trying to grantees, who are trying to bolster communities, all that to really come to the table, right? And really help us, guide us as designers and visionaries, so that we're not misrepresenting the work at any point. It's a fine line, but always, always here to hear from folks, like, what they want to see in the visuals, and what's empowering and what makes sense to the work.
Maurice Cherry:
Now, along with the work that you're doing at the Ford Foundation, you also teach you're an instructor with Social Movement Technologies. How did you find out about them?
David Perrin:
At my time at Dēmos, I was still trying to get a handle on what organizing work looked like and felt like. And so my director at the time, I guess Smt, had kind of fallen into her inbox. She encouraged me to take the they had a Certificate course right on basically design tools for graphic designers in the organizing space. Right. I took the course. I learned a lot, met up with a lot of great designers, and just kind of got to hear the stories and just kind of be alongside of other organizers and grassroots folks, researchers, people who aren't designers, that just wanted to learn and to help their organizations out in any capacity, in the design capacity and everything. So, yeah, it was just a really good learning experience overall. And so after the program, the head of the program reached out to me and asked if I wanted to be an instructor, and I jumped at the opportunity. I haven't turned back. And so, yeah, I feel fortunate to be in a space again, to be on the other side and to kind of help usher in just this next class of folks year after year. It's been very rewarding, for sure.
Maurice Cherry:
What sort of topics are you teaching?
David Perrin:
We're starting from the ground up, right? So just teaching like, basic typography, color palette, mood boarding, brand guides, visual tone with photography, sourcing animation, illustration, whatever. We can kind of really pack in during the time that we have. We really try to pack it in. And yeah, we've created a pretty decent formula as far as pace goes. But yeah, we really just try to give people the building blocks on what to really think about when thinking about brand and how to start. Right. So really, like I said, from the ground up. And putting this against folks are limited resources too, and giving them a lot of open source material that they could use to kind of just get started. Like Photoshop. Adobe sometimes can be a little inaccessible, can be a little daunting, right? So we really just try to meet people where they're at and help bolster their skills so that they feel more confident talking about visual identity and what to really think about when it comes to strategy for the organizations.
Maurice Cherry:
How do you sort of balance this teaching work along with your 9-to-5 work? Because it sounds like The Ford Foundation work is already a lot to do.
David Perrin:
It is. Full transparency, right? Like a couple of years ago, I was on the more teaching end of this and now I'm more of supportive…more of like a supportive role, looking at students' work and being able to kind of guide them on next steps and things. So more of like a small group kind of feedback session type of thing. And I try to do my best to really prepare folks as far as next steps and help them again, just try to meet them where they're at, whatever the desired needs are at the time.
Maurice Cherry:
Now let's kind of, you know, change it up here a little bit. We've talked a lot about your work, you know, your teaching as well. I do want to ask more about Dēmos, but before we get to that, let's learn more about you. I know you're currently in Brooklyn, New York, but you grew up in Miami, is that right?
David Perrin:
Yes. So North Miami Beach, to be specific. But I have a kind of a very roundabout story.
My parents are both from Jamaica. I wasn't actually even born in Florida, but that's where I spent most of my time. So born in Texas, moved to North Miami Beach, where I think I did maybe, I don't know, preschool to maybe the top of first grade. From there, moved to Michigan, spent a couple of years in Michigan, moved to North Carolina for a couple of years after that; each stop, like, averaging about three to four years, landing back in Florida, moving to the panhandle, going to the high school in the panhandle, going to college down in Fort Lauderdale. I spent some time in New York and all that. That mixture. And then finally moving to Brooklyn, where I'm at now. So that's just a little bit of that journey.
My background as far as a creative kind of started in first grade, drawing dinosaurs and things. I was really involved with Jurassic Park and stuff. Then kind of moved on to Dragon Ball Z, anime, all that stuff. In high school, when I made it back where I made it to the panhandle, I went to a collegiate high school where I was basically taking collegiate classes with college students. There I was able to kind of dig in on artwork in a very specific way, right? So I'm doing live paintings and live drawings with models and sculpting, taking guitar lessons and all these things, kind of almost making up for some of these moves, right? I moved around a lot, so I wasn't able to really hone in on the artistic side of me until I had a couple of years at this collegiate high school where I was able to kind of lean in, more specifically.
Graphic design really doesn't start to take, I guess, even a role until I moved to Fort Lauderdale for college, where I'm studying accounting, of all things. And I was kind of doing that in the background. I was a part of a fraternity. I'm making flyers, diving in photoshop a little bit, but not that much. And then eventually after college, I worked in nonprofit worked on the nonprofit side in accounting for a little bit. I told my parents straight up after college because they're Jamaican. So they're like, "hey, you got to be a doctor, lawyer, business…something." Like, you got to make it make sense type of thing. You know what I mean?
Yeah, I told them after a couple of years of doing the accounting thing, I just said "the arts." I was like, I don't know what it's going to be, but I'm going to be in the arts. And so I think around the time of maybe my second year of working in accounting, my sisters were getting ready to go to SCAD. They had made the jump, right? So they went to UCF down in Orlando, and then they wanted to go to SCAD. And they kind of propelled me. I'm like, well, they get to go to art school. I'm the bigger brother. I'm like, I want to go to art school too.
So I start doing some research. SVA is high on that list. I decide kind of then and there, I'm moving out of state. I'm going to New York. I create this portfolio, like, to this day, it amazes me because, like I said, I don't have the most artistic background. Like, I'm drawing, I'm dabbling, doing little things here and there. But yeah, I cobbled together this portfolio for them of these sketches here and there, and some of these Photoshop files and things that I made along the years, and they accepted me.
And so, yeah, right after the acceptance, a buddy of mine was heading up to New York. His parents were moving up there. I moved up there with him, and I started taking night classes, continuing it at the School of Visual Arts. So by day, I found an accounting job on the nonprofit side. Again, by night I'm at SBA taking classes and things to try to make ends meet. But also with this battery in my back of "I need to make it," they were very upfront with me when I got to SVA. They were like, "hey, you have a cap. You have a financial cap, and so you have a limit as to how much government support you're going to get." I think I had my back up against the wall kind of going in, and so I felt like really, really had to make it. But I also knew that from early on that I wanted to get into social justice work or work that's community based. The commercial thing really wasn't clicking for me, even in my early inceptions of learning about graphic design and typography and all the things a lot to think about.
But that was kind of like the early beginnings of design for me and school and everything. Fast forward and I eventually make my way to Dēmos, where I'm working on all these issues pertaining to racial justice, voting rights, I'm blanking on climate change, all these different buckets of work, and then eventually make my way to Ford. That's the long…that's the abridged version, but yeah, here we are.
Maurice Cherry:
So I saw, you know, and that you kind of — I guess, I don't know, maybe skipped over this a little bit — but we can talk about it. I mean, you freelanced a bit in 2015 and 2016. And then after that you were working — this is before Dēmos — you were working at AMC Networks as their lead graphic designer. How was that experience? Because this is before you sort of went into the nonprofit space with Dēmos and now Ford. What was it like at AMC?
David Perrin:
Early beginnings was cool. I get to work for a big brand, right, and I finally get brand recognition. Brand recognition is such a big thing in the design community. It's really like who you work for. If you don't work for a big brand or something, it's like your social capital is really low. You know what I mean? So I felt I got to kind of finally step into that a bit. And so, yeah, early stages of that job was really cool. But things started to kind of turn for me around, I think, like 2016, a little before 2016, just seeing how the politics kind of permeated through the workspace.
Early start's great, met a lot of great folks, learned a lot. Working with a big organization of that size being able to kind of dabble in between different channels and meet people from different teams and things. It's a full on learning experience. But like I said, toward the end, I had to make a change for my own moral benefit.
Maurice Cherry:
Yeah, I figured when you said "it was cool"…that sounded a little bit loaded. I was like, okay. I think sometimes you have those experiences where you hope it's going to be one way and then they're kind of just throwing everything but the kitchen sink at you, especially if it's at a place like you said, that has that name recognition.
I can say this now because I don't work there anymore, but back when I worked at Fog Creek Software, which later became Glitch, Glitch was sort of known, I think in the 2018 to 2020 space, as being like this really progressive software company that's sort of doing these things. But internally? Whoooo! I mean, I had several different titles. I even had personal slights with management. And then I became management and then they didn't want to train me as a manager. There was like a lot of stuff that happened. I mean, I don't want to go too much into it, but I mean, also, I'm not a big fan of really trashing places where I used to work. I mean, it's in the past, like move past it, but I know what you mean because sometimes that name recognition does mean a lot. I mean, it's something that I think now people are even finding out, especially if they've been laid off in the past year from a company that used to have better reputation. Yes, I'm talking about Twitter. They might be finding it a little difficult, I would say probably in the market to maybe get placed somewhere because that name now has I mean, despite the work that they might have done there, the platform is almost in the dirt at this point. So, I don't know.
It's a tricky thing, I think, for designers, especially with career mobility and trying to make sure that you're doing work that is important, that means something to you, but then also unfortunately means something to other people once you get out in the job market again.
David Perrin:
Absolutely.
Maurice Cherry:
It sucks. It absolutely sucks. I just want to put that on the record. It sucks.
So after your AMC experience, you start at Dēmos. How did you find out about them? I mean, I'm sure you probably knew about it just in terms of general consciousness, but that's a big shift from something like AMC to nonprofit.
David Perrin:
I think at some point, like I said, 2016, it's like I made a pledge to myself, right? I was just like trying to manifest it was before I even knew what social justice meant. Organizing. My view of that space was still tied to places like the NAACP. I did the NAACP Youth Council growing up. And so I'm thinking, "man, I can't get a job in this. Like a design job."
Maurice Cherry:
Yeah.
David Perrin:
My view is just so small, and so I'm applying around. I'm on these job boards. I applied to Dēmos twice, right? They took a while to get back to me. I think just because of internal processes and things like that manifest. I manifested it, it happened, and I ended up there. Everything else in between, I have no idea. So I really thank my lucky stars on that one. Trying to listen to a kid like me in my pitch to get into the space because, yeah, none of my work really reflected that. I'm coming off of entertainment, right? So how does this translate into that type of thing? So happy that they took a shot on me.
Maurice Cherry:
And, I mean, it sounds like it really paid off just for you in terms of solidifying yourself in this particular realm, because now you're at The Ford Foundation. So clearly your experience at Dēmos must have been pretty transformative.
David Perrin:
Me being the lead, the only designer on the team, I got to experiment. Shout out to my director at the time. She really let me spread my wings on what was possible kind of under the organization. We just got a new president. We just redesigned the website. I kind of used that as, like, a proxy to pull new fonts and new colors into the new body of work. I used that kind of like the template to create what our reports would look like moving forward and what art might look like on the site. I kind of just hit the ground running. Folks just let me know they saw one collage. They were like, "oh, this really resonates. Let's do this again." And it was just kind of like rinse, wash, and repeat. And I felt like a lot of the stories that we were telling, the organizations that we were uplifting, the communities that we were talking about, really internally, for me, really embodied the work that I wanted to be doing. So I was really appreciative for just having so much floor to experiment, just really build up this tool of collaging and talking about the work in a way that I feel kind of brings people to the table.
Dēmos can be wonky at times in how they put out their reports, right? They crank out these lengthy 10-page, 15-page reports and things. But, yeah, you want to bring folks into the room and bring it to the table and everything. So I felt I was able to do that with what was them and just rich copy. I mean, we're talking about really good research that's done, so things based, in fact, organizations based in reality. And so, yeah, it just kind of gave me a firm leg to stand on. But I did at times miss kind of the allure of an AMC or a bigger brand, right? I feel like I'm working on all these things for an organization that maybe didn't have the biggest digital footprint out in the space, in the nonprofit space, in the organizing space, think tank space, they are pillars. But outside of that, it's kind of like (sighs). But love the work, though, nonetheless.
Maurice Cherry:
And a lot of your design work has this basis in social issues, which it sounds like is definitely something that's really important to you. You mentioned 2016 being sort of this nexus point for you. Why do we need more designers in the social justice space?
David Perrin:
Well, because of the work. The work is we are talking about communities that are on the margins, right? We need folks that represent those communities in this space because I think the work presents itself very differently. You know what I mean? And so, yeah, when you're not attached to these communities, I think you're detached in a way. And yeah, I feel like these opportunities should be given to the folks that, again, are from these spaces, that are speaking to these spaces.
Sometimes that's often not the case. Some of these jobs are low paying. I'm also going to advocate for more pay for nonprofit designers. I'm also going to ask for more of a leadership track or a track to leadership in the design space on the nonprofit side. Yeah, designers are kind of left out these conversations, right? And we're such a big and pivotal part of the work and how it's represented outside of the organization and into these spaces. Using Dēmos as an example, we're making work to put in the hands of policymakers. So like, it's transformative, right? You've got the right policy into the right policymakers hands. I mean, you know, government is slow, but you just don't know what can happen putting these things in the right hands and stuff. So really important work across the board.
I do want to see more BIPOC designers like instance in the space and also being able to maintain a life in this space. I don't think it's temporary, right? Like, we love this work just as much as everybody else. We definitely should have more of a space to live a sustainable life, to create this work over time, you know what I mean? I should be able to retire, working on the nonprofit side, that type of thing. And everybody else should too. Making a huge push for that, for the grant makers, the foundations, policymakers, whatever, for them to really create that budget line item when you're creating those grants, like, really try to build out more of a creative team. I'm advocating for designers, but more creatives that exist in the space. There's a lot of people that want to do a lot of great work again, [they] deserve to make a living.
Maurice Cherry:
Yeah. And to your point, they deserve to retire too.
David Perrin:
Absolutely. 1000%. Yeah.
Maurice Cherry:
I had Cheryl Miller back on the show for episode 500. And I remember…I think we might have said it in the interview, but we definitely talked about it afterwards about how there's no retirement plan for designers. And I was like, well, I kind of get what she was saying, but I think in the grand scheme of, like, if you're a designer today, unless you work for, I don't know, maybe like a big tech company or something like that, you kind of end up going from job to job. Like, the life and career of a designer is not as structured as, say, a doctor or a lawyer or something like that, or even something more blue collar, like an accountant or something like that, where you could be somewhere for X number of years. I mean, I think just in our lifetime job security, to be somewhere for four or five years is admirable. Whereas my mom was at the same job from like '74 to 2016. It was an easy thing. And she worked in STEM, she worked in biology. But we were talking about how there's no retirement plan for designers, which really got me to thinking, what would it look like to retire? Would I just have to keep working and doing gigs until I'm dead? Or what does that look like? Which is morbid, but a reality. Especially like…I'm in my 40s, so it's a reality.
David Perrin:
Yeah. These are the things that I'm also thinking about, right? Longevity in design, resilience in design. And yeah, I want to figure out what the answer to that is sooner than later. It's not a magical thing. It's a process that should also be, again, rewarded with stability at the end of the day, just like everybody else.
Maurice Cherry:
Absolutely. What keeps you motivated and inspired with your work?
David Perrin:
I mentioned the Master's program earlier. I really want to teach. I really want to teach BIPOC students what this world looks like, the possibilities of a designer. Try to, again, just build a bigger, broader community of future thinkers. And so, yeah, I'm really just, primarily, I want to do this for this next generation coming about. I feel like my design journey? Happenstance, right? I mean, a lot of work, right? A lot of grinding, all these things. But, man, I would have loved to have even this book — "The Black Experience in Design" — I would have loved to have this at 16 or like an earlier age. Who knows what life would have looked like for me if I had just a couple more years? Just being able to get a better grasp of what design is, the possibilities. That's what keeps me up at night and wanting to really get to that space and just social justice in general.
2020, 2016, like the pandemic, like these inflection points, it really shook up democracy in a way to where you could, you know, scratching your head. Like, what does democracy even mean? What does liberation even mean in this country, specifically and abroad? Yeah. And what does that look like from a design standpoint? What are we going to do to kind of help maintain the steady rhythm of just organizing and getting people together. These are the things that I think about is what does the future look like for this space? How do we contribute to it? How do we keep it fresh? How do we keep feeding it and keeping it energizing and inclusive and bringing more people to the table and bringing them in? That's why I'm calling for more nonprofit designers to come into this space and share their expertise from all different points of life, because we need it. There's a lot of noise out there, politically and everything. And yeah, we definitely need the support.
Maurice Cherry:
Do you have, like, a dream project that you'd love to do one day? It could either be through The Ford Foundation, it could be a personal project…anything like that.
David Perrin:
Yeah. So through this medium of collage, I want to do murals. I see a lot of vector art murals, painted graffiti, all these things. I think of…I think his name is, like, JR. Artist. When I first came to New York, he had a lot of just big murals, right. With his collage work and everything. And so, yeah, we have a piece at The Ford Foundation. So that's been a dream of mine, is like yeah, to be able to do a big collage piece on, you know, one of these walls in the area. So I'm constantly driving around and being like, "man, like, a mural would look really good here." That type of thing. Also just more editorial work in general. I'd love to see my work in [The New York] Times or The Atlantic, that type of thing. So I'm kind of moving and grooving about. Yeah, I want to be able to kind of be on everybody's radar and be able to tell those stories for those publications and murals and things like that.
Maurice Cherry:
Where do you see yourself in the next five years? Do you think it'll be doing that kind of work?
David Perrin:
Absolutely. Yeah. I want to have a couple more of these Amadou books under my belt. We do want to make this a series. Yeah. Some murals and eventually, like, teaching. Like I said, I want to be at a school, ushering in that new generation of thinkers, communicators, and mentorship. I really want to give this stuff back to my community in a way that feels impactful and meaningful, and I want folks to come back around and ask me questions. I want to be the design elder. I'm putting that on myself, that type of thing. Anything I can do to just build my community up in the ways that I think are going to be positive moving forward in the realms of design, artwork, that sort of thing.
Maurice Cherry:
Well, just to sort of wrap things up here, where can our audience find out more information about you, about your work and everything? Where can they find that online?
David Perrin:
So I am on Instagram under my artist's name, @dpicting, right? So my name is David Perrin. So DP, right? So D-P-I-C-T-I-N-G. So using my first initials. And then I-C-T-I-N-G. So that's @dpicting on Instagram. I'm online at dpictingstudio.com. Also dpicting.com on the website. Yeah, I'm working on want to get an exhibition out there of my artwork. I'm working on After Effects as well, trying to create more moving collages and things like that. So that's a slow and steady process. So that's going to be coming. So show coming soon. Yeah, you can find all the updates and things on Instagram, on LinkedIn as well. I'm on LinkedIn. David Perrin. That's where I'm at. Right.
Maurice Cherry:
Sounds good. David Perrin, I want to thank you so, so much for coming on the show. First of all, I just love the work that you're doing at The Ford Foundation. The Ford Foundation already does so much great in the world, so much philanthropic work. And when I was doing my research and I was like, "wait a minute there's a brother that's leading all this." That's when I was like, I had to get you on the show to sort of talk about that. I mean, I think it was one thing, of course, it was great for you to talk about your history with working and doing design with social justice issues, but also kind of, I think, giving folks the opportunity to see that you can switch career paths and stay true to yourself. Certainly you sort of started out, like you said, doing this accounting work, and then you kind of wanted to work at a design place that had a big name. And then 2016 happened, which I think was a nexus point for a lot of people, not just designers, but a point to have them think, "well, how can my work make more of an impact?" And now you've done this work for Dēmos, you're doing this work for The Ford Foundation. I hope that others will hear your story and realize that this is something that they can do. Nonprofit is a space that they can go into and that they can often find success. So thank you so much for coming on the show. I appreciate it.
David Perrin:
Thank you so much for having me. Yeah, super overjoyed. Thank you.
Brevity & Wit is a strategy and design firm committed to designing a more inclusive and equitable world. They are always looking to expand their roster of freelance design consultants in the U.S., particularly brand strategists, copywriters, graphic designers and Web developers.
If you know how to deliver excellent creative work reliably, and enjoy the autonomy of a virtual-based, freelance life (with no non-competes), check them out at brevityandwit.com.

The BFA Design program at the School of Visual Arts consistently produces innovative and acclaimed work that is rooted in a strong foundational understanding of visual communication. It encourages creativity through cutting-edge tools, visionary design techniques, and offers burgeoning creatives a space to find their voice.
Students in BFA Advertising are prepared for success in the dynamic advertising industry in a program led by faculty from New York's top ad agencies. Situated at the center of the advertising capital of the world, the program inspires the next generation of creative thinkers and elite professionals to design the future.
School of Visual Arts has been a leader in the education of artists, designers and creative professionals for over seven decades. Comprising 7,000 students at its Manhattan campus and more than 41,000 alumni from 128 countries, SVA also represents one of the most influential artistic communities in the world. For information about the College's 30 undergraduate and graduate degree programs, visit sva.edu.