It's the most wonderful time of the year — the holidays! Save time on holiday shopping and check out our 2014 holiday gift guide! You're sure to find something on here for your designer or developer friends…and maybe a little something for you too. Click on each photo or store name to go directly to its respective item page.
Books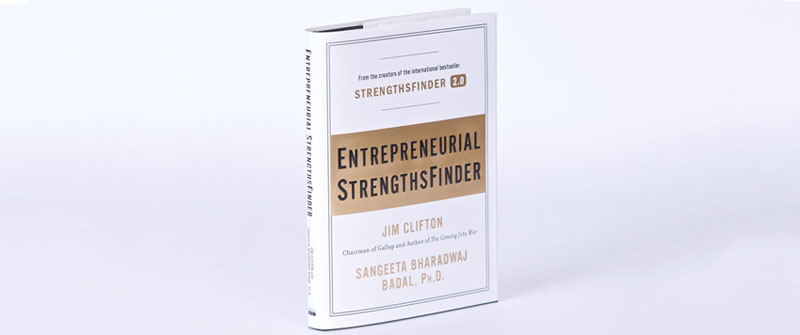 Entrepreneurial StrengthsFinder
A lot of us strike out on our own for independence and freedom, but do you know what your best skills are to ensure your business will be a success? This book includes strategies and action items for building successful ventures, as well as an online test to measure your entrepreneurial potential.
---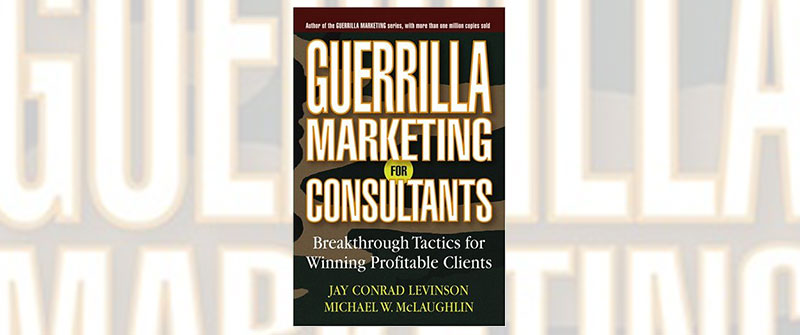 Guerrilla Marketing for Consultants: Breakthrough Tactics for Winning Profitable Clients
Jay Conrad Levinson has devised highly successful marketing strategies that rely on creativity, imagination, and energy — instead of money — to get the job done. This book brings these powerful tactics to consulting so you can communicate your value to clients and get the kind of gigs you want to have.
---
Logo Design Love: A Guide to Creating Iconic Brand Identities, Second Edition
Ask any logo designer out there, and Logo Design Love will probably be mentioned when they talk about books of inspiration. This second edition expands and updates the original text with more sketches, logos, client tips, insider stories, and practical information.
---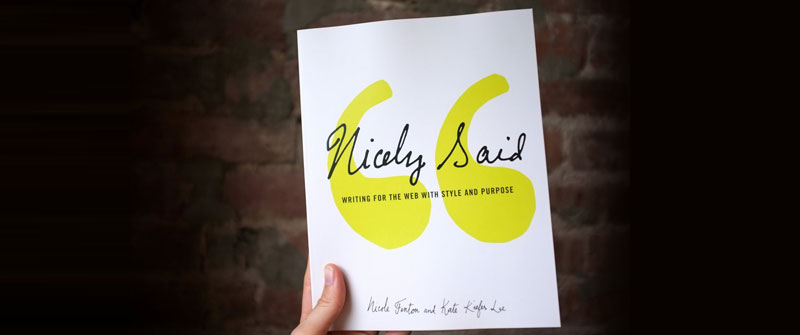 Nicely Said: Writing for the Web with Style and Purpose
You might be wondering why a book about writing is here. Well, whether it's microcopy for a client or the content on your website, writing is a skill that can help you immensely. I think you'll be surprised at just how much info is jam-packed into this book, and the authors make it easy to understand and approachable.
---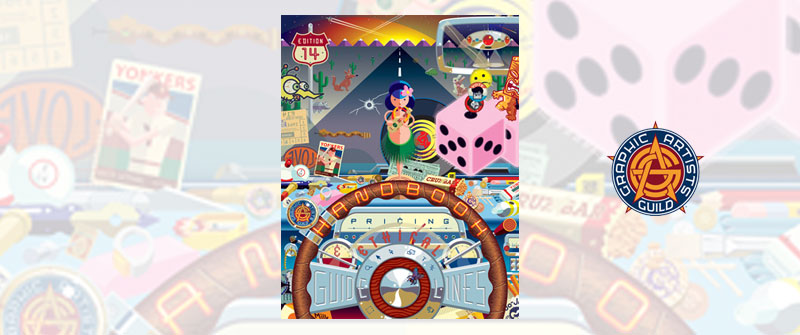 The Graphic Artists Guild Handbook: Pricing and Ethical Guidelines
Pricing is always a tricky subject when it comes to creative work. How much should you charge? What's fair to you and your client? How do you negotiate a good deal? Where in the hell do you find a contract that'll cover your ass?
This book is worth its weight in gold and can apply to several different industries — web design, app design, graphic design…you name it. This is a comprehensive resource that every designer or developer needs to own. If you don't purchase anything else on this guide, you need to buy this book.
(I'd also recommend joining the Graphic Artists Guild — you'll get the book for free along with webinars to apply the book to your business.)
---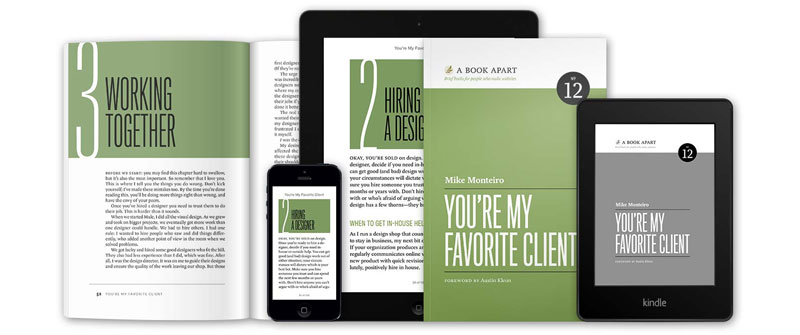 You're My Favorite Client
The relationship between designers and clients doesn't have to be frought with misunderstanding. Mike Monteiro's book arms you with the skills to educate your client on the design process, give proper feedback, and much more. If conversations with your clients are suitable for Clients from Hell, pick up the ebook version and get inspiration whenever (and wherever) you need it.
---
Web Services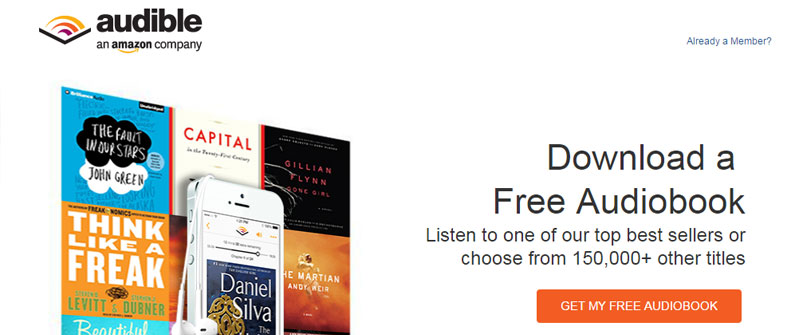 Audible Subscription
Audible, free 30-day trial and free audiobook
Audiobooks are a great way to digest information while you're working or during your daily commute. You might be surprised how many awesome books are available out there! Put some knowledge in your ears and check out Audible. With a library of over 150,000 titles, you're sure to find something you like.
Try out a free audiobook today along with a 30-day free trial! 'Tis the season for giving!
---
Education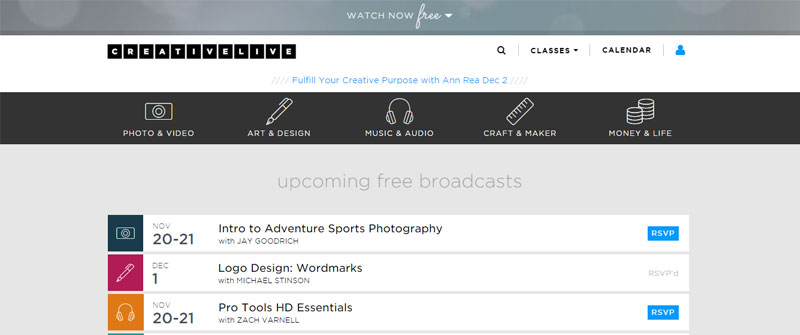 CreativeLive Workshops
Creativelive.com, free to watch live with recorded courses starting at $29
CreativeLive is one of the best kept secrets on the Internet. They air workshops 24/7 on a number of topics — business, money, design, photography, etc. — for free! If you can catch the live broadcast of a workshop, you'll not only get to participate in the classroom chat, but you can purchase the workshop at a discounted price and watch it anytime you like. Keep your eyes peeled for courses on sale!
---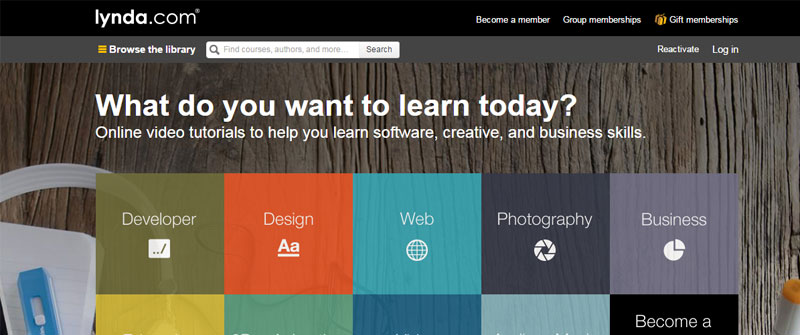 Lynda.com Subscription
Lynda.com, 7-day 10-day free trial, then as low as $25/month
When it comes to online learning for designers, developers, and business people, Lynda.com reigns supreme. They have over 3,000 courses with over 100,000 video tutorials! Several people I've interviewed have attributed Lynda.com as part of their success, and now you can too. Sign up for a 10-day free trial and get unlimited access to their entire library! (That's three more days than the usual week-long trial.)
What do you want to learn today?
---
Electronics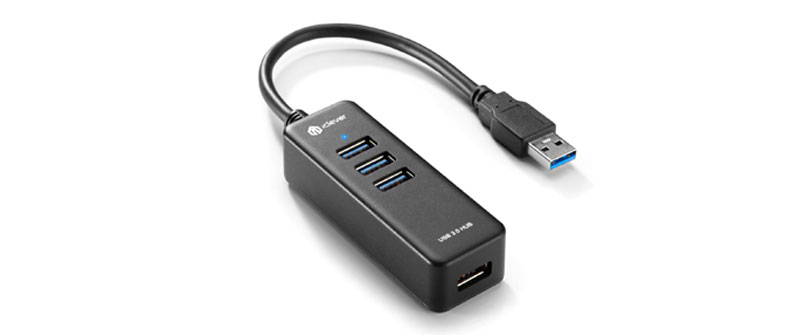 iClever 4-Port Superspeed USB 3.0 Hub
This little bugger is part of my travel tech kit, and it's been invaluable. Four USB 3.0 ports mean you won't run out of space for thumb drives or other peripherals, and it's small enough to stow in your pocket or bag.
---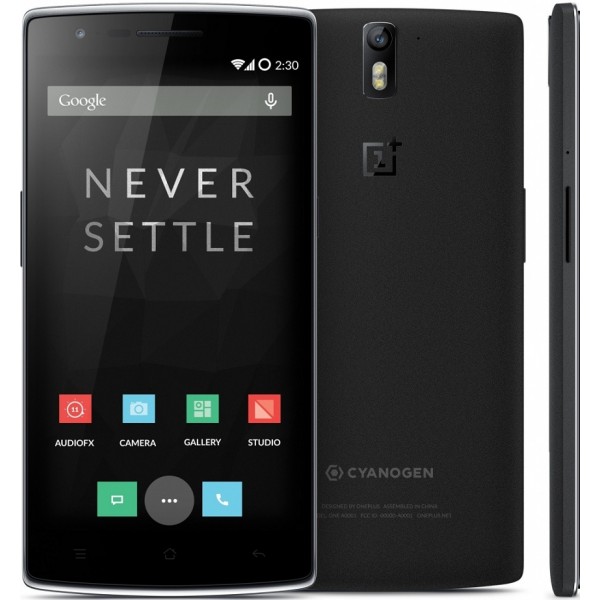 OnePlus One 64 GB Sandstone Black
If you're a gadget fiend, you've undoubtedly heard about the elusive OnePlus One phone. Snapdragon 801 processor with 2.5GHz quad-core CPUs, 3GB DDR3 RAM, 5.5″ screen, 3100 mAh battery, 13 megapixel camera back camera, 5 megapixel front-facing camera, 4G LTE compatiblity…simply put, this phone is a beast.
The invite system might make it a bit difficult to grab, but as a OnePlus owner, I gotta tell you…the phone is just as sweet as the reviews say it is. Did you get in on our invite giveaways last week? You should get on our email list and follow us on Facebook and make sure not to miss any future giveaways!
---
CanaKit Raspberry Pi B+ Complete Starter Kit with WiFi Adapter
The explosive success of the Raspberry Pi has been hard to ignore. This little microcomputer is being used by school children to learn the basics of computing, and by hobbyists who have been able to create amazing projects. This kit uses the new B+ model, and it gives you everything you need to get started — HDMI cables, a Wi-Fi adapter, a power supply, heat sink, a microSD card, and a case.
Need a project to get started? I suggest turning the Raspberry Pi B+ into a retro gaming console!
---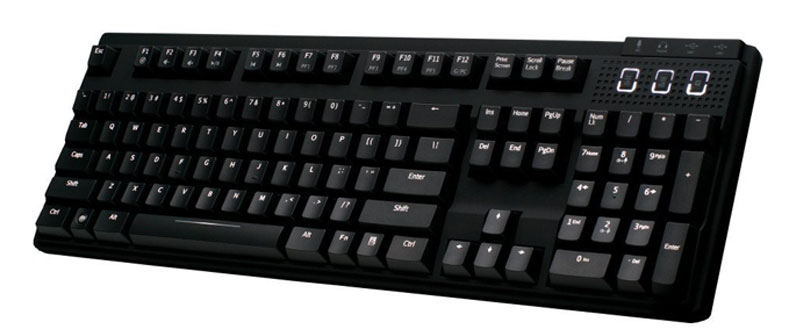 Max Keyboard Nighthawk X7 White Backlit Mechanical Keyboard
Why have mechanical keyboards gotten so popular these past few years? They're extremely durable with individual mechanical switches, they're highly durable, and you can give you keyboard a unique design with custom keycaps!
I recommend the Max Keyboard Nighthawk X7 because of the super clicky Cherry MX blue switches (I love that satisfying click!), and the white backlight makes it perfect for custom keycaps. The keyboard also comes with two on-board USB 2.0 ports — excellent for thumb drives or a mouse. If you do a ton of coding, writing, or designing, invest in some good hardware; you'll be glad you did.
---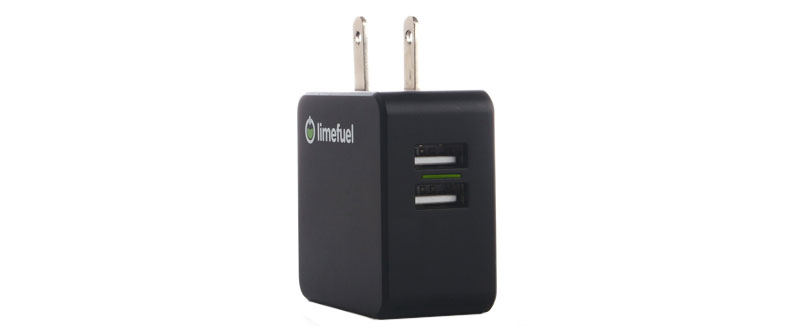 Limefuel Dual Port USB Wall Charger
"Didn't you have a wall charger on the list last year?" I did — the thingCHARGER — but the damn thing hasn't been released yet! In the meantime, this little wall adapter from Limefuel does the job (and then some). This is also a part of my travel tech kit, and it's got the power to charge two tablets at full speed with dual 2.4A output USB ports. All that power and it weighs less than 3 ounces. It's a great stocking stuffer!
---
Paper Goods
Customized Letterpressed Calling Cards
Stop using those el cheapo cards from Vistaprint and really stake your claim. Choose from one of the fourteen available designs, or supply your own design. These cards feel amazing, and the letterpress is a nice professional touch. $45 gets you 100 cards (in a few styles), and $95 gets you 250 cards. This is a steal!
Go on, treat yo self. You've earned it.
---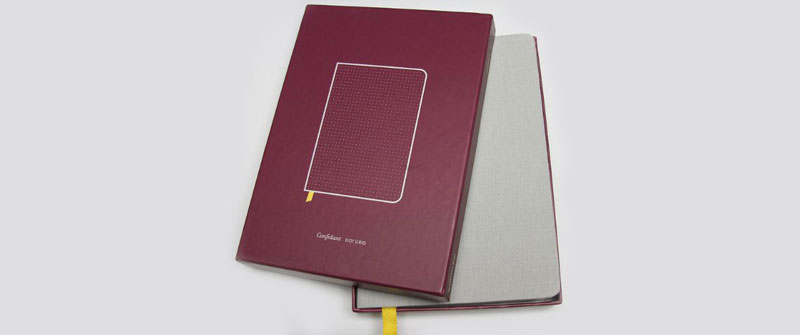 Baron Fig Confidant
The Confidant by Baron Fig seems like just another notebook, but the devil is in the details. The size is a little shorter than your average Moleskine, yet it feels perfect to carry around. It lays flat and has a grey cloth cover with a bright yellow ribbon notebook. It even comes in a nice form-fitting box! In a way, it feels like the anti-Moleskine (which isn't a bad thing).
Also, Baron Fig plants a tree for every Confidant sold! However, if you must get a Moleskine…
---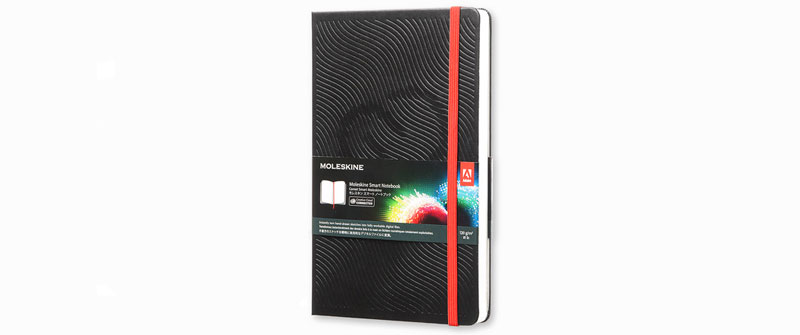 Moleskine Smart Notebook, Creative Cloud connected
The latest in Moleskine's Smart notebook series now works with Creative Cloud! Instantly turn your hand-drawn sketches into fully workable digital files. Draw on a page in this notebook, capture the drawing using the special Moleskine app, and your drawing will be converted to an SVG file which you can sync to use with Photoshop or Illustrator.
It's available now for pre-order and expected to ship by December 31, 2014.
---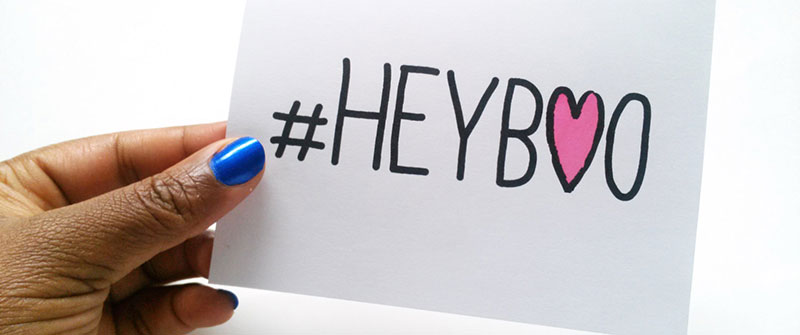 A card from AllyElleCards
Etsy, starting at $4
Greeting cards are a dime a dozen, but not these! Like the shop description says, "love isn't a Hallmark card, it's loving someone the way Kanye loves Kanye." As seen on Complex, MTV.com, and The Huffington Post!
---
Miscellaneous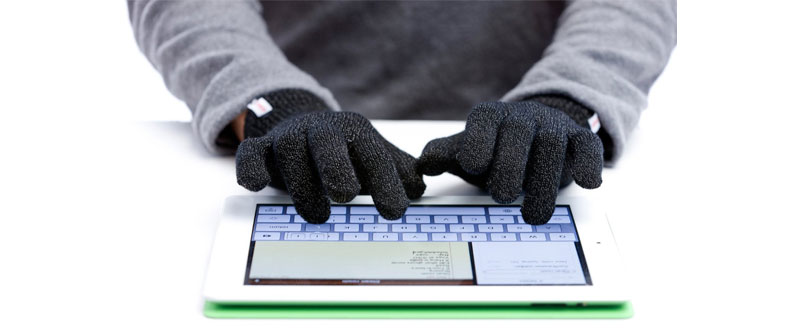 Agloves
It's winter, it's cold, and you need gloves. But you also need to be able to use your smartphone without exposing your hands to the arctic chill out there. That's where Agloves come in. With silver nylon woven all throughout these gloves, you'll be able to keep your hands warm and still fire off text messages or play Threes or whatever it is folks are playing nowadays on their phones.
---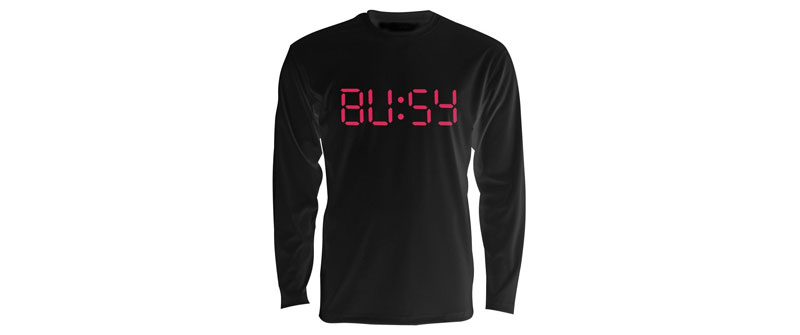 I'm BU:SY Long-Sleeved Tee [Black x Red]
I absolutely love the description for this shirt: "It's 3:45pm and you're having your first meal of the day. You've worked 56 hours this week, and it's only Wednesday. It's all good though. Stay BU:SY." That is me to a tee! And now you can get it on a tee!
---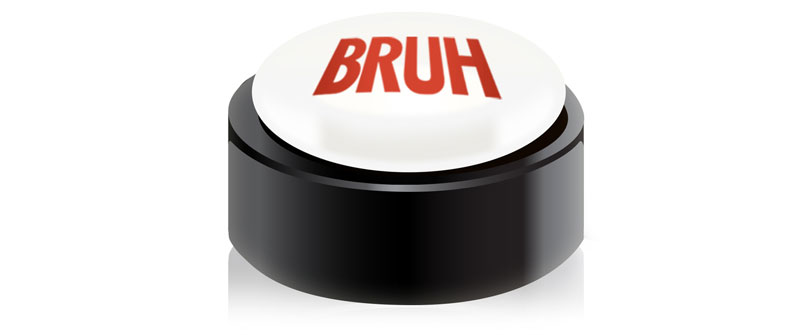 Bruh Button "Mini"
Unless you've been hiding under a rock these past few months, it's been hard to not notice the swell of the "bruh" movement. Even Know Your Meme knows about it! Granted, the word bruh is hardly new, but Joseph "Headgraphix" Headen has turned his pronunciation of it into a song, a ringtone, iOS and Android apps, and this handy little button. It's small enough to carry around in your pocket, but if you're looking for something bigger, upgrade to the standard size. Great for the office!
Oh, and there's one more thing I almost forgot!
---
A donation to Revision Path
We just had our 50th podcast episode a few weeks ago, and combined with the three dozen or so long form interviews, we'll be hitting the 100 interview mark soon. That's a HUGE accomplishment, and we could do so much more with your help.
It costs a lot of time and money to maintain Revision Path. Revision Path is for you, so if you've enjoyed any of the interviews or content we've brought you this year, please consider donating to keep Revision Path going strong. Thank you so much for your support!
---
Affiliate links are used throughout this Holiday Gift Guide, and buying items through them means Revision Path gets a small cut from the retailer. It's another great way to support Revision Path and pick up something nice!
---