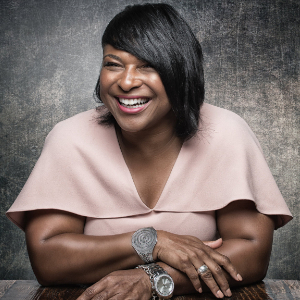 When you think of people who are masters of their craft, there's no doubt that Vida Cornelious would be part of that list. Her 25+ year career in the advertising industry reads like a who's who of agency titans — GlobalHue, DDB, Burrell Communications, Walter Isaccson…the list goes on. Now, Vida's latest role as VP of Creative for New York Times Advertising will allow her work to reach a global audience.
After a quick end-of-year check-in, Vida spoke about her work at the Times and the launch of their first ever creative franchise called "Soul of Us." From there, she talked about growing up in New Jersey and being surrounded by the arts, attending the venerable Hampton University, and dove deep into some of the campaigns she created over the years before landing her current role. For Vida, the importance of mastery is key to her success, and it's definitely paid off in a big way!
Transcript
Full Transcript
Maurice Cherry:
All right, so tell us who you are and what you do.
Vida Cornelious:
Hi, my name is Vida Cornelious. I am the Vice President of Creative for New York Times Advertising. I oversee all the custom creative and the operations of our content studio, T Brand.
Maurice Cherry:
What has this year been like for you so far?
Vida Cornelious:
It's funny how to answer that because as we all know, 2020 was definitely a challenge, and I would say 2021 has been a year of recovery in many ways, like coming off of that year, a year of reckoning so to speak. I just feel like there was a lot of emotions. It felt like 2021 was a time to heal, so to speak. Personally, I feel like I've definitely learned the meaning of resilience over the course of this year. And staying the course, staying focused has been my personal mantra in the workplace. As a leader, for one, I've really been trying to be as empathetic to my team as possible. I've really had to dig in and think about everyone is processing this whole upheaval in so many different ways, and in some cases loss. So I want to be mindful of that when I'm still trying to manage to the demands of the business. So yeah, that's what the year has been for me.
Maurice Cherry:
Are you already back in the office or are you still working from home?
Vida Cornelious:
No, we're working from home still, but we can go into the office as we choose. We haven't officially returned, but I go in probably two days a week now.
Maurice Cherry:
Okay.
Vida Cornelious:
Yeah. And so do some of the other people on the team.
Maurice Cherry:
How was it adjusting to that work from home life with being over, I would imagine, a pretty large creative team?
Vida Cornelious:
Yeah, it was a challenge at first to really think about the ebb and flow of how to make sure people stayed motivated. I also think there were fears that people may have had on the team thinking that their currency of not being able to walk the halls and talk to people and be seen was going to somehow affect their work and the perception of their work. But I think once we all settled into a groove of what needed to get done, just putting our heads down and understanding that, hey, this collaborative work style, being on Zoom calls, we can still brainstorm. We can still utilize one another to get inspired creatively. The work didn't suffer. We set a path and then drove full steam ahead towards it. So I would say that actually people found their own ways to be productive working from home and still maintaining a level of integrity and excellence with the work that I was personally looking for.
Maurice Cherry:
I talked to so many folks, I guess, right at the beginning of the pandemic, like spring going into the summer, and it was interesting because you'd have folks that were definitely seasoned creatives that were like, "Oh, I'm trying to adjust to how do I work from home?" Some people, for example, got a new job, moved across country, and then they may have worked in the office for two days and now you have to work from home in this new place that you just moved to. But then I also talked to graduates who had just started new jobs, and this is all they know, is working from home. This is their normal as it relates to doing a creative job is working from home and being a part of a distributed team, which I think is a really interesting shift.
Vida Cornelious:
Yeah, It's interesting you say that because I don't want to necessarily say it's generational, but for sure like myself coming up in the industry where it was very much about brainstorming and sitting in a room and hashing out ideas, you get very accustomed to the tactile nature of working with people face to face and sharing ideas back and forth, bantering back and forth with a partner and all that kind of thing. So the working from home could feel very isolating for some and feel like there becomes a little bit more writer's block, you feel a little bit more stuck because you want someone to bounce ideas off of or you want to be able to just have someone to dialogue with or talk through ideas. It doesn't feel as natural if you have to do that over a Zoom call.
Vida Cornelious:
But you're 100% right. I mean, there were people who obviously started new jobs during the pandemic where they never met anyone. So it is interesting to see you get a different perception of the value of the connection you make personally with people when you've had an opportunity to work with them versus just meeting them for the first time in the square on the screen.
Maurice Cherry:
Yeah. I mean, I think for all of us it illustrates just how my much we have to do during the day, especially if you're just at home working by yourself and you don't have those moments of comradery of just talking to someone for a few minutes and then getting back to work. You realize just how much you have to be focused on getting the work done. Not saying people slack off at work, but people slack off at work. But that's also part of the creative process in a way.
Vida Cornelious:
Right. Exactly. I used to make a joke that everybody… For folks who were smokers, it used to be a thing those people to go downstairs, have a cigarette break. If we add up those breaks, that was like an extra hour [crosstalk 00:08:39]. But now it's funny because working from home, I'll be honest, hey, in between a meeting or two, of course I'm going to go throw some clothes in the laundry, you know?
Maurice Cherry:
Yeah.
Vida Cornelious:
And I'm going to clean up my kitchen or something that I neglected doing. So there do become these moments in the day where you can woosah, I guess, take the pressure off slightly for a moment and take your mind away from it and then come back. But I still find that for the most part, my experience with my team has been that people are very productive and responsive, which is great.
Maurice Cherry:
I mean, it also sounds like you allowed them just the grace to just acclimate themselves to the situation, you know?
Vida Cornelious:
Yeah, I mean, the hardest part about the pandemic for everybody was just trying to figure out, and I hate using the term new normal, but what was going to just be their way of operating. I don't have children, but I felt for people who had kids at home who were trying to figure out how to homeschool and still be attentive at work but having very restless children at home that didn't understand the whole scenario of not being able to go to school or see friends or having their own emotional meltdowns of sorts. And that was a lot. That was a lot for people to process and deal with and also just trying to deal with how out of work and be productive. For sure, we saw it in the real estate boom where people just literally realized, especially living in New York, raising a family in a one-bedroom or two-bedroom apartment just wasn't the move anymore. [inaudible 00:10:11] ran to the suburbs. Of course, we saw that.
Vida Cornelious:
So that, I think, is also a manifestation of how the pandemic just changed all of our perception around the value of work and how that balance between work and personal has to be reevaluated.
Maurice Cherry:
Yeah. Let's talk some more about your work at the New York Times. What's an average day like for you?
Vida Cornelious:
The day is, well as we just said, I mean, it's definitely full of Zoom calls, I would say a pretty steady stream of them from 9:00 to probably about 6:00 PM. But for the most part, I feel like right now the majority of what I'm doing is a tremendous amount of work around new initiatives, product development, working with our newsroom on any types of brand collaborations where appropriate or alignments. But the team has really been delivering some imaginative custom content. I oversee all of our creatives, so working with the team on what those creative franchises are or brand stories and collaborations we're doing. So I'm really excited about that.
Vida Cornelious:
I mean, an average day definitely is meeting with my direct reports, tending to operations type needs, making sure that there's a full outline of what we're trying to accomplish with regards to a certain number of RFPs or making sure that a program is launching or we are doing recruiting. So it varies in the course of a day what I have to turn my attention to, but I always try and make sure there's a very nice chunk of my day committed to creative endeavors. I would say if I had to break it down, probably 65% of my time is something creatively motivated, and the other 35% of my time is operational.
Maurice Cherry:
Speaking of projects, there's a project from the Times that you were a part of or oversaw called Soul of Us. Can you tell me some more about that?
Vida Cornelious:
Sure. I'll start by saying as an overall philosophy of the creative team and T Brand, we adhere to what we call our storytelling commitment, and it's how we really keep diverse perspectives at the forefront and pursue representative storytelling in everything that we do. There's been a few programs that actually are great manifestations of this passion for diversity and inclusion, Soul of Us being one of them and probably the primary one. And it is a creative franchise that was created by T Brand really to expand the narrative around all aspects of the black life in America that are rarely portrayed in the media. What I mean by that is it really is a franchise that we are crafting and collaboration with brand partners to give voice to black creators to tell stories of black love and joy and success and beauty and pride and wealth and empowerment and progress. The more brands that join us, the more chapters of this story we will unfold.
Vida Cornelious:
The reason we do it is because at the time that Soul of Us was concepted, there was so much narrative around Black Lives Matter and the opposite side of that coin of like, "Why should a black life matter? All lives matter." We saw a lot of that. Soul of Us was a way of saying, "You know what? The only way to help people understand why a black life matters is to really show them what a black life is." And more of black life is it's beyond the narrative that we've seen which is the narrative around disenfranchisement and struggle and the fight for equality. There's so many other aspects of black life that media doesn't really portray. So Soul of Us was an opportunity to expose some of those more nuanced, beautiful stories in a way that shows that black life really is rich and full and robust and worthy of a narrative larger than just what the media has currently shared. So that was the impetus behind that franchise.
Maurice Cherry:
I like that it's called Soul of Us. Well, I think if someone were looking at it and not really thinking about it as us, it could also be seen as like Soul of US, like Soul of the United States. I remember reading through the press release and it was mentioned that it's about helping brands elevate the conversation of representation in America. I know that's during that last summer when there was so much going on in the streets and, of course, that spilled over into the board rooms and such, theoretically speaking, because nobody really was in board rooms because of the pandemic. But companies were now starting to get in on this conversation around racial equity and what does that mean for us and this individual business. Like, yes, there's what's happening out in the streets in terms of protesting police brutality, but our black employees, unfortunately, they suffer from that as well. They have to inherit all of that trauma and that pain, and they have to bring that to work.
Maurice Cherry:
I think it was really good that companies were starting to try to, at least in some small way, get in on the conversation even if it seems like it was just a fleeting thing. I remember seeing now how a lot of companies have faded back from that initial talk about it, but I think it was good to see it when it happened, certainly.
Vida Cornelious:
Right. Yeah, I mean, there were a few brands that misstepped, and it felt as if it was a passing fancy for them or something that was a trend to get in on at the time. The things that we really wanted to make sure, as we put this franchise out in the universe, it was to make sure we were letting brands know, "Hey, this is an opportunity for you to join us in telling these stories on a narrative. It's not for the purpose of you being able to rectify any wrongs that has been done in the past by your brand, but rather to support what should be a part of your mission. So if your mission is, say, to put out products for the betterment of families, then let's tell stories of why black family is important. You can support that, that's already in your DNA."
Vida Cornelious:
We were very specific about the type of brand partners and collaborators we were looking for as a way of helping us bring these individual chapters or narratives, if you will, to life. It wasn't as if we were looking for inauthentic connections. We legitimate connections to the black community, to black storytelling, and we wanted brands that supported that because it's work that they're already doing.
Maurice Cherry:
One of the most interesting parts I noticed throughout the project is that even the typeface that was used, the halyard typeface, was done by a black designer. That was done by a black typography designer, Joshua Darden.
Vida Cornelious:
Yes. Yep. Absolutely. Every contributor we've used on the project and was very intentional, and that was part of it, was to elevate not just in the storytelling but elevate black voices and creators. All of our illustrators, typographers, photographers, designers, writers are all black contributors to the project. We have a hub, which is where you can see the work, and within that hub, there is a page of contributors. So it's very clear. You can read each of those persons' bio and have a better understanding of why we wanted to partner with them, why we work with them, the passion that they have for what they do. And that was important to us as well, to make sure that those were the voices that were elevating these stories.
Maurice Cherry:
How has the project been received so far?
Vida Cornelious:
It's been fantastic. I mean, we have had quite a bit of press around it. Our inaugural partner in the effort is Starz, the network, and they told with us stories of black leadership. What we explored there was the journey and the pathway to how leaders are made in the black community when it starts from childhood, those moments of affirmation where you're basically told or you've been taught things like, "I am somebody," all the way through college where you maybe are a part of your first taste of being a part of a black student union or a fraternity or sorority, all the way to the boardroom, where you could find yourself being the only person of color in an organization but you have to walk into the room with the same premise that Maya Angelus taught us, which is, "I come as one, but I stand as 10,000," right? So knowing you have to bring your ancestral strength with you in order to be effective. We explored this journey of leadership in partnership with Starz because they have an amazing program called Take The Lead, which is all about creating space for black leadership and creators to emerge in the entertainment space. So it was a perfect alignment in that way for us to tell these stories together.
Maurice Cherry:
Did you have a favorite story from the project?
Vida Cornelious:
Yes. From this first go-round, I think one of my favorite stories was about a teacher in Philadelphia who has taught her students a mantra called Push Through, and it was really great. We used some of the actual soundbite of her doing the affirmation with her little second grade and third grade class, which they do every morning. That was a part of the pay post, so it was wonderful to be able to actually use the actual audio of her doing the affirmation.
Vida Cornelious:
But I also remember myself as a child, your own parents telling you things like, "You have to be smarter. You have to be better. You are somebody." There were so many ways that your family would teach you these little affirmations basically to help you know that you were going into the room strong and that you had a right to be there. And whether you knew it or not, in first, second, third grade, that's essentially what was being instilled in you. So seeing someone, a young woman doing that today for this generation of children, it just kind of warmed my heart and the writer's heart that worked on it when we discovered her.
Maurice Cherry:
Where do you see the initiative going next? I know you mentioned Starz being the initial partner. Are there other companies lined up that are going to talk about other stories as well?
Vida Cornelious:
Yeah, we do. We have quite a few partners out there, collaborators, brand collaborators that are looking at proposals right now and how we can align with them on their efforts. I think if we're successful, we'll have a chapter about black progress and wealth. That gives us an opportunity to talk about things like the black elite or how people have created whole communities around going to the vineyard and what that whole lifestyle is like and the bonds that tie those individuals together. It gives us an opportunity to talk about home ownership and some of the famous neighborhoods that were inhabited by or created by black wealth, things like Striver's Row in Harlem and how that was a bustling place of economic development and empowerment for blacks. So that could be an angle that we have. Another brand that we're talking to would allow us to explore stories of black beauty. And last one would be about black family. Hopefully, if those brand partners come on board, that becomes three more chapters right there that we would be really happy to see come to fruition.
Maurice Cherry:
That's awesome. I'd have to say it's especially awesome seeing it come through such a large imprint like the New York Times. That's really great.
Vida Cornelious:
Yeah, it's amazing.
Maurice Cherry:
When you look at your work, not necessarily with this project, but at the New York Times in general, what would you say is the hardest part about what you do?
Vida Cornelious:
I really don't find there's necessarily a hard part, but I do feel as though one of the things that, I don't know, I'm always just so fascinated by is there's just so much richness of storytelling at the New York Times. In my world, I feel like my responsibility is to just make sure that the work that the team is doing on our side, on the business side of the house, if you will, is befitting of sitting alongside that superior journalism. We want to make sure that we are continually rising and upholding the standards that we know that the Times is so famous for and so respected for. So we want to make sure that the way we do our custom creative work and supporter brands is indeed living up to that same standard and expectation. So I would say that's probably the hardest part because there's so much amazing journalism and innovation that comes out of the newsroom every day. It's just a matter of our team just keeping up with it, if you will.
Maurice Cherry:
Let's switch gears here a little bit because I want to know more about your origin story, how Vida became Vida. Tell me about where you grew up.
Vida Cornelious:
I'm a Jersey girl. I grew up in Neptune, New Jersey, which is a town on Jersey Shore. One of five girls, no brothers. Mom and dad both professional people. My mother, she sang at the Met when I was a kid. She took opera. She's sang in college and took opera lessons and developed her voice and sang as part of the chorus at the Met when we were kids. So I got introduced to the arts and the fine arts early in life. I had an older sister who was amazing painter and just as part of just a hobby, I guess you could say. But there was always some artistic pursuit going on in my house when I was growing up. My dad was an engineer, so he was a solid, science, math person, so I guess that gave us a certain amount of well-roundedness. It wasn't all artsy-fartsy in the house, so to speak.
Vida Cornelious:
But growing up, it was fun. I mean, I felt like my family was very supportive heavily into seeing us be comfortable with our education, pursuing our passions. So I never felt like I wasn't able to explore what an artistic endeavor would look like. I had no idea that it would turn into a career in advertising. I was just a kid that just loved drawing and painting and doing things that felt creative me, right? As I got older, going off to college was about having an opportunity to pursue art as a major in college. My parents weren't so fond of me going to somewhere like Parsons or Pratt. We went up to those schools, I got in, and they saw one moment in a dorm where the kids were running around and was like co-ed, they were like, "Forget it." It didn't seem strict enough or whatever you want to call it. So they didn't like that as a pursuit for me.
Vida Cornelious:
But I was able to go to Hampton because that's where my sisters had gone. So there was a little bit of legacy there. So I went to Hampton, but I was still able to pursue art. At Hampton, I got a great background in education in… at the time, it was called commercial art or graphic design. I thought I was going to eventually come back to New York, come back to the East Coast, and go work in New York and design album covers. That was my big plan. But I had a professor who basically told me, "No, you need to pursue advertising. You have ideas like an art director." I was like, "What is this mystery career?" I'd never even heard of being an art director. I didn't know what that was. He explained to me, you know, "You make commercials. You make print ads. You take great trips. You go and stay in hotel for weeks at a time while you shoot a commercial." I was like, "This sounds like a dream job." I had no idea.
Vida Cornelious:
He was like, "Yeah, you need to go to graduate school, really work on your portfolio because right now your portfolio is strictly design. They need to see you can think about ideas. You need to be able to craft ideas." So I pursued going to graduate school. At the time, University of Illinois was one of the better schools for an advertising degree. Now, it wasn't advertising creative like what we now know of, say, schools like The Creative Circus or Portfolio Center or VCU Ad Center, those schools came much later. But at the time, University of Illinois had a very solid program in terms of you getting a master's in advertising, so that's what I did.
Vida Cornelious:
I was able to go there on a scholarship, which was great for me. I had a wonderful batch of teachers who I was kind of the guinea pig of the kid who wanted to do creative, but there wasn't necessarily a specific creative track in the graduate program. So they kind of mashed up a few classes for me in addition to the required classes in order for me to get my master's but still get a creative portfolio coming out of it, so it was really good. Did some internships while I was there. But I definitely feel like probably the biggest thing I learned at University of Illinois that as a black woman in this industry I would later come to find out was pivotal for me, was my scholarship required that I teach undergraduate students. I taught two days a week, and it was brutal because I had to teach myself the class before I could teach them. I had to teach myself the material and then teach the class.
Vida Cornelious:
But what it forced was me basically presenting a couple of times a week, like getting up in front of a lecture class and talking and presenting. So what later on in my career I would realize is that that the groundwork for me being able to really feel comfortable presenting. And as a creative person, that is one of the things that will make or break your career, is your ability to present your ideas and be confident in presenting your ideas and being a storyteller. I really, really value that experience for that reason more than anything you.
Maurice Cherry:
Yeah. Let's go back a bit to Hampton, because I know you mentioned you had sisters that went there, so there was some sort of form of legacy for you going there. What was it like going to Hampton during that time? Because I'm imagining this is around the early nineties when there was so much… And maybe I'm just remembering this from back then. I felt like there was a lot of, not hype, that's not the right word, excitement, I guess, around attending HBCUs. You had the AACA sweatshirts. It felt like there was this really big push on graduate and go to a black college because it's lit.
Vida Cornelious:
Yeah. Yeah, I would agree with that. I mean, you used to have all the bootleg shirts like, "Hampton, just do it," with the swoosh. I'm sure that the licensing department at Nike would've been very upset to know that there was a whole string of t-shirts that you could buy in a variety of colors with their logo on it, but we had all that stuff going on. You're absolutely right because at the time that I was at Hampton, A Different World was on television. It was literally like we would all run back to the dorm and watch A Different World, and it was almost as if the writers of that show had been on campus. It was like they were writing about our lives literally, and we were looking at it in real time.
Vida Cornelious:
We had a munchy shop where everybody went and hung out, a little campus grill. We had the step shows, we had the Greek life. I don't want to call it a golden time, but it was definitely a fun, vibrant time to be at a HBCU. For me personally, I did pledge Delta Sigma Theta-
Maurice Cherry:
Okay.
Vida Cornelious:
… and very proud of that. And so that also gave another layer of texture to my college experience because, of course, pledging a Greek letter organization on a HBCU campus is probably as HBCU as it gets. That is like the quintessential experience. But yeah, having sisters there, my mother went to Hampton, it was definitely a school that I was very familiar with. So I felt like I was in very familiar territory in going to school there. The school itself in terms of how it was run, everything you've probably heard about HBCUs is fairly true. There was curfew. You weren't able to be out if you were a freshman after a certain time at night. There were all kinds of superstitions and things like if you walk across Ogden Circle you won't graduate. Those are all parts of the culture and just the narrative of what made the school so great.
Maurice Cherry:
Yeah. I went to Morehouse. I mean, I was a teenager during that time sort of watching… Well, I was a kid becoming a teenager during the time when A Different World was on. And then there certainly was this big push to go to a black college because, one, at the time, my mom worked at a black college, she taught biology at a black college, and she graduated from black college, she went to Talladega University. So there was no really other choice. I applied to other places, but the huge implication was that, "You're going to a black college."
Vida Cornelious:
Right. Right.
Maurice Cherry:
End of story. So I know what you mean about you get on campus and you learn all these mythologies and superstitions and things like that, but I mean, it's such a magical place. And then the fact that you were studying design there, back when we had a blog on Revision Path, I remember we did a whole thing about Hampton's Design department and how many people they've graduated that went on to do great things in the industry. So Hampton has a really rich legacy of generating black designers and artists and folks like you. Really, that's amazing.
Vida Cornelious:
Yeah. I mean, I'm very proud of the fact that we got some exposure to some amazing artists at Hampton. I mean, John Biggers painted the mural in the library and all of us that were students at the time got to assist him because he was the artist in residence. And Hampton's museum has some of the most… They have an amazing collection of black artists that's been curated. I feel like the art program, the arts has always been something that Hampton respected. I just remember it was like people would look at the art students because we all walked around with our little plastic cases, our little art bin cases. Our classes were over in Armstrong Hall, which was sort of out of the cut, but it was where the… What do you call it? The pottery studio was, and that's where the architecture students were. And that's where all the open loft live drawing classes were. So it was such a mystery to all the rest of the student body because we were like the kids that were in there creating. It was a good time though. It was definitely a good time to be at a school like that.
Vida Cornelious:
I feel you 100% because I went to a summer program at Princeton, they pursued me coming there, but I don't know, there was just something… I mean, it was Ivy League, I probably should have differently about that, but I really felt like Hampton was home in some way, so that's where I ended up.
Maurice Cherry:
Going back to University of Illinois, you graduated in '94, you left grad school, what was the next step? What were those early post grad years like for you?
Vida Cornelious:
When I was in grad school, I ended up having an internship at Uniworld in New York, which was a great experience, worked with some amazing people there, learned from some wonderful people. Valerie Graves, who is a legend in advertising was my boss at the time when I was an intern, so I learned a ton from her. They offered me a job after school, but I really wanted to go somewhere else because I felt like I would be forever the intern, just that psychology. I ended up getting an offer from their competitor at the time, which was Burrell Communications Group.
Vida Cornelious:
So I got very fortunate in that coming right out of graduate school I was able to land a job pretty easily. I had it in my mind that I was going to be like Angela from Who's The Boss? I had a suit, I had the big portfolio case. I had no idea what the ad world actually looked like. My whole impression of the ad world was what I had seen on television for wearing suits and being frazzled all the time. I was offered the job at Burrell. I went to Chicago to pursue that. It was a great training ground. I worked with amazing people there. At the time, Burrell was on the top of their game. They had all the major accounts, Coca-Cola, McDonald's, Sears, BellSouth, which was pretty much like the Verizon of that time. What other clients did we have? We didn't do too much. I mean, Tom Burrell had a pretty strong feeling about things like cigarettes and malt liquor advertising to black people, so he didn't really accept too much work like that. But it was a great experience being able to cut my teeth, if you will, at Burrell. I was able to do some pretty big commercials that still are cult classics for some people in the hip hop community.
Maurice Cherry:
Yeah, you did the Obey Your Thirst campaign, that's right.
Vida Cornelious:
Yeah, some Sprite work. That's funny to see young people that are playing it on YouTube and consider it as a classic, and that's your first piece of creative out of college. But there were so many fun things about just learning back then. You just felt like you were a sponge, you're just learning so much. So that was a great experience. I was at Burrell for a good… I want to say I was at Burrell almost 10… no, maybe five or six years, I can't remember. I think I left there in '99 and then went to DDB.
Vida Cornelious:
DDB Chicago was a general market agency. At the time, it's like you start in multicultural, but the bigger pond to be in was general market. Everybody wanted to get to a big general market agency. That was the stamp of approval that you were a real creative if you were able to get to a general market agency. So getting into DDB Chicago was a big stepping stone to be able to work on national accounts, accounts that were not meant to be just for the black audience but the general market audience, bigger budgets, things like that. But what came with that was a sense of loneliness and isolation. Being one of 120 or so creatives and you're the only black, maybe one of three, is hard.
Maurice Cherry:
Oh, wow.
Vida Cornelious:
Incredibly hard when you're not even 30 years old and you're trying to figure out, okay, how do you navigate this? How do you know if you have people who are really in your corner or people who want to sabotage you? And even though DDB's culture wasn't like some other agencies at that time, it was definitely a norm to know that creative departments were incredibly competitive. People would steal each other's work. People would shred their work at night because they didn't want their work stolen, things like that. All of those myths were somewhat true in some places. Fortunately, I didn't run across much of that, but I did still feel like I had to be really, really good in terms of my talent and feeling very secure in my talent in order to survive that.
Maurice Cherry:
People were shredding their at work at night?
Vida Cornelious:
Uh-huh (affirmative). Not at DDB, but other agencies. There were some other agencies where that was notorious. That was well known that the culture was very competitive in that way.
Maurice Cherry:
Wow, that's cutthroat.
Vida Cornelious:
Very much.
Maurice Cherry:
Goodness. So you were at DDB for almost a decade. Aside from the cutthroatness of it, what do you remember the most from that time?
Vida Cornelious:
I mean, DDB, it taught me a ton, besides for the fact that I worked with some good people there. I worked with some people who really were interested in seeing me develop, and they were really interested in seeing my career take off. There was one real defining moment that I can always play in my brain because it was one of those type of things where someone is mentoring you and they're kind of preparing you for a moment, but you don't even really know it at the time.
Vida Cornelious:
I had a boss that I was like the sidekick, right? Whenever he needed somebody to prepare the bag for the presentation or get the work together, it was always like, "Vida, I need you to do that." Right? Initially, I felt like, "Am I being asked to do this because I'm the lackey, because I'm the only girl on the team, because I'm the responsible one?" I had no idea, but ultimately what it allowed me to do was be able to always see all of the work. I had an opportunity to see all of the work, and he would ask my opinion of the work once I had put the bag together, made sure all the scripts were there, made sure all the boards were there, made sure there was no typos. It was almost like I knew the work better than he did because I was spending more time with it.
Vida Cornelious:
I would prepare the bag. I would go with him to the meeting. I would sit in the back of the room because he was doing the presenting, and I got to see firsthand how he presented, how the client responded to his presentation, how the work went over, what ideas landed, what ideas fell flat. I didn't know it was a training at the time, but it was a training. I was getting to see it firsthand. My colleagues weren't. My peers weren't. So that was the trade-off for me being the person that always had to stay the latest to make sure the bag was ready for the meeting and all that kind of thing.
Vida Cornelious:
One day, that training kicked in because I was going to a meeting at McDonald's. He happened to have the bag, but I always kept copies. I always made sure I had Xerox copies of everything that was in the bag so we had a way of making sure nothing got left behind. And so, I had my copies with me, like I always did, and we got a call that he had been in a car accident, so he wasn't going to make it to the meeting. The whole old team, obviously, was panicking, meaning myself, the account people. I was just a sidekick. He basically was like, "Well, Vida's there, so she can do it. She knows the work, she can present it." I was like, "OMG. What?" I think at that point the account people were losing it too because I wasn't seen as someone who was a stand-in for the boss. You know what I mean? But it was my shot. That was my shot, right? As they say in Hamilton, "I'm not going to lose my shot." That was it. I didn't know it.
Vida Cornelious:
But I went in, I had my little Xeroxes. We quickly rallied and got the Xeroxes distributed, like printed more copies and got them distributed. Yeah, I did what I saw him do, and we ended up selling the campaign. The client was very happy, told my boss that I was amazing and all that. The account team thought I was amazing. And shortly thereafter I got promoted. And it became upward trajectory from there. So those kind of moments, I think, were defining for me at DDB. It definitely changed the trajectory of my career. Being a person of color, being a black woman or a black young person in an environment like that, you're not given that many people who want to really groom you per se. So you have to either absorb it on your own or figure out ways to just be in the right place at the right time. There's a lot you have to do to rely on yourself. I got pretty comfortable with the idea that I may never have anyone who is going to choose me, right? So I need to just make sure that whenever I am chosen, I'm ready. I think that's the philosophy I took on from there.
Vida Cornelious:
Then I got paired with a really, really great partner. We worked together for a long time, a young guy named Skip Tramontana. The two of us did a gazillion TV spots together and slept on the floor of our office and banged out ideas and had the quintessential young creative experience at DDB. But the two of us kind of rose up in the ranks together because we were a good team. We understood our clients. We understood how to sell work. And that was a really fun experience. And then we went our separate ways because he took a different job and I ended up getting promoted again and started managing more people and having more responsibility, and my career just went forward from there.
Vida Cornelious:
Most of my time spent at DDB towards the end of my time there, I was doing a lot of new business, a lot of big new business pitches, working across the agency as a whole. Probably one of the things I was most proud of there was working on a project for Budweiser because it was so outside of the norm of what they were trying to do. They were trying to reach young adults, multicultural, millennial adults. So it gave us an opportunity to really do something very different for them, which turned out to be highly successful. Working on beer was nothing that I was aspiring to do, but at the time at DDB, the beer accounts were like the Holy Grail. So being able to work on something there, pitch it, win it, successfully launch it was a big feather in the cap for this little black girl from the 35th floor.
Maurice Cherry:
By the time you left DDB, you got 15 years in the game working at two well-known agencies doing a lot of really big accounts. And then from there you worked at several other agencies and companies. You did a stint at GlobalHue. You did a stint at Walton Isaacson. You were at the Walt Disney Company even for a while. And of course, now you're at the New York Times. When you look back at those past experiences after leaving DDB, what would you say are the most valuable things that you learned about yourself?
Vida Cornelious:
Yeah, I think each of those positions or moves, if you will, taught me something different. I mean, for sure when I went to GlobalHue, it was right after the Obama election, and I was hellbent on like, "Black agencies are going to take the world by storm, and I want to lead the charge." I was fired up. I was fired up to do something to really prove that black agencies were not subpar, and going to GlobalHue was almost like a perfect storm of events that allowed us to win the Jeep account while I was there. That was the first time a black agency was helming a massive general market account and one that was a truly beloved brand, American brand, Jeep. We really, really dug our heels in and flip turned it around. I had some incredible wins on that business, helped grow that business.
Vida Cornelious:
But I learned there that you don't always get the credit that you're due, no matter how hard you work on something. That was the hard lesson there. Even though I made some incredible friends not just in the agency itself, but in the client space and vendor space, there were so many people that were rallying around us to just see us win because we were trying to do great things and great work, but in the end sometimes the world at large, the industry at large doesn't give you the credit that you deserve. When I moved over to Walton Isaacson, it was, again, an opportunity to try and build something, to try and bring a point of view. But again, you have to learn that sometimes if your name is not on the door, it's not your dream to really try and bring to reality. You have to sometimes understand that your aims or your ambitions as a creative person and what you see is not necessarily in line with the person whose name is on the door, so you have to be okay with that and find a way to be diplomatic about how you do exercise your leadership and authority.
Vida Cornelious:
And then in going to places like Disney, that was an opportunity for me to learn about a brand from the inside out. That was an opportunity to pivot away from agency life where you're in a more service role, in service to your clients that is, to be in on the brand side of the table where you're literally setting the aims and mission that you need brought to life by your agency partner, right? Being on that side of the table gave me a more deep purview into what makes for sustainable creative ideas, what makes for building loyalty amongst an audience, and also building loyalty amongst the people that work in an environment with you. If there's one thing I'll say about the culture of Disney is that I love the fact that it is one where they're very loyal to their employees in terms of people love the brand. People who work there love the brand, and they're loyal to it. That was something that really helped me see the value of how much more passionate people are when they believe in what you're doing. It made me see that you can't fake the funk sometimes, right? You have to believe in what you're doing too, and if you don't, move on. And also being at Disney, it gave me an opportunity to really see the value of storytelling because Disney as an entity is really about storytelling.
Vida Cornelious:
Coming to New York Times is telling a different type of story, right? Is getting to see the stories of truth, of life, of journalistic integrity, and being able to bring that philosophy to the work that we do with brands. But for myself, it's always about learning. It's always about expanding my own capability and getting back to that notion of mastery, being able to master something. Your voice, your creative process, your ability to ideate, all those things are, in my opinion, very important being a creative person and how you formulate your own way of working.
Maurice Cherry:
What is the advertising industry like for you at this stage of your career? It sounds like you've done it all, pretty much, except run your own agency.
Vida Cornelious:
Oh my gosh.
Maurice Cherry:
You've managed to start as an intern, and you've worked your way up to being Vice President of Creative at the New York Times. When you look out at the landscape of the ad industry now, what do you see?
Vida Cornelious:
I'll be honest, what I miss is, and it'll sound old school, I'm sure, to anyone that's listening, but there was a certain kind of beauty and real magic in finding an idea that a client would want to stay with for a while and replicate and build their brand around. Now we live in a space where it's a lot more immediate. We're living in a space that's social, it's faster, it's a much quicker connection that that needs to be made because of people's attention span or just what we've become accustomed to, how much time we really spend absorbing something. To that end, it feels a little bit at times like advertising is chasing the horse, is chasing something, whether it's a new platform or how to capture an audience with a very short attention span or battling for our attention on a variety of devices.
Vida Cornelious:
Sometimes I miss the notion that you can build a brand through an idea, you can build an idea over time. Because a lot of times, time is not something that people are willing to give you anymore. But what I do look at in terms of how advertising is different in this landscape is I love fact that video and connecting through video and photography and storytelling formats that are visually-driven are something that is very appealing to me personally. I love film. I always have loved film and video, so anytime we can create things in that kind of format, whether it's short form, whether it's documentary style, I still find that probably to be the most appealing and satisfying for myself personally.
Maurice Cherry:
What are you excited about at the moment?
Vida Cornelious:
I'm excited about seeing more diverse voices actually be brought to the forefront. I mean, even though it's not directly related to advertising, I love the fact that there's so many more black storytellers writing shows, TV shows, episodic, television, film, that more voices are coming to the forefront. Because it does have a trickle-down effect. That representative storytelling is real. When we can see that there are audiences that are craving more than just the narratives that have been previously being fed to them, it gives us an opportunity on the advertising space to really find legitimate connections to audiences and bring new ways of telling stories to brands. I think that's really important. So I'm loving seeing all the different types of creators that are out there whether it's people on TikTok who are making a name for themselves on TikTok in some way, shape, or form, all the way up to creators like Rolonda Watts and Issa Rae's and now James Samuel. I love the new movie that has just come out, the spaghetti western, and seeing people of color in a variety of types of storytelling formats, and those voices coming forward.
Maurice Cherry:
I still need to see that movie. You're talking about The Harder They Fall, right? It just came out fairly recently.
Vida Cornelious:
Yes.
Maurice Cherry:
I need to see that. So funny you mentioned TikTok. I don't want to say obsessed with TikTok, because that sounds a bit too much, but I am really enjoying TikTok. I've actually even found some guests for the show on TikTok, just I'm randomly going through my For You page, and I'm like, "Oh, who is this? Oh, it's a black person that painted the world's largest mural. Let me talk to them and get them on the show," or something like that. But it's been really interesting seeing how people have come up on these new mediums. I mean, before TikTok, it was what? It was YouTube. It was podcasting. It was blogging. That part kind of blows my mind a little bit. A lot of people now who maybe are thought leaders or really progressive journalists now, I remember when they started out on BlogSpot. And they worked their way up now to book deals and television shows and podcasts and all this sort of stuff. It's amazing to see.
Vida Cornelious:
Yeah, and they have these… I mean, I know it's not a new thing anymore, but the influencer houses where they're influencers coming together, living together, creating their own collective.
Maurice Cherry:
Yeah.
Vida Cornelious:
[crosstalk 00:52:48] create content. I know there's one in Atlanta that is all young black creators. I'm missing the name right now, but-
Maurice Cherry:
Oh, the Collab Crib.
Vida Cornelious:
The Collab Crib, yes. Yes. I mean, I think that kind of stuff is really inventive for young people finding a way to basically monetize what they know about culture and the stories that they want to tell. So it is fascinating to see how these platforms have enabled so many young people to kind of find themselves, find their way, find their audiences.
Maurice Cherry:
Yeah. Speaking of Collab Crib, New York Times plug, for folks that are listening, go to Hulu. The New York Times presented a whole documentary on the Collab Crib called Who Gets to Be an Influencer. Definitely go check it out.
Vida Cornelious:
Correct. They sure did.
Maurice Cherry:
If there's someone that's out there listening, they are hearing the Vida Cornelious story and they want to follow in your footsteps, what advice would you give them?
Vida Cornelious:
Oh, wow. I mean, it's like, let's see, what things should they do? No. Real talk, I would say some of the things I wish I had known then that I know now is that the ability to really listen and not get so deep into what you think something should be that you can't or another point of view or a critique or a criticism is something I wish I had learned very, very early on. It took me banging my head against the wall a few times in the very early stages of my career before I fully understood that and the value of that. So I would definitely say that's important.
Vida Cornelious:
The other thing that I would also say is important is your integrity, your character is all you have. Don't ever let anyone force you to sacrifice that or put you in a position where you feel like you need to sacrifice that. Because at some point in your career and life, it will come back to haunt. I've seen it happen to other people. It hasn't happened to me, but I have seen it happen to other people where they literally have to eat those words. They've treated someone a certain way, and then they find out later on in life that that person is in a position to either hire them or they're the client now or whatever. And I've literally seen that. So always know that being kind, being gracious is important, that that's more powerful than being someone who wants to lead by fear or bring fear into an equation, that never works.
Vida Cornelious:
I would definitely say to someone, "Try and understand and appreciate your worth early on. What makes you different? What makes you someone that has something to say, that has a voice?" I mean, at one point when I was Chief Creative Officer GlobalHue, I would interview people, maybe this isn't appropriate to ask now, but I would interview people by saying, "When you come to the interview, wear at least one piece of clothing or an item that has some meaning to you. I'd love to know the story of it." One of the reasons I asked people that was because I wanted to, number one, get a sense of who they were outside of the work that they do, the things that were in their portfolio. But I also wanted to know what had meaning to them.
Vida Cornelious:
I'll never forget, a guy came in the middle of winter wearing a white linen suit. I said, "Wow." I said, "Well, why did you choose to wear that?" And he said, "Well, this is the suit that I got married in. Besides for the fact that my wife was my best friend, I mean, this suit reminds me so much of how happy and how joyous I felt on that day, and how complete I felt on that day. And whenever I need that feeling, I remember this suit. I remember this day." And so that just told me a lot about him and who he was. So I really liked doing that because it gave me a way of having a better understanding of people's unique value and what's important to them and the things that are never going to show up in their resume but can become very value as part of their experience in the work environment and in the place of work.
Vida Cornelious:
So I guess a short story for someone listening to this would be, be true to yourself. Be kind, be generous. Know that the people that you're working alongside right now could be people that you need to reach up to or reach back for in the future. And those are probably the things that I think have sustained me.
Maurice Cherry:
Who are some of the people that have influenced you? I know you mentioned a couple of coworkers, you mentioned this professor at Hampton. Were there other people that have really influenced and mentored you throughout your career?
Vida Cornelious:
I would say I never had any direct mentors, anything that was a formal, per se, mentor relationship, but I definitely had people who I felt like invested a lot in me or poured in me. Rather it was family friends, personal friends, people who had nothing to do with advertising at all. Probably one person that I can definitely speak to or speak about is someone named Bob Sayles. He was a very, very good friend at Burrell, and he was our Head of Print Production. But besides for him just being an amazing person at work, I mean, he was just the most generous, gracious person. He had the most full life. He could make a friend anywhere he went. He was just that person. I mean, he had that hearty, big laugh that you can hear ringing in your ears well after he's left the room.
Vida Cornelious:
I just learned so much from him about people and about what makes people feel important to you, how to connect with people, not just when you work with them but in just understanding them and really being able to look inside and see the truth that people have and what value they can bring to a situation. To me, he taught me more about human nature, I think, because of his personality and the way he was and the type of person that he was and the amount of time that we spent together as friends, and that became something that I actually use as part of my creative process. When I'm not fully clear on who is this audience I'm speaking to, or who is this person I'm trying to write this ad for or connect with, in some way, shape, or form, I have to figure out what is the truth that connects that person to whatever it is I'm trying to promote to them, right? I have to figure out what is the truth that they would believe.
Vida Cornelious:
So I kind of lean back on my time with him as a way of doing my research and digging around to better understand what motivates people, what makes them tick, and how that makes them feel seen. He was excellent at making people feel seen.
Maurice Cherry:
Where do you think your life would've gone if you didn't go into advertising?
Vida Cornelious:
Oh, if I hadn't gone into advertising, probably when I was at that summer program at Princeton, I would've solidly moved into being some type of lawyer. Because I was definitely interested in writing. I was definitely interested in… not necessarily justice like criminal justice or anything like that, but just the pursuit of fairness in some way, shape, or form. I was always intrigued by that. So I probably would've ended up being a lawyer. Many, many years, now we're going to fast forward 30-something years, I mean now, I picked up a love of flowers and floral arranging when I lived in Chicago and had a little side hustle business of doing flowers, which ended up, long story short, landing me doing flowers for Obama for one of his presidential election dinners like [inaudible 01:00:24] dinners. That bug right there, I never shook it.
Vida Cornelious:
I mean now in hindsight, plan B… I mean, if I fast forward, my plan B going forward after advertising, I would love to just own an amazing flower shop somewhere when it's not about earning money but it's just about being able to get up and go somewhere every day that you just really, really love. But yeah, if I hadn't found advertising, I'd probably be a lawyer. Now that I've found advertising, been there, and I could say I've done that, I would love to probably pursue something a lot gentler on the soul like being a florist.
Maurice Cherry:
I could see it. Oh God, what was the show? I was watching Project Runway, and they just had a designer on there, this guy, Lewis Miller, that does these huge gorilla flower installations in New York City. Have you heard of this?
Vida Cornelious:
Oh yeah, yeah, uh-huh (affirmative).
Maurice Cherry:
He'll take a phone booth or something and just into this explosion of flowers and stuff. That could be pretty cool. What do you want your legacy to be? Where do you see yourself in the next five years? What kind of work do you want to be doing?
Vida Cornelious:
Ooh, in the next five years… Honestly, I really would love to do more… Hopefully, I will continue to be with the Times. I'm going to say that, put that in the universe. But I would love to continue pursuing how can we do more film. I'd love to get into things like documentaries, more episodic film franchises, really expanding on the notion of how a brand can show up and be relevant in culture and be of service to culture. So finding innovative ways to do that. But I also think that it's really important from a legacy standpoint to just continue to pave away for young people, particularly young black people, and making them feel like they deserve to be in these spaces, that when they come in these spaces that they're prepared, they know how they want to show up as their best self, their whole self, not feeling like they have to be something that they're not in order to fit into these environments, but know that their voices need to be here and need to be heard. But also how to be effective in doing that.
Vida Cornelious:
So if I'm able to leave a legacy of being able to help another young person be the next Vida or be the next other ad person who's climbed up in the ranks here and there, then I'm happy to do that. I feel like it's important for me to teach at this point and pave the way for others. I'm very proud of a mentee that I had at the New York Times who, although he chose not to stay at the Times, is doing very, very well in his new role. It makes me super proud to know that all the conversations that we had, all the plans that we laid, he put it in motion and it worked. So my goal is to just leave a legacy of the literal each one, teach one, if I can.
Maurice Cherry:
Well, just to wrap things up here, where can our audience find out more information about you and about your work and everything online?
Vida Cornelious:
Yeah, for sure. I mean, I'm always available on LinkedIn. That's the fastest and easiest method. I do have a website, vidacornelious.com. I can't say it's updated at the moment. I hate to say that, but I've been doing so much work as of late, I haven't had a chance to update it in a little while, but I will. But those are, yeah, for sure, two spaces that you can find me. If you just want to peek in on my dog, my French bulldog, which I love a lot, his name is Leo, you're more than welcome to find me on Instagram as well. But I don't do too much work talk on there.
Maurice Cherry:
Okay. What's the dog Instagram?
Vida Cornelious:
He's just on my page, vida.c. But my dog's name is Leo. Yeah, he's very cute, and he's going to be featured in one of our upcoming articles on departures, which is one of the big projects I do with our special projects team.
Maurice Cherry:
All right.
Vida Cornelious:
Yes.
Maurice Cherry:
Vida Cornelious, thank you so much for coming on the show. One, just for sharing the rich career that you've had in the advertising industry. I think certainly for people that are listening to this, I always try to get people that are at all stages of their career, whether they're just starting out or whether they're captains of industry like you are. So it was great to just hear about your journey as a black woman in this industry, but also to hear about how you're really about making sure that you pave the way for the next generation. I mean, it's one of those things where certainly we walk the road to make sure that the next gen has a much easier path. So I certainly think that with the work that you've done and that you're continuing to do that you're helping to make that happen. So thank you so much for coming on the show. I appreciate it.
Vida Cornelious:
Thank you. Thank you for having me. I love what you're doing, I think it's so important, so I'm happy to be an installment in what I would say is your legacy, observing all of our stories.
Brevity & Wit is a strategy and design firm committed to designing a more inclusive and equitable world.
We accomplish this through graphic design, presentations and workshops around I-D-E-A: inclusion, diversity, equity, and accessibility.
If you're curious to learn how to combine a passion for I-D-E-A with design, check us out at brevityandwit.com.
Brevity & Wit — creative excellence without the grind.