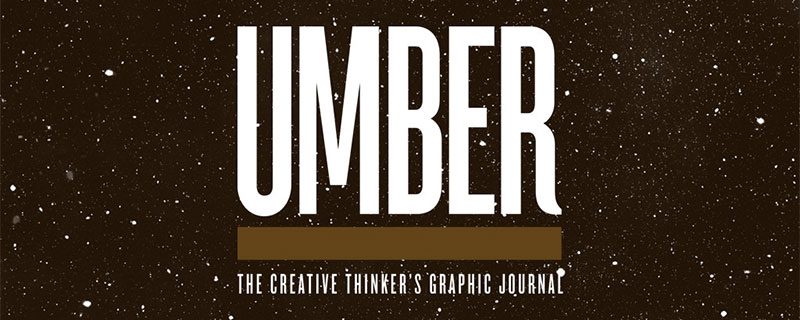 Umber is a new design magazine that explores the perspective of creatives and people of color. Mike Nicholls is a creative director, designer and illustrator in Oakland, California, and he has a Kickstarter campaign to support printing and distribution of the first issue. We met last week to talk about the magazine and how it can give voice to people that don't fit into one particular box.

Mike has an intense energy about him when we meet. He's smiling and serious at the same time. After sharing his love of painting and illustration, he reveals an abiding affection for type and design. He nearly moved to Switzerland to seek mentorship from world-renowned typographer Wolfgang Weingart, after all. Design has been Mike's life for two decades and like many designers, the graphic design magazine Emigre was a solid inspiration when he was in school for design. Shortly after Emigre stopped publishing in 2005, there was a void in the conversation about design. For Nicholls, this was most palpable in the high art and design magazines – he noticed that there were hardly any black or brown people in those pages. He saw an isolation that felt like his life.
In 2006, while he was living in Philadelphia, he started to do something about it.
"Every job I had," says Nicholls, "I was the only black person and sometimes the first. The first and only."
He understood that people work with their friends who are often similar in race and perspective. He knew that the exclusion might not be intentional, but he started to wonder, "What if I… put all these people in once space? What if I was to make it myself?" And so, Umber was born. Rather than drawing attention to the division, Nicholls wants Umber to show what it's like to be vulnerable – to fuel creativity and curiosity so that we can move towards healing. Nicholls wants to see Umber accelerate that movement.
For the first issue, Umber invites contributors to reflect on the perspectives of people of color. Nearly all contributors are people of color, and this first issue will talk about how they embrace vulnerability to grow as artists. Articles will look across broad creative disciplines. Ndubuisi Madu will take a look at his transition from visual designer to user experience and product designer. Baba Afolabi will talk about the cultural benefits of bringing people together around fashion. The first issue also includes reflections on the African migrant experience from an Ethiopian-American performance artist in Washington DC. Umber is bringing people together to peer deep into their identity beyond the obvious.
As part of the Kickstarter campaign for Umber, Nicholls is offering to illustrate his contributors. He wants to keep building on the connection between the contributor and the artist. As another reward for pledging on Kickstarter, he is offering two exclusive advertisements for an otherwise ad-free magazine. He wants the ads to be part of history, created together. Nicholls explains, "The nuance is what drives our design."
Umber is for people who don't fit in easily anywhere. "Being uncomfortable," says Nicholls, "being vulnerable is how you grow." Holding on to that ocean wave of change, Nicholls hopes to show that sticking with the turmoil will help us rise above and grow together.
Check out the Kickstarter campaign to contribute. The campaign ends on July 15.