Stesha Doku is one of a kind. Not only is she a designer and developer, but she's a photographer and a physician too! A doctor who can design websites? Incredible! In our interview, she talks about what inspires her and how design and medicine can work together for the greater good. I think you'll really enjoy this!
Tell us who you are and what you do.
I am a physician, web designer/developer and photographer. I grew up in North Carolina where as a 6th grader I built my first web page after seeing a 7th grader show his website on the school bus. I had to learn how to do that too. Immediately. Since then I have been intrigued by the web, computers and most importantly the interfaces used to interact with information on these devices.
During college I studied biomedical engineering with plans to go to medical school. As someone interested in technology, medical devices were a good tie-in to thinking about design in medicine. This year I finished medical school at Stanford (I will be specializing in anesthesia) and have held onto my design skills along the way. I've served as a freelance web developer for companies, consulting for health startups in Silicon Valley and working on my own personal projects.
My combination path of web design and medicine has led me to focus specifically on user interfaces for health applications and devices. While medicine has been a field that advances quickly, in some respects it is still very behind in terms of design thinking, aesthetics and making technology easier to integrate into daily practice. Being both a physician and a designer puts me in a unique position to understand both the medicine behind what we are trying to achieve and the way to do it best technically. I'm working on how to improve those aspects so both patients and physicians can focus on the things that really matter in improving health.
I still do design for non-health related companies and activities, but as a doctor the medically-focused projects have the most meaning for me! I am a Flash expert (though that is going out of fashion these days) but recently I've been working more on HTML 5/JavaScript based websites.
Web design and medicine is a pretty interesting combination. What are some ways that designers and developers can help out the medical community?
What we particularly need more of in medicine are designers who can be a bridge to create great interfaces that physicians and healthcare professionals can integrate into their practice. While I believe that anyone can program given a computer, patience and the right book, learning what works on the front-end for different industries is much harder. Only good design can be the connector to helping us meet our goal of making technology adoption worthwhile and cost effective in medicine!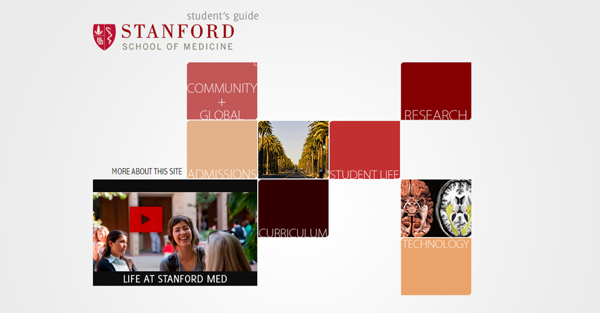 What's a typical day like for you?
I haven't had a typical day in some time! Generally, my days are spent in the hospital on a various rotation (we change what specialty we're covering every month or two) taking care of my patients.
When I have a design day, it can be pretty varied. My ideal morning starts between 6:30 a.m. and 7:00 a.m. with a workout. I follow up with checking email and catching up on reading my favorite blogs and design galleries during an extended breakfast. I will pick one or two projects I want to make progress on that day, and spend time for the rest of the day working on these. I absolutely believe in focus, but I also believe in not getting bored, so switching between projects gives me mental breaks. I also set aside time to read (usually fiction) and do intermittent micro-workouts so I don't spend too much time sitting (ever tried Just Dance 4? I highly recommend it). Evenings are never typical. Sometimes I go out to catch up with friends and family or I may finish working on my goal for a project if I can't peel myself away.
Do you have any personal projects you're working on right now that you'd like to share?
Way too many that I've started and need to finish! I'm dedicated to finding ways to improve medical education with technology so I'm currently working on an application for simulating patient vital signs and EKGs. I have an unfinished food photography project I'm collaborating on with some close friends as well. Stay tuned for their
release!
How do you keep motivated and inspired?
Inspiration is a double-sided sword! There's nothing like someone else's breathtaking website to humble you. I think it's good to be reminded that you've still got a lot to learn and many more hours of practice to put in.
Here are some of my favorite sites to visit for daily inspiration:
I also draw upon photography for inspiration visiting Flickr's Explore section and the Guardian Eyewitness app on the iPad.
Away from the gadgets, I think bookstores are a wonderful source of inspiration. I check out the design and print sections and take a look at book covers and posters.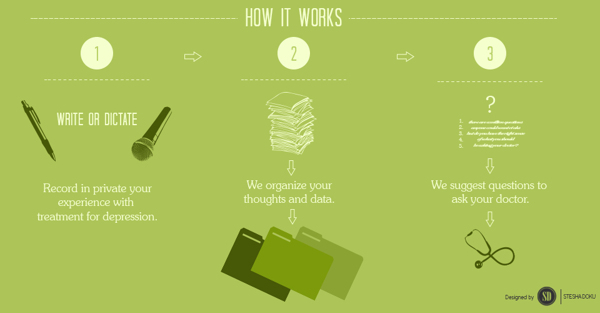 Who are the artists and designers that you look up to for your work?
I try to look at a wide variety of designers and firms to be inspired. When I first started in design, 2advanced Studios was everything I aspired to with their slick Flash designs. Now I think there are many more people to get exposed to and be influenced by so I don't follow anyone in particular!
What is one industry trend that you wish would go away?
SEO. There is increasingly too much focus on tricks to get your website noticed by search engines instead of on the quality of content and making it easy to navigate by humans.
If you could choose any space in the world and create a design for it, where would it be and what would you make?
I've always wanted to make something digital that could be physically standalone. Perhaps I've been a bit inspired by reading Death On the Nile by Agatha Christie (I love a good mystery!),  but I Iove the idea of doing some type of design work out amongst the Egyptian pyramids. I have no idea what I'd do, but I'd do something to get people to think about their emotions and how they interact with others out in a place that was built without the technology of today.
What advice would you give out to someone just starting out in web design?
Mastering the craft of great design is a surprisingly long and continuous process. You will find that having a good eye is very different than being able to think creatively, which is in turn very different from being able to technically manifest your ideas digitally. Great designers have all three, so pick one to start with and the others will build on that.
Try to be inspired as much as you can. Web design is great because there is plenty of inspiration everywhere — from what you see on TV to the many links available online to printed documents. Pay attention to the things that catch your eye, and even if just for a few seconds, describe to yourself what you like about it. That way you will start building algorithms for how to make pretty things! There are also plenty of good books to take a look at, so drop by a bookstore and see if there are sources of inspiration there.
The last bit of advice is to just get a program and start designing. Right this second. Nothing beats experimenting in learning how to build skills and mastering your software. Do so with a goal in mind — create a project idea (maybe your first personal website) and you will be forced to learn all the skills needed to pull that off. These days there are plenty of open source and free/demo versions of software, so you don't need to shell out the money for Photoshop yet if that's a barrier for you.
P.S. Learn to code. Digital design isn't just about aesthetics. It's about beauty in interactive function.
---
About Stesha: Stesha Doku is a web designer/developer, physician, and photographer. You can find her at steshadoku.com or on Twitter at @dohkoo.