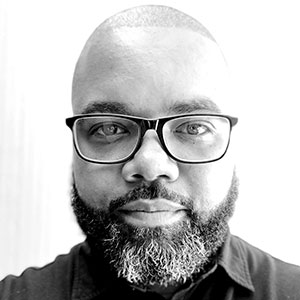 Melvin Hale may say he's "a regular guy who beat the odds," but with twenty years of design experience and a decade of design leadership under his belt, he's so much more than regular.
We started off talking about Melvin's current work at Facebook, and quickly went on to a look back at his time growing up in Vallejo, going to college in the South, and his journey as a designer through the ad agency world before ending up in Silicon Valley. Melvin also shared tips on how he builds creative teams, spoke on some of his career influences, and even talked about whether or not his kids want to follow in his footsteps. Give this week's episode a listen and learn more about Melvin!
Revision Path is a Glitch Media Network podcast, and is produced by Deanna Testa and edited by Keisha "TK" Dutes. 
---
It's survey time!
Take our annual audience survey at revisionpath.com/survey, and help shape the future of Revision Path! Survey ends on April 30 at midnight ET! Thanks for your feedback!
---