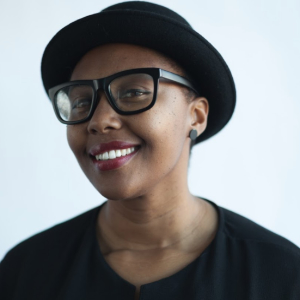 November ends with a fantastic conversation with Matshoshi Matsafu, and let me tell you…she has lived. Lived, I tell ya! She currently works as a senior UX designer at Microsoft on their Flipgrid product, but that's only the tip of the iceberg when it comes to what she does and what she's experienced.
Matshoshi talked about growing up in South Africa and attending college in Johannesburg, relocating to South Korea to teach for a few years, and about her most recent move to Minneapolis and how life has unfolded in the years since then. She also spoke about being a Black creative in flux (and how to embrace it), the joys of embracing being a generalist, and shared what keeps her motivated and inspired as a creative. According to Matshoshi, being a Black creative is a myriad of things. So why not explore them all?
Transcript
Full Transcript
Maurice Cherry:
All right. So tell us who you are and what you do.
Matshoshi Matsafu:
So my name is Matshoshi Kholofelo Matsafu. I am originally from South Africa. I've been based in the US for almost five years, six months and a couple of days. I am currently working as a Senior UX Designer for Flipgrid, which is a subsidiary of Microsoft. Essentially it is like a video exchange software where it became really popular during this pandemic because it was really useful in the education field. Yeah, I work in tech. I create digital artwork from time to time. I illustrate, and I'm into music, into a lot of things that just like equal creativity. I guess that would be the sum of me. Yeah.
Maurice Cherry:
Okay. I was going to ask you about Flipgrid because I had not heard of it before. So I'm guessing this is a company that Microsoft acquired. And you work on the team?
Matshoshi Matsafu:
Yes, yes. So it was acquired actually not too long ago. Essentially we make a really robust video editing camera and software that's available online predominantly for students and educators now, but it's expanding. What I love about it is that I get to work directly with real educators. We'll get into this a little bit later, but I spend some time doing ESL teaching myself. There was always a need for tools to help students that aren't necessarily comfortable speaking out loud in front of a classroom forever, or giving them prompts and creative ways to elicit a response. This is one of the things that I get to build on a day to day. That's what really is exciting.
Maurice Cherry:
Yeah. I could see how something like that would be really useful, especially with so many classrooms over the past, God, two years now, geez. Like adapting because of the pandemic and things like that. But also not just schools. We've done some work in the past with the Smithsonian,. I know that do or they tend to have curriculum for schools like summer programs and things like that. I could see where they could even use something like that because especially in terms of curriculum, a lot of schools will look to museums and such for field trips and things like that. But when you can't travel to the museum for a field trip, then how are you supposed to get that same I guess, cultural exchange? So I could see how Flipgrid might be super useful for something like that.
Matshoshi Matsafu:
It certainly is. I'm really glad that you went into that because looking at some of the very surprising use cases that have come about, it's exactly that. It's families connecting with each other when being divided because of COVID, sending each other video messages on a private secure platform. It's teachers obviously connecting with their students. It's book clubs and choirs and auditions for plays that are happening on this platform because it's a way to be able to ruminate about what you want to create, but not have so much pressure to have it be completely perfect and still be able to express your creativity. So I think that's kind of why I love it.
Maurice Cherry:
Okay. So how has 2021 overall been for you?
Matshoshi Matsafu:
I can say there's a definite shift in terms of my feeling of not being tossed into the wild like 2020 was.
Maurice Cherry:
Yeah.
Matshoshi Matsafu:
I think the acclimation that has happened, whether it be from a mental health perspective or from an understanding how I work and what works and what doesn't. Like a lot of people, the introspection helped a lot. It has definitely been a year of revelation for me as to what's important. How do I want to spend my time? What do I think is worthy of my attention and what relationships do I need to foster? How do I hold myself not so much accountable, but how do I grow in a non pressurized and from a perspective of love standpoint?
Maurice Cherry:
You're located in Minneapolis, which last year was such a nexus point for so many things happening just in this country around police brutality and protests and things of that nature. How was it being in the city during that time?
Matshoshi Matsafu:
It was incredibly wild because little bit of history, I grew up in the dredges, like the end or not quite end of Apartheid date in South Africa. So when I saw the tanks patrolling the streets, it just drew me right back to memories of growing up in a policed state.
Maurice Cherry:
Wow.
Matshoshi Matsafu:
Where white people were trying to kill us. They were holding AK-47s. There were tanks patrolling the areas that we were essentially forced to live in. We call them townships. If you speak to a lot of South Africans, kind of like if you speak to a lot of indigenous and black people here, there's been a a reclamation of areas that we were sent to die, essentially. By calling them townships or the hood and not actually calling them what they are, which was essentially a concentration camp.
Maurice Cherry:
Wow.
Matshoshi Matsafu:
We are a resilient people. All I remember is seeing those riots and understanding what is driving people is not about actually the incident that occurred, that was just the tipping point. This iceberg has been building. Like everywhere else in the world, I was really in turmoil about the conversations that were being had and the ones that were being avoided. There was so much focus on the masses of people, black and brown bodies showing up and demanding to be heard.
Matshoshi Matsafu:
But there was very little talk about what would lead to folks to be so desperate, and so disenfranchised, and so broken to have to break up our own resources. It doesn't just come from nowhere. Thinking about, looking at … We need to talk about colonization, we need to talk about settlement. We need to talk about the remnants of capitalism. We need to talk about all of these things that show up in these ways.
Matshoshi Matsafu:
It's incredible to me that a lot of those things were not being talked about. So it was hard for me because I had a little bit of PTSD, not a little, a lot. I was afraid to go outside some days because I couldn't reconcile seeing tanks and young kids, younger than me in uniforms holding rifles, ready to do what.
Maurice Cherry:
Wow. I can only imagine how much of an eerie parallel that had to be to see that as an adult, and then to remember how that was in a totally different country as a child, like, oh my god.
Matshoshi Matsafu:
Right. The only thing that's different in the world is that some regions, things got given names. Ours was called Apartheid. In Europe, they called it the Holocaust. Here, it's loosely called slavery. But the remnants of all of that are ever present. That was the most sobering thought.
Matshoshi Matsafu:
But on the flip side of that though, because I always try not to dwindle in the maelstrom, is that whenever there's destruction, creativity booms. So walking through a ghost town where things are boarded up, but people have reclaimed those boards and created some of the most incredible public art that I've seen in all the places that I've lived.
Matshoshi Matsafu:
That was a wild experience, people expressing pain through art, like visceral, tangible arts and the dichotomy of emotion that comes as you're walking through a street, knowing that at any point, a crowd could come rushing through, breaking windows. But then immediately after, folks will be boarding up and painting. Those are such extremes.
Maurice Cherry:
Yeah. Goodness. Geez. It almost feels weird to try to pivot back to talking about what you do for work after focusing on that. But I mean, I think what you bring up and certainly from your unique vantage point of, like you said, having lived through a very similar type of situation as a child, one thing that really struck me during the pandemic last year was how many people I talked with for this show.
Maurice Cherry:
Us, Even in these conversations like you and I are having, trying to reconcile what it is to be black and work during this sort of time and have to compartmentalize the issues that are happening in our society, and what's going on outside of our windows, while also expecting to show up to our and be productive, and still hit your numbers or whatever you have to do for work. Oh goodness.
Matshoshi Matsafu:
Yeah.
Maurice Cherry:
Wow.
Matshoshi Matsafu:
It was wild. In as much as it feels like it was a total alien experience, I think every single person who was just really in tune, it felt like you're having an outer body experience because you are looking at the world going up in turmoil. But at the same time you're facing yourself, like truly having the time alone with yourself to really figure some things out.
Matshoshi Matsafu:
One of those things is reclaiming your time even from work, which I think I saw a lot of evidence of, being black and creatives really standing up for, "You know what, you're not entitled to have 18 hours of my day. You're entitled to have this many hours of my day, and I'm entitled to have this many hours. I'm going to pour love into myself," however that looks like that was certainly something that came up a lot.
Matshoshi Matsafu:
I was appreciative of seeing that too because you just don't know how many of us are functioning on empty. We never take time off. We always have to work harder than everybody else. We have to explain things and be the cultural competency solution in most of our jobs. Having to do all of that labor without getting paid for it, even though most of us do have a so-called equity, diversity and inclusion department in our workforces or workplaces, they don't infiltrate the every day. The day to day, when you get on a call immediately after the Floyd incident, and somebody makes a joke about murder as a icebreaker. Like how? Navigating those and having to have that conversation with your manager and having to not teach all of these white people that that's not the right thing to do.
Maurice Cherry:
Yeah. So I guess I'll try in some way to pivot this back to work, but not in a complete way. But what do you do to separate yourself from work when that sort of stuff happens?
Matshoshi Matsafu:
Well, black Twitter has been very helpful. The reason is that without black creatives, all of the social media platforms would've been dry. The amount of effort that people have put into creating humor out of nothing or making really think pieces just an equipped, like one tweet that makes you really reevaluate things or laugh so much that you can forget for a little bit of time has been helpful.
Matshoshi Matsafu:
Also because of building new language and ways to talk about things that are quite heavy, but there's a lightheartedness to it, right? The memes that keep coming up across the board, that has been one way to help. Of course, other things include being very intentional about mental health practices, simple things, taking breaks, going for walks, engaging with people that I love, my friends, my family, and also pouring time into things that make me happy. They may not necessarily be hobbies per se, but just things that make me happy. That's it really.
Maurice Cherry:
Yeah.
Matshoshi Matsafu:
I try to keep it as simple as possible because sometimes also trying too hard is trying too hard, you know?
Maurice Cherry:
No, that's very true.
Matshoshi Matsafu:
It's very stressful.
Maurice Cherry:
Yeah. Around that time last year, I was actually unemployed. I had gotten laid off from my job right before Memorial day. I was feeling this sort of a different kind of tension because at that time, I'd say the summer, at least June through August was really the first time in my professional career that I had any sort of a break. That I didn't have to feel I needed to rush out and get a job or something like that. Like you have down periods between jobs and stuff like that. I would always feel like, "Oh, I got to go find something else." But I was fortunate that I got enough of a severance and had enough savings that when I got laid off, I was like, "Oh, I'm good for about like four or five months. So I'm just not going to do anything."
Maurice Cherry:
For me, it was so odd to reconcile this time of rest with this huge time of unrest happening out in the world, and in a way almost feeling guilt for taking a break and not getting out in the streets and what have you. I don't want to say I rationalized it, but I don't know. Have you seen the Tony Morrison documentary, The Pieces I Am? I think that's what it's called.
Matshoshi Matsafu:
Mm-hmm (affirmative), mm-hmm (affirmative).
Maurice Cherry:
She has a part in the documentary where she talks about her role or what she felt her role was in the Civil Rights Movement. She was saying that I can't go out and be on the streets. I can't do that, go out and march and things.
Maurice Cherry:
She's like, "But what I can do is like publish a writing to get it to a bigger audience. I can support the writers and the poets. I can help fight in a different way." So I guess even in a small way through this podcast, I felt like, "Oh well, as long as I'm sharing this out still with people, then I won't feel so guilty or guilty at all about …" I don't want to say taking up arms because it sounds like I'm joining a militia. But I wouldn't feel like, "Oh, I'm not out there, you know, marching the streets with a sign or anything." It was such a weird, weird time because really, I mean, I've been a working professional for so long. But I've never really had that time where I could just have a break for several months and not worry about what the next thing was that was coming.
Matshoshi Matsafu:
Yeah. That whole existence was some of the most trying. Because for myself personally, I had the added layer of being an immigrant in this country. So I was having such a push and pull in my mind. It was like, "Oh, when my country was going through its liberation, similar things happened." People on the streets, other countries came and stood up. People were in the crowds, and bodies were out there. But what it means for a black body to be out there is a whole different thing here.
Matshoshi Matsafu:
When I was talking to different types, different groups of folks, those who were adamant about physically being present and also sometimes that came with judgment too, right? That if you're not in the streets, then you're not really participating. You're not really standing for anything. I think that needs to be to, Tony Morrison's point, that needs to be taken to question because we all have our different roles to play.
Matshoshi Matsafu:
Right? So I think we need to really talk about expanding what resistance looks like from a more holistic view. From yes, we have bodies in the forefront. Yes, we have intellectuals that kind of theorize. Yes, we have business people that are like, "Okay, how do we change these structures?" Yes, we have money people even like, okay, so capitalism is not working. How do we think about something different? How do we build equitable society? Not just in the moment, but what happens after that?
Maurice Cherry:
Yeah.
Matshoshi Matsafu:
That's where I think design comes in. That's why I'm excited to be a designer because even in the smallest things that I'm building, those things play a part.
Maurice Cherry:
Yeah, absolutely. I want to go more into your background. I know you mentioned earlier being from South Africa. Tell me about what it was like growing up there. I mean, you mentioned the apartheid. But what do you really remember from your childhood aside from that?
Matshoshi Matsafu:
I mean, my gosh. It's kind of a Willy Wonka experience. Right? There's moments of extreme insurmountable joy and awe because of the creativity of black people, the music and art expressed. I think the first time I encountered design was in the township. Most people grew up in what are called like Shanty houses, which are made out of tin, aluminum bars or even asbestos at some point. It's one room, there's no electricity, toilets outside, everything.
Matshoshi Matsafu:
But the creativity to make one room feel like a home, that is invention. I remember there was a neighbor that I used to visit who took the covering of of a can, just like a can of … There was a brand called Lucky Star. It's Sardines essentially. But the graphic art on the label was so striking because we were in that era of just poster designs, so really bright colors and just beautiful typography.
Matshoshi Matsafu:
They spent however long gathering those labels and made wallpaper out of them. When you look at that, and I look at that, and I look at what is called, so-called modern design. I can see that that could easily be in a pop art museum because that's the kind of art that it was. Or it could be likened to mid-century modern repetition wallpaper too. So I feel design came through just because of necessity. Design is the answer to anguish and pain. Design and art and creativity is the answer. So it was everywhere. I was lucky enough to notice.
Maurice Cherry:
Now being around it as much as you have, when did you decide that this was what you wanted to study? This is what you wanted to go to school for?
Matshoshi Matsafu:
I initially wanted to be a fine artist. I remember in high school, one of my memories is my mom made the decision to send me to what we then called multiracial schools, which meant there was a handful of black kids in a white school, which was interesting. But I really loved my high school because it was in the middle of a forest. I was in boarding school. It was designed like a little European village, I suppose. The classrooms had a lot of natural light, which is not common here. All of the classrooms look like prison industrial complexes.
Matshoshi Matsafu:
One thing I remember is painting. I would paint for hours. I would be covered in paint from 7:00 AM in the morning until 6:00 PM when I had to go back to the hostel. Eventually, when I was head of hostel I had the keys to the hostel. I don't know why I was lucky enough to be in a really nurturing environment. My teachers believed in me. I would be painting well into the night, and they trusted me.
Matshoshi Matsafu:
That's odd. It's unheard of. As a black girl in a white school painting these massive three-by-six pieces, and being free to do so, that's one of my best memories. From then, I thought, "Okay, I'm going to pursue a career in fine art." But reality hit when I left school and things were not good. I got accepted into one of the biggest, best art institutions in South Africa, but I couldn't afford to go. So I found a design school down the road from me. I literally took all of my paintings, my huge portfolio in public transport, and walked up a hill or two, and arrived at the administrator's office with my ill-fitting clothes and a hat over my head, and sweating, and being like, "I do arts. I think I can do design too, if you give me a chance."
Maurice Cherry:
Now this school, that was Vega School, is that correct?
Matshoshi Matsafu:
Yes. Yes. I spoke directly to the head of department at the time. His name is Gordon Cook. He's an eccentric white man, not typical, very much future thinking. He saw me, I'm sure when he saw me, he was like, "Oh my goodness. What? What is this?" I was disheveled and I had this big portfolio case of art pieces. He looked at my stuff. He was like, "Okay, we're going to give you an entrance exam." I wrote the paper.
Matshoshi Matsafu:
The last question I answered, and I thought, "Oh my gosh, they're never going to accept me. I don't know what I'm trying." Then they accepted to me. So I ended up doing design and multimedia at the time, which was the introduction to digital, which is interesting, like user interface design, and also animation, and of course communications, and just graphic design. So that's how I started. I haven't looked back since.
Maurice Cherry:
Wow.
Matshoshi Matsafu:
Yeah.
Maurice Cherry:
So once you graduated from there, what was your early career like in Johannesburg? Did you feel like the school had really prepared you to go out there in the working world?
Matshoshi Matsafu:
In a sense, yes, because when I was working, there was definitely a push to have more black creatives. So I found myself in a network of just really great black creatives. We all grew up in similar ways. But some of course more extreme than others. It was just really great. Because you've got to remember that my country has multiple, I'm going to use the word "tribes" loosely, but multiple cultures too.
Matshoshi Matsafu:
Because of the separations, some of them were just melded all together. So if you can imagine being in a brainstorming session with people from multiple cultures, but we're all in the same country, all speaking different languages, and just throwing all of ourselves into it. The texture of what came out of those years is amazing. Sometimes I look at that work and I'm like, "Wow. South, Africa's just a incredible place in terms of creativity, because it's such a vibrant with different cultures." So yeah, that's kind of what stood out. My first job, I was making those really, really terrible user interfaces for phone recharge cards. I don't know if you all ever had that service here where you prepay for like $30 worth of money to put on your phone so you can call people.
Maurice Cherry:
I remember though. Oh my god, this was back in … I'm showing my age here. This was like back in the early, like late 90s, early two 2000s, I remember those. Because I got my first cell phone in 1999. God. I'm really dating myself here. I got my first cell phone in 1999. I remember having to buy cards to put minutes on it. It was from a-
Matshoshi Matsafu:
Exactly. Yes.
Maurice Cherry:
Yeah. It was from a provider. It was from Powertel, which is now out T-Mobile. But I had to buy cards and then put like 500 minutes on it or something like that.
Matshoshi Matsafu:
Yes. So those little machines that you would buy your minutes from. The buttons were all embossed and made in Photoshop. Terrible. Like minute fills. Yep, that was me.
Maurice Cherry:
Well, somebody had to do that. Somebody had to do that work.
Matshoshi Matsafu:
It was terrible. Then, I mean, the cell phone companies were coming up. So I'd be making little animated banners on the sites that would just live there. Then I worked for a production, like digital print production, which it wasn't creative work, but I think it just taught me the basics in how to work quickly, print stuff and B2B stuff.
Matshoshi Matsafu:
Then I worked in a network BBDO, subsidiary of like the larger network agency, the global agency. That was really, really fun. I was paired with a copywriter. We were one of the few fully black creative teams, like all women creative teams. We got to work on some really fun campaigns, local ones, but also some international brands. Yeah. Then I remember the turning point when I decided to leave advertising. I loved the advertising world. I learned a lot. I was in charge of people who had been in the industry for so many years. I was like, "I'm making ads and you're older than me? But you have to listen to what I have to say? Oh my god, this is so scary."
Matshoshi Matsafu:
It was just so fun. Very exhilarating. Then I decided to leave home because of a number of things, but also primarily because I felt like the advertising industry back home, this is hard, was kind of masquerading as being for black people, as in using black imagery and our colloquialism, like our style, our dress, our lingo, our music, and selling us these things. But in real life, it wasn't really reflected for most people. One of the so-called marketing research sessions we did was with a group of aunties. I would call them aunties. Most of them, single mothers and caring for multiple people in the household because our culture is as such, is that you're not an island.
Matshoshi Matsafu:
So they'd be caring for multiple kids. So why it disturbed me is that the company I was working for wanted us to encourage this demographic to use what would've been their 12th check in December, which they would usually use to stock up on supplies for the following year because people aren't rich. You buy extra bags of flour, and you send them out to the village or to the neighboring family. You share, and that's the way we were all able to survive. So we were trying to encourage these aunties to spend that money on a cellphone contract. I was like, "No. I'm not doing this. I can't do this. I can't do this anymore."
Maurice Cherry:
Yeah. It's interesting you mentioned that about advertising. So I live in Atlanta. The part of Atlanta I live in is, I want to say it's the black part of town, but like most of Atlanta's the black part of town. But the neighborhood that I'm in the west end, is I'll say one of the lower income areas of the city. It's a historic neighborhood. Morehouse College is here, Spelman College. Like it's well known in terms of just black history and whatnot.
Maurice Cherry:
But I do see a lot of the advertising that's done around here, and it's always for like prepaid cell phones and things of that nature. For things that don't really better the community in any sort of way, it's just like, "Hey, you just got paid. Give us your money."
Matshoshi Matsafu:
Exactly.
Maurice Cherry:
Not even for well-meaning whole things. It's like, give us your money so you can buy some shoes. Give us some money so you can buy a combo meal or something like that.
Matshoshi Matsafu:
Exactly.
Maurice Cherry:
Yeah.
Matshoshi Matsafu:
It felt sickening at some point to know that we're putting things out there that actually catch people's souls because that's what we are meant, what we're trained to do as communicators, as media makers, as creatives is find a nugget that makes people feel that connectivity to being human and exploit, use, expound upon, whichever one you want to use and sell them a product. That felt really disgusting to me. So I left.
Matshoshi Matsafu:
I also just kind of wanted to experience life. I originally wanted to go to Korea to go in … No. I originally wanted to go to Japan, to apprentice with a calligraphy master and eventually become the second black samurai. That's what I wanted to do. Okay. Because Yasuke is one of my heroes. I was like, "Okay, well, I'm 24. I don't really have any reason to just stay in one place. I really love of Japan and Japanese culture."
Matshoshi Matsafu:
I consume Manga and Manhwa and everything. So I wanted to go there. But I applied in Korea as well. Korea got back quicker. I knew that I didn't have the resources to just travel. I knew that I'd have to work. Teaching English felt like an easy way because I'm really good with languages too. Then I didn't mind kids. So I was like, "All right. So if I teach English, I can save up money. I can travel. I can build some character, learn about different things. Maybe I'll still figure out how to be a samurai."
Maurice Cherry:
I mean. Matshoshi, the samurai, it has a nice ring to it.
Matshoshi Matsafu:
Right? That's what I thought. I thought. Everything. I was going to have my braids. It was going to be so cool.
Maurice Cherry:
So you decide to leave Johannesburg, leave South Africa, go to South Korea. I'm sure it was a big culture shock. But what ways did I guess … So many questions. One, how was it a culture shock for you? Two, like when you think back to that time, what really sticks out to you the most?
Matshoshi Matsafu:
The funny thing is that I think moving here was more of a culture shock for me than moving to Korea.
Maurice Cherry:
Okay.
Matshoshi Matsafu:
Yes. The reason being is culturally, I think indigenous cultures, we tend to have similar social structures in the sense that you never address your elders by their first name. You defer. There's a different type of way of speaking, which is more formal or informal. That was familiar to me. There were things like gestures to show reverence for older people. You don't just hand somebody something without supporting your arm. It was universal.
Matshoshi Matsafu:
All of these things were apparent even before I learned the language. So those things felt familiar. Also our families tend to stay together. Your grandparents raise you or have a part in raising you. You grow up not just as a nuclear family. The idea of all for one, one for all, we share resources. There's even a word in Korean called chong, which is the direct and same meaning as a word in one of my language called Ubuntu. Ubuntu and chong, loosely translated, mean the spirit of humanity. That we are beholden to as humans and should respect and impart upon each other. That's powerful to me.
Maurice Cherry:
Interesting that moving from South Africa to Korea was not that big a shock, but moving … Yeah. I could see how moving to the us would be a big, it's definitely a huge change for that especially depending on the part of the country that you're in. Because even what you're describing in terms of that familial structure, I'm from the like deep south, from Alabama. In a way, it's sort of similar to that.
Maurice Cherry:
The town I grew up in, Selma, is a very insular town. So even as you're describing that family structure and reverence of elders and things like that, that's still very much a thing. Now, it might be different in other parts of the country. Actually I know it's different in other parts of the country. But yeah, even depending on where you would move here and settle in, it is totally, totally different.
Matshoshi Matsafu:
I mean, there were the obvious things, right? There were reactions to my skin color, obviously. We'll get into the not so nice things about that. There were reactions to my hair. There were to my perfume because when I had moved there, black people, I don't know anybody who doesn't use Cocoa butter or Shea butter. That's just what it is. There at the time, it was difficult to find things that we were accustomed to, like lotion that doesn't have whitening agent in it, or deodorant. I had to import some stuff because it was just not commonly used. So there were so many reactions, reactions to my hair obviously.
Matshoshi Matsafu:
I remember one day standing at a bus stop. I felt something tugging at the back of my braids. I was like, "What the hell is going on?" I turn around, and there's these two really small grannies, and their faces are all wrinkled, like crinkle paper. They're playing with my hair. Then I have this moment of, "Don't touch my hair."
Maurice Cherry:
Yeah.
Matshoshi Matsafu:
At the same time, I'm looking at their expressions. I had learned a little bit of Korean then. I understood what they were saying. They were saying A, that my hair was beautiful and that it looked so familiar to a style that their ancient Koreans used to do as well because they also used to braid hair. Right? Braids were something that royalty used to have. So they were talking about that. I decided to focus on that aspect of the conversation.
Matshoshi Matsafu:
Even though it was a teaching moment, like, "Next time, please ask." It was also a humbling moment for me to have grannies that are 70, 80 years old being fascinated with my hair, and not from a judgemental perspective. That's the beauty I drew from those moments. But when there was full out racism, oh man. Whoo. I had direct jobs declined because I'm black. People were not shy to say.
Maurice Cherry:
Oh wow.
Matshoshi Matsafu:
Very clearly, "We need you to speak in an American accent in order to have this job." We had to send photos in with our resume. The moment they got my photos, they would just say, "No, sorry. You're not what the school wants to represent itself by." In other words, you're not blonde, white haired and blue eyed. Yeah. There were some serious racial offenses. But as you know, those are all over the world, if you're walking around in a black body.
Maurice Cherry:
This is true. But I would imagine, even more so in such a homogenous country like South Korea or in Japan or something like that. It's definitely a lot worse because what it does … I mean, it's one thing for it to be racism, but similar to how it is. Well, maybe not so similar to how it is in the United States. It just impedes how far you can go in society. It keeps you, the racism keeps you down literally at a level where it's preventing employment and any like social rise in that way.
Matshoshi Matsafu:
Right. But at the same time, it was a balance of, yes, I'm being racially profiled, and these things are happening. I'm not able to make a living in some. There were some spots where it was really bad. I was like, "Oh my gosh, if I don't get another contract, I don't know what I'm going to do." But then at the same time, because teaching wasn't the only thing I was doing there, I was performing music. I was doing like graphic design and design stuff, freelance and production assistant on some films, and things like that, because I never stopped being a creative. In those areas, because of what I looked like. I had so many opportunities. I was a wedding singer.
Maurice Cherry:
Oh wow.
Matshoshi Matsafu:
Because everybody had this idea of a black soul woman in a red dress, just like belting out these love songs from the fifties and jazz. I was like, all right, I'll play that role. Sure.
Maurice Cherry:
That is amazing.
Matshoshi Matsafu:
Oh my gosh. There was aspects of living in Korea that was so fun. I got perform on stages. I got to do weddings. I got to be in a couple of movies and ads. I got to sing in K-pop songs. It was the truth, and purely because of being black and because of the consumption of black culture. So I have to sit with myself and reconcile some of the really negative feelings around that. But for the most part, I was just like, "Okay. At least in the granded scheme of my life, I can say I once did this."
Maurice Cherry:
Yeah, no, absolutely. I mean, those are the kind of memories you keep with you for a lifetime, just great stories too, to tell, to get to know people and things like that.
Matshoshi Matsafu:
Yeah.
Maurice Cherry:
So in 2016 you ended up relocating here to the United States, in Minneapolis. How was it, making that change?
Matshoshi Matsafu:
It was brutal. It was brutal. I wasn't even based in Minneapolis first. I was based in Duluth College. Duluth, it's a college town, but it's also an old town. So not a lot of people around my age. It was in the middle of winter. I'd never experienced a winter here.
Maurice Cherry:
Oh wow. You went to one of the coldest parts of the country in the winter. My goodness.
Matshoshi Matsafu:
It was brutal, but it was I think a character building exercise for sure. I don't think I've ever felt more homesick than in those years. Especially considering the political climate too, being in a small town in an almost reddish state, and being highly aware of how many or how few black people there were in the vicinity was very jarring for me.
Maurice Cherry:
Did it ever get that cold in Korea?
Matshoshi Matsafu:
Oh yeah. I mean, it did get cold. I think the Minnesota cold hits different though because of all the other things. Right? Yeah.
Maurice Cherry:
Yeah. No, I feel you. Yeah, totally. Also you came, because if you came in the winter of 2016, I mean, that was just such a contentious time in this country because we had the change in leadership from Obama to the president whose name I shall not mention. All of that combined, did you feel like at the time, that you had made the wrong choice?
Matshoshi Matsafu:
Absolutely. I had so many moments of … I was like, "Why would I choose this? Why, why, why?" But I also know that life has peaks and valleys. If anybody grew up the way that we grew up with all the things that we've seen, this is nothing. In the grander scheme of things, there's growth to be had here. That's why I think I'm still in the city, is that I feel like the city is a place for treading water and refining, refining.
Matshoshi Matsafu:
This is a place where I refined. Okay. I want to work in tech. But what do I actually want to do in terms of my career? Is my career serving my purpose, innate purpose or is it something that I do for money? Do I feel like the surroundings or the circumstance determine my happiness? I've had to be very, very, very active and intentional about answering those questions for myself because it would've been really, a much harder time, if not. Yeah.
Maurice Cherry:
Yeah. How has the Minneapolis like creative community been for you? I mean, it sounds like wherever you've managed to go or wherever you've managed to be, you've tapped into some creative community, whether it's in Johannesburg. In Korea, you mentioned being a wedding singer and all this stuff. Have you found like similar creative opportunities or communities like that in Minneapolis?
Matshoshi Matsafu:
When I'm being intentional about it, yes. This is except for the past two years.
Maurice Cherry:
Right, right. Because of the pandemic. Yeah.
Matshoshi Matsafu:
Right. The thing that I appreciate about here is that even though it was very difficult to find black, brown communities, there are things that show up, like events. If you're active, you can figure it out. I mean, I had, at some point been planning my month's activities in advance to go to book launches or independent films or live sketch, anything that would put me in proximity to creativity and art ,like visiting galleries or talks or going to photographer's exhibition, something, anything. When you do that, then it is very possible to find a bunch of creative people. Right now, I've been attending a lot of virtual things and slowly getting into communities. There's pockets of really interesting things that are happening in the city because oddly enough, there's tons of funding for the arts, like tons of funding for the arts.
Matshoshi Matsafu:
So when you really go out there, you realize that it may not necessarily be completely futurist yet. But there's an underbelly of building here that's really exciting. Black people owning co-ops, black people owning artist collectives and exhibition spaces, black people putting on shows and music and theater and everything. You're just like, "Wow, this is actually really great. I never expected it here." I would always be going to Chicago and New York, around LA to find those. But more and more, I think people are actually staying in Minneapolis and deciding to build it here rather than seek it elsewhere.
Maurice Cherry:
We just had on the show a few weeks back, someone that's in Minnesota. Terresa Moses, she's an educator at the University of Minnesota. She also has a design studio called Blackbird Revoke. I've had other folks on the show, I think in the past, that have been in and around Minnesota. Of course, as I mentioned to you, I know some people there just personally. So I've always heard like great things about the community there. I'm glad you were able to really sort of tap into that, to hopefully make it feel … I don't want to say like home, but at least feel like it's a place where you can be.
Matshoshi Matsafu:
Yeah, absolutely. I actually know Terresa.
Maurice Cherry:
Oh really? Okay. All right. Nice. Tell her I said hello.
Matshoshi Matsafu:
Oh yeah. I will go tell.
Maurice Cherry:
You mentioned to me that you wanted to talk about how to embrace being a black creative influx. I'm sure that a lot of folks in our audience want to know how to embrace that, especially during the midst of this very uncertain, weird time that we've been now in for about two years. Can you like expand on that?
Matshoshi Matsafu:
So when I think about that, it's essentially how in this time of what it means to be a black body working in corporate world, especially in a creative profession, our creativity is very closely linked to our identity. Now you're working with your identity, and your identity is now your work. So you have to really think about like, how do I separate? How do I accept that my emotions, my state of being, my home life, all of these things, the fact that I'm in a black body is going to influence my work, whether I like it or not? The expectations that are put on us to be at the forefront of creating new isms, and memes, and things, and media can, I think, lead to a little bit of an identity crisis.
Matshoshi Matsafu:
I'm saying this out loud because I've certainly felt that way sometimes, and embracing the fact that A, you don't have to be one thing. That's been the biggest thing for me is that yes, the messaging around find your passion, gear your emotion and your focus and your work towards that passion. Then it'll turn around for you. Hopefully, be equitable.
Matshoshi Matsafu:
Yes. But also we are multifaceted intersectional beings. Right? Half of the time, all of the way that we are around working and being productive and showing that we are worth anything is very Western. Being in one lane is a very, very just constrictive way of being. Part of me kind of realigning myself with my cultural learnings and what feels true to myself has been this, having grace for myself to say, "Okay. So I'm an illustrator, but I'm also a singer, but I'm also a writer, but I'm also a great arter. I'm also a really great technologist.I am also a great philosopher." These are all the things that I am and more, and I can be good at all of them. I can be good at all of them. I don't need to be good at all of them at the same rate at all, all the time. But I can certainly not squeeze myself into one lane feeling like that's it; and if I don't do that, then I'm not worth anything.
Maurice Cherry:
So what is it that sort of keeps you motivated and inspired these days, like knowing that?
Matshoshi Matsafu:
The funny thing is I inadvertently surround myself, maybe not even physically, but I somehow manage to find people that when we connect, we remind each other of our natural frequency of joy. Whether that be just a conversation or exchanging a message or something, just to reset and remind and inspire. Right? That's what keeps me going. I have a friend of mine that like a ton of my friends, we don't maybe not even speak to each other for six months at a time. But when we do speak, it was just like, "Oh, I remember what it feels like to be really happy existing in this time right now."
Maurice Cherry:
Yeah.
Matshoshi Matsafu:
That's it. Then on a more practical sense is not stopping the things you know bring you joy on a practical day to day level. Things like journaling doodling without purpose, not thinking of the final product, whatever it may be taking pictures, cooking, doing something that removes you from being in front of the screen all day. Right?
Maurice Cherry:
Yeah.
Matshoshi Matsafu:
Don't stop doing those things and don't stop documenting because when you feel like there's absolutely nothing left, then you have a whole archive of things to remind yourself that you are more than your work. You are more than productivity, and that you are an actual massive being.
Maurice Cherry:
Yeah. I feel like that a collective thing that a lot of people have started to really discover within themselves this year. We hear all this talk in the news about the great resignation and people casting away. Casting away the jobs that they may have once had under pre pandemic life and doing their own thing. I know so many people over the past two years that have ditched their jobs just to become quote-unquote "content creators".
Maurice Cherry:
That's a very broad term, but they're doing stuff on YouTube. They're doing stuff on TikTok. They're podcasting. They're doing any number of things that are not what they were doing beforehand because they realized as society shut down and things got stripped away, they realized what's really important. For many of them, it was not the jobs they were doing. So they had to tap into who they were and find out how they could become more of that authentic self and really lean into that.
Matshoshi Matsafu:
Right. Then also balancing the pressure of even if it's okay to be multiple things, it's also okay to be one thing. I think we have this pendulum swing that keeps the happening where it's like stick in your lane or be a complete hustler and have five different, six different hustles going on at the same time. But some people aren't built that way. The true thing is to really take the time to know yourself and understand how you built and go with that. It doesn't have to look like anybody else's thing.
Maurice Cherry:
Absolutely. Do you feel like you're living your life's purpose now or do you think you're still searching for that?
Matshoshi Matsafu:
I think that's a constant search. I the think if I ever assumed that I know or that I have found, then my ignorance is really set in deep, personally. If I don't continue searching, refining, pivoting, learning, becoming new, then I personally feel that I'm denying the very nature of existence. Our cells change on a daily basis. You're not the same yesterday as you are today. Our personalities, our minds are constantly evolving. So for me, that means that everything should be constantly moving. Will I find some lanes that I'm comfortable in? Sure. But to say that it's found, I don't think so. I don't think that's a bad thing.
Maurice Cherry:
I remember, I think this probably went around a couple of years ago about how the body cells replace themselves every seven to 10 years. So in many ways, you're literally physical not the same person that you were because your body is always in a state of change.
Matshoshi Matsafu:
Exactly.
Maurice Cherry:
Yeah.
Matshoshi Matsafu:
Right.
Maurice Cherry:
To that end, and I mentioned this because you had touched on this a little bit before we started recording. But where do you see yourself in the next five years? Is it staying in Minneapolis? What do you want to do or where do you want to be in the next five years?
Matshoshi Matsafu:
I know for a fact that I'm building my life to be as such that I don't need to call one place home. I want to be three months in one country, three months in another country, in another city and another, and be comfortable in all those places because I know that that's what I need, to be a structured nomad, I suppose. Because that's fun for me. I love learning. I love being immersed in different cultures. I love languages. I love building and designing from that perspective of having multiple sources of influx. That makes me excited.
Matshoshi Matsafu:
So that's one of the things I'm building my life as such to make that easy for me, whether that means also delving into real estate and understanding how that works, so that I can have another passive income that's actively happening. So I can facilitate my being able to move around, whether that's increasing my technical knowledge and skill. I mean, I can definitely work from home from anywhere in the world. But the more proficient I become in my particular field right now or the things that I'm able to do, whether it be the illustration or the UX or design, getting even better at that. So that it's easy for me to move around, and I'm not encumbered by one contract.
Matshoshi Matsafu:
I think I also definitely want to pursue some business aspirations that I've had that have been lurking around. Yeah. So that's it. I want to be in a state where I can live anywhere in the world for three months at a time, unencumbered, be working whichever way it is. Whether it's through my own business or through contracts, and to be exploring and learning about different cultures, and also being able to spend a lot more time with my family because I don't like this, what's been happening for the past two years and not being able to hold my mom. I need to be able to give my mom a hug, and my brothers. It's intense. Yeah.
Maurice Cherry:
I just got to see my mom this summer back in July. I mean, it came unfortunately at a tragic time because my grandmother had passed away suddenly. That was the first time I got to hug her was after that happened. Oh my god. Yeah. I know exactly what you mean. I know because I live in Atlanta. My folks live in Alabama. People will ask me like, "Oh, why don't you do what you do in New York or in San Francisco," or da, da, da, or whatever. I'm like, "Look, I got to be close to home." Even if it's just a state over, that's close enough. I can't go too far out like that. I would love to, maybe one day, but yeah. Sorry. That brought up something that was not … I was not expected to go there. Oh my god. No, no, no.
Matshoshi Matsafu:
It's real though. It's real.
Maurice Cherry:
It's real though. Yeah.
Matshoshi Matsafu:
When you feel it in your chest and in your throat, and you realize that such a simple thing … Right now, there's not even any words for it.
Maurice Cherry:
Yeah.
Matshoshi Matsafu:
Yeah. I mean I want to travel with my mom. That's the next thing I want to … This is strange. I don't know why old people like cruise ships, but it's fine.
Maurice Cherry:
Look, oh my god. My mom, my mom wants to go on an Alaskan whaling cruise or something like that.
Matshoshi Matsafu:
Exactly. Oh my goodness.
Maurice Cherry:
I'm like, "You'll be by yourself, lady. I'm not doing that."
Matshoshi Matsafu:
I'm so shook. I'm like, "What? Okay. That's what we're going to do." So yeah. Yeah. I want to build a life where I can fully take care of myself and my mom, and my family. Just be like, "All right, we're going to be on a cruise ship for the next couple of months." Because that's what you want to do. Let's do it.
Maurice Cherry:
Yeah. Well, just to wrap things up here, where can our audience find out more about you and about your work and everything online?
Matshoshi Matsafu:
So everything is under my first name Matshoshi on the Grams and Twitter. That's M-A-T-S-H-O-S-H-I. Also my website is Matshoshi.com. You can see all of my design work, and my forays into creative experiments there. So yeah, that's where I am. Sometimes I'm vocal online, but most times I'm not because I live in the moment. That's just the way I function. So if you catch an illustration or a thought here and there, cool. But I mean, I'm there.
Maurice Cherry:
All right. Sounds good. Well, Matshoshi Matsafu, thank you so much for coming on the show. One, really for just sharing your perspective of working in the world and creativity in different countries and stuff. But just sharing your story, sharing the deep thought that you have behind your work and around, your artistic practices and everything.
Maurice Cherry:
I mean, I'm kind of getting a little tongue tied. This was such a really good interview because we didn't really talk about your work that much. But I'm glad that you were able to really just talk about who you were and showing how being a black, creative is not just the work that you do. It encompasses so many different things. I really feel you embody that. So thank you so much for coming on the show. I appreciate it.
Matshoshi Matsafu:
I appreciate the opportunity to chat with you. It was a wonderful experience. Thank you.
Brevity & Wit is a strategy and design firm committed to designing a more inclusive and equitable world.
We accomplish this through graphic design, presentations and workshops around I-D-E-A: inclusion, diversity, equity, and accessibility.
If you're curious to learn how to combine a passion for I-D-E-A with design, check us out at brevityandwit.com.
Brevity & Wit — creative excellence without the grind.