It's Independence Day here in the U.S., and what better way to celebrate that than by talking with a self-made business owner? Meet Jon Lewis: designer, co-founder and chief product officer of Circa Victor, a political technology firm currently based in Washington D.C. Jon and his team infuse design thinking and technology into our nation's political system by empowering journalists, the public, and decision makers at every level of government.
We started off talking about how Circa Victor got started, and Jon shed some light on what tech can learn from the government (and vice versa). From there, we talked about his upbringing overseas, his time spent in Hawai'i honing his craft, and what he feels it means to be a designer today. Jon's unique style and outlook on the design world are what sets him apart, and I'm glad for the opportunity to have him tell his story. Aloha!
---

---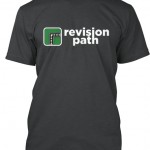 The Revision Path Store is now open! Buy specially branded t-shirts, mugs, and buttons and help support the show!
Save $5 off $30 by using the promo code 5JULY at checkout! Offer goes from July 5 – July 12.
---