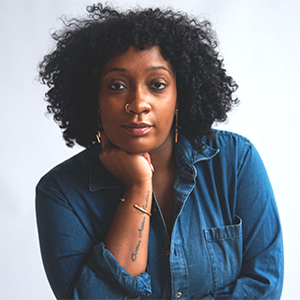 For Jailyn Easley, combining design and technology with her work is like second nature. As a member of Accenture's experience design team, Jailyn uses her phenomenal design skills with cutting edge tech like machine learning and mixed reality to create next-level work. But her journey as a designer doesn't stop there!
We began our conversation talking about Jailyn's brand design work with the popular Atlanta restaurant Slutty Vegan, and she shared how growing up in Baltimore and working with and being taught by luminary Black designers Leon Lawrence III and Jennifer White-Johnson helped hone her design skills and put her on a path to continuing her studies in Atlanta. We also spoke on Atlanta's growing status as a creative hub, and she shed some light on her latest project titled 100 Days of Design. You'll definitely want to keep an eye out for Jailyn — her star is on the rise!
Links
Transcript
Full Transcript
Maurice Cherry:
All right, so tell us who you and what you do.
Jailyn Easley:
My name is Jailyn Easley and I am a Baltimore race creative now currently living and working here in Atlanta. I specialize in design strategy and interactive designs, so I like to do a lot of things that are dealing with just different design trends and things that are going on currently as well as emerging technologies that some people may have heard of such as MR, Mixed Reality or VR, certain things like that. And I like combining the two worlds to see the different possibilities or opportunities that we're able to reach.
Maurice Cherry:
Nice. And now you just recently started at Accenture, is that right?
Jailyn Easley:
Yes, back in October, yep.
Maurice Cherry:
Okay. What's an average day like for you there?
Maurice Cherry:
So at Accenture I work in our innovation hub, which is the largest office in the Southeast region. I currently do experience design, so I help support our internal teams and whenever we have different clients that come in that want some sort of consulting workup done, we help support those pods that do mainly more of the strategy and business side of things. So they're the ones helping close the deals and everything while we're on the back end doing all the visual assets.
Maurice Cherry:
If a different client comes in, then we would make all types of assets, everything from digital signage to say welcome to that company name badges. We would do PowerPoint decks and we kind of come up with the theme around what the visual looks like for when that company comes in to do that workshop. So it's a pretty interesting time. I get to learn a lot of different technologies and softwares and things like that. For example, I'm working in [inaudible 00:04:45] right now, which is kind of interesting because I never thought I would be actually doing real motion design stuff. So it's pretty … It definitely pushes the limits when it comes to combining technology and design.
Maurice Cherry:
Nice. It sounds like it's pretty fun so far.
Jailyn Easley:
Yeah, it's awesome. I love Accenture. There's so much to offer there.
Maurice Cherry:
I would imagine working in some place called like the innovation hub, that sounds very next level futuristic kind of stuff.
Jailyn Easley:
Yeah, we definitely, there's so many things that Accenture is working on in house and just their dealings with other companies and things like that. We get a chance to put our hands in every little pot. So for example, we have a 360 camera that we're testing out right now to see how we can use it within some of the workshops and helping to get that innovation piece, I guess, to the clients or communicated well to the clients so that they can see that part of Accenture as well.
Maurice Cherry:
What drew you to working for Accenture?
Jailyn Easley:
I think just the way that their company is progressing. They're definitely not a brand new company, but a lot of the things that they're doing in the market, they're definitely dominating and being able to push the limits when it comes to thinking outside the box honestly. Because so many different problems to solve that we've done on the job and it's just like whatever the client comes in for, we always find a really interesting way to problem solve around it. Honestly, coming out of SCAD, something that I wanted to do was being able to combine strategy and design. I liked the concept thing around designing and coming up with the theme and the abstract for it and everything like that. So I really was kind of drawn to that strategy and that consulting so to speak side of Accenture, so that's definitely something that drew me forward to them.
Maurice Cherry:
And now for those that are listening and may not know specifically what experience design is or why you would combine strategy, which is something that's probably more left brain cerebral with design, which is more right brain and creative, can you talk a little bit about that?
Jailyn Easley:
Accenture has a few different necks when it comes to their overall brand. So they have an Accenture strategy, they have an Accenture interactive, but I think the interesting part about that is that they co-create in one space. So definitely the importance to that, we're being able to come up with different and innovative new looks on something that could have been easily solved with one, two, three. A lot of times that strategy involves using some sort of new technology, whether it's a software or whether it's an actual physical item. We use these things on a day to day basis, like artificial intelligence for example. We use it when we unlock our iPhones during the day or when we're logging into our computers, but it's never seen to solve a problem but more so just be a whistle and bell.
Jailyn Easley:
I guess just trying to incorporate that into day to day life is going to start to make it easier for, I guess for all users. An experienced design is something that some people might see as when they think of experience design, they think of user experience which in a lot of cases is UX and UI so to speak in industry term, that's doing a lot of wire framing and looking at apps and the development or more so the design of the development. So you're doing a lot of sketching, you're doing a lot of prototyping and things of that nature. But in this sense, experience design is being able to create an experience for ideation for co-creation to happen. Because that's ultimately what's going to help take our clients to the next level is being able to co-create one room and come up with a solid solution that has to deal with pushing the limits as well as sticking to what the company's core values are.
Maurice Cherry:
Now before Accenture you were doing art direction and doing brand design for a very popular local restaurant here in Atlanta. Talk to me a little bit about that.
Jailyn Easley:
Yeah, so before I came to Accenture I was working with Slutty Vegan. A lot of people know them as like the hot vegan burger joint and it's definitely quite the experience having worked with such an amazing team like that. Back in I guess November of 2018 their team had a social media challenge which was package designing. Of course people knowing that I'm a foodie and I had been telling people, "Hey you guys should eat at Slutty Vegan. The line is super long but you guys should eat there," to people sending me these different or the post from the package design challenge. So I ultimately ended up entering and I was like, "Okay, There's some other designs out there and it should be interesting to see if I even make it to the next round."
Jailyn Easley:
But then a few days later I get a notification that, "Hey, you made it to the top 10," so of course people are voting on line. And I'm every day searching through the comments and even Jermaine Dupri voted on mine, which was kind of crazy and ultimately ended up winning the design challenge in which they paid me for the design. But then they also made me their personal freelancer. So all of their design needs were I guess driven towards me. And then with that, them having posted me on their social media, I also got all of these different freelance clients and I mean I was working on like 10 clients a month at one point and it was just crazy. So then once I was like, "Okay, freelancing was nice and everything," but I think I was ready to make that full time commitment with Slutty Vegan as they were with me.
Jailyn Easley:
So probably around May of 2019 they hired me on full time and so I was able to create so many different types of designs for them. Everything from the bags in their restaurants to the fry cups. They just came out with the new Slut Sauce in stores near you soon and a few different other items that have reached a lot of people ultimately. And something that was also interesting, Pinky originally told me, she said, "I want you to put your name on the design."
Jailyn Easley:
I was like, "Wait, you want me to put my actual name on the back?" Like, "Yes. Put it on there." So I ended up putting it on there. She uses these bags every day now. So I have different people following me and out to me every day just because of something that I did almost or I guess almost like a year and a half ago now. It's definitely been a great experience and I still work with them to this day, just on a freelance base. But definitely something that I recommend for any designer that wants to push their limits. Working with local businesses is a great idea.
Speaker 2:
Wow, that's a pretty awesome story.
Jailyn Easley:
Thank you.
Speaker 2:
I mean you want a design contest, ended up working with them and they even, of course, I mean trust your work enough to want to work with you, but then to also say put your name on design. Like you never hear companies try to put that much investment into their design in that way or to their designers. That's really good.
Jailyn Easley:
Exactly. And you know, the really cool thing about Pinky was that anybody that she hired on, she had known already that they were I guess contractors so to speak, so they still had their own businesses but Slutty Vegan was one of their clients. So she always put it as, "This is going to be that company that helps you step forward into whatever you're looking to do." So I definitely thank her for supporting my designs and being able to … I mean like I said I branded so many different things that, some that I can't mention because they haven't rolled out yet, but others that reached so many people, it was definitely a really good opportunity.
Maurice Cherry:
Nice. I have yet to make it to Slutty Vegan. I keep hearing about the lines and that puts me off because I don't want to go and have to wait an hour in line. I don't even know if there's a good time to go. I'm assuming it's still super popular where people are waiting in those long lines. Right?
Jailyn Easley:
Yeah. I mean literally you're with everybody else in Atlanta. They're like, "I would love to go to Slutty Vegan, but the lines are always terrible." Okay. So here's a cheat. So I would say go on a Tuesday or Wednesday afternoon are usually the best time. So that 4:00 to 7:00 period because there's usually no line there.
Maurice Cherry:
Good to know. Good to know. I'm going to have to edit that out but no. So at the top of the show you mentioned being from Baltimore. Tell me about growing up there.
Jailyn Easley:
Yeah, so I am born and raised Baltimore. Family is from there. Went to an all girls high school, the oldest all girls public high school in the nation, Western High, as did all of the women in my family. So it was a traditional thing. So my high school was originally where I started doing design and I had taken a few AP art courses, which were pretty much just graphic arts instead of visual arts. So there I started playing in Photoshop and seeing what the different effects would do and I was able to get a few portfolio pieces out of that to insert when I went to Bowie State. So from high school, Baltimore was a really interesting place to grow up because when you're younger you never really reach out. As an adult you might go to D.C. from Baltimore just because it's an hour away but you're never in D.C. unless it's a field trip or something like that. So it was pretty interesting being so close to another really popular city but never really interacting with them I guess.
Jailyn Easley:
And so I went to university, I went to undergrad at Bowie State University, an HBCU out in Laurel, Maryland. And so there, I actually met one of my design mentors and one of your previous interviewees, Jennifer White Johnson. She was my professor at Bowie. So she was really influential in my life and still is. She is an amazing visual artist. She is definitely a master of all tricks. I mean every time I see something different on her Instagram, I'm like, "Oh my goodness, you're doing this now." She's amazing. And she definitely helped me get through those college years of designing and just being able to articulate yourself as a designer of color and getting out what you're really wanting to express. So that was pretty interesting. And she also definitely pushed me to go to SCAD during my, I guess senior year towards the end of Bowie. So she encouraged that move and when I moved down to Atlanta, I definitely kept in touch with her as well. Just sending her stuff and keeping up on what she was doing definitely inspired me to keep going as a creative. So yeah.
Maurice Cherry:
So talk to me a little bit about just what it was like in that sort of Bowie State learning environment. You're right, we did have Jennifer, she was on the show I think two or three months ago, a few months ago. But I'm curious because I've heard a lot about Bowie State and I've certainly heard a lot about the program through Jennifer, through other teachers that are there. From your perspective as a student, what was it like?
Jailyn Easley:
Yeah, so originally I honestly did not want to go to Bowie. I didn't want to be in the state of Maryland. But you know when you have tuition and stuff it kind of limits you. So I ended up going to Bowie. A friend of my dad's, which was another one of my professors, he showed us during my last year of high school, showed us around that building, which is the VCBMA, Visual Communications and Digital Media Arts building. So they had everything from theater to design and they had all these nice computer labs and it just set the tone for me to say, "Okay, if I really wanted to be in an environment where I'm able to flourish and also work amongst other designers that are my age and also that look like me then this would be where I would want to do it."
Jailyn Easley:
So especially at an HBCU, I knew that that was something that I wanted to do straight out of high school was that I wanted to be around my people. So I went to Bowie and my years there were pretty awesome just with my … I guess there I was Campus Activities [inaudible 00:18:14] Vice President there and I was on a lot of the initiatives under VCBMA, so different art clubs and things like that. And also, I would work to get sent to different conferences. So throughout my time at Bowie, I think they helped me go to two different conferences. One was HBCU South by Southwest, which is [inaudible 00:18:37] by a startup called Opportunity Hub that's local here to Atlanta actually. Also a computer graphics conference called SIGGRAPH, which is over in LA. And they have it in a few different other places.
Jailyn Easley:
So it opened the door for me to say, "Whatever you want to do, you have that ability to do it, so why wait?" Something that I was passionate about, this was something that had allies in I guess. Because sometimes when you don't have friends that do the same things that you do or they don't really understand your thought process and lot of things, then you get a little discouraged or unmotivated in some ways. So good to have a support system around me that cared about my growth and I also cared about theirs. And I'll say that also about the professors. Many of them were supportive and one of them helped me get my first internship with another one of your interviewees, Leon Lawrence. I actually worked with him. That was my first design internship during my senior year. I commuted back and forth for a whole semester from Bowie to D.C. every two days or so. And I went to go work at NACo, the National Association of Counties, over in D.C. near the Hill. So that also was another step-
Jailyn Easley:
[inaudible 00:20:00] that also was another step in my education, I guess, that kind of opened my eyes to say, "Okay, there's not just design for aesthetic or design for whatever. There's designed for political things too." That was something that I hadn't even thought about. It was really interesting the way that he kind of ran his team as well. It got me exposed to a lot of different types of methodologies and just ways of doing certain things. Also, I ended up learning some different softwares there as well. But overall, being in college at Bowie you have the HBCU life mixed with the design life mixed with just being a part of the campus, so to speak.
Jailyn Easley:
Again, I was Campus Activities Vice President, so we kind of helped throw homecoming and spring fling and all those different events. I guess on top of that, I also helped design for those things too. I was designing all of the homecoming posters and all of the posters for different activities going on at school and any events and stuff like that. So that also kind of gave me the experience that I needed when I started venturing out to do more freelance work. So it was like, "Okay, I have something to build off of now." It was definitely a really huge experience from me there.
Maurice Cherry:
Wow. Shout out to Bowie state and there. One, I've heard a lot about how great the program is, but hearing you talk about it from the student end to see just how encompassing it was, not just to you as a designer, but also to you as a black person because you're also working in these design environments with other black people. So you're able to see kind of, "Oh, this is what the possibility can be for someone who looks like me." You know what I mean?
Jailyn Easley:
Yeah, absolutely.
Maurice Cherry:
Wow. When you first got down here to Atlanta, what was your first design job? I feel like there's a story there.
Jailyn Easley:
I signed up with a recruiting agency, which was the Creative Group and usually they have different clients and they'll place you at these different places if fit the criteria or whatever have you. So I ended up interviewing with them. They didn't have anything at the time, but I was interested in just being able to help, I guess other creatives get different design jobs and just being able to help also other creatives of color get design jobs because I felt like that was something that I had had a little bit of experience in on the design in, as well as on the the mentoring end, so to speak. So I ended up getting that job, which was just being a recruiter for different companies and things like that. So if, let's say if Home Depot needed a website designer, we would help find them and place them there. That was really my first introduction to the business of design, so to speak.
Jailyn Easley:
I got to learn a lot about what design agencies function like on the internal scale. So being able to know what a creative director was, what an art director was, what they did, what kind of projects they worked on, and more so for me, help me progress, what are they looking for in resumes? What's the price point for those? How do I get the most out of what I'm doing now? So that kind of helped me or so to speak, pushed me to be able to start to venture out to these different companies and say, "Hey, I want to start applying for certain places so that I feel like I have kind of a wealth of knowledge to be able to compare." I wanted to start to apply for jobs at that point.
Jailyn Easley:
I think my first job here as a designer was more so freelance. So I was doing a lot of freelance for clients around the area because Atlanta is a really big place for entrepreneurs and everybody owns their own business here. Everybody has a store. They have social media presence, so everyone needs a logo done or some branding or some packaging for a new product they're coming out with. A lot of my time was dedicated to helping other people kind of progress the branding of their business and sitting down with them and kind of looking over exactly what they needed to help, I guess progress with whatever visual assets they were trying to produce. Whether that be an apparel line or a candle line or a music label, whatever have you.
Jailyn Easley:
Then my, I guess Slutty Vegan was technically black my in-between job because it was still a startup environment, but I didn't really have a design team there to support me and kind of balance with me. So I guess Accenture was my first real design job, so to speak, where I have some say in the creative decisions where I'm able to kind of produce what I want and have voice, so I can help support these different workshops and helping to gain the clients and things like that. Yeah, [inaudible 00:25:28] was definitely, I guess my first real industry job, so to speak.
Maurice Cherry:
That's really good that when you started out here, it was in a capacity where you could really kind of see what companies were looking for in terms of hiring because… So I've been here now in Atlanta for 20 years now and I'll tell people, like designers that want to come here or designers that are interested, I'm like, "Atlanta is great for freelancers, but it's terrible if you're looking for work," because like you said, there are so many people that are doing something. I can't tell you how many times I've taken an Uber or Lyft somewhere and I happened to mention I'm a designer. All of a sudden, "Oh, let me get your card because I'm looking for somebody. I need a logo for this." If I was still freelancing, I could be getting work left and right, but then I'll have people that will contact me. They're like, "Oh, I'm moving from New York or San Francisco and I want to know what product design jobs are down here." And I'm like, "I don't know."
Maurice Cherry:
Also, the Atlanta, and I feel like maybe this is starting to change, but I still feel like the Atlanta business landscape doesn't really respect designers, at least not in the same way as say New York or Silicon Valley when as it relates to kind of the competitiveness and the types of jobs and the amount of jobs that are available. Atlanta still feels like it's a little behind in that respect. I'm curious when you were doing the recruiting, what is it that companies are looking for outside of what's on the resume?
Jailyn Easley:
Yeah. Atlanta, like you kind of said, it's definitely a pretty big, I guess business park so to speak. I say that in the way of there are a lot of companies starting to move here on Georgia grounds just to get a little bit of the tech scene here because outside of Silicon Valley, Atlanta is definitely starting to be a hub of innovation that's growing. There's so many different startups and other technologies here that companies are wanting to move here. So these companies are primarily looking for… A lot of them like… Okay, and I'll say this too. There are certain companies that like people that are fresh out, people that are going to schools like General Assembly, which you could do UX and UI and graphic design, that some people that are coming out of Georgia State or local colleges like SCAD too. But then there are some companies that want people that are seasoned professionals, so they want the people that have maybe freelanced for Cartoon Network and ESPN and all these other places because they understand and they can kind of bring something to the table.
Jailyn Easley:
So I'll say a place like the Home Depot, they have a huge hub here in Atlanta, but they definitely like to hire on a lot of the new talent because that's what kind of keeps their designs fresh and that's what kind of keeps their, I guess everything moving for them is they're getting those people that are fresh out and they know the industry, they know what trends are going on. So they like that. It definitely just depends on your tenure and where you want to go. But in addition, they're looking for people with obviously, their own full websites that are interactive, that look really good. They're looking for people whose resumes are super on point as far as layout and simplicity goes, a really big trend, and this is nothing new to you or anyone in the industry is minimalism.
Jailyn Easley:
So everyone likes to see something clean because honestly, maybe half the time, when the people that are hiring these designers aren't designers themselves. The person that hired me at Accenture isn't a designer in any way, shape or form. So it's pretty interesting. You would be surprised to know that a lot of these companies are having a design manager who may not have anything hands-on to do with the design that's hiring this person; definitely just to keep the perspective fresh in terms of what you're putting out their stuff. Those are just a few things, but if you go to any of these recruiting agencies, they'll kind of tell you what the client is looking for in that particular instance just so you're getting the best out of that situation.
Maurice Cherry:
Interesting. I had the roughest time with design back when I was really looking before I started… Well, not really before I started my studio, even when I was winding my studio down, it was tough. I remember going to one, and I'll name names because I don't care, but I went to not the Creative Circus, I think it's the Creative Circle or something. They all have, "creative," in their name in some [crosstalk 00:30:21] or whatever. But this was like the Creative Circle and I remember going and I had my resume and I had shown that I had my own studio here called, "Lunch." This was at the time, I think we had just passed the eight year mark and I was like, "Yeah, I've done my own studio work for eight years. But then before that, I worked at Web MD, AT&T and whatever."
Maurice Cherry:
I remember the recruiter looking at my resume and she's like, "Uh-huh (affirmative)," and then she put like a big X over my freelance experience on my resume and said, "So it looks like you stopped working in 2008. What's that about?" And I'm like, "Wait, what? Do you not see the 2008 to 2017 part here where I clearly have been working and I've won awards and here are the awards and everything?" She's like, "Yeah, none of that really matters. We're looking for people to have actual employment experience because we have to be able to check references and make sure that you've actually done the work and not just sat at home and said that you've done the work." And I was like, "Well damn, okay. That's rough," but the reason I'm asking that is because I know like we said, there's a lot of people here that do freelance work I'm basing it off my experience, I can't really talk to others, but it seems like that freelance experience often doesn't count sometimes.
Jailyn Easley:
Yeah. Sometimes in some instances it doesn't for when you're trying to get into those Fortune 500 companies. They want to see what, "real work," you've done so to speak, and I say that quote unquote because they can see the you did this and that for this football team or the NFL. They want to see these big, large names that kind of strike some sort of excitement within them because if you're doing anything on a smaller scale, they call it mom and pop shop stuff. So it all depends on the job that they're looking for.
Jailyn Easley:
But I'll say when I was working with the Creative Group, we looked for all levels of people, people that were still in school and there was some people who were like, okay, we really wanted them for a particular job, but they were still in school and they didn't have any real work experience. But then there were some people with 15 years plus work experience that we were like, "Okay, this person looks good because they've had this experience with A, B and C." Definitely just depends on the scenario there, but I would say choose wisely and don't put all your eggs in one basket because like you, I obviously didn't have that well of luck with recruiting agencies because I ended up working for one.
Maurice Cherry:
That makes sense. I feel like the Atlanta ecosystem is very unique in that we have these top art schools like SCAD and Art Institute.q We have even really great programs at four year institutions like Georgia State, Georgia Tech, Emory, et cetera, but then we've also got all these HBCUs here. So you have this really interesting mix of talent from a lot of different points of view, a lot of different backgrounds, all different types of experience. It just seems like the Atlanta market has not necessarily found the best way to really tap into that. I still get conversations from people like, "Oh, we can't find diverse candidates for our hiring pool." In Atlanta? You mean to tell me in Atlanta, you can't find a black designer? I refuse to believe that, but whatever.
Jailyn Easley:
I was going to say something that, going back to Accenture, that I really admire about them is they not only promote diversity and inclusion, but they are one of those companies that shows it. I always kind of joke with one of my other senior managers and she's like, "This is as many black people as you're going to see in one environment at one time, so definitely soak this up." I'm like, wow. It's a huge mixing pot when it comes to so many different backgrounds and where people are from. I've met people from all different places all over because it [inaudible 00:34:37] all these different offices. It's something that I'm happy to be a part of and I'm glad that they're actually promoting that when they're recruiting from these different universities and stuff like that.
Maurice Cherry:
At your current stage right now, you first of all, congratulations. You recently graduated from SCAD, so congratulations on that.
Jailyn Easley:
Thank you.
Maurice Cherry:
Between that and the work that you're doing at Accenture, how do you see the current design scene or the current design community in Atlanta?
Jailyn Easley:
I would say that the creative community here in Atlanta is diverse, not only in capabilities. There's so many different types of design and creative, so to speak here; everything from set design to creative direction to brand design, but also, actually in I guess, physical appearance there are different types. I knew that going to SCAD it wasn't going to be an HBCU or a PWI necessarily, but I was interested to see what that experience would be like. Surprisingly when I got there, we were probably still the minority, but there were a lot of different kinds of people there. There were Nigerians, there were Asian people, there were people from Columbia and Brazil and it was just a huge opportunity to be able to gain those different perspectives and just about what other people are thinking about and what other people are doing in their design. I still have really good design friends that are from all different backgrounds that kind of offer their own I guess, pizzazz, so to speak, to design. They definitely are able to articulate themselves in a whole different way than maybe you or me do.
Jailyn Easley:
It's really interesting to see that scene of people coming into the corporate world and of course, you want to keep up with different classmates and things like that. So they're working at different agencies that deal with different ad agencies or they're working on freelance or they're working in the corporate space. It's definitely becoming more of a… I guess corporate is starting to catch up to where the younger designers are just in terms of different trends that you kind of see going on in design right now and just through what their product is or what they're advertising, what their ad looks like when it's put out. So that combination of designers and environment is really starting to I guess, make Atlanta so to speak. Whenever anyone asks me, "How's Atlanta," or, "What are you doing down there?" Or, "How's the creative scene?" It's always something different going on. There's always sort of installation going on or pop up or vendor market or even conferences. There are so many different meetups here.
Jailyn Easley:
Having worked for the Creative Group, one of my recruiting tools, so to speak, was meetup.com. So we would find events that had to deal with design and we would go to them to find people that we wanted to kind of recruit for the Creative Group. We would go to different events just that were being held based in UX design or based in development or there were all different kinds of designs. There were study groups, there were just having fun kind of game night design types of things. It's definitely a really interesting combination of people versus environment.
Maurice Cherry:
Nice. So one of the projects we're working on right now is called, "The 100 Days of Design." Where did the idea come from for that?
Jailyn Easley:
I had just been kind of looking to doing a different medium of design. I had been doing your black and white graphic design, so to speak, which was using Photoshop and different Adobe tools to help with the designs. But I wanted to start illustrative style just because it was something that I had seen but I had never tried. Honestly, I was a little afraid or intimidated because I had seen so many different renditions and interpretations of different artists doing their own illustration.
Jailyn Easley:
So I started doing, "100 Days of Design," and I looked for a challenge actually, to do, but I couldn't find anything. I think there was one, but it started in April and I was like, "Well, I want to get started now." So I made up my own challenge and it's probably some other designers have probably done it, but I just called it, "100 Days of Design." So each day, I am pushing myself to not only create one thing each day, but also share it because something that I had seen in the past just with my own work, was that, especially a lot on my social media with Instagram and Facebook and things like that, was that I hadn't put too much of my work on there. I wanted to get into the habit of being able to share my work with others, not because I wanted them… Well, I guess not because I want to promote myself, but just because I wanted to get my art…
Jailyn Easley:
Not because I wanted promote myself, but just because I wanted to get my art out there into the world and you know, not just have it on my website or because I was actually talking to a friend and he was like, "You should start to put your stuff somewhere else other than your website." And I'm like, "Well, why? Like why does it matter?" He's like, "It's a way of expression." Because he's a photographer. So, if you'd look at his Instagram, it's all his work as opposed to just pictures of him and random stuff. So, it's just a way for me to be able to push myself to create every day, to keep going, to be able to route to different opportunities with my design and see where I can push the limits personally. So.
Maurice Cherry:
Nice. How's it been going so far?
Jailyn Easley:
It's good. I am not the best when it comes to time management. So, I'm still definitely trying to figure out a good schedule because with me working full-time plus I do yoga after work and still kind of studying it and I got my certification in yoga last February. So, still kind of studying it whenever I have the time to and doing design and it's like I wanted to be able to, I guess, find some time for myself to do something that I like to do while not sweating all day and working hard diligently all day.
Jailyn Easley:
So, besides that part of it, I think it's going pretty well and I'm starting to explore the different types of illustrations I can do and different ways that I can start to incorporate different things like color palettes and themes and things like that. So, it's gone pretty well.
Maurice Cherry:
Well the good thing is you don't necessarily have to do it every day. So, like a hundred days, there's 360, well, this year there's 366 days. So, you can get a hundred days out of that, doesn't have to necessarily be consecutive.
Jailyn Easley:
Right. I've been like some days I'll group them together. Like this past weekend I just grouped Friday through Sunday together. I was like yeah, here's all of the weekend stuff.
Maurice Cherry:
I mean that's kind of what you have to do, especially when you're working full-time and you've got other stuff going on. I did a project back in 2015 called the Year of Tea. It was a podcast and I would do a different episode, like a short episode, like less than five minutes reviewing a different type of tea or a different brand of tea or whatever. And I didn't do those every day. I would batch them, especially if I knew I was going to be off at a conference for a week or off somewhere else, I would just batch them so they would schedule to go out. Now I kind of shot myself in the foot a little bit because I said like a year. So, I had to do it every day. A friend of mine, Diane Holton, who has been on the show, she's a deputy art director at AARP in D.C. And she did a whole thing also on Instagram, a whole like daily-ish design practice called Daily Digits where she fashioned numbers out of different found objects. So, like she would get-
Jailyn Easley:
I think I saw that.
Maurice Cherry:
… like little candies and make the number eight or something like that, you know? Oh, you heard of it?
Jailyn Easley:
I think I saw it because I had followed Diane at one point. With the whole D.C. And Bowie thing, they always brought someone new from the creative D.C. space to Bowie, so I think I had met her.
Maurice Cherry:
Yeah, she did the campaign, well that wasn't a campaign. I know she did end up doing a campaign with HP on the whole like thousand, she did a thousand of them for Daily Digits. So, it was just interesting seeing how she would take these random objects and just make numbers. Like I'm looking at it right now. One of them, she took Kit-Kat wrappers and made 997 and then she used ramen noodles and flavor packets to make 998. Used gummy worms to make 999 so it's interesting how you see all these different objects and figure like, oh, what's a way to create something out of this? You know, that's a really good thing. I wish more creatives did that just as a practice, not necessarily to have like a body of something to show off, but it does kind of, it engages that sense of discovery and creativity that sometimes can get lost if you're just doing a nine to five or if you're hustling as an entrepreneur, you kind of lose that spark a little bit unless something new comes along and then this forces you into that on a pretty regular basis, I think.
Jailyn Easley:
Yeah, absolutely. And, and I'll say, going from the startup life with Slutty Vegan and it was kind of like a 24/7 thing because it was weekends, it was during the week, it was all the time. So, ultimately I was doing stuff for them, but I never was able to kind of get out my own creativity and be able to push myself to say, "Okay, let's think of something new. Let's create something new." When I came over to Accenture, it was like, I'm still in this transition period and I had some other things in life going on, so I wanted this time to be able to start fresh this year. You know, not having made any resolutions, but more so just intentions of being able to help myself grow and help that self-discovery, like you were saying. That kind of made that internal spark from me because it was something that, when you haven't done it for a while, it's like you almost a little bit lose that motivation.
Jailyn Easley:
And that's something that is what makes you, you, it's something that encourages you do better. It encourages you to keep going and it encourages you to be this free being. So, it was something that I wanted to be able to still have and say, "Okay, this is something that I'm going to do for me." I'm just more so sharing it just to get into the habit of sharing it. But this is definitely something that is all for me and not to, like you said, have a huge body of work, but just to have, to see my progression over my works and to see which ways I can do different things here and there. So.
Maurice Cherry:
Yeah. So, just to kind of switch gears here a little bit, what are you excited about at the moment?
Jailyn Easley:
Currently … Okay. Can I name two things?
Maurice Cherry:
Sure.
Jailyn Easley:
One is a quick thing, so I'm excited about South by Southwest this year. I want to go, and obviously Accenture being a huge company in innovation they're always doing different events there. So, not only for them, but I went back in 2017 and it was, even without having a conference ticket, I mean we had one, but outside of the conference is where the installations were and the companies were doing these huge pop=ups and all different kinds of stuff. So, I would love to go back to South by Southwest this year. So, that's my number one thing.
Jailyn Easley:
Number two. So, at my job right now at Accenture, we are trying to push our internal teams to start doing more things that are combining technology with design and more so, so that it makes sense to them combining technology with strategy, so to speak. Because when you're talking to them, it's more so just about the tactics behind things and how you're going to do what you're going to do to get there. But the what and the how that you're going to get there in. We're trying to make that aspect of it technology.
Jailyn Easley:
So, for example, we have an internal application that allows you to use this artificial intelligence and this augmented reality to be able to present these huge PowerPoint presentations just at the touch of your fingers, but certain things like that. Obviously, it sounds like a really extravagant idea, but things like that take time along with testing and just being able to figure out the kinks, figure out where it works, push its limitations, see how it engages with its audience and things like that.
Jailyn Easley:
So, certain things like that within our hub we are kind of testing just to see what, I guess, how we can advantage it the most. So, that's definitely something that I'm excited about as well.
Maurice Cherry:
What's something that perhaps not many people understand about you?
Jailyn Easley:
Oh, I would say a lot of people don't understand my perspective. Having come from Baltimore within the inner city goes to school there and coming from there to Bowie to Atlanta and going to different places along the way. A lot of people don't understand my thought process when it comes to how I'm thinking about things. And I guess the fluidity in which I'm thinking about certain things, I always like to get variety and get other people's perspective and get just a round table view of what's going on. Because I feel like before we do any problem solving or solution oriented tactics, we need to figure out what's currently at the table and get it from each angle. So, I'm always the one to say, "Well, have we thought about this? Well, how did we get here if we haven't gotten there?" Or I'm always the one to ask questions.
Jailyn Easley:
And to some people it may come off as, well, maybe I don't want to use the word arrogant, but sometimes it may come off as like a know-it-all type of situation, but more so it's just pushing people to be able to understand the different sides of one situation. Because outside of your view, there are the person that you're talking to and the people that they're talking to. So, always pushing people to see the different perspectives in life.
Maurice Cherry:
Who are some of the people that influence you?
Jailyn Easley:
Some of the people that influence me, I would say a lot of them are within the educational sector. Two of them which I went to Bowie with or which were my professors at Bowie, one is actually Jennifer White-Johnson. She definitely had a huge impact on my college life when it came to design and things like that. But also another one of my mentors at Bowie, Tamisha Ponder, she is my yoga mentor, so to speak. So, I have my design, I have my yoga. They definitely helped shape the person I became at Bowie from the different programs that I had joined with both of them in it, or the different events that I attended that they may have hosted or certain things like that had an influence on what I thought or what I made of the different topics that were brought up.
Jailyn Easley:
And just being able to get exposed to certain things like that, as opposed to just doing the college thing, going to class, going back to my room, being really interactive with things that were going on, not only on campus but outside of campus, what can you do? They would always push me to do things off campus because one of them did go to Bowie and the other, I think, Jennifer White-Johnson went to UMBC. So they were like, do things outside of here. Don't just say here, venture out. So, that's definitely something that impacted me throughout my college years.
Jailyn Easley:
And just now to this day, they both give me a really positive influence on life. And I would say one other person is a professor that I had at SCAD, Judy Salzinger. She is definitely a character. I love Judy so much. I remember one of the first things she said to me, she was like, "You know what Jailyn?" I say, "Yeah?" She said, "You're a smart ass." And I laughed. [inaudible 00:52:40].
Jailyn Easley:
I was like, okay, good. Yeah, Judy is amazing. She was also one of those people that helped me see the different views on things. She was a professor for a few of my classes at SCAD, but she's also the chair of the department of advertising there. So, just through, she took us on different field trips and just from sitting and talking with her, she was an industry professional before, so she had some experience in the things that I wanted to do and the places that I wanted to go. So, her being kind of my on-site influence because she was here in Atlanta when I came down here. And then just having my two other mentors back home and keeping up with them still. So, it was kind of a nice, easy balance between the three of them and the impact that they kind of put on, not only my design life but life outside of design as well.
Maurice Cherry:
Nice. Where do you see yourself in the next five years? Like it's 2025 what kinds of things do you want to be working on?
Jailyn Easley:
So, in 2025 I would love to, over the years just start to learn how to design in these different softwares that are dealing with virtual reality and augmented reality. Hopefully wouldn't take a full five years but definitely would be looking into starting to utilize that in people's day-to-day lives. These are things that some people think are just the bells and whistles on the car, but in reality these are the moving parts to it. And these are things that we can start to incorporate into what we're doing on a day-to-day basis. So, I would love to just be able to kind of articulate that with a company that is that forward thinking and that open-minded, so to speak, to give that leverage towards me to be able to help promote these different technologies and help put them in a way that is not only solving a problem but also is, obviously visually pleasing. So.
Maurice Cherry:
Well, just to kind of wrap things up here, where can our audience find out more about you and about your work online?
Jailyn Easley:
So, you can go to my website, www.jailyneasley.com. J-A-I-L-Y-N E-A-S-L-E-Y. And you can find me on Instagram @finessewilliams, like finesse, F-I-N-E-S-S-E, finessewilliams_ _ on Instagram.
Maurice Cherry:
Nice. I like that for Finesse Williams. That's dope. Well, Jailyn Easley, thank you so much for coming on the show. I think as I mentioned to this to you, when I reached out before I was like we've actually had crossed paths before. This is back when we were trying to do our whole student perspective series. I think you were still at Bowie at the time and I think to look at that and now especially as you've talked about your story coming down here to Atlanta, going to SCAD, working with these brands. It's amazing how much you've been able to accomplish in really a fairly short amount of time and I think it's great that you've had the support of other black designers and other really honestly black people in entrepreneurship and business to make that happen. And I feel like that's something that we just need to see more of and I'm really excited to see what you do in the future.
Maurice Cherry:
Like as I was hearing you talk about this, you reminded me a lot of someone who we've actually had on the show three times now, Sarah Huny Young, who, she's now … What does she want Sarah do now? She's a DJ now, I think, but she's been a pivotal part of design and stuff for like the past 15, 20 odd something years. There's like three interviews over on the site so people can listen to it. But as I was listening to you describe all of these different experiences you've had and working with all these different brands, I was like, I can see just how grand your career is going to be. So, I'm glad to have the chance to talk to you at this stage of your career and see just how things are going. So, thank you so much for coming on the show. I appreciate it.
Jailyn Easley:
Yeah, well thank you for having me.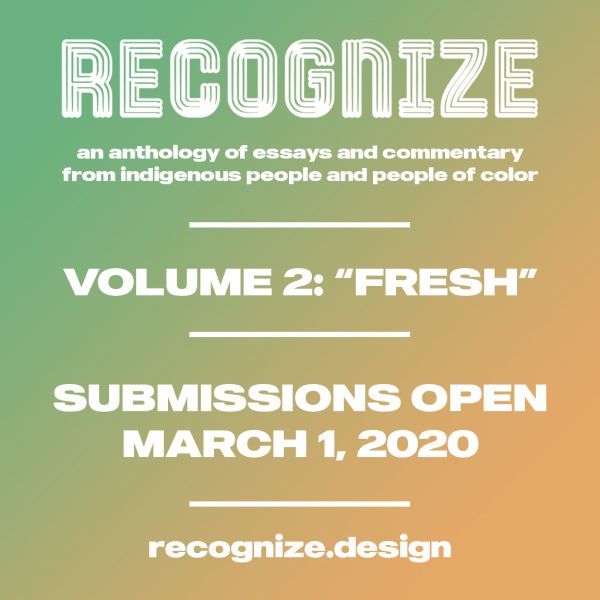 Submissions for Volume 2 of the design anthology RECOGNIZE open on March 1! For more information, visit recognize.design!

Sponsors
Facebook Design is a proud sponsor of Revision Path. The Facebook Design community is designing for human needs at unprecedented scale. Across Facebook's family of apps and new product platforms, multi-disciplinary teams come together to create, build and shape communication experiences in service of the essential, universal human need for connection. To learn more, please visit facebook.design.
This episode is brought to you by Abstract: design workflow management for modern design teams. Spend less time searching for design files and tracking down feedback, and spend more time focusing on innovation and collaboration. Like Glitch, but for designers, Abstract is your team's version-controlled source of truth for design work. With Abstract, you can version design files, present work, request reviews, collect feedback, and give developers direct access to all specs—all from one place. Sign your team up for a free, 30-day trial today by heading over to www.abstract.com.