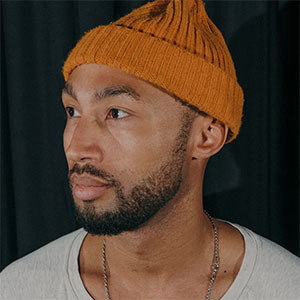 I first learned about Erwin Hines last year when we profiled him for 28 Days of the Web. He serves as creative director at BASIC®, a branding and experience design agency that builds digital products and services that turn cultural values into company value. Creative direction is definitely a great fit for Erwin, as you'll discover as you learn more about his story.
We talked about Erwin's upbringing in Cleveland, and he shared the moment that he knew design was his calling. Erwin also spoke a lot about fellowship and empathy, including how the spaces we create — even digital ones! — can uplift a community. He even hipped me onto the San Diego creative scene, including his latest project — a monthly pop-up series called Crafted. Erwin is proud of where he comes from and who he is, and he represents that clearly through his work and by reinvesting in the community that supports him. It's a great message for Black History Month that I hope will inspire you!
Links
Transcript
Full Transcript
Maurice Cherry:
All right, so tell us who you are and what you do.
Erwin Hines:
My name is Erwin Hines and I am a creative director or one of the two creative directors at BASIC Agency. Our headquarters are located in San Diego, but we have offices in Mountain View as well as St. Louis.
Maurice Cherry:
Nice. Talk to me about your work at BASIC. What's an average day like for you there?
Erwin Hines:
Oh, man. My role as a creative director is different from some of the other creative directors at the agency's role. We each kind of focus on our unique specialty. It's pretty expansive. I focus a lot on client work of course. And so that just involves managing teams of two to maybe five people and guiding the process throughout the duration or the lifetime of a specific project with one of our clients and doing all of the initial strategy. And so at BASIC, we don't necessarily have a traditional strategy department. We expect all of our creatives to actually dive deep into strategy. That's understanding the different cultural nuances of the client's audience and making sure that we are making those unique connections based on what the client's goals are and what the audience actually values.
Erwin Hines:
At the base level, that's one of my roles at BASIC, but since I've been there for seven years, was one of the original people at the company, I've also really taken it upon myself to help guide the brand as a whole. As an agency, we don't necessarily just view ourselves just as a service company. We also view ourselves as a brand that we're constantly trying to build. One of our products that we deliver is our service, right? We're very inspired by brands like Nike of course. And so my other role is really heading up what our brand looks like, what our brand feels like, what our brand sounds like, and then all of our different community initiatives that we do.
Erwin Hines:
Our podcast, Brand Beats, that's one of the things I kind of head up. Then we also have a community series called Crafted that was actually built to help bring together the different creatives within San Diego and help them to rub shoulders and break down the barriers between the different industries or creative verticals. And so I do a lot of community stuff as well as the client stuff. So again, it's pretty expansive.
Maurice Cherry:
That is really expansive. One thing that you just touched on there, which I thought was interesting, is that you expect the creatives … I'm imagining these are individual contributors, right?
Erwin Hines:
Mm-hmm (affirmative).
Maurice Cherry:
You expect them to get into the strategy. Often that strategy part tends to be reserved for maybe someone higher up the ranks, like maybe a creative director or art director. Why did you all decide to take that approach?
Erwin Hines:
I think it came out of necessity. When I joined, there was only five people, so all projects, we had to wear a lot of hats. I joined as a senior designer, but as a senior designer, I had to come in and build brands and all of that stuff and we didn't have a strategy department. And what we realize is that having that designer or that creative from the very beginning thinking about the brand strategy, thinking about how the brands needs need to be met and/or what the consumer's actual desire is and how the product that we're trying to market or trying to build a digital experience for actually meets that consumer's need, and having the designer onboard from the very beginning just creates a stronger, more seamless kind of project and process as well as just a stronger experience in the end. And so it's just sort of stayed that way because we realize the value in it from the beginning.
Maurice Cherry:
And now with one of the products of BASIC kind of being the service that you deliver, is that something that came as sort of an organic evolution of the agency?
Erwin Hines:
Yeah, I would say so. And I think again, it's mainly because we like to view ourselves as a brand, and all great brands, the things that they create add to their larger sort of why, their larger sort of essence and their larger perspective. And so we like to make sure we're always considering what is our larger perspective, what is our why as a company and how are we bringing that forward through the work we do. And probably that also comes from the fact that we build a lot of brands for our clients and we always tell them to start with the why, understand why you exist, what your customer wants, and then make sure you're delivering on that constantly. And then all of the things that you do are just really an ecosystem of consumer touch points that reflect your why. And so I think we just internalize that ourselves and try and make sure that we're constantly focusing on refining and defining our why so that our work at the end of the day can become stronger.
Maurice Cherry:
How did you first get started at BASIC?
Erwin Hines:
Seven years ago, I was actually doing freelance. And so I was freelancing, working at home, not working with anybody, not working with other designers, just working with clients, and I was doing that for about six months. I started to get very, very restless because before that I hadn't been at a couple other agencies so I was always able to toss ideas off of people, always able to feed off of the other creative energy, and I thought I would really, really love that freelance lifestyle where I get to do anything I wanted and hang out all day and take whatever days I wanted off and all of that stuff. But after six months, I, again, started to feel a little bit stir-crazy. I didn't have people to toss ideas off of, and BASIC actually reached out to me because I was doing some freelance work through an ex-employee of BASIC. And so through that ex-employee, Matt Faulk, who owns BASIC, actually saw my work and decided to reach out to me.
Erwin Hines:
And at first, so a little bit of a funny story. There's actually a pizza place in San Diego that's really big called BASIC and it was located across the street from the agency I had previously worked at and we would go there every single day. So when BASIC reached out to me via email, at first I thought it was a pizza company asking for me to become a designer at the pizza company. And at that point my freelance work was Activision, Sony. I had big clients as a freelancer. And so I was like, "No, why would I ever want to meet with these people?" But because it came through the referral of one of my other freelance clients, I decided to go meet with them and was pleasantly surprised that it was an agency that was doing amazing work.
Maurice Cherry:
Now, talk to me about the team that you're working with here, because I would imagine after seven years the agency has went through a lot of changes, you probably went through a lot of changes as a professional. What's your make-up like now?
Erwin Hines:
I was going to say we do. So I think there's two answers to that question. One is over the years, we didn't focus on this and this wasn't a thing we tried to do, but because the company is ran by a black man, so Matt Faulk is black and then a lot of the leadership is black as well as women, we've actually created a very, very diverse team with people from all over the world, all different cultures, all different perspective. And that was just because we truly valued different ideas and different perspectives coming together in one space and felt like that collision of differing perspectives and ideas actually fosters better work, right?
Erwin Hines:
So that was the perspective we had every time we would hire someone new. We were like, "Do you challenge us? Do you come with something different?" And if they did, that's when we knew that this was the right person. Of course, taste level, great work, great portfolio, all of that stuff was like table stakes. Yes, have all of that stuff, but you have to challenge us. And so that's why I was like, "Please ask that question again," because I had to make sure I gave this a proper response.
Erwin Hines:
Again, that's one side. And then as far as the make-up of the team, it's pretty standard. We have about … I'm going to probably mess up the numbers … We probably have about 35 people in our San Diego office, 40 to 50 people in the Mountain View office, and then we have like eight people in our St. Louis office. And so the St. Louis office is really an extension of the San Diego office. It supports a lot of the work that we do in San Diego. And then the Mountain View office is really just focused on Google, and then some of our other sort of Bay Area clients, but their main focus is Google.
Erwin Hines:
And so that team make-up is a lot different than the team make-up in San Diego. The team make-up in San Diego is project-based for individual clients. So you'll have teams of three or four. We like to try and keep them small so they can be a lot more agile and nimble as well as allow all of the designers to really have direct contact with the clients. That way, there's no hidden people, right? We always want to kind of elevate and empower all of our creatives, like I was saying with strategy, to really be the face of the company and to be able to someday lead their own projects. That's really our goal, right? We really want to make sure that each person grows. We have junior designers, senior designers, art directors, creative director, and then we have kind of the higher level leadership team that helps guide and really think through the vision and mission of the entire agency.
Erwin Hines:
All of those departments and all of those groups, we do our best to work seamlessly together. We strategically have set meetings so that whatever the leadership talks about can then be distilled down and shared to the rest of the team as well as we have methods for communication in the other way. So we can take things that maybe a new designer comes in and has some frustration points or some tension points with some points in the culture and all of this other stuff and maybe has some great ideas. We have tools and really it's just talking, but we have tools, that allow that new designer's frustrations or ideas to bubble up to the surface to the leadership team, and that's how a lot of stuff at BASIC is really done. It's more so done from the younger creatives or from the ground level as opposed to top down.
Maurice Cherry:
That's an interesting kind of model and it's something that I've noticed as I honestly am interviewing and hiring creatives and stuff is that there certainly is more, at least I'm finding that there's more of a need to have designers that have sort of led projects in that way, maybe not necessarily from end to end, but they were more than just, say, a team member that did visual design. They actually had a project or part of a project that they really got to completely oversee. So it's good that you've got the agency kind of structured in that way to work with clients.
Erwin Hines:
Yeah, and I think also, it benefits us at the end of the day and of course, the designers, because then these creatives are well-versed if there has to be a shift in our agency. They're not just trained in one skillset. We like to say they're trained in brand building, which extends past websites, extends past UX, extends past whatever new medium or media type there will be. But now you understand the foundations of how to build a company that resonates with people. And then whatever that company needs in order to speak to that audience, we can create it.
Maurice Cherry:
And now speaking of clients and projects, one of the clients you're working with are the Webby Awards, which people know from … I don't know if I even mentioned this on the show, but I'm one of the judges this year. How did you all end up working with them?
Erwin Hines:
That was an honor because they honestly just reached out to us. They didn't do any pitching process. They just reached out to us because we have won so many Webby Awards within the digital category over the past five years. And so I think because of that, they looked at us firstly but then they also saw the quality of our work and our focus on really elevating the brand and trying to define new UX patterns because we went a lot in best practices and we do that by trying to look at and understand and really pull forward what your brand's actual unique value proposition is, what your brand's mission is, very similar to when people are creating a retail experience for Ralph Lauren or when people are creating a retail experience for Off-White.
Erwin Hines:
Those stores look different because they're trying to express what is inherently different about that brand, and far too long, digital experiences, we're moving away from that because everybody was sort of moving to these templatized systems because they were deemed as easier to use. And so I think that we came in because we started … the agency started doing at the very foundation was mainly branding and I think that's why we approach all of our projects with a very, very brand-heavy mindset. And so they saw that we really hone in on what that brand's message is, what the nugget of truth is and pull that forward into the digital experience to create something that is still very, very easy, simple to use, but also has just a touch of difference, something that expresses that brand.
Maurice Cherry:
What are the best types of clients for you to work for?
Erwin Hines:
I honestly think for me all clients are the best type of clients. That might sound like a cop-out answer, but the-
Maurice Cherry:
It's a little bit of a cop-out answer. I was going to push back on that.
Erwin Hines:
No. I was going to say, the reason I say that, because I mean, obviously I have ideal clients. The ideal client is somebody who wants to be super open and super collaborative, challenges us, very similar to what we look for when we look for new employees. It's almost the same as when we look for our ideal client, right? We want to be challenged. We want to be pushed. We want this work to be the best work that we've ever done. Not saying that it needs to be the craziest design, but it expresses your brand, it tells your story and you want to push us because you know your industry better than we do, and we know digital maybe better than you do. That's what we really look for when we're looking for relationships.
Erwin Hines:
The reason I say all clients is only because I've been in situations where at first I was like, "I don't want to work with this type of client," or, "This type of client is really, really frustrating," but just based on my time being in this industry or maybe it just comes from my me being a black man in America, just realizing that most situations are not easy and I'd rather look at it as an opportunity to learn and grow than ever a challenge that I need to run from. And so even those clients that are super challenging, I think I learn something new, I learn how to look at something new, I learn how to navigate a new area or a new industry or a new client and deliver something good at the end of the day.
Erwin Hines:
And as an agency in general, because our product that we deliver at the end of the day is this service of design, we look at our clients who's reaching out to us really as our consumer or a customer and we try and understand their latent needs. We try and understand what's frustrating them about their company, what hierarchy they have to go through, what pushback they're getting. We don't look at our project in a silo saying, "We have to get this through and all this stuff." We really try and understand what the client is going through, what the individual, the person, is going through at that organization so we can help them at the end of the day.
Erwin Hines:
At the end of the day, their goal is to create this product, get this website done, get this digital experience done, get this brand done so that they can help their company be successful, ultimately helping them be successful. And so we try and understand their pathway of growth and all of that stuff. I think that's why I'm like, "Every client is great," because every client is a person and at the end of the day, we're here to help people, not just create websites.
Maurice Cherry:
Gotcha. Great explanation there. I like that. Let's just switch gears. And talk about your work at BASIC, and I do want to get more into some of the community work, but tell me about where you grew up.
Erwin Hines:
Actually, I grew up in Cleveland, Ohio.
Maurice Cherry:
Ah.
Erwin Hines:
Yeah. Grew up in Cleveland, Ohio. Love it still. Just can't move back there mainly because there's not the job opportunities, although it is having this really awesome resurgence. Every time I go back, which is only once a year and it's during the winter, so it's probably not the best time to come back from San Diego that's always sunny, but every time I go back it's like there's something new. There's new energy. There's new creatives moving into that city. So every time I go back it is cool and it makes me miss it, but again, I can't move back purely because of the industry and now my investment in San Diego.
Maurice Cherry:
Yeah, that makes sense. For folks that have listened to the show for a while, they know I've got family in Cleveland. My dad's side of the family is from Cleveland, Shaker Heights.
Erwin Hines:
What?
Maurice Cherry:
Yeah.
Erwin Hines:
Oh wow. Yes. Most of my family, my dad's side all grew up in Shaker. I grew up in Beachwood. So if you have family that is from Shaker, I feel like there could be a connection. They might know them.
Maurice Cherry:
Probably so.
Erwin Hines:
My family is heavily involved in community stuff in Cleveland and they were a family of five or six in the Shaker school system, and so they had somebody in almost every grade. There probably is some overlap.
Maurice Cherry:
I think there probably is. Yeah. Growing up there, I mean, was creativity a big part of your childhood?
Erwin Hines:
Yes, I would definitely say so. I think I always had an inkling for creative. My family would push me into doing sports. I think that was just by default what my family did. Everybody played sports. Everybody was good at sports, and so on top of me wanting to be creative and my parents supporting that, so they put me in art classes, they encouraged me to try music, although I sucked. I tried to play trumpet, the worst experience. And at some point I actually thought I could sing and I thought I could play piano but it was just me playing on my parents' piano and I'll be in the living room singing and trying to play.
Erwin Hines:
I think about it now and that had to be so cringeworthy, and my parents wouldn't yell at me. They would just let me do it. So I think I had very, very supportive parents when it came to exploring my creativity. But again, I was also pushed to do sports. But in high school, I actually dabbled in pattern-making. I really, really loved clothing and creating my own clothes. So that was my main form of creative expression throughout high school was making clothes or making shoes.
Maurice Cherry:
Oh really? Wow.
Erwin Hines:
Yeah. I viewed that as … I drew and stuff when I was younger, super young, but then as soon as I got into high school and I touched the sewing machine, I was like, "Oh, this is dope. I can create the things that I put on my body. I don't have to wear other people's stuff." That was so cool to me and I viewed it as this living testament to who you are inside, so it was like this walking billboard of sorts. Billboards sound so markety, but the reality is this walking art piece. I always found that very powerful. I didn't realize the power of it. I think I liked it on a very shallow level, but there was power in creating something that I was going to put in my body or that other people desire to put on their body.
Maurice Cherry:
When did you sort of know then … I mean, with not only this exposure that your parents supported, but even now you're talking about fashion and apparel and stuff like that … when did you kind of know, "Oh, this is something I could do for a living"?
Erwin Hines:
I actually didn't know that until my second half year in college. Well, because my parents supported it, but it wasn't like … I didn't have any patterns to look at when it came to a designer. I didn't know any designers. I didn't know anybody who made it in fashion design or I didn't even realize fashion design was a thing. I was doing it, but I didn't realize it was like a thing. I never fathomed that. My access to creative profession was actually architecture and so on top of doing fashion stuff in high school, I also did a lot of CAD and took architecture classes and that was mainly due to the …
Erwin Hines:
… classes. And that was mainly due to the fact that I had exposure because my parents owned a development company and so I saw it. And that was like, "Oh, I don't really…" I saw construction as a place I can go in my … So my parents owned a development company and then my grandparents on my father's side owned a successful exterminating company and landscaping company. I'm sorry, my grandparents on my father's side owned the landscaping company, my grandparents on my mother's side owned the successful exterminating company. So those were like the pathways that I was exposed to on top of doctors and all of that stuff, but those were the entrepreneurial pathways that I saw.
Erwin Hines:
And so out of all of those I was like, "Oh designing landscaping, like a landscape architect, that's kind of cool." Or designing a home where people can live and creating these spaces that impacts your emotions and, and all of that stuff, I found that deeply interesting. So I took some architecture classes in high school just to learn CAD and I also did like my senior project at my parents' company with the architect.
Maurice Cherry:
That's convenient.
Erwin Hines:
Yeah. That was super convenient. But again, it was basically what I was exposed to. It made my path way longer to get to realizing that design was a thing I could do. So then my first year in college I studied… Or my focus was construction management. And with that I wanted to really focus on this idea of architecture or city planning. And that was partially due to the fact that when I was seeing my parents build these homes, so they build homes in… They built affordable housing in the inner city and when I saw them doing that, and then we would actually go back and always meet with and talk to all of the people that we build homes for to help maintain them because we also had the landscaping business, and we also had the exterminating business. So we would actually help these people maintain their homes. And it was amazing just the connections and then the joy that we would see on these people's face, right?
Erwin Hines:
And I think I was very, very impacted by that, the fact that again, space things that we create can uplift a community. That to me was like, "What the heck? This is incredible, this is incredible." And so that's what took me in this space of really trying to pursue architecture or city planning. And my whole thing of city planning was like how do you actually create spaces and cities that are equitable for both the privileged and the underprivileged and how do you bridge that gap between those two to actually begin to create some empathy so people understand the other side? To me empathy is the biggest thing in the world because once you have a sense of understanding, true understanding, not just like, "Oh yeah, I know what you're saying but I don't care." Once you have true empathy from both sides, then we can begin to push forward and work together to create equitable solutions for everybody. That might be hella idealistic, but that was my mission, my goal, my vision. But-
Maurice Cherry:
I feel like nowadays what they called that, service design or something to that effect. So you were ahead of the curve there?
Erwin Hines:
Yeah, except the only challenge was I hated math. I hated it. So been like I'm there, I'm designing cool things, but none of them can be built so my teachers are like, "You know, you can't make this at all." And I'm like, "But it will be cool though, if you could, right? Right?" And so my first year in college, that was happening and then I also took art history classes. And I had never ever taken an art history class so I didn't understand the history of art, I didn't understand the story of art, I didn't understand the depths of art really before I went to college. So that first year I also took an art history class.
Erwin Hines:
In that class they're teaching us about like Basquiat, they're teaching us about Picasso, so they're teaching us about… It was a very in depth all history of art. And they're talking about the impact that each one of these artists had had and how they were… And this is something that I took away, where it's like every single artist was… every great artist was basically acting as a mirror reflecting society's ills back to itself so that society could actually digest it and understand it. Because in our day to day life, we move so fast, we don't actually take time to sit and think and see what's happening in front of us. And the purpose of art has been to create and take a moment and take a chunk of time and give it to us in a digestible way so that we actually can understand what's happening, right?
Erwin Hines:
So great writing, great podcasts, great anything, and I'm including all of these things on the umbrella of art, do that, right? They force us to have a conversation, they force us to talk, they forced us to live in a space for a moment and take us out of our day to day. And so I saw that and I was like, "Oh yeah, I don't have to do architecture. I can just do some art to have the same level of impact." So then I actually took time off of school and I began to just… I still didn't know that I could do design, that still wasn't clear to me. So I took some time off from school, about half a year and I went and hung out in my friends like dorms at UPenn and I would just go audit classes.
Erwin Hines:
And she was studying marketing and advertising and sitting there with her being able to… And sitting in those classes and hearing about branding, hearing about marketing, hearing about advertising. I was like, "Oh shoot, this is like they're using this power to create these emotions and create these feelings and create these desires and they're tapping into the things that make us human." That to me became really, really interesting. Still, I didn't know how to get into it because I definitely couldn't get into UPenn after dropping out of college. So I went back to creating clothes. Again, that was my default. I kept making shoes and selling shoes and then one of my other friends actually saw the shoes that I was making and was like, "Hey, you should come check out the Art Institute of Pittsburgh." And I was like, "Yeah, why not?" I was kind of down for whatever.
Erwin Hines:
And then I went down to Pittsburgh and met with some of the people at the Art Institute of Pittsburgh. I'm not saying the Art Institute is good, I would never promote the Art Institutes. That's just where I had to go because I didn't have a portfolio at all. And then I actually wanted to do game design at first, and it was because they were talking to me about their courses that they had, going through all of the details. They first mentioned game design. They talked about advertising, they talked about all these other things, but game design was interesting because it wasn't far off of what I enjoyed about architecture, which is creating these immersive spaces that people essentially live in or inhabit for a period of time. And those spaces can be used to create connections. And since games are played over the internet and it creates connections for people across the world, I was like, "Oh yeah, I totally want to do that and try and figure out a way to create healthy games that create these connections and try and build empathy with people." But you needed a portfolio.
Erwin Hines:
That's like a constant theme where it's like these are the things I wanted to do, but I didn't have either the love of math, or I wasn't good at math, and I didn't have a portfolio. So then I was then forced into graphic design at the Art Institute of Pittsburgh and through my courses and through my classes actually ended up falling in love with it because once I took my branding class, again it kind of re-sparked some of the energy that I had when I was sitting in and auditing the classes at my friend's school, where I was like, Oh, branding has immense impact. It's not just about the beauty, it's not just about the aesthetic, but you're creating this entity, you're creating this thing that if used properly will reflect and amplify the voices of the people that are supporting it. And so that's when I knew that I was like, "Okay, I'm going to do this. I'm going to go hard at branding."
Maurice Cherry:
That's quite a journey.
Erwin Hines:
Yeah, it was… It's a little bit all over the place, but it has a through line.
Maurice Cherry:
I'm curious and I'm going to… We don't have to dwell on it too much, but why would you never promote the Art Institute? I didn't go to the Art Institute, I just want to be clear about that, but I'm just curious why.
Erwin Hines:
Oh, I mean their [for 00:32:43] proper university has been sued mad times. And the Art Institute of Pittsburgh has actually closed down, so I don't want people to get confused with the Chicago Institute of Art. That's an amazing institution and it nothing to do with the Art Institutes. The Art Institutes are all for-profit and they would… They lied and they would fudge the numbers for how many people they were actually placing, which was just sad because you would see people who… They would say they had really high placement rates and there were some people who got jobs, I was somebody who got a job, but I did so much work outside of school. Everybody who got a job did so much work outside of school, but they didn't tell you that, right?
Erwin Hines:
And if you're a student and you're putting your trust in an organization to teach you the skill sets and the things you need to get that job, it's almost like, okay, if that's a part of it, why aren't they including that in the onboarding? Why aren't they saying like, "Yes, you'll have your curriculum, you'll learn your skill sets, you'll learn the tools, but in order to guarantee a job, you need to make sure you're doing freelance. You need to make sure you're going around to all of these different networking events. You need to make sure you're collaborating with kids from Carnegie Mellon." You know what I'm saying? All of those opportunities were open but it's like I had to figure it out and open them myself.
Maurice Cherry:
Okay. No I was curious about that for two reasons. I mean one, I like when people push back against these sort of, I don't want to say industry standard tropes of, "You have to go to this school in order to make it as a designer." I do think, and you know this is sort of a problem with the industry, is that there is still this notion of that you have to go to these certain schools, like you have to go to design schools to be considered a designer, essentially. I know just to tell my story a little bit, I went to HBCU, I went to Morehouse here in Atlanta. It's funny you mentioned you didn't like math, I majored in math.
Maurice Cherry:
But my first semester I was like, "This is a lot." And I really wanted to go into web design. I was a computer science major and I remember my professor at the time, I was telling him I wanted to do web design because I had been tinkering around with HTML, reverse engineering, so this is 1999, so this is… God, this is so long ago, this is a while ago where I was telling my advisor this and I remember him telling me how the internet is a fad, like, "This isn't going to be around for too much longer and if this is something that you really want to put all your eggs in this basket, you should probably change your major or go to another school." And I was like, "Well damn, okay."
Maurice Cherry:
And at the time I wanted to go to the Art Institute because we had two art colleges here in Atlanta. We had the Art Institute of Atlanta and we had the Atlanta College of Art. The Atlanta College of Art is now closed down, now we have Savannah College of Art and Design Campus here. But for me I was like, "Yeah the Art Institutes…" Like that was it because I saw the commercials, they would have these commercials where you could see they're doing all this stuff. And I was like, "Oh so this is where you go to learn design." And then even later on in my career, because I'm self-taught, even later on in my career there would be these sorts of, I guess you could call them gatekeepers I suppose, I don't know, who would say like, "Oh well you're not a designer because you didn't go to design school." Like that's the only way when clearly it's not the only way, that's one of the great things about this industry is that you don't necessarily have to follow a specific path or go to these specific schools in order to be a success.
Erwin Hines:
Yeah, I was going to say that's trash. Very much so because again for me, even without the Art Institute, I think I just needed to be exposed and the Art Institute exposed me to the fact that this could be a profession, but I did all of the work on the side and on my own. You can go audit classes to learn some skills or you can learn a lot of the skills that you need on YouTube and stuff. To me, I think the main takeaways of university for me were some of the non-design classes or the classes that were more focused on theory and psychology. Those to me were the biggest helps because it expanded my mind as opposed to just expanding my skillset. And so if there is anybody who's listening who is questioning whether they need to go to school or do I need to do this? I think as long as you're doing things that are expanding your mind so that you understand cultural nuances and you understand again, how to look at the world differently, that to me is what, as a designer, university is really good for.
Maurice Cherry:
Gotcha. So from Pittsburgh to San Diego, that's a trek. Well really from Cleveland to Pittsburgh, to San Diego, that's kind of a trek. When you look back at your career, because I did my research, I saw you've worked at a few agencies, at Nobis, Modifly, you did some work for Digitaria, etc. When you look back at your career, what did each of those places teach you? Did you walk away from those experiences with a nugget of information that you take with you now?
Erwin Hines:
Yeah, I would definitely say I did. I think whether it be good or bad, I definitely learned something from each of those experiences. So Modifly and some of the other ones were just freelance clients. I was the dedicated creative but they were mainly freelance so it wasn't necessary major learning experiences, right? Other than continuing to hone my craft. Whereas Nobis Interactive, I was also the only creative and was brought in as a Creative Director and it was to help lead and build out this brand. And I think one of the things that I learned from that was the importance of good leadership and the importance of a strong founder. And [inaudible 00:38:42] Nobis actually didn't have that and I think that's why I learned it, because I saw what lacked in the experience and how it kind of destroyed the organization and the company. And so from that it's just how to be a good leader by doing everything opposite of what that leader did. And how to be honest, right? And making sure that you're inspiring your team.
Erwin Hines:
And then when I went to Digitaria, that was learning how to manage growth because when I went to Digitaria, it was still relatively small, it had just gotten purchased by JWT, and over the time that I was there it expanded rapidly and what ended up happening was you kind of lose some of that design-forward culture. And the the owners knew that, their focus was expansion, growth and almost taking over and becoming their own holding company. That was their goal and they've done that so now they're called Mirum, and Mirum is bought out a bunch of other digital agencies and then Digitaria became Mirum, which is the holding company of all those other digital agencies. So they were super successful in that goal, but I saw the sacrifice of creative to be this bigger entity.
Erwin Hines:
And so I think it was… From there it was making sure that when I go to the next organization that we managed growth properly so that we don't lose culture because when you lose culture, you have high attrition, attrition costs more than keeping people as well as a cost your work. If your work is your product and if you lose all of those people then your product suffers.
Maurice Cherry:
Yeah. That is so true, I see that now in a lot of startups, a lot of tech startups usually where that's the case. There's been this sometimes over-indexing on culture fit, and oftentimes when bad things happen at a company like that and it's to the detriment of the product, it's to the detriment of the people that work there, it's pervasive when stuff like that happens.
Maurice Cherry:
Now you're in San Diego, which, and we talked about this before recording, I was like, "I don't think of…" When I think of San Diego, I don't think of design or culture, but San Diego's one of the 10 largest cities in the US, which I don't know if a lot of people know that, but I'm curious to learn more about your community work there. You said through BASIC that you all are kind of… I guess you did this community series in San Diego. Can you talk a little bit about that?
Erwin Hines:
Yeah. All right, so I've been in San Diego for 10 years. When I first moved here, moving from Pittsburgh where you had gallery crawls once a month or spending time in New York a lot where you just have a lot of culture, just a lot of creative culture. And then even touching LA, it was like there's just an energy and a vibe. When I moved here 10 years ago, I was looking for those things and then all I could find was like, "Okay, there's breweries and there's beaches, okay." Which is super cool for a little bit, especially when you feel like you're a city boy and yeah, I liked the beach, I'm going to sound ungrateful, the beach is nice, but at the same time as a creative, I need that creative energy.
Erwin Hines:
So when I first moved here there was nothing, and over the years, especially within the past three or four years, I began to realize how wrong I was and just how hidden the energy and the vibe was in San Diego. It was like you had to know. You had to know the people, you had to know what's going on in order to find it. So it was a lot more about the underground scene in San Diego and it was just hard to find. And then within the past like two years, that underground scene has started to really bubble up.
Erwin Hines:
And so when we talk about what is the creative scene in San Diego, we have some of the best poets in the world, like our poetry society wins nationals all of the time. We have some of the best dancers in the world. There's two dancers in San Diego who do choreography for Justin Bieber, they have a new Broadway show, they do stuff for Brittany Spears, but they live in San Diego. And then we also have some amazing other dancers, traditional urban as well as classical ballet. Then we have amazing chefs and an amazing culinary scene. And then we also have amazing creatives and amazing designers, like BASIC being one of those, but then you also have Grizzly and a few other agencies, and young creatives who are here in San Diego. And then you have amazing DJs and music.
Erwin Hines:
So you have all of these different amazing creative industries and creative spaces, but one thing that we were seeing is that they weren't rubbing shoulders. So it kind of goes back to the thing I was saying that I had this goal since my very foundation of my creative spark, which is how do you build spaces where people can come together from different backgrounds and start to develop empathy and understanding and work together? And again, so you have all these different creatives and creative people in these different spaces and they're all doing these amazing things, but they weren't rubbing shoulders, there was no friction, there was no collision.
Erwin Hines:
And so we created this very simple series, or this very simple idea of just bringing 12 people together from different industries, different backgrounds, different cultures, different races together over dinner. And we used food as the medium of connection because it's visceral, it's easy to understand, and it caused us and sparks conversation. And so we strategically do a five course to seven course meal mainly because it creates more time. And then the food itself is never really the central focus of the time, it's there, but really the central focus is about creating a space for conversation to happen. And these 12 people do not know each other at all, and they get free invites so no one has the pay because we want to make sure that it's open and accessible to everybody.
Erwin Hines:
So we'll always have a student, we'll have somebody who works in architecture, we'll have a scientist, we'll have somebody who owns property within an undeveloped neighborhood, we'll have fine artists, designers. So we'll kind of mix and match these different groups. And then each one of the experiences, which happened monthly has a theme, and we utilize the food to connect and to make people comfortable and then the theme is utilized to create a unifying connection and conversation between everybody. And those themes are things like identity. And in that dinner, which was our dinner in December, in that dinner the theme was identity and it was about exploring the ever evolving nature of the self and what identity means to each one of us individually.
Erwin Hines:
And so we usually start off each dinner with introduce yourself and then kind of go into that line of conversation. And usually that first round of conversation is like really, really, really deep where people kind of get really personal, they expose things that they wouldn't have otherwise exposed, and maybe it's because it's a group of strangers so you feel a little bit more comfortable and no one knows me here, but they've been really powerful mainly because it's a small intimate group who ends up having a very deep conversation with one another. And we've seen a lot of people begin to work together from the different Crafted experiences, which is really the main goal. There's no other ulterior motive other than bringing people together and then promoting and showing people that there's other things going on in the city so you don't have to leave.
Erwin Hines:
because we also had like high attrition of like creative talent in San Diego because a creative was like, "I do fashion but there's no one else here doing creative stuff, I'll just go up to LA because there's more opportunity." Which right now there still is more opportunity in LA obviously, there's more people who appreciate that type of stuff. So you will have a larger consumer base as a creative in LA. But one of the things that we're really focused on with this dinner, as well as all of the other groups who are doing really amazing things. So there's also this group called the Traveler's Club. There's a group called Weird [Use 00:00:47:00], and I can go on and on with all of these different groups, but everybody is now focused on creating an opening up the doorway for opportunities for these young creatives so that they don't have to leave.
Erwin Hines:
So that's the dinner as well as the energy in San Diego right now is everybody is focused on building a community that can thrive and can be self sustaining. And it's amazing because it's really collaborative, so there's not a lot of negative competition, if that makes sense. It's a lot of collaborative, co-building of the community that we all want.
Maurice Cherry:
Nice. I might have to visit San Diego, it sounds like a lot of great energy there. Also, I mean, San Diego is right on the border to Mexico like you guys are right [crosstalk 00:47:46]
Erwin Hines:
Exactly. That's another beautiful thing about it is we have all of this rich culture. One of the things that I find the most interesting, and we begin to talk about this a lot through our Crafted Instagram is this idea that culture is made by many and the beauty of San Diego is unlike some of-
Erwin Hines:
Whereas made by many and the beauty of San Diego is, unlike some of the places on the West coast, unlike SF or unlike LA, people come here with different perspectives and goals and backgrounds. Like a lot of people will go to SF with one perspective and one goal. So no matter what race you are, what cultural background you are, you have a specific perspective or goal. Whereas here, because you have the military, because we're a border town because you have all the universities and the different levels of universities and then you just have random transplants who are just coming here because it's something different or you have the people who are coming here for the beaches, you have the people who are coming here for the music.
Erwin Hines:
So you have all of these different people that it almost is akin to something like a New York where you have this really, really diverse makeup and that's what makes the culture of New York. And to me it's like that's what makes the culture of San Diego is this diverse makeup and it's just us realizing, over the past year, we've been realizing that that is our true power. We don't have to just be a beach city and a brewery city. We can be a creative powerhouse.
Erwin Hines:
And this year we're going to actually have our first design week as well. So it's like there's a lot of movement around San Diego and I'm happy to work at an agency that has been so invested and lets me take the reins on a lot of the community initiatives and making sure that we're using our skill sets and our talents in authentic ways. Then we still do canned drives and all of those things, but I think we used to just do that and we started asking ourselves how do we as people who understand how to build brands start to build the brand of our own city and really give back to our community in a deeper, authentic way that lasts.
Erwin Hines:
So it's the teach a man to fish versus just fish for them. So I think what we're trying to do is build programs that teach people how to fish ultimately that will come back to other issues like homelessness or other issues like education because by connecting these different people you can essentially begin to affect all of those different things because you're building empathy across these different groups. So connecting somebody who, like having somebody who maybe their family is being gentrified or they're a part of like the gentrified class, you have them at the table with a property developer and maybe a city official and you actually allow them to have true conversation as opposed to just like yelling. That's the main goal of of Crafted.
Maurice Cherry:
Are you satisfied creatively?
Erwin Hines:
Oh yeah, totally. I'm more than satisfied partially because whenever I'm unsatisfied, I can just create something like Crafted. I literally just think about like, "Okay, if I'm not having that feeling of expressing empathy or the feeling of me being able to tell my true authentic story and really explore who I am. If I'm not that, then I just create another avenue and another pathway for me to have it." So I never really rely on other people for my creative satisfaction, if that makes sense.
Maurice Cherry:
No, that makes sense. The reason I was asking that because I was talking with a friend of mine actually, her name is Diane Holton, she's been on the show before too and we were just talking, just catching up and she was mentioning, she's like, "You're like Beyonce, like you don't take your foot off our necks." I was like, "What are you talking about?" She's like, "You're doing this revision path and now you've got this anthology series coming out and stuff." And for me, when I'm doing these things and essentially you mentioned, you sort of see the void and you figure out like, how can I fill the void with something that can help? So with me with the anthology, I was like, there's not a lot of people of color and indigenous people doing enough writing about design.
Maurice Cherry:
You go to a bookstore and you look in the arts or design section, there are very few, if any, book in there from people of color, definitely not from black people. And it's like where does that begin? It begins with just writing an essay and getting the feedback from people and then building on that and you know I think now certainly with technology it's easier than ever to start up a blog and put your thoughts out there. One thing that I'm experimenting with this year is getting back to blogging. I used to blog a lot in the early 2000s and stuff and I'm thinking about getting back out there now because it's so much easier to just get your thoughts out. Before, when I was blogging back in the day, you had to know how to have a MySQL database and install it to the database and then run the installation and then keep up with all this and you have to have hosting and a domain and all this.
Maurice Cherry:
And now I use this tool called Notion, which is sort of like this all in one work place. It's like Evernote and Trello and all these things had a baby and it's Notion. And you can blog from Notion, so write a page and you can set the page to public and then because it's all in the cloud or whatever, but you can set that page to public and then just have people read your stuff. And it's like I have all my projects, I have all revision path recognize all my stuff in Notion and then I've got a little separate thing that's going to be the blog that I'm going to start and it's like, "Oh, I can just write while I'm in here and publish and it's so easy." But I get what you mean about if there's something that's not fulfilling you, then you find a way to kind of get that [crosstalk 00:53:36].
Erwin Hines:
Get fulfilled. Yeah. Yeah, and I actually love what you're just saying. I think that that's one of the biggest things within our industry that we've started to see in almost every other creative industry. So you start to see it in fashion and it's being led by these black designers and I know that they probably wouldn't want you to call them black designers because no one wants to be pigeonholed and I hate being called a black designer because it feels like, "Oh, you're just trying to say I'm good for that," as opposed to just being like, I'm a good designer and I happen to have a very rich narrative that helps guide everything I do that you might not have. But what you're saying about how we need more of that, we need more of that story within this industry, within the design world. Because for far too long, it hasn't been there, but we're here.
Erwin Hines:
But it almost feels like, within this industry, it almost feels like we're a minority group who's just pushed to the side and it's not about us. You know what I'm saying? It's strange because the level of importance that, specifically for me, like black people have had within the building of America and what America is and what America pop culture is. A lot of stuff is based on pop culture and the nuances of pop culture and all of that stuff and we kind of create that and our people create that. We create the vibe of coolness that drives commerce around the world, but people don't want to recognize that and so I think it's important. What you're doing, hella important because it begins to shine light on the importance of these views and understanding these views and takes us out of just the, maybe a young black kid reads it and it helps to take them out of just the consumer mindset of just I'm going to consume, consume, consume. I can actually create.
Erwin Hines:
These platforms like Instagram and all of those things became popular off of the content that youth create. A lot of those youth are young black kids. They're creating content for an organization that they don't even know that they can work at or that they don't even know that they can build themselves. And so I think it's just showing that pathway. Going back to what I was saying at the very beginning where I didn't even know things existed because I wasn't exposed to it and so, by what you're doing, you're helping give that exposure, hoping that young kids are listening to this stuff.
Maurice Cherry:
I hope so man. Hope they're listening. Hope they're reading. And not even that I would say just young kids because that exposure can really come at any age.
Erwin Hines:
Yeah, true.
Maurice Cherry:
Just to know that the option is out there or that there can be something different, that can really come at it at any age. But yeah. What piece of advice has stuck with you the longest when you think back over your career, you think over your creative journey? What is that advice?
Erwin Hines:
Ooh, so I never had a specific mentor ever in my creative journey and I think it's just because I was a knucklehead so I never looked for mentors. I would just always listen to interviews from Kanye West or whatever creative I'm super inspired by at that time, but the biggest nugget of truth that I ever received was from my family that just was about… My father one time said, "I don't like who you're becoming." And it was when I was losing myself for a little bit and I wasn't necessarily thinking about my heritage and my past and my upbringing. And to me that conversation is the conversation that has stuck with me and helped to guide me.
Erwin Hines:
Although my father probably wouldn't remember this, but that one moment and then the conversation that followed about making sure that you're checking with your heritage, making sure that you're checking with the things of your past, the things that your grandfather did, the things that both sides of the family have done for me. It didn't put a burden on my shoulder, it actually made me proud of who I am, where I come from. And it made me want to truly honor that.
Erwin Hines:
So that was probably be the biggest piece of advice. Again, I think I'm somebody who looks and desires to look for inspiration outside of my industry. I have never really looked at other design and other designers for my pathway. I really love to understand and look at culture because the things that we're creating are all for culture. And so even with creatives, my biggest inspirations are people in the world of fashion or the world of music. So it'd be Kirby from Pierre Moss or Virgil. Those, to me, are some of my biggest inspirations because they stand for breaking down barriers and walls just by being fucking good. I don't know if you can curse on this, so I'm sorry.
Maurice Cherry:
Oh, yeah. You can curse. That's fine.
Erwin Hines:
All right. Just by being good at what they do and they move with theory and a message. And that to me is my biggest inspiration, is the idea of moving with theory, moving with a message that is consistent and it might evolve over time, but there's always substance there. Yeah. And so for me it's a combination of what my father said as well as growing up. I think I've always been really proud of being a black man, no matter where I was or how I grew up and I grew up in a predominantly white neighborhood. But I would walk around school, my predominantly white school, with my fist in the air because I was just super proud of who I am and where I came from. And I think it was because, on top of what the media would show you and all the negativity that the media would showing you about being a young black man and how you can just be a rapper or you can just be this and that's all you would see or the criminalization of black people.
Erwin Hines:
My parents had these books, I forgot what they're called, but we got these books every single month, yeah, these books every single month that would just dive into one impactful African American. And so seeing those stories of Booker T. Washington and getting to see this diversity or Harriet Tubman. Seeing those things at a very young age, I got to see the diversity of black people and that we exist on a spectrum, a very large spectrum and we're not just a homogenous group. So I had an early realization that I didn't have to try and be black, I just was black and that blackness can exist on a very large spectrum, but it's still impactful and it still carries the same narrative story, but my experiences are going to add to that history and that legacy to create something unique.
Erwin Hines:
But I need to make sure that I carry all of that with me into every room I go to, into every time I'm sitting with a CEO or a C Suite person at Google. I need to bring with me the legacy and heritage of blackness and be proud of it and speak with the strength of that heritage.
Maurice Cherry:
Wow. Where do you see yourself in the next five years? What kind of work do you want to be doing in 2025?
Erwin Hines:
So me and a couple of my friends actually started another project that's actually building a restaurant group. We have two restaurants, one is actually opening, they're actually building it currently. One is opening at the beginning of 2021. There's another one that's opening in October and then we have a retail space that's opening next month. And so that to me is the next project and it stems from Crafted, which is again, like this space.
Erwin Hines:
And just to put a little bit more color around it, I actually explained Crafted as a living art experience that uses space and food and art to create empathy between disparate groups of people. And for me, going back to what I view art as, art, the true end goal of art, is not to create something beautiful, it's actually to create opportunity for conversation. That conversation can create change, but in a conversationless society that silos us through algorithms, conversations between disparate groups of people stopped happening and therefore it limits the amount of change that we can have, impactful change. So Crafted was that opportunity for me to create a space for conversation between disparate groups of people to create change and so extending that, we're looking at how we can actually go into some of these different neighborhoods.
Erwin Hines:
So the chef and the guy who actually is going to own these different properties, so I'm a partner in it, but the main owner, he's from this neighborhood called National City. And for him, he grew up there, but he always had to leave there to go to restaurants or to go to coffee shops or to go anywhere, which removes that sense of pride in your neighborhood and when you have a sense of pride in your neighborhood, then people begin to invest more, invest more time and invest more energy into that neighborhood. It's very similar to what we're seeing now in San Diego. Now that they see all of these different things are going on, people are more proud to be in San Diego and then they're more likely to invest, more likely to stay. And so what we're trying to do in this neighborhood called National City, where all of our three concepts are actually opening on one street, is trying to create a sense of pride in that neighborhood, so people feel prideful, they want to stay and they want to reinvest into the community.
Erwin Hines:
And so it's almost how do you move into a neighborhood, or not even move in because he's from there, but how do you reinvest into your community without it ever having the need to be gentrified? So I think we're trying to… For me that's my thing is how do we figure out this fucking gentrification problem and it's almost going back to my passion for city plan, or not passionate, but what my goal of city planning was. It's going back to these things that I had from the very beginning, which is how do you create equitable living spaces and make sure that you're fostering opportunities for conversation to create empathy. And so over the next couple of years we're going to be launching those three projects and then from there who knows, we'll see.
Erwin Hines:
It's probably going to be more stuff like that. How do I just get deeper involved in helping to build true community? Yeah. And reinvest in the community. I'm big on community right now.
Maurice Cherry:
I see. Yeah. Well just to wrap things up here, Erwin, where can our audience find out more about you and about your work online?
Erwin Hines:
So of course, you can go to basicagency.com to see the agencies work and if you want to learn more about Crafted, you can actually go on Instagram @experiencecrafted, again, that's @experiencecrafted. And then if you want to follow me, it's just @ErwinHines. Very simple.
Maurice Cherry:
And that's on Twitter, Instagram?
Erwin Hines:
This is all on Instagram. I mainly use Instagram partially because I'm managing a lot of different social accounts and I can't be going back and forth between Twitter, Instagram. I find Instagram my main space to create conversation.
Erwin Hines:
So yeah, definitely the main thing I would encourage people to follow is probably the Experience Crafted Instagram just because that's where I put a lot of my time, a lot of my effort outside of BASIC®.
Maurice Cherry:
Sounds good. Well Irwin Hines, I want to thank you so much for coming on the show. I mean, I sort of had an idea when I started this conversation kind of where things would go, but you blew my mind. Finding out more about your background and seeing how, now you've been able to weave all of these disparate experiences and influences into your story and then use that to guide your work and go back out and give to the community, it is such an inspiring thing to hear. One of the themes that I'm trying to carry throughout the year is basically, how are we as black designers helping to build a more equitable future?
Erwin Hines:
Whoa. That's cool.
Maurice Cherry:
And I feel that certainly you are doing it. One, through your design and branding work, but then also through experience Crafted and then through these actual physical spaces, these restaurants and retail space. When they say people out here doing it for the culture, you're out here doing it for the culture. So thank you so much-
Erwin Hines:
Thank you.
Maurice Cherry:
-for coming on the show. I appreciate it.
Erwin Hines:
Thank you man. And if I could leave with one last thing, it actually goes to exactly what you were just saying. I think and I feel, and I've had a conversation with other people of color in general, that from a very young age, since we grew up in America, we were actually forced to learn empathy and a sense of understanding of people outside of ourselves before we even were able to understand ourselves. And so I think that that is a very, very powerful tool set as a creative to have in our tool belt because we can approach every single thing with a broader understanding and bringing that and making sure you're bringing that and making sure you're not shying away from it, to me, would be like the one thing I hope that people would move forward with.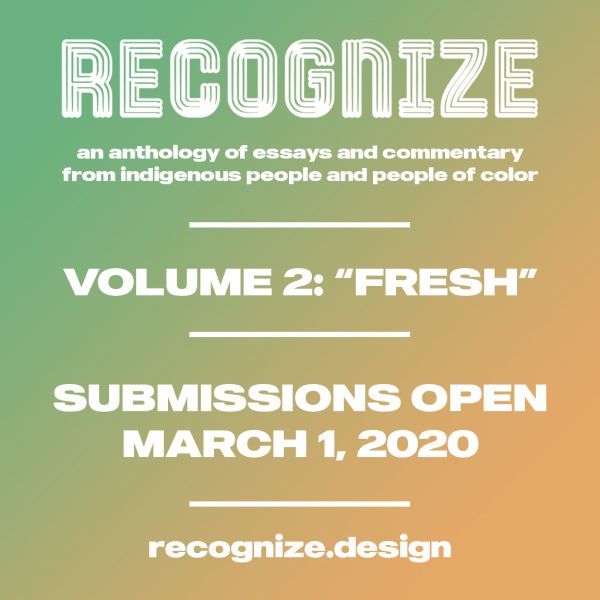 Submissions for Volume 2 of the design anthology RECOGNIZE open on March 1! For more information, visit recognize.design!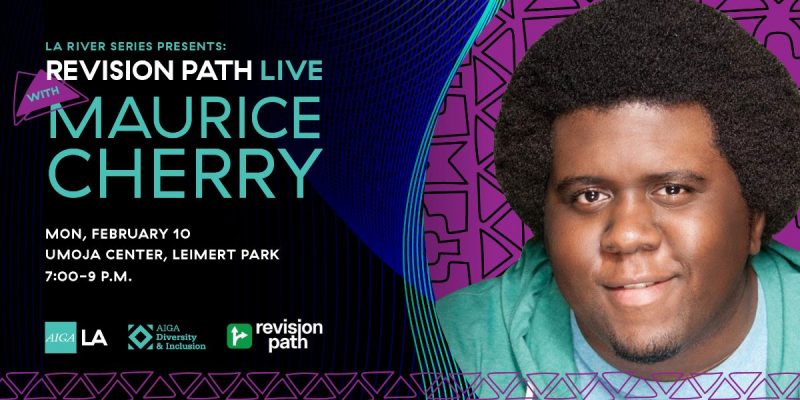 Sponsors
Facebook Design is a proud sponsor of Revision Path. The Facebook Design community is designing for human needs at unprecedented scale. Across Facebook's family of apps and new product platforms, multi-disciplinary teams come together to create, build and shape communication experiences in service of the essential, universal human need for connection. To learn more, please visit facebook.design.
This episode is brought to you by Abstract: design workflow management for modern design teams. Spend less time searching for design files and tracking down feedback, and spend more time focusing on innovation and collaboration. Like Glitch, but for designers, Abstract is your team's version-controlled source of truth for design work. With Abstract, you can version design files, present work, request reviews, collect feedback, and give developers direct access to all specs—all from one place. Sign your team up for a free, 30-day trial today by heading over to www.abstract.com.