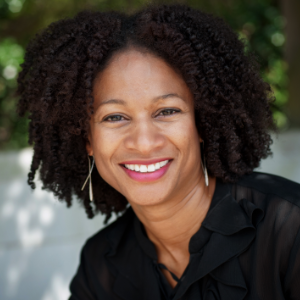 I was introduced last year to Dr. Kenya Oduor through a Tech Circus panel we both participated in, and I'm really glad to have her on the show now so she can share her brilliance with you all! She is a human-centered designer, researcher, and strategist, and also runs her own consulting and staffing firm Lean Geeks. Very impressive!
We dove right in and talked about her increased focus at this stage of her career, and from there we discussed how Lean Geeks works and what she want to accomplish with the firm this year. She also spoke about growing up in Queens, studying to become a physical therapist, and then pivoting into human factors and user experience design. According to Kenya, getting comfortable with being uncomfortable is how you grow, and her path to where she is now certainly proves that!
Transcript
Full Transcript
Maurice Cherry:
All right, so tell us who you are and what you do.
Dr. Kenya Oduor:
Hi, Maurice. I am Dr. Kenya Oduor and I am a human-centered strategist researcher and designer.
Maurice Cherry:
What's on your mind? How's 2022 been treating you?
Dr. Kenya Oduor:
What's on my mind. So, I think there's a lot going on right now in terms of coming out on the other end of COVID and understanding what that means to the work that my team and I do with our clients. And how much of this remote model will change to a more hybrid or in-person model, again. I think in looking at some of the work that we do for our clients, I think there's a huge opportunity for those conversations to shift to what new expectations do users, customers, clients have around their products and services. So, I'm really curious, not only to see what that means in terms of work opportunities, but also what insights do we gain from the work that we do in that regard.
Dr. Kenya Oduor:
I'm also finding that my career is gravitating towards more focused on me being a Black woman. And 10 years, 15 years ago, I would've never imagined that my identity would matter so much to the trajectory of opportunities and the voice that I present out to the world and that thing.
Maurice Cherry:
That's interesting. Can you talk about that a little bit more?
Dr. Kenya Oduor:
Sure. So, I never forgot who I was, just because in the industry that I'm in, I might be the only or have been the only woman in the room, the only Black person in the room or both. And so, it's always been a constant reminder for me because at certain points in my career, I didn't necessarily feel like I was an integral part of the organization, in terms of feeling like I'm a fit within the culture because of my differences, or I didn't feel like I was necessarily heard as much as some of my peers were. But what I'm finding now is that all of that experience and all of that maybe insecurity, imposter syndrome or angst that I was feeling throughout my career, I feel like that's all coming to a place where I'm now using it to tell my story.
Dr. Kenya Oduor:
And it's becoming what I never realized would be a story that a lot of people, Black, white, or otherwise, want to hear in terms of just, we all have our unique differences. And knowing that and embracing those differences and using that to your advantage in terms of, especially in the design room, using that to your advantage in terms of bringing a different perspective.
Maurice Cherry:
I'm curious if that change has happened since the summer of 2020 because I feel like for a lot of Black folks who I've had on the show… well, all the Black folks. I've only had Black folks on the show. Let me be clear about that. But I think every person I've had on has said since that summer, there's been a shift.
Dr. Kenya Oduor:
Absolutely. I am more comfortable in the skin that I'm in and I am unapologetic about. And I've heard that in a lot of circles that I'm in, being unapologetically Black. And just recognizing that if you are uncomfortable with my identity and who I am, then that's not my problem, that's yours. I don't have to work to make you feel more comfortable. I have to be me and recognize that. And especially, as a business owner, I recognize that clients that want to do business with me and my company have to be comfortable with who I am and that sort of thing.
Maurice Cherry:
Speaking of your business, let's talk about Lean Geeks. This is your design agency. Where did that name come from?
Dr. Kenya Oduor:
So, the name came from, as a researcher by training and coming from the academic world and having a PhD in human subject research and that sort of thing, I recognize that throughout my career, a lot of times I would get the poo-poo to ideas of "let's go and validate stuff." I would get a lot of resistance where the immediate response that people would go to is, "It's going to take too long. It's going to be too complex. We don't have time for that. We didn't bank in that, that time to do those things." So, I recognize that being able to position research around being lean research and scrappy where necessary is really, really important in terms of getting buy-in.
Dr. Kenya Oduor:
And the geek part comes from just as human factors professionals. I'm not the only one that subscribes to this, but what I found is a lot of my colleagues, we always have swapped stories about whenever we take on a project, we have to go really deep in understanding a new domain or a new type of industry and user within that industry. And so, we almost geek out in the things that we learn about medicine or what we learn about different industries that might be very different than what we would play in otherwise, banking and that kind of thing. So, it's always interesting to think about all of those different industries and how you have to go deep in order to be effective in creating solutions or redesigns for services in those different fields.
Maurice Cherry:
Now, your agency offers both consulting and staffing services to clients and you have what you call a human-centered approach. Tell me about your process.
Dr. Kenya Oduor:
Absolutely. So, the ideal, let me tell you about the ideal because this is what really excites me. When we have a client come to us and they're in this phase of discovery where they have certain assumptions or certain hypotheses around what they could do or what their product could do differently. And so, having the opportunity to help define and execute on some research that validates their ideas, we usually provide them with more clarity on essentially what are the requirements for their solution.
Dr. Kenya Oduor:
And so, having the opportunity to do that and informing the experience design and having data to support our design approach is really, really, to me really exciting. Because it's not one of those things where you or I on the team are going off of what we think is the right experience or approach. We're using some of our experience to understand what is the best design, but we're more so using data to validate the person's ability to get something done. Okay? And in those types of projects, we help our client get to the point of sprint zero or basically giving them the different assets that are necessary to feed development and the engineering effort.
Dr. Kenya Oduor:
And the really ideal experience is when they then allow us to partner with them from a contractor perspective and having maybe an interaction designer or a strategist join their team as a contractor. So then, there's continuity from the work that we did. So, it's not as if we're just throwing research and wire frames over the fence, we're actually continuing on with their team. And that allows those individuals that did the research to stay connected to the project and help to still continue and inform the direction that things go in. And for me, if every project started and continued in that fashion, my life would be golden at that point. If that was the model that we could always follow.
Maurice Cherry:
To that end, it sounds like the best types of clients then for you to have are ones that possibly would have you all on retainer, because it sounds like the work that you're doing continues along a timeline. You're not just going in doing one thing and then that's the end of the project.
Dr. Kenya Oduor:
I wish that we were on retainer. Typically, it's the upfront research and the deliverables around requirements, priority, wire frames. All of that stuff is usually time boxed and it's a fixed cost effort. Over my career, I think, being in a practitioner role and in a leadership role, I've gotten really good at being able to estimate how long an effort should take. So, those are usually time-boxed. And then when you talk about the contractors, those are typically your standard contractor on your team. Somebody that's there six months and then they're converted to a full timer or they're on the project for two years as a contractor. So, those are typically, someone who has a badge and a computer from your company and they submit timesheets to our company. And we pay payroll and that sort of thing, benefits and all that sort of thing.
Maurice Cherry:
That sounds that's where the lean part kicks in, at least in terms of being able to estimate the time pretty, pretty accurately.
Dr. Kenya Oduor:
Absolutely. The one thing that I've not necessarily learned, but has become really clear over the last few years, is that in any project recruitment is the longest [inaudible 00:12:55]. That's going to be the hardest part of a project. And it's going to take the longest is to recruit panelists to use for interviews, qualitative interviews, or to observe, or to have them do usability testing and that sort of thing. Recruitment is probably the hardest part of what we do.
Maurice Cherry:
What does an average day look for you with Lean Geeks?
Dr. Kenya Oduor:
It typically, like most other people, getting up and checking your emails and "What do I need to do today?" It's engaging with, I don't want to say, prospects, because I don't look at engagement with potential clients. I don't look at them as prospects. I want to get the opportunity to talk to them. "Let me hear about what's going on in your organization. What are your biggest struggles? What keeps you up at night?" So, having or scheduling conversations with different people is a lot of what I do.
Dr. Kenya Oduor:
I am focused on business development and closing the sale. So, I'm not so much doing the research work anymore or the design work as per se, but I try to bring in those projects. And I stay involved from the extent of knowing what's going on, so that might also be a part of my day is checking in with the team to see how are things progressing. "Show me where you are. Maybe I have ideas or questions that help you to expand what you're thinking is around a particular problem." So, I also spend a portion of my day doing that.
Dr. Kenya Oduor:
And I've had to get comfortable over the last year or more comfortable with marketing. So, just thinking about strategically, what is my brand and what is my voice and what do I want to put out there? And this goes back to my identity, becoming so much more of what I present to the world where historically that wasn't necessarily something that I put as much importance in or on.
Maurice Cherry:
Now for those out there who may not have heard of human-centered design. Again, we talked about how you have this human-centered approach. Can you talk about what it is and why it's important?
Dr. Kenya Oduor:
Absolutely. So, human-centered design is essentially, I don't want to say putting the human first, it's informing your approach to a solution with information around your user and their motivation, their needs, what are their goals in terms of interacting with your product or service. And most importantly, the most important part is context. And I teach a human computer interaction class and my students are software engineering students. And whenever they ask questions, I always get them to unpack their understanding of the context.
Dr. Kenya Oduor:
Because context really, really impacts our ability to assume what is someone thinking in a particular moment. What are the environmental factors that are outside of their control that they have to consider in using your product? When you think about your product, what features or capabilities need to be in the forefront because of that context? So, that to me is what human-centered design is all about is allowing someone or giving someone the tools that they need to get something done and to consider their motivation and their context in that.
Maurice Cherry:
What would you to really accomplish with your business this year?
Dr. Kenya Oduor:
I really want to get to a place where obviously closing more business. Any business owner wants to continue to grow, so I always want to continue to grow in my business. I want to get connected to more designers and researchers that are in a freelance situation because I'm always looking for talent. And as you know right now, the market is really hot. So, either we've lost team members or we're constantly looking for new ones and I think I do a pretty good job of spotting talent, but in most cases they're already either fully committed or not available or whatever it might be at that particular time. So, that's a huge goal of mine in 2022 is to build up our network in that regard and across the country, ideally. I have some little pet projects that I'm working on with colleagues and I would love to see some of those pet projects shape up a little bit more and for us to move from idea to concept.
Maurice Cherry:
Nice. Let's switch gears here a little bit, because I want to get more into your background and learn more about really how you came about all of this. So, let's start from the beginning here. Talk to me about where you grew up.
Dr. Kenya Oduor:
I was born in Pittsburgh, Pennsylvania and I was really young before I started school, we moved to Queens, New York. So, I grew up in Queens. Very different from Pittsburgh and it was very different going back and forth during the summers and holidays. And so, I grew up around a lot of people who might have been first generation Americans. And it was to me, I think that is what shapes my belief that culture and context have so much to do as inputs to any solution because I just remember being around people that were so different, but had similar goals.
Dr. Kenya Oduor:
Everybody wanted the best for their children. Everybody wanted to work hard and earn a living and that kind of thing. So, I knew that there was a common thread amongst the culture of the people that I was around. But I knew that, when I went into different people's homes, the way they did things and the languages and all those sorts of things were different. So, I look back and when I talk to some of my friends growing up, we always talk about how unique our situation was. And we didn't realize it until now that we're adults living in different parts of the country.
Maurice Cherry:
It's so interesting that hindsight, looking back and you don't think about it at that time when you're a kid, probably not even when you're a teenager or a young adult. But I find the older I get, when I look back at how I grew up and how I first got into tech and everything like that. It's abnormal for the time I think, but I didn't even think about it because essentially at the time when I was doing this stuff, it just all felt like play. It just felt toys that I was working with, not actual computers. Teaching myself a language, that kind of thing.
Dr. Kenya Oduor:
Yeah. And I think that's the beauty of, I'm the parent that, "Oh, I want them to do the things they enjoy and double down on the ones that they're passionate about." But I always have to tell myself that you have to also remind yourself and your kids that exposure to as many different things as possible really open your eyes to things you didn't even know existed. And like you were talking about, the things that you did with computers early on, you would've never thought about the impact they would have on your career now is just we, as people, have to always look beyond what we're comfortable with. Look at the beauty of art and how that translates into the beauty of what you can create. And just being able to translate some of what we see and experience into the work that we do.
Maurice Cherry:
Yeah. Did you have a lot of exposure to design or tech as you were growing up?
Dr. Kenya Oduor:
Yeah. So, my parents coming from a small or from small towns in and around Pittsburgh, their intention in moving to New York was to be around culture and that kind of thing. So, my parents used to drag me to the theater when I was younger and I was always, "Ugh, we have to get dressed up and go to the theater." And I used to go to the Museum of Modern Art or Guggenheim Museum. And I used to always look at it like such a chore, because it was maybe different than what my friends were doing or my friends didn't go with me.
Dr. Kenya Oduor:
But as an adult now, I'm like, "Oh, my goodness." I thank them all the time because all of those different experiences and that exposure had so much to do with, my mother used to do art projects and she would get wood and carve it and then do stamping on fabric. And I look at all those experiences and say that creativity and just seeing different types of creativity, they remind you that there's so much out there that can apply to what we see, what we do, what we experience.
Maurice Cherry:
Now, when it was time for you to go to college, you went to the university of Maryland. Tell me about what your time was like there.
Dr. Kenya Oduor:
Too much fun. That's why I was on a five-year plan. I knew when I was in high school that I wanted to go away to college. I didn't want to stay in New York, surprisingly. As much as New York is a wonderful place, it's exhausting. And I was talking to somebody else from New York the other day and we were saying how until you leave New York, you don't realize how much life there is outside of New York because it takes so much out of you to do everything.
Dr. Kenya Oduor:
So, I went to Maryland and I struggled with figuring out what do I want to do or what do I want to be? I started out as an engineering major. Then I got interested in psychology and people. And then I thought I wanted to be a physical therapist. So, I ended up having to do an extra year because I thought I was going to be a physical therapist and I had to do additional classes. But my time at Maryland was my awakening to experience Black culture more than when I was just going to see my family. Coming from Queens and then going to Maryland, I felt like my identity as a Black woman, I was able to see other people like myself, that I was actually around all the time and not just family that I'm going to see during a holiday.
Dr. Kenya Oduor:
So, that for me was really interesting and exciting. And I just knew at that point that I wanted… I used to get the itch to say that one day I was going to start a business. What that was going to be, who knows. But I used to say to myself that I wanted to create something one day. So, I enjoyed Maryland, but obviously not enough to stay there because I'm in North Carolina now. But yeah, I enjoyed my time at Maryland.
Maurice Cherry:
One thing that I remember really, again, another hindsight thing that I remember is just how many different types of Black people I met at college. I'm from the country-country. Everybody is they're Southern. You really don't see other types of people unless it's maybe on television or something like that. And I remember being at Morehouse here in Atlanta and meeting Caribbean people for the first time that wasn't via Caribbean rhythms on BET. Actually meeting people from the Caribbean. Meeting people from other parts of the country and stuff. And realizing how much that really shaped my Black experience, but just the diversity of what is considered the Black experience.
Dr. Kenya Oduor:
It's true. And so the difference, I think… I have a cousin, actually, a cousin by marriage, who's from Atlanta, born and raised. And I just found out recently that he did not see non-Black people until he went to college. And that blows my mind because for me, you see Atlanta obviously as a metropolis or a metropolitan area. And I think about the fact that to me, that's so fascinating in the sense that you had exposure, you had the means and the capability to go to college and in your lived experience, you never saw people that were not Black. That tells me that the upbringing and the community had was one that helped you to get to where you needed to be in order to get to that next level, which I love.
Dr. Kenya Oduor:
And then I think about the flip side of it with my experience in growing up in Queens, I used to almost feel, I was one of the few people that were not white, whose family had several generations that went back in terms of being in the US. So, I almost felt like, I felt like the outsider because I was the one whose family had been slaves. And to have that connection to this country, but to have no one else around you that has that connection to this country, I felt like the outsider.
Maurice Cherry:
Interesting.
Dr. Kenya Oduor:
Yeah, yeah. And I think going to Maryland is where I experienced more of my people who were like me, descendants of slaves. And so, I could relate to them in a different way than I could my people in Queens.
Maurice Cherry:
So, you were enjoying your time at University of Maryland, soaking in that good Black experience. What was your early career like after you graduated? What was next for you?
Dr. Kenya Oduor:
Oh, my gosh. Yeah. So, like I mentioned, I thought I was going to be a physical therapist, so I got a job even before I finished school. I got a job at a nonprofit that worked with special needs children as a physical therapy aide. And the place that I worked was in the hood, in Southeast DC. And I'll never forget that that was probably my first immersive experience into seeing and experiencing, I'm not going to say we all, but I have the experience of growing up and having family that lives in public housing or we had to eat government cheese and all that stuff.
Dr. Kenya Oduor:
I had had that experience, but this was my first time really experiencing true poverty and seeing children who were probably in a situation that when they left school, they did not get food. They didn't get their diapers changed. They came to school the next day with the same diaper on. So, that experience really opened my eyes to just the divide that existed in this country and the unfortunate result of real poverty that I'd never experienced, even if I was poor or with poor members. So it really, really became an emotional, not only was it hard to do therapy with special needs children, who born with fetal alcohol syndrome or vitamin K deficiency. Things that you would think are preventable.
Dr. Kenya Oduor:
But it was just the emotional part of just seeing that even when they went home, there was no joy necessarily for some of them. That was hard. That was hard. So, it made me revisit only wanting to be there, but also, did I want to consider a different career?
Maurice Cherry:
Is that when you decided to go back to school after that?
Dr. Kenya Oduor:
Yes. So, I would come home from work in the evenings and it's just, so when I went to college, the email just came out the last semester before I graduated. So, me working on a computer was word processing and that kind of thing. And so, the internet was just starting to become popular when I would come home, for me, at least. It might have been for other people, but not for me. So, I would come home from work and get on the internet and start to do my search and look at different fields. And then I found Human Factor Psychology that way.
Maurice Cherry:
And what about that appeal to you?
Dr. Kenya Oduor:
Because I don't know if you remember me mentioning that I started out undergrad as an engineering major, so I was very interested in engineering. I was interested in designing things and creating things that would impact people and their lives. And I loved interacting with people. So, Human Factor Psychology was the intersection of those things.
Maurice Cherry:
And so, you attended North Carolina state studying this. This is where you got your master's and then eventually, your PhD in Human Factors, Ergonomics/Experimental Psychology.
Dr. Kenya Oduor:
Yes.
Maurice Cherry:
I remember from that time, whenever anyone talked about ergonomics or at least maybe in the context that I heard. It always was about office furniture like an ergonomic mouse, an ergonomic chair, an ergonomic desk. But of course, ergonomics is more than just that. Correct?
Dr. Kenya Oduor:
It is. And it's funny because when I first came to North Carolina State, I thought that was going to be more of my major and that my minor would involve psychology. But when I got here, I got to know more about the psychology program and I flipped it. And I was like, "No, I really. I enjoy more of the experimental and cognitive psychology and the physical is also a part of your context in your environment." So, that was to a lesser extent, my areas of interest.
Maurice Cherry:
And now prior to founding Lean Geeks, I know that you worked for a long time at two companies, but you also alluded that you've worked for other places as well. But you worked at IBM for seven years, which people know for big tech and you worked at LexisNexis for eight years, which I know is a service that a lot of lawyers use, I believe, for background checks and things like that. But with both of these work experiences, you were focusing on user experience.
Maurice Cherry:
I'm not asking you to necessarily give the years, but I'm curious on during that time, how did you notice user experience in the design community? Was it something that a lot of people were latching onto or how did you see it at that time?
Dr. Kenya Oduor:
So, IBM was my first foray in the whole user experience. True user experience realm in terms of, so I shouldn't say that. I take that back because the definition of user experience for so many people is something different than what some of us know or understand it to be. When I started out, it was human-centered design and this was in consulting and then IBM. And it started with discovery of who's your user, what is their context and what is their need or motivation. And so, at that time, I think IBM was one of the companies that was in the forefront in terms of doing the work to constantly iterate and validate on ideas or concepts.
Dr. Kenya Oduor:
And as time went on, what I saw was more of an evolution towards design, more of UX than being termed design or focusing on design less about the validation or the discovery aspect of things. Probably midway in my career is when I started to see people who would talk about stumbling into a career in UX, or they might have been painters or people who did visual arts or, industrial design and that their interests. And of course there were people earlier than that time, but in terms of my experiences in the software world, that's when I started to see more people coming from the more design community. More of the design community that were playing in the software space. But my early experiences were primarily people who were coming out of the human center design space.
Maurice Cherry:
Interesting. How are those IBM and LexisNexis experiences, how were they from each other?
Dr. Kenya Oduor:
I was just talking to someone earlier today, a student that is considering a transition into UX and I was explaining to her that one environment was very structured and the other was very unstructured. And so, when you talk about structured versus unstructured environments, it's what rigor do they have in place and how mature are they from a user experience perspective? Do they have the right people in the organization and do they have a design system and that kind of thing, a process? Do they have validation baked into their framework sorts of things?
Dr. Kenya Oduor:
So, one was very different than the other in that regard. And some people thrive better in one versus the other. But I realized in my career, I made an intentional decision to shift from one to the other because I wanted to see and to build up my own toolkit of navigating two different environments. And I think that's helped me in the consulting world, because I'm able to spot where an organization's mature is and how to interact with the people in the companies that we work with.
Maurice Cherry:
And so, what was the impetus behind you starting your own company? You've put in now 15 years in this industry, working as a user experience professional with human-centered design research. What made you say I'm going to start my own thing now?
Dr. Kenya Oduor:
So, it had been probably more than 15 years at that point that I was saying to myself, I was getting that itch of wanting to spread my wings and go somewhere new. And I explained it or I likened it one day to someone that every day I walked into the office, I felt like I was a caged bird that had to get in the cage. And then every day at the end of the day, I felt like I was stepping out of the cage. And so, I felt like I was being constrained by the four walls of industry. And I didn't feel like part of that came from presenting ideas that didn't necessarily align in terms of "it's not your job" kind of thing or "we're not there yet," that kind of thing.
Dr. Kenya Oduor:
So, it got frustrating and I said to myself, "Okay, I'm either going to move on to a new company and take on a similar type of role. My highest level of evangelism and hiring and all that stuff and firing." And I said, "Well, do I want to do that? And do I want to go through that same climbing the ladder." And honestly, I didn't want to and I felt that it had almost been 20 years at that point that I was doing this work. And so, I was like, "You know what? It's time for me to spread my wings and try something new and take the show on the road." And I've built a pretty good network over those years, so why not tap into that network and see what happens?
Maurice Cherry:
You stepped out on faith and here you are.
Dr. Kenya Oduor:
I stepped out on faith and I have to tell you that statement right there is the only thing that has kept me going is stepping out every day. When you talk about my day-to-day, every day is stepping out on faith and it's a faith walk and it's constantly reminding yourself that just because you don't know something today or it's an unknown or it's uncomfortable, you got to get comfortable with being uncomfortable. And always know that you have to do the work to figure stuff out, even if you don't know it today.
Maurice Cherry:
Yeah. Who are some of the mentors that have helped you to get to this place now in your career?
Dr. Kenya Oduor:
I always had formal mentors when I was at places like IBM. I had people who I leaned on, who were able to help guide me in that way. But as I got further into my career, I found that I didn't have as many mentors or the people that I sought out as mentors weren't necessarily either in my discipline or they just didn't have the bandwidth to take on additional mentors. I started to do a lot in terms of coaching and finding other resources.
Maurice Cherry:
Interesting. I would imagine and I've talked about this with other like PhD level people that I've had on the show is like it's lonely at the top. Once you get to that level of education and you get to that point in your career, you look around and it's just you in a way.
Dr. Kenya Oduor:
Yeah, yeah. And it's interesting because I would see people and I would see people who were in a position of running their own company or who were in a certain type of leadership role. And I would look at them and say to myself, "I aspire to be there." And what I found in a lot of cases was that, they were and it was no slight on their part in any way. They would just say, "I don't have the bandwidth to take on the responsibility of being a mentor."
Dr. Kenya Oduor:
So, I would get whatever opportunity I could to connect with them and then figure out who do I want to be when I grow up and what does that look like. And, and I think the part that's most important for anyone that's exploring that thing is to always, always, always connect with people and ask questions and invest in yourself. That's something that I've recognized I have to do a lot of.
Maurice Cherry:
What do you appreciate the most about your life right now?
Dr. Kenya Oduor:
When you meet people and they're like, "Oh, I hate my job" or "Oh, I'm so unhappy," or "My kids are stressing me out," just have life stressors. What I'm really happy about my life is that I'm fortunate to be in a situation where life is hard. I work really hard, but the joy that my family and my career and my company, the joy that I get from those things mean so much to me. And I feel like I'm so fortunate. Even if things are hard, I'm so fortunate to have the ability to do these things at this point in my life.
Dr. Kenya Oduor:
And to not have the grumbling. Whenever I work with colleagues or whenever I talk to colleagues or I work with a client, it's so refreshing to know that whatever drama I get pulled into for work projects. As soon as I hang up the phone, leave the meeting or whatever it is, I don't take any of it home like I used to when I worked in-house.
Maurice Cherry:
What haven't you done yet that you want to do? It could be in life. It can be through your business. What's the dream project?
Dr. Kenya Oduor:
So, I definitely want to travel more now, especially after COVID. I want to travel more, but more importantly, I have colleagues that I'm working on side projects with and we've been talking about them. And some of them were things are starting to get off the ground, but I would really love to see some of those things come to pass in terms of us being able to realize and to see things happen.
Dr. Kenya Oduor:
I always, I'm very much a visionary. So, I put out there if you have a vision board or they say do visualization of what you want to do or where you want to be. And I see myself creating something that is impactful. So, just doing project work or engaging clients around project work is one facet of my interest. I also have ideas that I feel like I need to bring to life.
Maurice Cherry:
Speaking of, this traveling now, you and I have both spoken on a couple of panels now. Are you starting to see a return to in-person events? Are you getting invited to speak out at any conferences?
Dr. Kenya Oduor:
Yes. I have a speaking engagement next month in the Baltimore area. I have a few, I want to say late summer or early fall. So, I do realize that things are starting to open up. I actually spoke on a panel recently. So, I'm excited to see and to interact with people in-person, because I feel like the connections. And I had a conversation with someone that I met in-person after meeting them over or talking to them over Zoom a number of times. You really don't get the value of connecting with someone the way that you do when you meet that individual in-person first and then transition to virtual versus the other way around. Because it's like you make that connection with people face-to-face that you can't make over a screen. So, I'm looking forward to that again.
Maurice Cherry:
I just got my first in-person conference invite in a while. I just got it a couple of days ago. So, I'm leaking it early by saying it on the podcast, but I'll be at Design Thinkers in Toronto in October, which is cool. Because I've always wanted to visit Toronto and to now go and do my first in-person conference thing really since… gosh, I think the last time I did one was in maybe 2019, I think, probably 2019. Wow.
Dr. Kenya Oduor:
Wow, so it's time.
Maurice Cherry:
It's time.
Dr. Kenya Oduor:
[inaudible 00:41:49].
Maurice Cherry:
I've done a ton of virtual things, so it's time to get back on a stage. So, I'm excited about that.
Dr. Kenya Oduor:
I think it's time, yes. Well, I can tell you that since COVID my whole dress and shoe game is different, so all about-
Maurice Cherry:
Oh, really?
Dr. Kenya Oduor:
I'm all about comfort now. So, I'm like, "If you say I was going to put on heels and all that, forget about it."
Maurice Cherry:
What advice would you give to anyone that's been listening to all of this and they want to follow in your footsteps? What would you tell them?
Dr. Kenya Oduor:
So, I would tell them that don't ever look at any experience that you have as a waste of your time or that it's in vain. From the time I first moved, when I first moved to North Carolina and I was an administrative assistant in an engineering firm to the jobs that I've had that have nothing to do with what I'm doing today, each one of those experiences gave me a perspective on interacting with people. Gave me a perspective on myself, what I'm good at, what I'm not good at, where my strengths are.
Dr. Kenya Oduor:
So, every experience that you have in life and know that they all build upon one another, even if they're not in the same field. And always walk away from bad experiences with the ability to say, "What did I learn from it?" Especially when you work with people that get on your nerves or you can't stand, figure out what it is you can learn from that. And getting comfortable with being uncomfortable is another thing.
Dr. Kenya Oduor:
The only way we grow is by going through some change and I found that I can procrastinate on the things I don't want to be bothered with or do. But when I look back, sometimes I delay the things that really were in my mind overwhelming, but once I got into them, they weren't. So, don't put off for tomorrow what you can do today. And know that you don't know if you can do something unless you try. That's the way I see it.
Maurice Cherry:
What's the legacy that you want to leave behind? Where do you see yourself say in the next five years or so? What work do you want to be doing?
Dr. Kenya Oduor:
So, in the next five years or so, I realize in my whole marketing effort that honing in on my brand, my personal brand is something that before I used to, I was always the little young, skinny one in the crew throughout my life. So, I was always quiet and in the background and the observer. So, I never really thought that my brand or who I am or what I have to say was necessarily that impactful or important. But as I get older and I have platforms to do that, I realize, "Wow, I do have things to say that people are listening to."
Dr. Kenya Oduor:
And so, I think in the next five years, continuing to sharpen my brand and my voice are a big part of my focus and that I want to be able to use my skills around being an idea generator, being a connector, helping people to progress ideas. I like to see others, I thrive by seeing others thrive. So, being able to utilize that capability and everything that I do would be just the most awesome thing ever for me.
Maurice Cherry:
Well, just to wrap things up here, where can our audience find out more information about you and about your work online?
Dr. Kenya Oduor:
That's a good question. So, definitely connect on LinkedIn, Kenya Oduor, PhD. Last name is O-D-U-O-R. I wish I would have kept my maiden name if I knew my last name was going to be so hard. Check out the web company website leangeeks.net, L-E-A-N-G-E-E-K-S dot-net. And I think LinkedIn is the best place to start because from there, you can get to YouTube video thing. You can get my contact information.
Dr. Kenya Oduor:
And I just like to connect with people and like I said, I'm trying to build up my network of folks, especially like us designers and creators and researchers that look like us are important for me to connect with at this point in my career. Especially those that I don't know now or yet. Yeah. Keep in touch.
Maurice Cherry:
All right. Sounds good. Well, Dr. Kenya Oduor, I want to thank you so much for coming on the show. One, of course, I think just thank you for telling us about your story. But also about putting forth, this really powerful message about look at your experiences and see what you can gain out of them.
Maurice Cherry:
My mom used to tell me when I was younger, especially early on in my career before I started becoming a designer, sometimes you have to do the things that you don't want to do, so you can do the things that you want to do or something like that. I might be screwing up that whole thing.
Dr. Kenya Oduor:
Amen. No, but that to me, I get it.
Maurice Cherry:
But it's true. Sometimes you have to put the time in, you have to see what you can gain from those experiences, and then use those to become a better person. And certainly, I think from what you've shown in this interview and then even with what you're doing through Lean Geeks, you're definitely making that happen. So, thank you so much for coming on the show. I appreciate it.
Dr. Kenya Oduor:
Thank you so much for having me, Maurice. And continued success to you as well.
Sponsored by Hover
Building your online brand has never been more important and that begins with your domain name. Show the online community who you are and what you're passionate about with Hover. With over 400+ domain name extensions to choose from, including all the classics and fun niche extensions, Hover is the only domain provider we use and trust.
Ready to get your own domain name? Go to hover.com/revisionpath and get 10% off your first purchase.