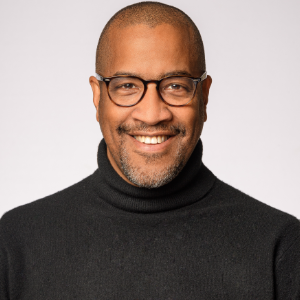 Atlanta is a city known for many things: the food, the music, the culture. The traffic! But I don't know if Atlanta's really ever been seen as a design city like one would see New York or Chicago. That reputation is rapidly changing though, and that's thanks to Chip Gross. Chip is the managing director for Work & Co's newest office in Atlanta, and with over 20 years of experience under his belt, he's helping the city be recognized as a destination for design talent.
We started off talking about his new position, including how it differs from his past roles, as well as the challenges of setting up a new office during a pandemic. Chip also spoke about growing up throughout New England and attending UPenn, starting his career in Chicago, and then moving to Atlanta for grad school. We also talked about Chip's experiences at IBM, iXL, Brighthouse, and AKQA, and how those prepared him for what he's doing now. Chip has put in the work and now it's time for him to take center stage!
Transcript
Full Transcript
Maurice Cherry:
All right. So tell us who you are and what you do.
Chip Gross:
I'm Chip Gross. I'm the Atlanta Managing Director for Work & Co.
Maurice Cherry:
Now, how has 2022 been going for you so far? I know you started off this year … Mentioning Work & Co, you started off with some pretty big news.
Chip Gross:
Right. Yeah. No, it's been a really dynamic time and really exciting at the same perspective. I mean, starting off in January, I guess I decided to make a bit of a change and join Work & Co as we were making a decision to come into Atlanta and establish a space and a studio here. And from there, the excitement has been palpable. The response has been really positive. I think Atlanta in many ways has been awaiting more opportunities to have a company that focuses on digital product design. So it's been nothing but good news and hopefully more good news as we roll through more of the year. But it's been a lot of fun so far.
Maurice Cherry:
Yeah. I was curious when I heard about Work & Co opening an office down here, I mean, I was excited first of all, but then also curious. Why set up a presence here in Atlanta? Because as people may or may not know, it's headquartered in Brooklyn, but you've got offices all over the world. What about Atlanta was significant enough for Work & Co to say we want an office here?
Chip Gross:
Well, I think there's a few different reasons for us to look at Atlanta as a place that we wanted to put a space or a studio. One of them is … You'll see from the different places that we're located, because we've got eight offices globally. That includes, like you mentioned, Brooklyn.We've got Portland. We announced LA at the same time we announced Atlanta. And then we also have Copenhagen, Belgrade, and we also have Rio and San Paulo. So one of the things that I think is a unifying factor around the places that we put our studios, our offices is we want to be a place where we can find really great talent. And Atlanta's a place that I think has been underrepresented for a long time in terms of the experienced digital talent that exists here. And having previously been involved in establishing a studio in Atlanta have no doubt that there's a lot of really great designers and technologists and product managers that have been looking for an opportunity to work for a company like ours.
Chip Gross:
And then in addition, I think one of the other aspects of where we put offices is also in many ways not looking at where we can build collections of clients, but actually where we can also build an amplified culture. So whether it's Copenhagen or Brooklyn or Portland or LA, in many ways these are centers of culture. And Atlanta is very much in that same perspective. I mean, we literally have a sitcom named after us that's been getting a lot of people really excited about what Atlanta's about. I mean, we're the cradle of the civil rights movement. All the social activism around that. We've got this outsized impact on music and media. And all those things we feel like are a really rich kind of collection of advantages that I think are really uniquely Atlanta. And yeah, we have, being in Atlanta, this saying about Atlanta influencing everything, and we really do take that to heart. And we think Atlanta is a perfect place for us to position a studio and have a presence.
Maurice Cherry:
How has it been so far adjusting to this new role, especially with not just coming into the company, but also establishing an office here during a pandemic?
Chip Gross:
It's been different from other times when we've … Or at least when I've been involved in doing this type of a new studio implementation. I think in many ways we've seen this as an opportunity to think about what does it really mean to create a post pandemic studio. And think about creating an environment in a place where people don't necessarily have to be, but they want to be. And creating an environment where people are excited to come and collaborate. Because you can kind of see as I'm talking I really struggle with even calling it an office. And I really think about this more in terms of creating a space for all of our different team members to be able to collaborate together. And I really lean more heavily in calling it a studio because it's a place of creation.
Chip Gross:
So whether you're creating a design or you're creating a collection of code, we want to create a place where people feel that they can come and be part of something bigger and also do it in a way that also creates impact, not just for the companies that we're working with, but also the communities that we're established within. And also being in Atlanta, I think we want to make sure that we're building a studio that also looks and feels like Atlanta, that really does amplify and build off of all the rich culture and diversity and capability that's here. And I think that's a really powerful thing for us to be able to tap and one of the things that gets me really excited when I think about the possibilities here.
Maurice Cherry:
Well, let's dig into that a little bit more. Talk to me more about your work at Work & Co as managing director. What does an average day look like for you, with your team, with your direct reports, et cetera?
Chip Gross:
Yeah. Well, it's still early days for us and we're still in the process of building more of the team. But I guess if there is an average day, because so much of it is defined by what's happening in the course of a particular set of projects that we may be involved in. Because we're establishing ourselves with … I mean, we've been in the Atlanta market for the last two years so we've had people that have been here, but now starting to figure out where we physically want be located within the city. We're in the process of finding that right place for us to have a physical location. Right now we're pretty close to some space in the west Midtown area. And we have been looking at that area because it's a very dynamic and vibrant part of the city.
Chip Gross:
It's in close proximity to all of these great academic institutions, whether it be Georgia Tech, Georgia State, it's not too far from Emory. We also have close proximity to the Atlanta University Center. So as we want to become part of the broader Atlanta community, it really gives us a really nice foothold there. So on any day, we're in the process of vetting and looking at possible locations to build out the studio. In many cases, we're doing interviews and trying to find more great team members to bring on to the Atlanta team. There's been a lot of really great interest and excitement from the business community here to learn more about Work & Co and the work that we do and the types of digital product capability that we can bring. So a day for me could be sitting down with a candidate and talking to them about all the potential that we have and the things that we're trying to bring into the market. It could be sitting down and talking with potential clients. Also ensuring that our team also has a chance to get together and build some of that culture and community that we really think is going to be critical.
Chip Gross:
So I guess for lack of a better way to describe it, in some ways it's unpredictable, but in many ways it's helping to help us drive this objective of having a really strong presence and even more visibility within the Atlanta community.
Maurice Cherry:
Okay. So the Atlanta office is hiring. Okay. That's-
Chip Gross:
It definitely is hiring. We have been hiring. So if there are folks that are interested in getting involved in a company that very singularly is focused on digital product design and development, Work & Co is a great place to look at.
Maurice Cherry:
All right. And of course, for folks who are probably regular listeners of the show, they know that Work & Co also has posted many positions on our job board. Hopefully we'll get a chance to expand that to include the Atlanta office as well. I know this isn't your first time leading a studio. You were a studio lead at AKQA. Before Work & Co you were managing director at BrightHouse.
Chip Gross:
Right.
Maurice Cherry:
When you look back at those two and then look at what you're doing now, what makes Work & Co a different experience?
Chip Gross:
Well, in many ways, what excited me about Work & Co is the fact that we're very singularly focused on digital product design and development. I mean, when you think about even our name, Work & Co, the intent behind the name is focusing on the work that you do and the company you keep. So when we talk about the work, it really is focused on a company that doesn't do or try to do everything across the spectrum of digital advertising and other dimensions of the digital ecosystem. We really are focused on designing and building and shipping products that we think will transform companies and by extension the world. The founding of Work & Co is very much built on this premise of stripping away things that we felt were not necessarily critical in the aim of doing this work of designing and building digital products.
Chip Gross:
So the co side of it, in terms of the company, was really intentionally developed so that we could ensure that we have the right tools and the right abilities to help create the right environment for creativity to flourish. And you'll see that even … If you come in and you work with Work & Co you'll see that we've really tried to ensure that we don't have people focused on things that take them away from the time it takes to really do the type of level of digital product work that we do. We don't do, for example, time sheets. We've been doing this long enough for nine years now, where we've got a really definite and definitive methodology for how we do the work. So we're able to have teams that are dedicated to a particular project and don't spread ourselves across three or four things at once where we're not able to have everybody really focused on what's most critical to developing this particular product for this particular client.
Chip Gross:
And I think a lot of the work that we've been able to produce really speaks for itself, whether it's building an omnichannel experience for Ikea and helping them figure out what their first eCommerce app should look like, whether it's working with Apple and thinking about what's the in-store experience. And when you think about what today at Apple is, a lot of that was conceptualized by Work & Co. And then we've also obviously spent time working with a wide range of clients in helping them to develop products that we think are game changers and able to help transform the ways that they deliver their services to their users.
Maurice Cherry:
Now, you mentioned some pretty big names there. I'm curious, how do you approach a new project? Like say a client, they go to Work & Co's website, they email you. What does that process look like to get started with a project?
Chip Gross:
One of the things that I would definitely say is having been at a number of different digital shops, one of the things I've been really impressed with the process at Work & Co is it really does begin with understanding is this work that we think is going to be shippable. Because as you saw when we talked about kind of the importance of the work side of things, not only want to design and think about how we can create beautiful and dynamic and amazing digital products, but we also want to make sure that they're ones that actually come and live in the world. So when we talk about shipping, over the nine years that we've been in existence, we've shipped over 300 different products. So the beginning of our process is really trying to understand, is this going to be meaningful work? Are our teams going to be excited about engaging on this work?
Chip Gross:
Is it going to be work that's meaningful and is going to have impact? And it doesn't always necessarily mean it's going to be the most lucrative work for Work & Co every time. We've done work with Planned Parenthood. We did a chat bot that was ranked as one of the hundred top innovations the year that we developed it with Planned Parenthood. We've done work with … We just released breastcancer.org. We've thought about what are the things that are important for us to be able to invest our team's time in? And candidly, in the business development process, we generally have a pretty solid stream of work that's coming in. Whether it's just through, like you mentioned, the email channels or we have past clients that refer us for work that they think might be worthwhile for us to take a look at.
Chip Gross:
In some cases, it's a friend of a friend of a friend that knows the type of work that we do. But many cases, we have a lot more work to vet than we end up actually doing, because we really want to be thoughtful and purposeful about the work that we decide to actually proceed with. So once we get to that point, we want to make sure that we shepherd the work through the company and the same level of care, ensuring that whether it's something that's going to be starting with strategy and working itself into design and then potentially into development. We get all the different stakeholders involved, looking at the work, making sure that we're asking the right questions and then building out a scope with product management leading it so that the people that are actually delivering the work are the people that are actually scoping the work, which in other agencies that I've worked in hasn't always been the case and in some cases it's really led to some problematic projects as a result.
Chip Gross:
So again, because we're so singularly focused in developing digital product and shipping it, we're able to be really, really thoughtful and intentional about how we actually move the work into the company. And we build the right team that's going to really be passionate and excited about the work. And then we also make sure that we're working collaboratively with the client as we do the work. So we have a saying within Work & Co that we do prototypes and not presentations. And the ways that we actually create and concept the work is through the process of creation and iteration. So we're not going away thinking about what this could be, and then coming back to the client and showing them something that's in process. They're actually working with us in some cases in the Figma files. Seeing it evolve and become this conceptual product and then eventually a detailed design product. And then eventually a product that goes out and lives in the world and helps them be transformative and engaging with their users as a result.
Maurice Cherry:
Now, I feel like even with all of that that you mentioned, it's super important to have something like that here in Atlanta. And we'll get more into your background, but I know just from starting out here as a designer and working my way in different companies and stuff, I don't know, the Atlanta design scene has been different from what you may see in New York or Silicon Valley in terms of that level of focus, not necessarily I would say on product, but certainly not in the ways that you've just described it with Work & Co. It almost seems to be a bit more, I don't want to say transactional. Actually the word that I'm looking for is behind. It feels a little like Atlanta sometimes … And I'm making a gross generalization here from my vantage point, but sometimes it has felt a little behind. And I've heard this even from other Atlanta design professionals I've had on the show, from friends of mine and colleagues are just like, Atlanta is not there yet in terms of it being a design city like where you would have that sort of variety, maybe with, like I said, Silicon Valley or New York City or something.
Chip Gross:
I would actually disagree with that hypothesis because I think in many ways Atlanta has been very much … And I'm talking into the context of digital product design and development. Yeah. We've had a number of agencies here and in some cases, what I think gets overshadowed is there's a lot of great campaign work and there's a number of more traditional advertising agencies that have been above the radar. But for as long as I've been in Atlanta and in this space, I think there's been a lot of really great work that gets developed or designed in Atlanta, but maybe it's out of an agency that is primarily based in another geography. So a lot of the talent in Atlanta, candidly, doesn't get the same shine that it might get in another city like Chicago or New York or Silicon Valley, just because the work is kind of used coming out of those places, when in many cases, some of the design or the development work is actually happening in Atlanta.
Chip Gross:
So that's another reason why for us having a actual studio space here will really allow us to showcase and amplify the Work & Co level work that can be done and produced out of Atlanta and also contribute to the work that we're doing across all of our different geographies. I mean, again, one of the reasons that we're here is because we think and we've seen so much talent that doesn't necessarily get a chance to engage on work that happens in Copenhagen, for example, or work that may also take flight initially in Rio de Janeiro or San Paulo. So in many ways, we really do believe that making this connection between the level of work that Work & Co does with the level of talent that we know exists in Atlanta, we think is very much a marriage made in heaven.
Maurice Cherry:
Atlanta talent does not necessarily get the same shine. I totally agree with that. Again, I'm basing it off of my viewpoint of, again, like I said, you've been here and you've certainly seen much more in the creative community, but I definitely have felt it. I'm not disagreeing with you from what you're saying, because I do know that there are several people that may have started out here as design students or started out as designers and then they just felt the opportunity wasn't here so they had to go somewhere else. Or they go somewhere else and do well and then now Atlanta wants to claim that in some kind of way. It's an interesting kind of thing, but I hope that with Work & Co being here, they'll help to really bolster what you said earlier about the creative community here.
Chip Gross:
I think so. And I think the secret is definitely getting out. I mean, you hear about a new company every week that's decided to build a presence in Atlanta. Whether it's Nike or Airbnb, BlackRock or Visa. I mean, all these companies are now coming to the realization that Atlanta really does have something attractive and unique and diverse and something that they can't necessarily find as easily in other parts of the country or albeit the world.
Maurice Cherry:
Yeah. Speaking of which, let's talk about where you grew up, which was not Atlanta. You're originally from Delaware. Talk to me about growing up there.
Chip Gross:
Yeah. It's not a place that a lot of people necessarily claim to be from. Shout out Joe Biden and Aubrey Plaza as two other Delawareans. But yeah, I mean, I was originally born in Delaware and grew up in Delaware for about the first nine years of my life. My dad actually worked for a insurance company. So as a result, we moved around a good bit. But Delaware was really interesting just because during the time that I was there, Delaware was going through a bit of a awakening itself. And one of the most, I guess, formative experiences that I had was when I was in elementary school and Carter had gone through the process of the busing between suburban and urban areas. And I actually … My family had moved from the downtown area of Delaware into the suburbs. And then I actually had the unique experience of being one of the few black students who actually was living in more of a suburban area, but was being bused into an urban area to help bring better sense of diversity to the in town schools.
Chip Gross:
And it was a really amazing experience and I think it really helped underscore and gave me some perspective on just some of the disparities that exist between both sides of it. Whether folks that were living in the urban communities or even the folks that were living in suburban areas that just didn't have the same level of awareness of what it meant to be different. And also the importance of being able to have an appreciation for navigating different types of environments. Whether you were a black student in a white environment or a white student in a black environment, it was a tremendously eyeopening experience and I think something that also gave me a lot of desire to always try and find common ground as I grew up and lived in different places over time. So after the nine years in Delaware, I moved from Delaware to New Jersey, a fairly rural area of New Jersey. Spent a few years there.
Chip Gross:
Then my parents actually moved from New Jersey to Baltimore, and I had a different experience there when I lived in the suburbs of Baltimore. Then we actually moved from Baltimore to New York City. That was the beginning of high school for me. New York in the mid '80s was a pretty interesting place to spend time. I think that was another just opportunity for me just to see the importance of diversity and living among a community that was comprised of everything from white Catholics to Dominicans, to Puerto Ricans, to Haitians, Jamaicans. It really gave me a love of that type of environment. And then ironically, my parents moved from New York City to the western suburbs of Chicago. And if anyone out there knows what Naperville and Lyle are like as part of DuPage County, I think it's probably … At the time when I moved there, it was like 95 or 97% white.
Chip Gross:
So I almost went into culture shock going from Stuyvesant Town, lower east side of Manhattan to the suburbs of Chicago in an environment where I was literally … I think I was maybe one of two African Americans in my senior class. I don't think there were any black females in my senior class. That was definitely a very interesting period of time. And I think I learned how to deal with a good bit of solitude, but also learned to stand up for myself. I think it helped me develop a certain level and awareness of self that I wouldn't have otherwise had if I had remained in one place my entire life.
Maurice Cherry:
So your family kind of did the whole New England tour. Would have thrown in Connecticut, you'd had the tri-state area pretty much.
Chip Gross:
Just about, yeah. And then of course, after high school I actually went to Philly. So I think I decided that Chicago was great, but it was nice to get back on the east coast.
Maurice Cherry:
Okay. Talk to me about your time in Philadelphia. You were at the University of Pennsylvania.
Chip Gross:
Yeah. Yeah. That was another formative experience for me, because if you remember … And I guess I'm dating myself. Yeah. I was there in the late '80s going into the early '90s so there was this whole kind of black African American awakening. We were dealing with everything from the Rodney King incidents with the LAPD and we had some protests related to that. While I was there, some of my classmates and I actually started a African American newspaper. So I had a chance to get involved in the creation of media and helping to create a voice for the black community at Penn. One of the first times I think we got a chance as an African American organization to celebrate Kwanza. And it was just a chance for us to really kind of say we're here and we're a vibrant part of the community.
Chip Gross:
I remember going to dances and listening to Public Enemy and all of the great beginnings of hip hop music and rap that in many ways were a signifier for just the importance of culture during that period of time. Yeah. I think also being at Penn, it also gave me a lot more confidence knowing that I could definitely hold my own with the best and the brightest, so to speak within the university and also had a chance to just develop some really great friendships that I have to this day. So it was a really great experience and opportunity for me.
Maurice Cherry:
I bet it was fun too, wasn't it?
Chip Gross:
It was a blast. I mean, I probably don't want to incriminate myself on this-
Maurice Cherry:
No, no, no.
Chip Gross:
Podcast. But we had a phenomenal time and I don't think I would've changed anything about that time at Penn. It was a really great time.
Maurice Cherry:
Now, after you graduated from Penn, you were working at Hewett as a consultant, which eventually is what brought you down here to Atlanta, right?
Chip Gross:
Exactly. Yeah. And I mean, to give the listeners context, coming out in the early '90s, there was no worldwide web. So at the time when I went to work for Hewett, I actually kind of stumbled into the technology side of things because Hewett was basically a consultancy that helped companies set up and establish benefits and managed 401k plans. And they had actually had a solution that was mainframe based and they were migrating it to a client server environment. And in the process of getting involved in that, I really became that much more enamored and interested in technology. That's what kind of peaked my interest in wanting to … Even though I had focused in economics at Penn, I always had kind of a love of technology. I mean, when I was younger, I played around with Atari game systems and Commodore 64s and all of that just started to become not much more interesting to me. So there was an opportunity to actually go from Chicago where I was working to Atlanta, because that's where they were migrating this new technology system. And never been to the south, had always heard good things about Atlanta and decided that's where I wanted to go ahead and try to see what Atlanta was like. And ironically, I came down here and just never left.
Maurice Cherry:
I mean, you came down here in culturally what I think just had to be such a rich time. I mean, you mentioned everything that was going on in Philly, but then you come down here to Atlanta and I'm not just talking about Freaknik, although Freaknik is I guess part of the cultural ambiance of the '90s in Atlanta. But even to just step back and look at where black America was during that time. I mean, we mentioned music. New Jack swing, hiphop, et cetera. But then also the LA riots. And this is a time, as you mentioned, before the internet. How did you feel as a black man navigating through the world at that time?
Chip Gross:
I mean, as a black man in Atlanta, it was just such a welcoming environment to be quite honest. I mean, I don't know if everybody has the same feeling. But whenever you're somewhere else and you fly into Atlanta, the minute you get off the plane and you walk into the terminal, you can just feel the embrace of blackness throughout the airport. And I think that just extends to the city. As an African American, Atlanta really is in many ways that proverbial Mecca, because the city is … Depending on where you draw the boundaries, whether it's the city proper or the metro Atlanta area, it's majority black or just about majority black. Just the amount of culture and just the sense of belonging is really something that you just don't get in other cities to the same dimension that you get in Atlanta.
Chip Gross:
So being able to come down here … And again, the context of Atlanta, this was right as the Olympics were happening. So the world was really focused on Atlanta. There had been an amazing amount of investment in building up the city, preparing for all of these people descending on it from all across the world. You mentioned all of the different cultural aspects of Atlanta were also at play. For me again, it was just another validation of the importance of being in an environment and a community that's supportive and really embraces you. That's one of the reasons why I think I've stayed so long and that I've grown a family here is it really helps to give you a sense of a support system. And it just gives you a sense of love and inclusion that I just don't think you necessarily find as much in other places, especially as a person of color.
Maurice Cherry:
That's very true. I mean, back pre pandemic when I would travel for the show or I would travel for work, nothing to me was more comforting than flying back into Atlanta, coming into the airport. And then you're taking the elevator up to baggage claim and you see the black girl with her arms stretched out in a hug. I hear they put her back. I know they took it down for a while because they put up this digital screen, but I heard that they put her back up there. But it's just like this embrace like welcome home. And so many people I have talked to that don't live here do not understand. They're like, Atlanta's this, Atlanta's that, Atlanta's a party city, blah, blah, blah, blah, blah. I'm like, I feel so at home and comfortable in myself and in my culture in Atlanta than anywhere else. I mean, granted, I've been here for a long time, but there's a comfort here that lets you know this is where you can always come home.
Chip Gross:
Yeah. It's palpable. I mean you really do feel it as you move throughout the city. And I think that's one of the reasons why there is so many transplants to Atlanta because when people come down and they get a feel for that aspect of Southern hospitality, but also that sense of you can be from a lot of other places but still feel at home in Atlanta. And I think it's something that a lot of people really connect to.
Maurice Cherry:
Yeah. Now it's 1995. You're in Atlanta. You're about to get your MBA from Emory. Tell me about that time.
Chip Gross:
For me, one of the things I realized as I was working with Hewett was that in order for me to, I think reach my fuller potential, whether I was going to focus on business or technology, was to go and invest and get the MBA. Because I really think it gave me a better and deeper appreciation of what it means to not only build and run businesses, but also all the skills that you need to become a really good leader and be able to help work across different types of teens and groups. I mean, MBA classes are generally case based. So you're always getting an appreciation of what it means to work as a team. And I think that's actually experience that has really helped me as I've worked through different agencies and when I've been on the client side. It's that ability to kind of cross over and build strong relationships as well as be able to think about not only what's a great product experience, but also what's the broader ecosystem that these products need to live within and having an appreciation for how something's going to generate revenue, how something's actually going to functionally work and operate. Understanding what it means to, if you're working on a FinTech project, understand all the different dimensions of managing assets and dealing with financial systems and cash management, all those underlying processes.
Chip Gross:
So for me, I think the value of the MBA was really just being able to understand how businesses work, how you build the best teams, how you develop the greatest ways of people being able to build really great products as a result. Because they're inspired and they're also investing in the importance of culture and collaboration. So that took me over to Emory to go and go through the MBA program. It's something, again, was another formative experience for me and I think it gave me some of the resilience I needed to have as we were starting to reach the beginning of the 2000s and the world was starting to get a better appreciation for what the web and digital actually meant.
Maurice Cherry:
Yeah. That's a really peak time when the worldwide web was starting to really kind of become something that is more and more commonplace. I mean, I remember I was in high school going into college right around that time. Actually in 2000 I was in college. But I was in college during that time in undergrad and I remember I was studying at Morehouse. I was studying computer science. And I was telling my advisor that I wanted to be a web designer because I had been reverse engineering websites since I was in high school, trying to teach myself HTML and figure it out. And I really wanted to pursue that. And at the time, I mean, again, this is 2000, I didn't know that there was a difference between web design and studying computer science. I thought, well, it's all on the computer.
Maurice Cherry:
It's all on the computer. It's the same thing, right? And I remember him telling me vividly that, "The internet is just a fad. If this is what you want to do, we don't do that here. We study programming for mainframes." And all this sort of stuff. And I ended up switching my major to math after that. But it's really hard I think now, especially in 2022, to realize that 20 something years ago, the internet was such a completely different place than what it is now. I mean, the way that technology has grown and changed and evolved the world. But back then, it really was something that not a lot of people really knew about and were doing. But at this time you were working with an interactive agency, right? You were working at iXL.
Chip Gross:
And actually even before then. I mean, when I came out of business school, I actually went to IBM. I went into the management consulting side of it. But very quickly thereafter, we kind of evolved into this whole question of what is e-business and what does the web mean in the context of helping companies engage digitally? And it was a fun time because IBM was willing to invest in an internal agency that they call the Arts Cafe for those who remember that time in IBM. And it was kind of this place where we had these quirky designers. And I think at one point we had a three legged dog that was in the studio and we worked on things like the Masters and the Grammys. It was a really great time of exploration, beginning to think about what it meant to create websites and presence on the web.
Chip Gross:
And then starting to think about, well, not only doing brochureware and marketing on the web, but how do you actually create wholesale businesses where you then start to get into eCommerce and all the different ways that digital evolved out of that? So for me, being at IBM was a great entry into this whole area of digital e-business and it also gave me an appreciation for what it means to actually build product at scale and build things that have global implications. And you have to think about language and you have to think about the impact of launching products and different geographies with different rules and regulations. And it was the thing that really got me excited and passionate about digital.
Maurice Cherry:
Wow. Brochureware. I have not heard that term in forever. Wow.
Chip Gross:
Good reason for that. Yeah.
Maurice Cherry:
Yeah. No, but to your point, I mean eCommerce and so many things now that we completely take for granted over the web were just such new things. Like companies trying to figure out how can I conduct business on the internet? Because before … I don't know. Maybe before the 2000s, the internet was essentially a library for the most part. It was basically for research. You would find different university websites or you just find encyclopedias or things like that. It did not have a lot of entertainment value. I know that there were brands that were starting to figure it out because then also you've got technology like Shockwave and Real Player that we're starting to bring media into this space. It's funny. When I do presentations, I have this slide and it shows, I think it's like a Pepsi world from 1999. And it shows the full matrixy experience but then it has something on the bottom that's like to take the slow lane. If you have less than a 56.6 kilobit modem or something like that, take the slow lane. And people were like, "What does that mean?" Because everything now is like the fast lane with broadband and stuff. But the internet was just such a interesting place. And companies were really trying to figure out how can I be a part of it in some sort of way?
Chip Gross:
Oh, for sure. And I think that's where you started to see the birth of different digital companies. A lot of them were really driven by who was actually footing the bill. Because you'd have the very technical consultancies that would engage with the CIO or the CTO. And then you'd have the traditional advertising agencies that might be engaging with the CMO. And as a result, you started to see your usual suspects start to move into digital advertising and experience at the very minimal level. And then you also had kind of the C-suite. The CEO and the chief strategy officer who might be engaging with a consultancy like a McKenzie or a BCG or a Bain and then starting to come into digital, trying to determine, okay, well strategically where's the value that digital can bring. And I think that's where you started to see this morphing of companies into this patchwork of different types of digital entities that were all trying to figure out what's the right way to come at digital at that time. It was a really, really dynamic time to be watching it all emerge and unfold.
Maurice Cherry:
Yeah. Because things just changed so quickly. And to your point, like you said, there were a lot of people really just trying to figure it out. This is something completely new in a very nascent field. Nobody is "an expert" on it yet. Everyone's just trying to figure it out.
Chip Gross:
Absolutely.
Maurice Cherry:
So you've had such a storied career here in Atlanta. I'm not going to go through all of the experiences, but I will list them out so people can get a sense of … I'm going to unfurl the scroll so people can see what your pedigree is.
Chip Gross:
Show how old I am.
Maurice Cherry:
No, no, no, no. You've mentioned IBM. We talked about iXL. But you were at Interland, you were at UPS, Razorfish, SapientNitro, Hearst Autos, and then of course earlier we mentioned a AKQA and BrightHouse. When you look back at all of those past experiences, what would you say are the most valuable things that you learned about yourself?
Chip Gross:
All of them had their learnings and takeaways. I think if you go back to iXL, which in some ways you could argue is one of the first digital agencies that really just kind of staked its claim around digital. I think in some ways it became a little bit indicative of just all of the excitement around what digital could be, but also the crashing reality of going at digital and not understanding the underlying business realities of what it means to run an agency as well as what it means to understand what the marketplace was able to bear. I mean, I think iXL in particular was an interesting experience because there was so much potential and it grew so quickly into so many different areas of focus that it almost just collapsed under the weight of trying to do too many things at once.
Chip Gross:
And it was humbling for me because it was one of the first times I actually went through a layoff. That was right around the 2000 with the Y2K and the implosion of dotcoms. And I just never forget the time where I'd gone through the layoff and I had to go home and tell my wife who was pregnant at the time that I had just been laid off. And I think that experience for me, one, you always remember a situation like that, but also having gotten through it helped me realize the importance of resiliency and that nothing's promised and that you're going to take risks in this world and in some cases the risks aren't going to necessarily work out the way you expect, but you learn from them. And it wasn't the last layoff I went through. As a result, I think it made me stronger having gone through it. But it also didn't dim my passion and desire to be part of the digital landscape.
Chip Gross:
So like you mentioned, from there, I went to Interland, which actually went through its own acquisition and ups and downs and dealt with my second layoff there. But then I got to UPS and it was a really great time for UPS where they were trying to take digital and embed it in all the different processes that they use in delivering packages. So I got to work on integrating UPS technology and Yahoo and eBay. Got a chance to work on what they called their enterprise release process where you're doing digital implementations and new feature and product improvements across the entire UPS enterprise. So that also gave me an understanding of the importance of having everybody across the enterprise involved in digital transformation. You were making decisions that could literally lead to billions of dollars in revenue if things didn't come together the right way.
Chip Gross:
So I think that was maybe another example of where I learned a lot from going through that experience. And then AKQA I think was another really formative one just because I got a chance to start up a studio from the ground up. I was the first employee in Atlanta for AKQA and at the time that I left, we were 33 or 34 people. We had some really great products to look back and point to. And it was a really great way, again, for me to have this confidence of being able to build a team, build a studio, create an environment where we could really do some phenomenal digital product work and also feel like you really were able to show what you could do when there was just, again, that high level of uncertainty of what the future might bring. So I really look back and cherish that experience. And I think that's what also gave me that much more confidence now coming to Work & Co of being able to know how to create something and build it and also do it in a way that really builds a great environment for creativity.
Maurice Cherry:
So your career has really grown and blossomed in the same kind of trajectory as I think Atlanta has grown, not just as a tech hub and a well known startup city, but also as a design city. And you're bringing that here with this new Work & Co office and then building off of all the work that you've done. If there's somebody that's out there listening that wants to follow in your footsteps, what advice would you give them?
Chip Gross:
I think what I would say is one, obviously the earlier points around resilience and once you find that there's something that you're passionate about, not letting short term setbacks change your desire to be able to pursue them. And I think one of the other things that I think has been really valuable for me is to also have great examples that I can look to of people that have been down that road before and have in some ways inspired me to continue on doing the work that I'm doing. I think for someone that wants to break into the digital product space, I think there's also a good point to be made in terms of all the different ways that you can be part of this company without necessarily being a designer. For Work & Co in particular, in many ways it proverbially takes a village to build really great products and to be able to ship them.
Chip Gross:
So that includes having great strategists, great product managers, great technologists. You had Reese on earlier. You have great writers. And then you also need all that infrastructure, whether it be HR or recruiters, marketers, PR. So even though we're very much focused on digital product design and development, we have to have all those different skills and capabilities in order to be successful. So one of the things I think that's really important is for people to have exposure and visibility to this area and this type of work. And I think one of the most unfortunate things for a lot of African Americans is they don't even know that this exists as a career. That you can be a managing director or you can be a great designer or you can be a great technologist and work in this environment. I think it's just kind of a shame that there aren't more venues like this podcast and like some of the other things that are out there to just give high schoolers and middle schoolers who are coming up an understanding and appreciation for what digital product design is all about.
Chip Gross:
So that may be a little bit of a tangential answer to your question, but I think more than anything else, you've got to work your network. Usually there's a friend of a friend who knows somebody at a company that you want to get involved in. And I think you've got to be able to have the confidence and courage to be able to work your network, as well as recognize that you may have to take a somewhat … You've got to come in sometimes through the side door versus the front door and find a way that … If you've been working in customer service, there might be a way that you could use that to get into the operations side of an agency. And then by doing that, get exposed to other areas that you might want to actually grow into and be able to take courses and develop skills from that standpoint. I've worked with some great designers that actually started off being developers and that they really saw that integration and the intersection between technology and creativity and were able to grow into more senior roles over time. So I'd say those are some of the points of advice that I would probably give to someone thinking about this particular industry.
Maurice Cherry:
Now, I feel like I know what the answer to this is going to be, but I'll ask it. But what are you the most excited about at the moment?
Chip Gross:
There's a couple things that I'm really excited about. I mean one … And yeah, maybe it's the silver lining of the pandemic, but now that we've been through two years of basically self isolation, the level of digitization of every different aspect of our lives. Something that we couldn't have even imagined a couple years ago. The fact that we can do almost every aspect of whether it's healthcare or managing finances or running a business or engaging with colleagues via Zoom and things like that. We've basically gone through arguably five to 10 years of digital evolution in the span of two. So one of the things that excites me, and one of the reasons why I think it's such a great time for Work & Co is the fact that if you really look at all the different developments that have come to play in the last two years, there's a digital product designer and a digital product technologist and a product manager behind almost everything that you can think of that's emerged over the last two years.
Chip Gross:
So it's a really great time to be able to work in this industry and to help create what the next wave of digital innovations and advancements are going to be. So that's one of the really, I think, important things that really gets me excited about where we are right now. And I mean, literally society is remaking itself before our eyes and it's remaking itself with this veneer and this kind of core of digital from every different aspect of it. And I think so many of the folks that are coming into the space now, their wildest dreams are probably underestimating exactly what's going to play out in the next 10 years.
Maurice Cherry:
Who are some of the folks that have influenced you over the years? I mean, going from Philly to Atlanta, and again, the long career that you've had here, who are some of the people that have really helped you out as mentors or as peers?
Chip Gross:
How I would answer that is a few different positions. I mean, one, I think from an inspiration standpoint, I mean my mother and father are at the core of it. I mean, my dad, he was raised kind of the later years of his elementary and high school life by an aunt. He grew up in Delaware. And if you know anything about Delaware in the '50s and the '60s, I mean, it was a pretty segregated place. My mom actually used to get up in the morning and look across the street at a school that she couldn't go to because of the color of her skin. So for them to be able to create the opportunity for me to be where I am, I think is something that I always just take as a point of inspiration that no matter where you are currently, with the right support and the right inspiration, you can really go anywhere.
Chip Gross:
So start with that in terms of those who inspired me. And I think we maybe didn't talk about it too much, but we really underestimate the importance of representation. Just how important it can be to see somebody in a role that you never envisioned yourself in. And the example I'll give you is when I was at IBM, I was in the media and technology group within IBM at the time. And we were at this conference in IBM. They generally had these big sales conferences where they get together people from all over the country. And I think we were at Disney at the time. We were in this big conference room. They were having different presentations, but then they had this one section of the conference where they had an executive come out and the executive was actually John Thompson, who is currently … I think he's lead director at Microsoft.
Chip Gross:
And I remember being in the audience and seeing John Thompson walk out on stage. And if you know anything about John Thompson, I mean, really inspirational. He's almost the same demeanor as like a Barack Obama in terms of how he talks and just how engaging he can be. And I remember just being transfixed by him walking out on stage, being who he was and being just so moved by the fact that there was this guy who looked like me, in some cases kind of talked a little bit like how I talk, and he was running a major part of IBM's business. And then he went on to become CEO of Symantec. And I think people don't always realize just how important a incident like that can be. I mean, I never got a chance to really talk to John Thompson. I only saw him for a very short period of time, but that experience for me was something that told me that, yeah, I can be a managing director. I can start a studio.
Chip Gross:
I can do all the things that I see everybody else doing because he's already done it. He's been there and he's been able to achieve in an environment that probably wasn't very favorable to him being successful. So that's how I would probably answer the question about mentors. And then wherever I've been, whether it's at BCG, I had Jim Lowry and Justin Dean who were great role models for me as a managing director. When I was at UPS, I had Joycelyn Pearson, who was my boss, a dynamic and phenomenal leader. Those are the things that I think helped me get through those tough times and it helped show me the importance of seeing and knowing from seeing that you can be that person and be successful in any type of environment.
Maurice Cherry:
Now, where do you think your life would've gone if you hadn't started working in the creative field?
Chip Gross:
For me, it goes back to that point around exposure. Because I've always had an interest in creativity and design. Had I been exposed earlier to architecture as a field, I think candidly, I might have actually gone into that as a career. But growing up, you just didn't have that level of exposure to the wide range of fields that are available that tap on the creative side of the brain. I remember when I was at Razorfish and we started to look at some of the other parts of the business and the media side of the business. And you walk into these media agencies and you would see kind of a sea of white faces and in many cases a sea of white female faces. And some of it was a result of people being exposed to things and recognizing that these are places that actually existed that you could have careers. And I think for a lot of African Americans and people of color, they don't necessarily have exposure to some of these different fields and areas of possible careers. And as a result, we don't necessarily get a chance to develop as big of a body of leaders and representatives in those companies and in those industries.
Maurice Cherry:
What do you want your legacy to be
Chip Gross:
For me, I think it actually goes back to this question of purpose. And when I was at BCG, I was in a part of BCG called BrightHouse and we spent a lot of time with organizations talking about purpose. And I think when you first come out of school, a lot of your focus is on what do I need to do to show that I can be successful and how can I achieve and show my achievements? And I think now where I am in my life, it's actually less about let me do things to prove what I can do versus actually what can I do to actually help drive and leave a legacy behind. So when I was at BrightHouse, we talked a lot about personal purpose. We went through some exercises and I ended up with my personal purpose being to live into lead with optimism. When it comes to legacy, I think if I can be an example that other people look to and see that it's possible to be a managing director or to be successful in being kind of a quasi entrepreneur and to bring new things into being, that I think gets to my answer around legacy. Being able to help empower others to understand and be optimistic about what they can become and not feel like they're limited by where they may be at a certain point in time.
Maurice Cherry:
Just to wrap things up here, where can our audience find out more information about you, about your work, about Work & Co? Where can they find that online?
Chip Gross:
Well, they can definitely find out more about Work & Co at work.co, which is our website. And I think it's a great way to see the wide range of work that we do, the different types of careers that we have, as well as the capabilities that we have in house. And if people want to learn more about me, obviously there's LinkedIn, which is a great way to connect and get a better understanding of some of the different things that I've been involved in, both on the professional side as well as I've been involved in some non-for-profit organizations too. Like there's one that I'm involved with now called Redefine Ed. And it's actually a non-for-profit focused on improving educational outcomes for Atlanta public school students. So that's another passion of mine and a place that you can learn more about me and how I'm involved in the community.
Maurice Cherry:
Nothing about the cars?
Chip Gross:
Well, I am a car enthusiast, so you've done your research. And I do like to tinker with automobiles. I haven't had as much time most recently, but I've spent some time working on everything from a Pontiac Fiero to a Porsche 944. I mean, right now I'm playing around with a BMW. So yes, I do like to get my hands dirty and kind of take my mind off the day to day by just figuring out how things work and making them work better.
Maurice Cherry:
Sounds good. Sounds good. Chip Gross, I want to thank you so much for coming on the show. One, just for sharing the passion that you have behind building this new studio, this new branch of Work & Co here in Atlanta, but also to show just how much perseverance you've had throughout your entire career, how much you've brought to the Atlanta creative community. I'm really excited to see where a Work & Co really comes from here. But then of course, I'm really just … As you talked before about visibility and representation, it's good for someone like me to see someone like you doing what you're doing. And I hope for people that are listening that they are proud to see that as well. So thank you so much for coming on the show. I appreciate it.
Chip Gross:
Oh, it's been my pleasure and I really enjoyed it and hopefully gave some people some inspiration to come and be part of this whole world of digital product design and development.
Sponsored by Hover
Building your online brand has never been more important and that begins with your domain name. Show the online community who you are and what you're passionate about with Hover. With over 400+ domain name extensions to choose from, including all the classics and fun niche extensions, Hover is the only domain provider we use and trust.
Ready to get your own domain name? Go to hover.com/revisionpath and get 10% off your first purchase.