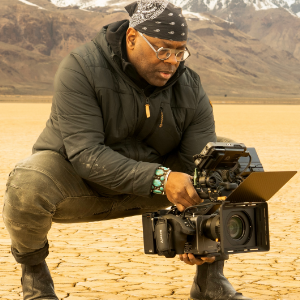 When Chad Brown contacted me a couple of months ago about coming back on the podcast, I had no idea that he was about to take me on such an adventure! Of course, if you're a long time listener of the show, then you know Chad for his work as a creative director and photographer. Now, he's fresh off an incredible journey in the Arctic Circle, and he's chronicled the trip in a new documentary — Blackwaters: Brotherhood in the Wild.
We went right into talking about the film, and Chad shared how the idea for the documentary came to him, and what he wants people to get from it once they've watched it. We also touched on several issues, including using storytelling to bring awareness to social and environmental issues, Black men in the outdoors, and his nonprofit work dedicated to the power of collective effort in creating change.
You'll definitely get inspired by Chad's powerful exploration of storytelling, brotherhood, and the pursuit of justice and healing through the power of creativity!
More from Chad Brown:
Interview Transcript
Maurice Cherry:
All right, so tell us who you are and what you do.
Chad Brown:
My name is Chad Brown. I'm the founder of two nonprofits — Soul River Inc., Love Is King — and I'm also a creative film director that does independent films around BIPOC communities connecting to the outdoors, as well as I'm an adventure photographer.
Maurice Cherry:
Well, first of all, welcome back to the show. It's been a while. I remember when we recorded back in 2017, you were episode 175. Just kind of in general, like, how have things been going for you this year?
Chad Brown:
Things have been going really well. Been really busy this year.
I've basically been juggling with my second nonprofit, Love Is King, and the work and growing that; at the same time, balancing a couple creative projects that I'm working on. One of the film projects, which I just finished with my team, which is called "Blackwaters", and that's going to be premiering August 26. And so I've been really working on trying to raise awareness and get people to know what's going on, what's up, and what's coming down the pipes.
And at the same time, I'm scheduling and reworking a whole new film piece centered around five women connecting into the outdoors. And it's survival. Five Black women, actually. And the name of that film is called "Mother". And that one takes place up in the Arctic Circle centered around conservation, indigenous and the survival of a Black woman, and how does that look when they're moving through the outdoors. And so this whole new film is something that I'll be launching next week; actually, starting shooting that next week.
Maurice Cherry:
Oh, nice. So you've got a busy summer ahead.
Chad Brown:
It looks like I do. A pretty busy summer, but that's kind of been my style of just not being stagnant. I'm constantly moving and shaking.
Maurice Cherry:
Well, let's dive into the film. I mentioned this before we started recording. I watched it twice. Great film. It's called "Blackwaters: Brothers In The Wild." Tell the audience about it.
Chad Brown:
The film is interesting. To keep it as streamlined as possible,we have five Black men from five different backgrounds, five different lives, five different stories, five different challenges of how each one of us moves through this world as a Black man. Bringing these five men together — which I'm one of them — into an outdoor space centered around the backcountry, the most wildest backcountry in the world, which is the Arctic Circle. And dropping ourselves into this wild space and taking on the challenges of not just nature, but also taking on the challenges of many different issues that unravels within each one of us as we go on this adventure together.
These unravels…becomes topics like dismantling masculinity in the outdoors and what does that look like as a Black man and how do we approach that and how do we move through that in an outdoor setting? Then also, tapping on topics of mentorship and then also tapping on topics of dealing with…from stereotypes and how we were raised and the fear of the outdoors and trying to understand where does that fear comes from? Is it something that we project or that's historical, generational fear that comes into play? It's five Black men that moves through with challenging topics that relates that's centered around conversations in the wild at the same time of moving through this journey together. And we are learning from one another and creating a really interesting brotherhood in the wild and experiencing conservation issues that are in that same space that we move through. And we are challenged through those conversations, I mean, through the conservation issues, into some really interesting conversations that we have amongst each other in that dialogue.
And so it's a heavy dialogue type of piece, and at the same time, it balances itself with this really interesting adventure. And of course, we're stepping into a place where pretty much BIPOC/Black folks has never ventured really to, probably the safest way to say, where this is the Arctic Circle in the most far off regions for anyone to be able to get into a space like that. And so, yeah, in a nutshell, that's really what the film is about.
Maurice Cherry:
I mean, that's a lot to pack into a film, even as you say that. And I've watched it a couple of times now. Well, there's a couple of things that stick out. I think the main thing that stuck out to me was like, I wanted it to be longer. I felt like as soon as I really got into it, it was over. I was like, "oh, that's it." We could have went for another hour and I would have been fine. But I say that to say, I mean, I think one that's just a testament to the compelling way that it's been put together and the group of men that you've put together for this. So I'll name them. You mentioned yourself. James Wdward Mills. Jahmicah Dawes. Nick Brooks, and Alex Bailey. The five of you together kind of going on this sort of expedition. I'm curious, why did you choose Alaska and the Kobuk River? Aside from, I think, the harshness that you mentioned of the Arctic Circle, was there some other significance to it for each of you?
Chad Brown:
I'm not for sure. Before the film kind of popped into play here, we actually found ourselves connecting on a local river in North Carolina at an event that we were all attending. That was the first time that when we came together as some brothers on the water. We didn't really know each other really well, but the fishing was phenomenal and the friendship and the relationships that we built was awesome. It felt right. It felt nice making these kind of connections to each one of us. Who are? We are anglers. We never really been on the water with just brothers. It's been a mix of, like, black folks and white folks, et cetera. But actually having this river and us on this water brothers, it just felt good with all of us. And so that was when the spark of our relationships and the awesome synergy just started to take place. And I guess you could say we didn't really want this moment to leave us, even though that event was over and everybody's going back home. And so we stayed connected through that process and through that connection.
It was like…I was really getting caught up into, from a creative standpoint, what could we do to kind of combine and tell this story tied into our friendship that we had on the water over a course of time? It evolved into the story of Blackwaters. And I'm the one that selected the Arctic Circle, I think for a couple of reasons. I do a lot of expeditions up in the Arctic, you know, with my organizations, and I do a lot of work in the conservation space — me as a board member with Alaska Wilderness League and and working with the Gwich'in people there, et cetera.
And I understand, like on ground zero, that is ground zero for climate change. Or you'll call it climate science, et cetera. And there's a lot of issues happening, especially with the whole recent projects happening, with the oil industry that's coming and trying to take up the land, et cetera. And so why? I believe, because the sensitive areas that are happening up in the Arctic Circle and it's tied in with the indigenous communities. And this is an opportunity to also bring this into a platform to share with more people, so more people could be able to have an understanding or just have some knowledge on what's going on.
And the Arctic is also, even to this day, I would call it…it's a white man's paradise of an outdoorsman. It takes a lot of money to get up into that space. Just as much as it takes a lot of money to get yourself a seat to go to the moon. Really only the wealthy really plays in a space like that. If you're not a government employee or a scientist or some type of nonprofit worker/activist that's tied into work on the conservation spaces, et cetera, if you're not part of those, or even probably in oil industry, military, then you have to come out of your pocket in order to see a place like that. And you're talking a baseline of $75,000 easily to be dropping. That's just getting there. That's not all the other things that you need in regards to the transportation and the food and everything or what it takes to really have engage into an Arctic experience. And so, that can be an easily six figure type of trip. And that's usually we're talking about. That's usually coming from somebody that has a lucrative income that can be able to afford that and not be hurt by that financial dollar that you're dropping there.
And so going back to your question, is that it shows representation that we can do it. There are BIPOC folks that are doing many phenomenal things and thriving in the backcountry and doing phenomenal adventures, work, engagement, conservation, give back, et cetera. And we are in those spaces. We're not really seen a lot, but we are in those spaces, and maybe a little of us and everything. And so I selected the Arctic Circle, just as I think this is an opportunity to display how we thrive in the backcountry as Black men. And then also, it displays the urgency of the issues that are happening in the Arctic Circle tied in with the Gwich'in people and how the oil industry is definitely a threat to the indigenous nations that are there. And it also speaks to the endangerment of wildlife and the Arctic Wildlife Refuge. That's probably the why. And I gave you a lot of very long, lengthy answers to that, but yeah.
Maurice Cherry:
I love that. At the end of the documentary, there is a call to action for people to get involved with conservation of the area. But then also, in the film, you're talking to people from the…you're talking to some of the Gwich'in people. Like, I remember specifically, you talked with Gideon, one of the elders, and he said this one line that just, like…it was the line that definitely drew me in. I think it was as you all were, like, leaving his home. And he says, "Remember, when you go home, tell ten or twenty people that we were here." That was such a powerful line. Just, I think as a person of color, as a Black person, to hear that we were here….
Chad Brown:
Just by you saying that, you just gave me goosebumps. Yeah, absolutely. We were here. Absolutely. Which in people are phenomenal people, and they are the people to that land, to the Arctic National Wildlife Refuge. The Arctic National Wildlife Refuge is a government name of what we have named, but that land has been there and has been there before. It was named the Arctic National Wildlife Refuge. And Gideon is an elder, one of the elders of the Arctic village, and he hasn't had a phenomenal life. He's also a US veteran Marine, and he served his country. And so he's seen a lot and done a lot. And he's such a wonderful soul to be able to sit and speak to. He's an artist. He loves to share his culture, the art, and he's a wealth of knowledge. We really spent some time really engaging with Gideon at his house, and he's very humble and he's very proud of his people and the culture and the Gwich'in people. They're just a beautiful nation, and it's pretty phenomenal.
And it's a blessing. Again, it's a true blessing to be able to have the access and to bring these brothers up into that space, you know. To get there, their village is located up on the north slope of the Brooks Range inside the Arctic Wildlife Refuge. And you can't drive to a place like that. You got to fly. You know, avbush plane will have to fly you in. It's a two hour flight from Fairbanks and you're definitely going way [into the] backcountry and you're going behind time. We're talking about the Arctic villages. Wow. I'm going to safely say it's probably like thirty years behind our society. And it is kind of like going to like a third-world country. And it's right in their part of the U.S. though. But they're proud, very proud people. They're connected to the land. 100% substance of how they live their life. And they are the Caribou people. They live their life along the caribou migration of the caribou. And all the storytelling is tied into the caribou. And that storytelling, which is tied into the religious side of how we call Christianity or Judaism or whatever, they have story creations. And those story creations are centered all around the life cycle of the caribou and how the caribou was formed and how they moved. There's a story to each part of that caribou, to that relates to the Caribou people, which are the Gwich'in people.
Maurice Cherry:
You know, as I, you know, watch the documentary, and especially as…there were sort of these vignettes of each of the men that were on the trip with you kind of talking about how the have come into this trip. And I don't know if you might have heard this as a comparison, but it reminded me of…it reminded me of camping episodes that you would see in sitcoms.
Chad Brown:
Interesting!
Chad Brown:
And I mean that in a good way! It was sort of like a common trope of 90s sitcoms, but it was a common trope of sitcoms both Black and white. Like, Martin had a camping episode. Fresh Prince. Living Single. Even if we go back, like, Sanford and Son had a camping episode.
Chad Brown:
That's right! (laughs)
Chad Brown:
If we go forward, black-ish had a camping episode. But those sort of bottle episodes always kind of serve as a crucible for the characters to step outside of their normal routine and to talk about specific issues or to fellowship in a way that they couldn't do in their sort of regular setting. So as I was watching it, that sort of comparison, it really stood out to me a lot.
Chad Brown:
I see! Maybe that was the subconscious coming out of me as a director, I don't know. But you said it well. And you're right! I mean, the camping pieces in there, it sets the conversations and the tone and the conversations. And I definitely wanted to make sure there were really engaging conversations. I worked with James Mills, he's one of the…he's a really awesome, talented writer, you know. And he just recently became part of the National Geographic family as an explorer/writer, which was really…yeah, he's a badass. And so I worked with James to help create these interesting topics that help create these conversations. Like the behind the scenes, we had the layout of some really awesome topics. And so when we set that scene up, you know, one of the camp scenes, et cetera, we would use that topic as a way to spark the conversations of what we needed to make it more as authentic as possible. It was just to spark it. And then however that lands, it lands and we just go with it and we start to speak into that. But yeah, that sitcom mindset of what you just shared with me, that's pretty cool. Yeah, I'll take it. I'll take it. It's a compliment, yeah. For sure.
Maurice Cherry:
So what do you want people to kind of get from the documentary? I mean, we're recording this right now — just so folks know, we're recording this in July — but by the time this comes out, it'll be September. There will have been some screenings for the film. There will be some also in the future. What do you want people to get from it once they viewed it?
Chad Brown:
I want people to be able to walk away…so let's talk about this.
So two points to this is, number one: we're going to have a mixed audience. We're going to have Black folks, of course, that's going to come and check out the film. We're going to definitely have white folks that will definitely gravitate to checking out the film.
From a Black perspective — BIPOC. Just say BIPOC. We're already into the outdoors. But what we want…for folks to feel, to find inspiration in what we're doing and to want to explore more and go deeper into our parks, our wildlife refuge, and just really engage into the outdoors and engage without the fear, right, into this. Now what we're doing is definitely something that you don't find a lot of BIPOC going that far beyond into spaces like this. But we want BIPOC communities to really find inspiration into wanting to explore adventure. And however adventure lands on you, that's your adventure. You don't have to go above and beyond. But we want folks, BIPOC folks, to be inspired and to want to explore more and feel good about it and know that they belong in that space just as much as everybody else. And this is their freedom to roam, to roam further and bolder and explore the wonders of what nature has to offer.
From a white perspective. We want white folks to be able to walk away and take the time to think about the conversations that we have that could be able to play a role, especially amongst decision makers in the outdoor space, of outdoor brand companies or in decision making positions that has the ability to make change. And making that change is making things much more accessible, helping with creating more bridges to the outdoors. Not to teach BIPOC folks really how to backpack, et cetera, because we've been in these spaces, we've been around the outdoors for many years, et cetera. It's really about working together to help create safe spaces in the outdoors for many BIPOC communities to feel comfortable. And when we can feel comfortable, then that comfort opens ourselves up to want to explore more and to experience what nature has to offer without the fear. Understanding the political climate that we are in, which is much more stronger and richer when we're talking about bigotry, hate, ignorance and racism, collectively, as white folks and Black folks and BIPOC, et cetera, we all come together. It takes a collective effort to be able to take a stand and face that and make spaces much more safe, especially in green spaces, for all of us to be able to have a successful and enlightening experience. And that's what we want for everybody.
And I think also with this film is to also create spaces for Black men. There's many initiatives out there in our world, urban world, outdoor world, and there's really awesome initiatives of giving back and helping for little girls to LGBTQ to cancer, to many, many issues out there, and many great initiatives that are taking that on and people's creating these nonprofits, et cetera, even in the outdoor world. But you don't see really a lot of effort in putting initiatives into supporting young Black boys and Black men. And you don't see the platforms of Black men that are in the outdoor spaces that are thriving. And as we want young Black boys to see that. To make those connections. And that representation. Representation matters, right? When you see Black men that are kayaking, hiking, they're doing phenomenal things, they are thriving, surviving, maybe flying planes, et cetera, whatever, bush planes, et cetera. That needs to be seen and it needs to be elevated just as much as any other initiative out there. That's important for young Black boys in [the] urban world to be able to see that. We have the NBA, we have the music, blah, blah, blah, but we have brothers out there that are really doing some phenomenal work in the outdoor world just as much as a Black park ranger that should be on the pedestal. Young boys needs to see those kind of things that makes that connection and to be inspired and know that they can also explore and they can also find a career path in those spaces as well.
I think everything that whole takeaway is a collective effort of coming together. And it's not just a Black thing; it's not just a white thing. It's what I'm hoping, at the end, bigger conversations can take place. Inspiration. Helping to create change and awareness, but coming together and collectively talking about it. As you saw in the film, there's many different conversations and topics, et cetera, that we are tackling and we're having conversations about. And as you said, that you wanted more, you wanted to see more. This is the more; it's the aftermath. It's like when this film is done, the more is hoping that conversations can still be carried and helping to solve many different problems within our social justice space/environmental justice space when it comes to biking, recreating, and advocacy in the outdoors, et cetera.
Maurice Cherry:
I love that. I mean, and even when you say, like, "the outdoors", I feel like that can take a couple of different forms.
I mean, of course it can take the form that you're talking about where it's like deep in the woods or in a more exotic locale, but it could also be running. It could be bird watching. It could be things like that. Even when I think about…I'm sort of thinking of the intersection of where I've seen Black people and nature over the past, like, I don't know, five or six years. Of course, you had the guy who got called out — or I think some woman tried to call him out for bird watching in Central Park. Christian Cooper. You've got…there was this guy, I don't even know if he's still big anymore, but there was this dude named Brother Nature that was doing all these sort of interactions with animals and stuff. Someone I'm thinking of now, she's big on TikTok. I don't know if she's big on any other platforms, but this woman, Alexis Nicole, who goes by The Black Forager, who basically talks about native plants and things like that and gives these great history lessons behind how all of this sort of came about and how it shouldn't be this sort of trapped, secretive sort of knowledge. I feel like…I don't know, that's all maybe in the same realm, but sort of attacking a problem from different angles. I don't know.
Chad Brown:
Absolutely it is in the same angle. You don't have to go above and beyond to get your adventure on. Your adventure could be right down the road into a park. We just want you to be able to feel inspired to explore, right? And however that lands with you, that becomes your personal exploration. Your walk. And learn and know that nature is for everyone and nature is healing for everyone. Some of us don't understand how nature can be healing. And the ones who don't understand, those are really the ones we want to be able to capture and say, "hey, you find an inspiration and get out there and we can help you experience that adventure". And that adventure can be part of your healing process in nature. Yeah, but many of those avenues that you mentioned, some of those folks you mentioned absolutely. And The Black Forager, she's amazing. I follow her as well. She's amazing.
Maurice Cherry:
It's funny, I don't know, a sort of popular derisive comment that's come about in the last couple of years, but I've heard it since I was a kid. But telling people to go outside and touch grass, really go outside and touch some grass, disconnect for a minute, get off the computer, spend a little bit of time, even if it's just like standing in your yard or standing in your apartment complex's common area or whatever. Just like venture out into nature.
Chad Brown:
Exactly. Here's one thing which I'm always forgetting a lot, but it's so simple that we don't think about it and it's not even part of our probably lifestyle, I guess. And it's so simple, is that the next time you go outside, take your shoes off and walk in the grass, period. The grounding of that is phenomenal, and not everybody does that. It's just the most simplest thing. Take your shoes off and walk through the grass. Walk through the grass, walk through the sand and just feel what that feels like when you're just connecting to nature. And just that grounding alone can just help greatly with the soul, with the healing clarity to the mind. It's that grounding piece. It's just stepping outside, take your shoes off and walk to that grass. Sit there for a second. Sit down and let your feet just settle in that grass.
Maurice Cherry:
But yeah, anyway, one thing that also is coming to mind, as you sort of mentioned, how you want people to, I guess, not only just receive the documentary, but also what to take away from it, I would hope, is also safety. Being safe in these spaces. I mean, I was asking about the locale because I'm like, "oh, this is a pretty far out locale for you all to have shot this". But then I was thinking, like, could you have done the same thing in rural North Carolina and felt safe? I don't know. Do you want people to also be safe in these spaces?
Chad Brown:
Absolutely. I don't know what the outcome would have been if we would have shot this in North Carolina. We could have shot it in North Carolina; we could shot it in any other place. And I think what gravitated me more to the Arctic is just that it's such a ground zero and it's a sensitive space to where it's kind of like the canary in a coal mine. What takes place up there is a domino effect that's going to be happening down in the lower 48, and understanding under the circumstances of the Willow Project that's happening, and fighting against the land and knowing how the oil industry is treating the indigenous populations there, et cetera. And it's such a tangled, complex, argument/fight up there tied in with the Willow Project, but it was also another opportunity of why that we wanted to do it up in the Arctic — why I wanted to do it really up in the Arctic Circle — to help raise that awareness throughout film, which that's what you have gathered already. But going to North Carolina and any other place, I don't know.
And the safety, yeah, that's a question mark because I've been in North Carolina a couple of times and I got some family there. But there's a lot of racism down in North Carolina and it's almost anywhere you go, regardless. But there's some resistance type of things that happens down there and I don't know if we would have faced that or not. I have no idea. But that's definitely around in that state. Would we have faced that? I don't know. But the fear of…it's not animals. The fear is people, and it's the ignorance that lies in the people. And that's the fear. That's where we have to come together collectively to be able to create safe spaces.
And you're right, safety is king for all of us. It's important to feel and to know that we are safe. If we're not safe, then it hinders the opportunity of exploring nature and getting out. And we're going to want to stay in a probably most safest space and not go nowhere other than our own comfort zone, which is in the neighborhood or at home, period. In order for us to really get out and enjoy nature, especially BIPOC, we need to know that there is safe space there for us. When we understand that safe space is there, then of course the welcome of the invitation to explore is it's not pulling teeth. It just happens by default, basically. But safety is king and it's important. But that's a responsibility for all of us to be able to put in place not just the expectations, if there are expectations for BIPOC to be able to raise that flag and talk about it. But that's a collective effort from BIPOC and white folks coming together and working together to create these kind of safe spaces.
Maurice Cherry:
Yeah, absolutely. I'm from rural Alabama, and there are definitely places I will not go to if I go back home. Because I'm like, I know it is not safe because certain people feel a level of dominion, I could say, over the land. And you don't want to go somewhere, and then all of a sudden you're hearing gunshots, and it's like, "okay, this is not safe." I feel like this is a good experience, so I completely understand that.
Let's pivot from the documentary and talk more about what else you've been working on since 2017. And we'll have a link to the show notes to that interview because I really want people to hear your story about how you came into being an adventurer, what this means to you. I think that interview does a great job of doing that. You mentioned Love Is King, which is one of your nonprofit organizations. Tell me about that, because you started that during the pandemic, is that right?
Chad Brown:
Yes, I did start that during the pandemic. The organization Love Is King has been growing slowly and doing really well. It's inspired off of Martin Luther King, of course, and the exercise of love in the community and how we can use love to bring people together, to raise awareness, to create — again, going back to what we're talking earlier, and tied it to the outdoors — is to create safe spaces. Collectively working with many different races and companies and government companies coming together in the act of love to help support BIPOC communities connecting to nature.
Love Is King has two initiatives. The first initiative is what we call Heritage Events. Heritage Events is centered around creating these really interesting environmental events experiences. I'm calling experiences that creates bridges into nature, understanding that BIPOC community and how culturally and festive that we are and how we all come into nature is very different and very creative and very unique. And so these Heritage Events experiences are just that. And what does this look like? This looks like, on a calendar year, we would highlight various different types of cultural or cultural engagements. That gives us an opportunity to create experiences around holidays that celebrates people's backgrounds and conceptually that turns into some form of an environmental justice experience.
A good example is we have, say, like, we have the Martin Luther King's birthday come up, or Black History [Month]. I would basically work on the behind the scenes. And there's a bridge here in Portland, Oregon called the St. John's Bridge. And I would work in partnership with Forest Park Conservancy, and we would collectively raise enough money to basically get the permits to basically lock up the entire bridge here in Portland. And we will lock up the entire bridge in Portland and we would basically create a reenactment of the Selma [to Montgomery] March. And so when that day comes, we would make relationships with a couple of the churches here in Portland, Oregon. We'll send out notices throughout all the communities in Portland, Oregon to come out on this day. And so this day looks like we will have three to four speakers and three to four speakers, including myself. We maybe have a senator, we have a minister, a preacher there, and everybody would speak. And then we have a gospel ensemble that will show up. And it's just gorgeous because right now we got the whole bridge on lockdown. Everything's at quietness. And so you got this gospel choir right there on the bridge and they're singing two to three songs, just beautiful and echoing into a crowd of maybe like five or six hundred people. And then we go to silence. And then after that silence, we'll all lock up hand to hand, shoulder to shoulder. And we'll walk this bridge in the spirit of the Selma [to Montgomery] March. And then on the other side of the bridge, this experience leads itself into the trails of Forest Park. And so this bridge will lead you into the trails. And so this march is marching into nature. And so we're marching into nature and we're exploring the trails. We got a designated trail that's been established by Forest Park for that day. We're calling it, like, the Black History Trail or the Martin Luther King Birthday Trail, et cetera. And you go down this trail and there's little milestones along the way of markers that will allow people to learn different history, points of Black history or Martin Luther King's birthday, et cetera. And that whole trail is like maybe it's like a half a mile long and it holds different history markers all the way through. And so that's the kind of experience what Heritage Events does is that we look to create really interesting type of environmental experiences that helps create bridges for communities to step into and to engage into the outdoors on a very basic, entry level and to create a good time, good memories with the families, relatives, grandma, et cetera. And to enjoy in a festive way. And we do these Heritage Events throughout the year. And each Heritage Day would be like Martin Luther King, Black History Month, Native American, LGBTQ, Veterans Day, and it goes on throughout the year. And that's part of Love Is King's engagement and helping to create safe spaces on the basic entry level of just getting out and just taking a walk down a it, you know?
And the the second initiative is Love Is King: Operation Roam. And that's centered around focusing around BIPOC leaders that are in different professional spaces that has an interest not just to recreate in the outdoors, but an interest of bringing their voice into congressional spaces because we were never invited into those spaces historically. And so Love Is King works towards creating BIPOC advocates of public lands, freshwater, wildlife and indigenous communities through that initiative program. And when they come out of that initiative program, they are paired with a white conservation group that are looking to move forward into creating more type of working relationship spaces around their campaign, their work. And we collectively work and we bring BIPOC voices to decision making tables as leaders and help have these conversations when it comes to developing or planning rules, regulations, bills passed amongst senators, et cetera, where your voice matters. Because historically, it was always one white voice led to make these decisions, knowing that we live in a world of many diverse communities and they're making decisions on how we recreate. So today we're trying to change that through Love Is King by bringing more diverse leaders with their talents and their skill sets and their experiences into these intimate conversations around decision makers to help make these decisions collectively, to where the interest of making these decisions is not just from a white lens, but now it's from diverse. So that's the second part of Love Is King's work is creating BIPOC leaders into environmental justice advocates that help step into these spaces and play a higher role when it comes to our bills being passed, regulations and rules, et cetera, on our parks or our wildlife refuge, et cetera. In a nutshell.
Maurice Cherry:
In a nutshell. (laughs)
Both of those programs together sound fascinating. I mean, I think for the second one, I love that you're tying it into civic engagement, even like what you have on the website under Let Freedom Roam. You say "we believe that the freedom to roam in nature is a basic human right. And so imbuing people through Operation Roam with that, to know that they can also be advocates for the land, for wherever that they're at, I think is a really great thing."
The heritage events also sound dope. I mean, it's funny, you mentioned the march. I don't know if you know I'm from Selma.
Chad Brown:
That speaks right to your vein right there.
Maurice Cherry:
So as you mentioned the bridge and closing everything down, I'm like…yeah, it's funny. I've walked across Edmund Pettus Bridge so many times that as a kid…as an adult, I would say I get the meaning of it, but I walked across that bridge so many times as a kid, it had no meaning. It's just like, oh, we got to get to…there's a bait and tackle shop. It's like a convenience shop on the other side. So you go through downtown, walk over the bridge, get to that, whatever. But I've walked across that bridge so many times. And knowing the historical aspect of it, of course we know because we live in Selma, so we know about the marches and what that means and the significance. And I'm glad that you're sort of recreating that with these Heritage Events. Because one thing that sort of struck me, like when I moved out of Selma, when I moved here to Atlanta, is how many people had no idea what that was. This is, of course, prior to Ava DuVernay's "Selma", prior to, I think, probably the just increased awareness around it, given movements like Black Lives Matter, et cetera. But I remember touching down here in Atlanta in '99 and talking to people, and they thought I was from Salem, Oregon. They had never heard of Selma, didn't know what it was about, had not heard of the bridge. I was like, "how do you not know about this? It's history." But I was like, "well, maybe it's history because I grew up there." I don't know. But I love the transference of that into other spaces and how you're tying in these conservational efforts into civic engagement. I think that is a super powerful thing.
Chad Brown:
Yes, thank you. I really appreciate it. Definitely a lot of work, but it's beautiful. The outcome is just grand. It's phenomenal. And seeing the work that we're doing through Love Is King is pretty awesome. I enjoy what's happening with the organization and how things are forming. It's really awesome.
Maurice Cherry:
And I have to say, this is also something that you spoke into being from when you were last on the show. When I had you back on the show in 2017, I asked, "where do you see yourself in the next five years?" And you talked about kind of building this sort of outdoor educational experience. And that's what it sounds like you're doing through Love Is King.
Chad Brown:
Absolutely. Wow, that's interesting. Yeah, that's pretty cool. I didn't know it was going to be Love Is King though, but now it is Love Is King. Yeah, absolutely. Yeah. It's interesting of, as an entrepreneur, sometimes you don't know but you can sit back and try to, I guess, allow that creativity and how that speaks to you and be able to follow through with whatever speaks to you soulfully. and there's a lot of power and energy with that, right? And it manifests itself into something. Only if you can allow it, though. We can very well block it by many different things that comes into our lives, even not just things coming alive, even mentally. We can mentally block it and just turn away from it. But I really believe if you can sit with something and let it manifest itself in the right way, it's going to turn into a reality.
It's kind of like in design — you work on concepts and sketches and the concepts and you have your proof of concept and then you go into your execution. It's similar. It's only difference is that you're working with manifestation and how that manifests into something that's speaking and you may not have an understanding of where it's going to go and how it's going to evolve, but allowing it to work through. You will have its own way of creating a proof of concept into an execution and doing what you need to do.
Maurice Cherry:
Over these past six years since you've been here on the show, how would you say you've evolved as a creative and as a person?
Chad Brown:
I think I have evolved very…I find myself evolving into more of a creative strategist type of space mindset. And the skill sets is something that evolves over as you're growing and moving through. But it's the strategy that's very important to me. And I think there's a place when you just first start out and you're really hungry and you want to create and you want to do this, and you're just really giddy about it. And that comes with the program, that comes with the whole process.
But the older you get, the wiser you become. And so you start to learn how to tame that giddiness and learning how to sit with that. Going back to what I was talking about, that manifestation and how it comes out, but now my manifestation is really taking deep thoughts and being more and more strategic in how I use my creative talent into what I am embarking on. Instead of me running fast, now I'm running a little bit slower and really taking much more deep, probably a holistic type of approach and thinking a little bit much more deeper how this is going to not just work for me but also to work for others. My roots are definitely into that natural green space of healing and connecting to nature, and so I think it all aligns but my involvement today of who I am today is more of a deeper strategist around the creative process and more intentional in what I'm wanting to embark on and do. And yesterday, six years ago, it was a little bit different of me kind of running and gunning, but now it's more of me not running and gunning. It's me more sitting with it and being more strategic and thoughtful, holistic and shooting for something that's going to be impactful in what I'm doing that's going to affect people positive and help people.
Maurice Cherry:
Now, I'm sure that throughout the work that you've done and the people that you've talked to and the places you visited, you probably have picked up a lot of just like advice, life advice, et cetera. What are a couple of pieces of advice that you find yourself kind of continually coming back to?
Chad Brown:
The biggest advice that comes to me a lot, and I had this conversation just recently with a colleague of mine who was actually one of the camera operators with Blackwaters and also the senior editor of Blackwaters, was Dudley Edmondson. And he's a phenomenal creative himself, a phenomenal photographer. If anyone has not even done research on Dudley, you know, he's actually one of the sought after African-American wildlife photographers in history. You go into encyclopedia books and different educational books by the government, etc. That's pretty…you'll find a Dudley Edmondson photograph of a wildlife bird or animal basically. But he's phenomenal. He's been in the business as a wildlife photographer for many years now. He's a filmmaker as well. And we had these conversations about, well, he's having conversations with me centered around team and the power of team. And I know this very well with my background in the military.
You can't do anything just by yourself. It takes a team to be part of that same process to make things work. You can do it by yourself and thinking that you're doing it and thinking you are the unicorn, but the reality is that you're really just kind of tapping that surface. But if you open that up to others and create that kind of team, the work that you're doing is actually much more stronger now than you and it still includes you and it puts you on a different level, but the work is much more powerful. And so he constantly had these conversations with me a lot, and really it's these conversations around the spaces that we're in as Black creatives.
And rather, if you're in the corporate world or the outdoor world, if you are in a space that you are moving and you're making change and you are a decision maker as a creative, a Black creative, there is a responsibility — if should you choose to take on; it's by choice — but there's also a responsibility if you choose to take on that by opening up those opportunities of other Black creatives. That could be part of the process of what you're trying to accomplish that can make you much more stronger and impactful instead of just being the unicorn. And that's something that's coming from a trained mindset. As Dudley would speak to me, he has a lot of wisdom, and he's much older than me.
I really listen to a lot what Dudley is saying to me, especially being black in outdoor spaces and being creative, which is very little of us. But as he said, you could be that unicorn. But it's so important. To allow and open that space up for a team and showing those people just as much as showing yourself, because that's a stronger presentation in many different other eyes beyond the diversity lens. And people need to see and understand and know that it's not just you. It's you and many other people that are there that are doing the great work. They are creative and they're thriving. And that's the presentation that you want people to see. Having the presentation of one unicorn is a pat on the back, it's fine. But having a stronger presentation of a team of fellow creatives that are owning different spaces, that's a powerful movement. That's a powerful presence that people need to see that's beyond that diversity lens. He's constantly drilling that in know, and he says, Chad, you're in a position, and a great position to where, yes, you got this. Yes, you could do this. Yes, you are the unicorn, but you're also in that position to show the bigger presentation, the bigger presentation of a force, a force to be dealt with. When you are in that force of others that are creative and that are also owning different spaces, that makes you much more of a powerhouse.
Believe it or not, that does make you a powerhouse, and that makes that team a force to be dealt with. He keeps on bringing that up to me a lot, and so I'm starting to really implement that into a lot of the work that I do. And sharing and trying to share that space as much as I can to spread is that it's not about me. As a creative, we can easily take that ownership, but as a wise creative or someone who's lived in a life when I'm looking at Dudley is that ain't nothing being taken away. What you're doing is you're creating a force to be dealt with. You're creating a stronger presentation that not just we've been here, but we are thriving. And it's great to be able to share that space with fellow creative, especially upcoming folks, to step into that space, especially in the outdoor world. It wasn't just one lesson to give you. There's many lessons here, but that's some of the mentoring that I've had from Dudley, and I've been in the world for a bit. He's been in the world longer than me. He's doing great, and he spreads that way.
And I think in that conversation we do have as black folks. And I definitely experienced, and I'm not for sure about you, but it's that crab barrel theory. And that crab barrel theory is that when you look at a barrel of crabs and you got that one crab that's trying to climb up and get out, what happens is another crab comes up and basically pulls you back down. And we do that to ourselves a lot, especially amongst our own communities. We do that a lot where jealousy sets into wherever arrogance and whatever, all this kind of stuff in which it actually ties into mental health and that's another conversation. But when we can able to operate and align ourselves in the right space, in the right light with our creatives intentions and how we move our creative intentions and creating other spaces for others, et cetera. It does requires us to be unselfish in that space and to allow people to step in and to make things much stronger and better. And we have to be able to celebrate that at the best, highest way. And for others, the more we can learn about how we celebrate one another, the end product becomes much more stronger not just as a community, but also as a professional community and a stronger presentation of legions that we are creating for others to be able to follow and be inspired by. But that takes a lot of work and it starts off, it takes like myself and others who really understand that it's not about bringing that brother and bringing that sister down, it's about upholding that brothers and that sister and letting them rise up even higher than you. You can still share that space but rise up higher than you. Because at the end of the day, you'll look at as a force to be dealt with. And that's the presence that we want to be able to portray and put out in front of the world of who we are and how we move through this world.
Maurice Cherry:
What does the future look like for you? Like when we last spoke, you spoke Love Is King pretty much into existence. Like what do you want the next chapter of your story to be?
Chad Brown:
I think the next chapter of my story, I'm definitely going to find myself taking deeper dives into storytelling in the outdoors through film. There's a lot of stories that needs to be told that's not told. And there's so many inspiring and moving stories of BIPOC that has yet to be looked underneath the hook and see what's happening with the stories there. You look at indigenous nations and I find myself spending more time with indigenous nations and especially around the murders and the rapes of Native American women; in all those cases that goes cold all the time. And so I would love to find myself taking deeper dives into documentary work around that and exposing and bringing that further into not just a section of the conservation, but bringing that into a mainstream again, getting people to rally around those kind of topics. And the more we can rally around. The more we can have conversations, the stronger the army that we have to come together as a people to be able to fight that higher power and bring justice to where justice needs to be served. But I definitely see myself in that next chapter of moving through the conservation space, using creativity as a way of not just developing stories, but finding justice and bringing that to a head as it should be, basically. So I think that's where my next step is. We'll be taking a deeper dive into filmmaking and going in that direction of bringing BIPOC stories to a stronger stage where people could be able to learn and be engaged and be inspired and then also finding justice where justice needs to be served on the ones that needs justice in their lives and that helps folks find healing. Period. Yeah.
Maurice Cherry:
Well, just to kind of wrap things up here, where can our audience find out more information about you, about the film, about your nonprofit works? Like, where can they find that online?
Chad Brown:
You can find my personal work of photography and film work is I have my personal site, which is chadocreative.com and my organization soulriverinc.org loveisking.org. And then the film could be found at blackwaters.com and you'll find a lot of the updates of where the film is going to be seen. And then we'll have also a release date when that will be available, also online as well. But you'll be able to find all that information on the Blackwaters film site.
Maurice Cherry:
All right, sounds good. Chad Brown, thank you so much for coming on the Know. When I had you on the first time, I was talking about just how inspiring your story was. And now that you've been able to come back and talk about the work that you're doing, I think it's such a needed thing in this kind of current time, especially as we sort of emerge from this pandemic. One thing about that period of time is that there was this sort of or at least it felt like there was this call back to nature of some sorts. It felt like it was a big reset in some ways. Cities slowed down, people slowed down, et cetera.
Chad Brown:
Right.
Maurice Cherry:
And I think that the work that you're doing here around having people get in touch with nature as well as tying that into sort of civic engagement. This is a design podcast, so somebody that uses figma might listen to this episode and think, well, what does this have to do with me? I think what you're doing illustrates is that designers, as problem solvers can do more than just like electronic visual design problems. There's bigger problems that you can take your skills and apply to really sort of change communities and change the world.
Chad Brown:
Absolutely.
Maurice Cherry:
Thank you so much for coming on the show, man. I appreciate it.
Chad Brown:
I really appreciate the opportunity again. And thank you. It was definitely a good experience of connecting again and thank you very much for this opportunity. Really appreciate it.
Brevity & Wit is a strategy and design firm committed to designing a more inclusive and equitable world. They are always looking to expand their roster of freelance design consultants in the U.S., particularly brand strategists, copywriters, graphic designers and Web developers.
If you know how to deliver excellent creative work reliably, and enjoy the autonomy of a virtual-based, freelance life (with no non-competes), check them out at brevityandwit.com.

The BFA Design program at the School of Visual Arts consistently produces innovative and acclaimed work that is rooted in a strong foundational understanding of visual communication. It encourages creativity through cutting-edge tools, visionary design techniques, and offers burgeoning creatives a space to find their voice.
Students in BFA Advertising are prepared for success in the dynamic advertising industry in a program led by faculty from New York's top ad agencies. Situated at the center of the advertising capital of the world, the program inspires the next generation of creative thinkers and elite professionals to design the future.
School of Visual Arts has been a leader in the education of artists, designers and creative professionals for over seven decades. Comprising 7,000 students at its Manhattan campus and more than 41,000 alumni from 128 countries, SVA also represents one of the most influential artistic communities in the world. For information about the College's 30 undergraduate and graduate degree programs, visit sva.edu.