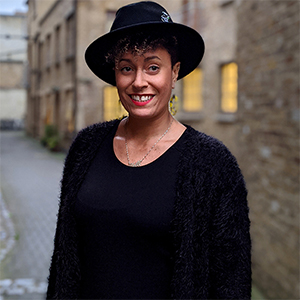 Revision Path is back across the pond this week for a rousing conversation with creative director Carolyne Hill. She is the founder of ChillCreate, a lifestyle brand that celebrates creative living and the choice to create happiness where you can.
Carolyne shared her inspiration behind starting the brand, which grew out of her love for Brixton and the Afro-Caribbean culture there. Carolyne also spoke about her time here in the United States, gave her thoughts on diversity in the UK creative community, and talked about her current work as a graphic design lecturer at Ravensbourne University! Carolyne's creativity shines in everything she does, and I think you'll agree after listening to this interview!
Transcript
Full Transcript
Maurice Cherry:
All right, so tell us who you are and what you do.
Carolyne Hill:
Hi there, my name is Carolyne Hill. I'm a creative director. I'm a specialist in branding and I have my own brand called ChillCreate and I'm a designer. I'm an all around creative.
Maurice Cherry:
What was your impetus behind starting ChillCreate?
Carolyne Hill:
So it's something I've always wanted to do from when I was a little girl and I got to a point in my career, I was the director, art director, creative director of a design firm and that was my goal from when I started out in my design career. And I got to this goal and I was just really bored and I wasn't really feeling the type of clients I was working for anymore. I wanted to do something different. And to be honest, I was even questioning whether I wanted to be a designer anymore. So I went off traveling, I took some time out, explored a bit, went full hippy, went off with a camera and a sketchbook. And when I came back, I just had some designs, some ideas, which were a lot more just completely different to anything else I've ever done. And it was a print. I ended up making some fabric and experimenting with a few products, which I got a friend to make for me. And that was the birth of ChillCreate. I basically wanted to start a fashion brand.
Maurice Cherry:
So what is sort of an average day like for you these days with ChillCreate?
Carolyne Hill:
Well, at the moment ChillCreate has kind of taken a back burner because although that's there, it's online, it's ticking away, online sales still happen. Last year, I had to focus a lot more on my branding side of things to actually pay the bills as, I don't know if you know, but yeah, as a creative, you often have the balance between the work that is your passion and the work that pays the bills.
Maurice Cherry:
Yeah, absolutely.
Carolyne Hill:
So ChillCreate is my passion and the work that pays the bills is my branding work. So I'm an independent design consultant. I help people build their brands, their communications, that type of thing.
Maurice Cherry:
Okay. How do you go about sort of choosing the types of clients and projects that you work with?
Carolyne Hill:
Well, I've been really lucky thus far. I've been an independent creative now for three years and I haven't actually had to go out looking for work. So my way of getting work is through networking. I like socializing. I like being out and meeting people, so it's really old school. But I get my business cards out, I chat to people, I tell them what I do and I get my clients that way. But I have to say I'm now in the process of actually beginning to think, "Right. How do I now choose the type of clients going forward?" I think trying to find clients which I can believe in what they do is really important to me.
Maurice Cherry:
And I guess they would also have to mesh with sort of, well, if you're coming to them as a brand consultant and they might, I guess they're like at the beginning stages of their business or does it really matter?
Carolyne Hill:
I do have people at that beginning stage of their business and that tends to be kind of start-up entrepreneurs. They are super excited and great and have super amounts of passion, but they don't necessarily have big budgets. So the type of clients that I like to try and work with more are people that are perhaps already on the road with their own entrepreneur side of their business, they've probably been doing it for some time and now they're trying to take it to the next level. They're trying to step it up so they've already got their brand. They've already got their philosophies, but they now need time and help to hone in on their key values, strategies and identities.
Maurice Cherry:
Yeah. At work, we just wrapped up. We just wrapped up and launched a project last month where we use, it was a independent branding agency, I think kind of similar to what you're doing with ChillCreate, and it was amazing just kind of seeing how precise they were with asking all these questions and really making sure to get to the root of what the brand was about that we wanted to build. It wasn't just, "Oh, make us a pretty style guide." It was what are the values and everything that go into it, which I thought was pretty cool.
Carolyne Hill:
Yeah, I think it's so important. For me, it makes the design process easy because sometimes if you've got a client who just wants you to make them a pretty logo, something that looks nice, I can go off, I can create a pretty logo. Yeah, but then they come back, "Oh, it's not quite right. It doesn't pop." You know, the classic it doesn't pop. But if you work with the client and you then start to understand their values, where they're coming from, who they want to attract, then it really hones in on the actual style, the content, the philosophy, and it then becomes really easy to work with the client developer relationship where you both have an identity or project at the end which everybody's really happy with.
Maurice Cherry:
When it comes to approaching a new project, what's your process like?
Carolyne Hill:
I think to start with, it would be to sit down with the clients, have an open discussion about what it is they hope to achieve and I take them through kind of a brand strategy process that I used to use a lot when I was working for these other agencies. It's where you build up a set of values, you then build up to the next stage. So it's like a pyramid chart where you build up from the values, to the promise, all the way up to the brand essence. And then once you've got these things, you've got essentially without the actual design, you've got the brand. And then from there we go through sort of imagery search and creative stages of designing, feedback, and then applications. So it's quite a straightforward process.
Maurice Cherry:
Are there any companies or clients out there that you would love to collaborate with?
Carolyne Hill:
Oh goodness. I guess I think for me, I actually asked, I've started lecturing recently and I actually asked my students this question just the other day. And while I asked them, I felt myself, "Who would I like to collaborate with? What would be the ideal, the most amazing project?" I think for me it would be, I've worked perhaps this year a bit more on my own personal graphic style and then I imagine that, I don't know, [nightcore 00:08:08]. Somebody comes to me and says, let's do a collaboration. I'm talking out of this world kind of ideals. So yeah.
Maurice Cherry:
Well hey, put it out there in the universe. You never know.
Carolyne Hill:
You never know, right?
Maurice Cherry:
What would you say is the hardest part about what you do?
Carolyne Hill:
I think the hardest part for me is often working solo. I used to be the director, have a whole team, so I would have bosses above me. I had kind of strategy stuff on the left and then I had a whole team that I managed. And so going from that, basically being the boss, the middle person, and the person doing the running around, that has been one of the hardest challenges. And at times I have people to share the work with and other times I don't. I sort of have to expand and contract, depending on the job. So that's been quite a major challenge.
Maurice Cherry:
So let's kind of switch gears here a bit. I know just from doing my research that you're from London, right? You're London proper.
Carolyne Hill:
Yes. Born and bred.
Maurice Cherry:
Born and bred. What was it like growing up there?
Carolyne Hill:
I have very fond and happy memories growing up in London. I grew up in Brixton, which is South London, I guess the equivalent to stateside, massive might be like Brooklyn or something like that. So it's a very Afro-Caribbean neighborhood with a lot of energy, a lot of vibe about it. And school and everything for me was great. I loved school, growing up in London was fun.
Maurice Cherry:
When did you know that art and design were things that you were interested in? Were you exposed to that a lot in Brixton?
Carolyne Hill:
Yeah, I was exposed to a lot from my parents. They were very creative parents themselves. They're not creatives themselves, but they just have lots of creative friends, lots of artist friends. My grandmother was a painter and we used to go and visit her. She lived in Cheltenham, which is sort of just past Oxford and she'd have watercolor paintings going on the whole time. And I always wanted to be an artist. I think from a very young age, I was really excited when we'd go to galleries and look at art. I remember being about 10 years old and loving Andy Warhol exhibitions that my parents had taken me to. And of course lots of my parents friends were artists. So I'd grew up in this very creative community. So I knew from a young age that I wanted to be an artist or a designer or a fashion designer. And then yeah, I got to school and quite quickly I was kind of told, "Well, you don't want to be a starving artist, Carolyne."
Maurice Cherry:
Were your parents and family kind of supportive of you though, going that route?
Carolyne Hill:
Oh yeah, they were super supportive. I never had any problems in terms of convincing my parents that I was going to be an artist because I'd been saying it from when I was, like I said, about 10 years old, maybe younger even.
Maurice Cherry:
But at school you were hearing something different.
Carolyne Hill:
Yes, quite often at school you're paired up with careers advisor. And I remember the careers advisors saying, "Well, I don't know really about you being a designer or an artist. Maybe you should be a social worker, something a bit more achievable."
Maurice Cherry:
Wow.
Carolyne Hill:
Yeah. Can you imagine?
Maurice Cherry:
I can't imagine. When I was in high school, I had my guidance counselor at the time was always telling me that you need to learn a trade. And here in the States, learning a trade is blue collar work, like a mechanic or fixing air conditioner units or something like that. And now granted, I was valedictorian in high school. I graduated the top of my class. But she was like, "Well, just think about it. You might want to think about learning a trade or something because you never know. One day…" I'll never know one day what, that doesn't.
Carolyne Hill:
One day, what? Yeah.
Maurice Cherry:
Yeah.
Carolyne Hill:
Yeah I was the same. I was top scorer in the school. So there's no reason why we shouldn't have been pushed to do exactly what we wanted to do.
Maurice Cherry:
Right. And you went to the London College of Printing, which I said this before we recorded, I was like, "It sounds like a college for printing." which seems like a very intensive thing to study. But what was your time like there?
Carolyne Hill:
It's changed names now. It's the London College of Communication because essentially the printing world is dead or depleted. But yeah, I guess it's background, the London College of Printing was that it was an arts college, part of the London Institute, which focused on the kind of printing, publishing and arts, which then moved into digital. So I actually studied retail design and business management, which was actually an interior design degree for public and commercial spaces. So it was a mixture of sort of design, but also business and branding was very heavy, was a big part of it. So you had to both design the interiors, brand the interiors, and understand how you are going to make this commercially viable.
Maurice Cherry:
Wow. That actually sounds like a really modern program. When I think about what a lot of schools try to teach, it's more so just the design and not the business aspect of it.
Carolyne Hill:
Yes. At the time, I remember thinking, "Oh my goodness, the business side is so boring." But actually, having left university when we only had access to computers one day a week, I kind of feel like everything I learned in university on the creative side was great. But as soon as I started the job, I was on the computer 24/7. So all this hand drawing skills that I learned, I never actually had to use in my job for a number of years. But the business side of things was very informative and I still kind of think about what we did learn and it was very good in that respect.
Maurice Cherry:
No, that's really good. I mean we had back on the show, I think it was maybe about… God, I've been doing the show for seven years now. I think it's been about two or three years ago, we had Douglas Davis who wrote this book about kind of the business of design, learning basically what you learned in college, learning the aspect of not just branding, but how do you design towards business goals. How do you keep those in mind while also still creating something that looks nice, that serves the client's needs but is more than just a pretty thing?
Carolyne Hill:
Exactly. It's the strategy. I think they changed the name of the course after I did it and they switched it around a bit. I'm not sure if they still combine the design with the strategic side anymore. But I remember there was one book which was really important at the stage. It was called the Design Agenda. It's so old now, but that was like the course bible and it was basically brand strategy and design management.
Maurice Cherry:
And what did you say it was called? The design what?
Carolyne Hill:
The Design Agenda.
Maurice Cherry:
The Design Agenda. That sounds kind of sinister, but I kind of like it. The Design Agenda. No, I liked that a lot. So what were your first design jobs out of college. You graduated, you now have this not only design skill but the business skill. You've got the degree to back it up. What were those first design jobs like for you?
Carolyne Hill:
So my first job I got was designing for Tesco's, which is one of the UK's biggest supermarkets and I got the job and I was super excited because it took me a while to get my first job and I said, "Great, thank you. I've got the job. Sorry, what is the job?" Because I didn't actually know what the job I was applying for. They said, "Graphic designer." And you just heard me say I actually graduated from an interior design degree. And that's when I said, "Oh great. Yeah." They said, "You can do that?" I was like, "Yeah." I was just so happy to have a job. I wasn't about to tell them that I'm not a graphic designer, I'm an interior designer. So I did it. I learned straight in at the deep end, designing for one of the UK's largest supermarkets. I had to design buy one get one free messages, frozen food signage, just really boring till messages, anything and everything that you see on the kind of point of sales side within a supermarket.
Carolyne Hill:
That then gradually grew into being put in charge of whole departments, graphics, art direction for photo shoots of frozen food, being in charge of the entire UK's carpark signage packages. So it was a fast paced agency, it was a massive agency. It was a sink or swim kind of situation and yeah, I went in, front stroke, swimming hard.
Maurice Cherry:
Well I think it's good to kind of be in those sorts of situations because it pushes you to become a lot better I guess pretty quickly given how large Tesco is as a brand.
Carolyne Hill:
Yeah. You had to, you really had to deliver quickly. It was one of those agencies where you would work 'til sometimes midnight, two in the morning and you still had to be there at 9:00 AM. I learned a lot in that company. And I also learned straight away from my experience there that I didn't want to work at another big agency like that again. So after that, I went to smaller agencies.
Maurice Cherry:
It's amazing. I feel like the agency experience is universal. No matter who I talk to in any country about working for an ad agency or something like that, it's the same type of breakneck speed or the same type of huge, just workload. That's wow.
Carolyne Hill:
Yeah. I think you can handle it for a while and some people love that.
Carolyne Hill:
I think you can handle it for a while, and some people love that kind of vibe consistently.
Maurice Cherry:
Yeah. I think when you're young it's good, because you've got the energy to do that.
Carolyne Hill:
Yeah, and you've got the fire to keep fighting and pushing back, constantly delivering. But I think I figured out very quickly that I didn't really like working for other people.
Maurice Cherry:
So, you were doing these sort of small agency gigs. We spoke about this also before recording, that you worked even here, in the U.S., for a little bit. Just briefly, right? In New York City?
Carolyne Hill:
Yeah, I always wanted to come to New York and, I don't know, I wanted to be a designer in New York. I came out, I did some house-sitting in Brooklyn, and then I got a really cool gig looking after somebody else's apartment in the Lower East Side. While I was there I just was trying to find jobs, and it was very difficult, as a Londoner, trying to get into the New York agencies.
Maurice Cherry:
What made it difficult?
Carolyne Hill:
Well, there's the whole issue of your green card and who was going to be your sponsor, and you had to prove that your service was not able to have been filled by a United States citizen. Agencies, they kind of weren't really interested in having to go through all that rigmarole, and maybe I didn't have the right contacts at the time. I was quite naïve in that respect.
Maurice Cherry:
I think it's still tough. I have a friend, he's from India. He went to school in Canada and he was here in Atlanta for a while, but now he lives out near L.A., in California. I remember even when he was looking for jobs how difficult it was, because of those same kinds of issues with companies that wouldn't sponsor him, or he had to be sponsored on a certain visa so there were only certain types of jobs that he could look for and not something that could really advance him in his career. It had to be something more lower level, so you kind of were stuck at one point because the job may offer you the paperwork that you need to stay here, but it's not really something you can succeed in or you can grow in.
Carolyne Hill:
Exactly, and that's where I found myself. In the end I had a great time exploring New York, living the life, doing yoga. I was just hot-desking, going to cafes with my laptop, working on … I was actually working for magazines at the time and record labels from London, so it was quite a fun time. You know, coming out of the big corporate chain of supermarkets, high street retailers for a while, there was me designing cute stuff for record labels and magazine spreads for [Touch 00:20:49] Magazine, which was one of these kind of R&B Hip Hop magazines in London. So, it was fun.
Maurice Cherry:
What year was this, just to kind of put it in context?
Carolyne Hill:
Oh, my goodness. In context, I would say that would have been around, oh gosh, 10 years ago, now.
Maurice Cherry:
Okay.
Carolyne Hill:
Yeah.
Maurice Cherry:
All right, so right around late-2000, something like that?
Carolyne Hill:
Yeah. Yeah.
Maurice Cherry:
Gotcha. Okay. All right.
Carolyne Hill:
I know. Time's gone fast.
Maurice Cherry:
When you look back at your early career experiences, up to what you're doing right now, when you look back at those, what do you feel like those experiences taught you?
Carolyne Hill:
It's been quite varied. I enjoyed being a freelance designer, as well as then going full-time to be an employed designer. The bits that taught me the most were probably the freelance parts, because you got to jump around to lots of different types of agencies and work on lots of different projects. Of course, each time you work on another project you kind of come back and you say, "Well, actually I can charge more."
Carolyne Hill:
So, it gave me a really good experience across a wide range of types of projects: working with interior designers for a long time, which was great, because that's where my original training started. I also worked with architects, and did a little bit of work with ad agencies. I worked with TV companies, mobile phone operators. It's been really random and quite varied, so I think that's the advantage that was given me, is that now that I'm working for myself, I do have a very varied type of client base. And I like that. I like things when they're varied.
Maurice Cherry:
That's one thing I really enjoyed when I was freelancing, too, that I could sort of bounce around and see how I can use my skills with different types of clients. Back when I had my studio, I would … maybe one month I'm doing something for a cosmetics brand, and then it's pivoting to work for a software company, and then it's pivoting to work for a solo entrepreneur that's writing books, or something like that. And so, you find a way to kind of use your skills in these different ways.
Maurice Cherry:
What I think, and maybe this is different in other places, maybe this is unique to Atlanta, but what I found sucked was that once I went out looking for a job, they wanted you to sort of be a specialist. Instead of being a generalist that could take your skill and apply it to anything, they wanted you to only have worked in this particular type of design for years or something, which … I don't know.
Carolyne Hill:
Is that when you were applying for jobs in big agencies?
Maurice Cherry:
Well, I don't know if they were all big agencies. Mostly they were software companies or tech companies. I think they just wanted to make sure they had someone that understood, I guess, tech. Like, right now I work in a software company. There's a lot of jargon that goes around that I know probably most designers either don't know, or don't care about. I'll be honest. I don't care about it most of the time, but I know enough to be able to translate it, and know what I have to know for my work. But it wasn't something where, "Oh, you have to have had this many years of experience in a SaaS company."
Maurice Cherry:
I feel like … This is something that I want to explore more this year in general, is that it feels like everything is converging towards tech, every single profession in some way is converging towards technology. Maybe it's because tech is everywhere, maybe it's because even in things that I don't think we realize, AI and machine learning are parts of them.
Maurice Cherry:
Even in the most seemingly low-tech job, like farming or something like that, there's so much technology in farming. It feels like everything is certainly converging at some point towards tech, so having those singular kind of work experiences almost … I don't know. I don't know if that really prepares you for this sort of new world, where everything has to do with tech.
Carolyne Hill:
Yeah. I don't know. I do think about that sometimes because I think, like you, I don't really care for the techspeak and the … I use tech. I love tech. I love new things and learning new things, but I don't necessarily want to be in tech, if that makes sense.
Maurice Cherry:
Yeah. No, that totally makes sense.
Carolyne Hill:
I think for me, I would rather … I don't know. I think personally, for my own creative ambitions, I want to [inaudible 00:25:19] more to the art side of things to step away from tech. Because although I understand a lot, I can learn, but I don't really want to spend my time having to become a specialist in it. And I think so many people do it so much better, so why should I … I don't want to make that my purpose. I want to stick with creative thinking, because I don't think that will ever go out.
Maurice Cherry:
Oh, no.
Carolyne Hill:
I think it might be short-sighted in the sense, "Oh, you need to be [inaudible 00:25:47] in tech," but actually, it's a very different skill to think creatively and to come up with creative strategy and ideas. Tech exists, but it needs ideas to make it functional. So, even if perhaps, I don't know, maybe in the future I might have to get into tech, but I would hope that I get into it on the ideas side of things.
Maurice Cherry:
Yeah, I see now … You can tell when a solution has been thought up by a group of engineers and there's no tech people in the room, because it may work, but it doesn't look good or it's not user-friendly. Granted, design is a very visual medium, but there's also UX design, and a lot of that has to do with more psychological things about-
Carolyne Hill:
Exactly.
Maurice Cherry:
How does the user feel about this? Is this word choice proper? Things like that. I know one, this is a project I worked on with … this is with a client years and years and years ago. It was very clear that they wanted to have this new content management system for their newsroom, and the software developers there had come up with a solution. They were like, "Oh, well it works because it does these technologies and this, this, and this, and all this stuff."
Maurice Cherry:
But the actual user interface was so bad to use. I think it was … God, was it DotNetNuke? It might have been DotNetNuke. It was something super-obscure that 0.01% of companies probably use right now. It's not WordPress, by a stretch, it's not something that's simple to pick up. It's like if you were making an article, you had to make an article in these blocks, and so you had to think of …
Maurice Cherry:
Say you were writing a piece, and the piece has five paragraphs and two images. Each of those paragraphs is a block, and each of those images is a block, and so you now have to abstract, "Oh, well you just take this paragraph and put it in this block." Then someone's like, "What if I want to put a picture next to it?" They're like, "Oh, we didn't think of that. Well, why don't you put the picture underneath it?"
Maurice Cherry:
They're like, "I don't want the picture underneath it. I want the picture next to it." Like a pull quote or something going outside the margin. It's like the engineers didn't even think of that. They were like, "Oh, we never considered that use-case." That sort of thing.
Carolyne Hill:
So, it's important. I think there will always be room for the non-tech, but in tech.
Maurice Cherry:
At this stage in your career, what is the London design scene like? How do you experience it?
Carolyne Hill:
I live and work in the Shoreditch area, which is like designer central. I've always worked in and around this area, which is how I ended up living up here. It's fast-paced, there's design companies on every corner. It's big business, some of the worldwide agencies are here. But for me, my design community is perhaps a bit more local: as in my peers, my friends, the sort of creative family, and there's a lot of crossover in between our creative endeavors.
Carolyne Hill:
Since working for myself, I'm beginning to perhaps work with fellow creatives, but on different things. So, I have people who are photographers, who are artists, who are fashion designers, writers, TV people, all in my circle of friends and associates, and I think there's a great crossover.
Carolyne Hill:
I think at this moment, especially within the black arts scene in London, it's a great opportunity and time, because there's been a lot going on. I'm starting to see some of my peers, people that I've known for a long time now, actually reaching sort of great heights of success. I'm reading about them in publications, and seeing friends of mine who are now the artists being featured on packaging for quite famous products here in the U.K.
Carolyne Hill:
So, I think it's a really good time. It's an exciting time. It's like if you've got the staying power to just keep going and reaching out to these connections, I think it's a good time.
Maurice Cherry:
Yeah. It sounds like it's booming, if that's the case.
Carolyne Hill:
I don't know about booming. I think London is one of these places where you can boom, but you can also bust real quick. There's opportunity, definitely. There is definitely opportunity to boom, but it's, I think, probably like anywhere at the moment in our societies. It's quite hard work, but then you get these little nuggets of goodness and growth and prosperity, which keep you going until the next-
Maurice Cherry:
Now, I know here in the States the conversation around diversity in design, it seems like it's ongoing. Is that the case also in London, or I guess in the U.K.? Do you find that there's a lot of conversations around having more people of color involved in the design industry as a whole?
Carolyne Hill:
Yes. Yeah, there's always this conversation. I think for myself, as a person of mixed heritage from Brixton, London, I've always been the only person of color, and often the only woman in the room in these design agencies that I've worked for. Working now for myself, I'm just working with all black people and loads of women, and loads of people who are just open to be creative. It's kind of refreshing, because in my earlier career I've always been the only one in the room, so to speak. So, that discussion is going on. I don't know how much it's going on within these big agencies itself, because I stepped out of that.
Maurice Cherry:
Well, that makes sense. Because a lot of it, what I hear is mostly about employment. It's not necessarily about all over, general numbers. Here in the States it started from the diversity in technology conversation, which was looking at big tech companies like Facebook, Google, Apple, and seeing how their workforce broke down. It started to go over into design, but I feel like it's mostly been just about design departments at tech companies, and not about these ad agencies, or something like that.
Carolyne Hill:
Well, we're seeing it a lot in the press. It's slightly different, but even in the BAFTAs this last week we've had, there's nobody of color that's been nominated for anything, and that's just completely shocking. Then you're thinking, "Well, who's doing the nominations?" Well, of course, is there anybody representing there?
Carolyne Hill:
But then over in the literary field, we've just had the first black woman to win the Booker Prize for her book, "Girl, Woman, Other," a writer called Benardine Evaristo. Her book is fantastic. I recommend everybody go read it, it's really good.
Carolyne Hill:
There are sometimes things are changing, but I don't know. There always has to be the first, and then are there any others? And how do you keep it going? I think it's a constant discussion and a constant struggle, so to speak. I think at the moment, with the society that I'm in at the moment in London in [Brexit 00:33:09], I feel I just have to get on and do it myself, in whatever that is that I want to do to make the change that I want to see.
Maurice Cherry:
I feel like here in the States, it's similar to that. I think it depends on the industry. We just had the Grammys here a few weeks ago, I think. For people that are listening, we're recording this in early February, so this is … Grammys were last week. My whole calendar is a blur, so I apologize. But I know the Grammys were recently, because unfortunately they happened the same day that Kobe Bryant passed away.
Maurice Cherry:
There was conversation, I think, around some of the big names in the music industry, black folks in particular, like Puff Daddy, some other folks, et cetera: about how the Grammys are not treating black artists well, and they sort of lump us in these other categories and things like that. I was having a conversation with some people, and the thing that came to me was, why don't they just start their own awards?
Maurice Cherry:
I got pushback from it, I think for two reasons. The first reason I got pushback was because, how come we always have to make the solution? Like, the system doesn't change if we just sort of make an alternative to it, which I don't necessarily agree with.
Maurice Cherry:
But then, the other pushback I got was the value of what that even means. A lot of people in the music industry look to Grammys as some pinnacle of success that you've reached in your career. For some artists it means you will get paid more, it opens the door to more opportunities, collaborations, et cetera. That may not be the same case with a perhaps lesser-known award. So, it's also about, I guess, the value that the industry gives to these types of honorifics. It's like a whole power structure thing.
Maurice Cherry:
I agree with you about, we have to do it ourselves. Because if we keep waiting for the system or keep pushing at the system for things to change, sometimes it changes. Sometimes it does. It can be slow, it can change in unexpected ways.
Maurice Cherry:
But then if we're able to do these things ourselves, we sort of become the masters of our own fate in that way. We can control and shape the exact message that we want to get out there without having to go through some filter, or gatekeeper, or something like that.
Carolyne Hill:
Yes. I think sometimes if you're constantly trying to prove yourself in a structure that has no interest in hearing you, you just get worn out and worn down. So, I think there's a point at which you just brush it off and do your own thing.
Carolyne Hill:
I'm not saying you stop trying. I'm just saying you've got to focus on what means something to you and the passion that you have within yourself, creatively. Because the whole system can get on top of you to the point where you lose that creativity, and you lose that buzz, and the inspiration which made you want to enter these roles-
Carolyne Hill:
… inspiration, which made you want to enter these roles, competitions yourself in the first place. It's kind of like you have to do everything, but for me the priority is you've got to focus on your own passion and your own self and your own community.
Maurice Cherry:
Yeah. So speaking of knowing friends of yours that have had these sort of big campaigns and this visibility, you yourself had a popup exhibition at the Tate Modern last summer. Can you tell me a little bit about that?
Carolyne Hill:
Yes. That was so exciting. It was a really random opportunity that came my way, and I just said, "Yeah, cool, I'll do it." And I had no idea what I was going to do, but I was given a sort of loose topic to explore, and I ended up exploring the question: where do you come from? Because as a person of mixed heritage from London, I'm always asked, it's the second question, apart from, what's your name, that people ask you, "But where are you from?" And you say, "Well, I'm from London." "No, but where are you really from?" You say, "Well, I'm from Brixton." "No, no, no. What's your heritage?" You say, "Well, my mother's Jamaican, my dad's English." "Oh!" And so you've always got all these layers of questions that come your way.
Carolyne Hill:
So I felt, especially as the Brexit drama we've been having, this negative rhetoric about identity, which is going round. I wanted to explore it. So I did some posters, had this exhibition, was up there for a week, and it was just the most satisfying and exciting experience being at the Tate Modern, which is one of my most favorite places in the whole of London.
Maurice Cherry:
What was the reception that you got from it?
Carolyne Hill:
It was great. I had the posters and then I wanted people to come in and ask and answer the question themselves, where are you from? So I had people from all around the world come and make their own versions of my posters, which filled all the walls in this kind of pop-up space. And even this week I had a message on Facebook from a lady from Peru who came and was part of the exhibition. She was a poet and she just wrote me a message this week saying "Hello, I miss the time we had at the Tate Modern." I was just like, this is amazing. I met so many people. It gave me so much confidence to think that I can be an artist, I can take my design skills, my creativity, and I deserve also to be here in this space at the Tate. Yes, so it was really good fun.
Maurice Cherry:
And I guess, also with taking those skills, you're also now a part time lecturer at Ravensbourne University. So you're putting it out there in the community as well.
Carolyne Hill:
Yes, that's right. I wanted to have the opportunity to give back and to be that inspiration that you see. And like our conversation at the beginning here when we were in college or university, we didn't necessarily have people that looked like us to necessarily guide us in that direction. And I just feel that my experience as a Londoner would be valid and useful to anyone at university for whatever their background. And so I've just recently started, I've given one or two lectures, and I'm really enjoying the tutorials and getting to know the kids. Yeah, really it's quite exciting. It's very different to my usual day job.
Maurice Cherry:
What are you finding that they teach you?
Carolyne Hill:
Man, they've got so many ideas. They're teaching me a bit about tech. They've all got the latest computers and every single app and all the applications. I don't necessarily have the latest computer myself. So what are they teaching me? Definitely just different kind of thinking. They're coming from a different place to myself and they're just ready to explore. They're at that point of exploration. And I think for me it's great to see that because it just opens your eyes again to exploring.
Maurice Cherry:
Yeah, it's an interesting thing about lecturing and teaching, especially if you're self taught or you're entrepreneurial in any way, because you take all these things that you've learned from trial and error and now you're like teaching it to someone else. It's a weird kind of feeling because, I don't know, for me, when I did it, I used to kind of feel a bit of imposter syndrome, like, why am I at this place teaching this? Like I taught a brief class at Savannah College of Art and Design, and I was like, "I didn't go to art school. What am I doing here? I'm just a guy off the street teaching these kids and stuff."
Maurice Cherry:
But it's amazing how that, I feel like they want to hear that though. They want to hear that kind of real experience because in a way that's sort of where they're at. Like they're not a known entity or they don't have these years of experience yet. So they kind of want to hear the real thing. They don't want to hear the package speech, I guess, about, work hard and all your dreams will come true. Like will they? That sort of thing. So yeah.
Carolyne Hill:
Yeah. I think they want to hear the sidesteps, the roundabouts, the up and down that you go through. Because I think maybe this generation, they know that it's going to be quite hard to get a job. They're seeing it all the time. There's no such thing as a job for life anymore. And even getting a job is going to be really hard for them. So I think they're aware of that. And so I just think, I know what you mean about this imposter syndrome by the way, because on the first time I had to get up and speak, I was really nervous. And the senior lecturer, she did her speech, her lecture, which was good. And when she put up on the board all the clients that she's worked for, I looked at it and thought, "Oh, we've worked for pretty much the same clients over the years." So that's one layer that dropped off of my insecurity, because it's like, "Okay, I've done what you've done." Her whole experience was completely different though.
Carolyne Hill:
And then the other lecturer gave her talk and she's, I would say much younger than myself and the other lecturer, I mean, her experience was also completely different. And that's when I actually became really comfortable because I was like, "This is exactly where I'm supposed to be. I'm different to these other two. I don't need to be what they are, who they are or where they've been, because I've got my own story and my own journey." All of that imposter syndrome dropped off, and I saw the kids looking back at me smiling, which meant they must be engaged. So I'm good.
Maurice Cherry:
Yeah. It's so good when you reach that point, because I mean, one, it instills in you this confidence that you know exactly what it is that you're talking about, what it is you're doing. Because it's your experience. Who knows it better than you do? Your own experience. Right? So of course you can speak on that from a position of authority. I think the imposter syndrome does sort of come in when you try to do that comparison to what other people are doing.
Carolyne Hill:
It's the worst thing you can do, isn't it?
Maurice Cherry:
Yeah. And it's interesting because I've talked to people lately about, and it's mostly just been about podcasts and some stuff about design, but they're always like, "Wow, you're so confident." And I'm like, "I've worked my ass off to get here. So yes, I am confident because I know what I've done to get to this point to be able to talk about it with authority." So it's a good feeling once it does go away. So how do you define success at this point?
Carolyne Hill:
I think success at this point means being happy, yeah, success means being happy. If you're working to pay the bills and you can't quite make things stretch, are you happy? I don't know. You need both the commercial success as well as the creative passion success. So for me, being happy means that I'm successful. That means that I've got enough money to pay the bills, I can take some holidays, but I'm also creating things that I am proud and happy to work on.
Maurice Cherry:
Is there anything that you're obsessed with at the moment?
Carolyne Hill:
Just music. I'm always obsessed with music, listen to different music every single day. It's what keeps me designing and keeps me working.
Maurice Cherry:
Who are you listening to?
Carolyne Hill:
Today is a complete mix up of music and tracks. I started off the day listening to, okay, then judge me, it's going to be really random, yeah?
Maurice Cherry:
Okay.
Carolyne Hill:
Beyonce's Homecoming was the first thing to get me out the house, a bit of Curtis Mayfield, then I jumped into some Nina Simone, then I've just seen Queen and Slim, so I listened to the Queen and Slim soundtrack. And then this afternoon we listened to some Alfa Mist. I would say I'm very obsessed with Alfa Mist, they're are kind of UK ambient soul jazz band. They're really good. I listen to them a lot.
Maurice Cherry:
Wow.
Carolyne Hill:
So it's a very varied playlist for today.
Maurice Cherry:
That's actually a really good playlist. That's really good. I'm into like, so I don't know, my music taste is all over the place. I don't even know if this is something I've talked about on the show, especially when I was in college and my early 20s I was so, so big into British music. You have no idea. My favorite band was Jamiroquai. I listened to Radio One just on the internet or whatever. So I knew about producers and artists like Alice Russell and Ben Westbeech and Will Holland, and I mean, I still listen to a lot of that stuff. I think Alice Russell has a new album coming out this year, knock on wood, I hope she does. But I listened to a lot of stuff from the UK, a lot of music.
Maurice Cherry:
And I went there, it was the first time I was in London, it was in 2017 is actually, it was the first week that I started this job. They sent me to London for the first week. I was like, what? That was so mad. I did not get to listen to the radio, go to any bars or anything, because it was all work. I didn't have time and I didn't know where places were and stuff. I was like, "Oh man, I missed the golden opportunity to really be in the UK music scene or whatever." But, oh man, I love it, love it, love it. But I'm not going to pull up my music director and everything, but I'm a big, huge British jazz fan, British soul. Oh, all that. Love it. Love it. Love it. Love it.
Carolyne Hill:
Yeah. Well I listen to a lot, and it's what gets me designing, and I feel really happy when I'm at my desk. I share a really nice little studio in Brick Lane with two other creatives, and I love it. And we play music all day.
Maurice Cherry:
Nice.
Carolyne Hill:
Yeah.
Maurice Cherry:
What's something that perhaps maybe not many people understand about you?
Carolyne Hill:
Gosh, put me on the spot there. I think one of the things, maybe not understand, but they don't maybe realize is, you can very easily put out this persona, especially being like a brand owner, that everything is always going amazingly and ticketyboo. But when you're a creative working for yourself, that there are often those times which are like major highs and that's what everyone sees. So maybe people don't necessarily understand that, me, this big vibrant person who's very happy to be out socializing, can also be at times a bit of an introvert and can have those moments of self doubt.
Maurice Cherry:
Yeah. Because I think now, especially with social media and design, it's like you always have to be putting something out there for people to see so they know that you're still doing it or that you're still out there making work. So it's hard to kind of, I don't even want to say take a break, but you rarely see the downs, you mostly only just see the ups.
Carolyne Hill:
Yeah. And I think when you are working for yourself and you're running your own business, you know, I run two businesses at the moment, you're doing it all yourself, so you don't necessarily have anyone to share that burden with in terms of on a business level. And to the outside, people don't necessarily see that. And well, I think that's just life at times, but maybe that's what people don't see or understand about me as much.
Maurice Cherry:
Yeah. Where do you think your life would've gone if you weren't working in design? Like did you have a backup plan or anything?
Carolyne Hill:
I really enjoyed sociology, studying that at school. I think if I wasn't in design, I don't know if I would have gone into that kind of social world, but maybe a different type of creativity if I wasn't a designer, you know? I think stage design, it would be something that I would love to have explored, because it's so conceptual and fantastical and random.
Maurice Cherry:
And I guess London's a big theater city, so that would've worked out.
Carolyne Hill:
That could have worked out. Yes. I do a lot of work with theaters at the moment, and I really enjoy working with people, helping them visualize their creative concepts.
Maurice Cherry:
Yeah. What do you want your legacy to be?
Carolyne Hill:
CarolYne Hill, creative from Brixton. I don't know. I think my legacy would just be to be remembered as somebody who was a creative who designed and was here, maybe did a little something to change things.
Maurice Cherry:
Where do you see yourself in the next five years? It's it's 2025, what are you working on? Or what do you want to be working on?
Carolyne Hill:
I would like to think by 2025 my businesses are going really well. I'm perhaps actually running a team, not perhaps, I'm running a team. Things are pretty organized. And those things are ticking off nicely, but I think personally I'd like to have explored my artistic side more and be in the process of creating artwork as opposed to design and designing for other people. I think that would be a really nice thing to aim for for the next five years.
Maurice Cherry:
Well, just to kind of wrap things up here, where can our audience find out more about you and about your work online?
Carolyne Hill:
I have a website which is carolynehill.com. That's Carolyne with a Y rather than an I. My other brand: chillcreate.com
Maurice Cherry:
All right. Sounds good. Well, Carolyne Hill, I want to thank you so much for coming on the show. Thank you for really just kind of sharing your journey. I know we didn't include this in the interview, but the connection that you and I both have is from the late Jon Daniel, who was also on the show, and I know you mentioned him being a big inspiration to you, a big mentor to you. And I think with the work that you're doing with ChillCreate, I mean, having an exhibition in the Tate, and then really I think just living a proud creative life, I think that's kind of the dream for all of us, and I know, I really feel like that would have been the dream that Jon would have wanted to see from you. So thank you so much for coming on the show. I appreciate it.
Carolyne Hill:
Thank you very much. You've been a wonderful host.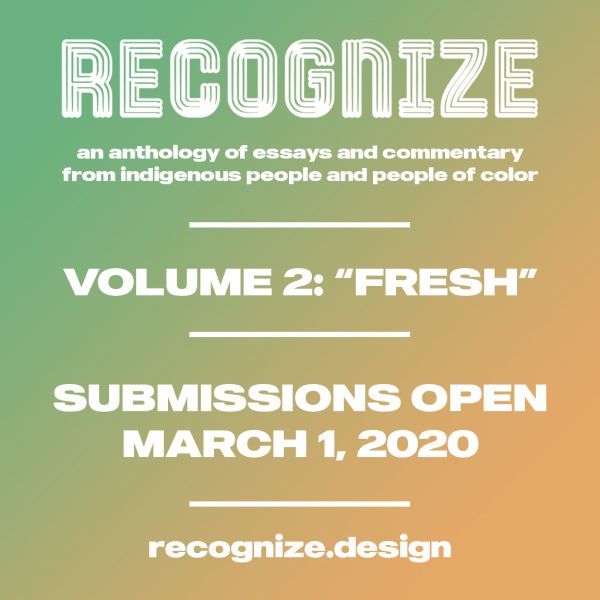 RECOGNIZE is open for essay submissions for Volume 2! The deadline is April 30 – enter today!

Sponsors
Facebook Design is a proud sponsor of Revision Path. The Facebook Design community is designing for human needs at unprecedented scale. Across Facebook's family of apps and new product platforms, multi-disciplinary teams come together to create, build and shape communication experiences in service of the essential, universal human need for connection. To learn more, please visit facebook.design.
This episode is brought to you by Abstract: design workflow management for modern design teams. Spend less time searching for design files and tracking down feedback, and spend more time focusing on innovation and collaboration. Like Glitch, but for designers, Abstract is your team's version-controlled source of truth for design work. With Abstract, you can version design files, present work, request reviews, collect feedback, and give developers direct access to all specs—all from one place. Sign your team up for a free, 30-day trial today by heading over to www.abstract.com.