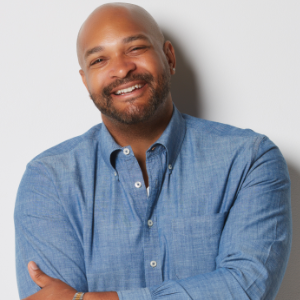 Artificial intelligence has been a running theme on the podcast this year, and I couldn't think of a better person to talk shop about this with than the one and only Carl Bogan. Through his studio, Myster Giraffe, he's created viral mashups that have racked up millions of views across social media.
Carl spoke a bit about his experiences as a visual effects artist, and then we went into a deep discussion about all things synthetic media — generative AI, deepfakes, media literacy, government regulations…you name it. But we didn't just geek out about that! Carl told his story about how he got interested in visual effects, what motivates him, and where he wants his work to go in the future. This episode will definitely give you some food for thought!
A selection of Myster Giraffe's work:
Interview Transcript
Maurice Cherry:
All right, so tell us who you are and what you do.
Carl Bogan:
My name is Carl Bogan, and I am a digital creator and VFX professional living in Los Angeles.
Maurice Cherry:
How's 2023 been treating you so far?
Carl Bogan:
2023 is…every year is a bit different. This one is no different from that. Starting out, very interestingly, more inbounds from Myster Giraffe. The VFX industry is a bit slow right now. The strike isn't making it much better, but of course, always optimistic, looking for new opportunities in every single direction.
Maurice Cherry:
Yeah, I've been hearing from friends of mine in L.A. and other folks in the entertainment industry how the strike is kind of…I guess it's reverberating throughout the industry. Because it's one thing when the writers are striking, but then that affects production, it affects actors, et cetera. So, yeah, I mean, we're recording this now as the strike is going on. I have a feeling it might still be going on by the time this airs. Given that, what plans do you have for the summer?
Carl Bogan:
Lots of family traveling time, creating new projects, coming up with new ideas, new ways to create new ways to engage with people. And so sort of never stop creating is one of my mottos. So the strike doesn't really stop that.
Maurice Cherry:
Yeah. Is there anything in particular that you want to try to launch by the end of the year?
Carl Bogan:
I'm still working on a list. I have a long list, I'm turning into a short list, but Myster Giraffe is always sort of near the top of that list. It tends to act as a calling card in general, and so I keep creating every — I don't know — every six weeks or so, maybe every eight weeks of a new piece in order to keep the beach ball in the air.
Maurice Cherry:
Now, you've mentioned Myster Giraffe a couple of times now, and I think listeners have probably seen your work a lot on social media. If not, I'll make sure to link to a couple of clips in the show notes. But yeah, talk to me about Myster Giraffe. Like, I'm really curious on where that name came from.
Carl Bogan:
So Myster Giraffe is an online handle I created in April of 2019 as a way of honing my deepfake skills in a world that was very much pre-deepfake, generally speaking. And so the name Myster Giraffe was sort of a flippant reaction to wanting to put something out there, seeing if it had any value, and so it just sort of stuck after the first video went very viral. So now I was married to it, so it didn't matter if I didn't like it or not at that point.
Maurice Cherry:
Okay.
Carl Bogan:
But I do like it.
Maurice Cherry:
Yeah, I mean, it's a pretty unique name, Myster Giraffe. And also, I guess the spelling of it probably also calls into a bit of mystery as well.
Carl Bogan:
Now, that was on purpose, namely because Myster Giraffe was born out of not seeing any…I had seen deepfakes to date at that point, but not any deepfakes that I could identify with in terms of Black culture or pop culture. And so I wanted to be that voice, but at the same time, knowing that history has told me, for good or bad or indifferent, you can be marginalized as a Black creator. If you show your work and then put yourself next to your work, the work may not stand by itself. So the M-Y-S — the mystery in Myster Giraffe — the goal was to be sort of more of a Banksy character, and that did work for many, many years and it really stoked the interest of many media outlets and people. Like, I wanted the work to stand by itself instead of having to say, "oh, well, that's good for a Black creator," or for that, sometimes people can put an asterisk next to your accomplishment.
Maurice Cherry:
Oh, brother, you do not have to tell me about that. I know that all too well. I mean, it's one thing…yeah, you put your face or your likeness or something next to it, and then people will automatically kind of either discount it or buy into it. But when I was doing the Black Weblog Awards back in…I did that from 2005 to 2011. And even though it was, like, gaining notoriety, like NPR had reported on it, et cetera, I knew that people would not even pay attention to it just because it had "Black" in the name. Like, it would just go in one ear and out the other. And that was also when Obama was running, and so everything was post-racial. So if you mention anything with "Black" in it, you must be racist. So I know that feeling all too well and kind of being able to stand behind a bit of a pseudonym or just to kind of obfuscate your personal self from the work helps the work stand out on its own.
Carl Bogan:
Absolutely. Not to mention, I was thinking about having a clear delineation between me and Myster Giraffe, in case I get into a bit of trouble. You know, deepfakes are still sort of new, and so I didn't know what I would create that may or may not get me in hot water. So I wanted to be able to put up a firewall just in case. So I can go get a sandwich and not get attacked.
Maurice Cherry:
Yeah, it's interesting you say that, because I thought about that as I was looking at some of the clips, and one of the last clips that I remember seeing from Myster Giraffe was — you probably know the one I'm talking about — is Jonathan Majors and Michael B. Jordan, you know, doing the Dennis Edwards and Siedah Garrett, you know, "Don't Look Any Further". And I think that came out and then maybe it was like the next month or so, those allegations about Jonathan Majors dropped, and it was like, ohhhh.
Carl Bogan:
Mm-hmm. You never know.
Maurice Cherry:
Yeah. And it was in that media time where he and Michael B. Jordan were doing a lot of press together for Creed III and everything, and people were kind of speculating on their friendship or their bromance or what have you, and then that happens, and…yeah. I get what you're saying. I get what you're saying.
Carl Bogan:
Yes. You can't always control the narratives when they leave your mouse click.
Maurice Cherry:
Yeah. You mentioned wanting to do the studio to kind of hone your talent, but what was the other inspirations behind starting your own studio?
Carl Bogan:
When I first started doing Myster Giraffe, I got a lot of inbounds from different people who wanted to work with me. This is even before I was really ready for the attention. I had been in freelance visual effects for maybe fifteen years at that point, so I was very familiar with freelance work. And so the demand kept growing and growing and growing and growing and working more and more brands, more and more music artists. And so it just made sense to launch an entire effort in order to take advantage of the inbounds.
Maurice Cherry:
Okay, so just sort of have one place to kind of funnel everything into.
Carl Bogan:
Sort of. That's correct.
Maurice Cherry:
Yeah. Now, do you have a team that you work with or is it just you?
Carl Bogan:
Generally? It's just me, unless thee job is too big and I need to scale it. And so if I have to do production onsite, I have to scale the team. I have people I go to and I hire, and we work very well together. Friends of mine, colleagues of mine. But for the most part, the Myster Giraffes online as far as the social media effort, that's just me.
Maurice Cherry:
Okay. How do you come up with the ideas? I think some of them probably certainly are just inspired by, of course, Black culture. A lot of them are. But like…Steve Harvey as Megan Thee Stallion? Where do these ideas come from?
Carl Bogan:
There's an instinct that only shows up during certain times. There's maybe about 10 out of the 40 that I've created, I think around 40 or so, that I knew what they were going to do before they did it because there's a little tickle that you get. There's a little sort of…where you can't stop giggling. You're working on it and you watch it 37 times and you're saying, "this is a good one. This is really good." So I allow myself time in between creations. That way I don't wear that muscle out. I wanted to always be able to recognize the funny before it shows up. Some of them I do them for me. Some of them I do as an experiment. Some of them I do as tributes. But there is a certain section that I have an idea for what's going to work well within the demographic that I've sort of created or taken home in.
Maurice Cherry:
I mean, some of them certainly are really fun. I mean, they're all fun. I don't want to say some of them aren't, but I think the one that really sort of stuck out to me and I was like "wait a minute, who is this?" I think it was one for Insecure…for the HBO show. And Issa Rae singing Luther Vandross.
Carl Bogan:
That's one of my favorites. Well, because that one's fun. So what normally I like to do when I first started out, it was a bit more cheeky. Man over woman, big difference over here, big difference over there, chasm in the middle. That's where the joke is. But then pretty quickly I realized, "oh, you can really tell stories with this and sort of come up with alternate realities." So that was before the term metaverse had really — or multiverse had really — sort of come to fruition. And so I had the idea of Rick and Morty's intergalactic cable mixed with what Myster Giraffe sort of became. And so each of these sort of are their own reality and their own channel in a multiverse somewhere existing in simultaneous fashion. And so that one was all about the love triangle between Issa and their two male interests on thee show. And so it lines up with the lyrics of the song. Who doesn't love that song? It's an iconic song. Who doesn't love Issa Rae? She's fantastic. And so you put them together, you cut a trailer around it to help the story get sticky and then you put it out.
Maurice Cherry:
Now when you put that out, was it for HBO and the show, or were you just doing it just to release it through the studio?
Carl Bogan:
That was spec, but I wanted it to look as if it was commissioned because why not? I have no doubt in my mind they would have commissioned it or asked to repost it had it not been a day before they launched the next season. I just kind of got to it late because I don't rush through these things. It's like, oh, let me sit down, I'm ready to create again. And so Luther Vandross actually reposted the video — or rather his team — and most people from the show reposted it minus Issa. I'm not sure if she liked or she didn't. I guess that's not really the point. It's to make art that I like and then see if others can appreciate it.
Maurice Cherry:
Yeah. What does the process look like when you're working on a new project? Like, you have an idea for one of these deepfake videos, or if it's something from a client, like, what's the process behind going from idea to conception?
Carl Bogan:
I would say if it's for me, the process is 80% concept and that is a very passive process initially, whether that's daily Twitter usage or Instagram usage or TikTok usage. It's a sort of…collecting things, collecting daily life into your brain. And then I sit down when I'm ready to create. I just kind of feel like, you know what, I'm ready. I sit down and it takes about three to four hours of just kind of going through, combing through what I want to say. I think… I want to have an idea. I think I want to do something with 70s African-American hair care products. I think I want to use this person. This person's sort of been of the zeitgeist lately. Let me see if I can work them in. And so I kind of have this rolling list of people and topics in my head over in between the pieces. So then when I sit down, that three or four hours, I march, march, march, march, march and then I eventually end at a singular point which is a video. And then I back into it. So I always choose a person second. So I always choose the video first. It's easier, I found, to not have to force a person into a place. So the people…if I wanted to do a person right now, I wouldn't really be able to because I haven't found the piece of media that fits yet. So finding the media is much harder than finding the subject. But if it is a studio, they normally come with thee concept [of] what they want to do. So that's the easy part. Then they say, okay, great, they have an idea. I'll either go on set and VFX supe it to make sure they're shooting it correctly, because there's a lot of things you can get wrong. We do a data collection of the person that you want to put in what they just shot, you know, we use a stand in. And so I've also created a very unique process of data collection for the subject. So that takes about half an hour, maybe 45 minutes, and then I take all the data back to my workstation, my home office, and I make a data set of the data. I get the plates from the studio and it takes about an hour to pre-process everything. And then I start training. It takes about a day and a half or two days. Then the compositing takes about a week, depending on how long and short it is, how perfect they want to be, how much they're paying me to be perfect. So for the Myster Giraffe stuff, I purposefully don't spend more than a day on the compositing because it's not about how perfect it is, it's about the story that it's telling. If I do that, I'll never get done because of my VFX background. I know too much in order to make it take less time.
Maurice Cherry:
Right.
Carl Bogan:
That's about it. That's sort of the broad strokes.
Maurice Cherry:
So it sounds like with Myster Giraffe, at least for your self initiated stuff, you kind of want to be a little bit more and this is not a diss by saying this, but it's kind of rough and dirty, like you want to go ahead and get it and get it out there and get a reaction from people.
Carl Bogan:
Absolutely. I didn't want to chase the pixel perfect deepfakes that some people chase, which is fine. I want them to push the technology forward. But I also realized, like I said, from being in visual effects, the goal is to have it be so good it disappears. Good VFX are invisible. And so since putting different faces on purpose, on different people, the goal is to create cognitive dissonance. So being perfect there is sort of working backwards. And so I do a good job of blending skin tones, face sizing matting and masking around the faces. Yada, yada, yada. So I get a lot of praise on how well integrated they look, but nothing past that because if they can't see the job that I've done for this particular world, then I think it goes against the work that I'm doing. So sometimes I see an error and I just leave it in.
Maurice Cherry:
Yeah.
Carl Bogan:
Because it's not worth the three hours to fix it.
Maurice Cherry:
Right. I'm curious also…when you put it out I'm imagining people aren't coming back to you saying "oh, between this timestamp and this timestamp it's a little off" or something. They just like the concept.
Carl Bogan:
Correct. I have yet to hear anyone complain about the compositing or the face generation because the story generative is so enthralling that it doesn't really matter that it's not 100% perfect. I will take 85 to 90 for this since it's just for social media.
Maurice Cherry:
And I think that's probably just an important thing that creatives listening can kind of apply to their own work. Like don't let perfect get in the way of good. I don't know how that saying goes. It's something like that. But done is better than…
Carl Bogan:
Done is better than perfect.
Maurice Cherry:
Done is better than perfect. Thank you. Because you can spend a lot of time trying to get something to what you think is perfect. But the reality is that once it's out there in the world, the person that sees it already thinks it's perfect as it is. I mean there's going to be some that will scrutinize, but for the most part, just put it out there and get feedback. You can always iterate on your own time but don't let that stop you from releasing the thing, you know?
Carl Bogan:
Absolutely. Put the work out. Don't worry about it. You can always go back and fix it, but put the work out. I remember the very first one that I did — very first piece was a Will Smith and Cardi B that he ended up reposting. I'm going to believe, to date, it's still the third highest viewed post on his social media account. And I remember getting ready to really get granular and get into each pixel, make sure it's perfect. And I stopped myself and said "you know what, this is good enough." And I know sometimes you hear that, oh, "good enough is never good enough." Sometimes it is. Sometimes it is good enough depending on the place you're sending it and what you want to use it for and the time that you have and the effort that you have. And so I would say that examine that before you really spend a lot of time on something that may not matter in that context.
Maurice Cherry:
Yeah, I think that's good advice. Now you're working in…the area that you're working in is known kind of generally as synthetic media, which I feel like is the talk of the tech industry these days. Generative AI, personalized media, deepfakes, like you said, with some of the social clips that you've done. And I'm sure that you've got thoughts on all of this. So I do have some questions. I'd like for us to chop it up a little bit and talk about some of this stuff. Now, the most obvious thing is synthetic media has the potential to kind of blur the line between what's real and what's fake. When you're working with synthetic media, are there sort of ethical considerations that you think are completely essential for doing this work? Like, when a project comes in or when you're working on your own project, what are sort of the ethical considerations that you have around creating something?
Carl Bogan:
So I will start with saying deepfake porn is a scourge on society, and they need to legislate that into the ground. It's not okay. And I say that because that's where all of this started.
Maurice Cherry:
Yeah.
Carl Bogan:
I say a lot of the tech industry is born from video games and porn. Well, this is no different. And actually, as quiet as it's kept, a lot of creators would use a forum on a deepfake porn site because that's where all of the information was on how to do this, how to do that. It was sort of an oddly placed forum in sort of a deep, dark place on the Internet. Sort of, I would imagine, in the same way that YouTube was created and how to get compression rates down and so on and so forth. So I don't know how it still exists. I won't list the website because it's not important. But the sites that do indulge in that practice, I think they should be held to a much higher standard and shut down, so to speak. Because permission and consent in synthetic media is extremely important. Which is exactly why I and many other creators do not do work or use anyone's likeness for money where they did not consent to it. And so if someone came to me and said, right now, "hey, I want you to put Steve Harvey in a commercial, I'll pay you money," I have to say no, because I did not get Steve Harvey's permission to do that. And so when it's all fun and games on the Internet, I'm not getting paid for it. It's fine. It's parody. As soon as you take money for it, it steps outside of parody and it's paid for hire. And now you're infringing on his likeness. Now, that being said, here's where it gets tricky. You take Steve Harvey's likeness, you put it into the machine, it turns those pixels into numbers. The numbers turns into whatever goes into the latent space of the training, and it spits out something that looks like Steve Harvey, but legally, is it Steve Harvey? Because I always ask sort of this thought experiment: if you have two twin brothers who are identical, one is a senator and one does pornography, what happens? It hadn't happened yet. But is the twin brother who is in pornography, is he allowed to practice his pornography as well as next to his brother who's running for Senate? And so that's sort of, at least from where I'm standing — how do you handle likeness and what [someone then] does with something that looks like you, right? And so we're kind of reaching this grey space of what to do with that and I don't think anyone really has the answer right now. But I will say that having ownness over your likeness, not in the way that it has been done for the last 20 or 30 years, but in a new way…that hasn't yet been created, I believe that's going to become very important.
Maurice Cherry:
Last year, right around this time, I was working with a startup. We were doing a magazine and we were doing this issue on Web3 and it was really like my first time diving into, in a deep sense, learning about a lot of these issues. And it was amazing. Like, just hearing about the concept of digital twins and people considering licensing or putting some sort of restrictions around their voice, because someone could take like…someone could take this podcast and the hours of audio that I've done and put that into some type of, I don't know, whatever sort of generative AI type of thing and spit out something that I've never said, but they've cobbled it together from the words that I've said over the years and stuff like that. It was fascinating in like a Black Mirror sci-fi kind of way. But I could see there being some really heinous implications if that is used for nefarious purposes.
Carl Bogan:
Five years ago I was talking to several generative audio companies, and none of them were really that good, if I'm just being honest. But something happened the last six months, because in AI, six months is like six years. And now, all of a sudden, from this one podcast, my voice can be cloned. Your voice can be cloned. And we can be singing Frank Sinatra or saying really inflammatory things about different races and cultures. And so where is it going to be in six months from now? I don't know. But I will say the technology is allowing for less data to do better impressions visually and audio wise. The future of that I believe is going to…someone's going to come out with a way to identify or there's going to be some protocol that everyone's going to have to adopt if they want to seem as if they are with the time. Sort of like the Truth campaign which got rid of a lot of smokers or stopped a lot of people from smoking. It was a social movement and if you were seen smoking, you were seen as sort of a disgusting act. And because of that, many people do not smoke. And I don't think the Truth campaign or the Truth company get enough credit for doing that, but I believe it's going to take that sort of social movement in order to prevent people from being ripped off. Or I think you've heard of the kidnap scam where people take your voice and they say, "oh we have Maurice. Maurice, say something." And you'll say, "help me, help me give them whatever they want," just that little bit. And it triggers your family to then go into their banks and their coffers and pull out whatever money they have to satisfy the demands of the would be kidnappers. But little do they know you're just on vacation in Hawai'i.
Maurice Cherry:
Yeah.
Carl Bogan:
And so that is a real thing that will also happen. And not to be too dystopian or anything, there's so many other good things that are going to happen.
Maurice Cherry:
Yeah, yeah.
Carl Bogan:
But these are just the immediate things that are sort of the low hanging fruit. Especially because we've been in the media lately and we're making tools and we're using tools but we're not really getting ahead of them fast enough. But not necessarily saying that these things will happen, it's just that they can happen. But oftentimes things that can happen will happen.
Maurice Cherry:
That's true. That's true.
Carl Bogan:
I forgot. Is it? Occam's Razor. No, I think it's something it's one of the laws.
Maurice Cherry:
It's probably like Murphy's Law or something like that.
Carl Bogan:
Murphy's Law. That's what you have. Exactly.
Maurice Cherry:
I mean, to that point, you know, you're right. I mean, I even think about, you know, some technology that we have now that we take for granted, like cell phones and things like that. Those were inspired by science fiction. So you kind of have this interesting, almost symbiotic relationship of how the technology can be influenced by fiction and then that ends up influencing what people actually do with it in real life. It's a weird sort of process and I think you're right; it is going to have to get to some point where there's some type of protocol or regulation. I know the government has been talking to Sam Altman from OpenAI about artificial intelligence and how it can be used. So I can see the government trying to put some guardrails around this. But in the meantime, what do you think? Actually before we do that — side note, you mentioned Truth. I was on a Truth street team in 1999.
Carl Bogan:
Thank you for your service.
Maurice Cherry:
No, you mentioned that and I was like is the Truth campaign still a thing? It's still a thing. It's been around for 25 years. Damn.
Carl Bogan:
Absolutely.
Maurice Cherry:
Wow.
Carl Bogan:
Now little did we know that they would go from cigarettes to vaping which I think depending who you ask is better or worse. But at least we don't have to smell it.
Maurice Cherry:
Right.
Carl Bogan:
So maybe that was the goal. I'm not entirely sure.
Maurice Cherry:
But to go back to that whole thing about protocol in the meantime, what do you think we can do to sort of cultivate some literacy or some critical thinking around how folks can sort of, I guess, navigate and discern between what's synthetic media and what's authentic media? Like we're already starting to see political campaign ads use kind of this generative video or generative AI for some things of course. I think probably earlier this year you were starting to see people do those AI avatars and stuff like that. And I know one way that people were sort of saying, like, "oh, well, you can tell this is fake. Look at the hands, because they could never get the hands right." But now they're starting to get a little better with the hands. But in the meantime, until this sort of protocol is implemented, how can people start to spot the fake, I guess?
Carl Bogan:
Well, for video, it's easier right now. So for fully generated, like, prompted video, the data is not there. The computational math hasn't really been done yet on the full models to make them fully realistic. Yet six months ago, it was much worse. Six months later, it's much better. Six months, it'll be even better. And two years from now, it'll be almost impossible to tell. Sort of like Unreal Engine. And they got really, really good at generating rock formations and trees and landscapes because they're using scans of actual rocks and trees and landscapes. Science plus computing power plus data equals reality, essentially.
Maurice Cherry:
Yeah.
Carl Bogan:
And so eventually, we won't be able to tell. And so I actually work with a larger group put on by MIT. It's sort of like a disinformation panel of people all around the world, and we get on a call once or twice a year. We talk about where things are, what can we do to help usher in a safer future, a more honest future, and a more ethical future for everyone, so that we don't end up in a Black Mirror episode, which we're rapidly racing towards. And so one of the easiest things, I believe, that always comes up is just an identifier, whether that's a logo or a bug in the bottom right corner or somewhere on the screen that lets you know what you're looking at has been generated. That's it. It's nothing terribly difficult to do, but there just has to be one commission or one protocol that everyone signs up for says, you know what? I'm going to be a part of the winning team in terms of wanting to make sure that disinformation is not spread, whether that's innocent or whether it is really damaging. There was a person who went to the Met Gala. Allegedly, she wasn't there. Someone posted her in a beautiful gown on thee red carpet, and she was at home in her pajamas, so that's not a big deal. But then you see, like, you're saying, the political information where you see Trump kissing Fauci.
Maurice Cherry:
Yeah.
Carl Bogan:
And that's a big deal. And so these are just images, or the images where you see Trump running from arresting officers.
Maurice Cherry:
Oh, I remember those. I remember seeing those. Yeah, yeah.
Carl Bogan:
Which is weird because you would imagine with the video capabilities of deepfakes and whatnot, and especially with voice generation, you can do a much better fake, but the more data points you have, humans are really good at spotting things that are not real. And so with images, they say a picture is worth 1000 words, but people are generally pretty bad at noticing what's fake about one single image just because of the way we're wired. Ever since we're born, we open our eyes, we start collecting data about what's real and what's not, about what does a human face look like, what proportions, what are the microexpressions, so on and so forth. But you can't capture any of that from a single image.
Maurice Cherry:
Yeah, you know, what you mentioned there is sort of an interesting corollary to what I tell people all the time about design. I often have encountered people over the years that are like, "oh, I'm not creative, I'm not a designer," that sort of thing. But I tell them that everything that they have used or encountered in the world is a byproduct of design. Like the clothes you wear, the chair you sit in, the car you drive. Someone had to really think about that and cater that to a human's usage or what have you. And so we know when something has been designed poorly. We don't have to be a designer to know that, but we have enough just sort of like tactile experience with designed objects to know when something is poorly designed. So it's kind of a corollary to what you're saying with we see and know enough as humans to know when something is just not like maybe it's in that uncanny valley, but something is just not quite right about the image that we're seeing. Like the Pope in a white puffer jacket or something like that. Is that real, you know? That kind of thing.
Carl Bogan:
Exactly. I was reading a book about that, about design. I believe the author called it the Norman Door. Have you ever gone up to a door and you didn't read the push or pull sign? But it had a handle, and handles generally mean grab and pull.
Maurice Cherry:
Right.
Carl Bogan:
But you grab the handle and then you push in where you're supposed to push. And so you feel kind of stupid. You grab the handle and you pull toward you and it goes and then you see the word, it says push. Well, that's not your fault, right? That's bad design. Yeah, flat surfaces are for pushing and pulling gives you a handle and there's no two ways about but, you know, depending on where you stand.
Maurice Cherry:
Like I like that analogy. That makes sense. One thing that I love what you're doing with Myster Giraffe, and you talked about this earlier, is kind of…you're using synthetic media to kind of amplify otherwise, I think, marginalized voices and faces. Honestly, looking ahead, what developments or advances do you see in synthetic media, and how do you plan to kind of contribute to that through Myster Giraffe?
Carl Bogan:
So what I would like to see, for one, is I'd love to see the world's first synthetic host for an awards show. I think you can really get away with that for an awards show because the stakes are low.
Maurice Cherry:
Yeah.
Carl Bogan:
Or like a Dancing With The Stars or something where it's purely entertainment. There's no real weight on it. And then what I'd also like to see is…I'd like to see someone take the reins, if they haven't already yet, and design a show specifically to allow you the choice of who you want to be the main character. So let's say you have three identical body types. You have 5'10", brown skin, clean shaven. There are several actors that can fit in that category. And so if you take three of those actors and you have one sort of dummy body, if you will, run through the scenes, run the acting, and still tell a good story. Right. And then let's say, much like Bandersnatch on Netflix, you could choose your own adventure. I would love to be able to sit down and choose who I want to see in that role for that film and then watch it three different times to see how I feel about it. Because a lot of the times how we feel about actors changes how we feel about the film. And so if Jim Carrey was Vin Diesel in Fast and The Furious, the whole movie would feel different.
Maurice Cherry:
Yeah.
Carl Bogan:
Even if he wasn't being funny in the moment, he would feel funnier because of who we know Jim Carrey to be. And so sort of experimenting and playing with that juxtaposition I think will be cool to see. I think also allowing us to…there's no reason why when shopping online, we shouldn't be able to see ourselves in the clothes that we want to wear. Why do we have to buy the clothes and send them back? We should be able to see how we look in them before we waste the fuel and polluting the environment, not knowing how it's going to look on us. So we should be able to deepfake ourselves pretty much wherever we want to, whether that's in a…I'll give an example. Let's say Cardi B comes out with a new music video, but she comes out with a version where you can put yourself in it and then everyone can put themselves in it as a means of creating another viral sensation. I mean, there's so many different flavors of ethical ways to engage with people, allowing them to have fun with it instead of it being all sort of doom and gloom and, "oh, no, they're gonna come get you.
Maurice Cherry:
Yeah. You mentioned that about the shopping, and that immediately made me think about what Snap is doing with augmented reality. Like, I think it's like a Snap…I think it's called like Shop Suite or Shopping Suite or something like that, where you can do just that. You can sort of use augmented reality to see how clothes will look on you before you buy them. So you can get a sense of like, "oh, this might work for me." I think Target does this, Amazon does this, for some products where you can use AR to see how like a piece of furniture or a plant or something might fit in your space before you actually buy it. Because you know, if you go to the store, you got to measure, then you got to go to your spot and measure and make sure that it fits and all that kind of stuff. Whereas now you can just use AR to kind of approximate for the most part how something will look on you or in your space. So I could see that being fleshed out more certainly as technology kind of gets better.
Carl Bogan:
Absolutely. I've seen them for shoes. I've seen people…I just saw someone was just acquired or started working with Amazon for putting, trying shoes on, which is great because the hardest part about trying on shoes is that you have to go there and they don't have your size, so on and so forth. But being able to see that the shoes are on your feet now, you still can't feel them, which is the other half of that, but at least you're halfway there. But I think there's a lot of ways to use the technology and use your own face. Or my favorite one, or actually two of my favorite ones — one of them is…there's a quote that says, "today is the youngest you'll ever be ever again and tomorrow you'll be older and older and older. So for online creators whose faces are their money or their investments, they spend a lot of time on skincare and wellness products and Athletic Greens to make sure their skin is glowing and they never bank the data. They never bank the data. And so right now you could take 30 minutes out of your day or every year 30 minutes and bank your data and keep…and sort of put this version of you in carbonite. So in five years from now, gravity, sun, wind takes us all down eventually. Why not be able to call on that older version of you to essentially freeze a digital version of you in time and have that be your Internet facing version forever?
Maurice Cherry:
I like that.
Carl Bogan:
That cuts down on having to get plastic surgery if you don't want it, having to get Botox if you don't want it. Just having an independent version of you that only lives online. Sort of like a Max Headroom that never changes. And I believe that's going to be a way we're going to interact with the Internet sort of in the near future. Sort of like a Ready Player One way where you just have your avatar and you can choose to show up how you want to show up because you should have freedom and individuality on the Internet.
Maurice Cherry:
Right.
Carl Bogan:
And the second one is — and I'm really passionate about this and I haven't found the right candidate yet because I don't know if I'm approaching it correctly — is that I would like to offer a burn victim the chance to restore their face digitally for use on the Internet, depending on how severely they were burned and so on and so forth. But if they have enough data of their face before the accident, you can restore their faces if they so choose.
Maurice Cherry:
If they choose, yeah.
Carl Bogan:
There's so many different use cases that have yet to be seen that I'm really excited about either Myster Giraffe creating them or other people creating them.
Maurice Cherry:
You know, you mentioned the thing about the digital host, and immediately I was like, if there's any media entity that I think that could probably pull that off and it would work, it's probably BET. Like, BET had "Cita's World" back in I was hoping you would like early 2001, but not only that, they brought Cita back. I think it was in 2021. BET had a reality show called "The Encore" that had these like it had like, Black girl groups from the it had like 702 and Total and I think Kiely Williams and some other folks and they were like all in a house, like, trying to make a hit or something like that. And Cita was the host. I mean, granted, it was only like, on a television, but it was like a more updated version of Cita that would be the so, like, if anybody, I think, could pull it off and at least has a precedent for it, BET, I'm putting that out there.
Carl Bogan:
You know, I've used that example and depending on the room you're in, they won't know it. They don't know who Cita is. They've never heard of Cita.
Maurice Cherry:
Right!
Carl Bogan:
Cita who? Cita who? But that was ground– And this was 20 years ago. Yeah, actually, I was reading the story behind that and it was a couple of brothers out of Atlanta, I believe, that came up with the idea. And it was very popular and it fell out for whatever reasons. But I think you're right about that. I think they definitely have the prestige in order to bring that back or to be the first. Let's just say…let's hope Tyler Perry gets to buy BET and puts it up.
Maurice Cherry:
Now, speaking of Atlanta, I want to kind of shift the conversation because we spent a lot of time, you know, just kind of talking shop, But learning some more about you as I was kind of doing research for this interview…you're from Atlanta originally?
Carl Bogan:
I am from Atlanta.
Maurice Cherry:
Tell me what your time was like here.
Carl Bogan:
So I'm from Atlanta and I went to elementary school through high school and college. I started out going to…I got a band scholarship to go to Clark-Atlanta University. I was in the drumline, like most of the people in 2001 who played an instrument at the time. Only stayed there for a year, went to Georgia State for a couple of years for a graphic design foundation. Wasn't really thrilled with the program, wasn't really into graphic design as much as I thought it was. I was more into the motion. And so I left Georgia State after two years and went to AIU for the last year and a half to focus on visual communication, where I really dug into 3D, specifically Maya and After Effects and whatnot. Graduated, did an internship at Riot Atlanta, which I believe was absorbed by Company 3, and got my start. Left there three months later, worked in graphic design and motion graphics for the next six months, then I said, "you know what, I'm just going to go for it." So I left to go to Los Angeles.
Maurice Cherry:
And so for your time here in ATL at Georgia State and then at AIU — I'm kind of trying to place this in terms of the time frame. I'm guessing this is like right around late 90s, early 2000s kinda?
Carl Bogan:
I graduated college in 2005.
Maurice Cherry:
Okay. So a little bit later. Okay. But I was trying to think of what the curriculum might have been, because what it sounds like is what you wanted to learn, there might have just been maybe just a limit in terms of how much the school could teach you.
Carl Bogan:
Absolutely. Everything was still books. YouTube didn't really exist in the way that it did now. I believe They just got started and everything was 240p. And so if you wanted to learn it, you get a book and you get a DVD and good luck. So that's not my preferred way of learning. Neither is most people's based on the success of online courses. But I would say I didn't really learn what I needed to to be competitive until I left Atlanta. Unfortunately, I had to come to Los Angeles, which at the time, and I think before the pandemic, they were still the number one market for motion graphics and visual effects. Now it's much more global, so I don't know if they're still number one, but I do know that a lot of filming still happens in Atlanta, but rarely, if ever is there any post-production done in Atlanta. It still comes back to Los Angeles.
Maurice Cherry:
I mean, you know, we talked about this a bit before recording. You were like back then, the only places you really could have gotten a job was, like you said, TBS. What was the other place you mentioned? I forgot already.
Carl Bogan:
TBS, The Weather Channel…
Maurice Cherry:
The Weather Channel! That's right. The Weather Channel. Or if you're lucky, Cartoon Network.
Carl Bogan:
Correct. That was sort of it. It was sort of a one horse town in terms of post-production. Now it's maybe a three horse town, which is great. I'm happy to see them growing, but there's still not a lot of shops and certainly not — I know Method Studios opened up an office there, maybe a couple of others, but it's definitely not a booming industry there yet.
Maurice Cherry:
Yeah. Atlanta, I feel like, has always been…and God bless them. I was working in the tourism industry like in 2005 and 2006. And I got to tell you, Atlanta was kind of as a city, and I say this only from, like, a tourism perspective, not from a cultural perspective, but from a tourism perspective…Atlanta was kind of failing because we had lost as a city…we had lost this really big convention. I think it was the Home Builders show. And that was like something that brought in like a billion dollars worth of revenue into the city every year, and then they just chose another city. Hurricane Katrina happened in…I think it was 2005. I think Katrina happened, and Atlanta picked up a lot of their convention business, and that really kind of turned things around, I think, for the state to the point where they were able to lobby to state government. And then state government started putting in these tax credits for entertainment. And then that's how these production studios started coming here and filming. I'm curious as to what Atlanta would have looked like if we hadn't…I mean, benefited is probably the wrong word, but if we hadn't benefited from being able to pick up that business from New Orleans, because a lot of people, at least back then, really didn't want to come to Atlanta. They had a really negative perception of Atlanta, partially from Freaknik, that just carried over into the next decade, but then also know people would come downtown and there was nothing to do. Like, they come downtown, and after five o'clock, everything is dead. And conventioneers would often be angry about thee fact that they can't walk from their hotel to the restaurant without getting accosted by homeless people. And I don't want to bring my family here, and there's a whole bunch of strip clubs, there's a lot of Black people. I just don't know what to know to do…that whole thing. And the Atlanta Convention and Visitors Bureau was really trying hard to, like, we need to find a way to brand the city. Like, we need something like Milton Glazer's "I Love New York" or something like that. And they paid this agency like $8 million to put together this Brand Atlanta campaign. Were you here when Brand Stlanta happened? I think you might have been maybe on the way to L.A.
Carl Bogan:
Might have just left. I left in 2007.
Maurice Cherry:
Yeah, they did this whole Brand Atlanta campaign, and they paid for this really bad logo that was like a combination…like, if you took the Target logo and the Ubisoft logo and put it in a blender, it basically just looked like a bullet hole, which probably was not a great visual for the city. It's like ATL in this red bullet hole. And they had produced a song called "The ATL" with the Atlanta Symphony Orchestra and Ludacris, because I remember being in the [Georgia] Dome when that happened, when they premiered it, I was like, "this is really bad." And granted, people still come to Atlanta for the music, and the entertainment and stuff, but they wasted so much money on that branding campaign, it was ridiculous. I say all of that to say that Atlanta really sort of benefited from that in some ways in the creative industry. But like, I think in other ways, you know, it took a while for the schools to catch up because Atlanta is pretty unique in that we have so many HBCUs, but then we also have kind of some top tier schools like Georgia Tech or Emory or something. And there's also like art schools here. There's [The] Art Institute [of Atlanta]. Well, Atlanta College of Art got absorbed into [The] Art Institute [of Atlanta], but the Portfolio Center, SCAD now has a campus here, but they didn't back then. And now the city, I think, is known for its creative output. But for creatives that are here, and I can tell you this from trying to do the show, it's been so hard to try to get Atlanta people on this show. They don't want to do it. Or there's always some excuse, or…and I mean that this is probably neither here nor there. But I say that to say I think Atlanta outputs a lot of creative work. I think it's tough to be a creative and stay here because the infrastructure is just not supported from the business end. It may be from the community end, but not from the business end. There's a lot of folks, a lot of really talented folks I know that have had to pick up and leave because the opportunities aren't here.
Carl Bogan:
The opportunities aren't there. I would agree with you. I just shot a music video in Atlanta maybe five weeks ago. Hopefully it's going to release soon. And shooting the music video there with a small budget and three days of prep would have been impossible in Los Angeles, be completely impossible. I was able to show up on a Friday afternoon with nothing, no talent. Well, I had the main talent, but no supporting roles. It was a two day shoot, had zero locations, and in a day and a half I had everything. So I had the warehouse location that had proper lighting and had the white psyche and they had the robotic arm. I had the people who knew other people. I mean, it's a very small community. The people working in post-production or production in Atlanta is a very small, insulated community. But I was able to find one person who let me into that community enough for me to get the resources that I needed. And so as much as I say Atlanta is not ready, it is ready if you have that one person. But if you show up to Atlanta and you know no one, you're going to have a really hard time with trying to make it happen.
Maurice Cherry:
That is true.
Carl Bogan:
So, you know…it can be tricky, but they kind of saved my bacon. So I do want to say that. Now, that being said, all the post-production went back to Los Angeles, but in terms of getting stuff shot, finding makeup artists who actually know what they're doing, B-camera operators, producers. Those people do exist in small amounts. There's no strike going on there right now, so I think they're okay.
Maurice Cherry:
Yeah, I'm pretty sure there might be some strikes here. I haven't heard of anything but then I also haven't really been looking, so I'm not sure. Now, right before you started, Myster Giraffe, you joined Aliza Technologies as their chief technology officer. This was in 2019. Tell me about that experience. How was that?
Carl Bogan:
So I had been freelancing for about a decade at that point, and I was looking for a new opportunity, and I really wanted to build something instead of just being the hired mercenary to solve this problem, which I really like doing, and I'm talented at it, but I just wanted to sink my teeth into something. So I reached out to a buddy of mine who has a company — shout out to Zerply — who does a lot of hiring for the VFX industry, and he connected me with someone who was looking for someone to build a team to create digital avatars. And at the time Lil Miquela was coming out, she was making a lot of noise being the first big one, the first American influencer to be an AI robot, and people didn't really know what that meant, instead of just I don't know. It's sort of like a weird time. Anyway, Brian Lee of the League of Zoom Company, the Honest Company, and ShoeDazzle, had this big idea to have a universe of influencers, and he needed someone to help build the team and get the influencers created digitally. So I was hired in 2018 to facilitate that as a consultant. So I hired people from around the world working from home and getting those sort of…this quarterbacking that process, getting the designs from the concept artist to the sculptor to the renderer to the look of that person. When everyone was created, he said, "all right, we want you to come in here and lead the team and get everything going in person." So April 1, 2019, got in the office, and besides building computers and setting up networks, asked, "where can I provide the most value?" And he said, "I want you to figure out how to animate these characters." Prior to that, two months prior to me starting, I talked about deepfake, and they didn't know what it was, so I told them about what it was and how maybe we can use it to animate the characters, because initially I gave them a budget, a VFX budget, and it was very expensive. And I said, welcome to VFX. And they said, can you make it cheaper? I said probably. So I told them about deepfakes. It was open source code out of the Eastern bloc, so from day one, I start specing out a machine to start learning on, and I don't have a machine learning background. But what I do have is a method of solving problems from working in VFX, so I didn't have to have a machine learning background or to solve a problem, so long as I would approach the problem methodically and chart my progress, so on and so forth. So three months from April 1, we were seeing really good signs of progress, and the task was to turn 3D data into a data set that could be used for machine learning to make animation 80 times faster and cheaper. And so three months later, we're seeing some progress. Six months later we started filing patents. We got granted five patents, and those patents still hold. And that was sort of my role at Aliza was many things, but mainly focusing on the animation of these characters and how to get them, how to use a real human to drive the character, replace their head with a CG character in order to save time and money.
Maurice Cherry:
I'm curious if that work kind of helped feed into what you were sort of doing with Myster Giraffe. Not to say it's like on-the-job training, but I'm curious if that kind of helped you out in that aspect.
Carl Bogan:
It was absolutely off-the-job training because I would do it on the weekends or in the evenings, because I was trying to, as a person who was not a deepfake artist at the time, I was just practicing. And so what Myster Giraffe started was it was really just scratch paper. I have this idea, I want to know what happens if I use less data for this, or I want to know what happens if I use three different types of data here. And so each of the first, I would say ten or twelve videos was just me trying different things. And then it became, well, I wonder how people are going to respond to this sort of thing. And it just became this sort of social experiment of how are people going to respond to this? Whereas it started as, I wonder how this is going to look if I do this XYZ, how much data do I have? What kind of data do I need? How big does video have to be? So on and so forth.
Maurice Cherry:
So it sounds like that was just a really good, I think, like you said, you had to have something where you could focus on building one thing as opposed to kind of doing these off, I guess, freelance type work, like working, doing one thing here, doing one thing there. You kind of had some stability, it sounds like.
Carl Bogan:
Yeah, I had some stability. I had now had a full time job for the first time in a decade, which was odd because I had not been in that role, but at the same time, I wanted that role so I could sink my teeth in. And so when everyone was settled and in the bed on a Saturday night, I'd show up to work at 8:00 p.m. and stay 'til 4:00 or 5:00 a.m. Wow. And just experiment, experiment, experiment. So there's a lot of bloods and tears on intimate draft. I would say out of everything I've posted, that's only about 10% of the work I certainly that's only about 10% of the work I show. The other 90% is in a graveyard of stuff that is either too inappropriate to show because of it's funny when you try to tell a story sometimes and you're also trying to use comedy. Sometimes you try to toe the line, but you accidentally fall over to one side or thee other, and if you get lucky, you'll stay on the good side. But sometimes thee experiments end up on the not so funny side and then you have to bury them or the data doesn't work out. Like, I'll give you an example. Some of those videos I'll sit on for two or three years, and I'll know I want to use them, but because I don't have the right data, it doesn't work out. So Michael B. Jordan, I've been trying to get the data of him for two years, and when he was with Lori Harvey and when he was doing different press campaigns and so on and so forth, I couldn't get the right data. But because of this newest run for Creed III, I was able to get the right data, which made that video happen. So it wasn't really up to me when I got the data. It just had to sort of arrive and now I could move forward with it.
Maurice Cherry:
Yeah, interesting, because yeah, like you said earlier about consent, you couldn't just put this together if the footage didn't really exist or you didn't get that permission from them. But now that he's doing this press work, he's out there. You're now able to sort of gather these sources and then use that to put together a clip like that.
Carl Bogan:
That's correct, yeah. There's tons of people I would love to do, but I just can't get the right data for them. Like Prince. He's gone now, unfortunately, and he looks so different every time you would see him. But it's hard to really nail down a good data set of him. So it just may never happen. But that's okay because that's how it should be.
Maurice Cherry:
Personally, over the years, how would you say you've evolved as a creative?
Carl Bogan:
I would say I've become more thoughtful in what I create. I also spend less time creating and more time thinking. I used to create for the sake of creating, which scratched a different itch. But I think as I've gotten older, I want my creations to have a bigger impact with less effort. Because I believe that's…when you're creating a painting of a Campbell Soup can, you know, it seems like student work, but yet that's one of the biggest American pieces. And so I think the more and more I do Myster Giraffe or anything for that matter. I try to spend more time thinking than time doing. That way I can do it correctly the first time without having to make a lot of changes to end up at the same place.
Maurice Cherry:
Now, this work with synthetic media, I think is only going to improve as technology improves. What kind of keeps you motivated to continue with this?
Carl Bogan:
I would say the storytelling aspect of it all. There are so many stories that need to be told. Whether they're in still format or whether they're a full video, whether it's found footage, whether you have to go on set and shoot something. There are so many stories to be told. And I think that to be Black in this country is to have your culture cherry-picked for what it's worth. But rarely do we get a chance to be at the forefront of technology and to tell the stories that we like to tell. Which is why there are so many slave biopics we don't need anymore. Yeah, we want afrofuturism and afropunk to see the newest Spider-Man and to see the character that was the British punk character, but he was Black, was mind blowing for a lot of people because most people have never seen a Black British punk character in their lives. And while that was an entire movement, maybe the 70s, 80s, and 90s and in Europe, we never saw it in the U.S. And so I think just being able to see something and tell a story around it just because we want to, I think that is important and powerful because we've never been able to do that before. So now that the technology is being more democratized, I think is the best time to do it now.
Maurice Cherry:
To that point, I'm pretty sure that there are listeners that are hearing what you're doing and they might be interested in wanting to try to get involved in synthetic media creating it or something in some way. What advice would you give them if they want to try to delve into this deeper?
Carl Bogan:
I would say to start just by absorbing as much knowledge as you can. Everything you ever wanted to learn is now on the Internet. Everything, every single thing. And if you don't want to learn it, you don't have to. But if you want to, just go read, go watch a TikTok video, watch a YouTube video, read a Reddit entry, go on a forum, ask someone. But there's no more excuses for not doing. Everything is available right now.
Maurice Cherry:
Where do you see yourself in the next five years? Maybe this is a little hard to kind of see because of how the technology is changing so rapidly, but what kind of work do you want to be doing in the future?
Carl Bogan:
My immediate goal is to produce the very first deepfake leaning entertainment show. That's my first goal. There's a deepfake show that has not been created in the U.S. Yet. There's one in the U.K. that didn't do so well. But I would like to create the first deepfake entertainment show in the US. And then from there have a slew of game shows, talk shows, so on and so forth, proving that you can use the technology in an ethical way and have sign off on everyone who watches it.
Maurice Cherry:
I love that. I think you can make it happen too. I really mean it. You're in L.A. You've got skin in the game clearly for doing this. I mean, you're a pioneer as far as I'm concerned when it comes to this. So I feel like that's definitely going to happen for you.
Carl Bogan:
Well, I appreciate that. From your mouth to God's ears.
Maurice Cherry:
Well, just to wrap this up, where can our audience find out more information about you? Where can they see the clips, the studio? Where can they find that information online?
Carl Bogan:
Sure. So you can find me online on Instagram at @mystergiraffe, which is M-Y-S-T-E-R. Giraffe. G-I-R-A-F-F-E. Or you can just send me an email at carl@mystergiraffe.com.
Maurice Cherry:
All right, sounds good. Carl Bogan, I want to thank you so, so much for coming on the show. Like I mentioned before we started recording, I was super excited to talk to you and this conversation did not disappoint at all. I mean, like I just said earlier, you're a pioneer when it comes to this. You've had skin in the game for years. You're making work that is one I think showcasing and celebrating Black culture. But you're doing it in a way that is fun, it's informative. It's not like you're not trying to incite anarchy or anything like that. I mean, really, you're at the forefront of this as far as I'm concerned. So I really am interested to see how far you can take synthetic media in the future and I really do see that show for you in the future. So thank you so much for coming on the show, for sharing your story and everything. I really appreciate it.
Carl Bogan:
Of course, thank you for having me. I really enjoyed the time together.
Brevity & Wit is a strategy and design firm committed to designing a more inclusive and equitable world. They are always looking to expand their roster of freelance design consultants in the U.S., particularly brand strategists, copywriters, graphic designers and Web developers.
If you know how to deliver excellent creative work reliably, and enjoy the autonomy of a virtual-based, freelance life (with no non-competes), check them out at brevityandwit.com.