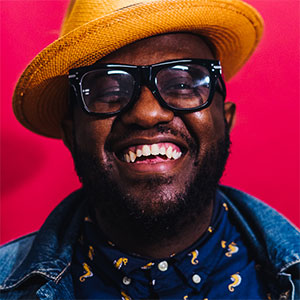 Adrian Franks is a one-of-a-kind renaissance man. His work as a UX creative director at IBM focuses on experience design (iX) for their global business services brand, but trust me — his skills don't stop there.
Our conversation began with Adrian walking us through his typical days of meetings and projects, but things really came alive when we talked about his days growing up and learning design in Atlanta. Adrian also talked about how he connected with the venerable film maker Spike Lee for a series of art projects, and shared some great advice on the types of skills designers need to have in order to achieve their best work. I'm so glad we have designers like Adrian out there who can show us what the true possibilities of creativity can be!
---
Facebook Design is a proud sponsor of Revision Path. The Facebook Design community is designing for human needs at unprecedented scale. Across Facebook's family of apps and new product platforms, multi-disciplinary teams come together to create, build and shape communication experiences in service of the essential, universal human need for connection. To learn more, please visit facebook.design.
This episode is brought to you by Abstract: design workflow management for modern design teams.
Spend less time searching for design files and tracking down feedback, and spend more time focusing on innovation and collaboration.
Like Glitch, but for designers, Abstract is your team's version-controlled source of truth for design work. With Abstract, you can version design files, present work, request reviews, collect feedback, and give developers direct access to all specs—all from one place.
Sign your team up for a free, 30-day trial today by heading over to www.abstract.com.
---
Revision Path is a Glitch Media Network podcast, and is produced by Maurice Cherry and edited by Brittani Brown. 
---